With over one billion monthly active users, everyone already knows what TikTok is. Known for its short videos and viral dance challenges, the social media platform has solidified itself as an excellent tool for brands and content creators.
But just when you thought you already understood the ins and outs of the platform along with its general features, ByteDance, the company behind the Gen Z sensation, has once again introduced another never-before-seen feature — TikTok Resumes.
No longer simply a short-video app, which has boldly competed with social media giants like Meta and Google, TikTok is now challenging LinkedIn in the recruitment and professional networking space.
Introducing: TikTok Resumes
TikTok is no stranger to career and job-related content. Many content creators have chosen the app's easy-to-use tools as a way to share career advice, job-related Q&As, and day-in-the-life content to an eager audience. In fact, the hashtag #careertiktok has over 1.1 billion views to date!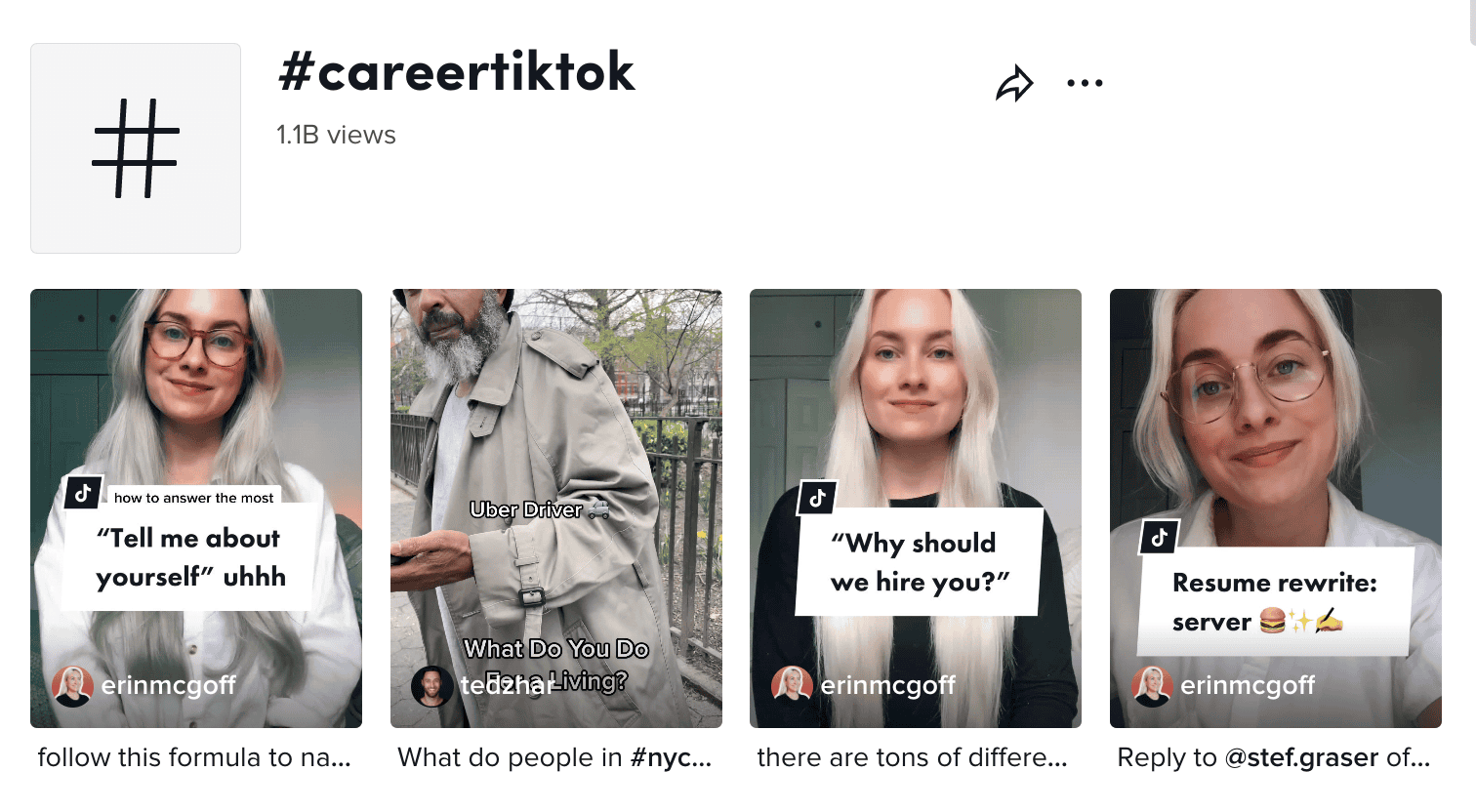 Sensing the growing popularity of the career niche, TikTok launched the "TikTok Resumes" feature to expand into recruitment and job searching and provide more value to its users beyond just entertainment.
Tiktok Resumes is just like it sounds — a resume in the form of a short vertical video.Using the app's available tools, users can create and post short videos that highlight their skills and job experiences to attract possible employers.
The newly-launched pilot program promises to connect job seekers to some of the top companies such as Chipotle, Alo Yoga, Shopify, and Target. While most openings on Tiktok currently target fresh graduates and entry-level job seekers, there are a number of viable openings for all career stages.
While still in its pilot stage, TikTok Resumes is only available to US companies and job seekers as of the moment.
Why TikTok Resumes Could Be The Next Big Thing in Recruitment
Linkedin has dominated the digital recruitment and job searching space for nearly two decades. The platform's ability to connect job seekers with potential employers, as well as its "Easy Apply" option, has made it the top-of-mind choice for anything career-related.
No other platform of the career niche has come close to LinkedIn when it comes to social media marketing. While there are other professional networking alternatives, none of them have successfully stuck across multiple job-searching generations as Linkedin did and continues to do.
The difference between TikTok and Linkedin competitors is that TikTok isn't trying to compete. Leveraging how Gen Z — its primary audience (60%) — consumes and creates online content, TikTok is an excellent complementary tool to Linkedin for companies and job seekers alike.
While we are far from completely eliminating the traditional curriculum vitae (CV) or resume, a TikTok Resume can help recruiters get a preview of a candidate's personality before the interview.
From the job seeker's point of view, a resume can only do so much to help you stand out, especially for those in the creative field.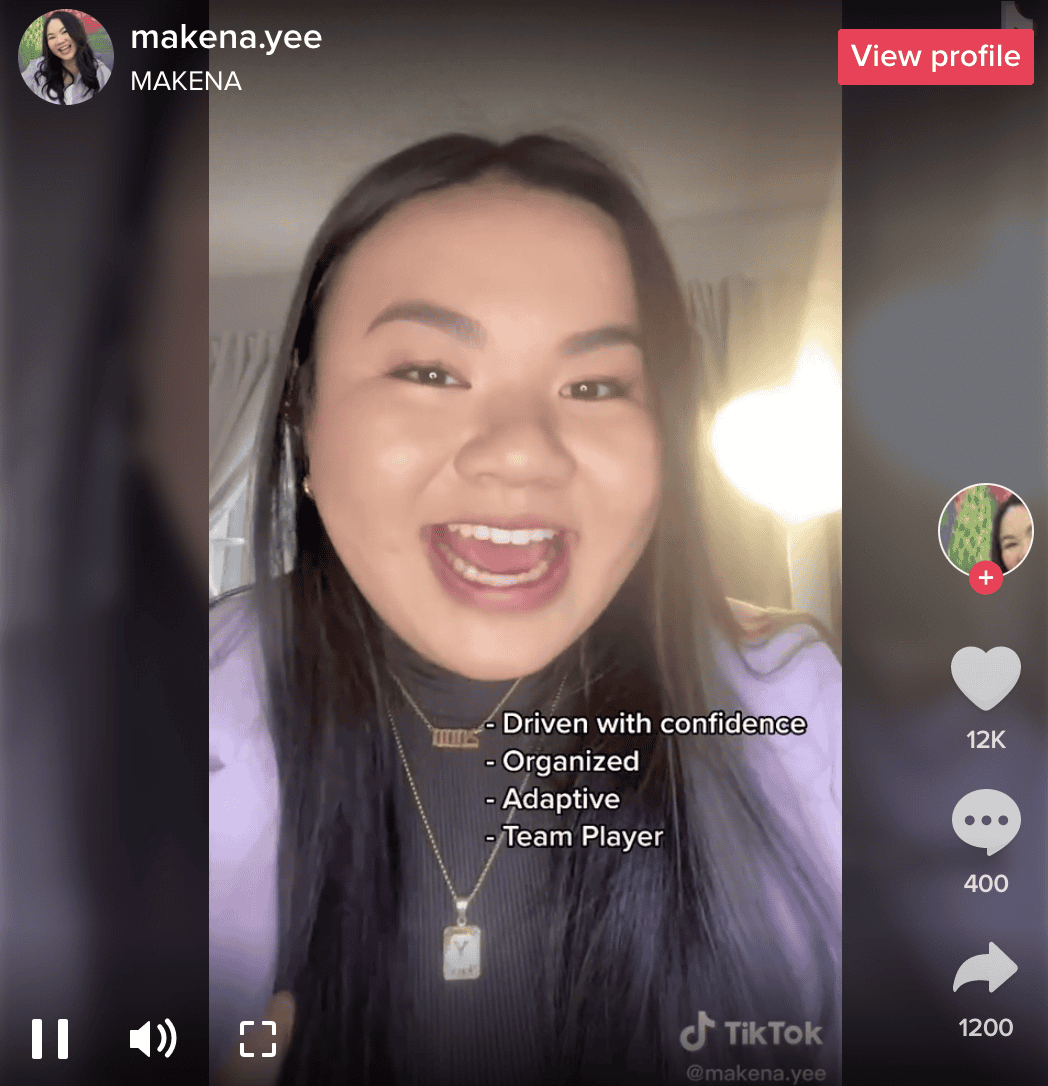 Image source: https://newsroom.tiktok.com/
Unlike enumerating your skills on your resume template, there are so many ways you can express yourself through video. From your delivery all the way to the little details like the fonts or backgrounds you choose, TikTok provides a valuable tool to flaunt your creativity and individuality.
From a recruiter's perspective, TikTok Resumes can help fill positions requiring skills such as content creation and video editing. While not 100% accurate, a video clip can help an employer gauge whether the applicant is a good fit for the role.
TikTok Resumes is not going to replace Linkedin any time soon, but it will definitely enhance the job-seeking and head-hunting experience for everyone.
How to Create a TikTok Resume
Shooting a video for a TikTok Resume is not much different from the standard method of creating any other video on the platform. However, it requires you to do a little more preparation before you tap on record.
Think of your TikTok Resume as an elevator pitch — how can you sell yourself in 60 seconds or less?
Use your traditional resume as a reference
Creating a TikTok Resume doesn't mean you can forgo the standard CV or resume. More often than not, recruiters searching for candidates on TikTok will still ask for an official resume if they want to proceed with your application. Before you start shooting, it's essential to have a soft copy ready.
Your traditional resume can help you plan your video's flow and create a script.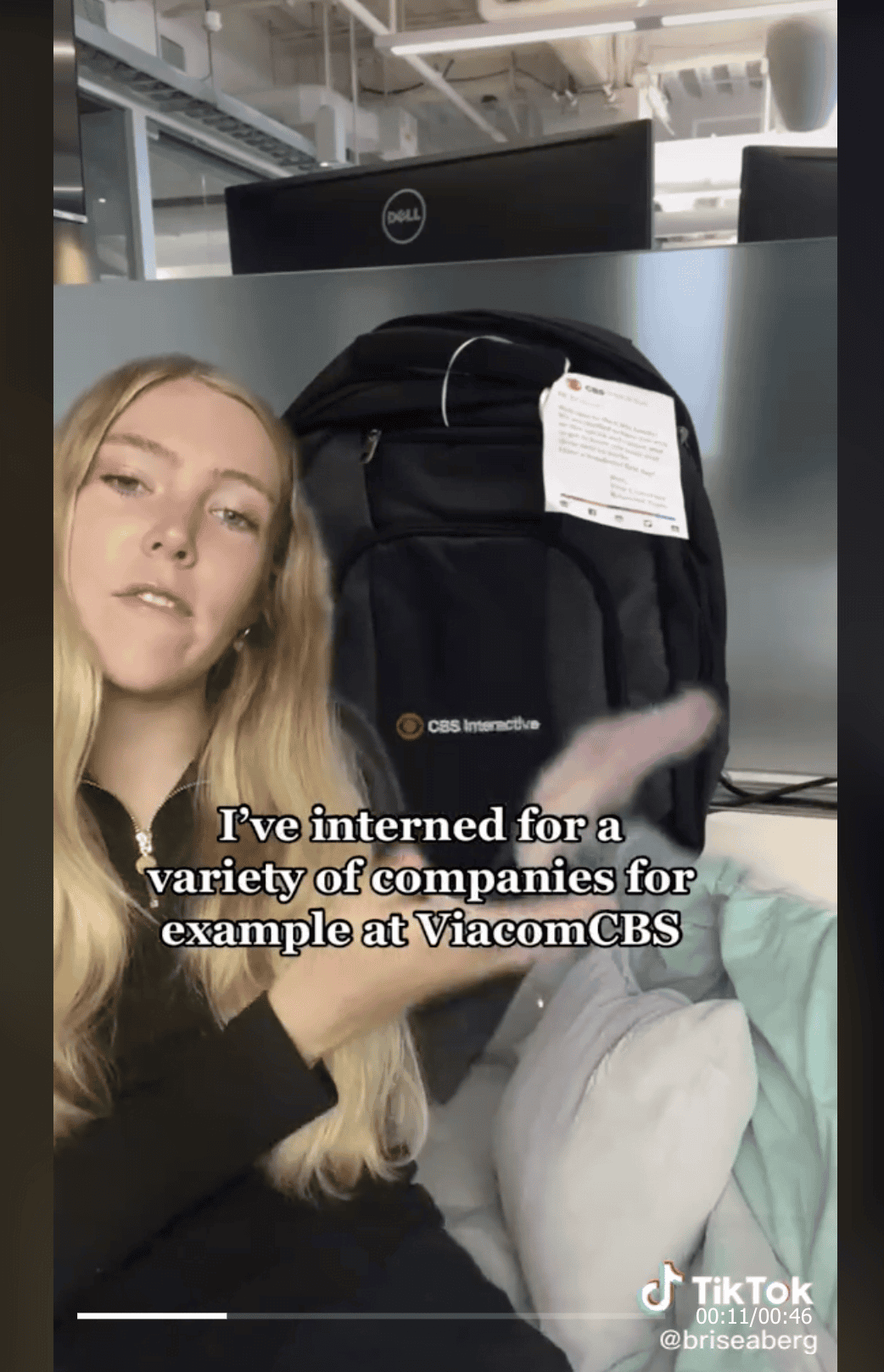 Image source: https://www.tiktok.com/@briseaberg
TikTok user Brianna Seaberg (@briseaberg) highlighted her different job experiences in her TikTok Resume. She first introduced herself, mentioning where she studies and what she majored in. After highlighting her internship experiences and co-curricular activities, she ends the video with her top qualities and goals.
The flow of Brinna's video is a great template to follow as it typically mimics the written resume. Start with your relevant experiences and end with compelling traits that will solidify your application.
Create a storyboard
Creating a TikTok resume isn't just like shooting any other vlog — you have to utilize the platform's features, most notably the green screen background.
Creating a storyboard will help you plan and source the best photos to use as your background in specific scenes. For example, while talking about your different job experiences, it's better to have an idea of the exact photos you'll use so you can shoot your video seamlessly.
Storyboarding makes video shooting and editing easier. To create a storyboard, you can use the classic pen and paper and draw out squares for the different scenes you want to shoot.
Leave space on the bottom of each square so you can write down additional details such as what you want to happen in each scene, camera effects, angles, and the script.
Pro-tip: As an option, you can use storyboarding apps that have ready-made templates for TikTok. These apps make it easy for content creators and brands to plan and produce high-quality content.
Dress the part
Think of TikTok resumes as your job interview; you're trying to make a good first impression. Even though TikTok videos are usually seen as casual and unscripted, like any resume, this one has to be taken more seriously.
Dress up like you're attending an interview. You want to be presentable and professional even if you're probably shooting in your bedroom. Like it or not, people will always be visual creatures, and recruiters will always be drawn to candidates who look and dress the part.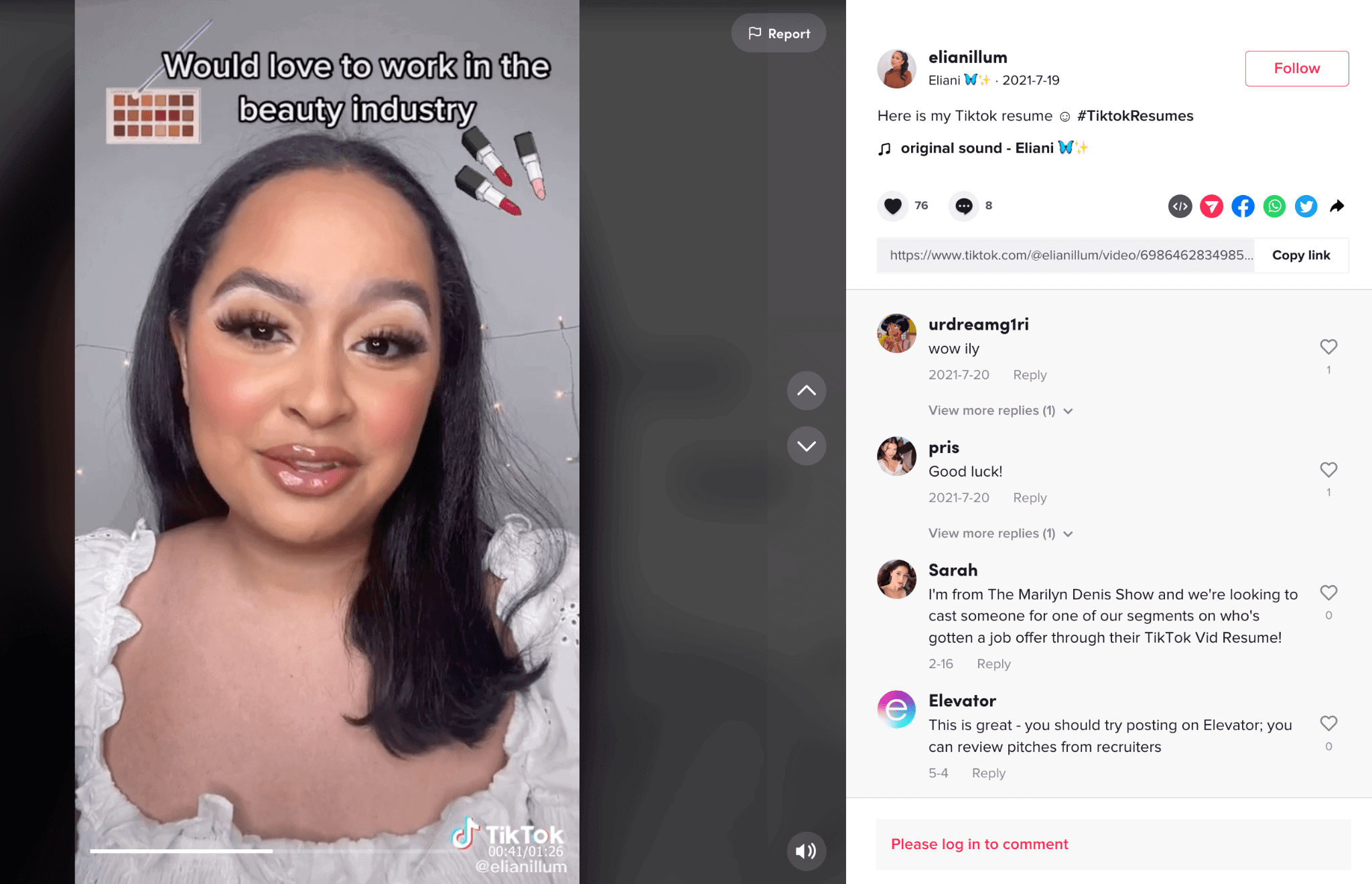 Image source: https://www.tiktok.com/@elianillum
Eliani (@elianillum) made sure to wear a full face of makeup for her TikTok Resume, especially since she wants to attract recruiters from the beauty industry.
Choose a neutral background
Most TikTok resumes utilize the green screen feature, which works best with a decluttered and steady background. In between green screen shots, your audience will also get a glimpse of your background which should be clean and professional if you want to make a good impression.
Add in some soothing music or ambient sounds
TikTok videos go viral mostly thanks to the popularity of specific songs or audio clips. So a TikTok video without any background music will always feel quite empty.
Use soft and appropriate music to add more layers to your video. Music is also a great tool for self-expression and a way to show your personality.
Who knows? Using the right music could push your content to a broader audience and connect you to your dream employer.
Pro-tip: Make sure the music doesn't overpower your voice. Your audience just needs to hear hints of music in the background to fill in the short gaps between scenes and sentences.
Use appropriate keywords and hashtags
TikTok Resumes are just like any form of social media marketing; you need to make sure your content reaches the right audience.
Using appropriate keywords that are relevant to the industry you're interested in can help put your resume in front of recruiters. Hashtags such as #TikTokResumes are extremely important because it allows more people to find your content.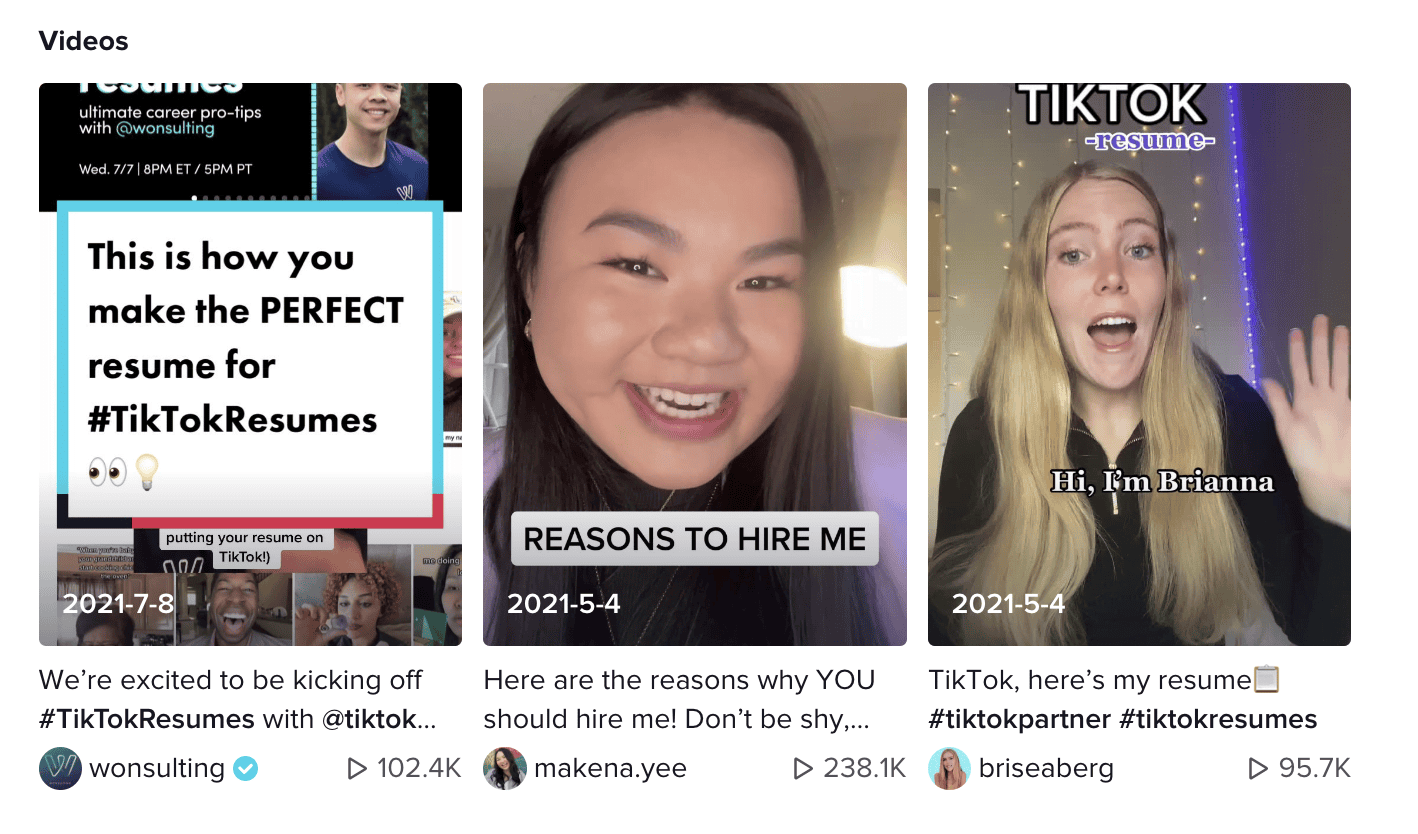 Image source: https://www.tiktok.com/
Other work-related hashtags such as #work and #worklife have billions of views on the video-sharing platform.
How to Connect to More Job Candidates on TikTok
The oldest Gen Z-ers are now in their early 20s, meaning they are already working and will take up almost 30% of the workforce in a couple of years.
What does this mean for companies? You are now welcoming the most technologically sophisticated generation into the workforce. And while your Gen Z audience have found themselves in the traditional recruitment platforms, the way they use them is quite different.
A recent study shows that even though 50% of working age Gen Z-ers are on Linkedin, a whopping 96% don't use them. While the young generation may still use Linkedin to search for jobs, it's important to remember that Gen Z has a shorter attention span, meaning the typical blogs or long-captioned posts on Linkedin might not resonate with them.
If you want to truly connect to your young job seekers, TikTok is your answer.
Show your company culture through short videos
The younger generation of job seekers look at more than just a company's name or the potential pay they'll get. Other aspects of a company including work-life balance and diversity are incredibly important to today's young employees.
Use TikTok videos as an inside-look into your company. Introduce different people from key departments to give candidates an idea what their potential teammates are like.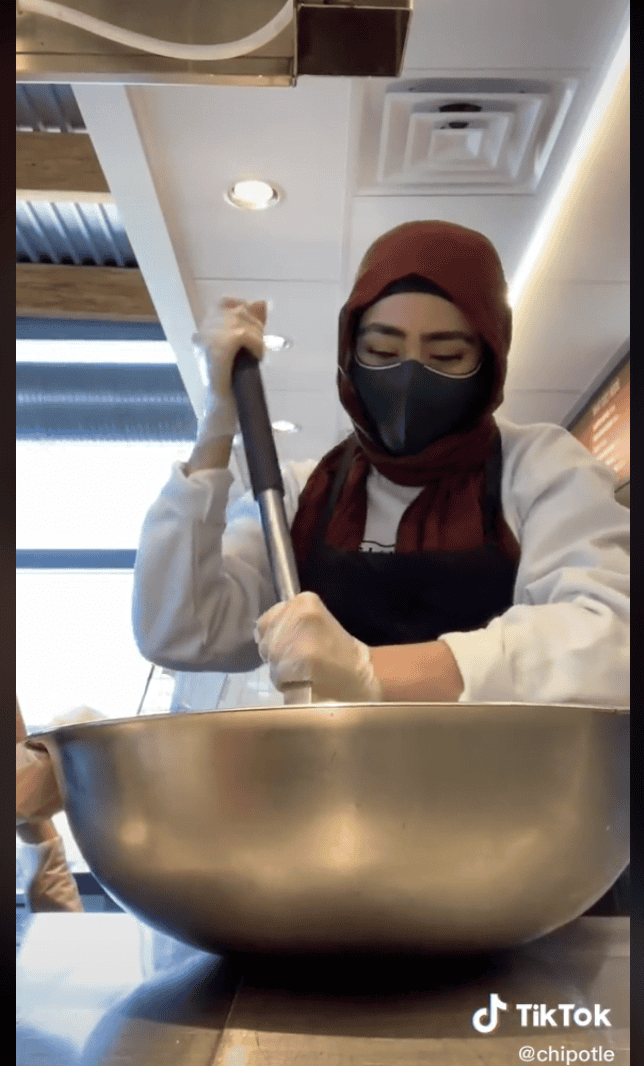 Image source: https://www.tiktok.com/@chipotle/
Chipotle takes employer branding seriously on Tiktok. The corporate account's videos feature past and present employees who are incredibly diverse and happy where they are.
Videos ask questions like: "What's the best thing about working in Chipotle?" or "What's your favorite item on the menu?", as a way to show their audience and customers that Chipotle is a great place to work.
Use the platform to entertain
Even if you're on TikTok to recruit potential talent, always remember that the video-sharing app's primary function is to entertain. Unlike the older generations that use social media as a way to connect to peers and acquaintances, the majority of Gen Z use it for entertainment purposes. Otherwise, your videos will ruin the experience.
Post informational yet fun videos to capture the attention of your dream candidate.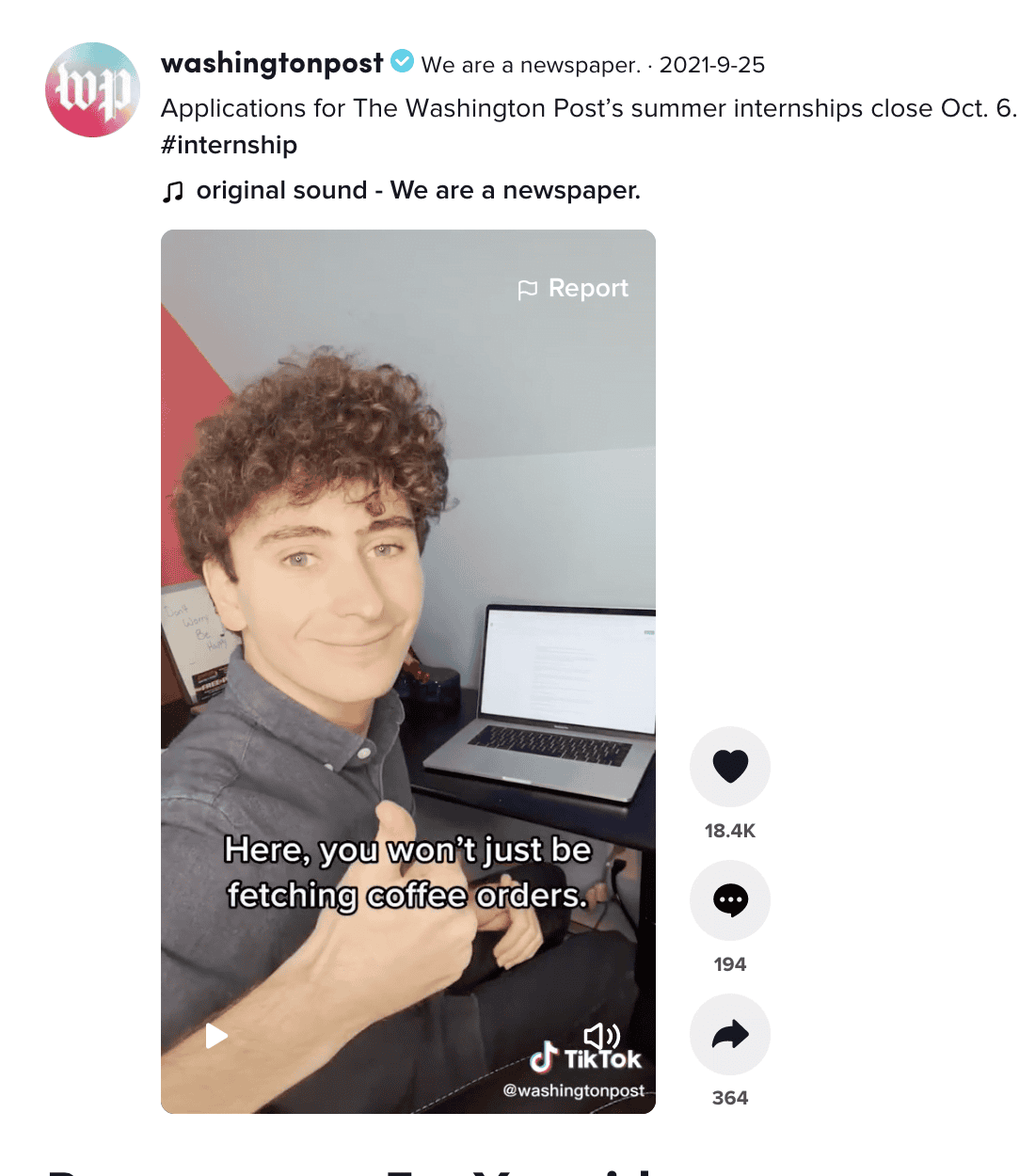 Image source: https://www.tiktok.com/@washingtonpost/
The Washington Post used a satirical video to invite a new wave of interns to apply for the summer program. Through the video, interested applicants can infer that The Washington Post is a fun place to work with employees who are just like them.
Even though The Washington Post's call for job applications targets a specific audience, anyone scrolling through their feed won't feel like their experience is disrupted with a job ad.
Get employees to be your brand ambassadors
Next to your customers, your employees are your best brand ambassadors. It's a good idea to encourage employees to create content on TikTok showcasing what it's like to work in your company.
Job seekers are always interested in day-in-the-life content and other interesting details such as what your work space looks like, your team building activities, what technology your company uses, such as a virtual telephone system, and what perks they may get as an employee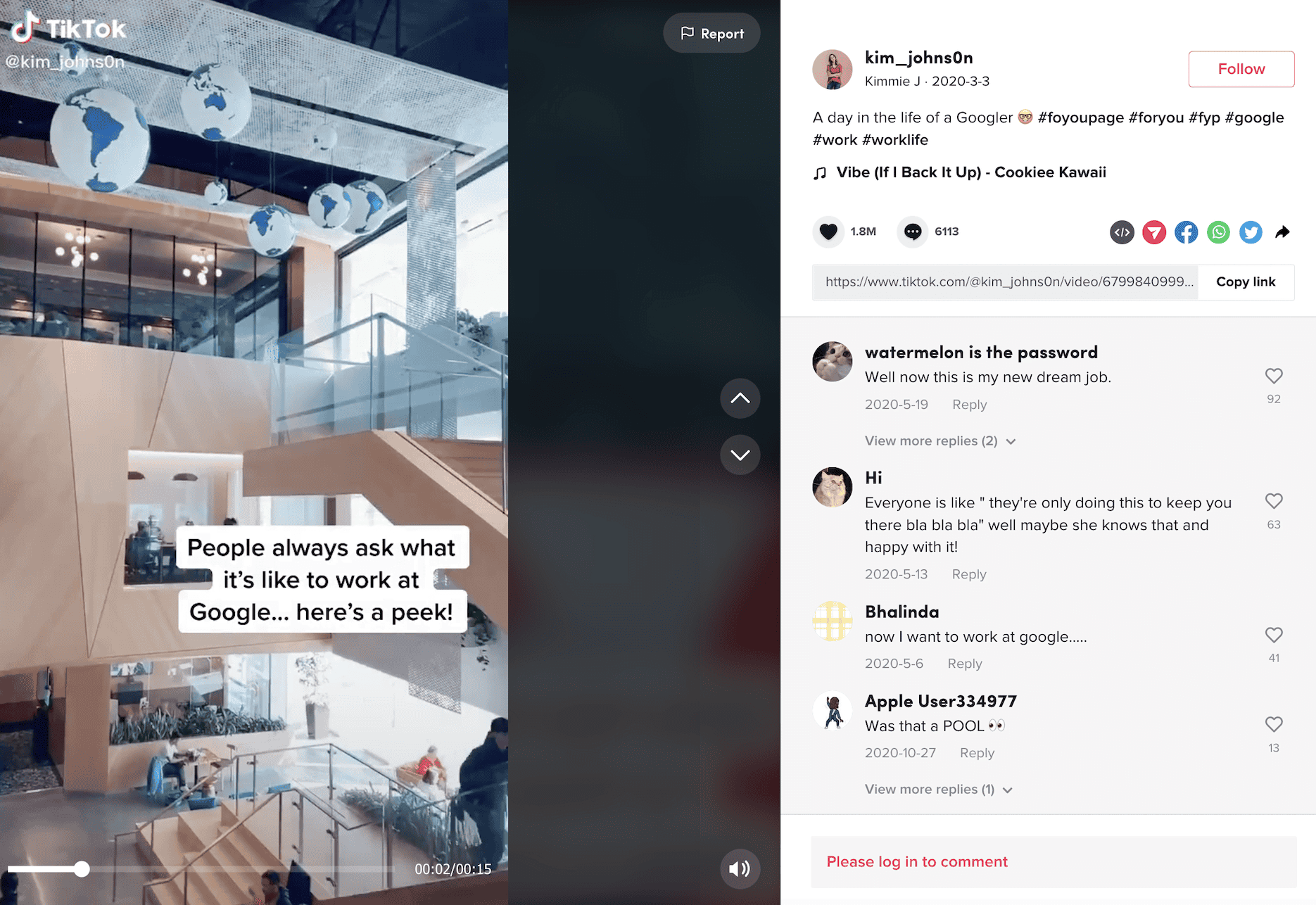 Image source: https://www.tiktok.com/@kim_johns0n
While the tech giant doesn't seem to have an official TikTok account, a quick search of the hashtag #googler will show a bunch of employees sharing what it's like to work for Google.
Content shared directly by employees are seen as more trustworthy than content shared by a brand's profile. Job seekers will be interested to know what it's like during a typical day as an employee of your company, something they won't normally find in a regular job opening post.
If you want to reach more viable candidates, your existing employees will make the best "job ads".
Get Creative
Whether you're a company looking to tap into the younger talent pool or a job seeker looking for an awesome place to work, TikTok is the place to be. While it can't replace the traditional recruitment strategies just yet, TikTok Resumes present a great opportunity to discover new talent and to connect to like-minded creatives.