Chris Makara
What if you knew what tools your favorite experts used to streamline and automate specific social media tasks?
Favorite tool for scheduling posts: Yep, I'll show you.
Most mentioned social media monitoring platform: No problem.
Best tool to create social images: You bet.
Despite what you might have heard or think about social media automation, everyone – including your favorite experts use a tool or two in order to be more efficient with their social media activities.
Aside from going rogue and secretly stalking the top social and digital influencers, you will be hard pressed to uncover the tools and reasons why they use them.
My name is Chris Makara and the founder of Bulk.ly – a social media automation platform.
I knew that in order to create a social media automation tool that separates itself from what is already out there, I needed to know what the experts were already using and most importantly "why."
So I set out to get answers.
I asked over 100 leading experts:
If you could use only 3 tools for social media management, which 3 tools would you use?
Let me tell you, the insights I received from these 100+ social media experts were nothing short of amazing.
You'll learn the favorite tools of leading experts like:
Ann Tran
Brian Carter
Brian Fanzo
Ian Cleary
Jason Falls
Kristi Hines
Larry Kim
Mark Schaefer
Neil Patel
Peg Fitzpatrick
And more!
Ever wondered what the best time to tweet is? Brian Carter shows you the 1-2 punch of how to do this inside one tool.
Have you struggled social media analytics and scheduling? Find out what tool Brian Fanzo uses to eliminate this struggle.
Wasting too much time on content discovery? See what two tools Larry Kim uses to streamline this process.
This isn't some run-of-the-mill list where you have to sift through each response.
Nope, it is fully filtered where you can select a specific tool name or category of tools and instantly see those results.
Interested in seeing tools used for analytics? Not a problem – pick "analytics" from drop-down.
Want to see who uses Buffer? Easy, just select "Buffer" from the drop-down menu.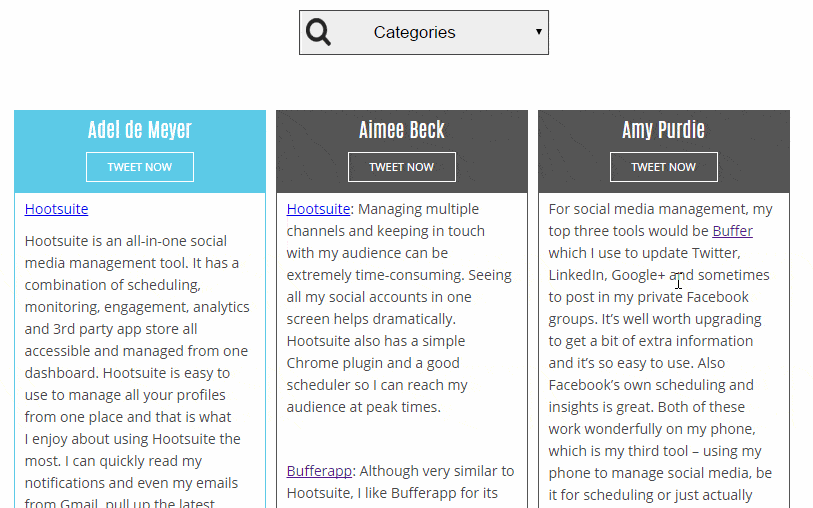 This insight is priceless. I spent months putting this together and you get full access to it.
In the end, I found that there were 80 different tools mentioned – I'll even send you the complete list of all 80 tools in a PDF.
Click below to get instant access to the favorite social media tools of 100+ experts.