Social media is an exciting, bustling, and extremely competitive landscape. As marketers, we constantly push ourselves to create a social media marketing plan that delivers exceptional results.
Why does social media occupy such an important place when it comes to marketing?
That's because 58.4% of the global population uses social media according to a Hootsuite survey. And these users spend nearly 2 and half hours on social media every day, making it a great place to engage with them.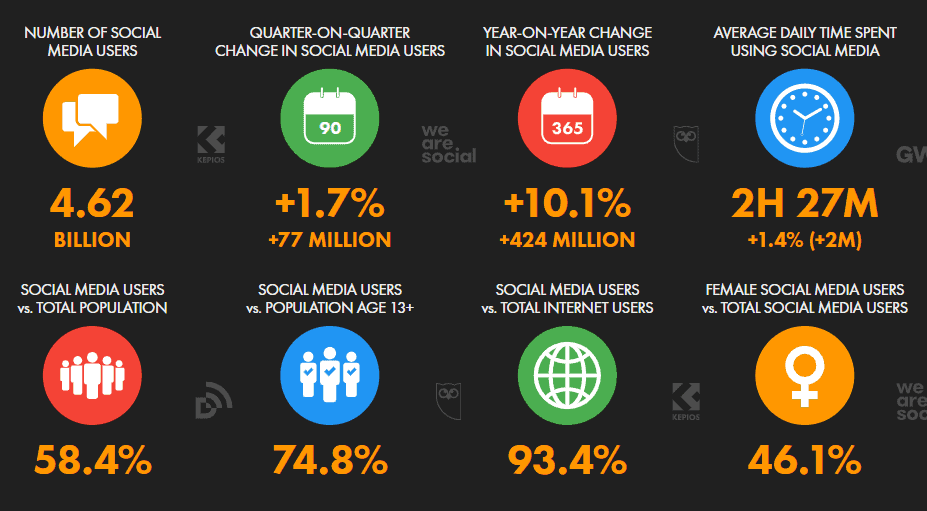 Image via Hootsuite
That's why brands have moved from asking 'why do we need social media marketing?' to 'how can we leverage social media to strengthen our social media marketing funnel?'
The answer lies in creating a strong social media marketing plan to reach your audience.
In this post, I am listing down 10 expert-recommended steps to create an effective plan to get you started in the right direction.
Let's get rolling.
Top 10 Steps to Create an Effective Social Media Marketing Plan
You can leverage the power of social media if you equip yourself with the right strategies and tools. Here are the 10 steps I would highly recommend to build your social media strategy and grow your brand with it.
1. Assess Your Current Social Media Presence
To create a good social media marketing plan, you need to begin by assessing your present position. The first task on your hands is to audit your business's social media presence.
Some of the important elements to take into consideration are:
When your results and goals for the previous years are aligned together, you get a clear idea of where you stand and what you need to do to create a good social media marketing plan to grow further.
2. Understand Your Audience
Your audience base is made up of different groups and before you create a social media marketing plan, it is vital to gain a good understanding of your audience.
Gather all the customer data that you can and analyze it to create your ideal audience personas. Some of the vital details you should gather include:
Age
Location
Frequently visited social media channels
Preferred content types
Pain points
Job title
Income
Purchase behavior
There are several tools that can help you better understand your audience, especially if you've got a B2B business.
When you have accurate audience personas in your hand, you can create more targeted social content and powerful marketing campaigns to engage them.
Get that thing right and you can create a strong social media marketing plan that can assure great ROI.
3. Determine Your Social Media Marketing Goals
Now that you know who you are targeting, the next question you need to ask is, "what do I want to achieve with my social media marketing plan?"
You should focus on setting SMART goals – Specific, Measurable, Achievable, Relevant, and Time-bound. Your social media marketing goals should also correspond to your business objectives.
If you want to grow your brand, for instance, your goal would be to build brand awareness. But if you specifically want to generate leads, you should create a social media marketing plan to boost lead generation.
Broader goals can further be divided into more specific campaign goals with specific KPIs. This can help you track the progress of your campaign too.
4. Evaluate Your Competition
Competitor analysis is an integral part of the groundwork when you create a social media marketing plan. Before you get into the game, you should know who you are competing against.
While evaluating your competitors' social media strategy, you should consider:
The campaigns they are running
What kind of content is working for them?
How are they engaging with their audience?
Which channels are they most active on?
What are their weaknesses?
Along with this, you should also analyze the way users are responding to them and the sentiments they have for your competitors.
The insights derived from competitor analysis will help you craft a better social media marketing plan that can cater to the expectations of your audience.
5. Identify the Success Metrics
As I mentioned earlier, when you create a social media marketing plan, you need to have specific goals for it. But goals aren't enough. It's equally important to have the right metrics to measure the success of your plan.
Before you execute your social media marketing plan, specify the metrics and KPIs you want to track.
Go beyond the general metrics such as likes and views and identify comprehensive metrics that are specific to the goals you have set.
For instance, if you are tracking engagement, you need to measure the comments, shares, mentions, etc. The percentage of website clicks and sales email sign-ups will help you to build an email list and tell you how successful you are in generating leads through the campaign too.
With the right metrics in place, you can be sure that the social media marketing plan that you create and the budget and resources that you allot to it are utilized for the best results.
6. Identify the Best Channels for You
There are several social media channels out there. As of 2022, Facebook and YouTube are the top two most-used social media platforms.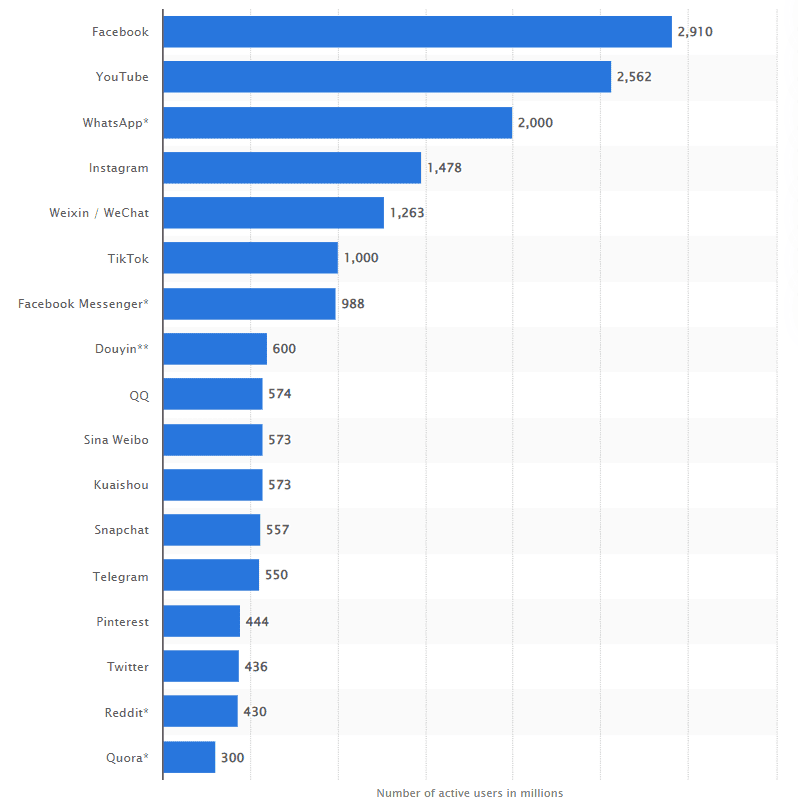 Image via Statista
Each of these top social media platforms has its distinct demographics, which is why you need to have a clear idea about which platforms you want to target when you create a social media marketing plan.
And how do you decide that?
This is where your audience personas can come in handy. Using them, you can figure out which platforms your audience is the most active on. These are the platforms you need to target.
It is also important to understand that each channel has a specific purpose and will help you achieve specific goals, so choose the platform by taking them into account too.
For example, if you are going to target YouTube and want to get the desired result then you can do a collaboration with a YouTube influencer marketing agency that can help you develop an effective YouTube marketing strategy.
Once you finalize the channels, create a powerful social media profile for each platform and optimize it. You can then start publishing content on the platform.
7. Create an Effective Content Mix
You want to be anything but boring or monotonous on social media. And that's why it's essential to come up with a top-quality content mix that consists of your branded content, curated content, and user-generated content.
This way, you won't come across as a brand that's hard-selling itself on social media.
You can also mix up content formats like Stories, Reels, animated graphics, etc., and content types to further add variety to your feed. Some of the most popular types of content are
Irrespective of the content type, though, remember to maintain your brand voice in every post you create for your social media marketing, influencer marketing, and brand ambassador marketing campaigns. This consistency helps you stand out from your competition and also keeps your brand image intact.
For instance, note how BMW uses a mix of Reels, posts, carousels, and other formats to engage their audience on Instagram.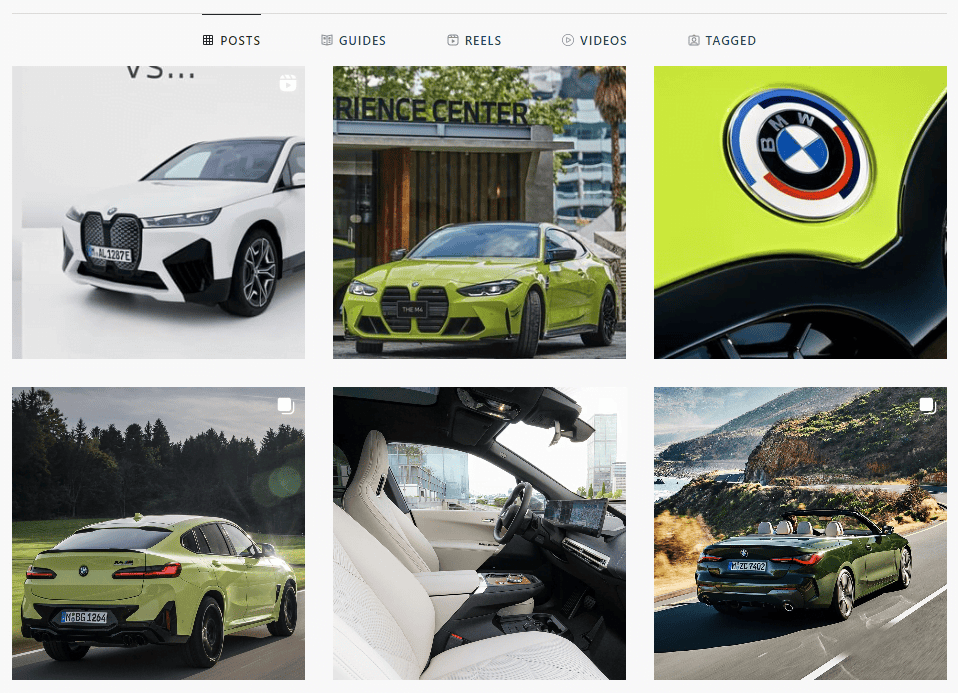 Image via Instagram
8. Determine the Best Publishing Time and Frequency
Irrespective of your content quality, if you're posting at a time when your audiences are not active, you'll not be able to generate the buzz that you are aiming for.
When you create your social media marketing plan, you should consider the optimal time to publish your posts and the frequency of posts per week.
Both these elements vary from one channel to another and are specific for each brand.
You should turn to analytics to figure out when your audience is the most active and choose those time slots for publishing the content. Keeping all this in mind, you must create a well-balanced content calendar too.
9. Invest in the Right Social Media Marketing Tools
Many parts of your social media marketing plan can be automated by incorporating social media tools into your marketing mix. Apart from this, investing in wrong social media tools impact adversely on your small business financial plans.
These tools not only simplify the entire process but also boost your productivity. Some of the popular ones that you can consider to assist you are scheduling tools, social media analytics tools, competitor analysis tools, hashtag generator tools, and so on. These include Buffer, Hootsuite, Semrush, and built-in analytics tools of the social platforms.
By automating repetitive tasks, you will be able to give more time for analysis and innovation. Additionally, it'd ensure that you can publish your content consistently at the right times. And that's how you can create a social media marketing plan that means business.
10. Monitor, Adjust, and Optimize
The moment of truth is when you start implementing your social media marketing plan. That is when you should start monitoring how users are responding to your content. Is your affiliate marketing program driving sales? Are your followers increasing? Are you generating enough leads?
Your social media marketing team should constantly track how your posts are performing and analyze the data to compare it with the goals that you had set earlier. This can help you understand where you stand.
And you can then modify your social media marketing plan on the go based on the emerging requirements. Once you adjust your plan, optimize it to the maximum extent to achieve your social media marketing goals.
Ready to Create Your Social Media Marketing Plan?
There you have it, 10 steps to create a strong social media marketing plan to expand your social media reach, engage your audience, and generate high-quality leads.
It's now over to you and your marketing team to determine your social media goals and craft a plan based on them.
Go ahead and experiment with some of the top techniques I have shared and create a strong social media marketing plan to grow your business.