Imagine your e-commerce business getting a monthly traffic of 1 Billion. For Free.
Yes, that's precisely the opportunity that an Instagram ecommerce business offers!
It's often advised to not put all your eggs in one basket, but a business built on an Instagram ecommerce approach seems too lucrative of a basket to not sink all your efforts into.
As the Internet continues to penetrate our lives deeper, more and more people are becoming a part of the branch that social media is.
More and more people are participating in important dialogues that share philosophical and cultural threads across continents.
Not having a social media presence is without an iota of doubt a lost opportunity to have built a robust business for negligible marketing costs.
MVMT became the world's fastest-growing watch brand — went from debt to being acquired for $100 Million by Movado Group Inc. in just 5 years.
And all that using a social-media-first selling strategy!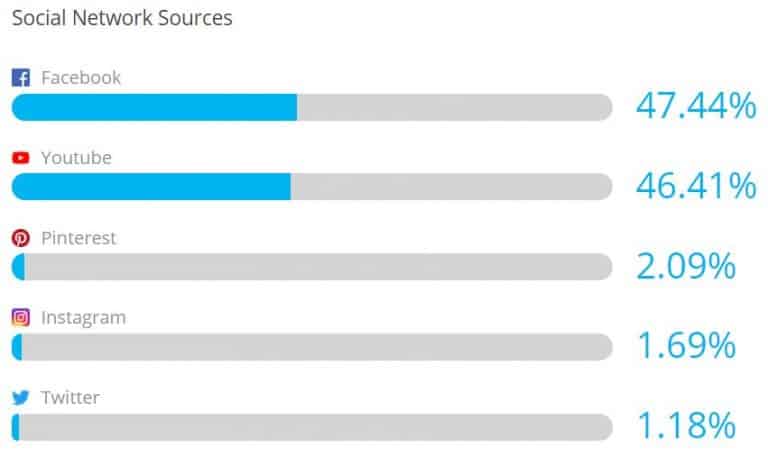 [Source]
This is becoming the success tale of most e-commerce companies lately.
They bypass search engines and drive traffic primarily from dominant social media platforms like Instagram and Facebook.
But you have to understand that social media isn't just a marketing tool meant to be abused only as a sales mechanism.
It provides you with an opportunity to create a community that lives and breathes your brand message and converts effortlessly when you launch a product.
And to accomplish that, you build a system where your social media content constantly attracts new visitors and your website is attuned to the social media visitor.
This ideology suggests that your business would revolve (almost) only around social media as opposed to the conventional SEO infrastructure.
That is, things like keyword density or backlinks from authority websites do not matter.
What matters is how easy it is for a social media visitor to check out and buy.
Remember that when there is a market to capture, rendering your competitors irrelevant is the greatest weapon in your arsenal.
And stories help you achieve that —
the stories that people can relate to,
the stories that empower people,
the stories that inject hope into people's lives,
the stories that place joy right in the middle of the mundane.
Treat your prospects like community members and watch how willingly they become a part of your business soul.
Now let's look at a few ways to execute this deceptively simple strategy and build an Instagram-first e-commerce business:
Tell A Story
The age-old saying that a picture is worth a thousand words comes alive in the case of Instagram.
People are moved by and feel connected to stories!
And Instagram offers you two opportunities to achieve that: Photos and Captions.
Yes, it's not enough to publish a beautiful pic and call it a day!
The most ignored section, if utilized well, can be the most effective method to build a dedicated community.
Captions allow you to append a human element to gorgeous-looking pics. It adds a sense of personalization and lets the viewers know that there is a human behind a company.
And that sparks a connection which no paid ads funnel can achieve! Am I right or AM I RIGHT?!
It could be something informative, heartfelt, and mission-oriented like: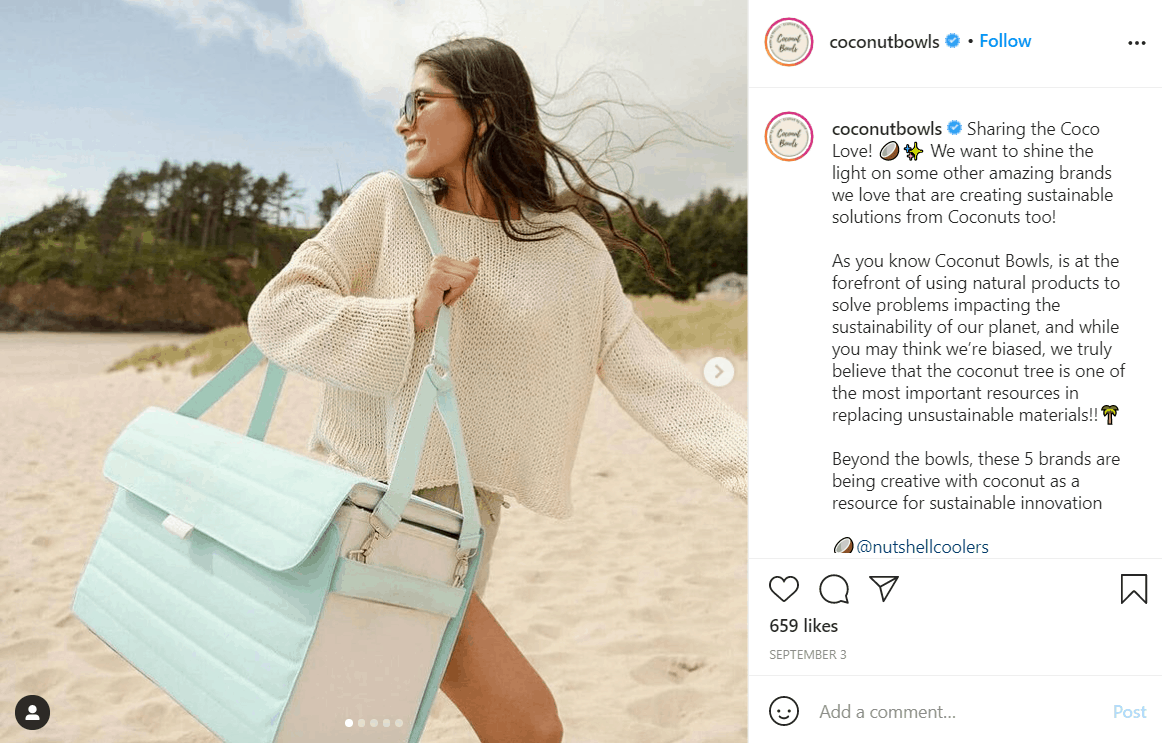 [Source]
…or something relatable and funny to lighten up your prospects' minds: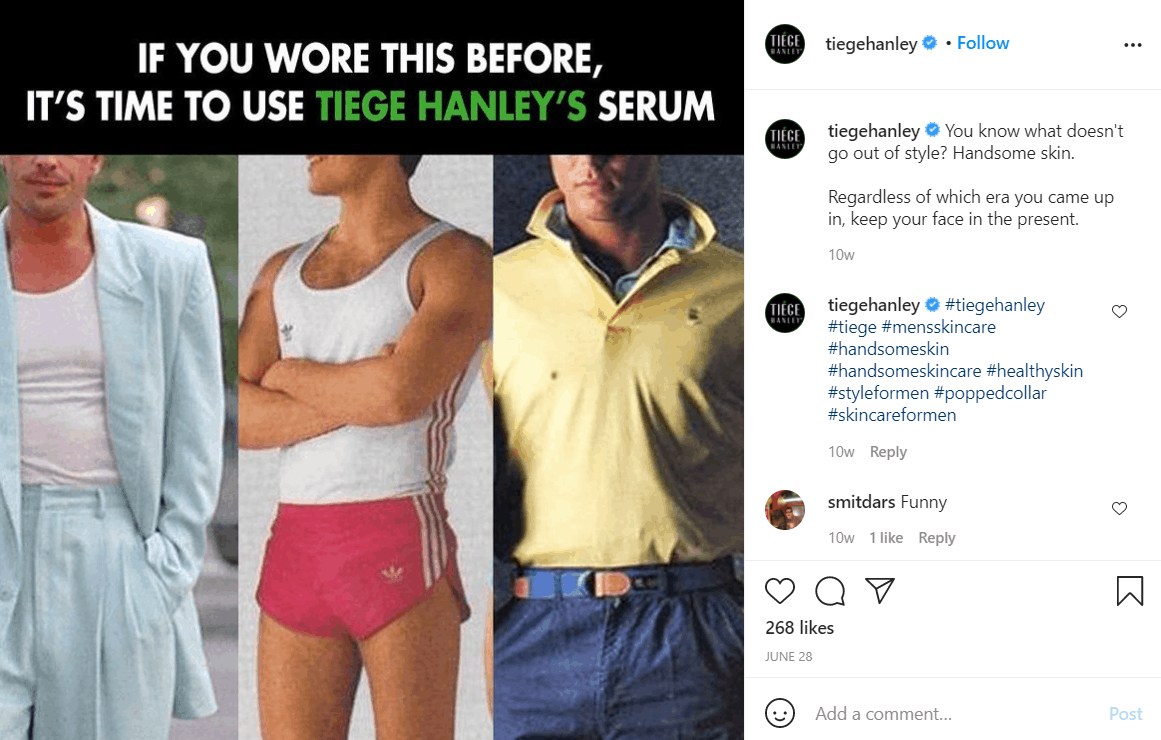 [Source]
Remember humor creates an everlasting memory and helps your probable customers retain your brand in a sea of companies screaming their best advertisements.
Be A Human — Engage
Expecting people to be there for you when you aren't is not only foolish but also borderline selfish.
If you wish people to follow you, be interested in what you have to say, and buy what you sell, then you need to invest time into engaging with your audience.
Take genuine pleasure in interacting with the people who like and follow your content.
Have an intellectual discussion, appreciate their praises, etc. right down in the comment section.
Don't just publish a highly-researched collection of hashtags as a comment and sit back to watch as Instagram grants you organic reach. Not gonna happen. Repeat after me: Not. Gonna. Happen.
Treat every post like a networking opportunity to build a stronger connection with your followers.
Randomly select a few of your most active followers every week and send them audio or a video DM acknowledging their support, and watch how this 'strategy' skyrockets your brand's social depth.
Do what other e-commerce store owners won't and you'd not have to scratch your head thinking how to grow your revenue or curb the ever-growing losses. Well, isn't that the case for most e-commerce founders?
Don't Display, Simply Show Off
People can only know what you tell them.
People only believe what you tell them with conviction.
No one is going to market your product for you. You have to do that, daily and relentlessly.
And nothing screams more conviction than someone confident enough to flaunt or show off what they have got.
Please note that I'm not referring to mindlessly shoving your products in the face of your audience.
I'm urging you to flaunt your products most humbly, but with panache.
Do it in a way that arrests viewers' attention, hooks them into reading the caption, convinces them to be your follower, and in the best-case scenario, buy from you.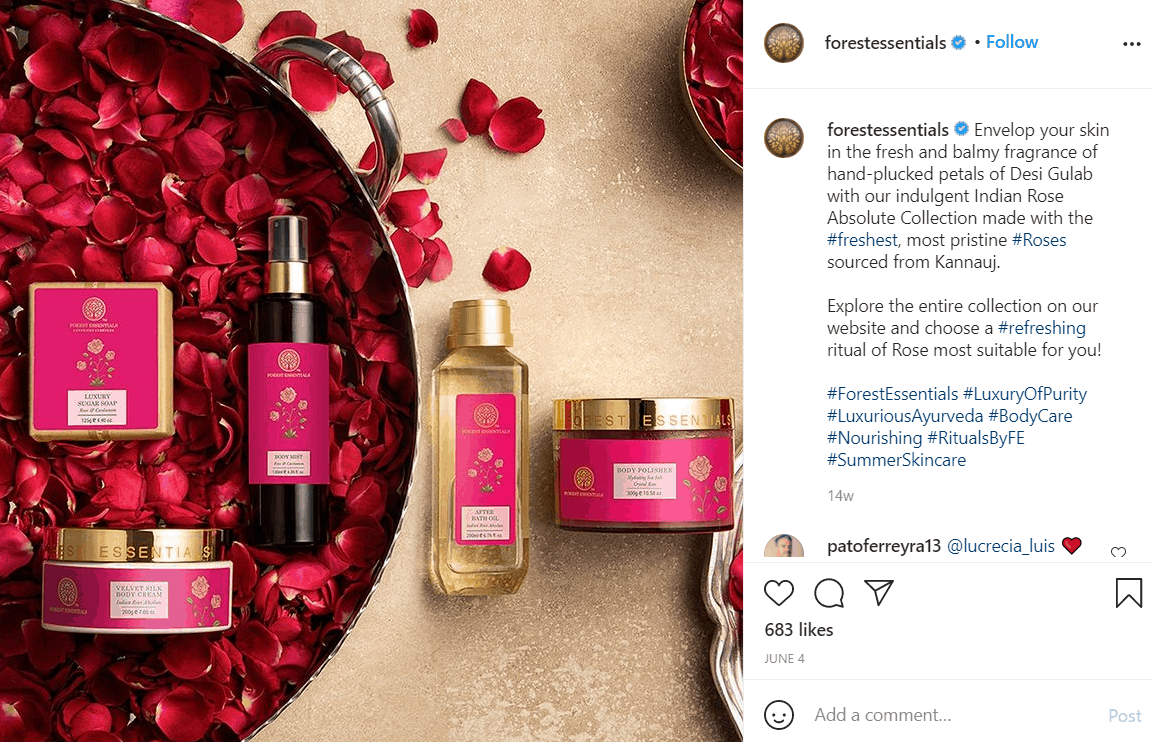 [Source]
Now tell me that isn't one beautiful product pic. It makes you feel that sudden breeze of calm, elegance, and at the same time makes you wonder why you don't have the product yet.
This, this kind of show-off is what's needed for smooth conversion of followers into customers.
Get Some Goals
Before you hop onto the idea of building content for your Instagram account, make sure you know, clearly enough, why you're on Instagram.
Your goal could be to make a revenue-dripping machine or use it as the best brand-building mechanism.
Alex Berman, an activist-entrepreneur on a mission to pay his international staff $5k per month, states intelligently:

[Source]
You see, once you know the 'why', the 'what' and 'how' follow effortlessly.
VisualizeValue, a project and a million-dollar business by Jack Butcher, has its goal clearly defined: Signal in a world of noise.
And its content flows beautifully: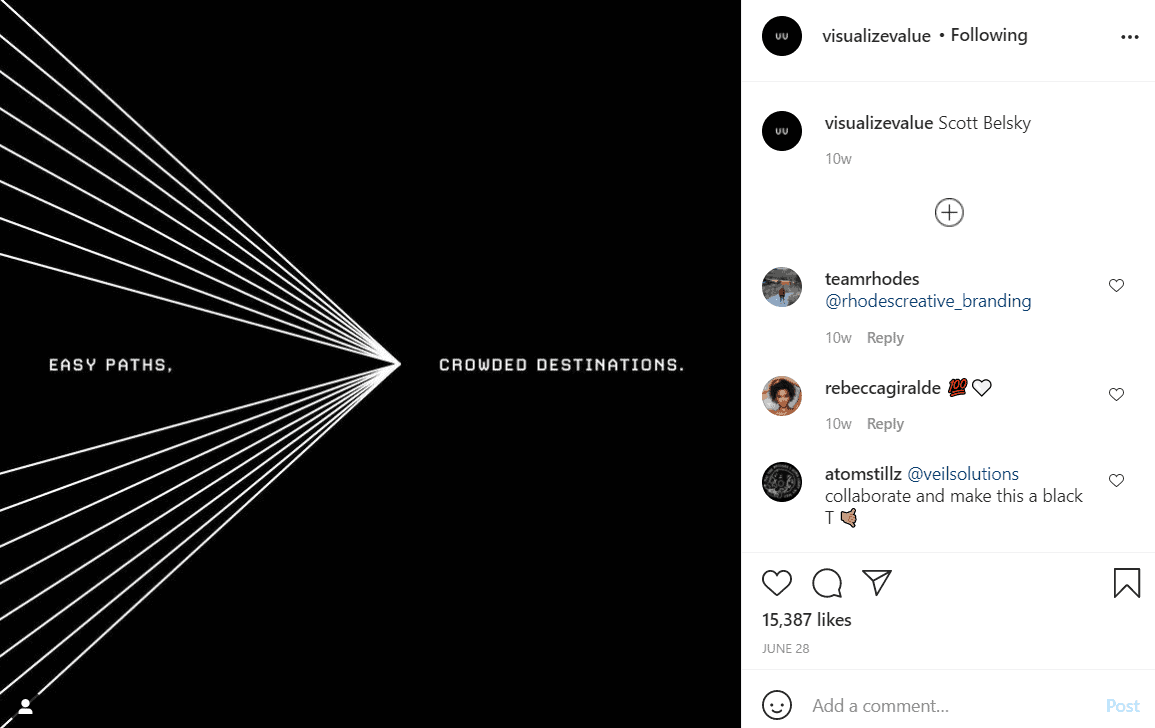 [Source]
Do you already have your Instagram mission boiled down to a mere sentence? If not, keep refining, and you will get there.
And when you do, it's only going to be a matter of staying consistent with content publishing to reach your business goals.
Have An Instagram ecommerce-Ready Infrastructure
If you plan to build an Instagram-first e-commerce business, you NEED to have an Instagram-ready infrastructure.
It simply suggests that Instagram logistics cannot be an afterthought for you. Every little business detail needs to be molded around the very idea of making your Instagram presence a success.
When you are setting up product photoshoots, make sure that you capture more than just one for the product page.
Capturing lots of photos and videos build digital assets that can be used later on social media.
The most perfect ones could go on the feed.
The more raw ones could go on reels and stories as behind-the-scenes.
I prefer to call this the 'Click Once, Use Twice' Strategy.
If you also have a physical store, make sure the interiors are 'Instagram-ready'.
What does that mean, though, right? It means your store offers an experience that's good enough to make you and customers want to click photos and videos and post them on Instagram as an experience.
Run heatmap analysis and session recordings to see what's stopping your visitors from clicking and engaging with your website content.
It's not acceptable to just have a store where people could walk in and window shop, and then just leave.
Even if they don't end up buying, they should walk away with a memorable experience.
Since it's Instagram that we're dealing with, your visitor is most likely coming from mobile, so have a mobile-first policy for your landing page for a seamless experience.
It must clone the UX of your web landing page with a smooth checkout process! Once you have set up Instagram Shopping, you can use business process automation tools to automate tasks such as product tagging, order processing, and shipping. This can help you save time and improve efficiency.
Let Content Find You
He who chases never gets.
You can have almost everything that you wish if you become worthy of it and let it come to you.
User-generated content philosophy is just that!
There is no better way to publish content in volume & get brand visibility quickly than leveraging user-generated content.
Many companies, like Wagh Bakri Tea, capitalize on it to achieve great results:

[Source]
And their '#EkCupChai' (which translates to "One Cup Tea") yielded them highly-niched results: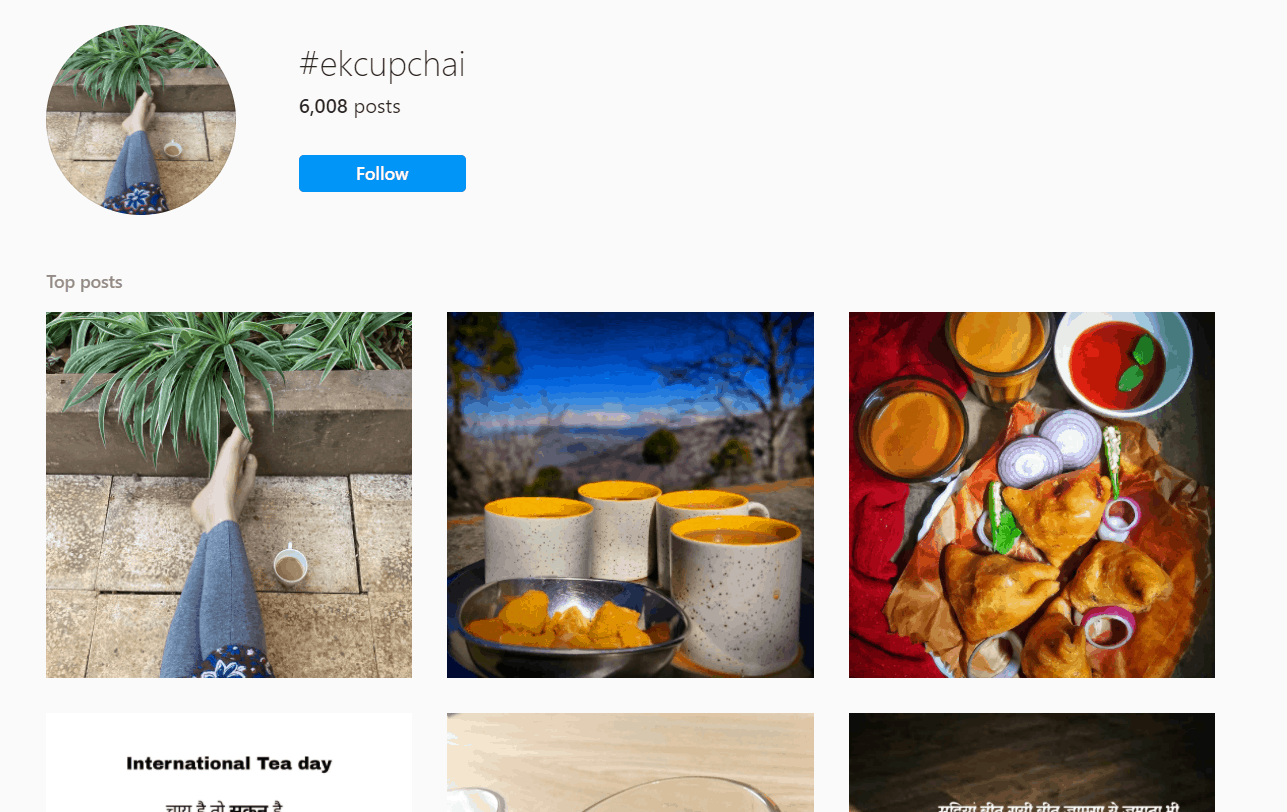 [Source]
You could do this with a giveaway contest or with a host of ideas that vibe well with your business goals.
This works because it makes your followers feel included in your mission. Their souls brighten with the idea of getting a piece of the ever so elusive, social media fame.
And of course, the greatly priced winnings, if giveaways are considered a part of the deal.
Is your brain teeming with ideas for user-generated content? Share with me down in the comment section. I'd love to help you refine them.
Track Instagram Ecommerce Like You Mean It
Success can't be achieved if efforts aren't tracked, measured, evaluated, and rectified.
And so is the case with Instagram, and it's more delicate here as you only have one link to promote.
You need to pick the right metrics to track for conversion.
Sales is one thing, but there are other things to track too:
You don't need to worry as there are plenty of third-party apps on platforms like Shopify that can help you track growth.
Regardless of the metric type you end up tracking and measuring your performance against, you'd have solid data in as little as a month to start making the required changes in your strategy.
If in a month, things don't turn out the way that you thought they would, don't panic. It's common, and that's why you need to be consistent with tracking.
Just Influence It
When you're trying to decide which phone to buy, who do you trust more: a random person on the street or a friend you know who is into tech?
Of course, it's the latter!
That's because customers put their trust in a person of credibility, period.
So, whichever domain your e-commerce store lies in, find influencers that your Target Audience raves about.
Build relationships with them instead of spamming them with partnership offers.
And you don't need to spend a ton of money on extremely pricey influencers, pick nano or micro-influencers, who would be more than happy to get free products in exchange for an honest review or a series of Instagram posts.
Remember that it doesn't take money, but well-thought-out strategic planning.
Don't go for a volume of influencers. Instead, build quality long-term relationships with a handful of them, and watch some handsome results check-in.
Invite Them Behind The Scenes
This is your arena to show everything that makes your business.
And to build a dedicated community, invite them to the daily process.
Anything that isn't polished and feels like it doesn't deserve to be permanently on your feed, share it with your followers via Instagram Stories.
A good practice would be to publish an average of 5-6 stories a day.
Here's a clincher: Polls.
Yes, Instagram is currently providing polls with a very high organic reach.
Ask questions that compel your audience to input their opinion. Makes them feel that they are contributing to the business-building process.
It could be even as simple as choosing a product label out of four that you brainstormed.
Instagram is not dead. It keeps on growing ever so much with newer features, like Reels.
Keep exploring Instagram and utilize every feature to maximize the probability of making your account as well as your business a beaming success.
Don't hesitate to execute on an unconventional idea that pops into your mind late at night. That might just be the one that propels you to what people call, Instagram success!
Which strategy resonated with you? Let me know in the comments below, and ask me any questions that remain unanswered for you.