According to our guide for SaaS marketing, Instagram was the third-most used platform for social media marketing in 2020. With over 1 million active users on the platform, its popularity is only expected to grow.
But with so many brands to compete against, how do you make an impact with your Instagram stories? Creativity.
As I know tapping into your creativity can be challenging, I've compiled ten innovative Instagram story ideas to inspire you.
1. Do A Brand Introduction
The best conversations always start with a "hello," making an Instagram brand introduction the first stop for any brand that wants to build a relationship with its audience.
An Instagram brand introduction is a set of photos, videos, and infographics that give new customers an overview of your business. This includes several key pieces of information about your brand, including:
Your business values.
The products and/or services you offer.
Your company history.
The unique selling proposition or 'USP' of your products (i.e., what makes you unique from competitors).
Your social media goals.
When posting a brand introduction as an Instagram story, you will need to create several slides with engaging images and easy-to-read information – like the Milk Jar Candle Co has done below.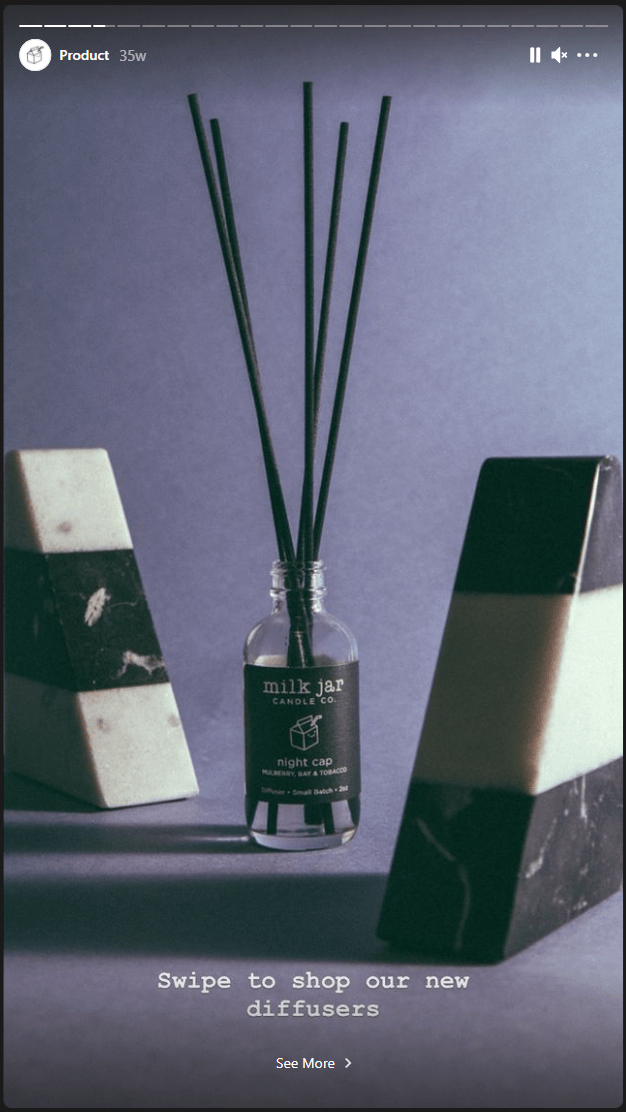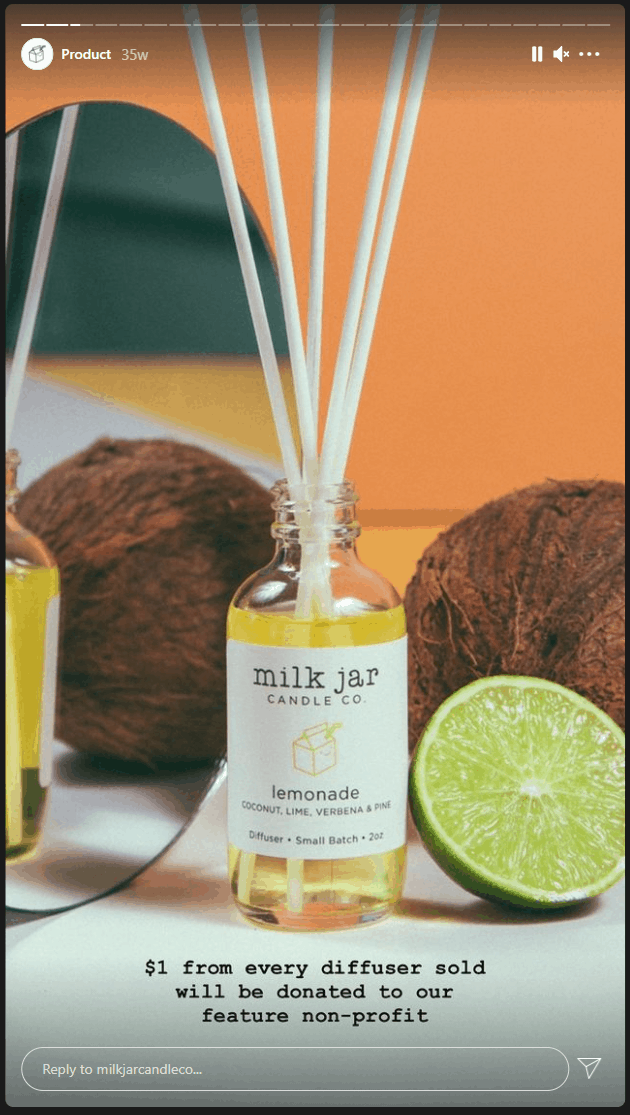 Images via 'milkjarcandleco' on Instagram
As your Instagram profile will constantly introduce new people to your brand, I recommend saving your brand introduction story as a 'moment.' This will pin the story to your Instagram page, where it can be watched by anyone who views your profile.
2. Introduce Your Team
Businesses, no matter how large or small, are collaborative efforts between skilled teams of people. So when you're looking for inspiration for your Instagram stories, you might just find it in the office.
As customers are becoming increasingly curious about the daily-operation of brands they buy from, introducing your team through your Instagram is a great way to create a personal and emotional connection. Whether you choose to make a weekly post about a team member's achievements or do humorous vlog tours of your office, team introductions provide customers with tangible information they'll remember. This will improve your customer loyalty and optimize your sales funnel by maximizing sales revenue long-term. When customers make a purchase, they'll think about the amazing people their purchase supports.
If you want to see a great example of a team introduction, check out another great Instagram story from Milk Jar Candle Co.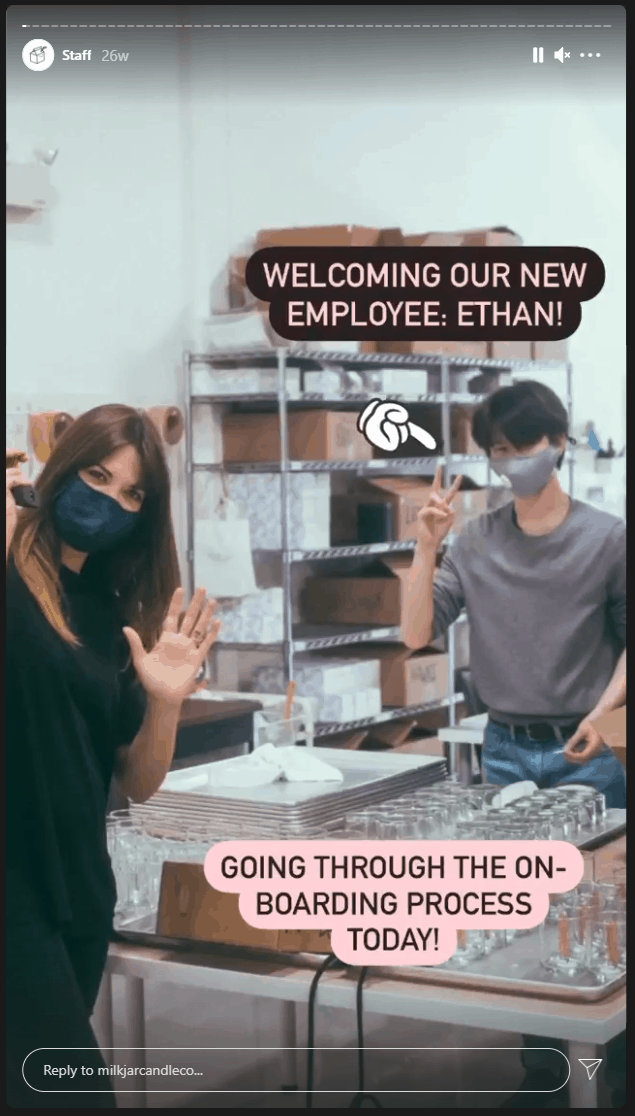 Images via 'milkjarcandleco' on Instagram
Pro-tip: When introducing your team members publicly, make sure you follow your social media policy and obtain permission before sharing your team members' images and videos.
3. Do A Product/Service Highlight
Product/service highlights are a staple of Instagram story marketing. These stories are simple to put together but highly effective at converting customers, giving you excellent marketing mileage.
To put together a product or service highlight, simply pair your awesome product shots with engaging 10-50 character captions. Ideally, your highlight will also include something to entice viewers into making a purchase – like a 24-hour discount code or an exclusive new product.
As a marketer, I love product and service highlights that are aesthetically pleasing: like this cozy example from sheet retailer Brooklinen.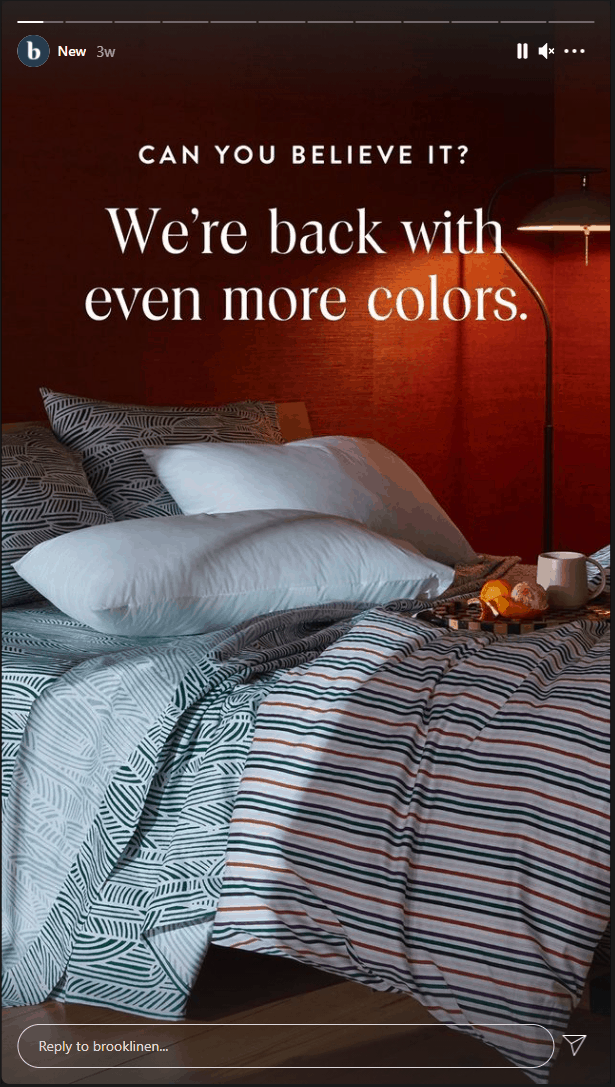 Image via 'Brooklinen' on Instagram
However, it's also essential that you don't limit yourself to just pretty product shots. To make sure your story sells, include a link that directs people to your website in each slide. Then, use your killer website to seal-the-deal.
When building your website into your marketing strategy, make sure you use mobile-friendly website design – as the majority of Instagram users browse on their tablet or smartphone.
4. Create An Instagram Poll
While the examples I've listed in this article so far are image-based, you don't need to post pretty photos to create engaging Instagram stories. One of the best ways to get engagement is the simplest: ask your audience questions through a poll.
To create a poll, you simply select the "poll" option from the sticker list in Instagram's edit story' screen. This will bring up a 'yes/no' box, with a space to type your question and edit the answers. Like Tentsile has done in the example below, you then post the poll as a regular story and collect the results through the 'seen by' icon on your story.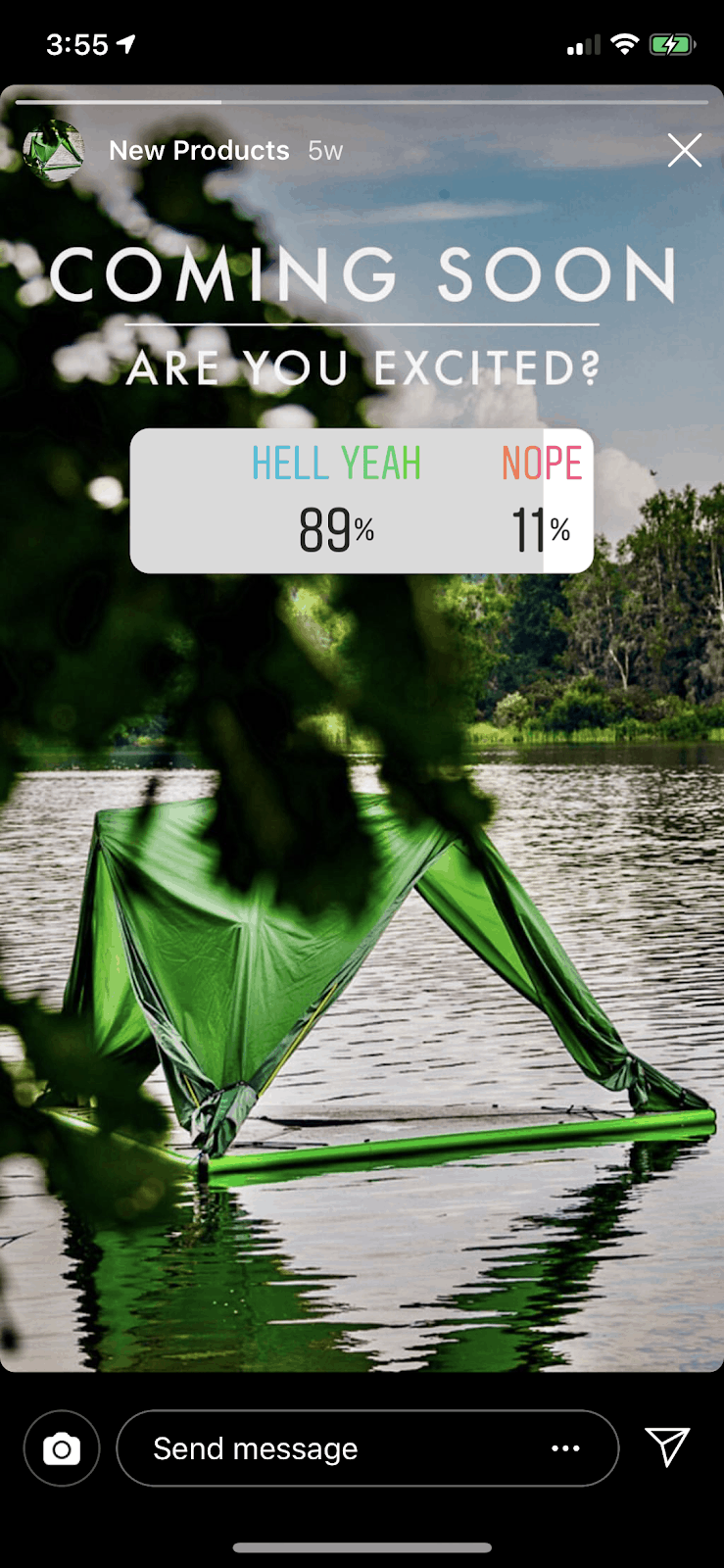 Image via iconosquare
While Instagram polls generate great engagement, they can also help you collect data about your followers. Once you have this data, you'll be able to segment your audience by demographics, location, and behavior: allowing you to design your Instagram content around your followers.
As audience-driven content has a higher conversion rate, this is a profitable yet ridiculously easy strategy.
5. Do Shout-Outs
As organic content dominates Instagram, it is an even playing field between everyday-users, influencers, and brands. This means that the conversations you have with followers, influencers, and other brands are two-way: they can talk to you, and you can talk to them.
There are several appropriate times for a brand to do a shout-out in their stories, including when another brand engages with you, when you want to highlight an awesome post from a public figure, or when a follower tags you in a post (like you can see in this example from Wool and the gang below.)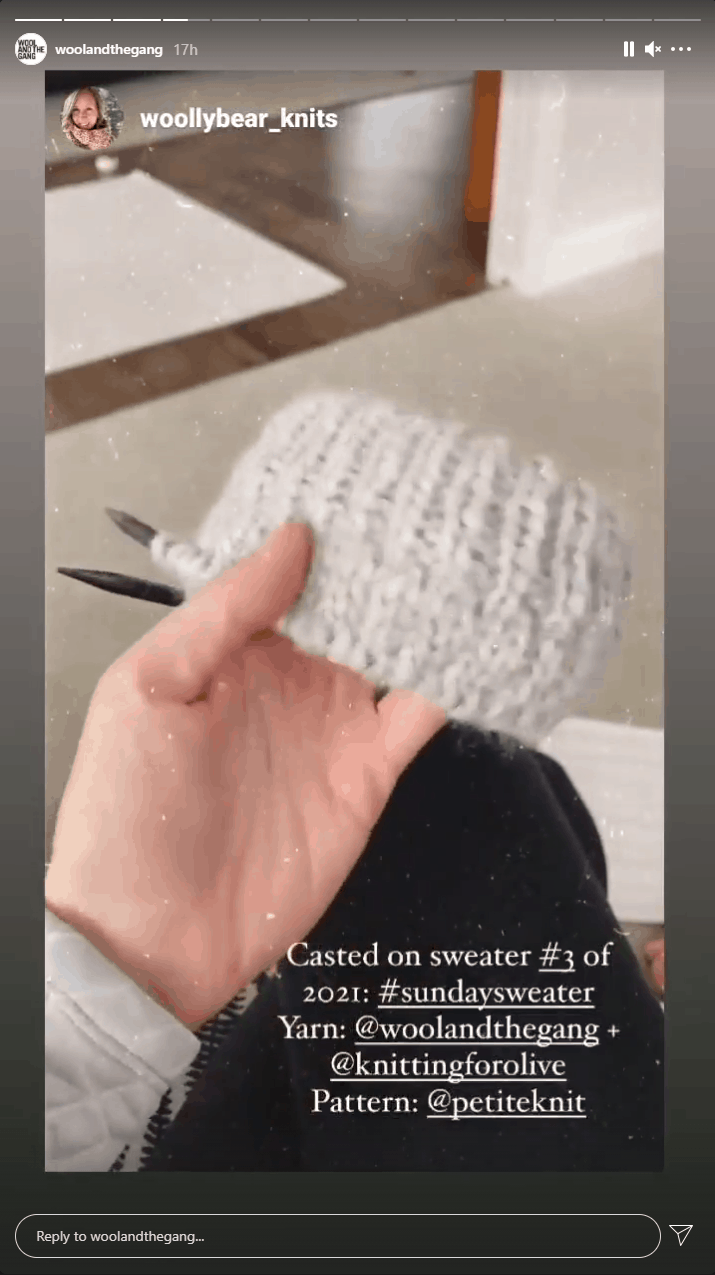 Image via 'Woolandthegang' on Instagram
Shout-outs in Instagram stories operate slightly differently from shout-outs in other types of posts. Posts on social media usually have three types of tags: '@' tags used to tag other users, hashtags for trends, and meta tags that codify the post's content for search engines.
Currently, Instagram stories only include the '@' tag and the hashtag, meaning you can shout-out other Instagram users and hashtags, but not through meta tags. To do a shout-out, simply add a text box to your story with '@' for a user and '#' for a trend.
6. Create Instagram TV Content
Creating Instagram TV (IGTV) content is a top-notch way to increase your brand exposure among Instagram users, as IGTV posts appear four times larger on the 'explore' page than regular posts. This allows you to create a mini Youtube channel for your brand, increasing your reach dramatically among a new audience.
As you don't need any fancy film equipment to create IGTV content,  creative IG story ideas are a killer strategy for every business. To start your channel, simply download the 'IGTV' app, log in with your account credentials and wait for your Instagram account to sync. Then, you can film and edit IGTV content inside the app before posting it to your account.
There are plenty of awesome videos you can create with IGTV, including:
How-to videos.
News updates.
Interviews.
Product launch lives.
Reviews.
Client testimonials.
Unboxings.
Office tours.
Q&A videos.
Alternatively, you could take inspiration from Jesse Driftwood and create an abstract IGTV video that's guaranteed to attract eyes.
https://www.youtube.com/watch?v=iJ8rr1zs3oQ
Image via gettinggrowth
7. Feature Popular Location Markers
No matter the size of your business, adding location markers to your Instagram stories will increase your engagement.
Location marketers are location-specific tags that mark where you are in the world. As a brand, this has two advantages:
First, Instagram will recommend your page to users local to you, increasing your follower count.
Second, marking your business location will give you a connection to the real world: taking your business from cyberspace to an actual place.
When you travel to a popular location (like a festival or conference hall), location markers can also draw the attention of visitors – just like it did for Mailee.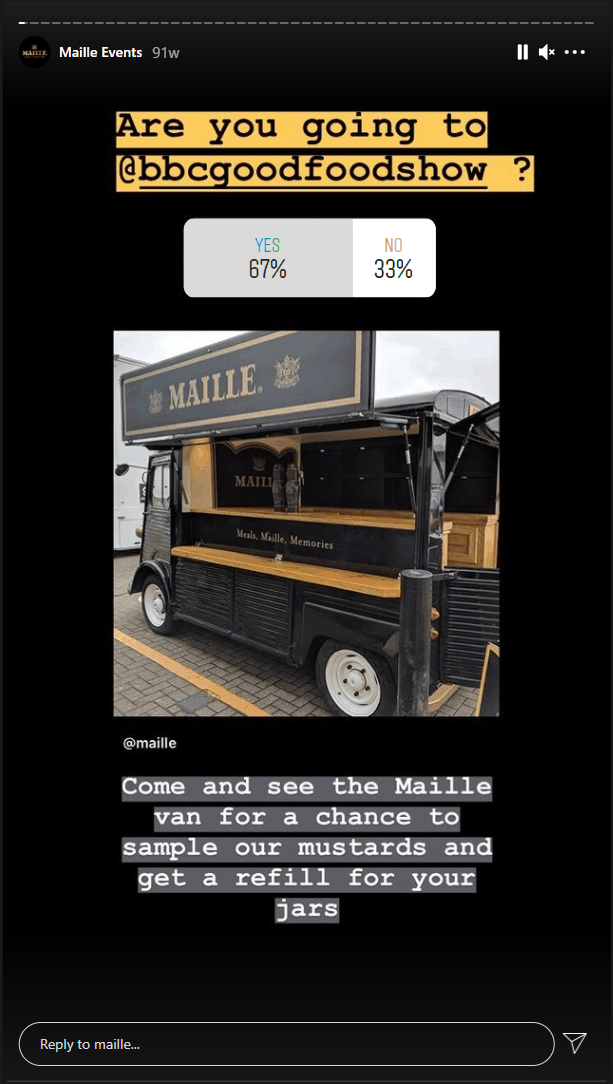 Image via 'Maille' on Instagram
8. Use 'Swipe Up' Posts
If you're looking to increase short-term sales figures, introduce a new product or draw followers to your customer education, make sure you take advantage of 'Swipe Up' posts.
A Swipe Up post is exactly what it sounds like: a post with an embedded link that activates when users swipe up. These posts are available to anyone with an Instagram Business Account and at least 10,000 followers, meaning they are only available to established brands.
However, once you have the option, Swipe-Up posts are effortless to create. To make one, simply select a story image, click the 'link' button and add in your URL. Once posted, your slide will include a call-to-action prompting viewers to "see more," just like in this example from Abby Sharp.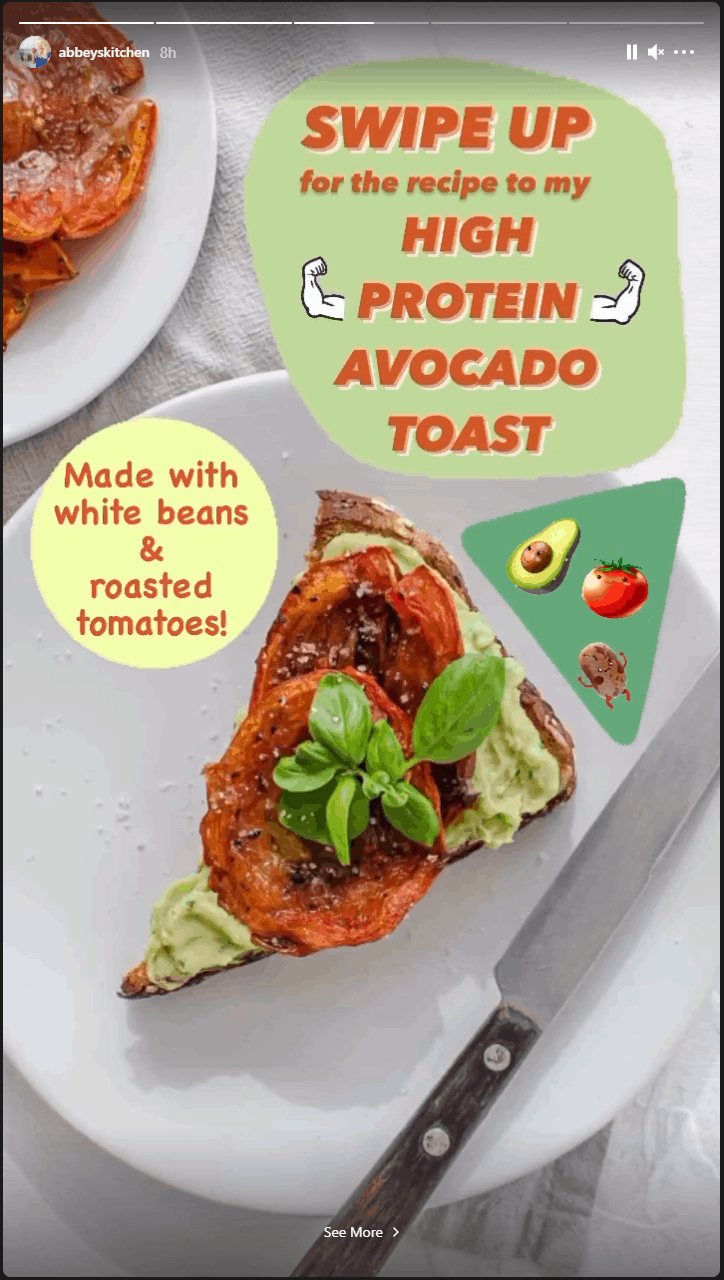 Image via 'Abbyskitchen' on Instagram
As is good social media etiquette, limit your 'Swipe Up' posts to one-per-day, as you want your followers to consider you a friend, not a nuisance.
9. Share Nuggets Of Knowledge
I'm sure your business has some high-quality expertise, so why not use your Instagram stories to share the knowledge of your experts for the greater good.
According to marketing expert Berenika Teter, the best way to generate organic engagement is to proactively develop high-quality content for your audience's benefit. That includes original research, expert-commentary, shareable infographics, and newsworthy stories (i.e., stories that are impactful, timely, human-focused, and relevant).
As Instagram stories only last 24-hours, they are an excellent medium for sharing little nuggets of expertise, as you can update it every day. There is plenty of room for creativity with knowledge-rich content, as you can share:
Tips and tricks.
Historical facts.
Deep dives into a topic.
An interview with an expert.
Motivational talks.
Case studies.
Tutorials.
'How it's made' content.
You can also share nuggets of knowledge as a teaser for videos, website content, and other Instagram posts – Like Dr. Danielle Jones has in the example below.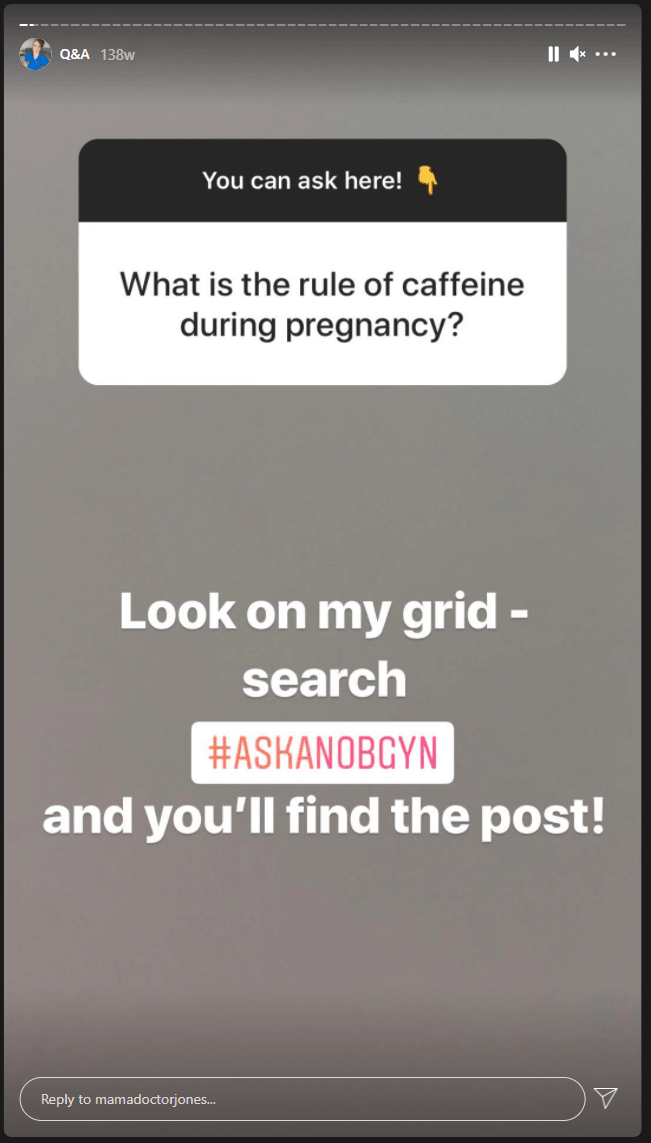 Image via 'Mamadoctorjones' on Instagram
10. Create Attractive Wallpapers
Finally, there's the aesthetic option. Aesthetically-pleasing content has always been popular on Instagram, making wallpapers a tried-and-true strategy that pays off.
As I mentioned in my guide to the best graphic design software, the tools available to businesses in 2021 make producing your own beautiful wallpapers easy, as you simply need a computer, photo editing software, and a smartphone camera to get started.
Then, you can produce aesthetically-pleasing photos by:
Using strong composition.
Taking photographs for Instagram specifically (as Instagram has platform-specific image requirements.
Keeping your image sharp and focused.
Giving your images a central theme or filter.
Taking photographs from multiple angles.
Keeping your lighting simple.
Making simple edits with photo-editing software.
If you're looking for some excellent inspiration from Instagram wallpaper ideas, check out this stunning story by Sylvia M.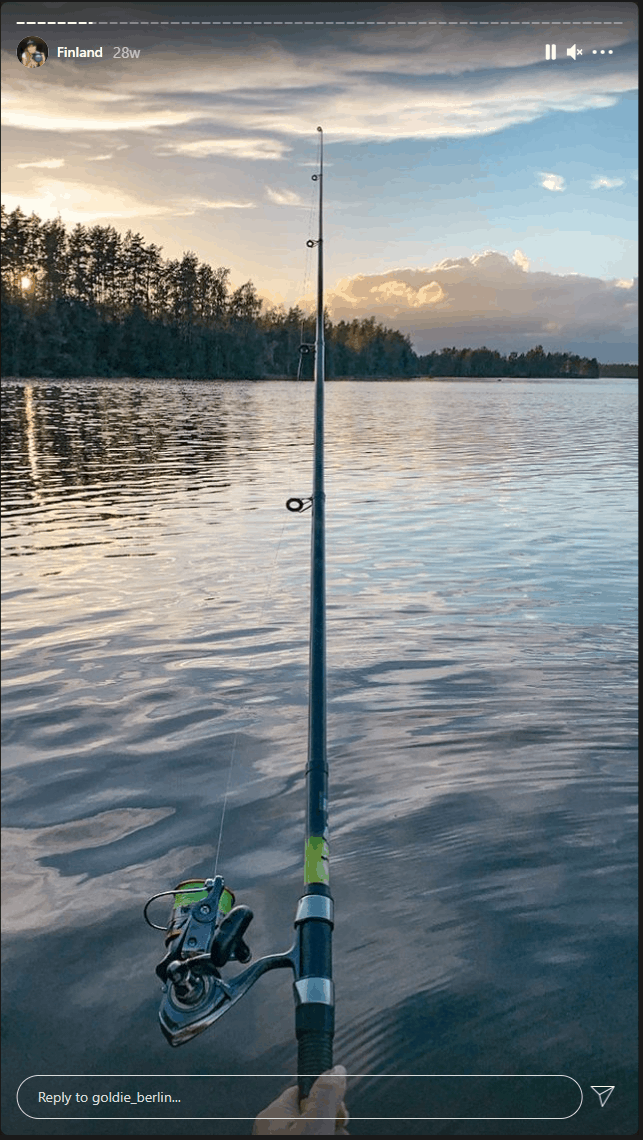 Image via 'Goldie_berlin' on Instagramcreative IG story ideas