You can't take a day off with your social media management, can you?
Speaking of taking a day off…
"Life moves pretty fast. If you don't stop and look around once in a while, you could miss it." – Ferris Bueller
Well, apart from being a fictional high school-ditching teenager, Ferris does share some sound advice.
You know what else moves pretty fast? Social media.
Clearly designed to serve as real-time, digital communication, messages, posts, videos, memes, GIFs, pictures, etc. are all flying across your social channels, every second of the day.
So when you're handling the accounts for your company, brand or side business, you've got to be at the top of your game, you know, like a social media expert.
Clearly, reading a blog post won't make you an overnight expert, but I'm offering you the closest thing to it: expert advice. Specifically 100+ experts sharing their top three all-time favorite social media management tools – the ones they use on a daily basis for the best results.
And to get get the best results, there is a general consensus on the top 10 social media management tools.

Top 10 Best Social Media Management Tools (As Voted by 134 Experts)
To skip straight to the favorite social media tools of the experts – and read all of their insight, click here.
Or if you want to cover social media management basics, keep on reading.
What is social media management?
Social media management is the process of monitoring, engaging, strategizing, and measuring social media activities of a person, brand, product or business. And through proper social media management, you'll be able to get more out of your social media marketing initiatives.
And social media management is important because social media is not a monologue. It's a dialogue. So in order for things to progress and develop, there needs to be some degree of back-and-forth going on.
Therefore, you shouldn't just be aware of what your followers are saying, you should also be engaging with them, sharing your own content, creating content, sharing other people's content, scheduling out future posts…essentially "managing" everything that's going on. For example, you can schedule your Instagram posts.
Additionally, your social media channels play into your brand or business's overall persona. You want to make sure your image is a positive one, right? You need to help solve issues, respectfully respond to complaints and provide thoughtful, engaging interaction with your current and potential customers.
Furthermore, you need to make sure you're keeping your channels active – by sourcing, creating and sharing the kind of content your followers are interested in. I mean, would you keep returning to a Instagram account that regularly posts boring articles or one that posts once every three months? I think not.
Regular engagement with your followers is a must-do as well. You can't employ a post-it-and-forget-it strategy and then expect to be earning new followers and making waves in the social community. Social media just doesn't work that way.
Like life, social media moves fast. And if you don't stop to really pay attention to what's going on and respond/have a proactive strategy in place – you could miss out on big opportunities.
Social media management tools: What to do
Seems pretty daunting at first, huh? Managing everything going on – ideally, 24/7, 365. But if you break it down, there are really only a few things you need to do to take control of the activity across your arsenal of social media accounts.
And believe me, the social media management tools my expert contacts recommend can help you do just that – successfully.
But firstly, social media management essentially boils down to these six things:
Develop your strategy (tip: create a social media content calendar)
Create/share original content
Source/share "external" content
Monitor your channels
Engage with your followers/customers
Analyze results
Simple enough: Outline a plan, create stuff to post, find other people's stuff to post, take note of what's going on/being said, react to it and analyze how your plan worked. Then adjust and do it all over again.
Let's take a closer look at each of these six "what to dos" to better understand how everything works in unison to make you a successful social media manager.
1. Develop your social media strategy
Ever go to the grocery store without a list? Guess what happens. You do 18 loops around the store, back-and-forth to different isles, buying everything you don't need – and forgetting what you came there for in the first place.
Or even worse…you can't find everything on your list. And in the end, it just takes forever. Am I the only one who can never seem to find the beef broth? /end grocery shopping rant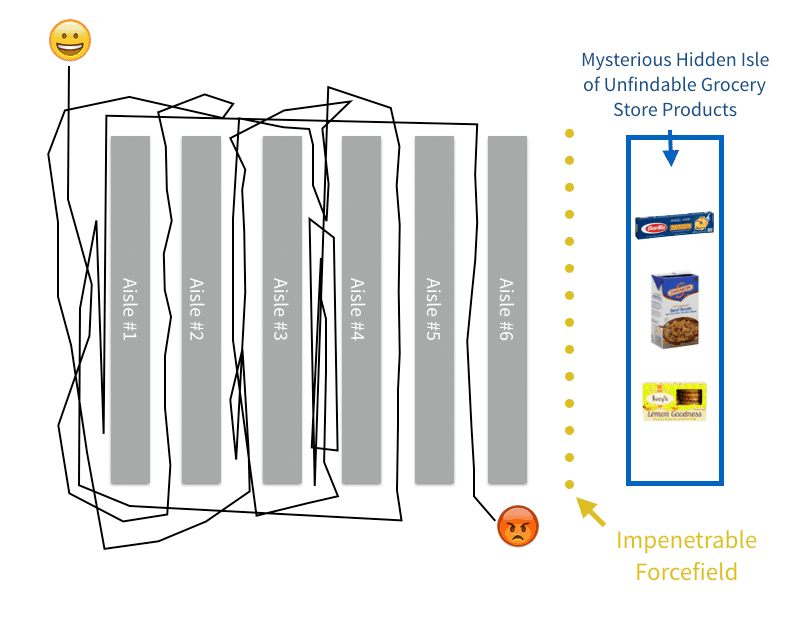 Social media management is the same way.
If you go in without a plan of attack, you're going to end up scrambling around with no clear direction – and end up with no real results.
Your social media strategy is your plan. And every plan starts with a goal.
What's your goal when it comes to social media management? What is your company or brand trying to achieve by having a social presence?
These are the most common goals of social media management:
Build brand awareness: ex. sharing posts that highlight you as a thought leader in your industry.
Earn more followers: ex. sharing content that your data supports as popular and by monitoring conversations for opportunities to provide a constructive response.
Gather customer data: ex. assessing popular questions and comments and analyzing data trends.
Source leads: ex. sharing original content that resonates with your audience and that includes effective calls to action (CTAs).
Sell your products or services: ex. sharing content with appealing social media graphic design images, at the proper times, on the proper channels, with CTAs that inspire a conversion.
These all sound great. But in order for your social media strategy to be effective, you need to choose one goal and direct all efforts toward achieving it.
Let's say your goal is to source leads. Knowing this, you'll want to start a blog (if you haven't already) in order to develop and share original content that inspires visitors and followers to share their contact information with you via download form, subscribing to your blog, etc. Once you've gathered their information, you can add it to your database and include these leads in your direct mail and e-mail lead nurturing campaigns.
At the same time, you'll also want to source and share external content to give your channels balance – e.g. so you're not only posting about yourself all the time.
Then you can monitor and engage accordingly and finally, analyze your social media results to see if your efforts were effective in achieving this goal.
How many clicks did your CTA generate? Impressions? Did you end up meeting your goal number of earned new leads? (need help creating engaging social media posts?)
If you did, celebrate – then work on the next goal or find areas for improvement.
If you didn't, then maybe you need to scrap your original strategy and start over.
But without a strategy in place, you won't have anything driving the rest of your activity forward.
Start with a goal, make a plan, then everything else has a place and a purpose.
Want to see 100+ experts share their top 3 favorite social management tools?
 Click here.
2. Create/share original content on social media
In accordance with your strategy, you'll need to be sharing content about your company, products, industry – but where will it come from?
You're going to create it!
The best way to do so is by starting a blog.
You don't need to be an English major or a published author to put together an effective and engaging blog. Blogs are essentially just collections of thoughts, tips, suggestions, ideas, etc. in the form of articles.
Focus on timeless topics that help further your ultimate goals or that share knowledge about your business or brand. And don't forget to include an engaging image.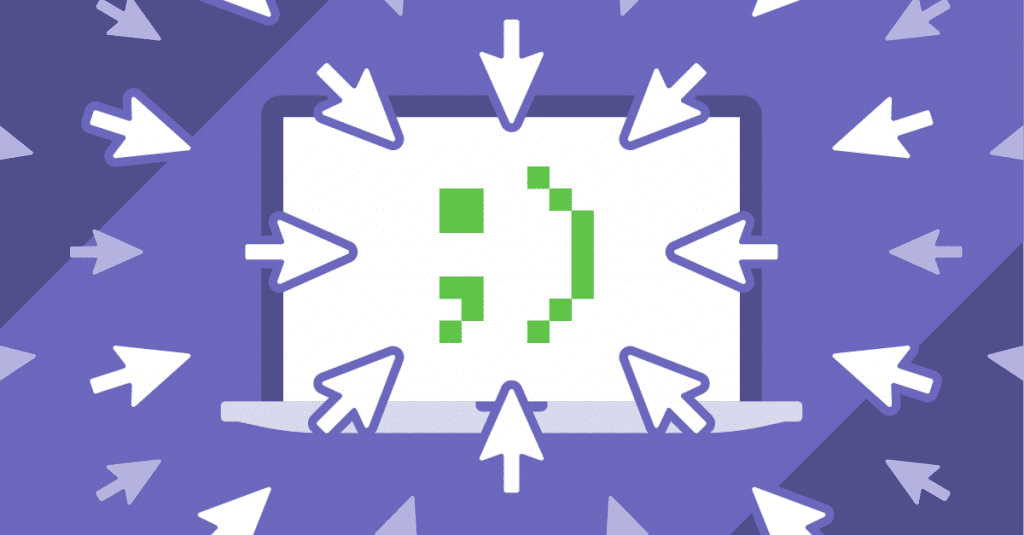 Say you're a florist, for instance. And your ultimate goal is to generate brand awareness, so your floral shop stands out from all the others in your city.
You might have a blog and post articles such as, "10 Ways to Accent a Room with Roses", and include images your customers have shared with you in the past, or maybe, "The Ideal Bouquet to Buy for Every Romantic Occasion", complete with photos of your top-selling bouquets.
These types of articles position you as an expert in your field. They cover topics of interest to your followers, based on the questions you've received in your shop. And when you share them on your social channels, you can purchase and design paid ads aimed at local audiences similar to your current customers…
…all in the effort of generating brand awareness, your overall strategy.
That's a lot to think about. But all the expert-recommended tools I'm about to show you will help make getting everything done a ton easier.
3. Source/share "external" content on social media
No matter how awesome your brand or business is, you shouldn't just be posting about yourself all the time. You need to create balance by sharing content from other sources as well.
That's where external content comes in.
So what is "external" content?
It's really just content from other media outlets that accents your original posts by sharing other ideas within your industry, from a different source/perspective.
In keeping with the florist example, you might source an article from Reader's Digest on how to properly cut and display gladiolas. And then maybe another one from Real Simple that focuses on pictures of homes beautifully accented with flowers to inspire readers to do the same in their homes.
When you share these resources on your social channels, you can put your own spin on the post copy, showing you gain knowledge from trustworthy sources that are familiar to your followers, sources they also trust and learn from.
And all of this only adds to the trust and respect they have for you. A win-win.
[Tip – If you're looking to save some time, you can use social media automation to post content from related websites to your social media accounts.]
4. Monitor your social media channels
With a strategy in play and your original and external content being shared according to your predetermined schedule, you need to keep an eye on what's going on.
Is your content resonating with your audience? What comments are being made? What content is being shared the most?
Take a look at how a customer trapped in a Waterstones store put out a plea for help on Twitter: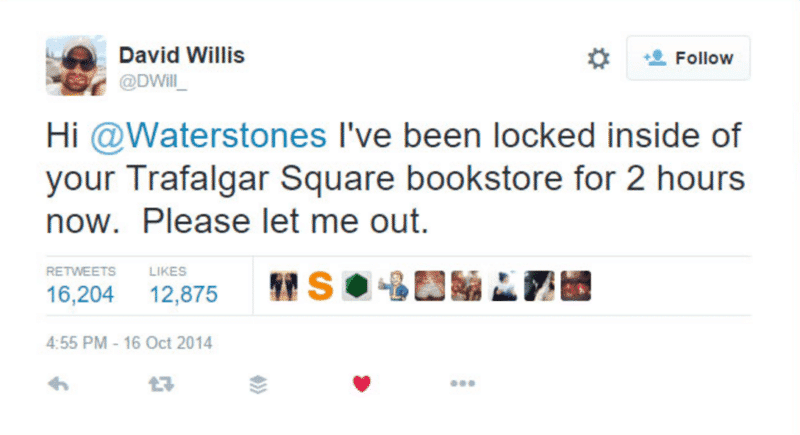 Since the company was monitoring social conversations, they were able to help their customer out. Literally.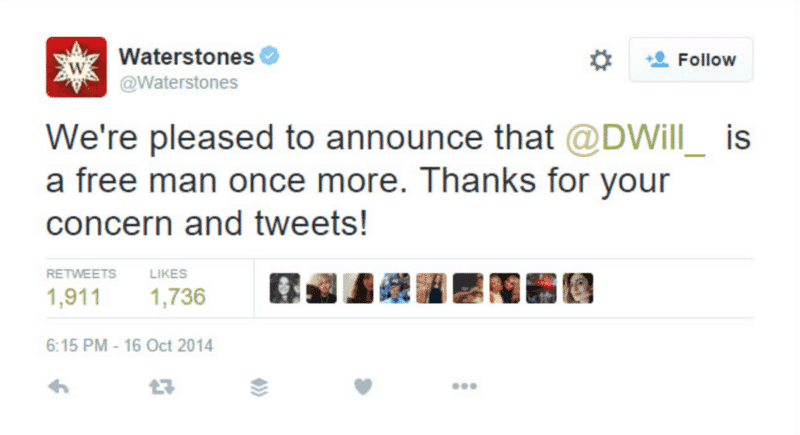 By monitoring the activity across your collection of social channels, you can ensure posts are being received in the way you intended, read questions your followers post, identify customer complaints, follow conversations – all so you can decide when and where you should chime in.
With the right expert-recommended social media tools in play, monitoring your channels is a cinch.
5. Engage with your followers/customers
Is someone asking a question about one of your products? Answer it.
Is one of your customers angry about the way a refund was handled? Respond.
Is there a conversation you think you can positively add to? Leave a comment.
Just ensure that how you respond aligns with your brand voice and persona – and shines a positive light on your business.
Aggressive complaints or nasty comments can be mitigated by a suggestion to take the conversation offline to provide assistance. Kind words from a happy customer can be further highlighted by your thanks or appreciation of support.
Take Morton's Steakhouse who was tweeted at by Peter Shankman.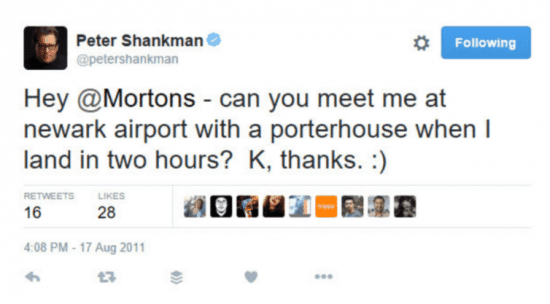 Not only were they monitoring social conversations, they made good on his request.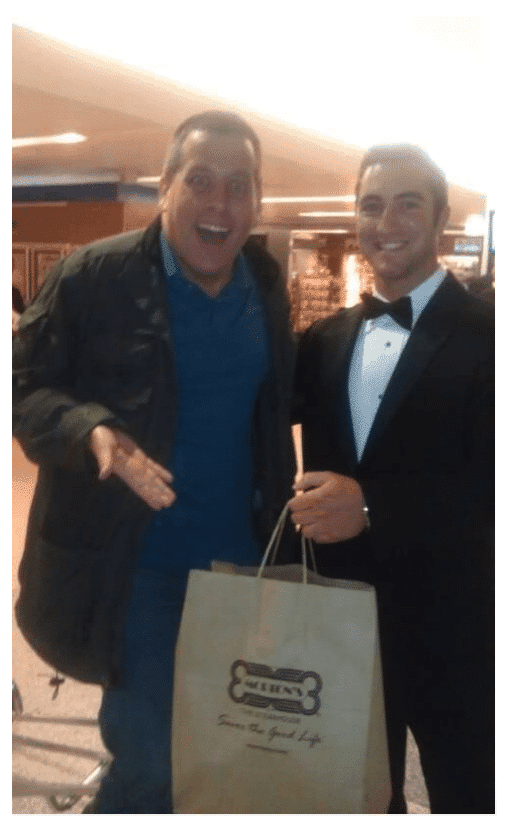 Talk about engagement! Both on and offline.
Every response, share, comment, question, etc. is an opportunity you can use to work in your favor, toward achieving your ultimate goal.
And the more activity that occurs, the better your results will be.
6. Analyze your social media management results
Once everything is said and done, you'll want to know if your strategy was effective – if you achieved your ultimate goal.
Because otherwise, what's all the creating, posting, monitoring and engaging for anyway?
Once you determine how successful (or unsuccessful) you actually were, you can adjust your strategy accordingly and begin the process all over again.
Want to see 100+ experts share their top 3 favorite social management tools?
 Click here.
Social media management: How to do it
It's great to know the "what to do" when it comes to putting your social media strategy into action – now it's time to learn the "how to do it".
If you're like me, you don't just want to know the basics of how to do something, you want to know the most effective (and hopefully, the quickest) way to do it.
Social media management tools are the answer.
For all the social media management basics I've listed and explained above, there are social media tools readily available to you to help make the tasks at hand quicker, easier and more effective. If you are not much of a "tools" person, there are a variety of social media management services to choose from who can handle the process for you.
Take creating/sharing original content, for instance. Once you've composed the copy for your newest blog post, you need to decide on an image to include.
Say you don't have any of your own pictures on-hand to support this article, and you definitely don't want to use some run-of-the-mill stock image.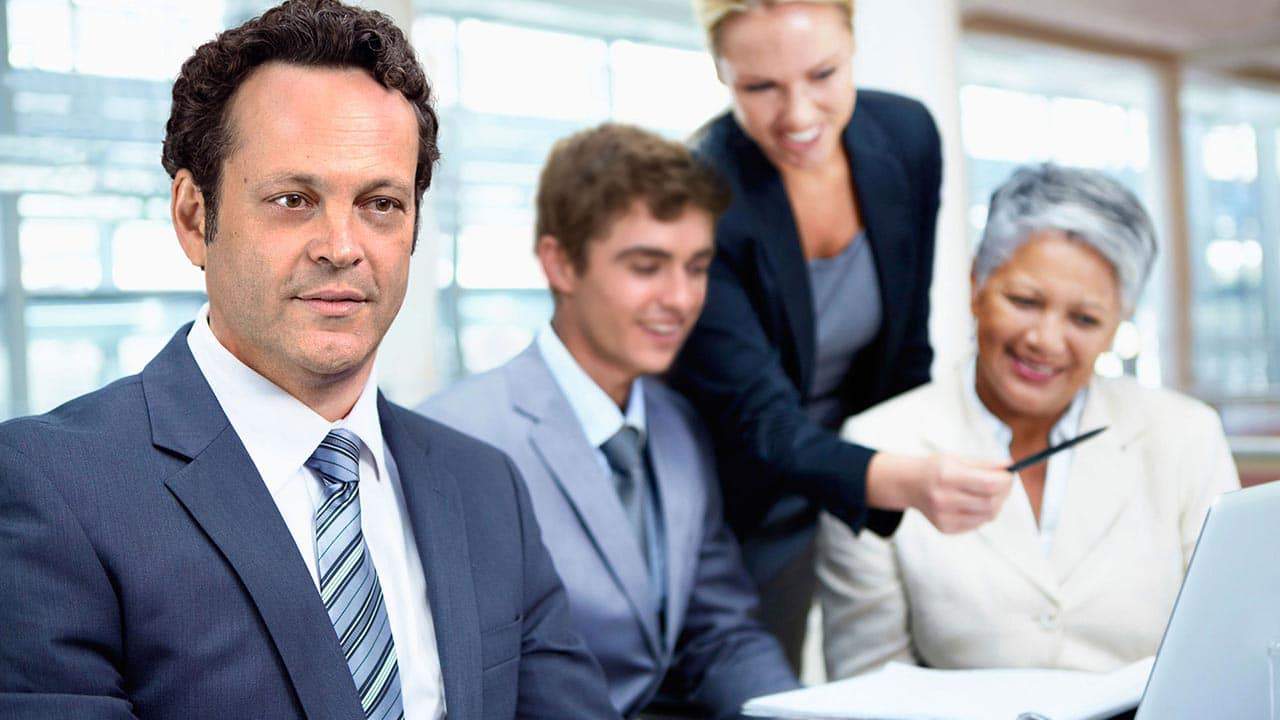 But you're no graphic designer either. Now what do you do?
Ever tried Canva? It's a great online tool for easily designing your own images – the best part being it's totally free. Just create an account, choose a template, add a background/icons/text (you can choose to pay $1 here or there for premium images), download and voila! – a totally unique image for your newest blog post.
Canva also offers a variety of templates so you can create additional images in the correct sizes for your social channels as well, such as Facebook and Pinterest.
That's just one example, but the list doesn't stop there. Here are a few more awesome social media tools for your consideration:
Pretty cool, right? I've got a ton more (over 600 social media tools) – but I'm only one social media expert, so don't just take it from me.
Social media management: 100+ experts reveal their top three favorite social media management tools
Like I said earlier, I've got some pretty awesome contacts in the industry. And I was curious on how they get things done efficiently on social media.
So I decided to ask 100+ of them one question:
If you could use only 3 tools for social media management, which 3 tools would you use?
Let me tell you, the insights I received from these 100+ social media experts were nothing short of amazing. All of which I share below.
You'll be amazed as they reveal some of the best social media management software available.
I even made it easy to filter to see who uses what tool. Simply use the dropdown filter menu.
After you have read about their favorites, be sure to tell me your 3 favorite tools in the comments below.