Everyone knows that you must have a social media presence. Unfortunately, managing the multiple channels as well as posting updates can be overwhelming without the right social media tools.
However, there ARE people that have streamlined their social media management activities in order to get the most out of their social media channels. I decided to ask 100+ of them one question:
If you could use only 3 tools for social media management, which 3 tools would you use?
Let me tell you, the insights I received from these 100+ social media experts were nothing short of amazing. I've listed all the responses below.
But before we jump in, let's take a quick glance at the top 10 most mentioned tools: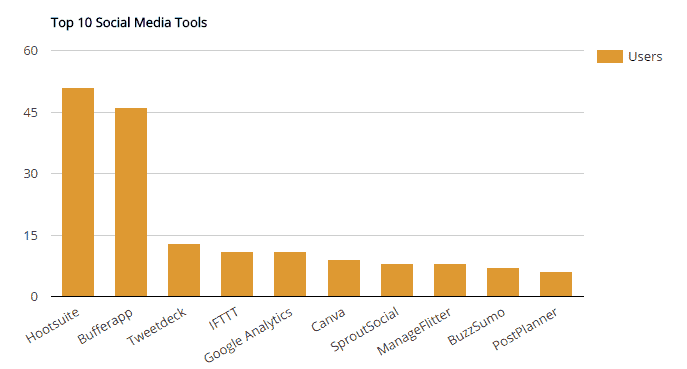 As you can see, Hootsuite and Bufferapp have a huge lead over the next closest social media tools. However, I'll be updating this data as new responses are added to this list of resources.
Want to have your 3 favorite social media tools added? Drop me a line. I'll do my best to add who I can, but unfortunately I won't be able to add everyone in order to keep the list credible.
To view responses that discuss a specific need, use the dropdown filter menu.
AMAZING!
HUGE thanks to everyone who contributed to this massive post! Please share if you think it was useful!
If you could only use 3 social media tools for your social media management which 3 would you choose?
Interested in downloading the complete list of social media tools? Click the image below to download.