Want to improve your social media performance? There are high chances that you're not alone. Many online businesses, be they small or large, are just like you and are constantly looking for new, actionable ways to enhance their social media marketing efforts.
To help you with that, we have put together a guide with proven steps for making your social media activities more effective.
Scroll for more ????.
What is Social Media Performance?
Social media performance is basically how your social media accounts have been performing, the engagement rate you've received, how much your content has been shared, and what kind of progress you have had. Therefore, it is a must for you to regularly assess your social media performance and how you can improve it.
Why Does Social Media Performance Matter?
By simply reading social media tips on the Internet, you cannot achieve success. You need to leverage strategic thinking and use it for good in your social media marketing strategy.
Conducting thorough social media audits can help you understand customer behavior online and use the data retrieved from research to improve your social media tactics and marketing campaign. Run your audits on a regular basis to find out where the results come from. This way, you can easily identify the gaps and take appropriate actions to ramp up your social media performance.
What are Some Important Social Media Metrics to Track?
Social media metrics are important for tracking the performance of your social media channels, content, strategy, and the influence it all has on your business goals.
While there are a lot of metrics you can track and analyze, it's crucial to prioritize information. We have chosen nine important metrics that will give you a deep understanding of your social performance.
Regularly assessing amplification rate, reach, impressions, follower growth, conversion rate, click-through rate, cost per thousand impressions, and cost-per-click will provide you with helpful data that you can analyze and use to refine your social media strategy. As you delve into these analytics, remember to protect your sensitive data by ensuring robust security measures and safeguarding user information, which is crucial for maintaining trust and compliance with data protection regulations.
Engagement Rate
Engagement rate is a metric that measures the number of engagements (shares, likes, comments, and reactions) your content gets as a percentage of your audience.
To calculate your engagement rate, divide your total engagement by the total number of followers and multiply by 100 to get a percentage.
For instance, if an Instagram post gets 2000 views and 200 engagements, it has a 10% engagement rate.
There are some free engagement rate calculators allowing you to measure your engagement rate by post, account, or campaign.
Amplification Rate
Amplification Rate measures the percentage of shares your social media post gets relative to your number of followers.
Basically, the higher your amplification rate is, the better. This way, you gain an excellent opportunity to reach beyond your followers.
To calculate the amplification rate, divide a social media post's total number of shares by your total number of followers and multiply by 100 to get the percentage.
Reach
Reach shows how many people have seen your content. You can monitor both your average reach and the reach of each individual post, video, or story. Besides, you can calculate the reach for your social media page overall.
To measure your social media reach, you can use your social media platform's built-in analytics tool. If you use Facebook and Instagram, navigate to the Insights tab and find the "Reach" metric. On TikTok, you can find the "Reach" metric under the "Analytics" tab under the "Creators tool" section.
Additionally, you can use external tools like Hootsuite or Buffer. They both provide a detailed overview of your social media reach on different platforms, enabling you to track and evaluate your performance more effectively and get useful information about your audience's engagement and interactions with your content.
Impressions
Impressions show how many times people saw your content. You can measure impressions by post, as well as the overall number of impressions on your social media profile.
Impressions can be higher than reach, as the same person may look at your content more than once.
Use social media analytics tools to measure your impressions. Tools like KeyHole may even identify which types of content are likely to receive the most engagement before you even post.
Follower Growth
Follower growth shows the total number of new followers on your social media account over a particular time period. By tracking your follower growth, you will be able to understand how many users are engaging with your business and your content.
Divide the number of followers you have gained divided by the number of followers you started, then multiply by 100% (over a specific time period). For instance, if an X company starts with 2000 followers and gains 2000 followers in a month, they've achieved a growth rate of 20%.
Conversion Rate
Conversion rate is an important social media metric that shows how many people have converted due to your social media efforts. The conversion can take different forms, including a subscription, download, or sale.
Conversion rate is typically calculated as the number of conversions divided by the number of website or landing page visitors. For example, if there are 20,000 website visitors coming from Facebook and 200 of them made a purchase, you would have a 2% conversion rate.
Click-Through Rate
Click-through rate (CTR) shows how often people click a link in one of your posts to learn more about a particular topic. That could be anything from a blog post to your products/services. You can also calculate the CTR of other online channels involving emails in case you've sent emails by prospecting using a LinkedIn email finder.
To calculate CTR, divide the total number of clicks for a social media post by the total number of impressions and multiply by 100 to get your percentage.
Cost per thousand impressions (CPM)
Cost per thousand impressions, or CPM, is a form of paid advertising where companies pay a particular price for every thousand impressions their social media ad receives.
An "impression" refers to when people see your campaign on social media, search engines or other marketing channels.
There's nothing to calculate here. All you need is to import the data from your social media account's analytics.
Cost-per-click (CPC)
Cost-per-click, or CPC, is the cost per click a social ad receives. The metric applies to all types of ads, regardless of whether they contain text, images, or videos. The higher the number of clicks, the more attention it gets from customers.
There is no need to calculate CPC. You can find all the necessary information about the metric in the analytics for the social platform where you're running your ad.
How to Improve Your Social Media Performance in 6 Ways
Pick the Right Channels
Formerly, when there were only a few social media platforms, things were quite simple.
Nowadays, there are so many options that sometimes it becomes challenging to make a choice. You can either pick famous social media channels or make your own social media app. A white label app builder offers a fast and cost-effective way to develop an app, allowing businesses to focus on customization and branding. However, make sure to use a pentest as a service to ensure the security of your social media app.
To help you, we have put together some tips on how to choose the right platforms for your business.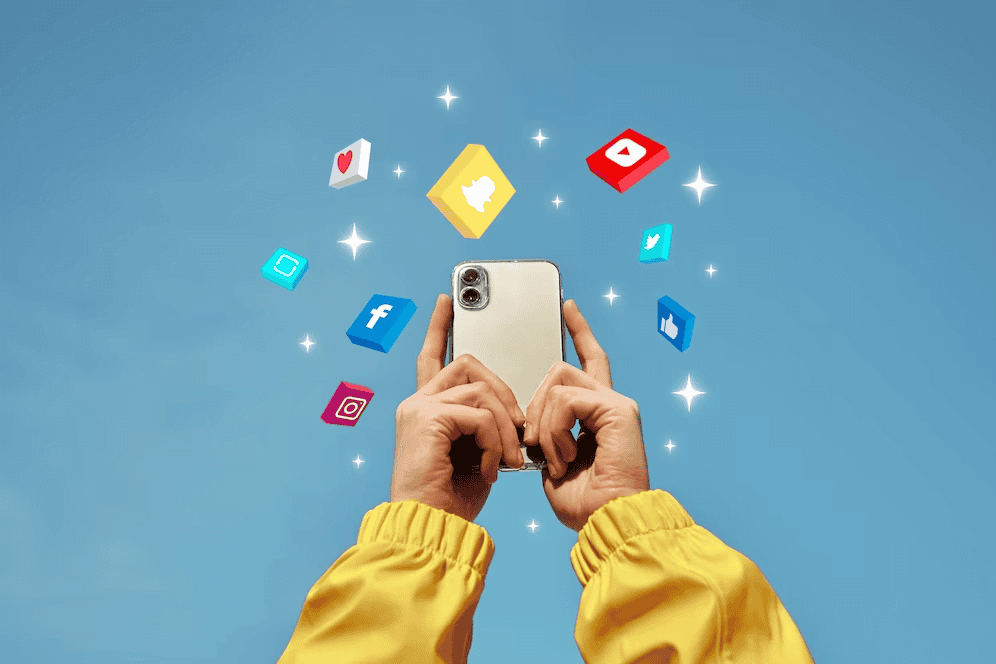 First, you need to conduct some research on your audience and see where they are, regardless of whether you are running a WhatsApp marketing or any other type of marketing campaign.
Brands focused on the young generation will gain more visibility on TikTok and Instagram, while a SaaS company will probably catch more of its target audience on LinkedIn. However, regardless of your target audience, you can always leverage a WhatsApp bulk sender to reach a wide range of customers and prospects.
Indeed, there are some mainstream social media platforms used by almost everyone, such as Twitter and Facebook. So, it is better to build a digital presence on these first and then gradually switch to other channels when you feel you are ready.
Share Useful Content
Once you have set up your social media platforms, it is high time to start creating useful content that adds value to your audience. This content can play a crucial role in your customer success process by providing information, solutions, and engagement to your customers.
You may wonder how to post content that meets your audience's needs.
Look at what people like, share, and comment on. This way, you can learn what resonates with your customers. Of course, customers' needs and preferences might change over time. It is completely fine. However, you will need to change direction too. If you are a construction business, you can use a specialized Construction CRM to gain insights into your customers' changing needs and preferences.
What worked well a few years ago might not work today. So, make sure to regularly observe social media trends and what your audience reacts to the most. What memes are they commenting on? Do they prefer short-form videos over longer content? Is educational content trending?
Also, don't be afraid to experiment with different types of content. Focusing only on one type of content can bore your audience and turn them off. Instead, post memes, videos, stories, reels, and other content that is interesting enough to grab their attention. Later, you can always use another video monetization platform to get the most out of your video content, turn reels into YouTube videos, and even use the memes to spread a more fun company culture.
Besides, do your research to learn what content resonates well with different audiences. If you are privacy-conscious, consider using private search engines to protect your personal data and online privacy while gaining insights into user preferences.
Create a Social Media Calendar
Sometimes it might be extremely difficult to manage both your business and its online presence at the same time. This is when a social media content calendar comes in handy.
Using a social media calendar can help you easily manage your content and maintain a regular posting schedule. This way, you will be able to focus on more complex tasks, as you have already planned and scheduled your social media content beforehand.
There are several social media calendar tools like Bulkly, Sprout Social and Sendible. They both can help you streamline your social posts, from planning to posting, across different in one centralized place.
If you don't want to use social media calendar tools, you can simply use Google Sheets. There is nothing challenging about it. All you have to do is create a spreadsheet with a calendar format, where you can include your content schedule, more specifically, the dates, post topics, captions, and any relevant details.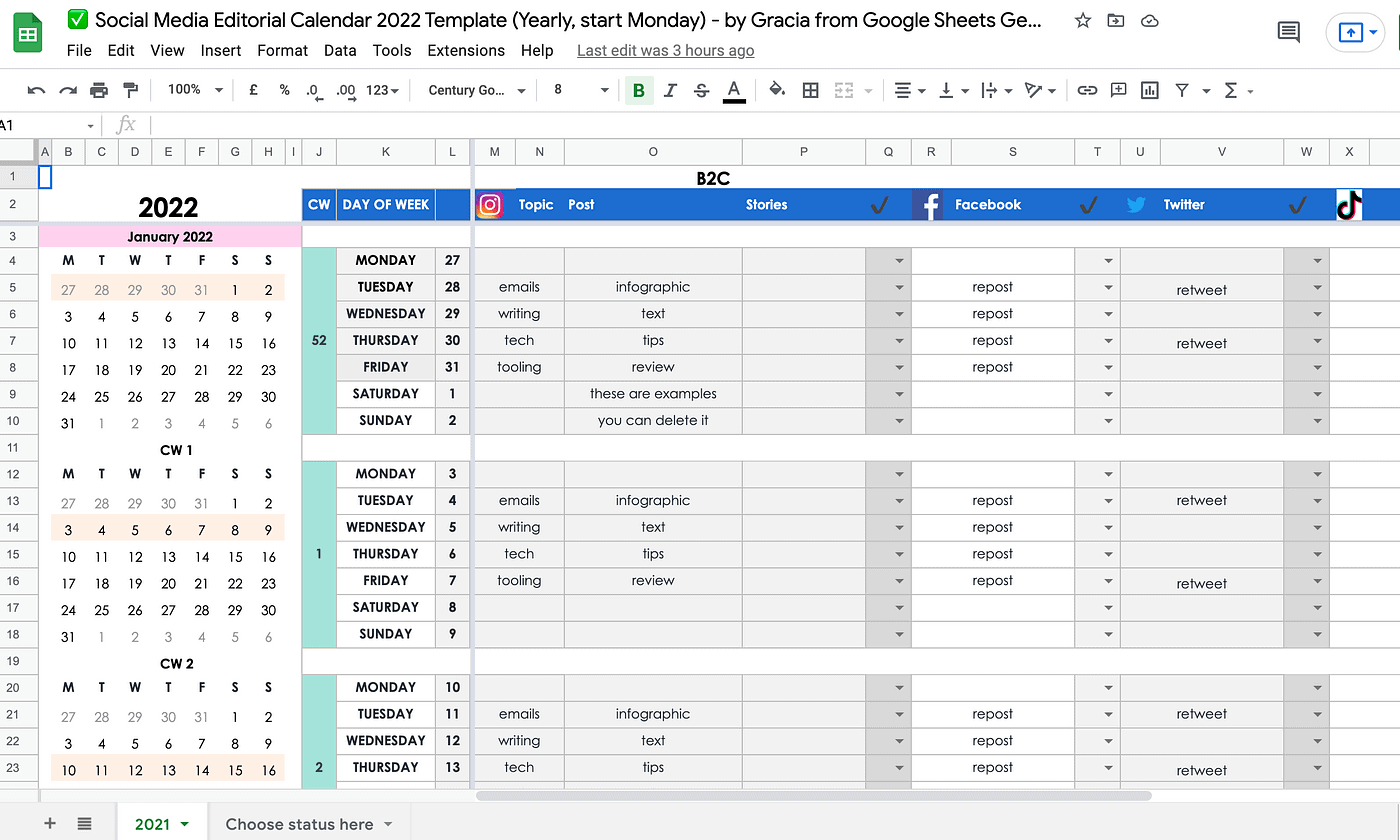 Use Social Media Automation Tools
There are multiple tools for social media marketing and management that can ease your life and enable you to focus on difficult aspects of your business.
As a business owner, you cannot afford to spend your free time on your social media presence.
That's why you need social media automation tools.
Social media automation tools can free up time for busy business owners and social media managers by automating repetitive tasks.
More specifically, social media automation tools can assist you in scheduling posts, tracking and assessing social media activity, analyzing key performance metrics, and even engaging with your audience through chatbots or automated responses.
There are several social media automation tools you can use. Some of them are Hootsuite, Buffer, Sprout Social, SocialBee, and Later. These tools offer several features, enabling you to streamline your social media efforts and maintain a strong online presence without sacrificing your valuable time.
Leverage the Power of Visuals
Audiences are getting demanding and don't like when companies use stock images. But how to create compelling visuals if you lack designer skills?
For a startup or a small business, it is not recommended to hire a designer. There are a bunch of tools available to address this problem.
Tools like Canva can be used to create visually compelling graphics. Based on which channel you are using and what posts you are about to publish, there are hundreds of templates to get you started.
Also, when posting images on social media platforms, make sure to pay attention to image size requirements for every platform. Sometimes, social media managers use the wrong sizes, which badly affects the visual quality of your posts.
Regularly Track and Assess Your Social Media Efforts
Along with posting content, you should also regularly assess your metrics and find out what content and which channels are delivering the best results. Are memes popular with your customers, or do your followers prefer video content? Are you getting the desired engagement from your target audience, and are you achieving your objectives?
Most social media platforms have built-in analytics to monitor your social media performance and social media campaigns. These include impressions, clicks, likes, shares, and comments, all of which can also provide audience insights.
You can also make use of external social media analytics tools like Buffer, to dig deeper into the engagement data from your social media profiles, including post-performance and competitor and sentiment analysis. Learning about trends and patterns will help you craft a strong social media strategy and make timely optimizations.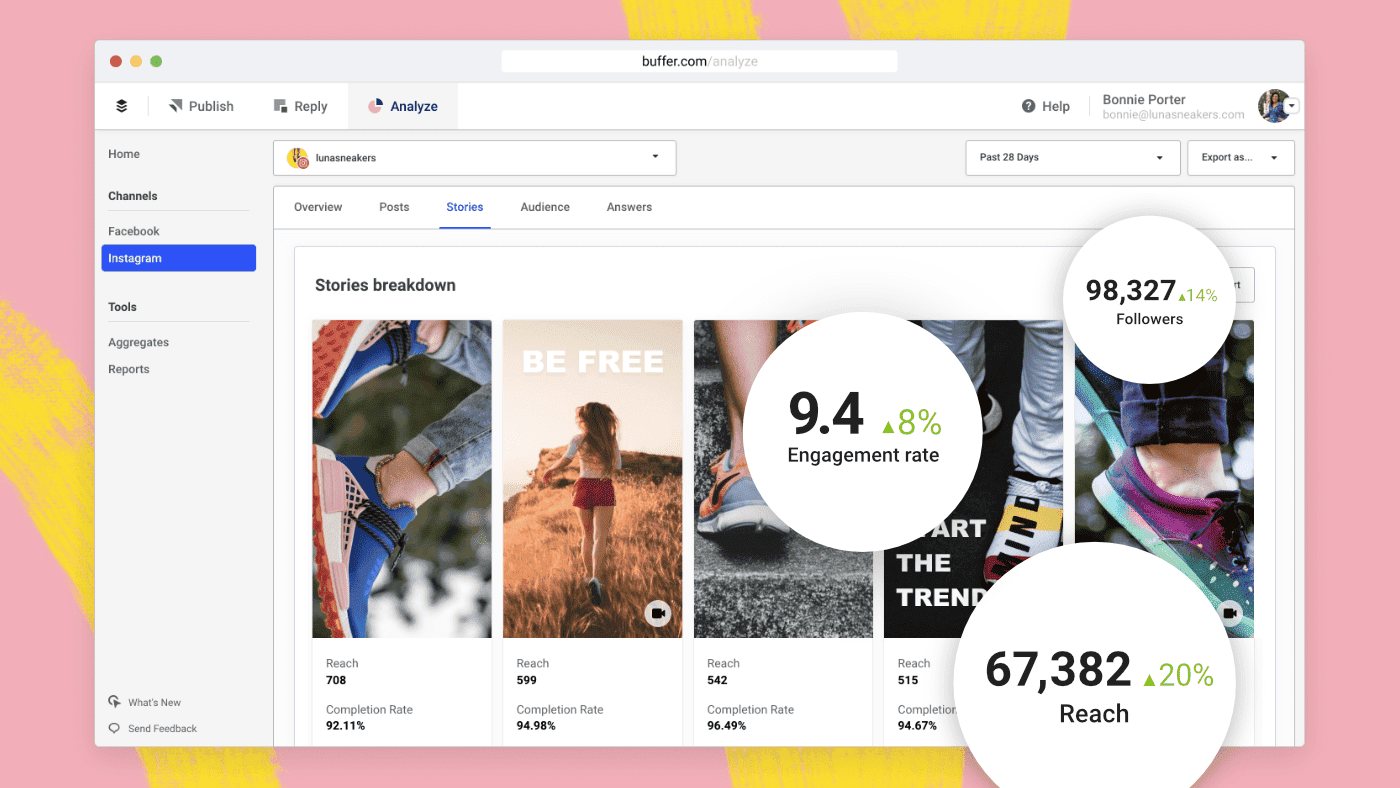 Wrapping Up Social Media Performance
Almost all businesses leverage the vast user base and tools of social media channels to achieve their goals.
Your competitors are already out there making a run for it, so you cannot lose the opportunity to ignore this powerful medium and promote your business.
It is high time to boost your social media marketing efforts for growth and better results.
The steps outlined above can help you improve your performance on different social media platforms and achieve new heights for your business.
Follow these steps to effectively promote your brand's products and services and make them visible to relevant prospects in an engaging way.