Your social media profile is like your virtual storefront.
If you want to capture your target customers' attention and set yourself apart from your competitors, this storefront has to be unique, creative, and visually appealing. We're talking about the possibility of generating huge exposure and growing your brand presence across different social media platforms.
Before we delve into the elements that make a successful social media profile, let's start off with the top four reasons why social media is a critical part of your overall marketing strategy:
1. Be where your customers are
80% of people say social media is their preferred channel of interacting with brands. This means the odds are they won't even bother visiting your website. If we bear in mind that people spend an average of 95 minutes on different social media platforms while 1 in 3 consumers use social media to learn about new brands, it's obvious why growing a strong presence on Facebook, Instagram, or TikTok is a must.
2. Tap into a huge audience
There are more than 4.2 billion active social media users in the world, which gives you access to countless business opportunities. For example, Facebook boasts 2.74 billion active users, while YouTube is the second most popular social media platform slash search engine, with 2.29 billion registered users. Thanks to the variety of different channels, including Instagram, TikTok, Telegram, Pinterest, and Reddit, you can reach diverse audiences via different formats.
3. Manage your online reputation
Social media is a powerful tool for communication with your customers, which is why it doubles as a highly effective customer service channel. It's easier and more convenient for people to ask questions or look for assistance via social media than call – 1 in 3 social media users would prefer social media customer care services over a dedicated call center. In addition to that, it's essential to know what your customers are talking about your brand on social media so that you can respond and protect your reputation before an issue snowballs into a major crisis.
4. Obtain valuable insights about your target audience
Social media generates gargantuan amounts of customer data, such as key demographic information, consumer insights, customer experience feedback, or competitor strengths and weaknesses. Knowing as much as possible about your customers and competition will allow you to tailor your messaging and make it more relevant, as well as make smarter business decisions.
Now that we've explained the why part of creating a successful social media profile, it's time to discuss how to achieve that and what elements you should focus on.
5. A Clear Value Proposition
Having a clear and powerful value proposition on your social media profile is what will decide whether your potential customers will actually convert and pull out their credit cards.
Remember that many of them land on your profile, attracted by your content, but if they don't know what your brand is about, they will bounce off without exploring your product or service and making a purchase.
A value proposition condenses the main characteristics of your brand into a short and clear message that customers can easily understand. Time is not your friend here: you have less than 15 seconds to convey the message and make your visitors stick around. One scroll down, and you disappear from their newsfeed.
Leverage a Bio Description
A meaningful and succinct bio description is critical for this purpose.
But, there's an obstacle that can be challenging – most platforms come with a fairly strict character limit. Therefore, you have to make the most of this pretty cramped real estate you have at your disposal.
The point is to define what you do clearly and how users will benefit from your solution in as few words as possible so that visitors can read it while skimming through your profile.
Affinda, an AI-powered information extraction solution provider, uses only seven words to sum up the main idea behind its tools in the LinkedIn bio section and communicates how it will make users' lives easier.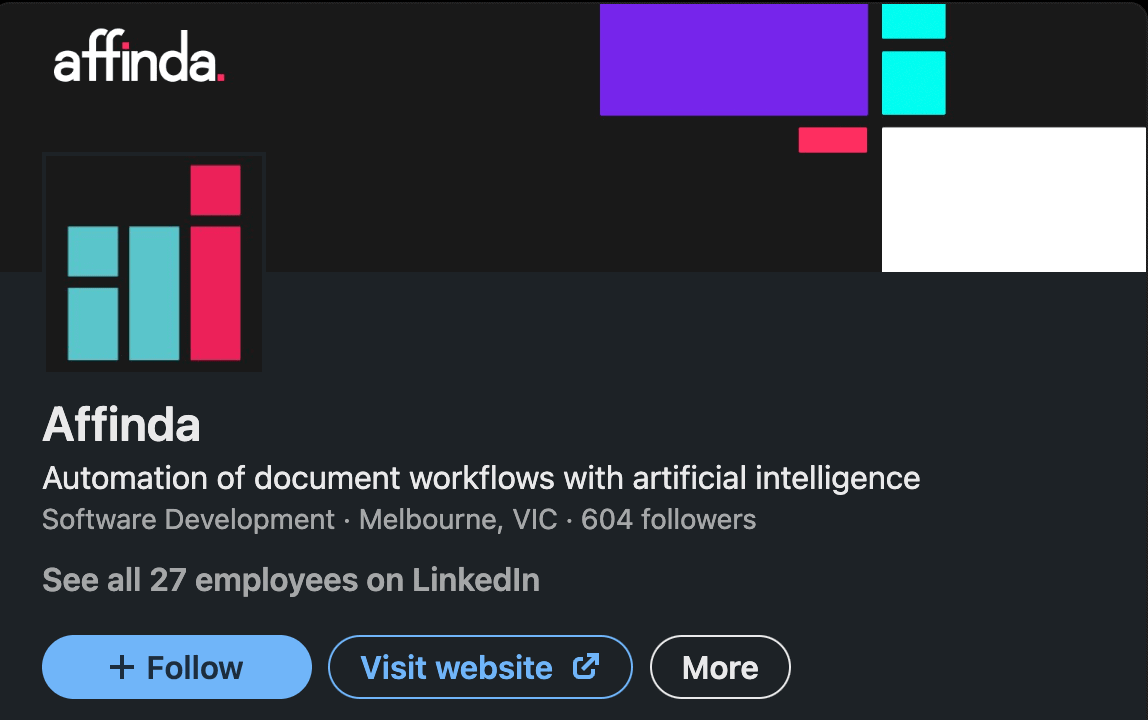 Source: LinkedIn
Take Advantage of Your Cover Photo
It's true that the bio section leaves much to be desired in terms of word count, but there's a creative workaround you can use to your advantage.
Placing your value proposition within a Facebook or LinkedIn cover photo is a clever trick that will not only make your message more conspicuous but also override potential character limits and give you more room for maneuver.
Quetext, a plagiarism checker, is a great example of how to capitalize on your Facebook cover photo by explaining what your product or service does and catching the eye of your potential customers.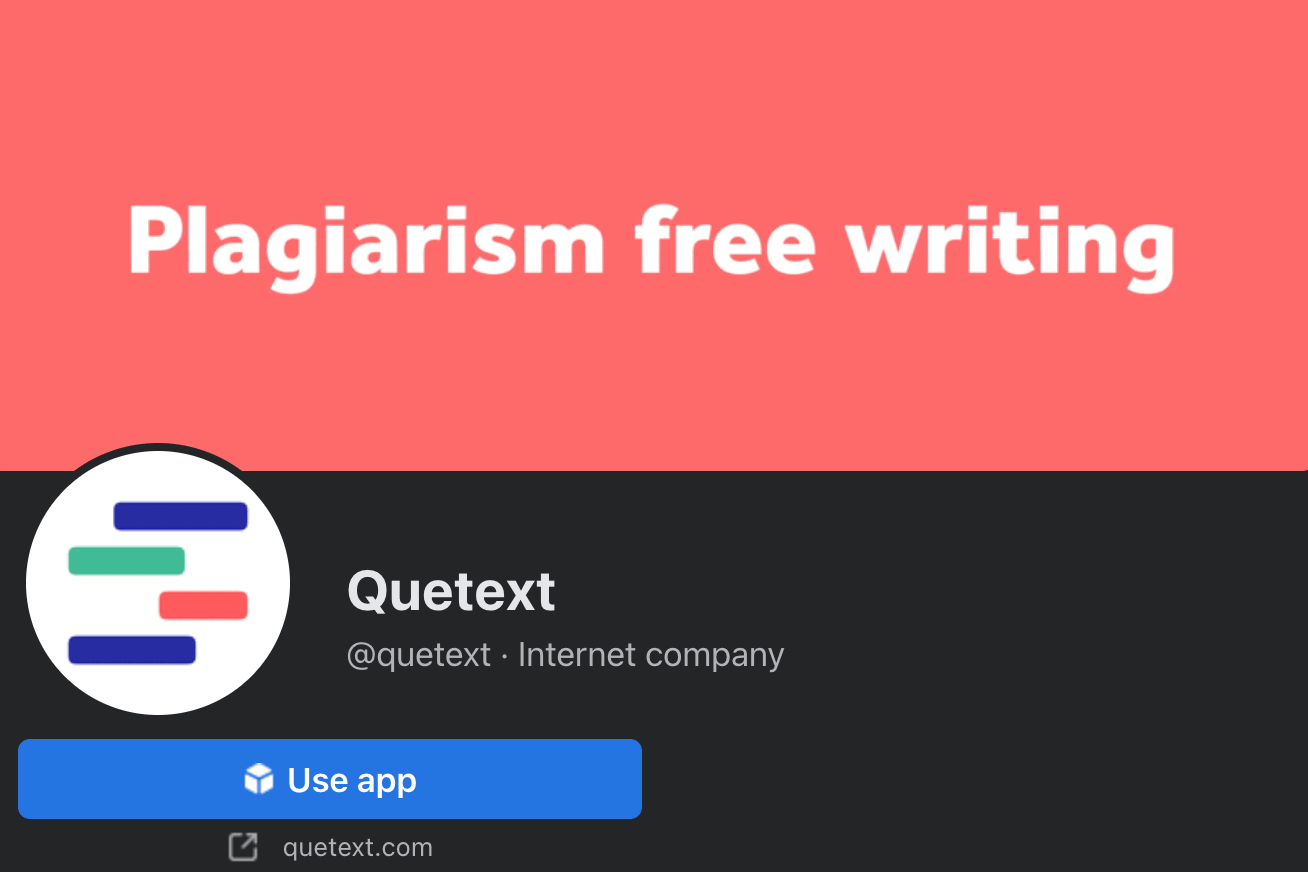 Source: Facebook
6. Social Proof
88% of consumers trust online reviews as much as personal recommendations.
This interesting stat illustrates how powerful social proof is.
People feel more comfortable engaging with a business or purchasing from a store when they're shown evidence that others have done it too. This is particularly important for small brands that do business online.
Leverage Facebook Reviews
Facebook offers different options to showcase your rating on your Business Page.
First of all, you can enable reviews directly on your Page so that your customers can leave their feedback in the form of a review. This means that your Page will display star ratings based on the reviews, while visitors will be able to read what others said about your brand in detail.
But you can even go a step further and share Google Reviews on your Facebook Page either by manually sharing a desired review as a Facebook post or by installing widgets such as FeedbackAutomatic or Elfsight.
Showcase Your Customer Base
The number of followers is usually seen as a vanity metric, but with a small twist, this number can be relevant in vouching for the quality of your product or service.
By showcasing the number of customers you have served over the years, you offer solid evidence of your quality.
For example, Teachable, a platform for creating and selling courses, shares that 37 million students have enrolled in Teachable courses, while instructors who use the platform earned almost $1 billion collectively.
These numbers give an additional context and show the benefits of using this platform.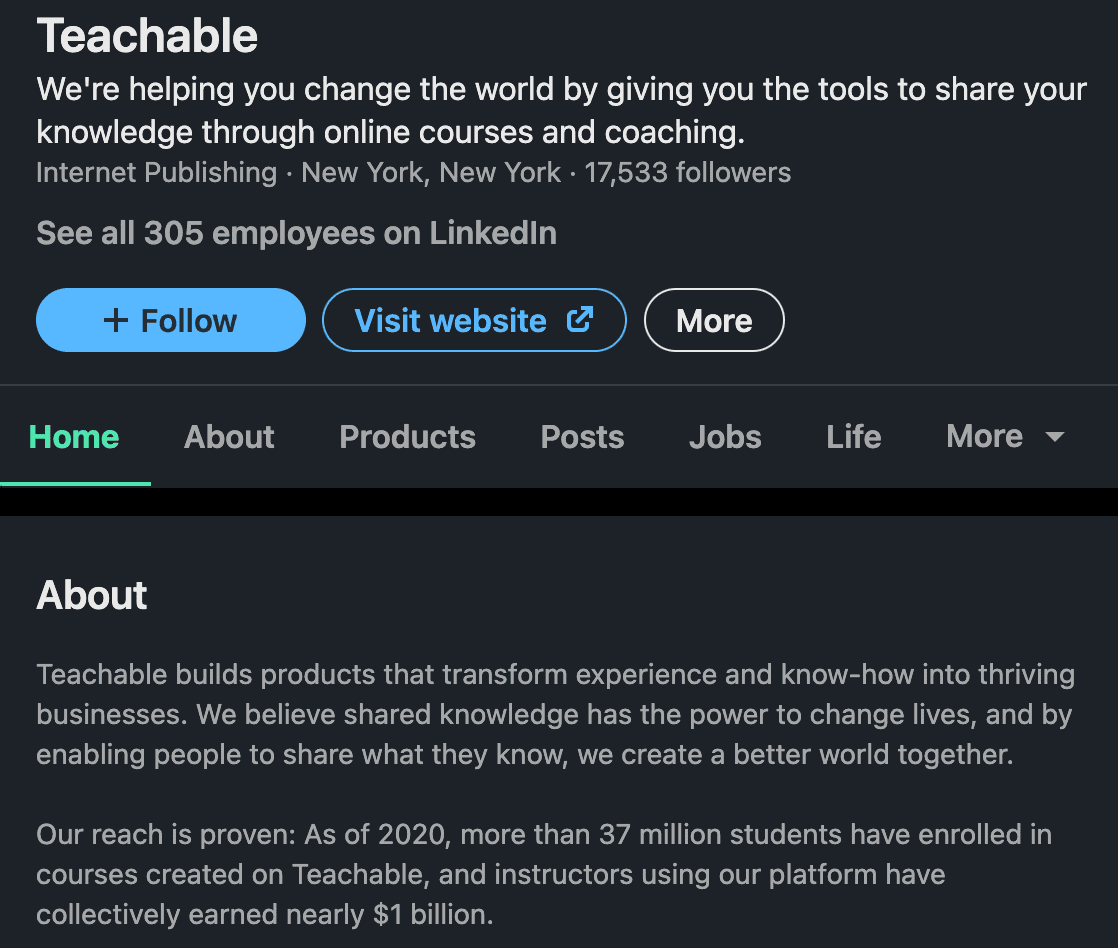 Source: LinkedIn
7. Visual Consistency
According to stats, companies that maintain brand consistency across all platforms have experienced an average growth of 33%.
Coherent visual brand identity plays an important role in helping your business cut through the noise and differentiates itself from competitors.
When talking about visual consistency, we refer to a number of elements such as color palette, font, graphics, and logotypes. All these elements contribute to the overall aesthetics and make it easier for customers to recognize the brand.
Besides establishing a sense of familiarity with customers, visual consistency also triggers a number of past experiences with the brand, thus providing positive reinforcement.
Ultimate Meal Plans, a meal planning app, is a good example of how to ensure visual consistency. The company uses a matching color scheme, fonts, and design elements on its website and Instagram profile.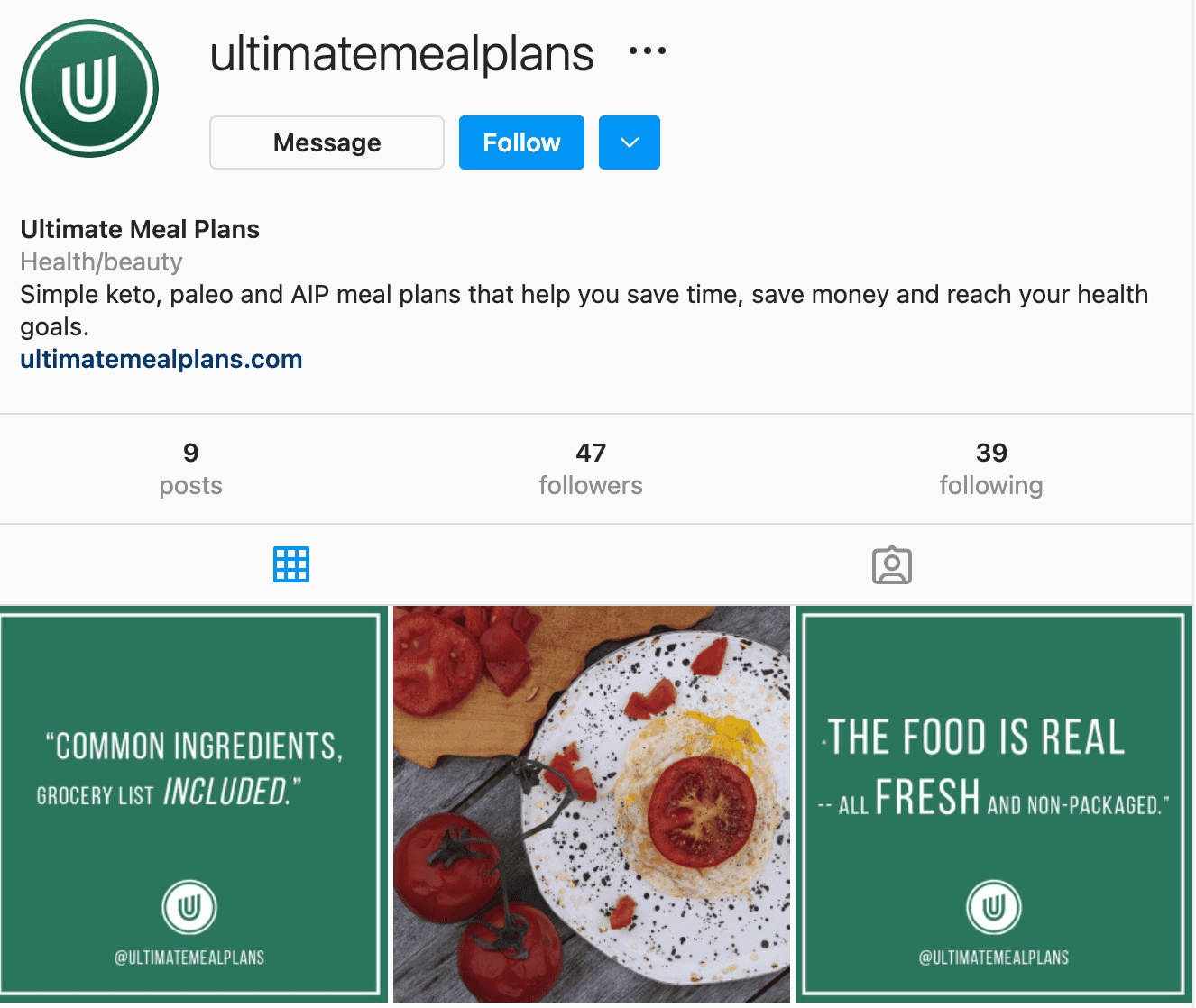 Source: Instagram
Namely, an HR platform, uses a simple trick to maintain visual consistency and recognition. The company builds brand awareness by putting the Namely logo on every image. It's a subtle tactic, and yet it ensures that their name stays top of mind.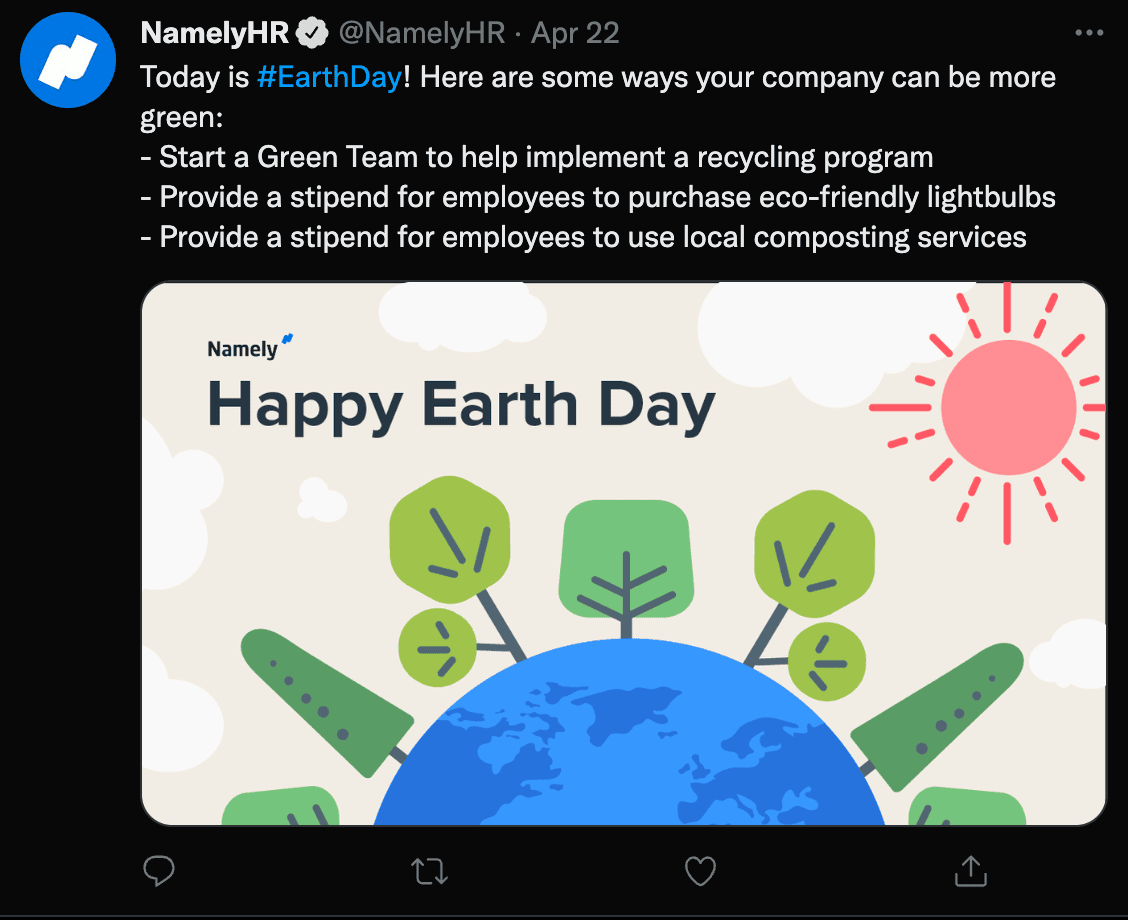 Source: Twitter
8. Lots of Ways to Get in Touch
Keeping the lines of communication with your customers open is extremely important, and this shouldn't be restricted to online channels only.
By listing offline contact information such as the phone number or physical address, you're offering your potential customers different ways to get in touch with you. But more importantly, you're showing them you exist in the real world.
Social media profiles with no contact information come across as a bit shady and untrustworthy. So, simply listing your phone numbers, email addresses, physical addresses, Viber, or WhatsApp will add to your brand's credibility tremendously. The more contact details, the better.
Sometimes people want to contact you as quickly as possible if they have issues or questions about your product, so instead of relying on a single channel, it's better to allow for multiple options.
Atlassian, a software company, provides all the relevant contact details in the about section on Facebook. Atlassian's Facebook page also features a built-in map showing the physical address of the company for easier navigation.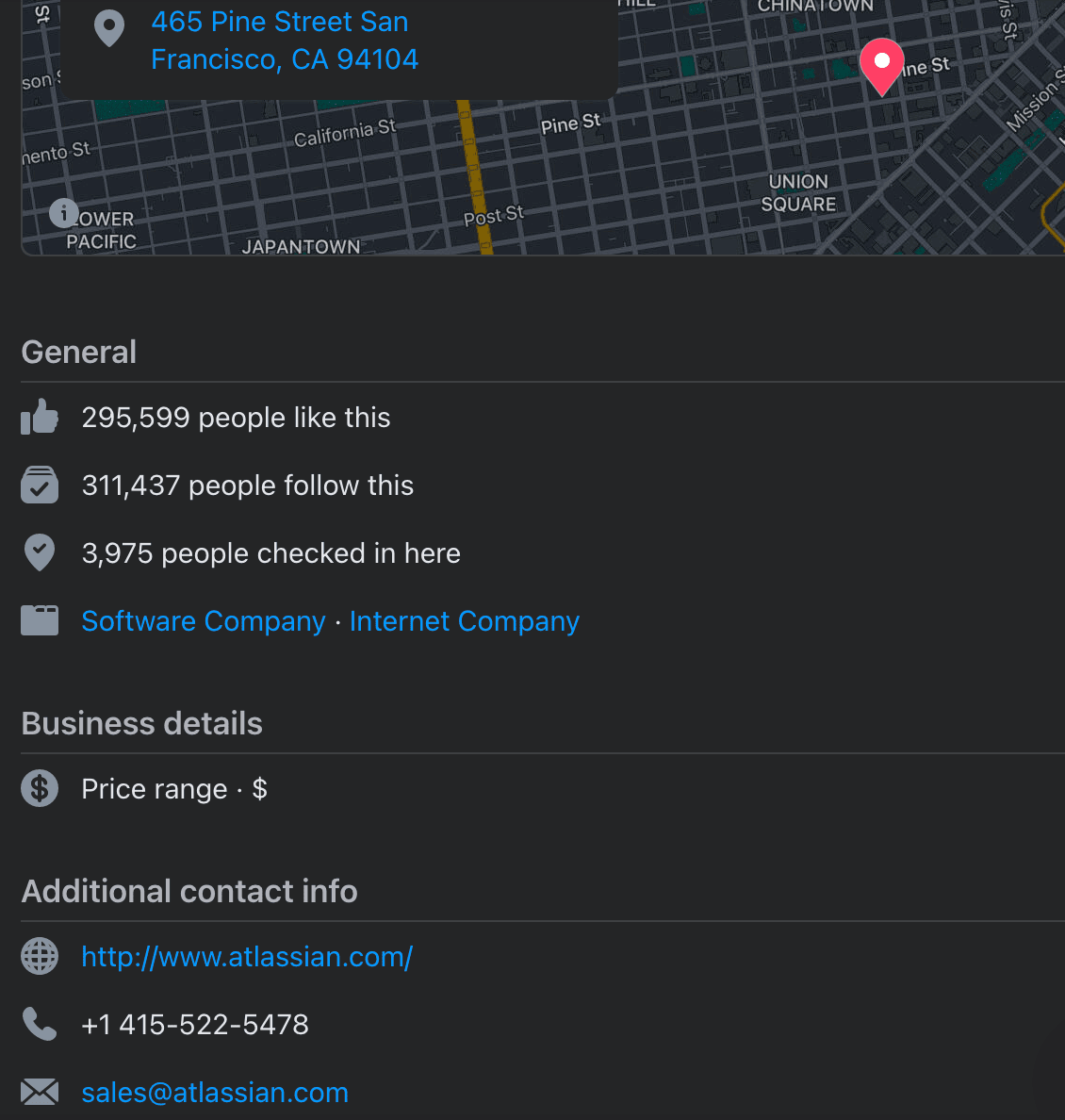 Source: Facebook
9. Links to Your Landing Page in Bio
Instagram and TikTok aren't exactly generous when it comes to sharing links in your posts.
The only place you can add a link to your landing page is in your bio section.
Apart from the fact that it's just one link at a time, in the past, you had to manually change links in your Instagram bio whenever you launched a new campaign. Needless to say, this was time-consuming and impractical.
Luckily, now you can use dedicated tools, such as Linktree or Campsite, for this purpose and automate the process.
Not only is this easier, but with it, you can optimize your link in your bio, get valuable insights into your metrics, drive traffic to your website or other digital channels, and, most importantly, promote more than just one link in your bio.
Use Linktree
Linktree is a user-friendly tool that lets you create a single link leading to a landing page with all the content you want to drive your visitors to.
It's worth mentioning that with Linktree, you can also create a landing page using a simple drag-and-drop functionality.
IKEA, a Swedish furniture manufacturer, uses Linktree to present new products and trends, as well as to invite visitors to subscribe.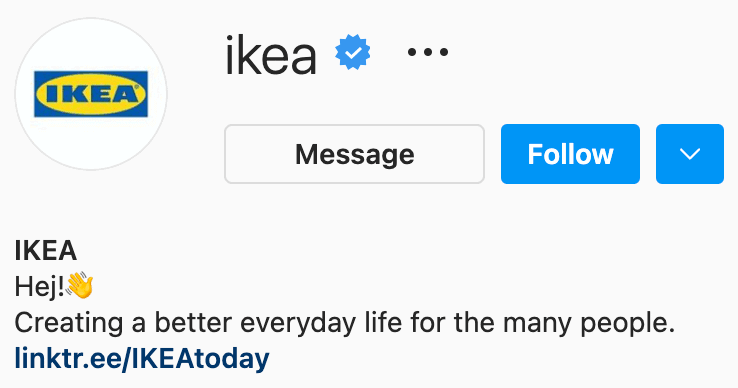 Clicking on the link takes you to the landing page with multiple links to different sources.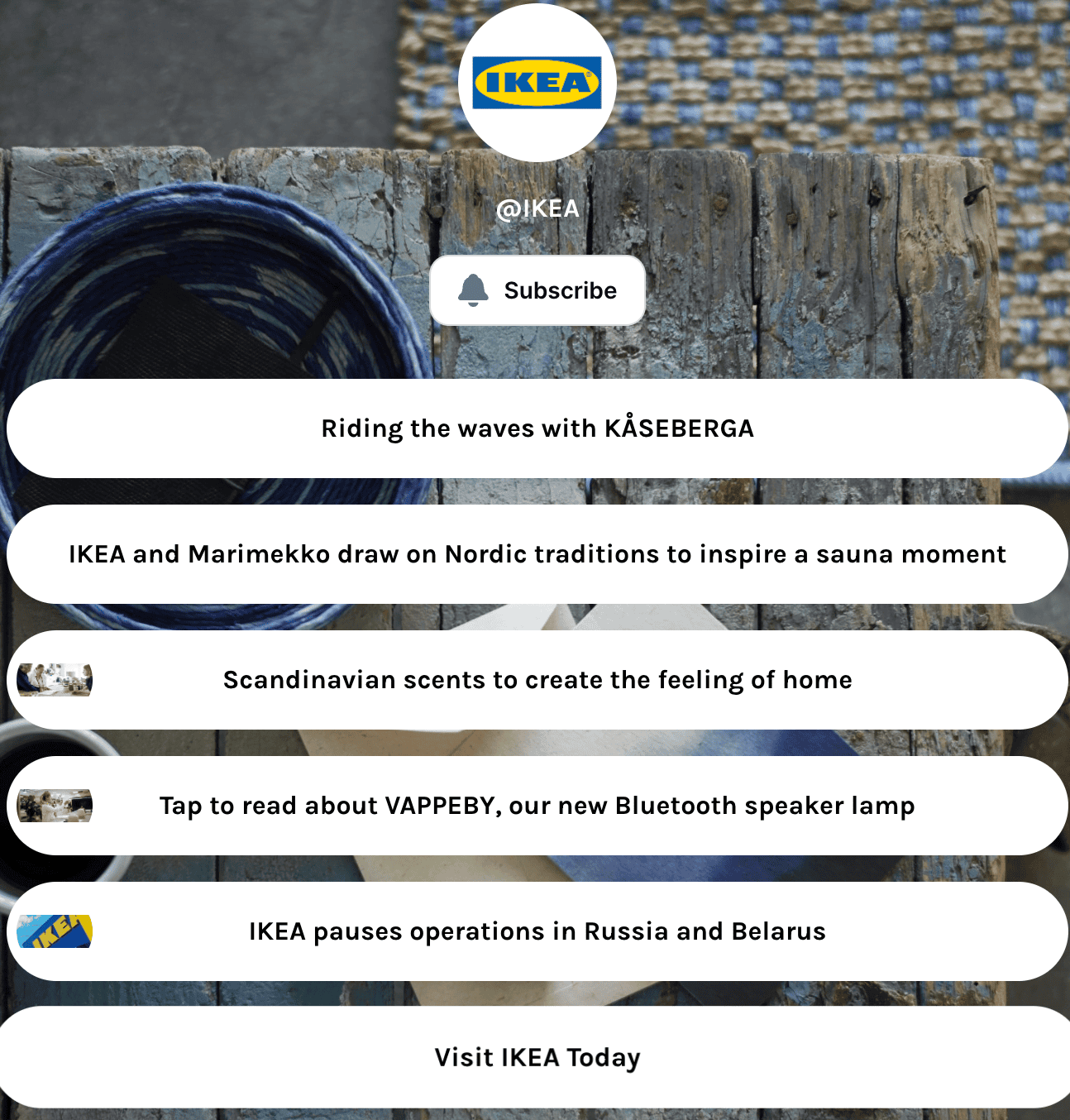 Source: IKEA
10. A Consistent Profile Name and Image
We've discussed visual consistency as a critical factor for establishing familiarity and brand recognition.
A consistent profile name and image across different social media platforms serve the same purpose. If you want your audience to be sure that it's your company on Facebook or Instagram, both your profile name and image have to be consistent.
Otherwise, you risk creating confusion among your potential customers, which, in turn, erodes credibility and trust. So, when people are looking for your brand on social media, make sure it's easy for them to find you. Don't let them scratch their heads trying to figure out whether it's you or another brand with a similar name.
In the case of your profile image, things are pretty simple. All you have to do is use the same image adjusted for a particular platform's size requirements, and you're good to go.
However, when it comes to your profile name, it might happen that the one you use on Instagram is taken on Facebook, meaning that you have to get a bit creative. It's a good idea to use a suffix referencing your location, industry, or anything else that will distinguish you from your namesake.
11. Attractive, Professional Imagery
Picking the right shot for your profile and cover photo can be challenging.
Apart from following your brand guidelines, you also have to take the size requirements that are different for every network into consideration. Plus, you can't just use a free stock image for your business profile.
Here are the latest image size guidelines for the most popular social media networks: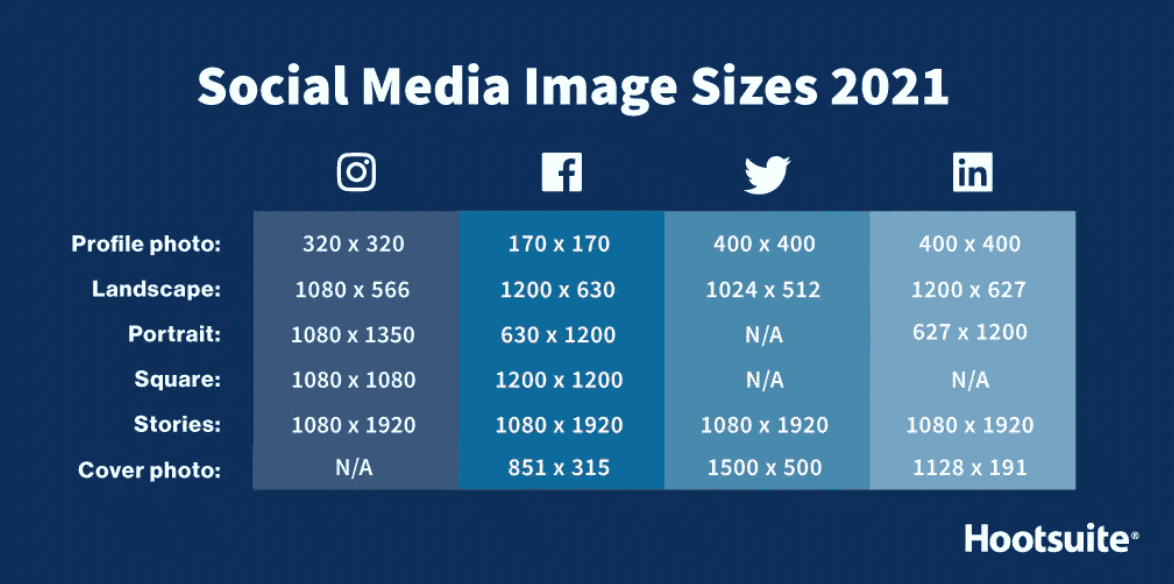 Source: Hootsuite
Apart from the size of your photo, there's another factor you should be aware of – its shape.
Instagram
And that's where it gets tricky for Instagram users.
Although Instagram supports square images, profile photos are displayed in a circular shape. This means that you should upload a well-centered photo so that nothing important doesn't get cropped out.
Since your profile photo will be displayed as a small circle in the Instagram Feed, it's better to opt for imagery unless your logotype is bold and easily legible.
Bang & Olufsen, a Danish consumer electronics company, has a recognizable logo featuring the initial letters of the name visible even in the tiny profile image.

Source: Instagram
Twitter
Twitter is equally economical in terms of space, and the above tip applies to the microblogging social media platform.
Here's an example of how Buffer, a social media management tool, used the little room Twitter provides for a profile image: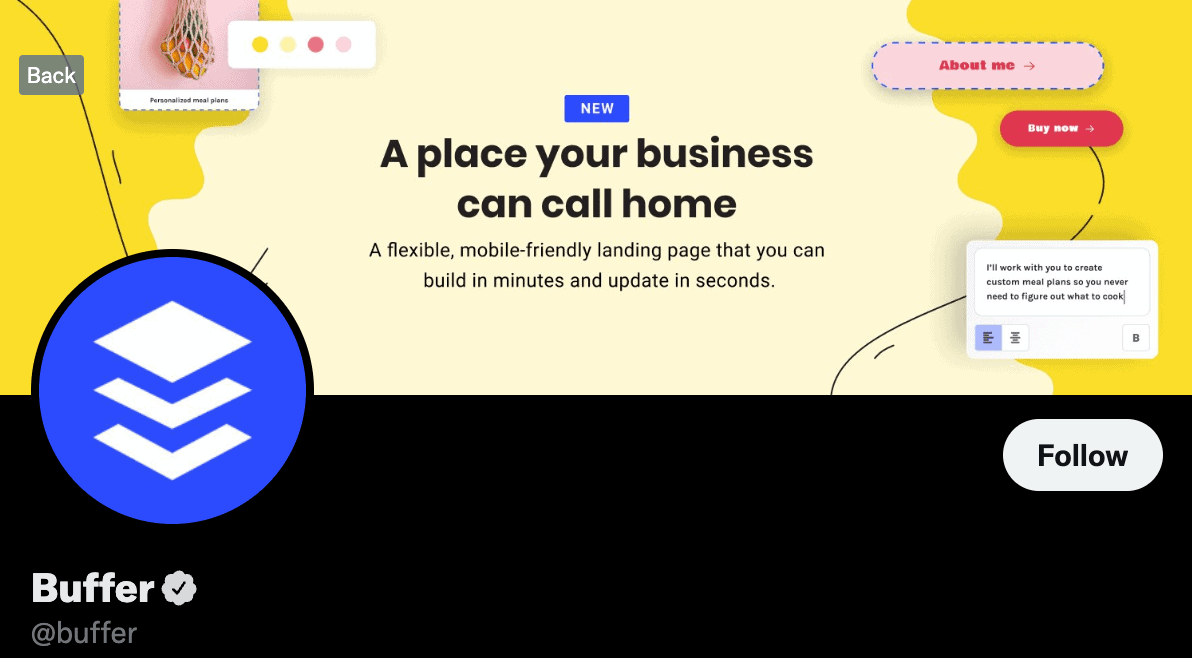 Source: Twitter
Facebook
Since Facebook is known to frequently change its image size requirements regularly, it's best to future-proof yourself by uploading the best-quality image.
Some general tips for Facebook profile images include:
Uploading JPG and PNG files to prevent distortion
Using the recommended pixel sizes to achieve the optimal upload times
Using PNG files for profile and cover images that contain logos or text.
LinkedIn
This social media platform for professionals has its own set of rules.
Although it's capable of accommodating a profile image that's up to 8MB in size, make sure your file is a bit smaller than that.
Another useful piece of advice is that you should check how your cover photo is displayed both on a computer and smartphone, as it might be cropped differently depending on the screen size.
Set Your Brand's Social Media Profile up for Success
Paying attention to every detail when setting up your social media profiles will have a significant impact on your online presence. Even after the initial setup, it's a good idea to regularly update your bio, revisit your profile image, add recent social proof, and implement the latest best practices. These tips will help you avoid common faux pas and lay the solid foundations for building your social media profiles.