If your business isn't already investing in Instagram marketing, now is the time to start. With users from all demographics and a much higher engagement rate than other social media platforms, Instagram is a must for brands who want to succeed in today's day and age.
The most effective way to use Instagram to drive more web traffic and more sales is to put an Instagram link in bio examples and then promote that link. By doing this, you can get your followers off of Instagram and where you want them to be — like your online store or product page.
Getting your followers from point A to point B might seem tricky. But with a little know-how, you can effectively use your bio link on Instagram. Here's what you need to know about Instagram link in bio best practices.
Use An Instagram Link in Bio Tool
Your Instagram "link in bio" is an URL that you share in the bio section of your profile. Your followers can find this link just under your bio copy and above your story highlights (or your feed, if you don't have highlights). In the image below, Burger King's link in bio is the "www.bk.com" link just above the company's geographical location.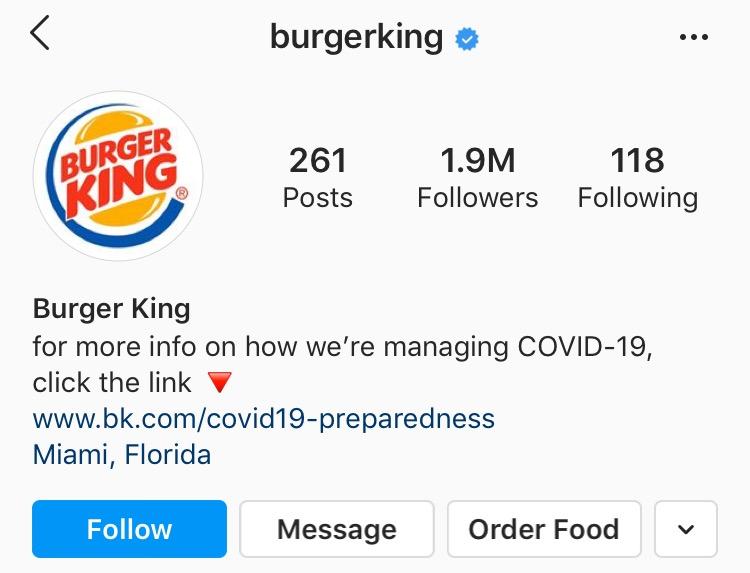 You have the ability add or edit the link in your bio by editing your profile and pasting an URL in the "website" field. This link is an important marketing tool. It takes your followers to wherever you want them to go — a YouTube video you want to promote, your website homepage to learn more about your brand, or your online store so you can make more sales.
But Instagram only lets you have one link in your bio at a time. If you have more than one thing to promote, how does that work?
A link in bio tool is the answer. But where is the bio located on Instagram? Most of us might be aware. Isn't it? Using a link in bio tool is by far the best way to utilize the one link that Instagram lets you have. Having all of your links organized into one URL will help turn your followers into customers.
Link in bio tools either let you create a landing page that lists several links, or they help you create a clickable Instagram grid where each of your photos links to a specific webpage. Most link in bio tools offer you unlimited links. These tools also typically let you customize the visual appearance of your landing page, and they track your analytics so you can see how well your link is performing.
There are a lot of link in bio tools out there. How can you decide which one is best for your business? One popular one is url.bio. This linking tool offers all of the premium features that comparable tools include. Unlike other tools, however, Url.bio is completely free. You won't find any premium plans or hidden costs. This makes it a great choice for any company or individual, but especially small businesses that are trying to keep costs down. Some other link in bio tools include Linktree and Linkin.bio by Later.
Below we've outlined a few ways you can use a link in bio tool.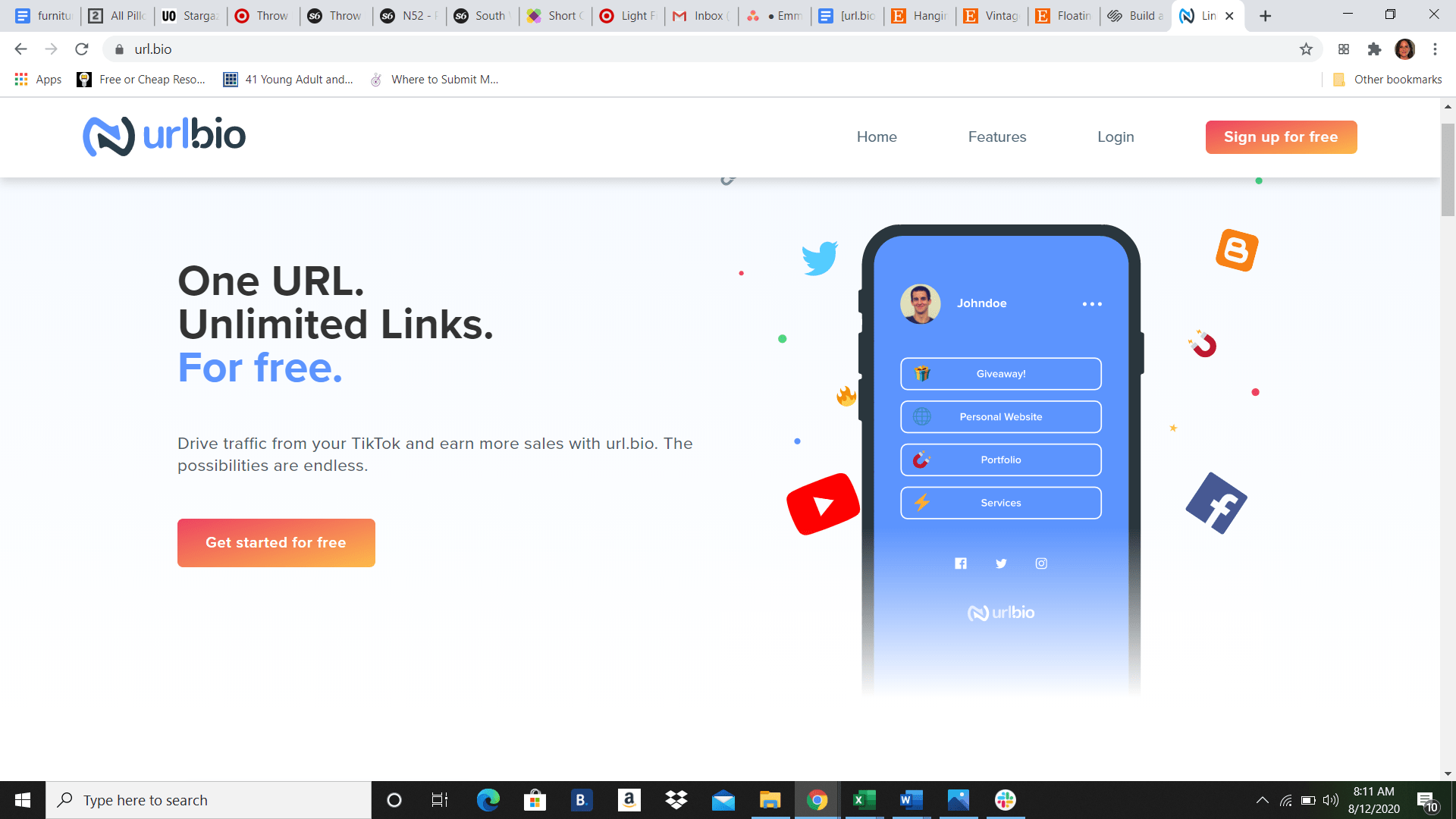 Add Your Links
With link in bio tools, you don't have to choose which link to promote. They let you add unlimited links to your Instagram bio so your followers can browse a list of options and easily find what they're looking for. And there's no cap: many link in bio Instagram tools allow you to add as many links to your landing page as you'd like. You can also choose which links will be displayed and which ones will be hidden at any given time.
Prioritize and Animate Links
Most tools also let you prioritize and animate your links. When you prioritize a link, that link will be pinned to the top of the list. When you animate your link, this will make that link's CTA button move. For example, some tools have choices for animation:
Pulse
Wobble
Jello
Heartbeat
Flash
Each of these choices makes your link move in a different way. "Flash" makes the button flash on and off while "Wobble" creates a back-and-forth wobbling effect. By choosing one link to set as a "Priority link" with animation, your followers will be more likely to click on that link because it will immediately catch their eye.
Track Analytics
It's important to track the link in your bio so you can see how much website traffic you're getting. Paying attention to your analytics can help you figure out whether you need to tweak your marketing strategy in order to point people to your link in bio.
Each link in bio tool is different but look for one that tracks and displays your analytics in a graph that's located on your dashboard. These metrics should include:
Clicks
Views
Click-through rate
You can view your clicks and views and how these metrics have changed over time. Users can also add UTM parameters. These parameters are tags that you add to an URL so the link becomes trackable with Google Analytics. These UTM parameters will make Google Analytics show any URL in bio traffic as "Social Traffic." The campaign parameter is set dynamically from the title of each link.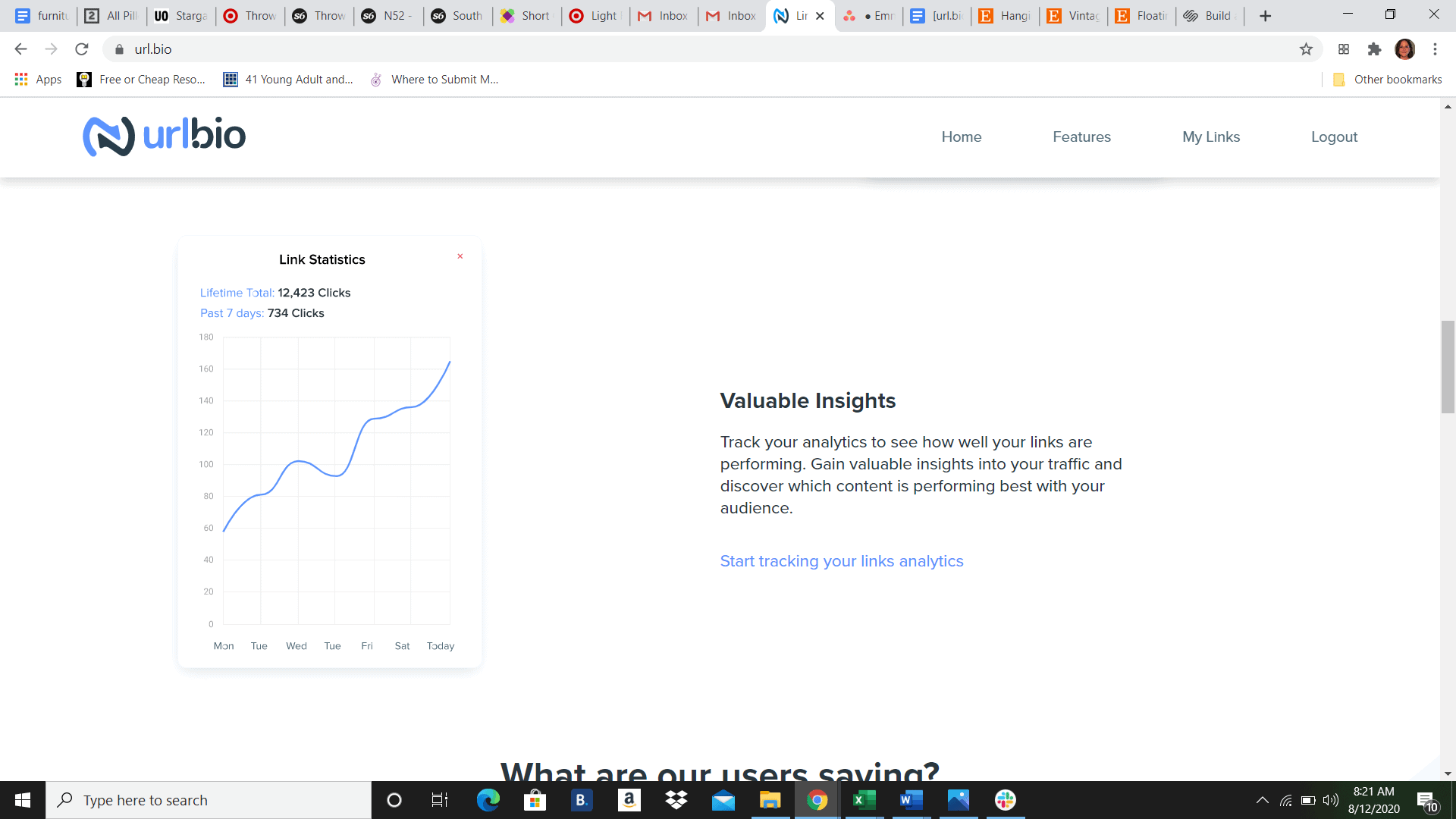 Now that you're ready to go with your linking tool, let's take a look at some link in bio best practices.
Link in Bio For Businesses
Putting a link to your website in your bio is a great way to drive web traffic from Instagram. You can use a link in bio tool to direct your customers to your homepage, your FAQ page, your blog, or any other website page you'd like to promote. You can also add links to any freebies you might offer or link to other opportunities that will allow your followers to easily sign up for your email list.
For example, in the caption of this product photo, Target urged its followers to visit the link in the company's bio for a good deal: "Shop BOGO 50% off swim via link in bio!"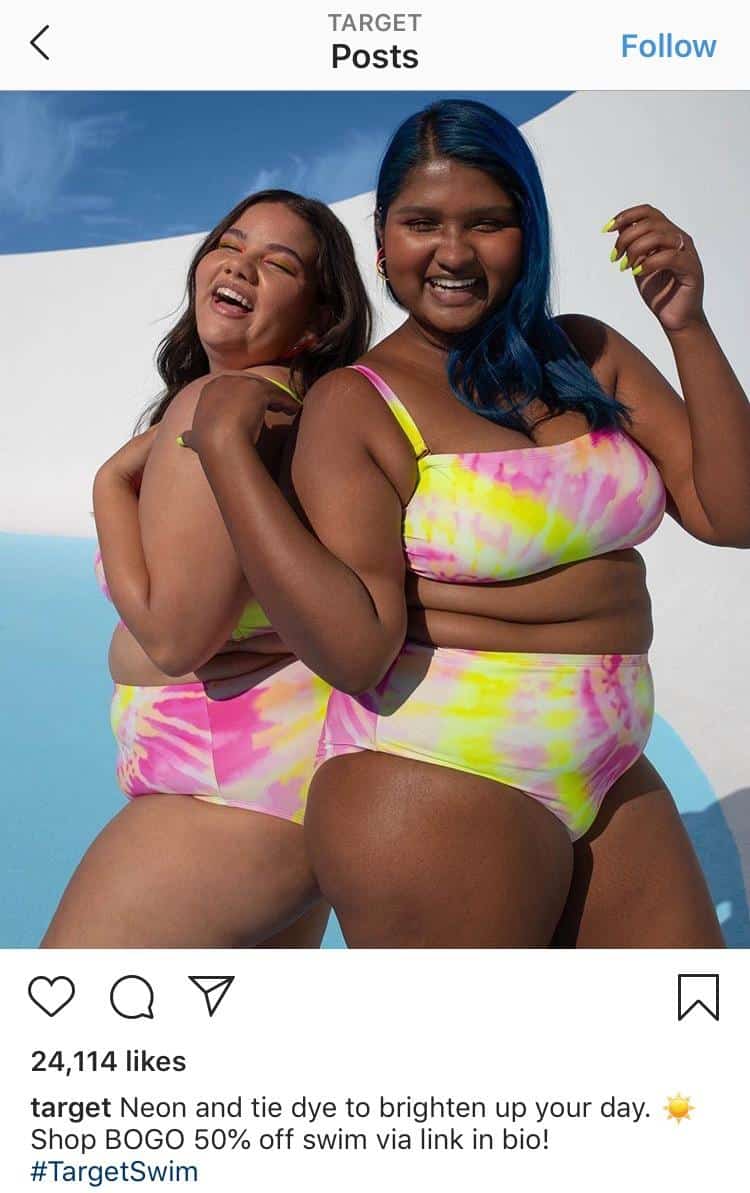 Another smart method of utilizing your link is to link to Shopify or another ecommerce platform. This is a good way to make more sales. Create posts and Stories that heavily promote your products and then send your followers over to the link in your bio to browse, where they'll ideally become customers.
Bloggers/Publications
If you're a blogger, use your bio link to send your followers to your blog. Cross-promotion is everything when it comes to social media. The best way to increase your number of blog readers is to give them a direct route to your blog from your social media pages, where they're already engaged and paying attention.
Registered dietitian Caitlyn Elf regularly shares recipes on her blog and her Instagram. She uses her Instagram photos of the delicious food to point her followers back to her website — where, in addition to reading the blog post with the recipe, they can sign up for her email newsletter or opt in to receive some of her other free content. "If you want the details on how I pulled it together, you can grab them on @caitsplate (link in my bio)," she writes in this caption.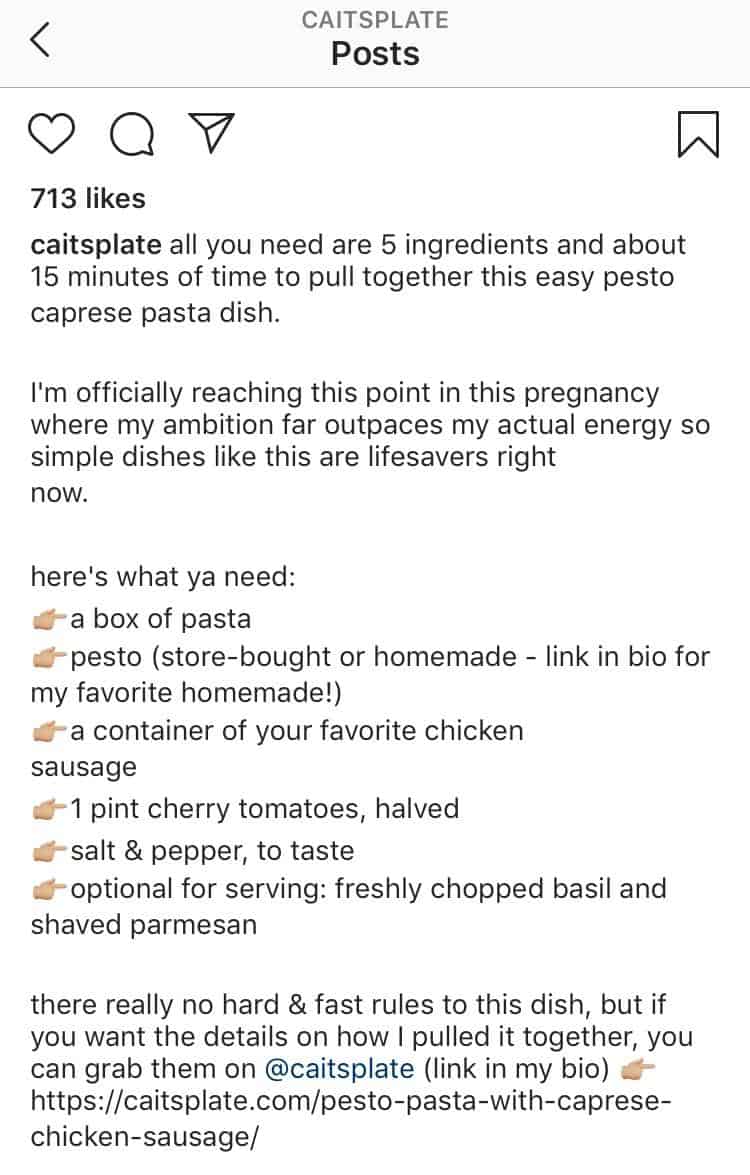 Bloggers can also link scientific studies or articles that back up their claims. For example, if you reference a source or an article in your post, add the words "link in bio" in your caption to send your followers to the source. This can help them learn more about the topic you're discussing. It also makes you more credible as a blogger.
Influencers
Influencers are known for partnering with brands and helping them sell their products or services. That's where the link in bio comes in. If you work with an influencer, give that influencer a link that they can put in their bio. Their followers can use that link to access your product. And if you're giving that influencer commission on individual sales, you'll be able to easily track how many sales that influencer helped make.
If you're an influencer trying to make sales on a brand's behalf, the best way to do so is by giving your followers easy access to the product you're promoting. Again, that means including a link in your bio.
It can also be helpful for influencers to include links to their other social media platforms, like their YouTube. Many link in bio tools have a feature that allows you to easily link your other social media accounts. Depending on your niche and audience, you might want to consider linking your:
Linking your other social media platforms is helpful because it can increase your following and engagement on them all.
Affiliate Programs
Through affiliate marketing programs, influencers can earn a commission on the sale of products. Businesses who have an affiliate marketing program work side-by-side with influencers in the same industry. The influencers promote that business's products to their audience. And when the influencers make a sale, they receive a percentage of the profit. For example, Cassy Joy Garcia from Fed and Fit works with the nail polish brand Dazzle Dry. When Cassy's followers use the code FEDANDFIT, they can get 20% off of their purchase.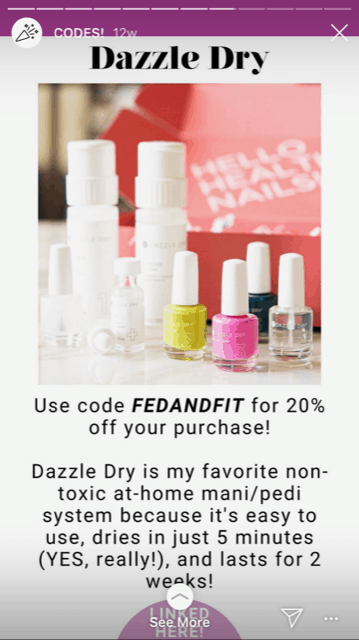 When influencers participate in an affiliate program, they're given a customized link. Influencers can add this link into their bio to increase their total payout.
Nonprofits
Nonprofits can get a lot of mileage out of a landing page with multiple links. This kind of setup allows you to promote multiple causes at the same time. If you have several places you want people to donate, a link in bio tool allows you to include them all. Link in bio tools are helpful for any type of fundraising or trying to get more eyes on a cause.
Nonprofit Feeding America includes several links in its bio, including places for followers to donate and helpful resources (like a blog post titled "The do's and don'ts of donating to a food bank during COVID").
Event Planning
Companies with an event to promote can utilize their bio link to promote the event. Put the link to your event registration page in your bio and then share Instagram posts and Stories pointing people to the link. Getting people to register for an event can sometimes be a struggle, but by using your Instagram bio link, you can encourage more people to commit.
Bio Structure
If you're going to be drawing attention to your bio by asking people to follow the link, make sure the other elements of your bio are well put together, too. Here are a few components to consider.
Story Highlights
Story Highlights are a place where you can keep your Instagram Stories even after the 24 hours when they've expired. Lego's Highlights are well-organized, making it easy for the company's followers to find what they want.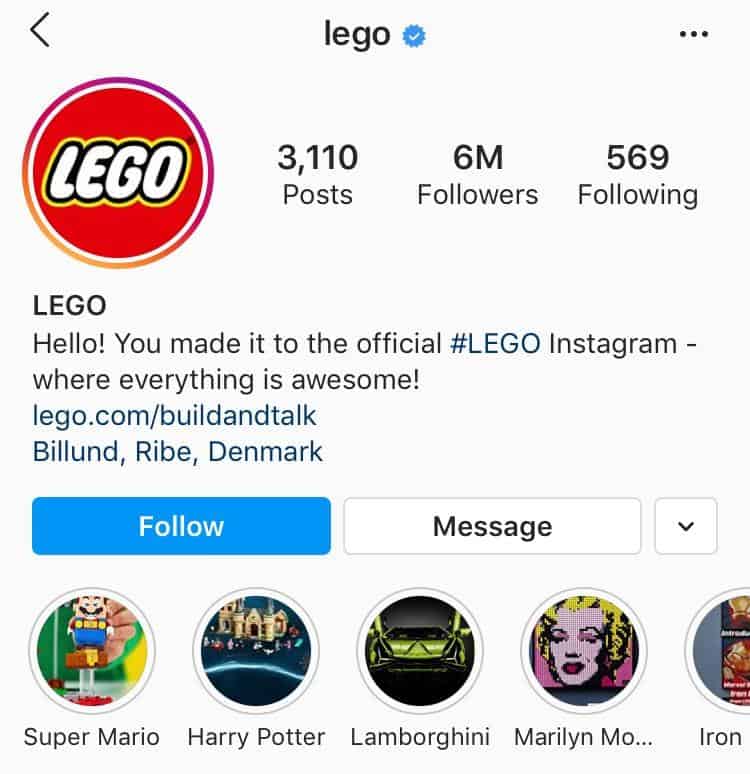 Similarly, clearly label your own highlights, and consider creating story covers for each highlight so all of the colors match.
CTA Buttons
Your Instagram bio has a few different CTA buttons. First, there's the blue "Follow" button located just under your bio copy. You'll also see the "Message" and "Email" buttons. Some companies have additional buttons as well — for example, Cinnaholic has a button that reads "Order Food" and links to the UberEats website.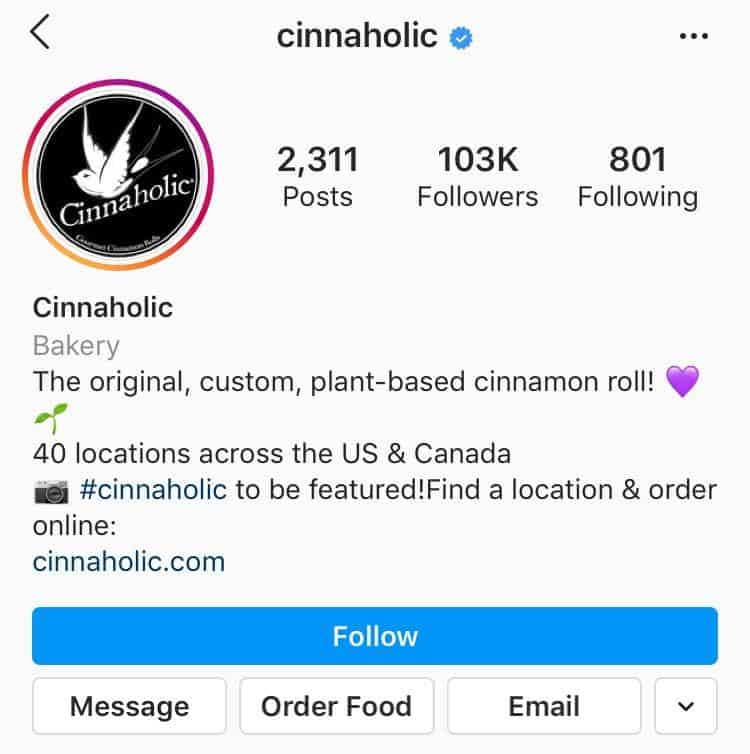 Figure out which CTA buttons are best for you and then consider drawing attention to them in your bio copy.
Profile Picture
Your profile picture on Instagram should be clear and high-quality. Many brands use their logo as their profile photo; for influencers or bloggers, a nice headshot is key. HelloFresh uses a white logo on a green background as their profile photo. This image coordinates with the company's Highlights, too.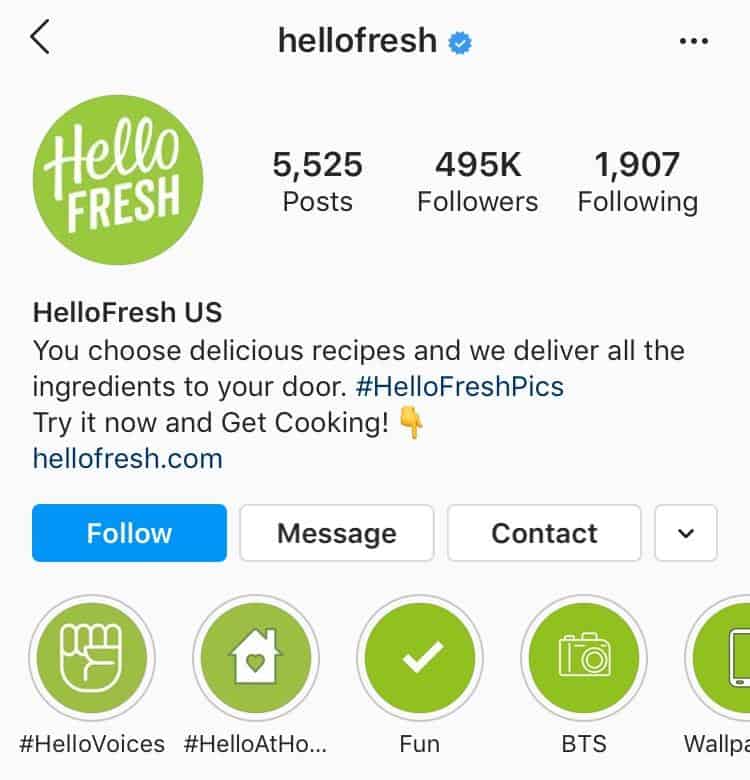 Branded Hashtags
Branded hashtags are hashtags that only your business uses. These tags can be used for a few different purposes — try hashtagging your tagline to get more visibility on your posts (such as Nike's #JustDoIt), or create a hashtag that your followers can use on their own photos (a good method for you to get some user-generated content). For example, Halo Top uses the branded hashtag #StopShouldingYourself to encourage people to eat more ice cream.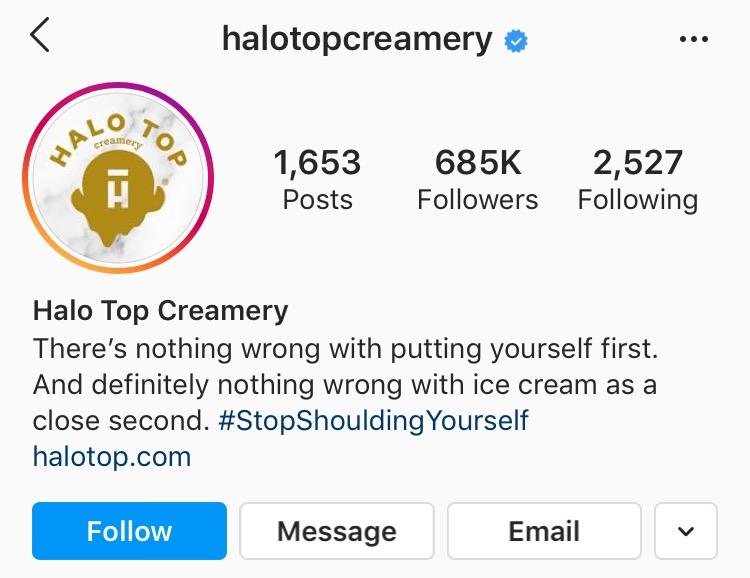 Bio Copy
Include some concise copy in your bio that explains the purpose of your account, briefly describing who you are and what you do. So Delicious, a food brand that makes dairy-free options, has a great example in their bio: "We commit to nourishing your soul and body with thoughtfully crafted dairy-free products."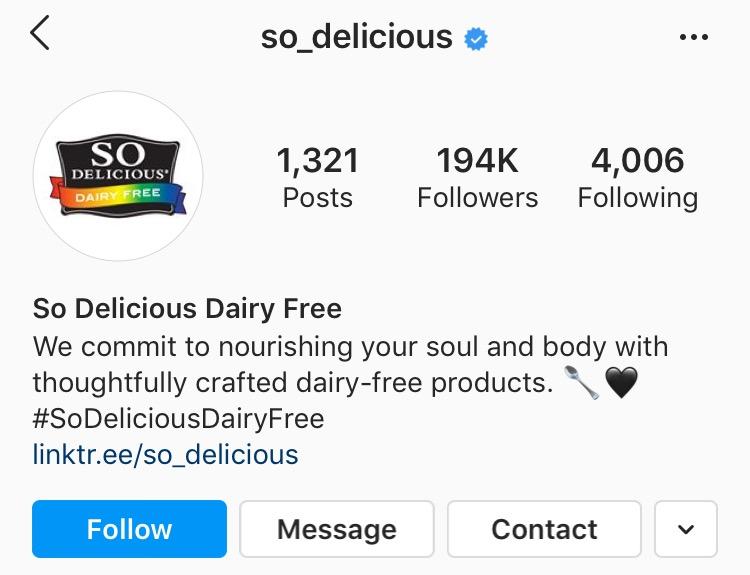 Final Thoughts on Instagram Link in Bio Best Practices
Your link in bio is important — the best Instagram link in bio is the gateway for your Instagram followers to become customers of your brand. Take full advantage of this link by using a link in bio tool to promote your link and make more sales.
[starbox]