Facebook hashtags are over ten years old, but they are still underutilized by many businesses. It may be because Facebook left them dormant for many years, providing no guidance to companies or marketers.
While hashtags on Facebook have not been as successful as on other social media platforms, online casinos have used them effectively to promote their sites by giving people the ability to win real cash games. There is no reason why other companies can't replicate their success.
It is time to explore all things hashtags, show you how other businesses are using them, and give you some tips on using them to get eyes on your brand and products.
Why Are We Talking About Hashtags on Facebook?
In September 2020, Facebook decided to reinvigorate hashtags. Now every time you post, Facebook recommends including them via a drop-down list, and they started prompting users that hashtags increase engagement.
Facebook also made some blog posts outlining the ways businesses can use them to drive engagement. Hashtags are a great way to allow public conversations on important topics to take place on Facebook.
Should Businesses Use Hashtags on Facebook?
Here are the reasons why you should use hashtags on Facebook for business:
Make the content more interactive – Facebook posts that use hashtags receive 13% higher engagement than posts without hashtags. If you want to drive traffic to your company incorporating hashtags into your Facebook strategy is a quick and easy win.
Make your company searchable on Facebook – If a Facebook user is searching for more information on products you sell or your industry, they are much more likely to discover your brand if you use hashtags. They make your content much more visible. With billions of searches happening every day on Facebook, companies can't afford to miss out on valuable traffic boosts.
Help with social listening – By using them, companies can keep their ear to the street and see what topics and conversations people are having. It can give you great ideas to build a campaign around and cause your posts and brand to go viral.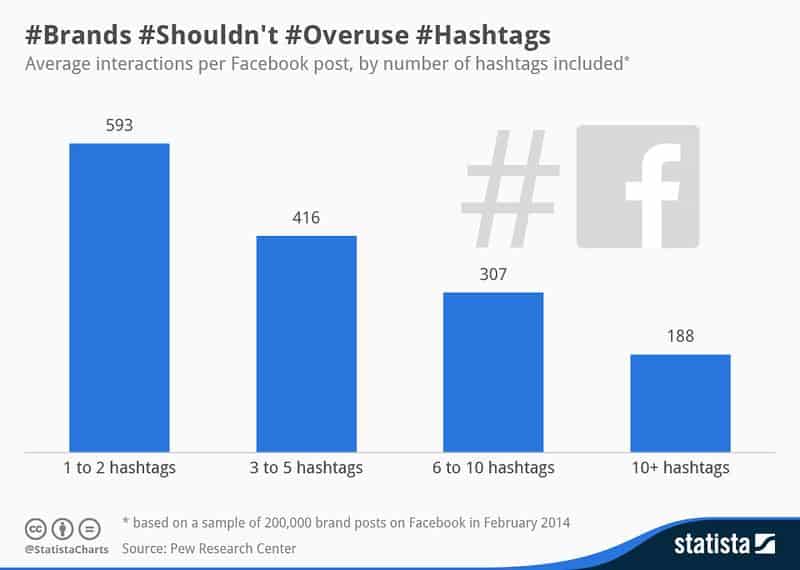 How Can Businesses Use Hashtags on Facebook?
When you first start experimenting with hashtags, you might be wondering what works and what doesn't? Here are best practices on how businesses can use hashtags on Facebook:
Use popular hashtags – By using the most popular hashtags on Facebook, companies can win some of that traffic and get eyes on their company.
For example, if you sell blenders and you start incorporating hashtags about different recipes into your posts, you can get eyes on your brand from users who were simply looking for a new smoothie to try out. It is a strategic way to get in front of customers who would have never seen your Facebook posts.
Use branded hashtags – Branded hashtags are a great way to push a campaign or make your company more visible. If you consistently hashtag your brand when posting on Facebook, your overall popularity will rise, and users' association between your company and the brand will stick. Hashtags are also a great way for users to begin associating a particular style of content with your brand.
For example, if you are a bike rack company that routinely posts extremely helpful content on all things bikes and racks and include your branding hashtags, users will associate trustworthiness and expert knowledge with your brand. They will go searching for you when they are looking for information and be more likely to believe in the quality of your products.
Use trending hashtags – Strike while the iron and newsjack viral topics. The trick is to post interesting and related content to the trending hashtag. Some companies have been heavily criticized for attempting to take attention away from serious topics in blatant publicity grabs. If you post tasteful content, this shouldn't be an issue and can be a great way to drive a percentage of the millions exploring viral hashtags to your company.
Humor wins – Facebook users are more likely to share or comment if they find a hashtag is funny. While not all brands are suited to comedic posts, even the most serious topics are more enjoyable to interact with if there is an element of light-heartedness. Try out a few comedic ones and see how they perform. We are convinced they give companies a much better chance of trending and going viral.
Check out what your competitors are doing – See what hashtags other companies in your industry are using. Stay away from the ones that aren't working while double downing on the winning ones. Try to improve existing content that is attached to successful hashtags. It can enhance your brand and help you leapfrog your competition.
Run a hashtag challenge – Creating a challenge is a great way to get your brand trending and is also an excellent way to interact with your customers. Common hashtag challenges include a selfie competition with the product you sell and giving away a prize for the best photo. Who doesn't like free stuff? These challenges are a great way to get thousands of people talking about your brand on Facebook.
Schedule your content smartly and tailor it to the specific platform – Posting at 4 am is not the best idea if your goal is to get your branded hashtag trending or get eyeballs on your company by taking over existing hashtags.
Facebook posts with 1 or 2 hashtags perform better than posts with three or more, while the opposite is true on Instagram. Facebook posts with one hashtag get almost four times the engagement as posts with 4 and 7 times the engagement as posts with 10. The research is obvious when it comes to hashtags, and less is more on Facebook.
How to Use Hashtags on Facebook?
Meaning of Facebook hashtags: Hashtags transform topics into explorable links that can send readers down rabbit holes and allow them to wade through related posts.
To write a hashtag on Facebook, simply type "#" and then begin typing your relevant hashtag. As you are typing, Facebook will recognize your hashtag and recommend hashtags to include in your post. Or you can create your completely custom hashtag.
For example: "I'm so lucky I won big at the casino #real money casino."
How to Write Hashtags on Facebook?
Tips and tricks when using Facebook hashtags:
Simple is better – You ideally want to use one easy-to-remember hashtag for each topic. It allows customers to find your posts and return to the hashtag quickly. The best hashtags are often three words or less.
Less is more – Facebook posts with only 1 or 2 hashtags perform much better than posts with three or more. So don't go overboard and only slide in a couple at the most.
Use the most relevant and popular hashtags on Facebook – While they can be more competitive, they are still the best way to reach customers. There is no point dominating hashtags that no one is exploring. You need to put yourself into the mind of the customer and visualize what hashtag they would use if they were looking for a topic that you are posting about.
No punctuation – Hashtags do not recognize punctuation, so remember to leave your Grammarly turned off when writing them.
Capitalize the first letter of each word – This makes your hashtags pop and makes it more likely users will see it and engage. For example instead of #electionnight write #ElectionNight.
No spaces – Spaces ruin hashtags. If you use a space, only the word before the space will be clickable. For example, #Best cafes — only best would be clickable.
Put them within sentences – Users are more likely to click if they appear within sentences instead of just at the end.
How to Search and Track Hashtags on Facebook
Searching hashtags on Facebook is super simple. Just type your specific hashtag into the search bar, for example, #Bestbeaches. You can also type in your browser facebook.com/hashtag/bestbeaches.
Tracking Facebook hashtags is crucial. It lets you know when to post, what to post and what to change.
To track hashtags on Facebook, you will have to use 3rd party providers. When looking for a hashtag tracker, use one that can provide in-depth statistics on your posts, including impressions, engagements, and clicks.
Companies can then analyze these statistics to produce more content that users enjoy viewing and interacting with.
How to Find the Hottest and Trending Hashtags on Facebook?
Facebook is not like other platforms. It is not easy to find hottest hashtags on Facebook.
The best way to find trending ones on Facebook is to go to the search bar and manually start typing and see what autosuggest pulls up.
For example #A, #B, #C. Facebook will then suggest the hottest hashtags. When you are typing your chosen hashtag, Facebook will also suggest other popular relevant ones to include in your post.
Are Hashtags on Facebook Public?
Like all posts on Facebook, they can be made public or private. Private posts that include hashtags will only be shown to your audience. If one of your friends clicks the link, they will see other posts using the same hashtag. However, the general public searching the hashtag will not find your private post.
Even if friends use that hashtag when commenting on your private post, it still won't show publicly. Also, comments are viewable when searching hashtags.
If you post publicly and include a hashtag, anyone and everyone can find the post. Also, when users are searching for that hashtag, your post will be visible.
Final Thoughts on Facebook Hashtags
While hashtags are not as popular on Facebook as they are on other social media platforms, that doesn't mean they are not a powerful tool.
With Facebook deciding to reinvigorate them in late 2020, it is the perfect time for businesses to start including Facebook hashtags in their posts to drive traffic to their company and products.
Why should a business use hashtags on Facebook:
Increases engagement by 13% – Posts with hashtags just perform better.
Allows your content to be searchable – Customers more likely to find your content when searching through Facebook.
Great tool for social listening – See what your customers truly value and explore their opinions.
When using Facebook hashtags, remember to:
Only include 1 or 2 each post
Keep hashtags short and sweet – 2 to 3 words
Use popular ones
Insert your brand
Avoid punctuation and spaces
Capitalize 1st letter of each word
Add an element of humor
Check out what your competitors are doing
Check out Facebook's guide to learn more about hashtags and how they can help your business increase sales and build customer loyalty. We want to hear how you have used hashtags to win customers. Please comment below on your most successful ones.