While social media marketing has been around for a while now, LinkedIn outreach is like the new handsome kid on the block. It looks good and is excellent at its job- helping professionals connect with each other.
In fact, LinkedIn has become so good at its job that it has become the primary source of income for many B2B sellers and brands.
With 722 million+ active professionals on the platform, it truly is a goldmine when it comes to generating B2B business. Don't believe me? Check out these stats:
80% of the people on LinkedIn "drive business decisions".
There are 55 million companies present on LinkedIn.
96% of marketers utilise LinkedIn for organic content marketing.
33% of B2B decision makers research purchases on LinkedIn.
If these stats didn't convince you, the hundreds of social selling success stories of brands like Symantec, Verizon, Wells Fargo, Zoom, and Paypal surely will. From digital marketing agencies to financial service providers, businesses from all sorts of industries and niches have found success on LinkedIn. In fact, some of these people are now offering LinkedIn sales outreach and branding as a service!
The point here is, thousands of marketers across the globe and across industries are experiencing incredible sales success with simple LinkedIn outreach strategies, and you can too.
All you need is the right mindset, the right strategy, and an awareness of the spoken and unspoken rules of LinkedIn.
In this article, we will cover all those things while giving you a complete guide to all the ways of reaching out to targeted prospects on LinkedIn.
Let us begin with the most difficult and time consuming way of reaching out to prospects on LinkedIn. Why? Well, because it's free and unlike other free marketing tools, it has incredible potential for those who are ready to put in the work: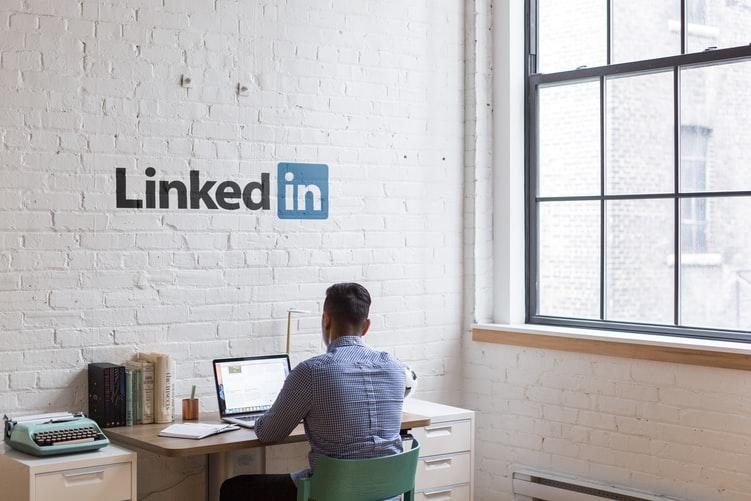 LinkedIn Outreach For Free
Unlike other popular social media platforms, LinkedIn algorithms are not (yet) designed to incentivize promoted content.
In other words, if you are producing truly engaging content on LinkedIn, you will see incredible engagements with time. The only investment LinkedIn asks for this engagement is that of time, and it asks that you make that investment consistently and relentlessly.
So what will you use this time for?
If your objective is to position yourself as an industry authority or an "influencer", your time will be utilised in creating amazing content and making sure it is visible to as many relevant LinkedIn users as possible.
If, however, you are reading this, you probably don't want to be an influencer. You probably want to make more sales. To that end, you will have to do the following with your time dedicated to LinkedIn.
Optimize Your Profile
This is perhaps the most overlooked aspect of LinkedIn outreach. However, it should not be. Your LinkedIn profile is as important to your LinkedIn marketing efforts as your website is important to your digital marketing efforts.
Here are the three things you should absolutely optimize before moving forward with your outreach efforts:
Bio
Your LinkedIn bio is one of the first things that are visible to anyone surfing the platform. The information in this section will accompany your profile picture and name and will be visible in places like feed and search results. Your bio should clearly explain what you do and should also preferably contain the keyword you want to rank for in LinkedIn search results.
About
The about section allows you to expand a little on what to do. I like to treat this section like a pitch and use it to explain in detail, what I do, how I do it, and who my target market is. It is also a good idea to include your contact details like an email address or website link in this section. While this information is available in other places in your profile, having them in the bio saves your prospects from having to look for it.
Featured Section
This is a good place to post your samples and details about the exact services or products that you offer. It is also a great place to show off your best work.
Besides these three things, you will also want to optimize your profile with a professional headshot and cover picture.
Make A Calendar And Post Consistently
Making a content or editorial calendar for your LinkedIn content strategy is a great way to ensure you are consistently posting. Gaining visibility with your content on LinkedIn only requires you to produce genuinely valuable and engaging content with a consistent frequency.
If you are truly consistent with your content production, finding the content type or qualities in your content that resonate with your audience will not be too difficult. Don't be afraid to conduct experiments.
If you are worried that your content will not be perceived in the right light, or about cyber bullies, remember that the web sees an absolute flood of content being uploaded to it everyday. The content that stands out, that gets attention, that is talked about, is never crappy content.
People forget about crappy content. Even if you do end up producing a crappy piece on LinkedIn that isn't positively accepted by your audience, remember that you can always delete that content.
Don't let these apprehensions stop you from conducting content production experiments because that is the only way to produce amazing content. Here are a few stats that will help you decide what kind of content you want to produce on LinkedIn:
While these stats do highlight the importance of visual content, producing that kind of content demands time, effort, and sometimes, video production expertise.
This means it isn't feasible to exclusively stick to visual content on LinkedIn. At the same time, however, it is important to ensure visual content is a consistent part of your overall LinkedIn content mix. Another way to save time is to automate the posting on your LinkedIn account(s) with an automation tool like Bulk.ly.
Pro Tip
LinkedIn also allows you to use hashtags with your posts and you should use them to drive visibility.
Search And Add Prospective Clients
The LinkedIn search makes it incredibly easy to find hundreds of prospects. The filters offered, even in the free accounts, are capable of helping you laser target who you want to add to your network.
Ideally, your goal should be to add 20-30 new connections every day. This may mean sending as many as 60-80 connection requests a day.
It is also important to routinely delete the requests that don't get accepted after a specific amount of time.
Have Conversations
While there is nothing wrong with promoting whatever you are selling, doing so with someone who has just accepted your connection request is not a wise move. When it comes to social selling, knowing about the acceptable etiquette of the platform you are using is critical to success.
Instead, think about adding value to the lives of your LinkedIn connections. If you are doing the content production right, you may already be adding a ton of value already. Just try to complement that in the DMs.
The objective is to provide your prospects with so much value that they become curious about you and those who don't, are primed and ready for a final sales pitch.
With that said, don't let sales be your sole objective on LinkedIn. While you can easily achieve handsome sales numbers on LinkedIn, aiming to collect leads is a much better objective. This way, you can continue engaging with prospects that don't convert into customers right away.
The best part is that you don't have to necessarily collect email addresses in order to generate leads.
If you are sending out enough connection requests, chances are good that you won't have the time to connect with each one of the people that accept your requests.
To connect with the ones that are more likely to be interested in your services/products, create a content offer and post about it on LinkedIn. Then, send it to everyone who shows interest through LinkedIn DMs.
After the conversation has found a spot in their inbox, you can build on it and qualify and nurture those leads till they are ready for a sales pitch.
The most amazing thing about this strategy is that you don't even need a website or even a LinkedIn Premium account to execute it.
Speaking of LinkedIn Premium, if you can afford a Sales Navigator account (it's almost $80/month for a single user), it would be like giving the already powerful sales prospecting features of your personal LinkedIn profile steroids.
Let's learn more about how you can make use of LinkedIn Sales Navigator to reach out to hundreds of thousands of prospects and simply overwhelm your sales funnels with qualified leads.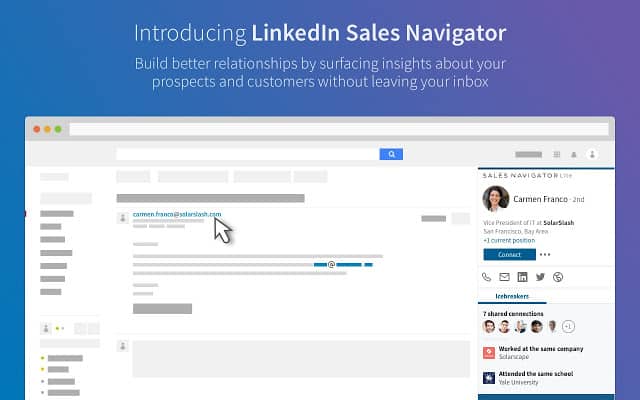 LinkedIn Outreach With Sales Navigator
When it comes to social selling, almost no other tool even begins to compare with the capabilities of LinkedIn's Sales Navigator. This is particularly because the tool is designed to help you use the 778 million+ user base of LinkedIn to your advantage.
Sure, there are other marketing products offered by LinkedIn, like sponsored ads, but when it comes to making B2B sales, nothing beats the kind of results personalization can deliver, and this is why LinkedIn Sales Navigator is so great.
In the simplest terms, Sales Navigator allows you to do the following:
Prospecting
The LinkedIn search itself is an incredibly powerful tool. However, if you are using the search feature available within Sales Navigator, you now have LinkedIn search superpowers. The filters available with Sales Navigator search allow you to laser target the exact people that you think are most likely to engage with your content and/or make a purchase from you.
Besides letting you search for prospective clients, Sales Navigator also allows you to 'save' selected prospects into custom lists. While this might seem like a 'less-than-impressive' feature, it actually contributes a lot to the potential of Sales Navigator as a tool.
Tracking
Tracking is one of the most incredible things that one can do with Sales Navigator. This is also where the aforementioned feature of creating custom lists comes in handy.
LinkedIn Sales Navigator creates a custom feed of all the contacts saved in your list and shows you the updates they post on LinkedIn. In other words, it provides you with all the conversation starters, the feet in the door you require to engage prospects with a personalized approach.
Engaging
Once you have your prospects' daily LinkedIn posts in front of your eyes, you can then start reaching out to them with connection requests and personalized messages that you can build with the information provided by Sales Navigator.
Another way Sales Navigator allows you to engage prospects is with LinkedIn's InMail. While InMail is a standalone advertising product offered by LinkedIn, Sales Navigator users get 20 InMail credits free with their monthly subscriptions.
InMail allows you to send messages to people that have not added you to their network. Combined with the targeting capabilities of Sales Navigator, 20 InMail messages can be a potent marketing tool, especially for those high-ticket sales.
Pro Tip
InMail is most popularly used for sales and hiring messages. In many cases, if you are using LinkedIn Sales Navigator right, you will not even need to depend on InMails. If this is the case, don't let your InMail credits go to waste. You can use InMail for other types of outreach effectively.
For instance, if you have even a few extra InMail credits, try sending InMails to contacts that your backlink checker is recommending for link building. Website owners are often very active on LinkedIn and InMail about collaborations are rare, both factors improving your chances of success with InMail.
Final Thoughts on LinkedIn Outreach
LinkedIn, as a social media platform, is one of the best places on the web to engage in social selling. There are countless stories of people that have made hundreds of thousands of dollars by solely marketing themselves and their offerings on LinkedIn. These aren't just stories, if you spend time learning how to take advantage of LinkedIn, you may also find yourself telling such a story in the not-so-distant future.
I hope that the advice shared in this article will help you move in that direction. If you have any questions, feel free to drop them in the comment section below.