Instagram bio is perhaps the most overlooked part of a business profile. But in reality, it is the key element for your business.
But are you struggling with Instagram headline ideas?
Your Instagram bio is the first thing that people see when they visit your business profile. It helps the users know what your company is about and lets the user engage with you better.
This can be the section underneath your name, where you showcase the personality of your brand. You have got a hundred and fifty characters to inform individuals what the brand is concerning, what your brand offers, and why they ought to follow you.
You don't have plenty to tinker with, which makes it even more crucial to arrange ahead and ideate your Instagram business bio.
Instagram bio creates a primary impression on the users, that is why one must pay more attention to this section of the profile. A great Instagram bio highlights the personality of your brand and drives users to take action, whether that means clicking on the link mentioned in your bio or simply hitting that follow button. This helps in turning these followers into potential customers.
Looking at well-written Instagram bio suggestions can benefit in numerous ways. Crafting an Instagram bio may seem like a task. Hence, it is worth investing your time and energy into it. Therefore, the following are mentioned a few tips and tricks to help you write an Instagram bio and increase the reach of your business profile.
1. Profile photo
When an individual comes across your Instagram page, the first thing that they see is the profile photo, to get an idea about your brand.
Make sure you use a photo that represents your brand, is a high-quality image, and is easily distinguishable. Ideally, your brand's logo must be the profile photo so that it is easily recognizable across various media platforms. The kind of profile photo you choose helps you to create your brand's primary visual identity. Your profile photo must be consistent across all your social media platforms.
For instance, the profile displayed in the image below is of a bandana company, hence the profile picture is of their company's logo.

2. Name and username
Your name and username are the next important aspects of your business profile. Your name can be either your real name or your brand's full name. Your name is only visible when one visits the profile. Your username can be an abbreviation of your brand name.
The username helps you reach your target audience depending on the sources like keyword research.
Studies have shown that the reach on your profile is likely to increase if your name and username are different. Through your username, people can tag you on various social media posts, be it promotional content or user-generated content. It is easily searchable on Instagram search field. Hence, creating your username is equally important.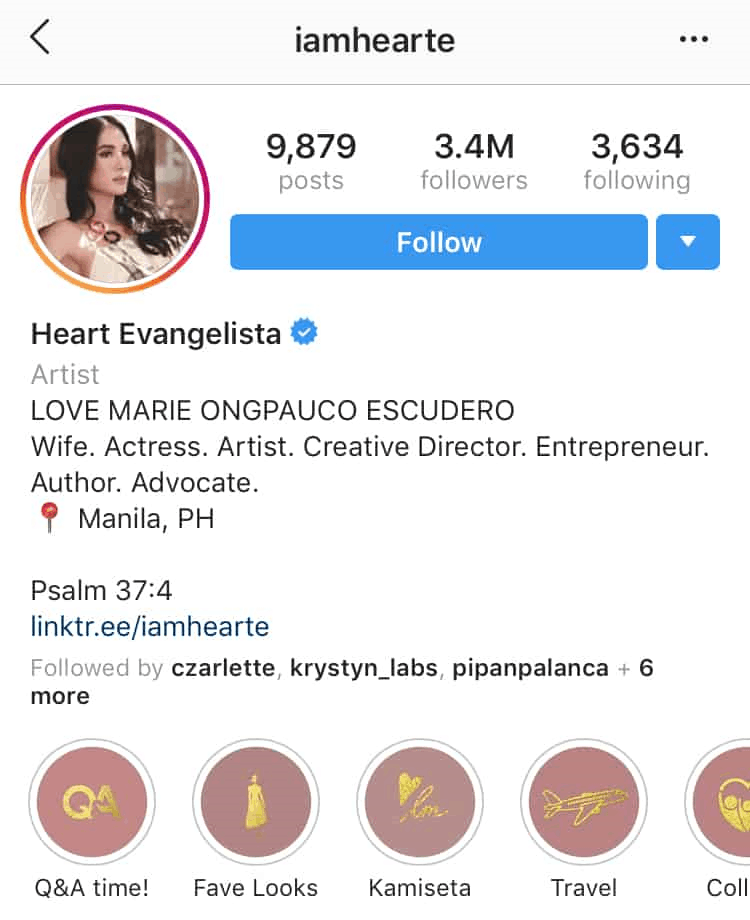 3. Know what your goal is
Before starting to write a bio you need to know what are the objectives that you need to accomplish for your business profile. Your bio must have a clear sense of direction even if there is a limit of 150 characters. Every business, artist, blogger or influencer is bound to have their own specific and distinct objectives.
Here are a few goals that you might want to consider-
Conveying to the audience what your business offers.
Letting the customers know how they can reach you and get in touch with you.
Showcase your brand's personality.
Establish your unique selling proposition, helping your target audience understand what makes your brand valuable to them.
Prompt the customers to take some form of action to connect with you.
Create an experience and relate your brand to your target audience.
For example, if your target audience is the Gen Z population then you would go ahead with various social media trends. For the millennials, your content would be classy and period-appropriate. Something that makes this generation nostalgic.
Make sure you mention the category of your brand under your name in your bio section. For example; if your brand is a store then your category would be 'Shopping'.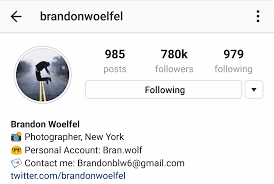 4. Personality of your brand
It is important to let the personality of your brand shine through. This includes the tone and the language that you set for your business as you're working on your brand development.
If you associate your brand's aesthetics and purpose with something fun and quirky then the tone of your bio would also reflect the same. This helps in establishing the individuality of the brand as well.
You might want to consider the use of relevant emojis that fits the brand personality. Please note the kind of emojis you use as there is a possibility that special characters and emojis may not translate well to some devices.
Be mindful of the words that you use. Avoid filling your bio with words and characters that are hard to understand. Your bio must properly represent your business.
For example, below, the user has used emojis as bullet points to add character to usually monotonous bios and to reach their target audience. The user has not mentioned any irrelevant words or characters. But how to make bullet points on Instagram bio?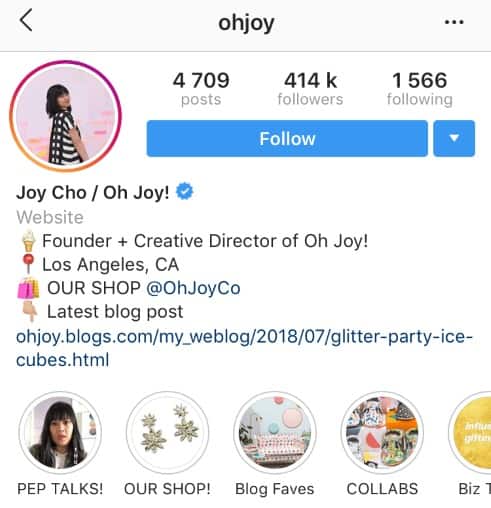 5. Include hashtags and profile links that are relevant
Instagram lets you add clickable links and hashtags in your bio. Make sure that you make the most of it.
Using relevant hashtags and links can direct users to your profile and can help you direct your viewers to the user-generated content…
Mention a few words that you associate with your brand and you can use them as your hashtags as well. Just like '@localtacos' has used a link and the hashtags that they would like to be associated with, in their bio, in the image attached below.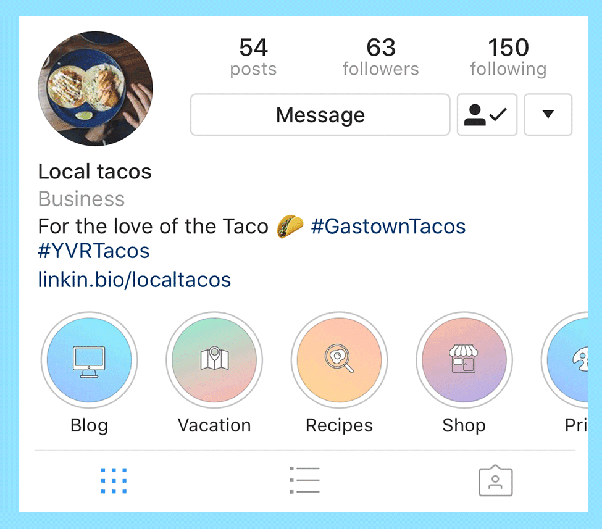 Instagram allows you to add a clickable link in the 'Website' section of your bio. You can use this feature to direct users to your website. You can use this feature to drive valuable actions, such as sharing or viewing content, registering for an event, or heading to your site to make a purchase.
6. Make sure it is easy to understand and engage with
As mentioned earlier, your Instagram bio should be able to convey what your business offers and how users can connect with you. Your choice of words, phrases, and level of language must be catered in a way to better suit your target audience. So it is essential that users can read and process the information that you have mentioned.
Your bio layout makes a huge difference and makes it easy for users to read.
You can use line breaks and spacing in a list format, in your bio to emphasize important information. Apart from line breaks and spacing you can also use pipes or vertical bars to separate the words.
Using emojis as bullet points can add to the preciseness of your bio.
However, these characters and line spacing will add up to your character count so make sure to use them strategically to avoid going over the character limit.
For instance, the user below has used vertical bars to separate their name. They have used relevant emojis as bullet points to make sure that they reach their target audience.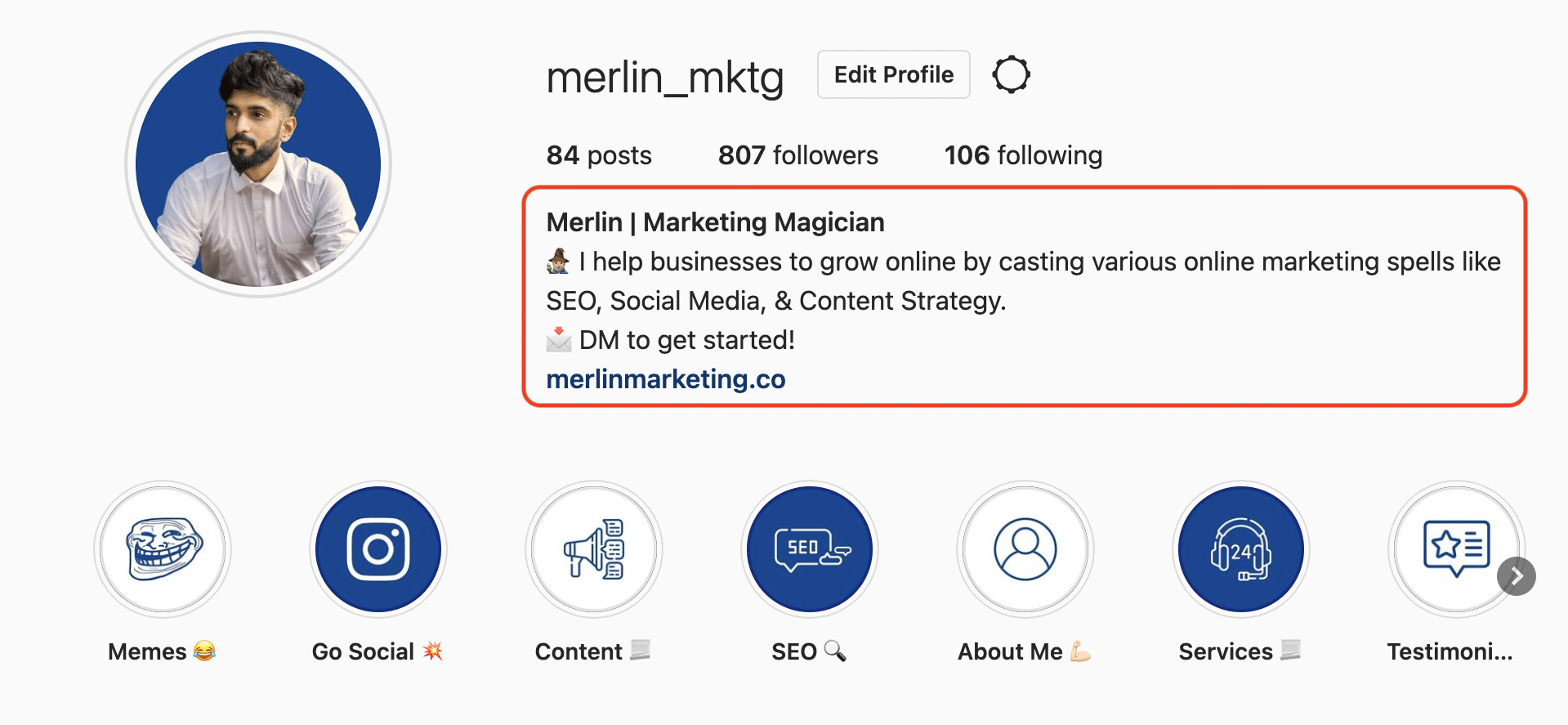 7. Include a compelling Call To Action(CTA) button
Including a CTA in your bio can be a valuable addition. There are a number of different actions that you can consider in your Instagram bio so you need to prioritize and consider what is valuable.
Be direct with your CTA. (eg. Click the link in the bio to view our latest collection). Encourage users to share by asking them to tag your brand. Promoting a limited-time offer or introducing a 'social media only' promo code can be a valuable asset to your brand. It encourages users to engage with your brand as they might not get the same experience and deals again, once the offer is over.
Feature your CTA with the highest priority at the end of the bio. Users will be more likely to take that action after you've established your brand personality. It is another profit that puts your CTA in close proximity to your link. Give clear instructions where needed. Start with the action. Begin your CTA with a verb (Start, Shop, Tag, etc.) eliminate inessential words to be concise. Note that you can change your bio to promote special events, like a seasonal sale, contest, a live shop experience or an upcoming trade show. You can always swap in new CTAs and links to prioritize limited-time offers or events accordingly.
As you can see below, the user has used a CTA "Tag us + use #LoveMyLeesa to be featured!" This encourages users to engage with the brand and experience what the brand has to offer.

8. Add "Action Buttons" to guide users to reach you
It is common for users to contact you after they have visited your brand's profile. Most of the time users send a direct message on Instagram, but if it is the only option to connect with you then it becomes difficult. That is why it is crucial to direct customers to your preferred portals. It can be your email, phone number, or even your store's physical address.
For events like live chat shows, it becomes easier with the "Get Tickets" button for the users, as it directly guides them to the ticketing portal. By adding an 'Action Button' you create a hassle-free experience for your audience.
People will use the contact information that you share with them. Be sure that you do not add anything that is not supported by customer service.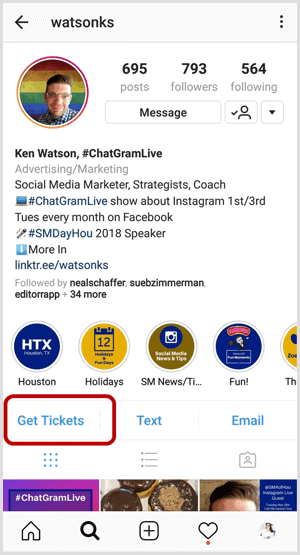 9. Creating Story highlights
Creating story highlights gives your social media stories a long-lasting presence on your profile. You will be able to feature content that genuinely represents your brand. Your story highlights are generally found under your bio and above your feed. You can even organize your highlights and match them with the aesthetics of your feed.
There are many ways in which you can organize your story highlights, but some of the most common ways are:
Event details or coverage
User-generated content
Product tutorials
DIY content
Behind-the-scenes content
Featured products/ bestsellers
Leverage these Instagram bio ideas
The Instagram bio length may be just 150 characters. However, it does not make it less significant.
It is convenient for you to tell your audience who you are as a brand and how they can reach you. Recommend what they can check while they are on your site.
Your Insta bio ideas can possibly make a huge difference in advancing the presence of your business. Keep in mind that your Instagram bio is essential to captivate your target audience and drive traffic to the profile. Therefore, it is essential to put time into making a decent bio for your Instagram account.
You can compose a genuine bio, an entertaining one, a short yet noteworthy one, or the one that just fits the 150-character limit. Your Instagram bio can be as precise as you want, as long as it conveys what represents you. Remember these Instagram bio tips to accomplish better outcomes.