So, you've stumbled upon a post on any social media channel, be it Twitter, LinkedIn, Instagram, Facebook, Pinterest, etc. And, to your surprise, all these posts are full of hashtags.
To the unfamiliar eyes and people who don't sway on social media like the others, the blue marked hashtags are just some phrases merged.
However, in actuality, hashtags are just one component of the dynamic social media universe, absolutely vital for social media marketing and advertising.
Hashtags have been crowned to be of utmost importance while devising a rewardable social media strategy for brands. Such is the power of hashtags that it can help garner an audience, add more followers, learn about the emerging trends amongst the customers, and execute campaigns with finesse. Brands are relying on hashtags more than ever now to increase their global hold in the market.
Want to know how to use hashtags properly for effective social media marketing? Let's find out how.
What are hashtags?
You've all seen the ubiquitous use of #hashtags for literally every social media post, but do you know why is everybody following this trend?
What makes hashtags so darn important?
In case you're reluctant to ask anyone about it, we're here to help you out.
Let's start with the basics.
Hashtags might seem new to you, but honestly, these quirky phrases have been around for quite some time, 13 years to be precise.
Hashtags are labels used on social media that make it easier to find related posts or information on any social media channel. Hashtags are used by influencers and brands to capture the attention of the users.
But, do they serve a purpose?
Well, of course, they do! 
Considering the infinite amount of information circulating on social media, users can cut through the digital clutter and focus on what's important.
Using hashtags helps them chisel through the disarray and focus only on the relevant information.

As per HubSpot's Instagram post, a post with hashtags receives 12.6% more engagement on social media platforms than the one without hashtags.
Since Twitter started the trend, almost every social media site leverages hashtags to make items more searchable. Such statistics prove the valor of hashtags in social media monitoring and marketing.
Why are hashtags important for your strategies?
Hashtags are an imperative inclusion for social media campaigns. Branded hashtags work best on the following platforms; Facebook, Instagram, LinkedIn and Twitter.
When researched properly using social media planning tools, they can turn your digital marketing strategies from good to great. A business needs to keep pace with updated/current trends so that they can promote their products and services efficiently. Hashtags help in cutting through the digital confusion and look for information that interests the user.
Below are some top reasons to now why are hashtags important on social media.
Helps you excel over the competition
Every business needs to get a gist of their competition and what they're dealing with.
For example, you are a content management company, and you'll like to grow your business. You'll type in all the right hashtags and see all the top companies with more followers, likes, and connections. Also, using the right hashtags connects with those people who look for similar posts and content. They might find your page intriguing and follow it too.
Branding and visibility 
As per a study, hashtags improve your social media effectiveness by 40%. This means brands can improve their post reach, the number of followers, and the dynamics by using the right hashtags. In the long run, it improves your social branding tactics.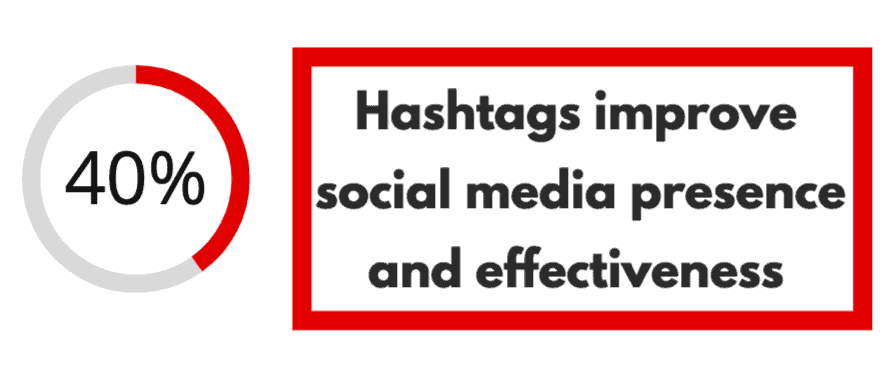 Hashtags can also help you expand your audience base, and increase its knowledge amongst visitors. When you search for a brand, you see all the relevant hashtags denoting the brand. It extends the good word about your brand.
Brands run entire campaigns based on hashtags, promote products, encourage their customers or followers to tag them, and use similar hashtags for better reach. Put simply, hashtags can help your brand dominate over the others. Continuously using hashtags in your posts improve your brand's overall visibility on social media channels.
Great for product promotion 
One of the biggest reasons why hashtags become popular in the first place is because they helped marketers to create targeted campaigns. Hashtags help in word of mouth marketing. They create remarkable visibility for campaigns, help to reach your target audience by using the right hashtags, and help connect with your already existing customer pool.
Suppose, you are running a promotional contest using a unique hashtag. Now, all your followers start using it to participate in the contest. They invite their friends to do the same. And, this creates a chain reaction of a surplus number of followers, all taking part in the competition.
The team at Solitaired encouraged its users to share their game of the day using the hashtag "#GameOfTheDay." It improved their social traffic by 22%!
Globalizes your business 
Unlike a brick and mortar store limitation that can only connect your business to the local customers, hashtags indulge a global audience to follow your page and be a part of the revolution.
Thanks to social platforms like Instagram, using geographical tags to your posts and running paid campaigns on a global level will let you have the best of both the worlds, a constructive local reputation, and a global phenomenon. The success of local marketing with hashtags improves the exposure of your store in a specific area and makes your brand more popular than ever.
The most important type of hashtags on social media 
The following are the top hashtag strategies that marketers use for social media marketing to engage their target audience.
Branded hashtags 
Branded hashtags are related to a brand or just a short and memorable phrase that is unique for a brand. It is like a personal signature of a brand. You might want to brainstorm some concise and eccentric hashtags that are not used by anybody and completely relate to your business.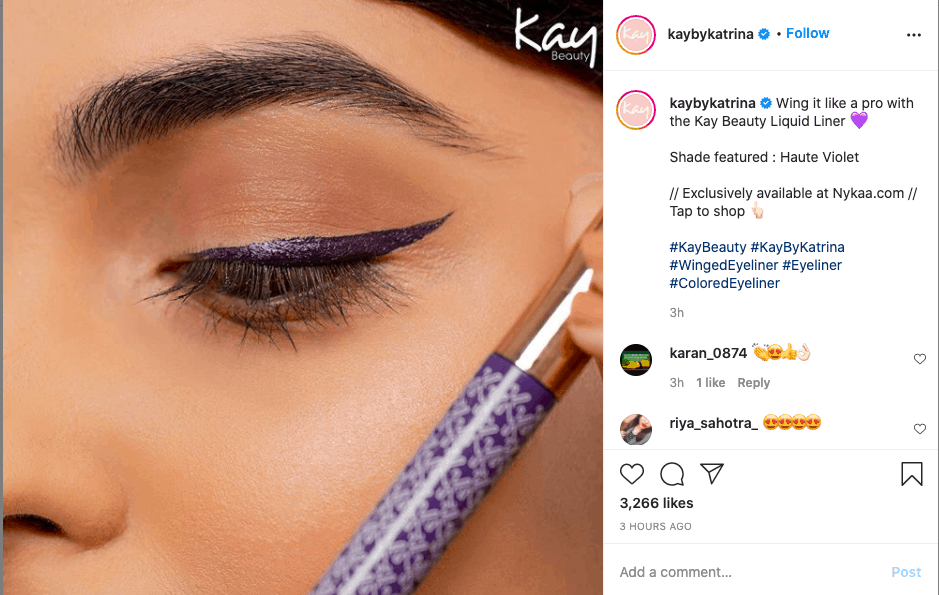 For example, Kay Beauty uses their brand name #KaybyKatrina and #KayBeauty as their branded hashtags.
Trending hashtags 
If a brand needs to be a part of the social discussion, using trending hashtags is the key. It is a form of viral content, the only difference being it is short-lived, fast-paced, and unpredictable. The idea was started by Twitter, but trending hashtags are very much a part of every social media conversation.
If timed correctly, using trending hashtags will improve brand exposure and the number of followers and likes too.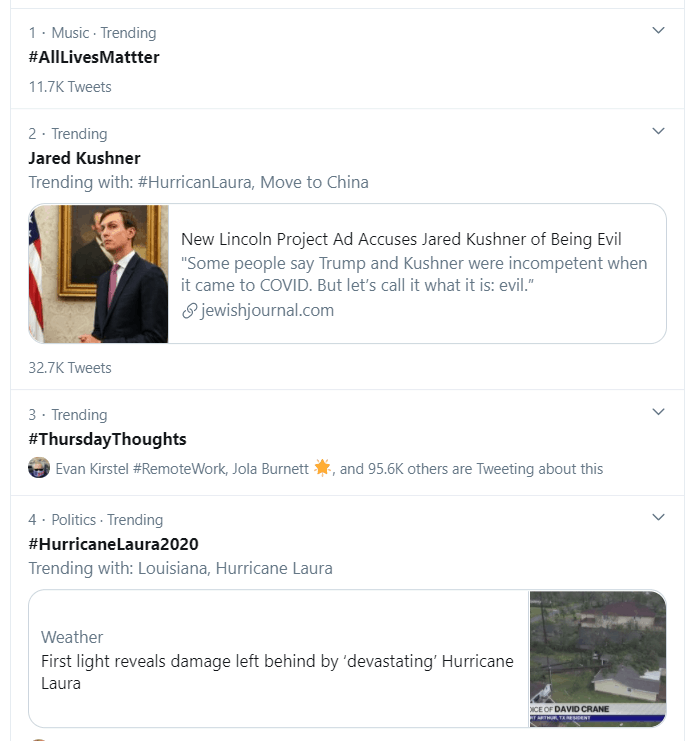 For example, the above image states the top trending hashtags on Twitter on a certain day.
Campaign hashtags 
These hashtags are used as a part of a campaign or a contest but have a start and end date. Brands create these hashtags to keep their engagement rate under check and measure their marketing conversation. Hashtags include the name and a clear message of the contest as a part of the hashtag so that people can understand it precisely.
Make sure that these hashtags are not used previously by anyone before.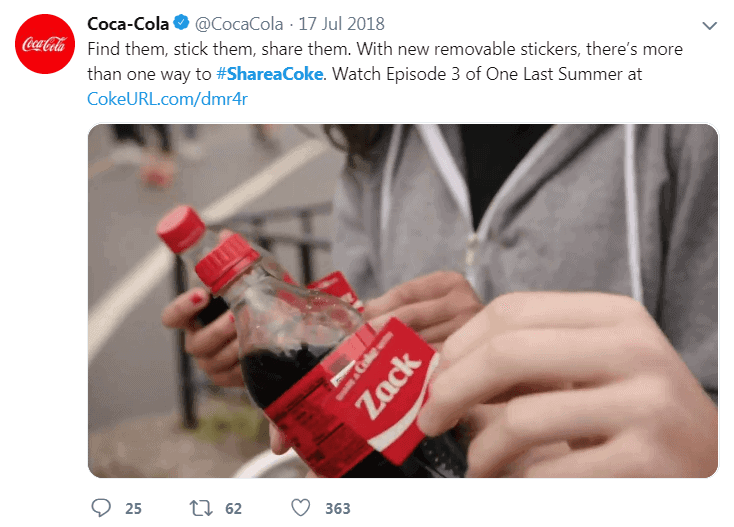 For example, #ShareaCoke was a branded hashtag used by Coca-Cola for their campaign. It personalized the campaign at a mass level and invited everyone for a community vibe. It is still quite popular today.
Community hashtags 
These hashtags are particularly relatable with the branded hashtags, but it is often used to engage consumers. The hashtags include the brand name with phrases like #AtHome and ask consumers to use the same hashtag on a photo that features their brand or service. The brand can then select from the various posted photos and feature the best ones on its feed.
With these hashtags, consumers feel delighted to be a part of the community. It allows like-minded people to connect using these community hashtags. Since this is user-generated content, it adds more reputation and authenticity to your feed. Also, it works wonders for your brand awareness quotient.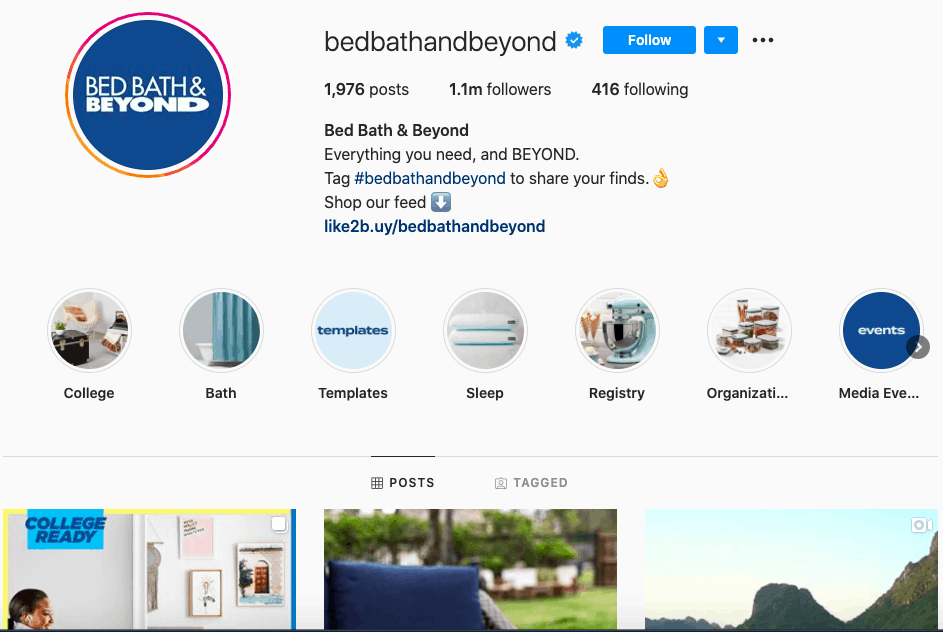 For example, Bed Bath and Beyond ask its customers to use the community hashtag #bedbathandbeyond whenever sharing or using their products in their posts or stories. This allows Bed Bath and Body to showcase its products or services in front of larger audiences, and also inspire its followers.
Event hashtags 
Just like campaign hashtags, these have an expiry rate too. These hashtags are used for annual events along with the year it is being conducted. These hashtags can be used by people to join or create a conversation around the event. Conferences, music festivals, and other similar group events are some places where event hashtags can be used.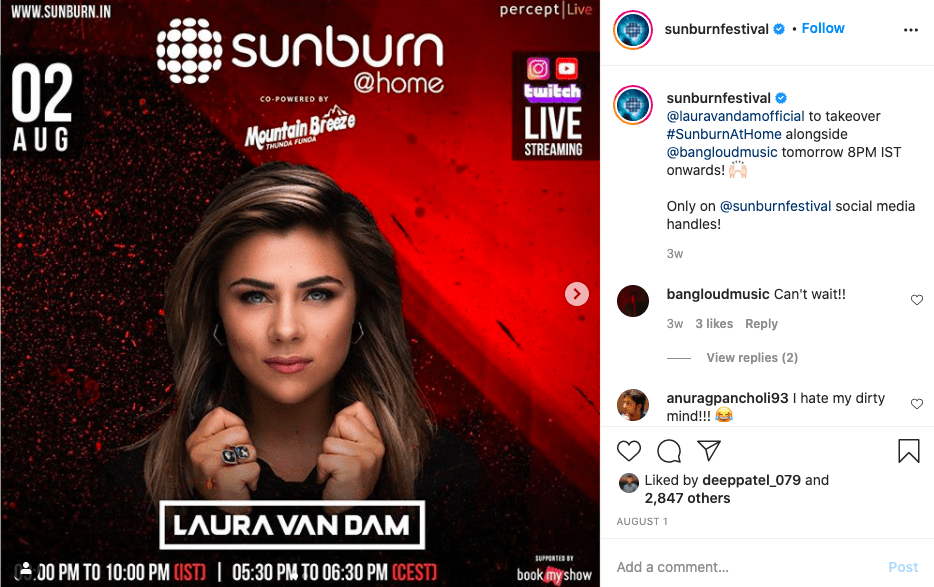 For example, #SunburnAtHome was a 2020 Sunburn festival event organized for all music lovers during the global conundrum. Using this hashtag to create hype is a great way to use hashtags for branding. Followers can use similar hashtags and share updates about it.
How to implement hashtags in your social media strategy?
Since implementing hashtag strategy is so important, marketers need to know their usage for better brand performance on social media. The following points detail how to leverage hashtags for effective social media marketing strategy.
Find the right hashtags used by your audience
First, use SimilarWeb to understand what social platforms your audience uses. Do they spend more time on Facebook or Twitter?
Then look for the most popular hashtags on social media. You can analyze the right hashtags using social media monitoring tools and find out the volume and frequency of posts related to it on social media. Research all types of hashtags, and see what works most of your brand. Also, keep a clear sight of the hashtags used by consumers that relate to your brand.
There are different ways by which you can keep track of the current hashtags. On Twitter, you can opt for advanced search options, and look for keywords and hashtags. On Instagram, users can look for hashtags in the search bar, and see the number of posts tagged with that particular phrase organized by 'Top Posts' and 'Recent Posts'.
Keep an eye for competition 
It is always beneficial to keep an eye out for competition and see what they're exactly up to. Take note of the hashtags they use, how followers react to them, and the reported outcomes for it. Research the type of hashtags used for campaigns, and if they are worthy of improving awareness and follower count of the brand.
Marketers can always conduct industry analysis through social listening, and ace their social media marketing game. This can help you have a more agile conversation with the consumers, and keep them connected with you. Brands can also embark upon a viral trend and customize a hashtag of their same. When audiences mingle with your brand organically, you can maximize your reputation and forge fruitful conversations with your fan base.
Influencer marketing will expand your hashtag reach 
Influencer marketing has achieved the stardom once led by traditional forms of advertisement. Influencer marketing has several benefits and if you know your audience well, you know the influencers they connect with. Brands can partner with influencers for campaigns, and create branded hashtags or campaign influencers' hashtags to promote it further.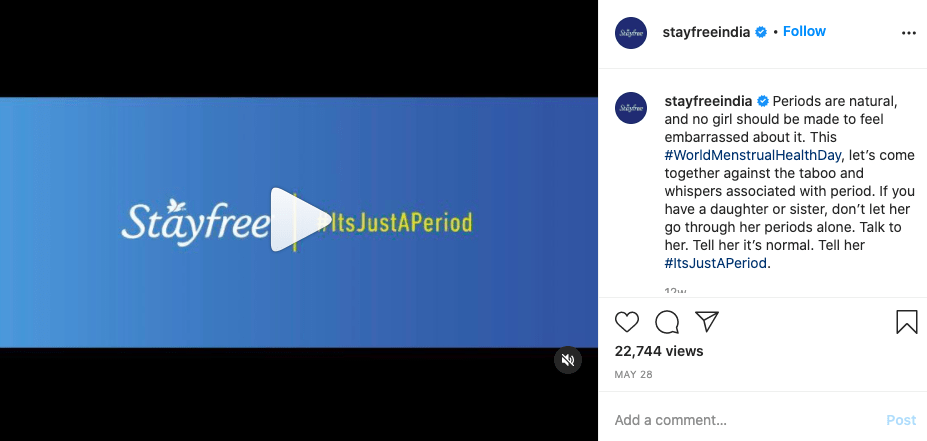 For example, Stayfree India started their campaign #ItsJustAPeriod, and many celebrities and noted influencers became a part of this campaign, improving its reach on social media.
Track your success
Several social media management services can advance your hashtag strategy. They use the right hashtag tracking tools to help you create a campaign and measure its results. The success of every social media campaign depends on the kind of hashtags used. It helps you measure the key metrics like mentions, views, followers, and global reach. When you know the type of hashtags that work for your brand, you can employ them smartly into your posts.
Final thoughts 
Hashtag strategy, when used in its full potential, can help you reap amazing benefits like improved reach, increased followers, and keeping a steady group of loyal consumers. After you analyze the right hashtags and use them consistently on your posts, your brand will perform great wonders based on the hashtag strategy.
Remember, the right hashtag always wins. You just need to find one that relates with your brand.
[starbox]