TikTok has been one of the most popular global social apps for quite some time now. With over 63 million installs across iOS and Android, to say its user base is massive is an understatement.
But what makes this app so awesome for marketing and how to make your TikTok go viral?
Here are just a few of many perks TikTok brings to digital marketing:
TikTok is perfect for user-generated content. UGC has two main benefits – it diversifies your content strategy and brings customer testimonials to the table. As a result, you can build a stronger brand presence.
TikTok's algorithm is trend-based. One of the main pillars of TikTok's algorithm is music. Last year, it was a trend to use older songs that users feel nostalgic about and put them in their videos. That's why we've seen so many old songs trending last year (Lily Allen's Smile and Britney Spears' Criminal are only a couple of examples).
TikTok is dominated by videos. Video content has so many benefits for your digital marketing strategy: they bring traffic to your website, build brand awareness and recognition. On TikTok, videos are a great tool to reach a broader audience.
Because of the nature of the content on TikTok, this platform is a perfect place to go viral. And many businesses have already succeeded at creating viral content on TikTok and reaching millions of people.
But what does it take to go viral on TikTok? Is there a special formula?
Let's figure out what you need to do to tap into TikTok's viral potential.
Can Going Viral Boost My Business?
In short, yes – and TikTok can work wonders for that. Going viral is a surefire way of boosting brand awareness and profits. Viral music, sound effects, trends, hashtags, catchphrases, etc., have the power to stick in the minds of an entire generation, quickly making your product known across the web.
Is TikTok only for B2C companies?
You might think that, considering that most companies on this platform sell products directly to customers. Yet, TikTok has a place in B2B marketing as well – just take a look at how well Adobe manages its TikTok strategy, with creative videos and user-generated content combined: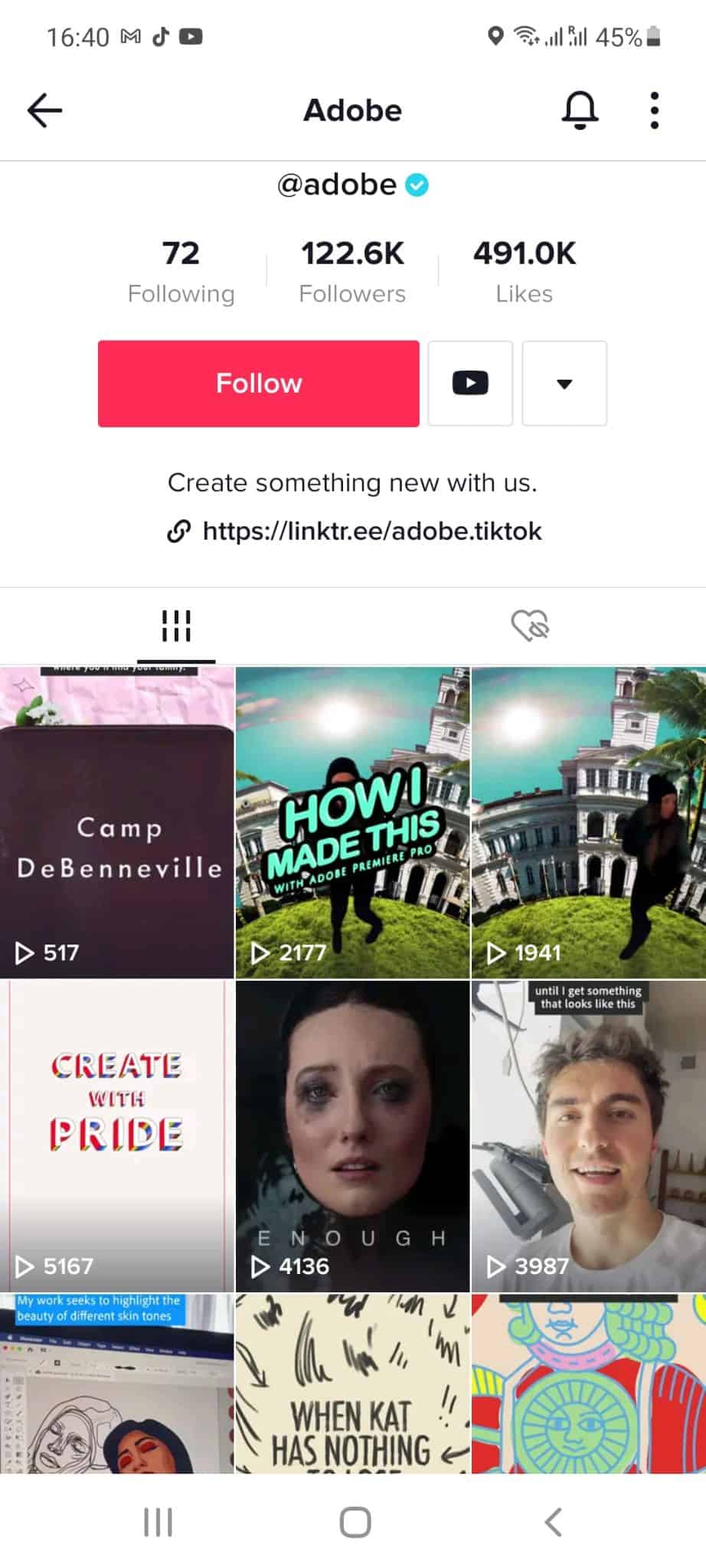 Credit: Adobe
That said, while going viral is excellent for business, to make the most out of all this publicity, it's essential to have a solid foundation with other marketing strategies. For instance, it's imperative you have a clear brand message, a professional website customers can turn to, and preferably, an email list followers can subscribe to.
In essence, your TikTok marketing strategy should form part of a larger marketing plan. This is crucial for adequately engaging prospective customers and nurturing that relationship. This makes all the difference between boosting your business and enjoying a bright but brief one-hit-wonder.
To help you plan your broader marketing strategy, you will need to grow the list of people you will reach out to. Start with email lookup tools to find potential prospects. The goal is to build a solid audience that will be the first to share your content and add to its viral potential.
Once you've built your main audience and they receive your content quite well, you can make your reach a bit broader and try to involve social media platforms in your strategy. If you use different email integrations, you can connect to your prospects on social media. It can also help you reach out to dormant subscribers and remind them of your brand.
When you feel that your audience is big enough, you can tap into TikTok's potential and try to go viral on this platform. But your audience needs to be active there as well to start spreading the word. Otherwise, your efforts will be in vain.
Examples of Brands Going Viral on TikTok
We already mentioned that quite a few brands have already managed to go viral on TikTok. Let's take a closer look at these brands and their TikTok success stories.
Little Moons Mochi Craze
Ice cream brand Little Moons saw sales surge by 700% at Tesco after TikTok users started sharing videos of buying and eating their Mochi bite-sized ice cream. The hashtag #LittleMoons got over 19.5 million views.
It's no wonder Mochi ice cream did so well on TikTok. The bite-sized, pastel-colored delicacies originating from Japan have an adorable, friendly aesthetic that's easy to show off in short videos.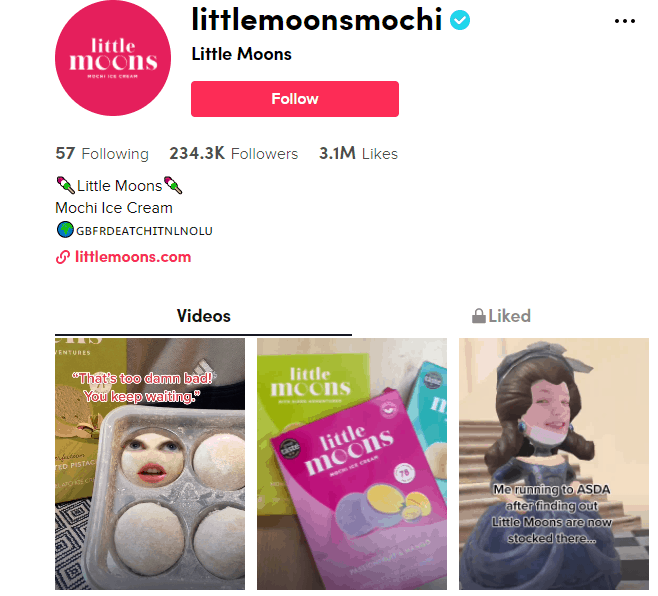 Credit: Little Moons Mochi
Little Moons is also a great example of why social media is important for local businesses and small companies. Social platforms like TikTok are a great place to advertise your unique product. Besides, you have more chances to reach your target audience.
Ocean Spray, Fleetwood Mac, and a Man on a Skateboard
How to go viral on TikTok overnight? Let us understand this through an example. Nathan Apodaca, a TikTok user, became internet-famous overnight when his car broke down. Instead of stressing out, Nathan filmed himself on his skateboard, traveling to work, singing to Fleetwood Mac's Dreams, and drinking cranberry juice from Ocean Spray.
Nathan's serene video enjoyed great acclaim and was replicated by the band itself. Consequently, plenty of TikTok users soared to Ocean Spray, and the new influencer was rewarded by the drinks brand with a new cranberry-colored truck full of cranberry juice.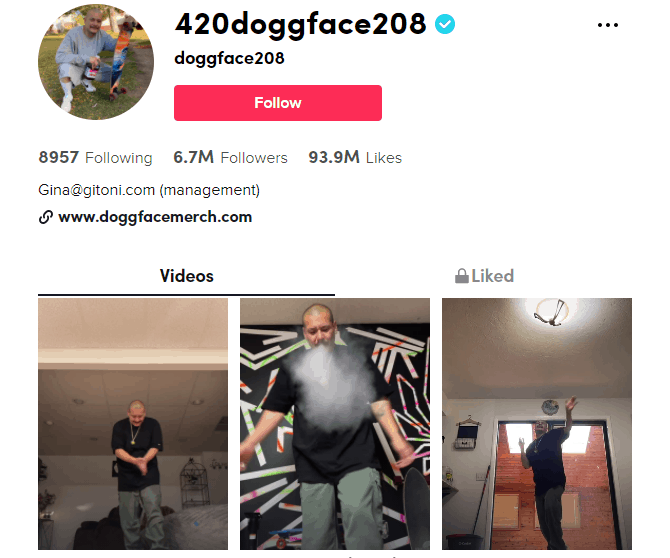 Credit: Doggface208
This is a great example of how user-generated content can become a communication tool between a brand and a customer. Nathan's example also shows UGC's potential to go viral.
Chipotle
This Mexican restaurant chain is a TikTok success, with over 350k followers. Chipotle first went viral when they encouraged users to participate in the #ChipotleLidFlip challenge that ended up having over 100k participants.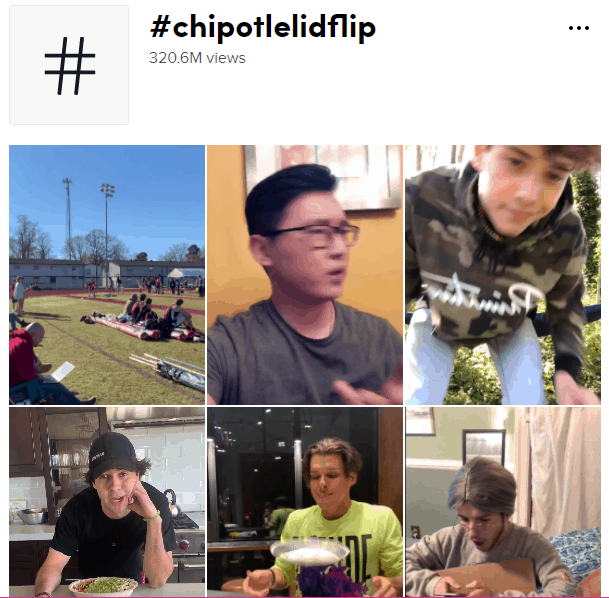 Later, it created the hashtag #GuacDance, resulting in over 250k video submissions. Chipotle reported over 800k sales of guac on the national guacamole day as a result!
E.L.F
E.L.F jumped on the TikTok marketing bandwagon as soon as they could. They produced the hashtag #EyesLipsFace for Tiktok users to upload. The campaign now boasts over 5 billion views. While the product wasn't directly represented by the hashtag, its popularity still led to a 26% revenue increase in 2020.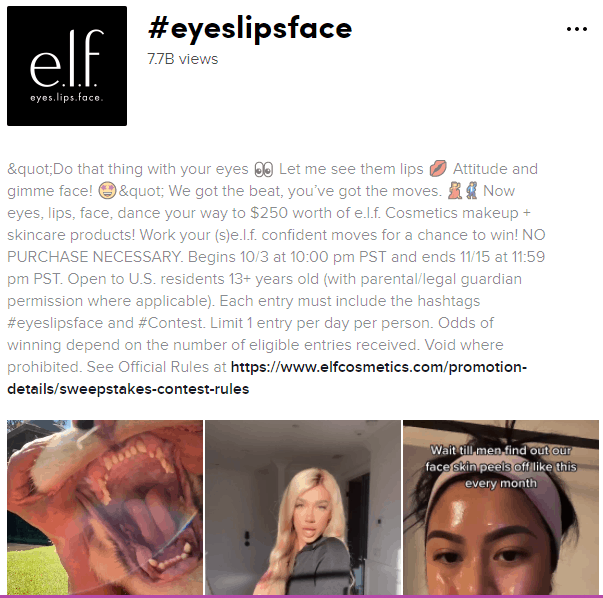 E.L.F's TikTok campaign shows how well the brand understands TikTok's algorithm and successfully uses it to go viral. Hashtags play an important role in the content's virality on this platform, so any TikTok campaign can't become popular without a branded hashtag.
How to Go Viral on TikTok
Now that we've looked at some examples let's see how you could achieve the same for your business.
It's no secret that some luck is involved in making a viral video. Your content needs to be picked up by the right people at the right time. But, with a bit of finesse and a good understanding of the platform, you can certainly increase your chances.
Take advantage of influencer marketing
For the uninitiated, influencer marketing is where you partner with a famous personality on platforms like TikTok and get them to talk about or promote your product. A shout-out from an influencer can be incredibly effective.
Usually, you can establish these partnerships by offering an influencer some compensation. Or, perhaps, they use your product already, and you can offer them a commission as a brand ambassador. Either way, be prepared to give influencers something in return for their time.
When choosing an influencer to work with, ensure they align with your brand. Don't think you have to reach the biggest influencers either. Nano and micro-influencers with smaller followings are often favored over more prominent users as they generate 60% higher engagement rates.
Tap into TikTok influencer marketing trends
The role of influencers on TikTok is huge, and brands that went viral on this platform recognize that. E.L.F's hashtag campaign engaged James Charles, who has 36 million followers. So, you can imagine how much attention he brought to the brand.
Building on what we've just said, staying aware of influencer marketing trends is essential. Observing how influencers interact with their following can inspire how you interact with yours. For example, live videos and short clips on TikTok have proved very effective for influencers. It's also worth noting whether influencers in your niche are participating in particular challenges or using specific hashtags – if they are, take notice.
Build a solid foundation across all marketing channels
You can use TikTok to redirect users to your website or app. But if you don't present a professional and user-friendly front on those channels, you won't convert visitors into paying customers.
So, before seeking fame on TikTok, ensure your brand is consistently up to scratch across all your social media and online touchpoints. If you lack UX, it might be time to hire a developer to help you create a seamless and brand-focused customer experience.
Evaluate your marketing strategy
To achieve TikTok success, you need to learn how to create shareable content on social media. In light of that, it wouldn't hurt to familiarize yourself with the skills recruiters look for in social media marketers. After all, if you want results, you need to aspire to think and work like a pro.
That said, to help get the ball rolling, here are a few pointers on shareable content:
Your TikTok videos must reflect your brand message and personality.
Sharable content can be funny and entertaining. Social media users don't tend to share product videos, but we love sharing interactive content and things that make our friends and families laugh.
Often, viral content is short and sweet.
Shareable content should have a unique value proposition – i.e., something that makes it unusual, novel, or breaks expectations.
But most importantly, your TikTok content should resonate with your followers since they will be the first ones to react to it. So, study your audience, their interests, and content preferences to make sure you pull the right string.
Give user-generated content a try
User-generated content can be some of the most successful content for your business on TikTok.
So, what is it all about?
UGC on TikTok includes the videos uploaded by your followers. They might discuss or review your product, participate in your competitions, or use one of your hashtags that links back to you.
Chipotle's flip challenge was all about UGC. The same goes for Nike, which has a private account on TikTok. You have to request to follow them, but their hashtags bring millions of videos of customers wearing their products.
Essentially, UGC is free advertising that can boost brand visibility and credibility in an incredibly authentic way. User-generated content works wonders for building trust and nurturing a relationship with your followers.
Another big benefit of UGC is that it doesn't feel manufactured or forced. It's natural, voluntary, and genuine – which is why it works so well on TikTok and manages to turn any campaign into viral success.
That said, you can't run a UGC campaign without rewarding your followers who will contribute this content. After all, you can't reap the fruits of their hard work for free.
For starters, it's worth communicating directly with your audience to get an understanding of the kind of content they find interesting and want to be involved in. Also, think, what they would love to get in return for their creativity.
You can also research current content marketing trends and challenges that have worked for other businesses in your niche. These are great starting points for any TikTok UGC campaign.
How to Create Viral TikTok Videos?
With these general tips out of the way, let's deconstruct what makes viral TikTok videos gain such sudden fame.
Many viral videos have themes in common, and you can leverage this know-how to improve your chances of success:
Get your team to brainstorm viral TikTok ideas. Getting inspired from other brands on TikTok is a good idea, but no one has a better vision of your brand's presence on this platform than your employees. So, organize a team chat to have all your team members involved in the creative process.
Familiarize yourself with TikTok's algorithm. Social media algorithms constantly change, so it's crucial you keep ahead of the curve to stay in the know about what TikTok's algorithm prefers. Once you understand what TikTok is looking for, you're far more likely to enjoy organic success, negating the need for a massive following to get things seen.
Use trending songs and sound effects. Your videos can spike in popularity because users want to listen to the songs involved.
Post when your audience is most active on TikTok. You can view audience analytics with a TikTok pro account. With the information on audience activity to hand, you can then schedule videos to go live when your followers are most likely to engage.
Add a QR code. This might seem new, but a QR code is used by many brands to help navigate new users to their TikTok accounts.
Keep it short. 10 to 15 second long videos perform better on TikTok than longer videos.
Start your own challenge or perform duets. Both are popular content types on TikTok.
The key to your success on TikTok is consistency. The platform's algorithm prefers brands that post content regularly, indicating their high activity and engagement with their audiences. So, your commitment to consistency boosts your chances to go viral on TikTok, too.
Is TikTok Right for You?
It's worth remembering that while TikTok has an engaged and active audience, that doesn't mean the platform is the right marketing channel for every brand.
So, before investing your precious time, ask yourself whether TikTok is suitable for you, your brand, your content, and how to go viral on TikTok? For instance, is your target audience active on this platform? Does your content strategy allow short and snappy videos? Do you want to utilize influencer marketing? Are you considering UGC as a focus?
If the answer to the majority of these questions is "not really," then you might want to consider other video-on-demand platforms like Wistia, Vidyard, Youtube, and Wowza. These solutions appeal to a slightly different demographic that could fit your brand better. However, some of these platforms aren't free to use, so it's also worth factoring budget into your considerations.
If you own a B2B brand, it's not the best idea to start your attempts to go viral from TikTok. Even though there are some brands that are pretty successful on TikTok, they already have a consistent B2B marketing strategy across other platforms. So, prioritize building a solid presence on other marketing channels before tapping into TikTok's viral potential.
Are You Ready to Go Viral on TikTok?
Once you know how to go viral on TikTok, you might think you have it made. Going viral on TikTok is great for business, but it doesn't guarantee instant success. To succeed on TikTok, you need a comprehensive content marketing strategy just like you would with any other social media platform. This means researching the algorithm, identifying user trends, and catering your content to meet the needs of your target audience.
Make sure to give plenty of attention to other social media platforms and your broader marketing strategies to achieve long-lasting, sustainable success.
Although the chances of going viral straight away are slim, if your marketing is strong all the way around, you won't have to rely on that one random TikTok video to pull in sales.