It's enough for us to take a look at the 2020 B2B Content Marketing Benchmarks, Budgets, and Trends by the Content Marketing Institute. We'll understand how important social media is to B2B brands. 91% of marketers use social media as their main organic content distribution channel. 72% of the marketers who use paid methods of promotion said that they used paid social media ads.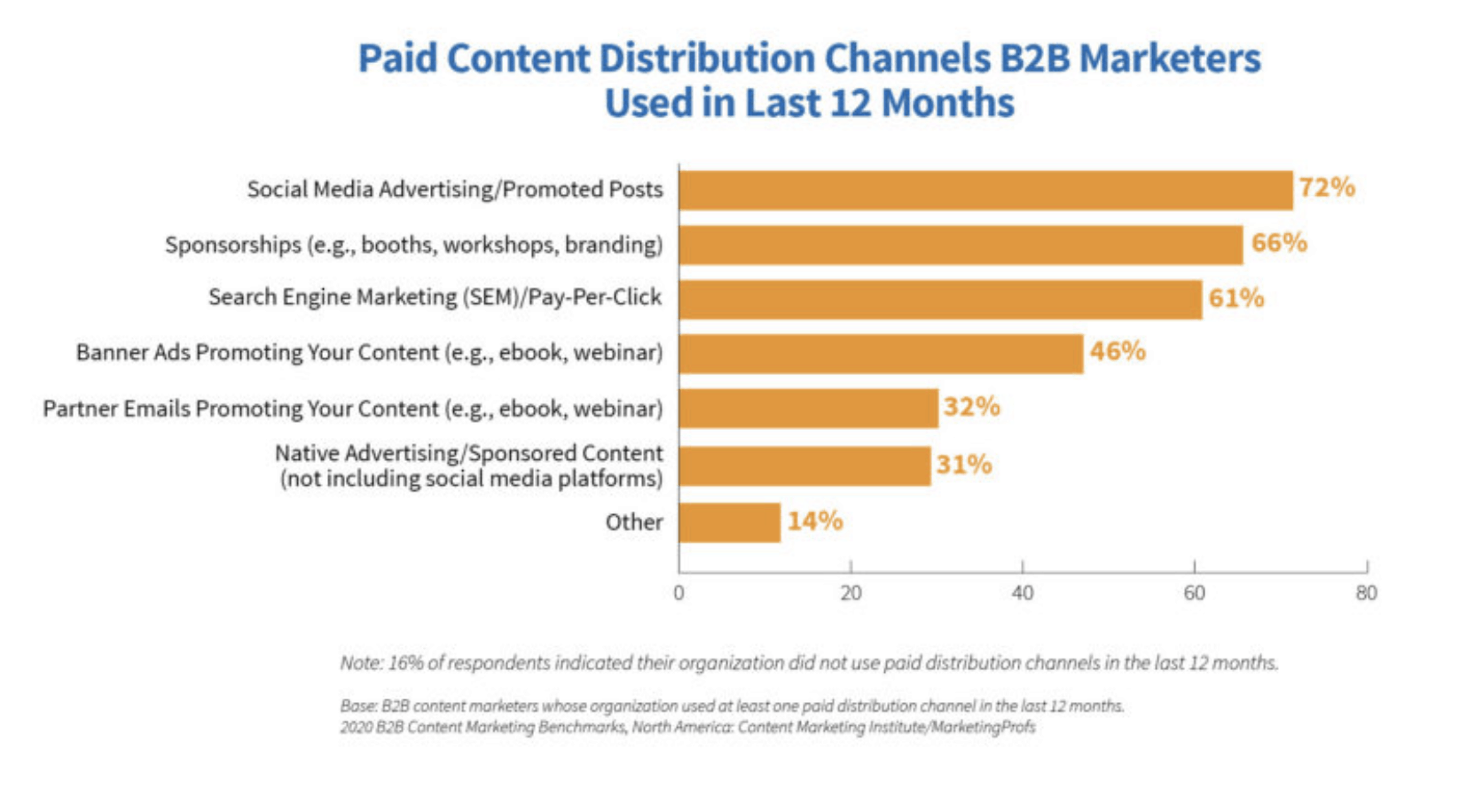 Social media is not going anywhere.
It's clear that all businesses should use it. But it's also clear that they need a strategy. The same report showed that 69% of the top performers had a documented content marketing strategy.
How do you create your strategy?
Are there any universal tips that work for B2B brands from any industry? Yes!
Let's check them out.
8 Social Media Marketing Strategies for B2B Brands in Any Industry
Develop a Strategy that Targets Your Client Persona
A client persona has the most common characteristics of all people who would buy products, read your content, or follow your advice. When developing a strategy as a B2B brand, you focus on businesses instead of people when developing this persona.
In essence, you should identify a potential client's needs. Here's how you do it:
Conduct in-depth interviews with the clients that you already have. Ask them what they like about your brand, and how they would like you to improve your offer.
Find out what problems your clients have. How can your offer help them with solutions?
When you have a client persona, you will tailor each social media marketing campaign for their particular needs.
Develop GREAT Content
Many beginners in the world of social media marketing make a serious mistake: they forget about the importance of content. Before you even start developing a marketing strategy, you should focus on content first.
It should be on your website, and it has to be outstanding.
This may be a point when you consider collaborating with custom essay writing. These companies can assign professional writers to your orders. They will complete high-quality content on your topics.
Your content has to be helpful, unique, and easy to read. You can play with blog posts, infographics, videos, eBooks, and other types of content. When you have a nice base of resources, you'll build a social media marketing strategy around them. You need something to promote, right?
Create Complete Social Media Profiles
It's okay to create social media profiles on several platforms even if you're not ready to commit to them all at once. Just develop all of them, and start focusing on one or two at first.
Your site is where potential clients can get complete information. These profiles should promote it to a great extent.
To achieve that goal, you should feature your company's logo and recognizable visuals throughout the site. Make sure your graphics and dimensions fit into each platform well. You can use a tool like Rocketium to adjust the scale without much effort.
These profiles must include contact information and links to your website. When you complete them, they will be ready for a full-on marketing strategy.
Make Your Industry Look Interesting
Do you know why many B2B brands aren't on social media? They think that their industries are boring. They make a wrong assumption.
Social media is suitable for every brand, regardless of its industry.
Just take a look at Sanofi's Instagram profile. It's a French pharmaceutical company. Most people would assume that this industry is too boring to be on Instagram. But it's not. Lots of things are happening on a daily basis, and the marketing team shares awesome posts to engage its audience.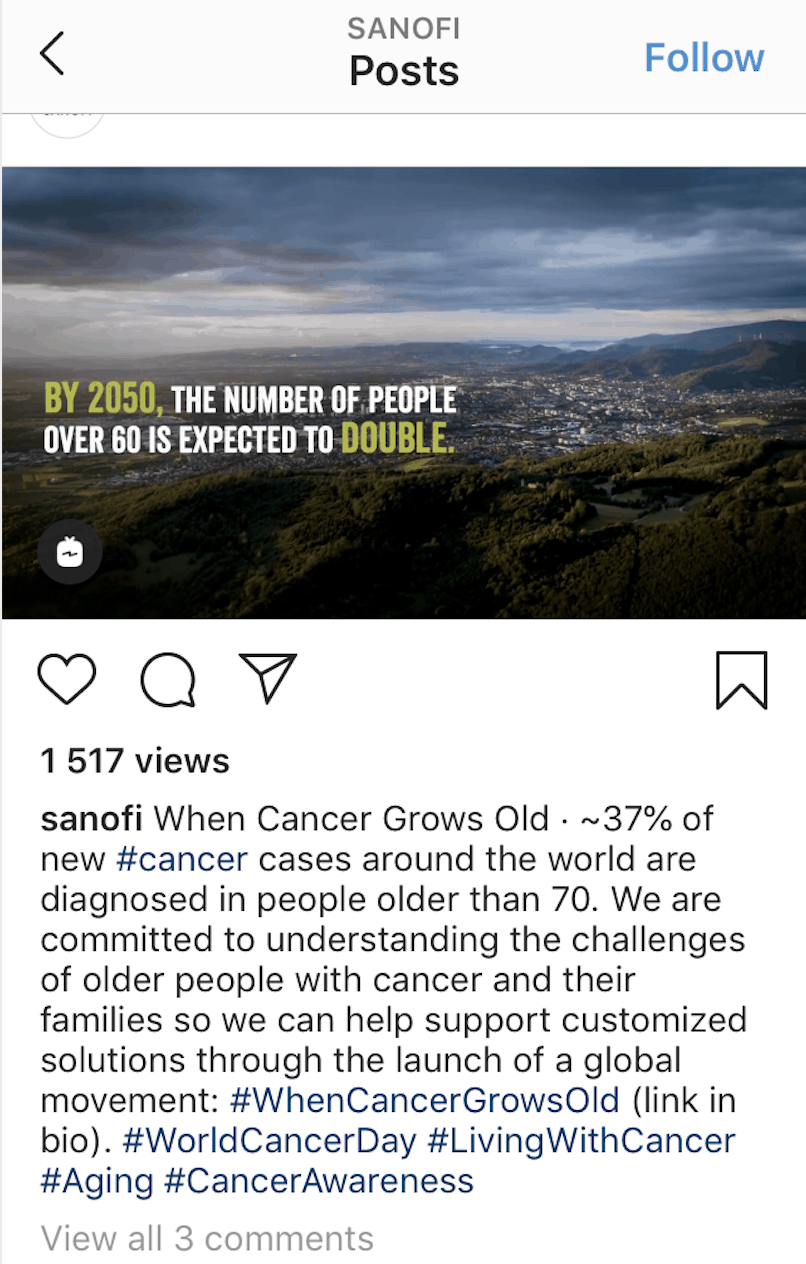 All you need to do is share data, tell stories, and do it in the most engaging way possible.
Set Goals and Measure Them
Facebook, Instagram, and all other social media platforms are great at giving you reports. They tell you about your organic and paid reach. Look through those reports and set your goals: how do you want to see those numbers improve next month?
These are the most important parameters to look at:
Engagement
Impressions
Paid and organic reach
Clicks
Ultimately, you want to measure the leads you get from social media. Then you want to identify the volume of conversions from those leads.
This is the most challenging part of the marketing strategy. However, it's also necessary. You have to say if all your efforts return value.
Keep a Conversational Tone
Just because you're focused on B2B marketing doesn't mean that you have to be stiff. You'll still be professional, but a bit of humor and personality is necessary for social media marketing.
Look at what Salesforce is doing on Instagram.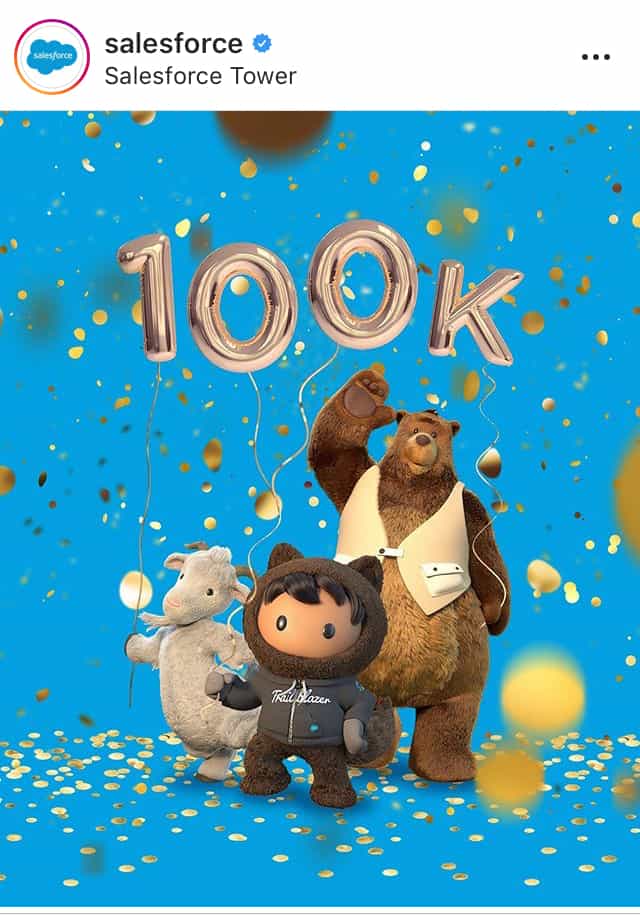 It's proof that B2B marketing doesn't have to be boring. Social media give you an opportunity to create fun graphics and infuse some humor into your message.
Remember: these platforms are about real-time conversations. Imagine you're talking to a client. You don't want to bore them to death with a stiff attitude. You want to make them feel comfortable when interacting with your brand.
Put Someone in Charge
Who will manage the social media marketing campaign? Remember: this is a full-time job. The manager will have to plan a content strategy, give instructions for an essay paper, blog post or eBook, make sure that all posts are shared on time, and measure the results.
No business owner has time for those things.
You need to appoint someone from the team to take the responsibility of managing this campaign.
Share User-Generated Content
When businesses collaborate with businesses, there's one main question to answer: how will they benefit?
To attract the right people from the right brands, you should share testimonials on social media. Connect with some of your loyal customers and ask them to vouch for your brand. You can also develop a case study, which will show how this collaboration boosted their results.
Social Media Has Huge Potential
Remember that.
It doesn't matter what your industry is and what brands you're trying to attract.
People get informed via social media nowadays. A great marketing strategy will make your business look more approachable and more reliable.