With the overabundance of content available on social media, no doubt, brands are exploiting their ability to produce and publish selling oriented media to the fullest using essential social media branding tips. With billions of active users across the globe, social media does present a huge opportunity to cash-in on the hype it gets from the masses.
Today we have reached a level where there is more than enough marketing content on social media than people can actually consume.
According to a recent report by HubSpot, Facebook ads with images are 75%-90% more effective, and 93% of social media advertisers use Facebook. Furthermore, 37% of consumers find purchase inspirations through social media, making it the biggest source of inspiration for consumer purchases.
In light of this information, let's take a quick look at some social media branding tips which might help you to create an impact for your own brands and businesses.
Audience Preferences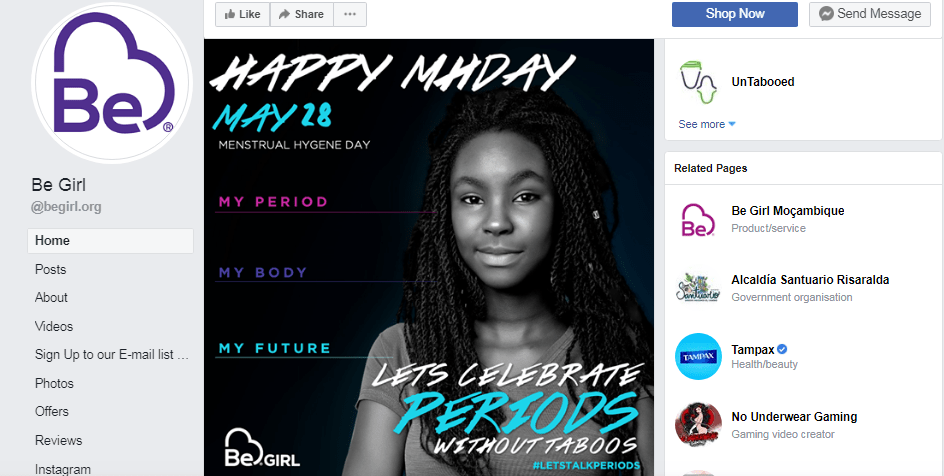 We all are becoming increasingly aware every day as to how our preferences matter in everything we do. Likewise, brands are also emphasizing the need for personalization, especially when they want to give out messages and communicate with prospects and leads.
Social media offers you a nice ability to have your say in a much open environment where there is presumably less friction. One of the best examples of brands choosing to stick with audience preferences is Be Girl® where they go all out to make discussions more comfortable regarding concerns that might be considered taboo in various cultures around the world.
This also closely ties in with their vision which focuses on making young girls understand their body and never let it stand in the way of health, opportunities, and success. Their mission is to make affordable, beautiful, and innovative products for womankind.
So far, they have delivered an exceptional ability to understand the various troubles a girl to this day might experience when they are growing up, and their bodies are going through changes. Be Girl nails the audience preferences like a pro.
Content that Bonds with Users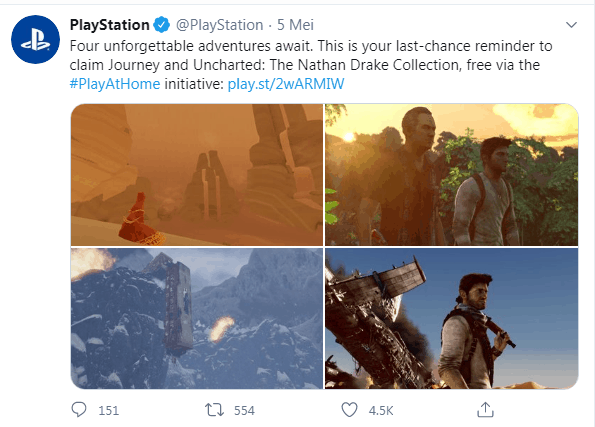 When COVID-19 hit, brands needed to step out of their shells and deliver with content that truly bonded with users. With over 18.7 million followers, Sony's PlayStation upstaged everyone by announcing its "#PlayAtHome" initiative which encouraged users to stay at home and play several games for free, including 'Unchartered: The Nathan Drake Collection'.
This was met with huge applause from the community, and there is no wonder that in recent years PlayStation has implemented various marketing activities and seen tremendous growth in its followers since the past five years.
Brands need to do this often and reach out to users that instantly create a strong bond with them. PlayStation does a commendable job when it comes to posting content regularly and builds relationships with users.
Their social media feed has almost everything that one gamer could desire for. There they can find new updates, patches, information, release dates, upcoming games, and so much more. This keeps the users engaged and craving for more. Many gamers with Twitter accounts follow PlayStation because they know every day there is going to be something new waiting for them to discover.
Excite Your Audiences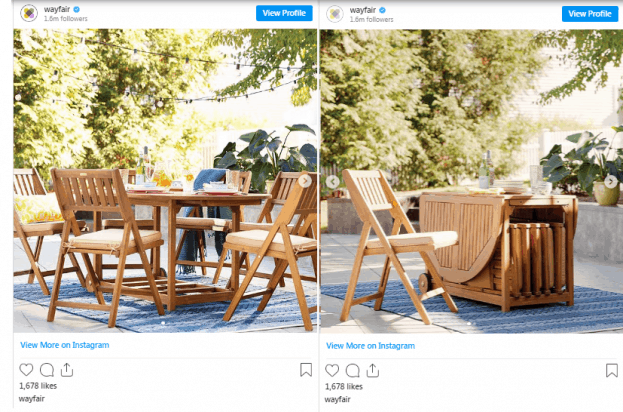 Social media is a platform that is built around an environment that induces excitement in users. This is a vital focal point which social media centers around, and that is to entice the audiences, make them drool, and give them something to freshen up. Brands can use innovative design not only in their social media posts to attract customers but through intuitive products as well.
Wayfair does a fine job posting exciting new content on their Instagram account where they let you experience what their brand is all about. They offer you a zillion things to consider buying when it comes to home furniture and décor. With over 5000 brands of furniture, cookware, lighting and more they know that is never enough for the audiences.
In several of their posts, you will find a complete design and setup of a living room, dining room, and bedrooms where they place their products offerings. To make it more interactive for the audiences, they tag each item with a clickable-link when a user rolls their mouse over a particular item.
This makes it fun for audiences since as soon as they spot something on their post that excites them, they can simply click on the image that takes them to their online store where they can finish buying the product.
Humor That Makes Them ROFL!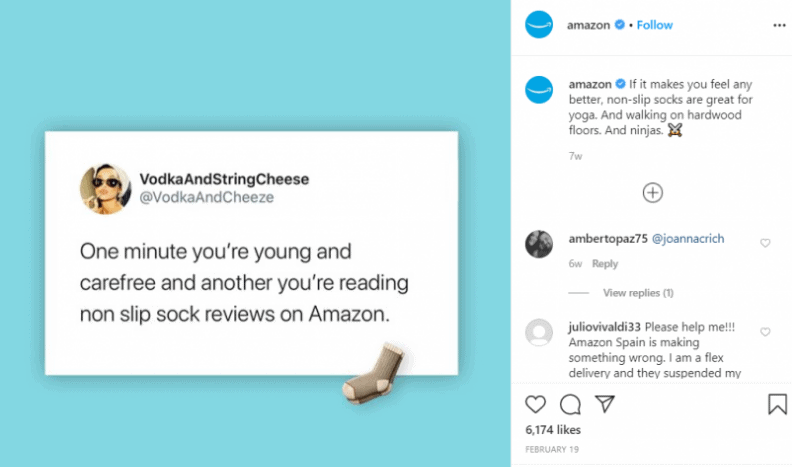 Without question, humor is perhaps one of the biggest assets that brands can utilize to instantly break the ice, reach a certain level of friendship with customers, and make the air lighter for everyone else. A great example could that be of Amazon, where they responded to their customer's post about their brand in a funny and witty manner.
Social media, in itself, is a community that greatly values humor, and many users often go get a good laugh through the platform. As a brand, you should strive to deliver the right notes and push the right buttons. Humor is indeed a winning strategy! Laughter is a universal language, hahaha for some while it means all the same when it is Jajaja or kukuku.
Humor unifies us all and helps us break away from barriers and negate through undue prejudices. In a world where racial discrimination is still a serious issue, the online community vastly disapproves paradigms that support one community over the other. Humor thus bridges the gap regardless of our demographic, geographical location, race, ethnicity, and skin color.
Keeping It True to Your Core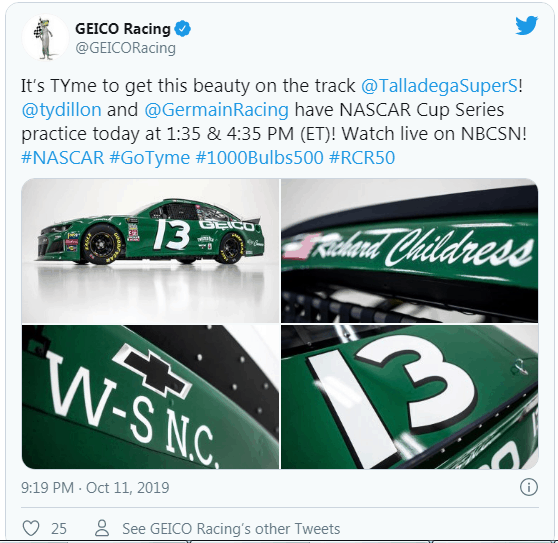 Every brand out there has a purpose that further guides in developing a long term vision for the establishment to chase after. Deviating, from your true nature, takes the spotlight away from what is actually meant to grab the attention of the audiences. GEICO Racing on Twitter is a great example in this regard.
Even though it's a subcomponent GEICO, an insurance company, GEICO Racing will always focus their posts related to their NASCAR team which they sponsor along with race updates. This show commitment and consistency, which is much appreciated by many users across the globe.
People love to follow channels and platforms online that dedicate themselves to particular. This allows strong associations for customers to thrive. With continued familiarity, brands become archetypes for their particular niche and are etched into the minds of their viewers and followers.
This is what GEICO Racing is exactly doing right now. They want to affiliate themselves with the racing community, so while the mother company deals with much broader subjects and themes, this particular account on Twitter is solely catering to fans and followers of NASCAR and other racing enthusiasts.
Make Them Think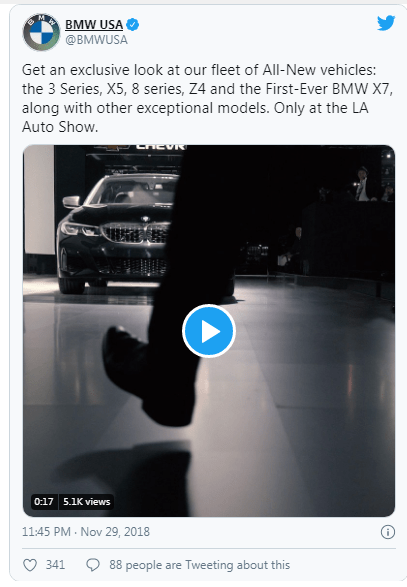 What is a promotion on social media without giving a chance to your audience to experience hands-on what your brand is all about? Companies nowadays need to amplify their game to the next level and seek to create interactions and opportunities that bring their offered products and services closer to their targeted audiences.
For your brand's success on social media, you need to make sure that your posts ignite action online. In order to do this, you need to dish out offers and experiences that will make them think twice before scrolling elsewhere.
BMW's Ultimate Driving Machine was able to execute this strategy in style. They offered viewers an invitation to an exclusive event being held at the LA Auto Show in 2018.
No doubt this powerful branding message, tagline, and the world-class event was able to motivate a lot of followers online to take time out of their busy lives and find out what the BMW brand was all about.
A quick 17 seconds long teaser video was a good choice as well as it was further able to tease audiences and build up the curiosity for them to experience the latest cars up close.
Panache & Simplicity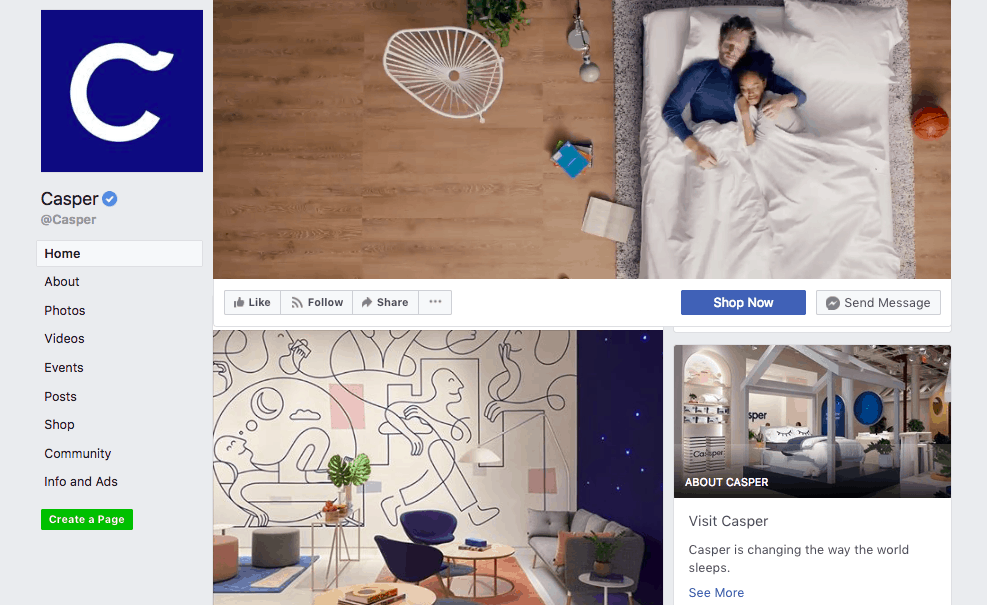 Sometimes if you want to make your brands look sophisticated, you need to stick with an elegance that is brought through simplicity. Instead of overloading your audiences with a heap load of shapes, sizes, and colors, all you need is your branding theme and simple colors to spell out luxury or exclusivity.
Casper a mattress manufacturing company and public e-commerce that offers sleeping products do this perfectly. Their soothing images with beige and blue brand colors just make you snuggle in and get cozy yourself. This is indeed powerful messaging that instantly strikes people and release a burst of emotions and feelings.
To make things even simpler, they follow up on their post with hand-drawn illustrations almost saying that they are too comfortable as they are to even make an effort to hire a professional.
All of this plays really well with their other branding themes that instantly induces a level of laziness and comfort that could make anyone feel drowsy and instantly crave for a power nap. This is how they want you to feel, peaceful and calm before you put those eyes to rest.
Selling a Lifestyle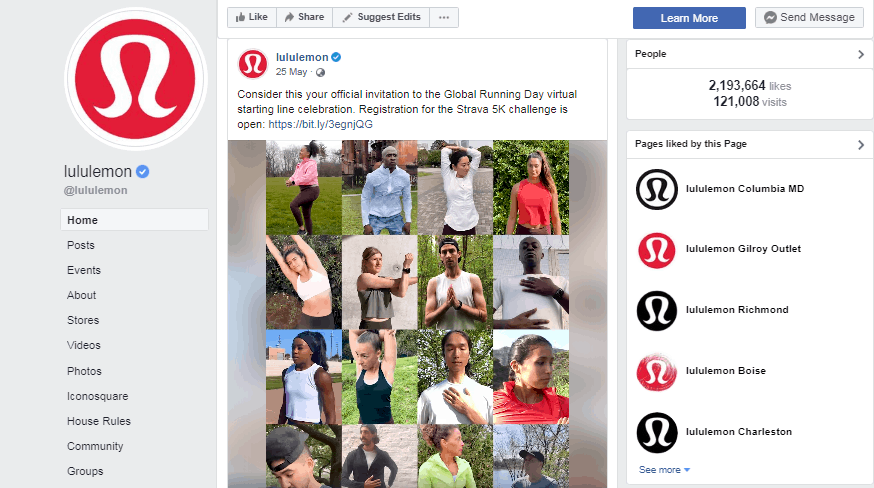 There are plenty of companies out there that sell you products and services; however, as a brand, you need to think like a living and breathing entity. That is why, with the passage of time, it is becoming essential that brands move beyond their product offerings or service listings and move towards actually selling a lifestyle.
Brand in itself is an experience and to promote your brand you need to deliver a lifestyle they would desire to have or gladly adopt. I chose the brand Lululemon here as their marketing team quickly established themselves as the upbeat and go-to store for all things related to athletic apparel and technical clothing.
Their marketing mix breathes an outdoor experience and a fitness-savvy lifestyle where people like to be on the move while staying sharp and healthy. Every single move is dedicated to promoting an active lifestyle that simply says no to being confined at homes.
It shows that no matter how big the challenges, with a supportive community, anyone can strive forward and overcome challenges. Talking about lifestyles, personal statement help providers also encourage students to hire their services and stop worrying about their troubles regarding academic written work.
Visual Eye-Candy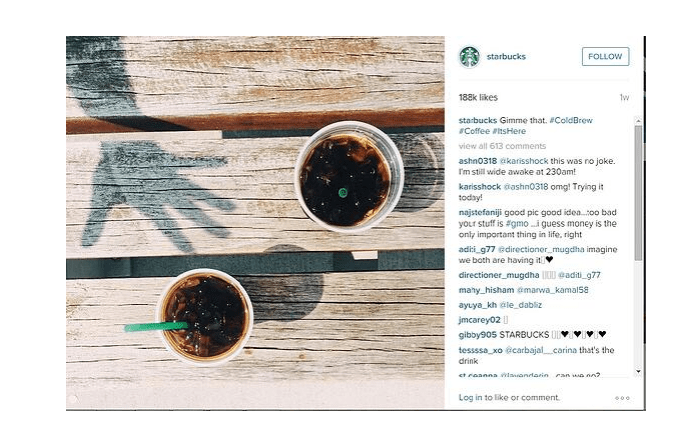 Adding visually appealing elements to your post is absolutely adored by social media platforms. In fact, social media platforms promote visual elements more than just written words or taglines.
As a brand, you need to think in this perspective where you are able to highlight and promote your offering through eye-catching, attractive, and attention-grabbing material that can make people pause and look more enthusiastically at your posts.
Here we have an example of Starbucks '#ColdBrew' the image signifies through shadows that the sun is out anyone would believe in their right mind wouldn't simply mind grabbing a cold beverage to beat the heat.
Its true a picture is worth thousand words, but how you portray that image and the story it instantly generates in the minds of viewers is purely a piece of art. No technical expertise can compare to innovative and creative designs when they hit the sweet spot.
As a brand and business, you should always consider the opportunity of making your post look great with appealing visuals as they are instantly able to make head turns and can even favor a post to become viral throughout the masses. A tactic also used by many Web Hosting Companies to gather clients, leads, and attract prospects.
Social Media Branding Tips Takeaway
The impact of social media for brands and their marketing endeavors is undeniable. With internet penetration increasing at a progressive rate amongst the masses, the use of social media is also projected to increase at a tremendous rate in the coming years.
Plus we have technologies like AI and 5G just waiting around the corner to become more publicly accessible. They will drastically improve companies and their efforts to promote themselves using social media.
I hope this post was able to offer you some delightful insights regarding how businesses can brand themselves through social media. For more questions, leave a mention about your feedback or query in the comment section below. Cheers!!!
[starbox]