Are you wondering to yourself what are the best social media monitoring tools?
This list of the top five social media monitoring systems is for you.
See, a lot of conversations are happening today from over 4.48 billion people who are currently on social media. These people are probably talking bad or good about your brand or your competitors.
They are also leaving some feedback that you could use to improve your products or services. Or perhaps they are complaining about your customer support.
Unfortunately, you cannot ask every individual customer of yours how they feel when doing business with you. Even more, not all customers are ready to reveal that to you. However, they are speaking about your brand out there.
What if you could track your customers' activities on social media?
Wouldn't this help you to position your brand appropriately and win over the competition?
That's where social media monitoring systems become useful.
With the right social media monitoring software, you can track and manage all online conversations happening about your brand.
In this article, we're going to lay discuss the 5 best social media monitoring tools for marketers.
But before that, let's understand a few things.
What Is Social Media Monitoring?
Today, 71% of small-to-mid-sized businesses are using social media to market themselves. It is safe to say that succeeding online without social media is no easy task. And to be successful, brands must monitor relevant conversations happening on social media to address the concerns and complaints raised by customers and to adjust accordingly.
Social media monitoring, therefore, is the employment of tools to hear, keep track, and listen to millions of relevant conversations happening on the web including tracking keywords, mentions, and hashtags to stay in the know-how about your target customers and industry.
Remember that social media monitoring isn't just about keeping track of what's happening on social media. It also encompasses monitoring news sites, relevant forums, communities, and blogs, or anywhere where conversations about your brand are happening.
Social media monitoring shouldn't be confused with social media listening though. The former entails caring for your customers by observing social media conversations that are directly related to your brand and responding to them appropriately and at the right time.
On the other hand, social media listening is more complex and involves using the information gathered from social media monitoring to draw broader conclusions.
In other words, we could sum up the difference between the two activities like this: Social media monitoring entails gathering the information, whereas social listening involves using the information to come up with a broader marketing strategy and approach to business.
What are Social Media Monitoring Systems?
Social media monitoring systems, also known as social media monitoring tools or software are platforms that provide functionalities for monitoring consumer engagement and gathering customer insights. These systems are designed with features that help brands to listen, track, and gather relevant information across multiple social media platforms.
They help brands and marketers discover trends, monitor competitors and understand customers better.
Social media monitoring systems provide information that helps with social media analytics. Some of the social media management tools also have monitoring functionalities.
Social media monitoring systems help to:
Discover thought leaders and influencers in the industry.
Listen for specific conversations across multiple platforms.
Gather customer sentiments.
Discover trends in topics or phrases.
Organize customer data.
That said, let's get into the meat of this article:
Best Social Media Monitoring Systems
Here are the leading social media monitoring tools of 2021:
Hootsuite
BuzzSumo
Zoho Social
AgoraPulse
Sprout Social
Let's get an in-depth look at each of the social media monitoring apps.
Hootsuite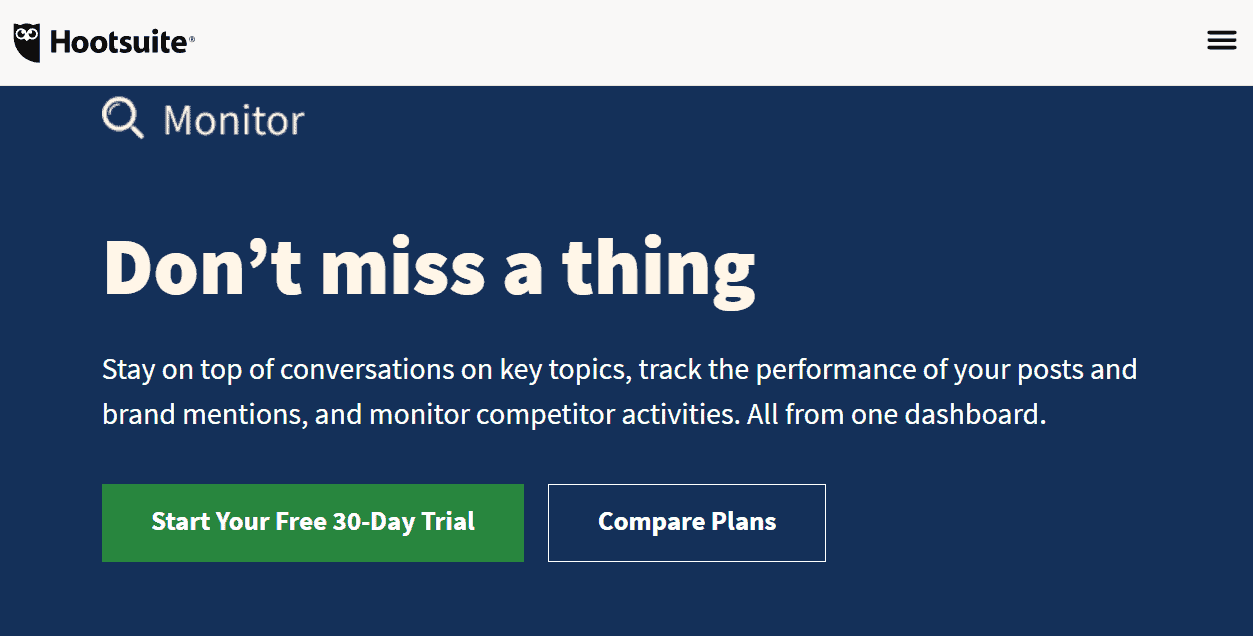 Hootsuite is touted by internet marketers and blog owners as the #1 social media management and monitoring system and we can't dispute that.
First off, Hootsuite is easy to use. The system's customizable search streams can monitor all of your social media channels (Twitter, Facebook, Instagram, and YouTube) to help you understand what's happening on the web about your brand.
What's more, the software can also zero in on trending topics, trends, social media accounts based on locations, specific users, hashtags, and keywords.
You can search for any topic or phrase and filter by date, location, and more.
If you're looking to easily discover and monitor the relevant conversation about your brand on social media, try Hootsuite.
The social media management cum monitoring software has an Inbox similar to Streams that gathers all your social media inboxes in one feed allowing you to monitor and respond to messages without having to switch from one channel to another or chasing email alerts.
Currently, the software is deployed in over 15 million sites.
According to statistics published on Assignment Geek, an assignment writing service portal, the social media management platform has over 200,000 paid accounts and millions of users. It also powers social media for brands and organizations (from small businesses to larger enterprises) globally.
How Hootsuite works is simple: The platform listens to your target audience and highlights what you should be concentrating on.
The tool also monitors your performance vs. that of your competitors allowing you to discover great opportunities while keeping your audience engaged.
Hootsuite pricing and plans:
Professional- $19/mo
1 user
10 social med accounts
Schedule unlimited posts
Access messages in a centralized inbox
30-days free trial.
Team- $99/mo
3 users
20 social media accounts
Schedule unlimited posts
Access messages in a centralized inbox
30-days free trial
Hootsuite is currently operating in over 175 countries worldwide in over 35 social networks including YouTube, Facebook, Flickr, Tumblr, Twitter, Reddit, LinkedIn, etc. The platform is also compatible with any WordPress blog or website.
Try Hootsuite free for 30 days!
BuzzSumo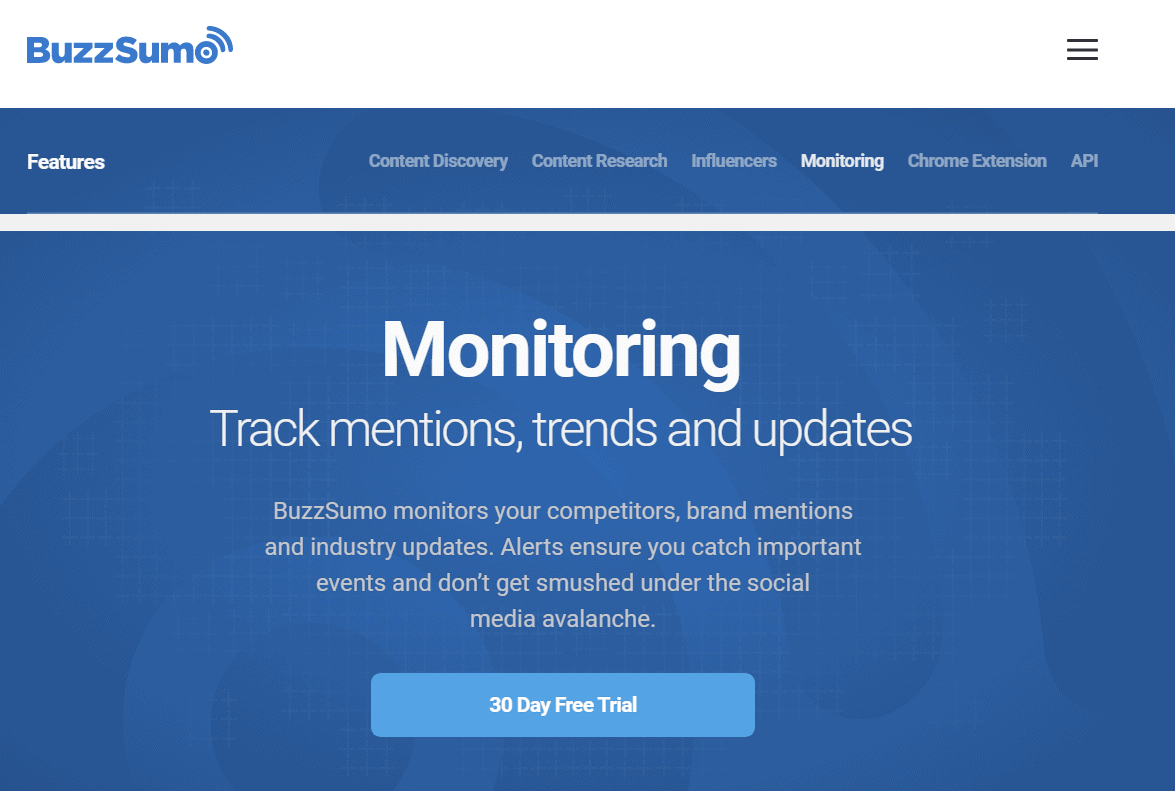 BuzzSumo is an all-in-one social media monitoring software that allows you to discover leading content and influencers in your industry.
You can deploy the system to search for content relevant to your audience, gather insights, and discover opportunities no matter your marketing experience. In other words, BuzzSumo is built for beginners and experts marketers alike.
The app comes with an intuitive user interface and can be applied in almost all industries you can think about.
Typically, the social media monitoring software is founded on four pillars which are research, discovery, monitoring, and influencers.
The Discovery dashboard displays leading content your team or that of your competitors is publishing to help you know where to improve accordingly.
The Monitoring dashboard helps you to keep track of brand mentions, market trends, as well as your competitors' social media activities.
You can also search for keywords, influencers, etc. across an index of over 5 billion items.
What's more, with BuzzSumo, you can distribute content across all popular social media platforms like Facebook, Pinterest, Twitter, LinkedIn, and more).
You can also spy on your competitors to learn what they are publishing, measure the performance of their content and discover the strategies they are using to stay on the edge over you.
BuzzSumo pricing & plans
BuzzSumo is available in a range of plans designed to suit all businesses and you're free to change your plan at any time.
Free
10 free searches per month
Limited access
1 user
Zero alerts
Pro- $99/mo
For small start-ups and freelancers on a small budget
Unlimited monthly searches
5 users
5 alerts
Plus- $179/mo
For small agencies and growing brands
10 users
Unlimited monthly searches
10 alerts
Large- $299/mo
You can also get in touch with BuzzSumo customer support if you need a more advanced plan that suits your business' needs than outlined above.
Try BuzzSumo free for 30 days!
Zoho Social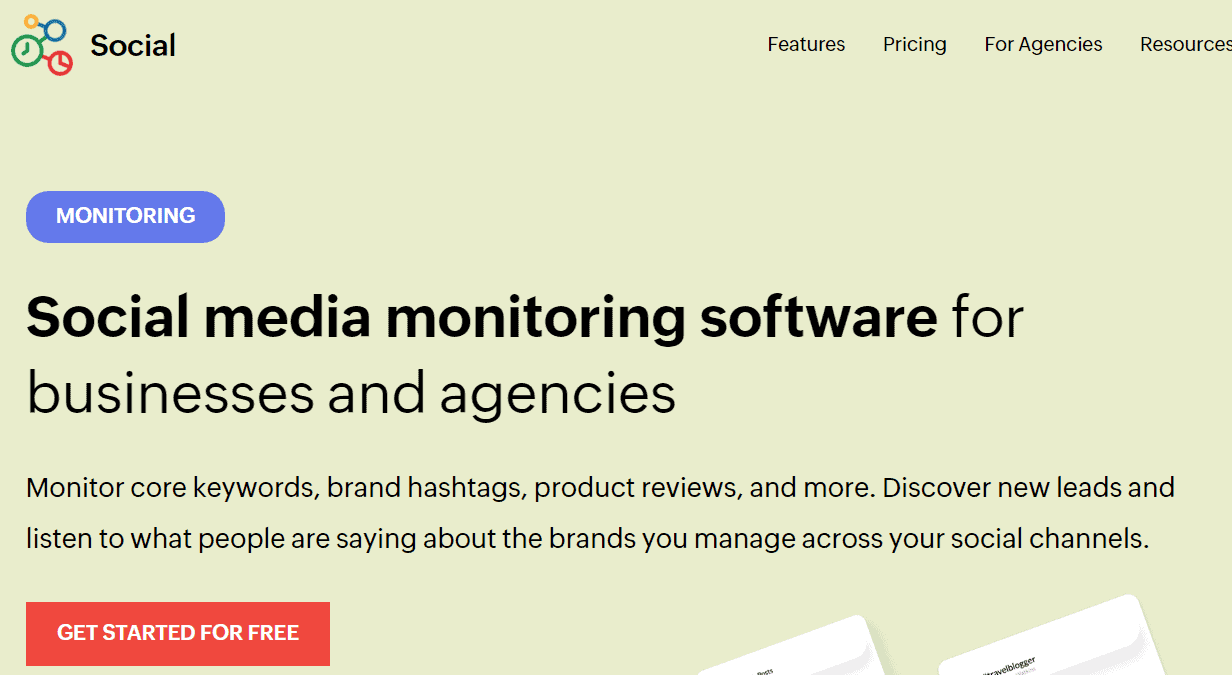 Zoho Social isn't just a social media monitoring system but is also a management platform cum analytics tool.
The Monitor section helps you to monitor and listen and allows you to configure monitoring streams.
The good news about Zoho streams is that you can customize them based on your needs. For instance, you can create columns to monitor interactions for specific social networks, public figures, or conversations with specific leads.
Zoho Social integrates an "Add to CRM" option in every dashboard from Monitor to Posts and Reports making it easy for Zoho CRM users to integrate the Zoho Social tool. The software comes with sophisticated listening and reporting features thus it's suitable for small to mid-sized brands.
What's more, Zoho Social allows users to monitor multiple social channels at a time, schedule mountains of posts, monitor relevant search terms and key phrases and activate instant communication. This way, brands can promote their products or services to the right audience at the right time. You can also measure your performance and adjust your strategies accordingly.
As if that's not all, Zoho Social provides search tools that help to discover new opportunities and track competitors, and save the information for future use.
Did we mention that Zoho Social allows brands to create compelling content and automate their publishing activities? Yes, you can publish posts instantly or schedule for multiple social channels from a single compose dashboard.
The platform is also fully mobile optimized.
Zoho Social pricing & plans
Zoho Social is available in two different categories and pricing plans.
Zoho Social for Businesses:
Standard -$15/mo
1 Brand (7 Channels)
1 Team Member
24/5 email support
Professional- $35/mo
1 Brand (7 Channels)
1 Team Member
24/5 email support
Premium- $55/mo (introduced recently)
1 Brand (8 Channels)
3 Team Members
24/5 email support
Zoho Social for Agencies:
Agency- $275/mo
10 Brands (80 Channels)
5 Team Members
24/5 email support
Agency Plus- $400
20 Brands (160 Channels)
5 Team Members
24/5 email support
Try Zoho Social free for 15 days!
AgoraPulse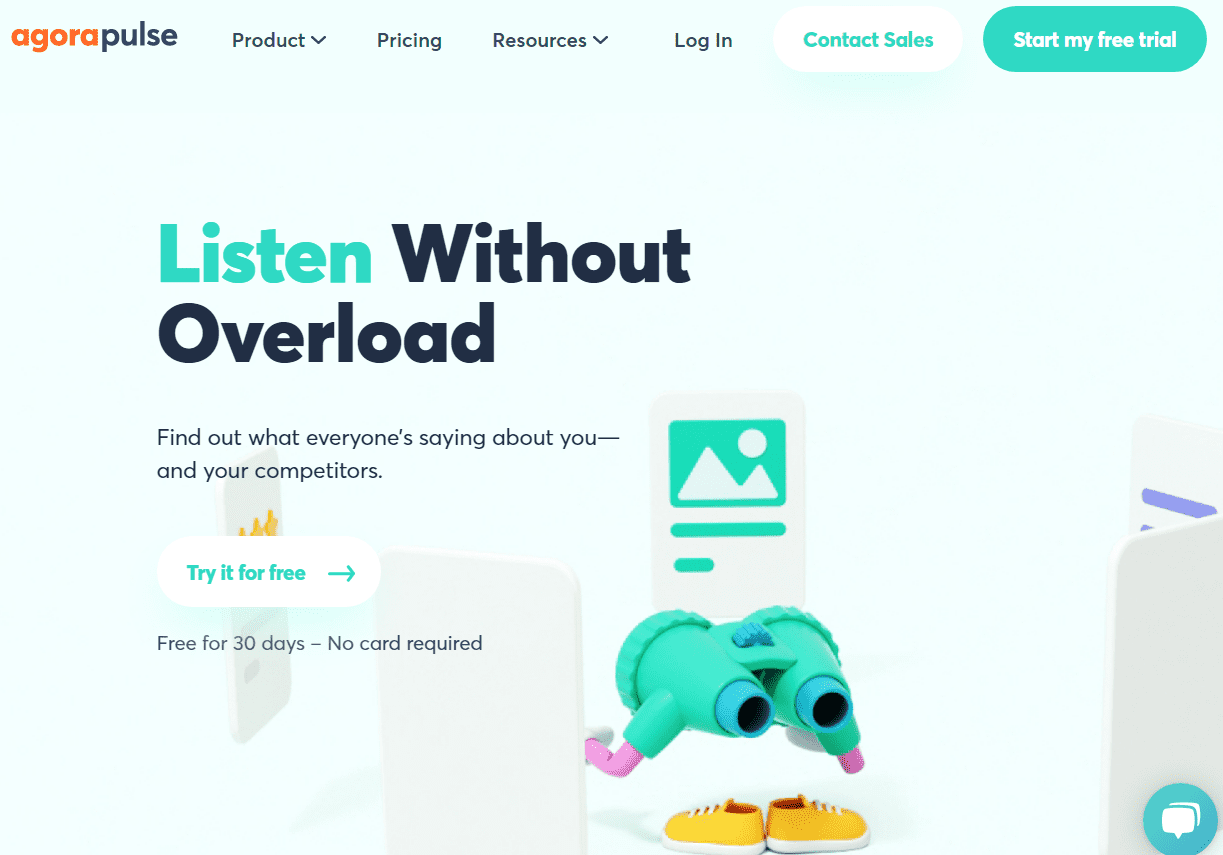 Use the AgoraPulse social media monitoring and listening system to discover what your target audience is saying about your business and act accordingly.
This complete social media management tool for agencies and teams works by helping you stay informed and ahead in the following way:
You monitor social conversations related to your brand, competitors, and industry. Respond fast to urgent conversations around your brand by taking action with replies, DMs/PMs, retweets, etc.
This social media monitoring system is easy to use by marketers of all marketing levels.
What's more, AgoraPulse's user-friendly monitoring inbox known as Social inbox that resembles that of Sprout Social puts together all your social comments, conversations, and comments related to your brand in one feed so you can respond without having to switch between social media accounts.
The influencer outreach dashboard and integrated CRM makes AgoraPulse one of the best social media tool for discovering brand influencers as well.
The platform is purposely created to help you create optimized content for distribution across multiple social channels, listen to your audience, and engage them in a personalized manner to stay ahead of the game over your competitors.
You can also measure and improve the ROI of your content strategy with ready-made, simple-to-export reports.
AgoraPulse pricing & plans
AgoraPulse is available at the following prices and plans:
Free
For newbies
Supported channels: Facebook, Twitter, LinkedIn, YouTube, Instagram
3 social profiles
1 user
Pro- $99/mo
For small teams
Supported channels: Instagram, Facebook, YouTube, Twitter, LinkedIn, Google+
10 social profiles
2 users
Premium- $199/mo
For agencies and growing teams
Supported channels: Instagram, Facebook, YouTube, Twitter, LinkedIn, Google+
20 social profiles
4 users
For their Enterprise plan that accommodates over 8 users and 40 social profiles, contact AgoraPulse customer support to get a quote.
Try AgoraPulse free for 30 days!
Sprout Social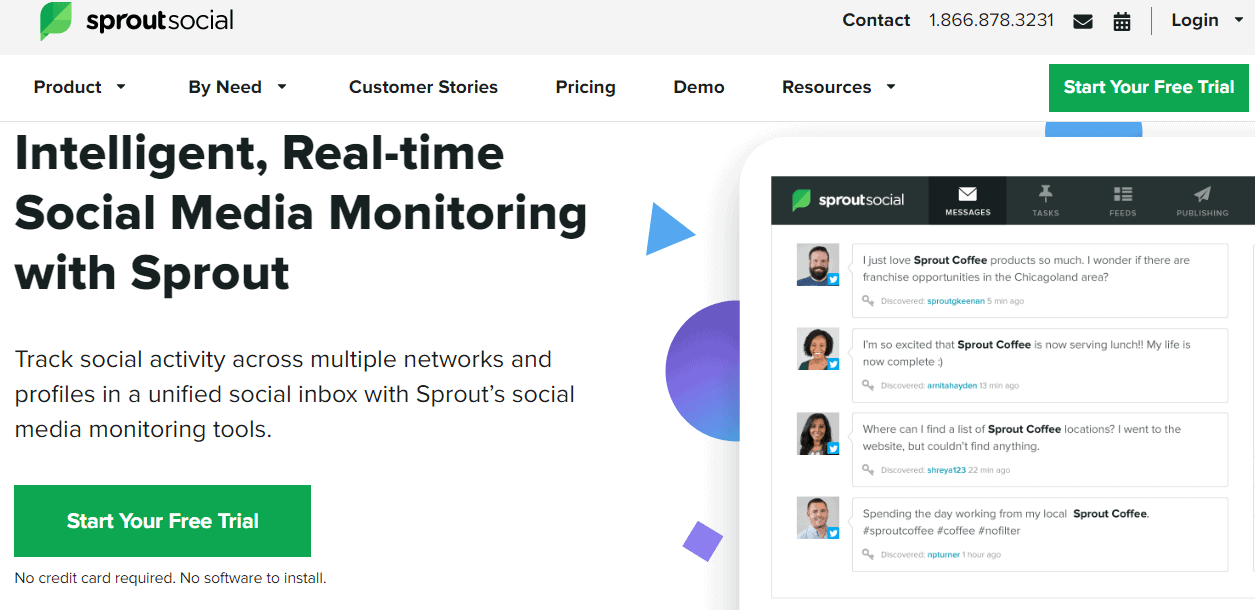 The last item in our list of the five best social media monitoring systems is Sprout Social. With this system, you can monitor brand mentions, messages, and keywords about your brand across multiple networks and profiles in real-time, and in a Smart unified inbox instead of signing out and signing in to different social accounts.
Note that at its core, Sprout Social is a social media management tool that helps SMEs with daily content publishing work but has unmatched monitoring features.
You can also configure filtering and tagging functionalities to prioritize interactions and save time to concentrate on other valuable things online.
One of the greatest things about using Sprout Social is that it comes with a straightforward dashboard with six distinct sections namely: Tasks, Publishing, Messages, Reports, and Discovery. This way, you don't have to guess where to go. This also helps to simplify social media management operations.
Sprout Social pricing & plans
Sprout Social is available at different prices and plans as outlined below:
Standard- $89 per user/mo, billed annually
5 social profiles
Profiles, keywords, and locations monitoring
Smart unified inbox
Professional- $149 per user/mo, billed annually.
10 social profiles
Useful reports for Facebook, Instagram, and Twitter
Paid social reporting for Twitter, Instagram, Facebook, and LinkedIn.
Incoming workflows for multiple steps
Advanced- $249 per user/mo, billed annually
10 social profiles
Inbox rule builder for automated replies.
Message Spike notification for increased message activity.
Try Sprout Social for free for 30 days!
Brand24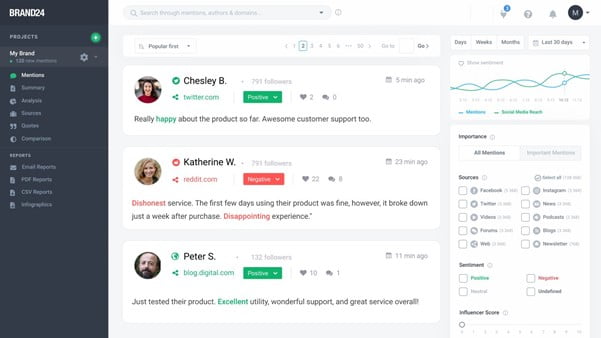 Brand24 is a reliable and affordable solution for real-time monitoring designed to keep track of online conversations about your brand and products.
Brand24 can also be used as a social media analytics tool. The app tracks keywords on various social media platforms like Facebook, Instagram, Twitter, TikTok, or YouTube. It also gathers data from news, blogs, videos, forums, podcasts, and reviews.
This tool provides a handful of helpful features like Sentiment analysis, PDF reports, Social Media Reach, Excel file export, and more! AI-driven sentiment analysis will aid in protecting your brand's reputation, finding marketing insights, and improving customer service.
Furthermore, you can find Brand24 useful as a hashtag analytics tool. It enables you to determine your hashtags' social media reach across social media platforms and other sources. Additionally, you can see authors of influential social media profiles that use your hashtags the most and turn them into brand ambassadors. Thanks to email reports delivered directly to your inbox, Brand24 will keep you up to date on the performance of your hashtags on Twitter. And the Storm Alerts feature will provide you with instant notifications about changes in hashtag performance.
Brand24 pricing & plans
Brand24 is available in three different pricing plans that appeal to businesses of all sizes, ensuring that you don't overpay for what you do get:
Plus – $49/mo
You can monitor 5 keywords
5 users
Update every 12h
Sentiment analysis
Premium – $99/mo
You can monitor 10 keywords
10 users
Update every hour
Sentiment analysis, PDF reports, Social Media Reach Max – $299/mo
You can monitor 25 keywords
Unlimited users
Realtime update
Sentiment analysis, PDF reports, Social Media Reach, Interactions, and Consultant
You can try Brand24 for free for 14 days!
Stay Informed, Stay Ahead!
There is no better time to level up your social media monitoring than now.
In today's world where digital communication is on the rise and brands are competing to grab consumers' attention on the web, social media monitoring isn't optional anymore.
We hope this article will help you choose the best social media monitoring tool for your business.