Nothing's more important in your business right now than taking care of your clients.
And part of your efforts to provide the best service to them is by knowing what they want.
You can always ask them this question via email and get a direct response. Or…
Social listening.
You can listen to what they have to say about you on social media!
In this post, learn what social media listening is and how to leverage it to unearth insights about your clients and provide even better services to them!
What is Social Listening and Why Should You Care?
Social media listening refers to the process of collecting posts on social media that mentions your brand or keywords.
Normally, you do this by hopping on to a platform like Twitter and searching for posts that mention your company name.
You'll then have to sift through the results and find as many posts with mentions of your brand before moving on to the next (Facebook, Instagram, Reddit, etc.).
Thankfully, you don't have to go through this painstaking process, as there are social listening tools to choose from. This way, you can automatically collect the posts with a few clicks of a button!
So what will you do once you've collected all the mentions?
The true purpose of social listening is to identify the sentiment that people have about your brand.
Some brands are popular amongst their audience while others aren't. This is precisely what social listening is about – it's more concerned about the quality of mentions your brand is attracting, not necessarily the volume.
For instance, a brand can be getting lots of mentions on social media. But these don't matter if the sentiment is lukewarm. And indifference is the death knell of any business because if people don't care, why should you?
Therefore, your goal as a brand is to not only acquire clients but also satisfy them with your product or service. And if your clients are unhappy with your brand, then you need to understand why to prevent them from jumping ship to your competitors!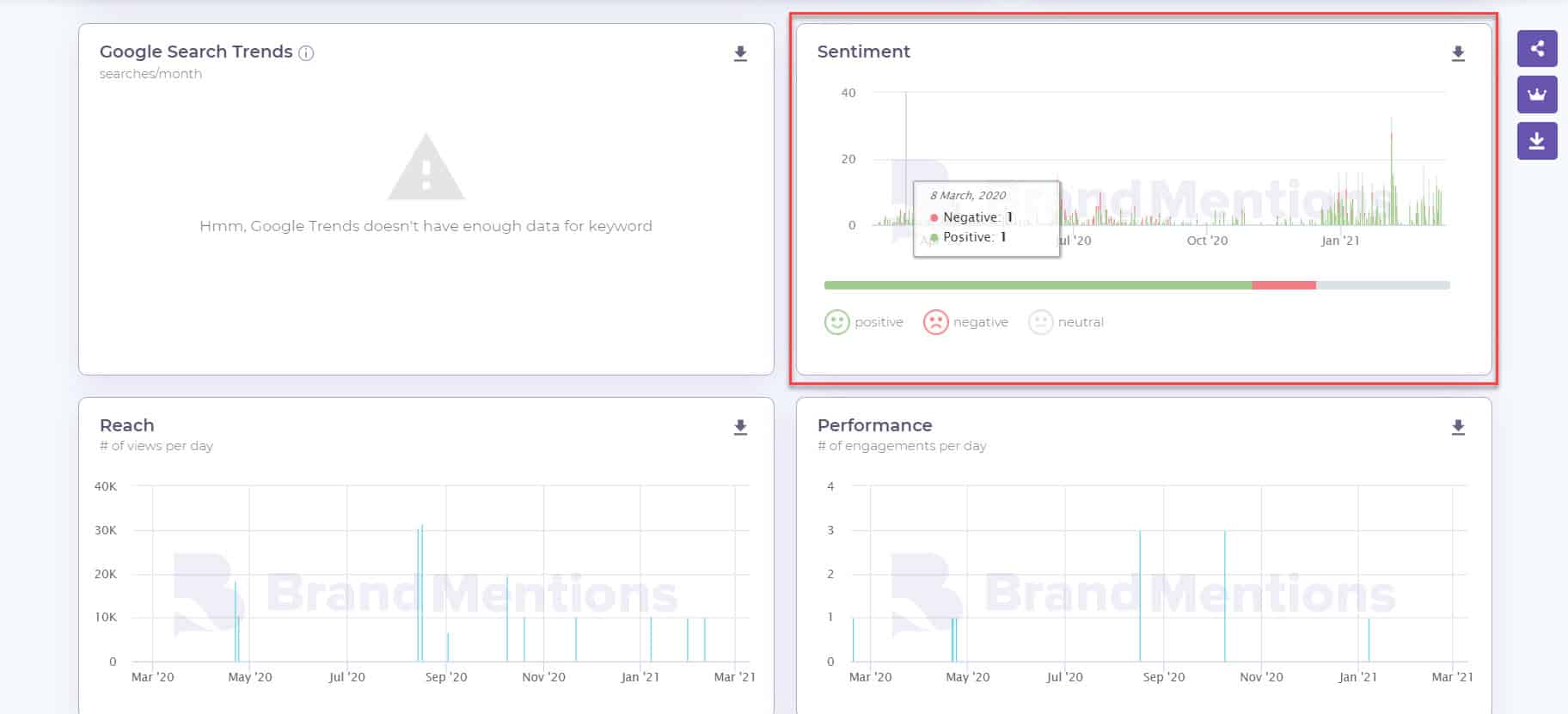 Source: brandmentions.com
Having an organized process of collecting and parsing through the results of your social listening allows you to present your ideas to managers much clearly.
For example, let's say you want to get approval from higher-ups regarding a specific gripe your customers have about your brand. You can present them clearly in a pitch deck to make a strong case for your plans.
How to Use Social Listening to Strengthen Client Relations
Now that you know how social media listening works, you need to apply its principles to get a better grasp of your existing clients and provide them with a better experience.
Below are some ideas to help you get started:
Analyze Your Brand Sentiment
Finding out what your clients think about your brand is one of the few marketing KPIs that hold the key to your strategy. You want to know what makes them tick and use that to your advantage.
Because here's the thing:
Just because they're your client, it doesn't mean they're happy with everything you do and offer!
Your clients may be using your products or services because they don't have any choice. In reality, they wish they could use a much better service than yours.
Using social media listening, track mentions of your brand on their social media.
The tool should gather the tweets, posts, and mentions on social media with your brand name in it. You can then mine the opinions of not just clients but also your audience and determine the general sentiment they have towards your brand.
Extra tip: If you're using content to improve your social media presence and attract more clients, you can track their performance using social media listening. Type in the title of the post and gather the posts online about it.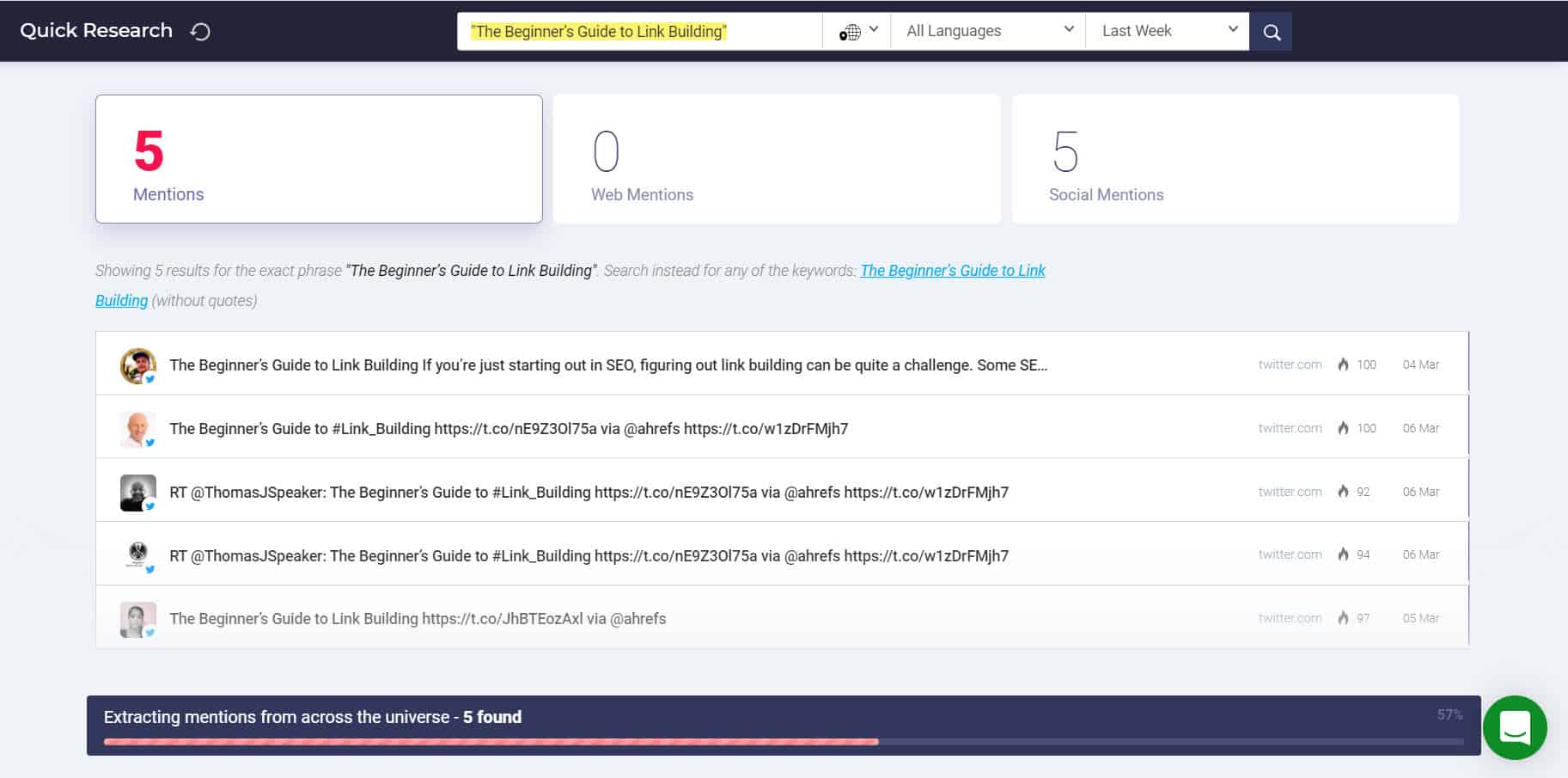 Source: brandmentions.com
The important thing to see here is what people think about it. It's one thing that your content is generating lots of shares, but it's another to know if they think the content is good or not.
They may have left comments about the content being either/or.
From here, you can use the general sentiment about your content and make the necessary changes on your next campaign.
Learn How to Make Your Offerings Better
Determine what people are saying about your product or service and find ways to further improve it based on customer feedback.
Reviews and testimonials can come from different sources such as user-generated content from websites like Yelp, TripAdvisor, and others. Some may have left a star rating on Google and a short review.
However, instead of checking out these sites one by one, you can just use social media listening to collect all of them in a single place.
Mining customer feedback is akin to extract your brand sentiment. However, what you want to know about here is what people say about your services.
And while it's nice to hear that everybody's happy with your brand, you want to find reviews with a legitimate gripe about your products and services.
You can monitor reviews of your brand online and see posts made about your business. Some site owners use this blogging strategy of creating honest quality content about your brand to help educate your potential customers.
By reading their reviews, you can get insights on how to improve your overall offering. This becomes more evident if there's a pros and cons list in the article detailing what they found good or bad with your brand.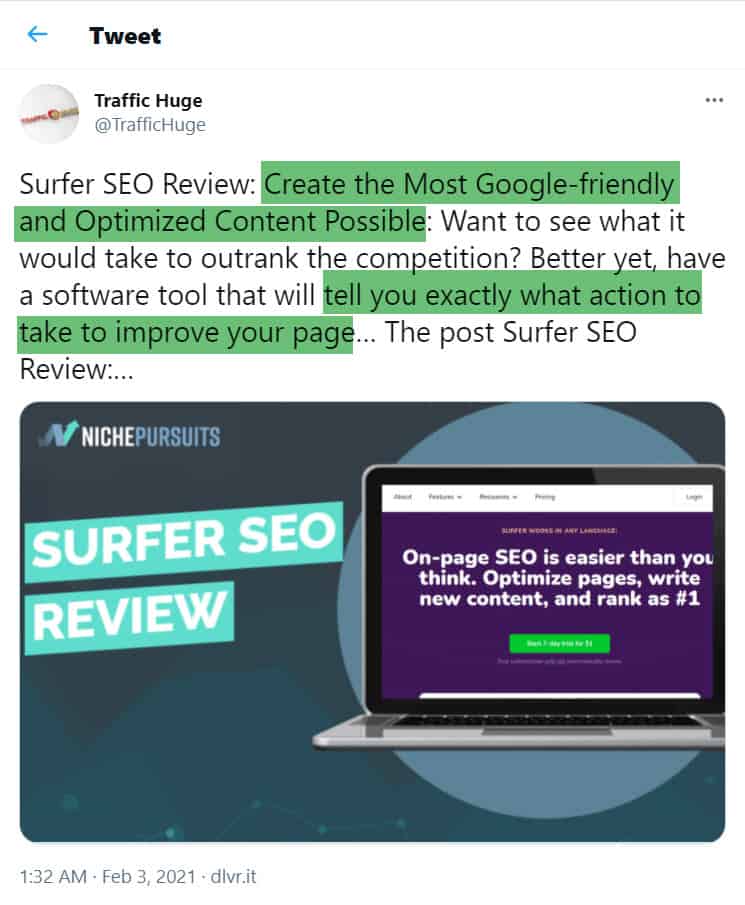 This type of earned media is critical in helping you identify factors that you didn't consider before with your services. You don't have to implement every suggestion especially if it proves detrimental to the quality of the product or service you're offering.
However, listen to what they have to say at the very least. Constructive criticism, even if it's against your brand, could still serve as useful feedback as you keep finding ways on how to grow your brand moving forward.
Find Ways to be Better than Your Competitors
As long as you're in the business of providing solutions to customers, expect to be going up against competitors along the way.
Always know that you're not alone no matter how unique you think your business is. If you feel you're offering the best services in the market, there's at least one that's right behind you, if not much better than you are!
But instead of thinking this as a detriment to your success, this is actually a good thing because you can compare yourself with what others are doing and one-up them at their game if possible.
And to do this, you need to monitor what clients are saying about your top competitors.
Plug their name and products on your social listening tool and find out their overall sentiment, their top content, and what people like about their services.
This is similar to analyzing your brand sentiment. But with this approach, you're reverse-engineering the process. Instead of finding ways on how to improve your sentiment, you look at opportunities that can help you position yourself in the market more favorably than others.
Aside from branded terms and keywords, you should also keep track of hashtags on Instagram, Twitter, and others you used in your campaign.
Since brands use them to increase the visibility of their posts, you want to see which competitors are using the same hashtags as you. You can then dig deeper into their campaign and see what they're doing right that you can use for your own!
Gauge Marketing Campaigns
Your social marketing strategy should help you generate more buzz about your business in hopes of turning people into customers. At the same time, it could also work as a way to put your brand at the forefront of things.
The last part could be a good or bad thing. The last thing brands want to do is piss off their clients and the public with how they cooked up their marketing strategy.
Therefore, finding out the sentiment of people towards your campaign should prove as a test to see how much of a success (of a failure) it could be.
The most recent marketing mishap comes from Burger King UK this past International Women's Day, when it published the regrettable tweet: "Women belong in the kitchen."
The tweet was a ploy to get traction to their scholarship aimed at BK employees who wish to pursue a culinary career.
While the intent was admirable, the execution was ill-advised. All people remember was the first tweet they sent out, which completely undermined their entire message and cast a negative cloud on the brand.
As a result, Burger King UK deleted the tweet about the scholarship due to the rightful backlash it received.
The fact that other brands poked fun at Burger King's poor attempt at viral marketing goes to show that it was time to raise the white flag.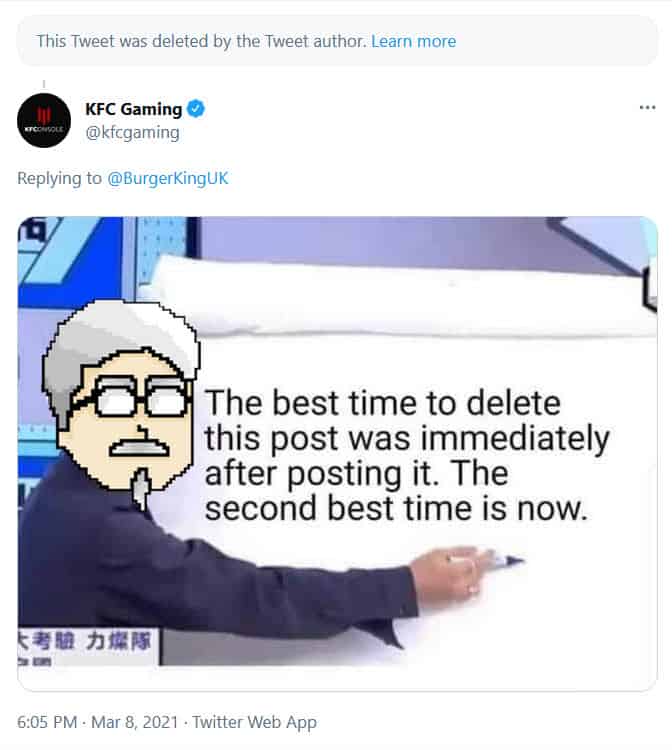 Source: Twitter
Due to the uproar it caused, deleting the tweets to stop attracting more negativity from social media was a no-brainer.
But for smaller-scale campaigns, you need to closely monitor what people think of your campaign. Check what people think and how they're reacting. And make sure they're reacting – just as worse as a poorly conceived marketing campaign is one that falls on deaf ears.
Provide Extensive Customer Support
If all brands are virtually identical, the decision of customers as to which one to choose boils down to how good their customer support is.
By providing effective solutions to problems experienced by clients with your products or services, you improve your brand perception of them. This could result in positive long-term effects such as brand loyalty and advocacy, which could lead to increased sales over time.
Below are common ways how brands deal with customer support (but are not limited to):
Creation of knowledge base
Ticket support
Live chat or chatbot functionalities on the website
Consolidate social media inboxes in a single place for improved efficiency
HOWEVER:
If you want to take your customer support to a higher level, you need to use social listening as part of your arsenal.
Some people may voice out their concerns about your brand without tagging you for various reasons. Nonetheless, what's more important is to find these mentions that don't tag you so you can answer whatever questions they have.
If you ignore these untagged mentions, they might reach out to your potential clients, making your brand leave a bad taste in their mouths.
Therefore, by being proactive in looking for these mentions, you cover all your bases and provide the necessary help they're looking for.
At the same time, there's another level to customer support, which deals with how your team should respond to these things. Because the most important aspect of customer relations is proper communication.
Not only do you need to speak the same language, but you must also learn how to empathize with them.
Also, before having someone respond to customers, you need to have a clear set of guidelines in place. Keep in mind that your team represents your brand. That means their reply should represent the values and objectives that your brand promotes.
In this case, it's best to have a professional handle the replies as you gather the posts that s/he will respond to using your social listening tool.
Final Thoughts on Social Listening
As important as sharing content on social media is, which is what we at Bulkly do, finding out what people think about your business is just as vital.
So to develop and implement a more effective strategy that revolves around what your clients want from you, you need to stop, look, and listen.
But instead of doing this manually, you can just refer to a social media listening software that'll do the looking for you. This way, you can focus on the most important part: hearing what they have to say.
Social listening will be a huge asset in your overall marketing campaign, and we've detailed how you can do this for your brand. It's just a matter of doing them as part of your plan to truly benefit from them.