If you run a business, ignoring social media is a big no-no. There are 3.6 billion people worldwide using social media platforms as of 2020. By 2025, that number is likely to be around 4.41 billion.
Chances are your customers and prospective customers are on social media. If you use it well, you can leverage social media to generate leads, drive traffic, increase sales, and boost customer engagement. But for 80% of social media marketers, the biggest goal is brand awareness: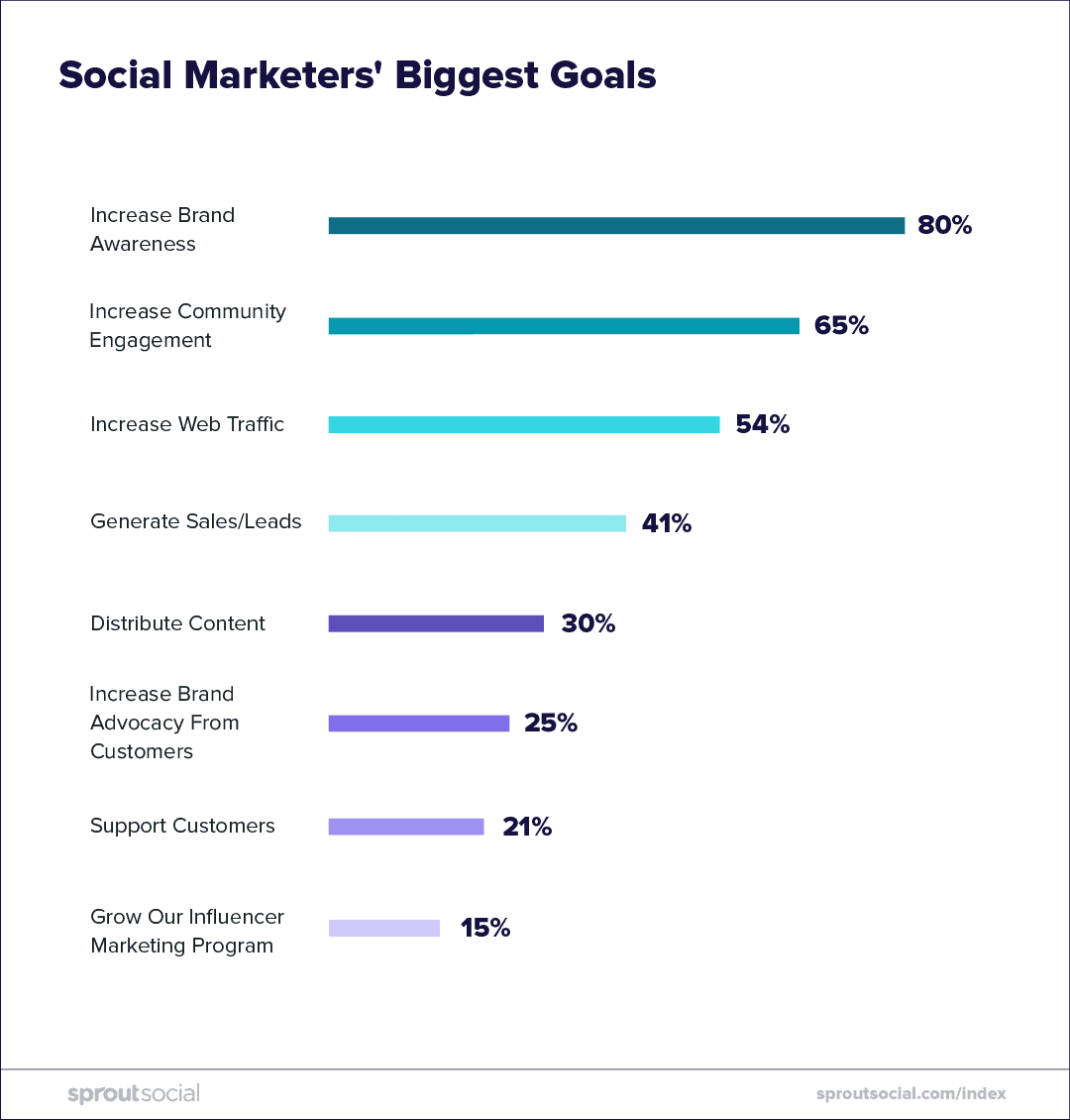 Source: Sprout Social
Social media branding is a crucial element of your overall brand awareness strategy. In this article, we'll look at what social media branding is and how to do it. Let's dive in.
Social Media Branding
Social media branding is the process of building and managing a consistent company image across various social media platforms. The goal is to increase people's knowledge of your company and positively influence how they perceive you. A strong branding strategy based on consistent values builds trust. And brand awareness, coupled with trust, is how you attract leads, make conversions, and retain customers: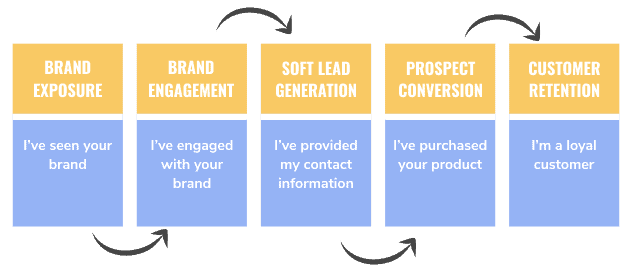 The best way to manage your brand's image on social media is by consistently engaging your customers and target audience with valuable, relevant content.
In the next section, I'll talk you through the vital ingredients of a social media branding strategy.
Key Elements
Before you can implement your branding strategy, you need to define your goals. Here are the four elements to consider and understand before you start posting:
Your audience
If you do not understand your target audience, you cannot hope to reach and influence them. Since your branding on social media strategy aims to attract and retain customers, your target audience should also be your ideal customer.
Therefore, before you do anything else, create a customer persona. The persona is a profile of your ideal customer – their demographic information, problems, goals, and interests. Here's an example: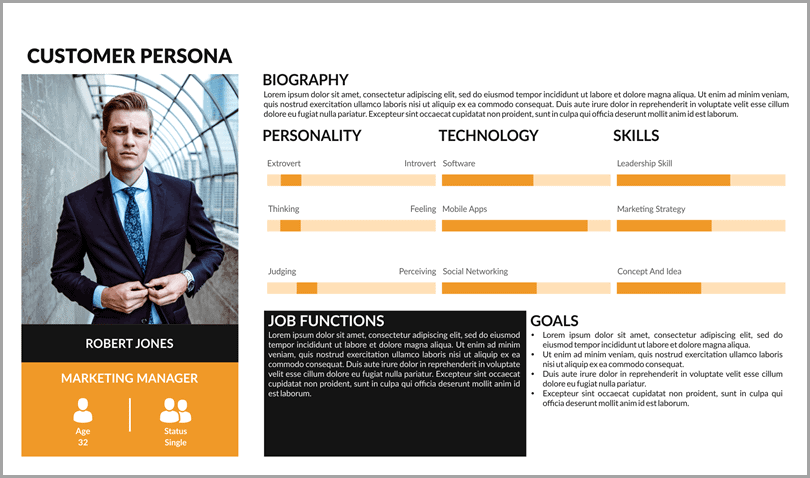 Source: Jeff Bullas
The more you know about your audience, the better you can tailor your marketing efforts to their needs and preferences.
Identity
Now that you know who you want to cater to, ask yourself this: how do you want those people to see your business? Maybe you want your young target audience to associate your company with fun and irreverence. Or perhaps you want to be seen as luxurious, high-end, and aspirational.
But as you determine your identity, don't just think about the adjectives you want your target audience to associate with your brand. Think about the core values you want people to associate with it, too. Your logo will play a vital role in establishing this identity. You need to convey what your company stands for in a simple and memorable way. The logo colors, imagery and font will all contribute to how your audience perceives you. Tip: try a free logo software to test ideas throughout the process.
Let me give you two examples: Starbucks and Coca Cola.
Starbucks has been successful in its branding strategy because, when you think of the brand, you no longer just think of coffee. You picture the culture of warmth that the company has cultivated.
Starbucks was able to achieve this identity by relating everything, including its messages, its actions, its events, and even its people, to that core value embodied by its mission statement: to be a brand that "inspires and nurtures the human spirit – one person, one cup and one neighborhood at a time."
Coca Cola achieved something similar. When you think of the brand, you don't just think of the sugary soda. The brand evokes belonging and togetherness. This is because throughout its history, Coca Cola has bombarded us with messages that are consistent with these values that are reflected in its mission statement: "to inspire moments of optimism and happiness."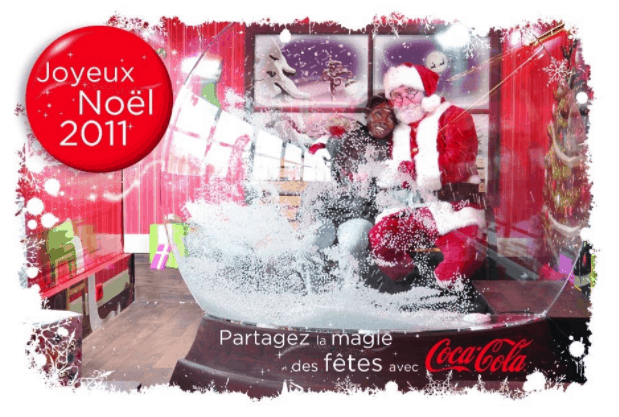 Whatever your brand identity, it must be unique. Copying another business in your niche will not get results. What makes your brand different? The clearer this is in your mind, the easier it will be to communicate it to your audience.
Here are some recent examples from entertainment giant Netflix: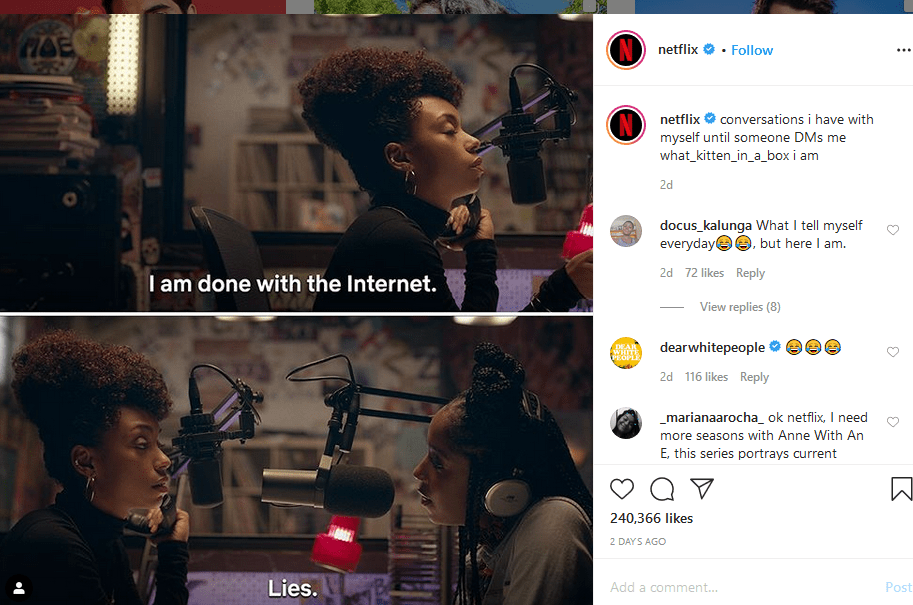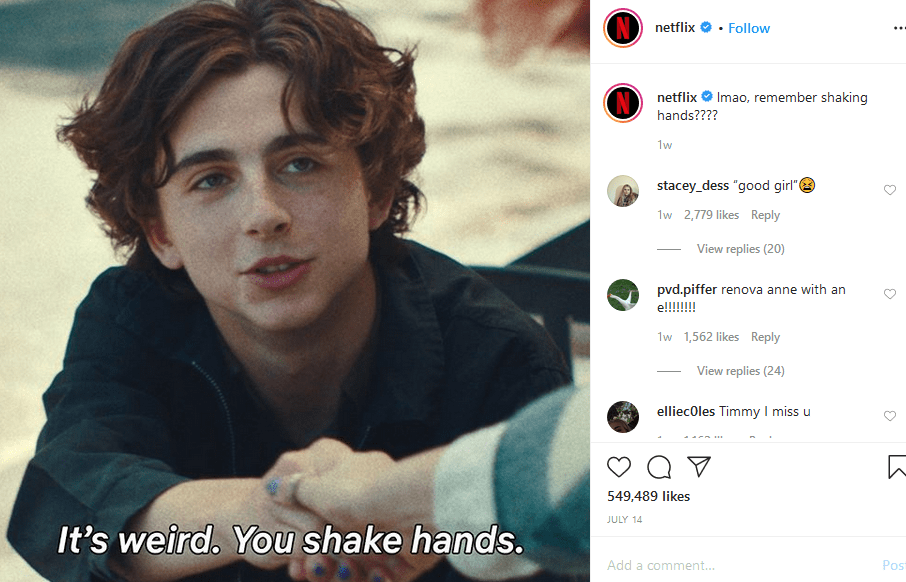 Source: @netflix on Instagram
Notice the informal language, use of humor, and internet slang. Netflix clearly wants to position itself as a fun, playful brand that understands the cultural references that are important to its young core audience.
Content
Now that you know what your brand identity is and who it is for, you need to plan the types of content you will share. Your content must always align with your goals.
If you want your brand to be perceived as fun and playful, use bright colors and plenty of humor. If your brand identity is more serious and high-end, neutral colors and a more formal tone of voice might be appropriate.
The images you choose are even more essential than your language. The brain processes images 60,000 times faster than words. Therefore, your visual content must draw the eye, convey the right message, and make them pause their scrolling long enough to read your post.
As much as possible, use your own images. Since you or someone else from your company took the picture, you can be assured it reflects your brand values. Also, you avoid situations where people accuse you of using their image, and demand payment for it (you'd be surprised at how frequently that actually happens).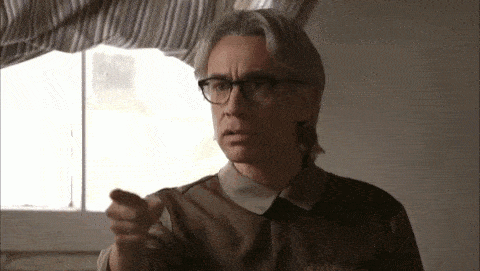 Source: Giphy
Some brands, however, use a mixture of original and stock photos because creating original images can be time-consuming and expensive. This is a risk, however, since it can be difficult to differentiate a brand from the others that use the same stock image. Also, stock photos aren't usually eye-catching. Since they're basically everywhere, they're just perceived as "ordinary."
But if you really, really have to use stock photos because you don't have the budget to stage an entire photoshoot, make sure the license you have for using the image allows you to do what you're doing with the picture. Even if you paid for the image, you can't do anything you want with it. Some licenses limit stock photos posting to specific media such as print. Other licenses only allow posting for personal use.
Make sure, too, that none of your competitors is using the stock photo you plan to include in your social media post. Even if it's a stock image, you're more likely to be perceived as the copycat because you were the last one to post it. I'd also shun images that look eerily similar to the images posted by any other brand for the same reasons. Try to tweak the picture a bit, maybe crop it, or do some basic edits to stand out. Buffer, which uses stock photos daily, came up with this very useful guide to using stock photos in marketing you can read.
Your Social Media Platform
Don't be overwhelmed by the myriad of platforms to choose from. Contrary to popular belief, you don't necessarily need to be on all of them. Instead, choose the platform that your target demographic is most likely to use.
With the exception of Facebook, whose user base cuts across demographic divisions, each social media platform has a clear group of core users. Here's a quick, useful guide from the Flint Group:
Twitter: Young individuals with a college education.
LinkedIn: Professionals, particularly senior leaders in the corporate world.
Instagram: People from 18 to 29 years old.
Pinterest: Many more women than men.
If your target audience is on multiple platforms, how many you choose depends on your resources. If you have a big social media team, then you might want to be everywhere. If you're a team of one, choose just one or two platforms. It's better to run one channel well than to run five that you keep forgetting to update!
Positioning Your Brand
By now, you should understand your audience, brand identity, the types of content you want to post, and the platform(s) you will be using. You're ready to get started! In this section, you'll learn three of the most critical strategies for positioning your brand as a leader in your niche through social media.
Be Consistent
Consistency is key in branding. Giving mixed messages or sharing random posts with no connection is a recipe for failure. Be consistent in your language, voice, tone, visuals, design, and messaging. Ensure that everything you post reflects the way you want customers to see your brand.
Consistency across platforms is also essential. You can't be a serious brand on Facebook and then a fun brand on Twitter. Doing so will just confuse your target audiences. Remember that your business goal is to achieve strong brand awareness. You can only do this if you are consistent across all your channels.
Here's an example from the candy company Skittles' Twitter and Instagram channels: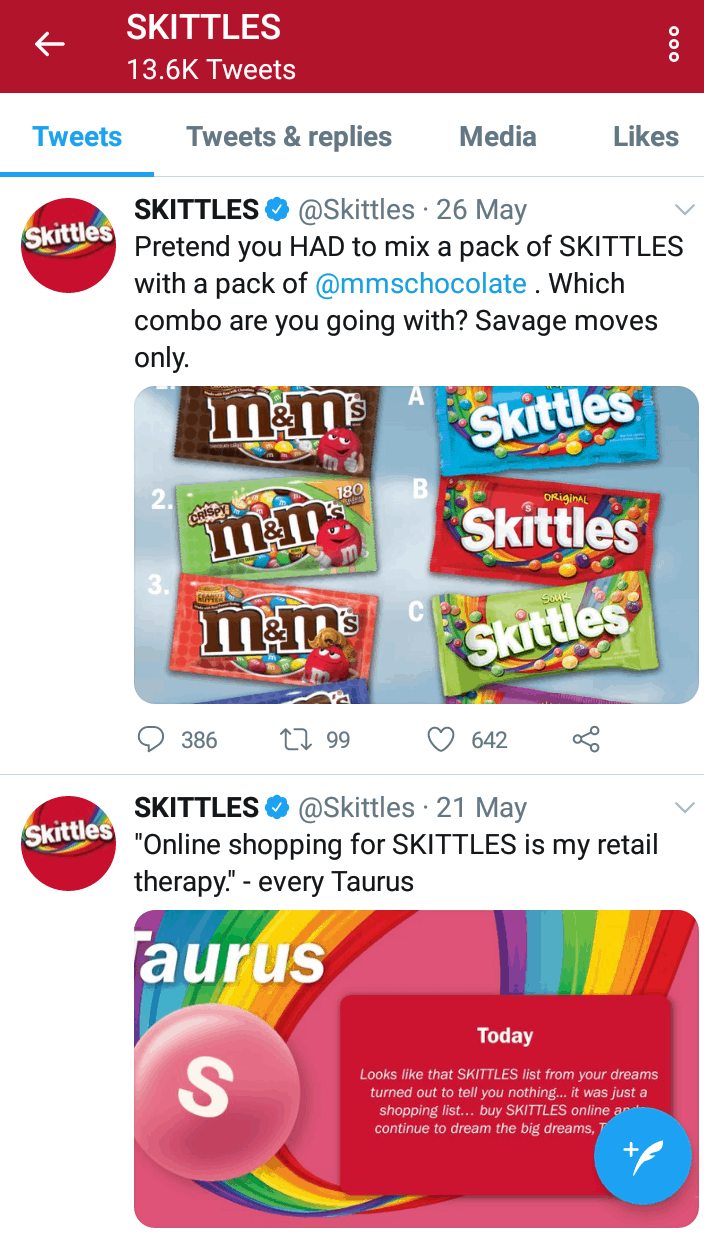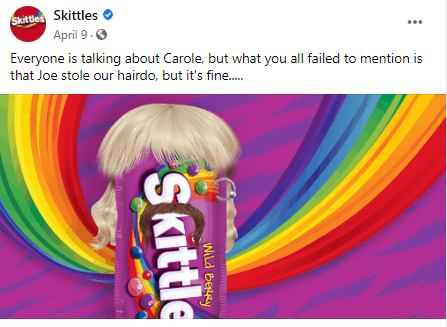 Notice the use of the rainbow colors, humor, and an informal tone across all the company's content regardless of channel. This consistency, combined with a distinctive brand identity, makes it instantly recognizable.
Post Regularly
The more frequently people interact with your brand, the more quickly they will come to recognize it and identify your company. But the optimal posting frequency varies by platform. This is because each social media post has a different "lifespan." Here's a list of some types of social media posts, and their respective "lifespans," according to Green Umbrella Biz.
Facebook post: An average life span of six hours, but 75% of the impressions occur in the first 2 hours and 30 minutes.
Instagram post: An average lifespan of 48 hours.
Tweet: An average lifespan of 18 minutes.
LinkedIn post: Average lifespan of 48 hours.
Pinterest is not on the list but, according to Webfx, the half-life of a pin (the time in which the pin receives 50% of its clicks and views) is an astonishing 3.5 months.
Here's a suggested snapshot of how often you should post on each social media platform: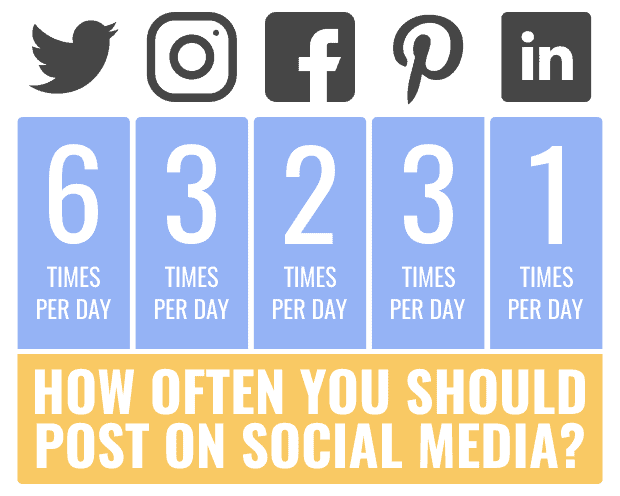 What you see here is not an exact science, of course. Pay attention to your engagement metrics. Each piece of content must be relevant and of high quality.
Don't be afraid to get creative with your content. Inspiration is everywhere! Keep up with current events and trends, check out what your competitors are doing, and read up on how to create engaging social media posts. Make sure you don't plagiarize, though. Drawing inspiration from others' work is cool. Stealing it is not.
I also like to plan my social media posts using a content calendar. I recommend you do the same – knowing precisely what you need to post and when takes much of the guesswork out of social media branding. It also allows you to be more strategic and intentional.
Use Email Marketing
Email marketing and branding for social media work exceptionally well together. The companies with the strongest brand awareness tend to align their email marketing and social media content closely.
"If you have an email newsletter, highlight an interesting recent social media post in each issue. You can use a scheduling tool to automate your emails and track the responses. Upgrading your email inbox with smart features allows you to get more done in less time," says Sujan Patel of Right Inbox.
You can also use email marketing to grow your social media followers. This is exactly what Fruit of the Loom, an American clothing company, does. Check out this email which went to everyone on the company's mailing list: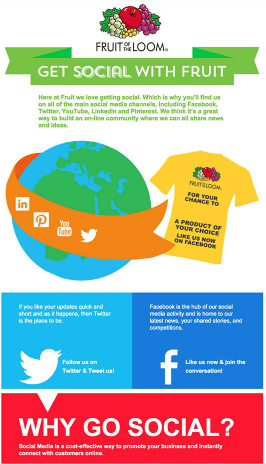 Source: Business2community
This works the other way around, too. Social media can be a powerful method of getting sign-ups to your email marketing list. Giveaways, incentives, and lead-magnets can all be advertised on your social media channels, with a link to your email list registration page.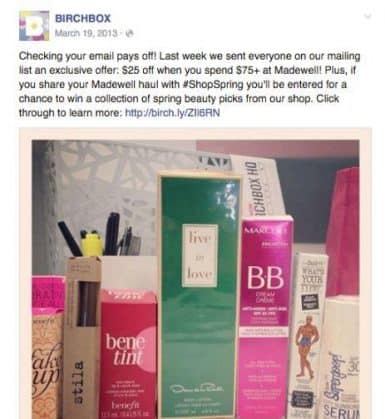 Source: Campaign Monitor
You can also use social media to remind your list subscribers to check their emails and open your message, such as the example above from beauty subscription service, Birchbox.
There's another step you can take to more fully integrate your email marketing and social media marketing strategies: upload your email subscriber list to your social media platforms. Many of the major platforms allow you to do this. Facebook's Custom Audience ad targeting option allows you to reach people who already know your brands from other channels.
Once you've uploaded your email list, you can run targeted social media campaigns. It also allows you to learn more about your subscribers. And the better you know your audience, the better positioned you are to market to them!
Making Your Brand Voice Known
If you want to grow awareness of your brand, you cannot afford to ignore social media. With billions of users worldwide, it is one of the most critical marketing channels. With a solid social media strategy, you can position your brand as a leader in your field and nurture relationships with your target audience.
Remember the golden rules of social media branding:
Understand your audience demographics, brand identity, content plans, and platform of choice before posting.
Be consistent both within and across your channels.
Post regularly.
Align your email marketing and social media branding strategies to work together.
A robust social media branding strategy attracts new customers, retains existing ones, and increases loyalty to your business. If you put in the effort and do it well, it will help you achieve your business goals.
[starbox]