Do you want to know how to start a social media marketing agency or perhaps know why you should?
In the wake of COVID-19, a CMO survey revealed that social media became the focal point of marketing with a meteoric rise of 74% in social media spending.
The increase in social media users worldwide, from the current 3.6 billion to 4.41 million by 2025, makes starting a social media marketing agency a worthy business venture.
To date, Instagram has over a billion users with 112 million Americans sharing the Instagram community pie and is expected to surpass the 120 million mark by 2023.
Although Instagram is the leading social media platform used by Americans in terms of photo sharing, Facebook is still the leading social media app around the world with its 2.7 billion active users. Add to it the 3.14 billion users who use Facebook's core products such as WhatsApp and Messenger as their primary messaging apps.
However, not all businesses leverage the power of social media to drive more traffic to their website or boost their bottom line. It's likely that they have yet to fully understand the potentials of this channel, something a social media manager can help with.
This can be you.
What is a social media marketing agency?
A social media marketing agency helps businesses in managing their social media presence through valuable content posts, customer engagement, and the creation of effective campaigns and ads targeted towards desired audiences.
Likewise, it positions the business as one of the credible thought leaders in the social media community that generates followers or leads that eventually become sales.
Setting up a social media marketing agency can be overwhelming and daunting without proper guidance. Therefore, to assess your preparedness to put up one, ask the following questions:
1. How updated are you with the latest trends in marketing?
To become a social media marketer, you should always be two steps ahead so you can position your client in your chosen industry. For example, are you well-versed in the latest content promotion strategies like setting up email marketing automation or guest posting?
2. Do you have a working business plan?
A business plan allows you to have a solid foundation. You can decide whether to take the business as a sole proprietorship, a partnership, or a limited liability company. Another factor to consider is the name of your company. It must create an unforgettable impression on the services you'll provide.
Lastly, observe the registration and tax policies in the area where you will register your business to identify any legal complications you might encounter.
3. Who is on your team?
Hiring social media specialists in your team depends on your financial resources, but it's the best thing to do when your agency expands. When you form your team, it's vital to include a graphic artist, a content writer, and an advertising expert to help you lead the agency.
Now that we've covered the basic things, let's get down to the heart of the matter.
How to Start a Social Media Marketing Agency [7 Steps]
1. Pick your Niche
Oxford dictionary defines 'niche' as a comfortable or suitable position in life or employment.
In relation to building your social media marketing agency, a niche refers to the focus of your agency. It is categorized into three types: platform niches, industry niches, and scope niches.
Ideally, a social media marketing agency must be adept in handling multiple platforms on top of its own social media accounts. Therefore, when you are starting out, it is best to master one platform first before juggling many platforms for your client.
Why?
Take note that each platform has different posting guidelines, audience, content requirements, and reach. Additionally, your marketing strategies for Instagram might not work for your Linkedin clients.
By focusing on one platform, you can create the best output for your client and become proficient in it.
Needless to say, limiting yourself to one platform forever is not also ideal so take things one step at a time.
In another case, industry niches refer to market sectors you are comfortable working with. As a social media marketer, the top priority is to implement a marketing campaign relevant to the client's market.
That is to say, if you are targeting IT companies without prior background or technical expertise, your marketing campaigns won't work effectively. In short, it is more preferable to choose a field that you have a deep understanding of so that your social media marketing agency will get off the ground easily.
Lastly, scope niches refer to the breadth of services you offer. Ultimately, as a startup, you have to set the right expectations by specifying clearly what you can do for your client.
Nowadays, some social media marketing agencies focus on strategizing social media campaigns. There are some which specialize in creating visuals while some provide a variety of services from content marketing to analytics.
All things considered, pick a niche that suits your interests or skills. Your familiarity with the niche in focus enables you to find the solution to most problems encountered by people in your chosen niche.
Your choice determines how well you can serve the people in the industry or sector that you choose. Understanding the market and the key players will help you decide if the type of service you'll be offering will reinvent the market or make better offers than your competitors.
If you opt for the first option, it's best to focus your startup marketing strategy on your target market. However, if you want to compete head-to-head with your competitors with much better service offerings, then start profiling your market and nitpick the details that need attention.
Taking a realistic SWOT analysis has several advantages. It can help you identify correctly your position in the market. You can capitalize on the opportunity where existing social media marketing agencies failed and succeeded.
Knowing the market through competing agencies gives you leverage.
(Source: Spdload)
In this way, you'll know the best strategy to use when you pitch your services to your prospects.
Let me give you an example.
Since Facebook captured the highest market share among social media apps in 2020 with almost 2.7 billion monthly active users, imagine the reach of your services if you start a Facebook ad agency.
The good thing is you can start targeting small businesses.
Small businesses cannot compete with big brands in traditional advertising. Yet, they run ads on Facebook with little understanding of the analytics that Facebook offers. In fact, 62% of small businesses felt that their paid ads on Facebook didn't give the results they wanted. They tried to experiment on content, frequency of posts, the volume of ads, time spent, and amount of investment.
With so many factors to consider, small businesses cannot figure them out on their own. You can take this opportunity to serve a local business in your area that needs help in running Facebook ads.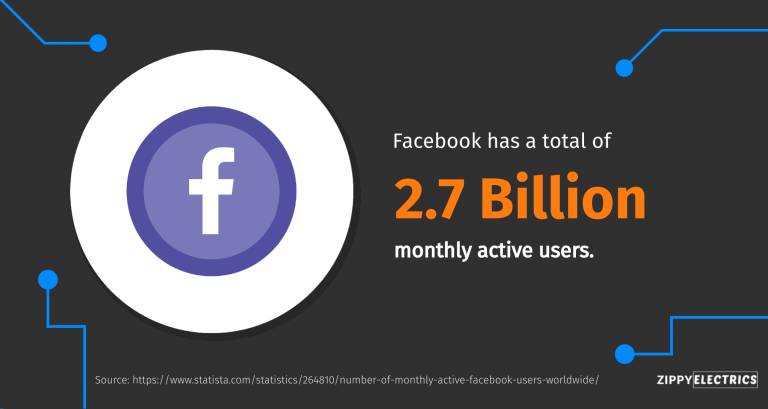 (Source: Zippyelectrics)
Here's the thing.
Make sure that the niche you chose can pay you back for your services.
Clients want results and the impact of your social media marketing strategies cannot be determined with analytics alone so tread carefully.
Social media is a powerful platform with a penetration rate of 45%. Most people spend many hours a day just checking their newsfeed for any relatable posts that they can like, share, save or comment on.
Likewise, social media posts tend to affect most of the buying decisions of users due to fear of missing out. Thus, social media becomes a desirable space to market your products and services, especially now that there are over 3.5 billion people who are hanging out on social media.
You just have to choose the right community or groups to join to achieve a positive response from your sales pitch.
In that case, how do you choose a profitable niche?
Most startups begin with local communities.
There's a lot of potential when you start your social media marketing with local businesses. Recent statistics revealed that 79% of Americans have social media accounts and that 93% of these people look for local businesses near them to purchase a product or service.
The top 5 industries most likely searched by Americans locally on the internet are restaurants, medical clinics, hotels, automotive repair centers, and clothing stores. Consumers would go for businesses with 4-star ratings and decide on their next purchase based on the reviews written.
Though some consumers use Google My Business when looking for local businesses, most of them highly depend on the listings of Better Business Bureau.
In other words, when you choose your niche, make sure that you choose a monied market and you pair it with the best platform for your services. Don't be afraid to start small and local.
2. Build Your Services
Once you have chosen your niche, it's time to build your services based on what your market is lacking. The big question is, what can you offer?
It is important to make a list of your social media goals and marketing strengths. Then, compare them with your client's social media needs.
Remember that your social media marketing agency must provide solutions to every problem that each business has. With that being said, these product solutions should be flexible so that you can customize them anytime.
Most importantly, you have to help your client understand the services you offer and how they would generate results for them. Make sure that you create a marketing plan that addresses their weaknesses and highlights their selling points.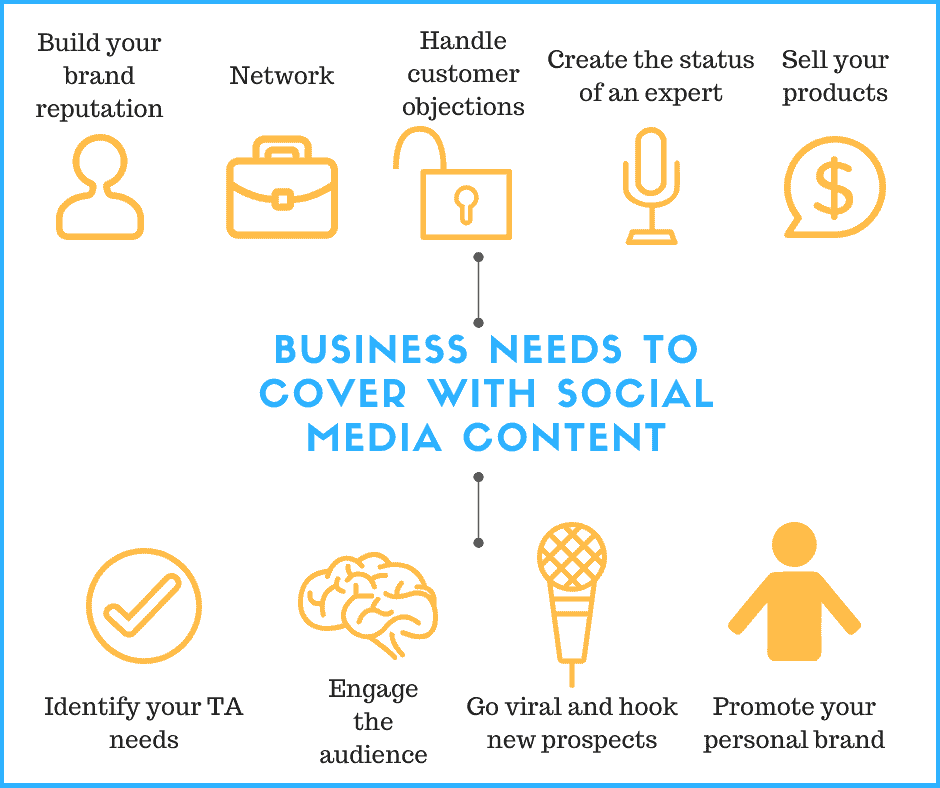 (Source: Bulkly)
For starters, you can adopt the SMART process in designing your services. SMART stands for:
Specific: Do you aim to increase the traffic of your client's landing page?
Measurable: What metrics can you use to determine the success of your campaigns based on the traffic driven?
Attainable: Is the campaign designed can increase your traffic in a month?
Relevant: Is your mission, vision, goals and core values are aligned with your client's and consumer's needs?
Time-based: Are your marketing goals achievable in three months from the date of implementation?
3. Establish your online presence
Remember, you are the expert in this business so the best way to market your agency is by exhausting the social media platforms that you want your future client to invest in.
It is a great way to showcase your knowledge about social media marketing while boosting your own brand in the social media community.
Don't forget to establish the most important platform of all, your own website.
A website is the face of the business. Without it, prospects can't help but wonder if you're a legitimate business and if you'll be a good asset or a liability to the company.
Likewise, most clients tend to look for websites for their inquiries about the services that you offer. That's why enabling a live chat on your website is one of the best ways to optimize your business and improve your customer service relationship.
4. Develop Niche Content
Content is king and it's Google's best friend. Your page rank and domain authority depends on the relevance of your content as perceived by the Googlebot that crawls on each page of your website.
To make it more convincing, you can use content promotion strategies that best work with your niche. One of the commonly used strategies but can guarantee results is applying the 80/20 principle, which means 20% of the time is spent on content creation and 80% of it is dedicated to content promotion.
Developing niche content, whether starting a blog or on your social media, is easy because you can use SEO tools that can help optimize your content. Some tools even offer content analysis, which allows you to foresee the best keyword to use and the recommended keyword density for you to rank your content in Google Search.
5. Build a Landing Page to Grow Your Email List
Never forget to keep in touch with your followers and prospects. The best way to do this is by creating a landing page that will attract readers and make them subscribe to you. When you create your landing page, make it clear that you are also reachable through different social media platforms.
Posting creative content on your social media accounts with links directing your clients to your landing page greatly helps not only in optimizing your social media presence but also in driving traffic.
6. Build a List of Targets and Connect with them
The ball for your social media marketing agency will keep rolling if you keep on building your list of targets. Keep in mind that these prospects are the fuel of your business to keep going. You can build your list by conducting surveys, user feedback, and digital forms, which enables you to understand your market better and come up with better products and services that you can pitch to your clients.
You can also do call tracking. It allows you to improve your marketing campaigns and design personalized solutions for your clients based on previous customer interactions. Also, it helps in gauging the mindset and perception of clients and customers.
7. Build your Portfolio
Create your portfolio that includes relevant case studies, client recommendations, and achievable business goals for your prospects. As a beginner in this industry, it is essential to have a simple and honest portfolio that you can expand as your business grows.
Lead generation and connections are your foundation. Lead generation enables you to continuously connect with prospects that might need your services. Connections expand with referrals and feedback by your present customers, so avoid burning bridges at all costs.
Make it a habit to track your growth and keep receipts on the progress of your interactions with clients and relevant networks.
Be proud to share your accomplishments on your social media platforms!
Ready to Start a Social Media Marketing Agency?
If you followed these seven steps, I am confident that you can run your social media marketing agency with ease and confidence. And if you have fears of getting started, don't.
However, I would like to share some reminders in case you are having a hard time setting your goals.
Choosing the perfect niche takes time unless you take a risk on the niche that is closest to your experience, interest or passion. If it doesn't compensate for your hard work, choose another market or strategize.
A social media marketing agency needs to be ubiquitous but clients prefer quality and credibility, so choose carefully your platform and build your network with appropriate tools and timing. Flaunt your victories to keep your leads coming.
Once your agency is up and running, take care of your audience as you nurture your client's market.