For a while now, we've been living in the age of digital Darwinism. An era where digital is having a greater impact than ever has left brands in a perpetual race to the top in a fiercely competitive product economy.
The race has not been easy, however, what with Amazon having captured half of the U.S. ecommerce market share, leaving lesser space for other players.
Does this mean, though, that you can't compete in the market if you are not a global giant? Not really.
Especially if you leverage conversational commerce.
Data suggests that customer experience is the key differentiator for brands over price and product and that as long as brands focus on it, they will be able to impact their conversion rates positively. What's more, a SuperOffice survey found shows that over 80% of customers would pay more for a better experience.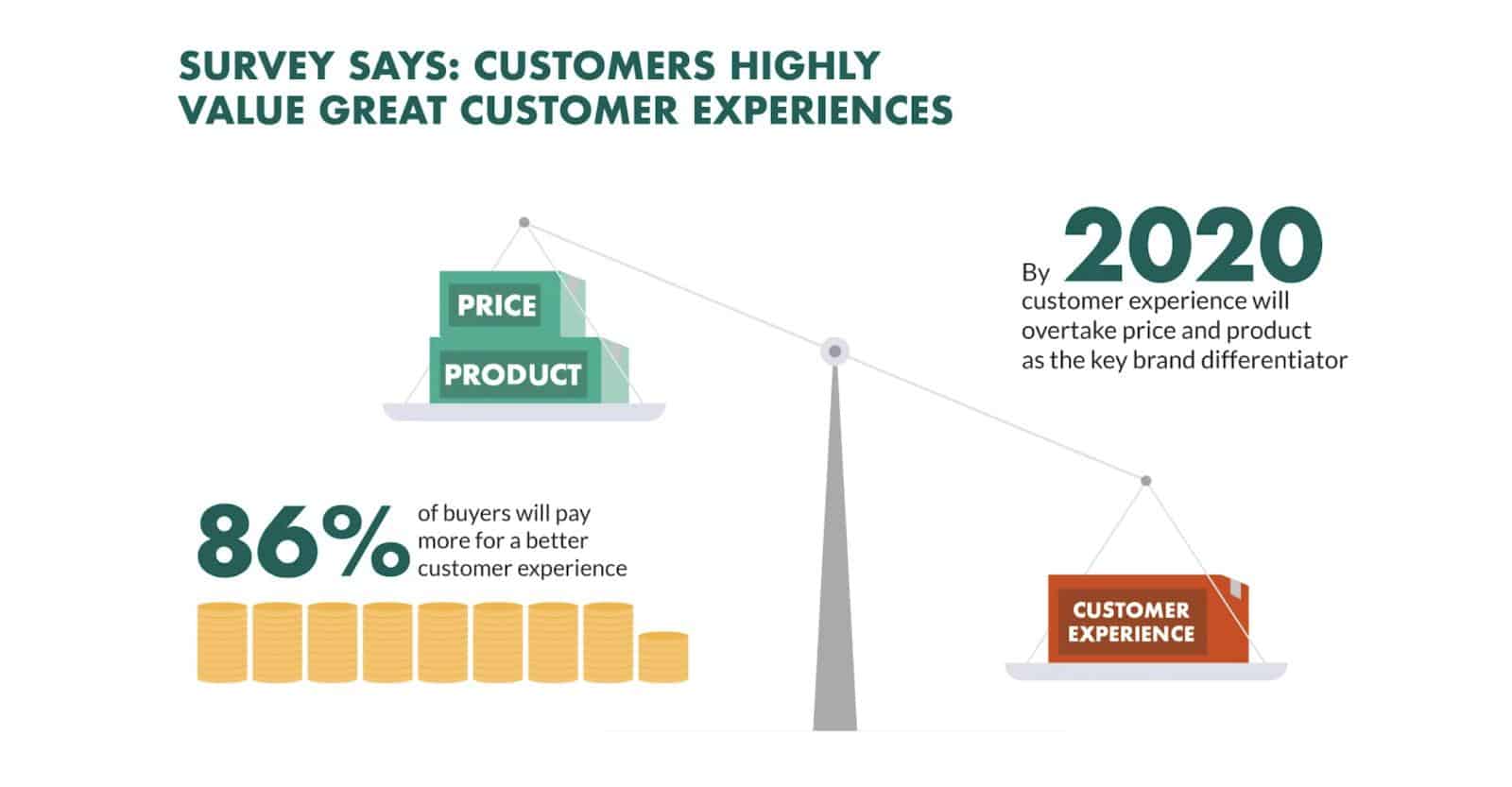 Fortunately, advancements in natural language programming (NLP) and artificial intelligence (AI) have made it possible to revolutionize customer experience by automating a brand's interactions with its customers.
The exploding popularity of machine learning (ML) and its concurrence with mobile messaging has led to the genesis of a new generation of tools called chatbots that allow brands to interact with customers at scale in unprecedented ways. Marketers and retailers are growingly carrying out trial runs with chatbot software, which are powered by a combination of ML and NLP to ease several business functions.
These bots have disrupted the conventional business model and are proving effective in improving employee productivity, reducing costs, and helping teams. These bots have transcended the communication barrier and are being used as personal assistants, support mediums, feedback tools, and more, thus giving rise to a new phenomenon in the enterprise workplace: conversational commerce.
Conversational commerce does two things well. It utilizes enterprise chatbots to help brands provide a stellar customer experience and nurture them at every touchpoint to move shoppers further along the funnel and towards a conversion.
A big part of why conversational commerce is so revolutionary is that it is easy to automate. This allows brands of all sizes to ease their sales processes by putting them on autopilot. According to a study, chatbots are the most popularly used tool for the automation of conversational commerce since they are inexpensive and easy to build, and offer round-the-clock support.
What Is Conversational Commerce?
The term 'conversational commerce' was coined in 2015 by the father of social media hashtags, Chris Messina. Describing the phenomenon as "utilizing chat, messaging or other natural language interfaces to interact with people, brands or services," Messina drew attention to the fact that services and products could be sold through messaging apps.
This radical shift toward utilizing messaging platforms as a medium to sell to customers was caused by the increasing number of its users. With around 2 billion monthly active users, WhatsApp is the foremost messaging app, with Facebook Messenger coming in behind at around 1.3 billion users.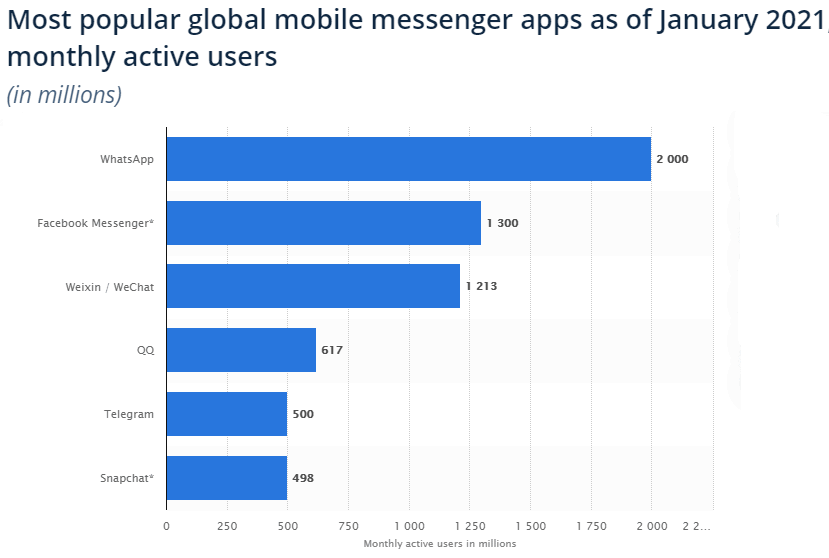 Whether the customer wants to contact us via Chat, Facebook, or WhatsApp, as a company, we need to be wherever our customer is, and that's what a conversational platform offers us.
Nikolai Berenbrock, Product Manager, E.ON
Since then, messaging apps have burst onto the commerce scene with aplomb. Though, this comes as no surprise from a business's perspective since it allows them to meet their audience where they are. With users having over 7 billion conversations every day on Facebook, more and more people are active on these apps than ever before. And businesses are cashing in on this trend to grow sales conversions inordinately.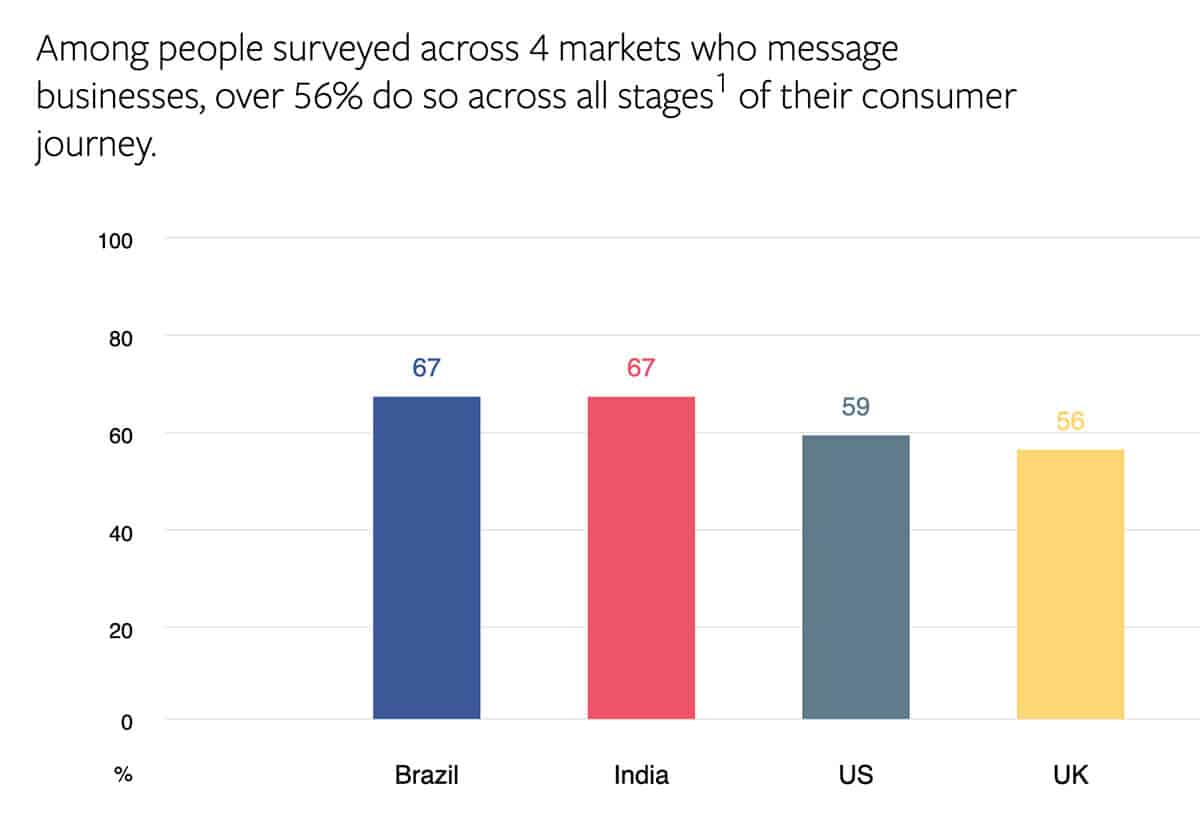 Another sign of why conversational experiences are so essential today is that a survey found more than 56% of messaging app users to message brands to solicit information at all stages of the buyer's journey. Realizing the pulse of the customer and that more and more people will keep expecting such interactions, online businesses are now interacting with their customers through Facebook Messenger, WhatsApp, Kik, and other messaging channels.
More than delivering a satisfactory customer experience, conversational commerce is allowing brands to impart value to each stage of the customer journey. What's more, it is becoming increasingly tangible on any platform that supports chat or voice bots, such as Google Home, Amazon Alexa, Facebook Messenger, WeChat, SMS, etc.
If this still hasn't helped you wrap your head around what conversational commerce is and why it so big a deal, don't worry. Here, we will take a look at a real-life scenario to envision and understand what conversational commerce is and the role it can play in customer support.
Scenario
Say you are looking for hair grips and come across an H&M offering while browsing for similar products online. You like the product and purchase it from H&M's online store. After a week or two since purchasing the hair grips, you receive an email from H&M encouraging you to share your experience and write a small review about your purchase.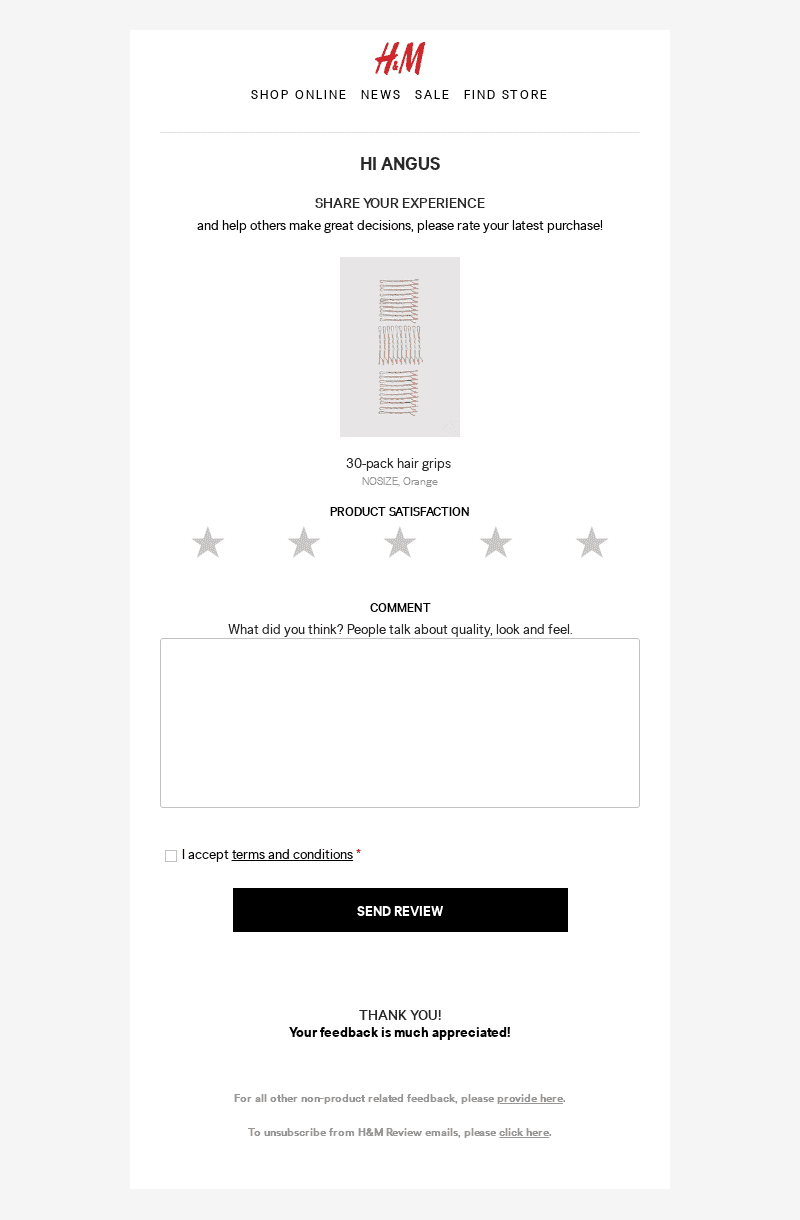 In order to leave a review, you will have to:
Open the email
Click the review link
Wait for the webpage to load
Rate the product(s)
Write down your comments
Fill in your name and information
Click the 'Send Review' call-to-action button
Contrarily, if H&M were to use conversational commerce, this experience would have been infinitely easier. Instead of sending you an email, H&M could simply message you on Facebook or WhatsApp and ask what you thought of your new purchase. Take, for example, the customer interaction below.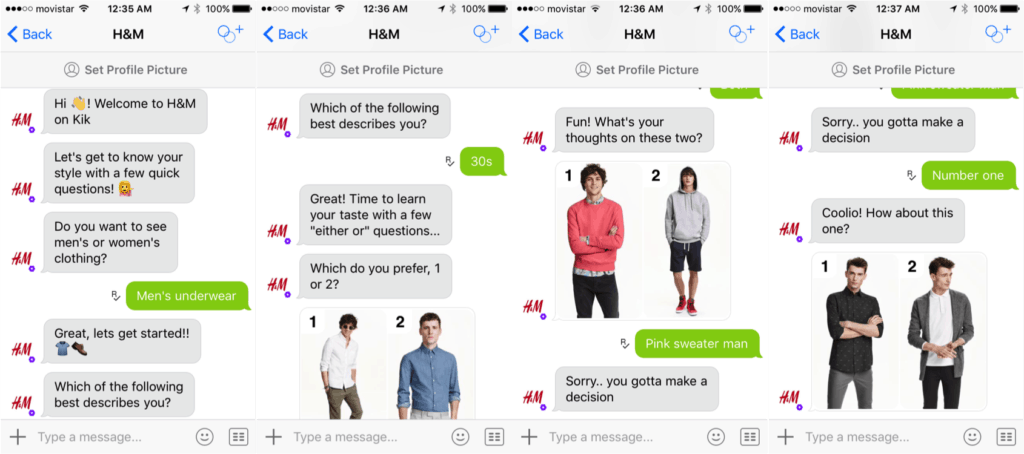 Here, H&M uses a platform that a huge number of its customers are already on: Kik. With the help of the bot, they not only compensate for the lack of a personal touch but also deliver a tailor-made customer experience. This goes beyond simply gaining personal help from a shopping assistant to the personalization of the content consumers get, too.
Here's another clincher. Brands utilizing conversational commerce as part of their marketing and sales strategy are saving 29% on customer service with the help of chatbots, according to McKinsey. Furthermore, BI Intelligence has forecasted that these bots will help brands realize a cumulative $23 billion in savings from yearly salaries. Additionally, businesses will also be able to automate 36% of sales positions, leading to an estimated $15 billion in annual savings.
How Conversational Commerce Is Transforming the Shopping Experience
The most complex chatbots are powered by AI, which helps them understand sophisticated requests, tailor replies, and enhance interactions. While the technology is still in its nascent stages, these bots are already altering conversational trends in a huge way. Where customers had to find you before to solicit support, bots make it possible for you to meet your customers where they are in order to sell things more effectively.
Forward-thinking brands like H&M and Sephora are already employing conversational commerce after realizing benefits such as:
Enhanced customer experience through bidirectional communication with the customer. Apart from that, it is also helping brands learn from their customers while building an emotional relationship with them.
Increased engagement and response rate. On average, conversational commerce led to an increase in a customer's willingness to purchase to 41.3% from 17.1% in just over a year.
Commerce stores adopting Facebook Messenger for conversational commerce, along with an abandoned cart chatbot, have seen a revenue boost in the order of 7-25%.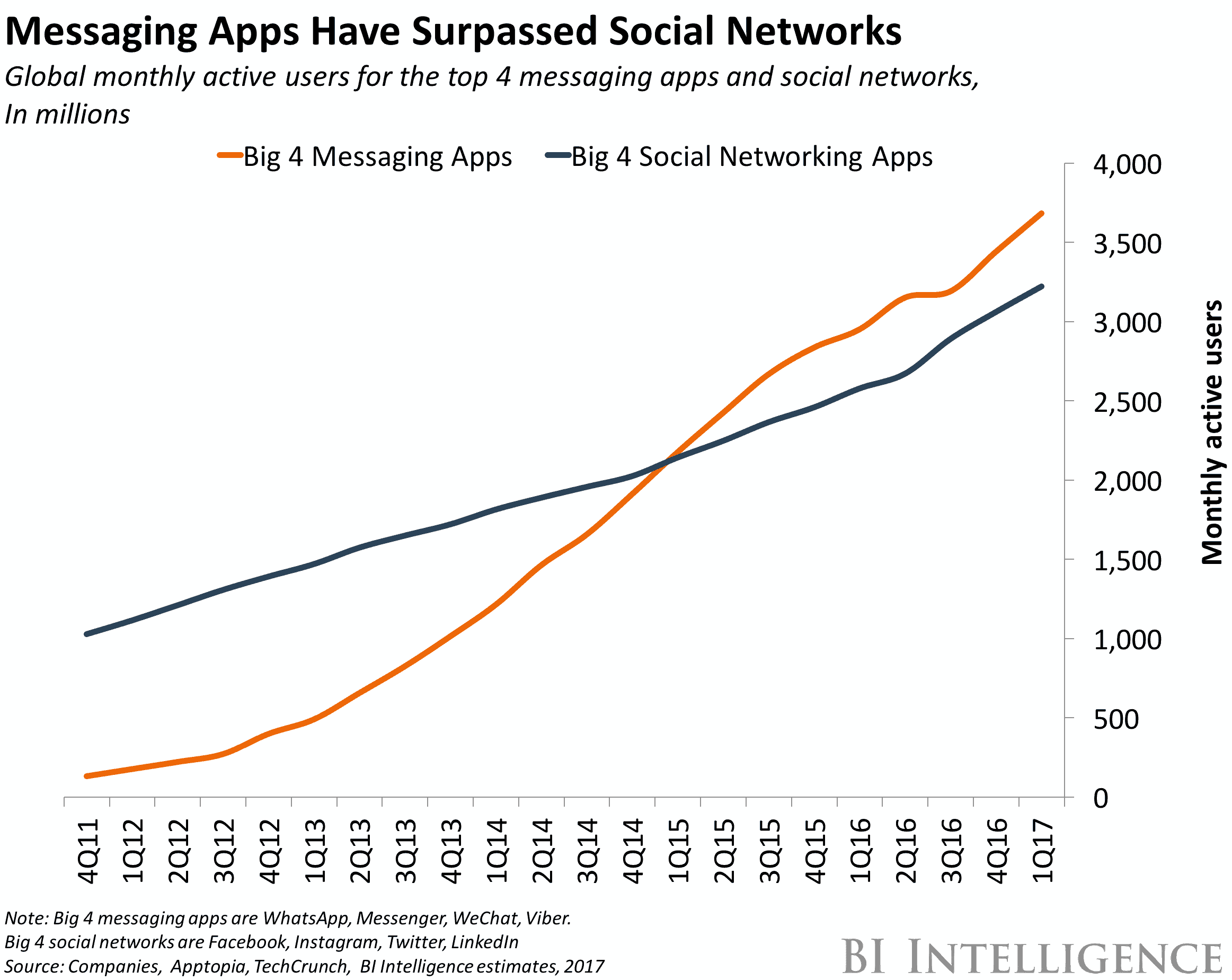 In a nutshell, chatbots have resolved the quandary of apps that irked customers in the first place. Today, you no longer have to download something you will rarely ever use. With most people sticking to five apps at the maximum, these spots are being taken over by messaging apps, so much so that the total number of users on them has risen to 5 billion monthly active users, resulting in people using them more than social networks for the first time ever. This only goes to show how bright conversational commerce's future is.
The increasing penetration of this technology, coupled with the rise of smart voice-enabled devices, has offered businesses a chance to communicate with consumers in a private environment. In fact, voice assistants have become so popular that around 4.2 billion digital voice assistants are already being used in devices around the world. This development has further accelerated the rise of conversational platforms as an interface that serves as the most natural way for people to engage with technology.
How Conversational Commerce Works
Conversational commerce offers online stores the ability to communicate with consumers at any point of the consumer lifecycle. When talking about how to apply conversational commerce to a business, you have to think about the components of the customer journey map that would gain the most from a focused conversational business experience.
The customer journey map is divided into five stages: awareness, consideration, decision, retention, and loyalty & advocacy. Let's see where you can meet your customers during each stage.
Stage #1: Awareness
Regarded as the most important stage, it is initiated when a customer is looking for a solution to their problem. When they browse for ways to solve it, they discover your product in the process.
However, you might be thinking that if customers are the ones that are going to do the finding, how will proactive conversation come into play? The answer is by implementing the Facebook Messenger Checkbox.

Source: Shopify
Implementing the Facebook Messenger Checkbox helps stores detect customers' Facebook profiles, after which they can place the checkbox next to 'Add to cart' buttons on product or checkout pages. This enables customers to give the store permission to send them messages on Facebook and trigger conversational experiences with them.
Stage #2: Consideration
At this stage, shoppers have undertaken preparatory research; however, their quest for information hasn't ended as of yet. Here, you can target customers through conversational experiences to provide them with recommendations of your offerings.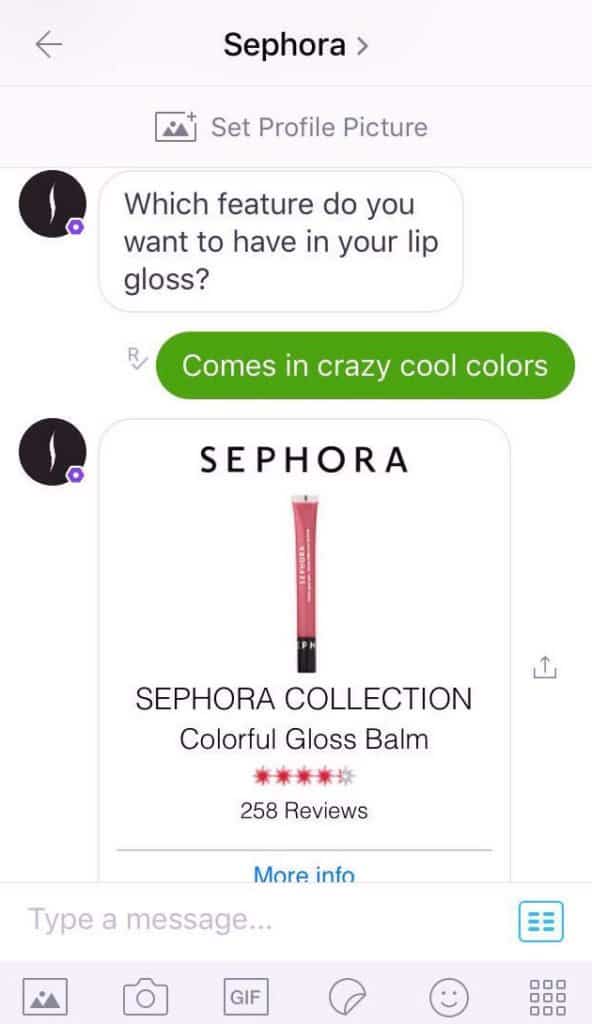 With the help of conversational commerce, this becomes very easy. Rather than sending suggestions based on trends, stores can ask customers for their preferences and give extremely precise recommendations in return, just like this Sephora bot.
Stage #3: Decision
This is the stage where the customer has made up their mind to purchase. However, you can't kick back just yet and need to maintain the conversation to strengthen the customer's stance.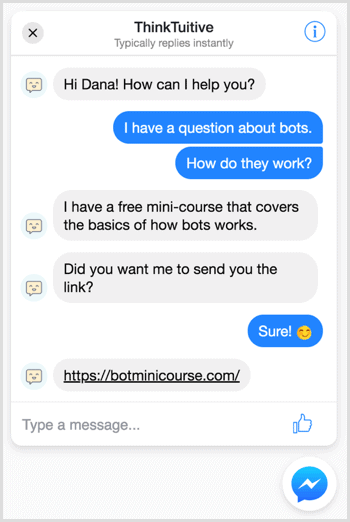 In order to do this, offer constant support and solve issues instantaneously when they appear. Implementing an automated live chat along with a chatbot can allow you to service customer queries whenever they appear, helping the customer along their journey and on to the next stage.
Stage #4: Retention
When this stage arrives, it means that you've offered everything that customers have needed thus far. Be that as it may, you can still kick the customer experience up a few notches by sending timely messages to customers in order to build a good relationship with them.
When a customer has finished purchasing something from your store, you can send them a personal note through the chatbot thanking them for their business. Doing this over chatbots allows the interaction to be more personalized and can lead to an increase in brand loyalty by 28% among millennials.
Stage #5: Loyalty & advocacy
The last stage of the customer journey is when the customer becomes your brand's advocate. In order to prompt them to endorse your offerings, you can ask them for product recommendations and reviews over a conversational platform.
Implement Conversational Commerce Today
Even as the pandemic has accelerated the shift toward ecommerce, people still miss the conventional brick-and-mortar experience, and retailers are being forced to evolve in order to keep up. According to McKinsey, customers are continually migrating to online shopping across different categories.
Conversational commerce is the next big thing in the world of online shopping. In the coming days, it is going to transcend beyond simply providing customer care and will revolutionize how brands conduct business. In this light, having a conversational strategy to account for missing interactions has become crucial for brands that don't want to be left behind in the age of the consumer.