Nowadays, businesses have to have a strong online presence to survive. Social media has become a powerful and speedy way to share information, which can help you boost your search engine rankings, mainly social media profiles filled with engaging content that can help you reap numerous advantages.
You've probably considered Facebook for business at some point, whether you like social media or not. It is essential to understand what benefits you will receive, so you know what you can expect.
Indeed, there are a plethora of social media sites such as Twitter, Instagram, LinkedIn but businesses can reach a larger number of potential customers through Facebook than with any other social network. Facebook has an enormous user base of more than 1.23 billion across the globe. Advertisers who desire to reach this audience now have more options than ever before as Facebook keeps presenting new algorithms and techniques that help marketers engage with more audiences.
As the most popular social media platform in the world, Facebook for business is an effective tool for marketing. However, it is not always best to follow the crowd. Should you spend your time on Facebook? What advantages does it offer to every business?
We've decided to discuss a case study of a popular Spanish delivery app, Glovo. At the end of this post, you will understand how Facebook helped Glovo to capture user attention, but before that, it's worthy of paying attention to some statistics and an overview of Facebook ads.
Facebook For Your Business Nuts and Bolts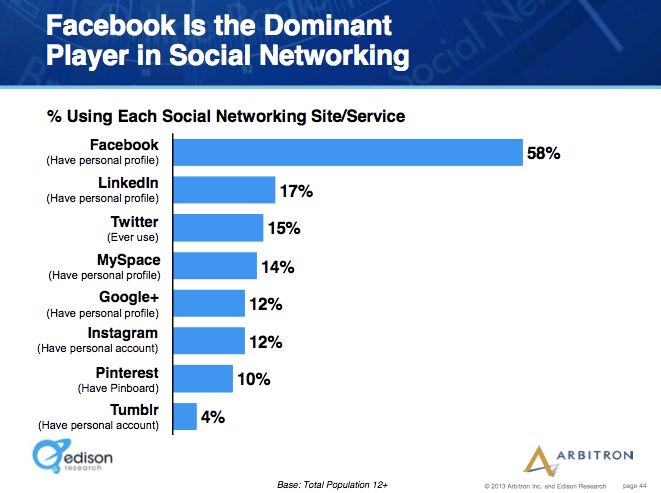 Source: Google Sites
Industrial revolution 4.0 has left no stone untouched when it comes to business transformation. From designing apps and websites to social media presence to digital payments, there are many changes that are impacting business operations these days. Many social media platforms exist, but Facebook and Instagram have taken the world by storm as more and more enterprises capitalize on it to get the best results.
A ten-year look back shows how dramatically business advertising has changed. There was still a great deal of power in print, billboards, radio, and television ads back then. A business's marketing plan today has a lot of different variables than it does in 2021. Online advertising is dominated by two key players, Google and Facebook, who have completely different ways to engage and entice new customers.
Moreover, compared to brick-and-mortar stores, the usage of Facebook among eCommerce and delivery businesses keeps increasing as it allows entrepreneurs to attract new customers daily.
Facebook is the world's most popular social media network with 2.7 billion active users and allows businesses to post relevant content that eventually grows their business and customer base in the long run.
Your customers can use the platform to receive regular updates about your business, which they can share and react to directly. As a result, you can expand your reach, boost your traffic, and grow your customer base. Additionally, Facebook is completely free to use. Set up is straightforward and easy, so your business won't have to spend a dime.
You might have seen how online food delivery services post content related to discounts, festive offers, and updates on their wall to grab more users' attention. Businesses have also increased sales and revenue with the help of Facebook marketing campaigns.
Reaching out to your target demographic is very easy with Facebook for Business. Using Facebook ads, posts, and other digital marketing strategies, you can reach your customers once your Facebook page is set up. Also with the use of the best digital marketing companies to get more customers. This will help you increase visibility for your product across the platform and increase engagement with your brand.
Moreover, people these days get information about new products and services on social media; this will help you increase visibility for your product across the platform and increase engagement with your brand.
Here you can consider how different food and grocery delivery businesses advertise about the contactless delivery approach they have opted to ensure safe delivery. It will keep your users aware of your business and offers some additional benefits including,
Increase business leads
Boost brand awareness
Increase website traffic and app downloads
Establish direct connections with customers
Low-cost marketing technique
Regardless of business size and type, Facebook offers some additional perks and immensely increases your business's success chances.
Check Out Jaw-dropping Statistics That Make Facebook Ads Worth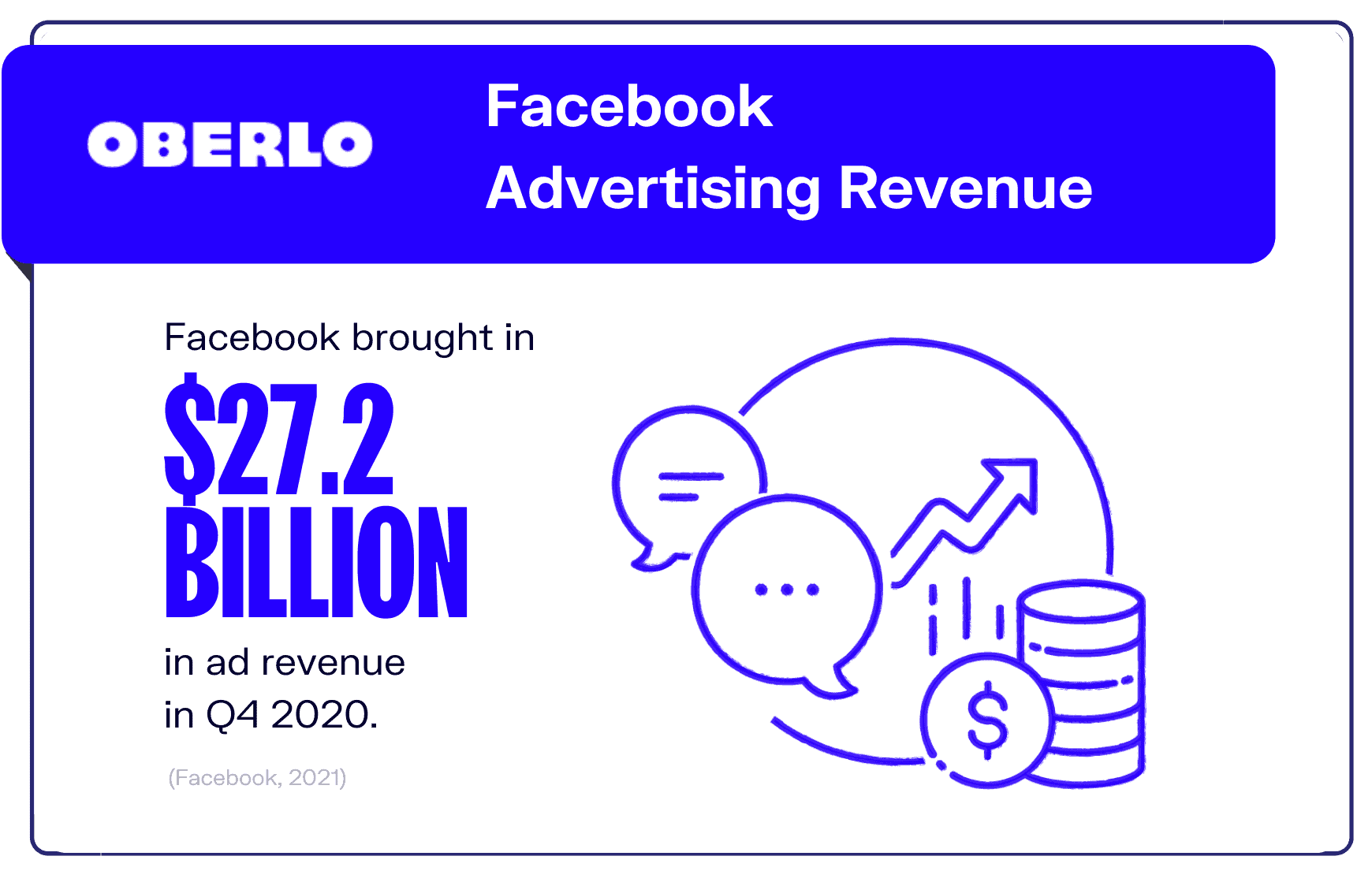 Source: Oberlo
Facebook keeps changing its algorithms, and staying updated all the time seems difficult to marketers. Knowing Facebook's statistics is especially important if you're planning a marketing strategy or trying to convince your boss to switch to a new platform.
Would you still be willing to invest your time and money into Facebook ads in 2021? We all know that young people have moved to platforms like Instagram and TikTok, where storytelling and direct messaging have become the norm. But in the 25-54 age group, Facebook dominates, with a vast majority of users spending up to 50 minutes a day there, a shocking number, isn't it?
The following statistics about Facebook ads in 2021 will help you better understand how effective Facebook advertising can be for your delivery business.
Facebook stands first when we talk about the most prominent social media networks as it consists of more than 2.23 billion monthly active users.
The revenue from Facebook Ads kept increasing in the previous year despite the uncertainties brought by the pandemic.
More than 26% of internet users' purchase decisions get influenced by Facebook ads.
The mobile advertising revenue of Facebook accounted for 94% of its advertising revenue in the year 2019. Based on these statistics, any Facebook advertising strategy should include more mobile ads in their ad sets and campaigns.
In short, Facebook is the most popular marketing technique any business can make, and it is also cost-effective than other sources of online advertising. Now, without any ado, let's look at how leveraging Facebook ads helped the Spanish delivery app, Glovo reach significant audiences.
Glovo Facebook Ads: How They Use Them to Drive Sales
There is no doubt that Glovo is a well-known, on-demand delivery platform across Spain and Eastern European countries. Glovo is the biggest brand that transformed the way consumers order products online when it comes to easy-to-use delivery services. In fact, its immense success has triggered many entrepreneurs to invest in app similar to Glovo to uplift their conventional delivery businesses.
Moreover, novice delivery entrepreneurs can learn a lot about Facebook ads campaigns by looking at brands such as Glovo.
Overview of Glovo's Success Story
Introduced in Barcelona, Spain, in 2015, Glovo is the leading on-demand delivery app that picks up products from stores and restaurants and delivers the same to customers with real-time tracking abilities.
Initially, Glovo delivered food from restaurants but later expanded its service and now allows people to order groceries, medicines, and even enable them to send important documents from one place to another through its courier services. As a result, Glovo now operates in more than 650 cities across 22 countries globally.
How Facebook Ads Helped the Company to Increase Sales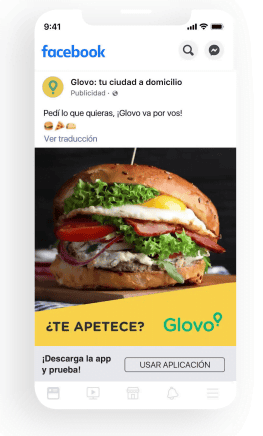 Source: makemerearch
The company has realized the power of smartphones and how their usage has increased in people's daily lives. Consequently, Glovo has leveraged Facebook mobile ads to drive sales and app installs.
Facebook ads are just part of Glovo's overall social media marketing strategy, and the company aimed to drive sales and app installs simultaneously. There are several other ways that Glovo uses Facebook to increase sales and stay connected with its followers.
Check out this amazing video to learn a bit more about their mobile-optimized Facebook ad campaign.
The ads of Glovo were targeted at app installs and linked directly to the Apple App Store, Google Play, and Kindle Fire stores. In addition to local couriers and restaurants, the advertisements featured colorful photos and videos. These videos were optimized for mobile devices and followed Facebook's best practices, and Glovo's advertisements emphasized its quick and easy ordering process.
While the message remains the same in these videos, the food changes demonstrate the range of options Glovo customers can choose from; through the Paragon platform, Glovo has also used videos and Facebook Carousel ads to promote other products that can be delivered, like makeup and flowers.
Facebook ads for Glovo's mobile app were a significant driver of interest, and the campaign demonstrated that Facebook ads provide incremental value and achieved
73% boost in app installs
6% increase in order volume
Hike in sales
5X return on ads spend
If these Glovo ads grabbed users' attention, and you are wondering how you can do the same for your delivery business, check out recent updates and terms regarding the usage of Facebook ads.
Key Takeaways
The way businesses promote themselves has been entirely changed by Facebook. This social media platform provides all the tools necessary to reach out to potential clients or customers.
All of this boils down to the fact that Facebook business pages offer numerous benefits, especially if you're in the online delivery business. Using Facebook to engage with new and existing customers isn't the only benefit. As a marketing tool, it's also quite versatile. You can tailor your approach to the unique characteristics of your ideal audience, as well as the goals you wish to achieve with your business and the budget you have.