When business owners step into a digital world, they might be surprised by how many digital marketing strategies are there. Each strategy seems promising. And businesses start hiring marketers hoping that they will skyrocket their business online shortly.
Unfortunately, not every strategy might fit your business. Besides, if a marketing department banks on wrong marketing strategies, you will lose your money for sure.
It would be fair to ask – what marketing strategies would work for one hundred percent?
In this guide, you will get familiar with seven digital marketing strategies that are worth your attention.
Let's cut to the chase.
SEO Blogging
Have you ever thought about the difference between blogging and keeping a diary?
In both cases, you will have to write. And write a lot.
Writing is something that is in demand in many industries. However, not everyone can write well. There are solutions to this issue, of course. For example, students and academics can outsource their writing to SupremeDissertations or other academic writing services, while businessmen usually hire professional content creators with SEO knowledge to create articles for them. Therefore, writing blog posts is not the same as writing for personal needs.
But when you keep a diary, you write about whatever you like and it doesn't necessarily provide benefits to your readers. While blogging is all about covering the problems that your target audience has.
Therefore, you need to know what your potential customers search on the web.
Let's say, you are an owner of a company that offers tools for making content visually appealing. Your toolkit embraces various aspects of content design – from creating infographics, charts, ebooks to making proposals and employee handbook design.
As a result, your target audience will explore the information around your tools on Google. And here are the examples of what people are going to find using a search engine:
What's more important, if you analyze these search queries with the Keywords Explorer tool from Ahrefs, you will see that there are lots of searchers every month.

By using these statistical findings you can help people find answers to the questions they have suggesting your tools as the solution that can help solve their issues.
It would be fair to ask – how to figure out more questionable queries your target audience is searching for?
You can do this using Keywords Explorer again. The only thing you will have to do is to take your seed keywords (make an infographic, data visualization, etc.) and click on the "Matching terms" report reviewing the "Questions" tab.

As you can see, there are around 1.5K keyword ideas. Pay attention to SEO metrics, like Keyword Difficulty and Search Volume to pick the most promising opportunities for content creation.
Social Media Marketing
Social media marketing is not about posting every single content and product update across all social channels you have. SMM works when you focus on a single social channel that fits your business the best.
Many companies utilize social media channels for marketing. For example, TrustMyPaper, an
essay writing service, actively uses Twitter and Facebook to provide their readers with helpful
information. Most other businesses across the spectrum do so as well.
A good question is how to figure out a social network that would work for you?
And the answer is pretty simple – find out where your target audience hangs out and why this social platform attracts people the most.
For instance, digital marketing experts prefer to be present on LinkedIn, Twitter, and Facebook. They have lots of followers, subscribers, retweets, shares, etc.
One of the most prominent digital marketers Rand Fishkin has 446K+ followers on Twitter.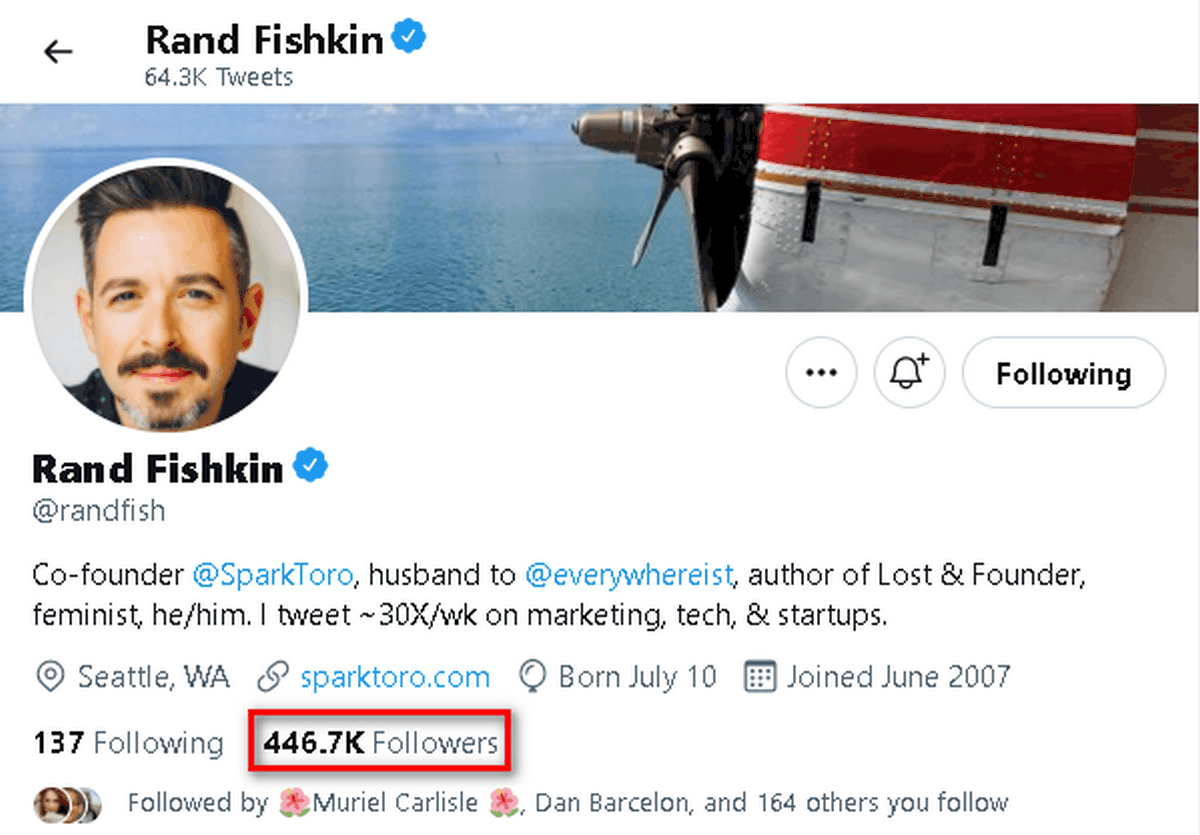 However, if you review his profile on Instagram, you will see 9K+ followers only.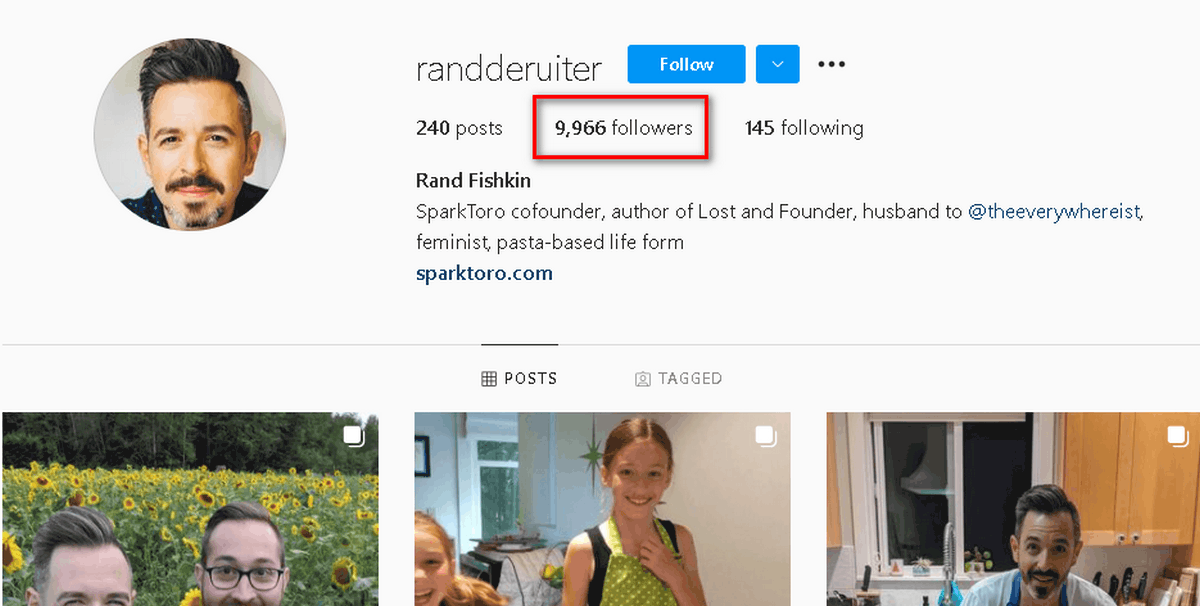 Why?
Because in the digital marketing field Twitter is one of the most usable social media platforms. While Instagram is less valuable for digital marketers.
Nevertheless, it depends on the type of product or service you sell.
Use YouTube for Your Video Marketing Activities
People use Google to find answers to their questions most of the time. However, practice shows that YouTube can be considered as the second biggest search engine right after Google.
What does it mean?
It means you can launch a YouTube channel and produce video content that would promote any kind of product or service related to your business.
For example, assume that your business is all about culinary art. You have created a website that covers every aspect of cooking. You know that lots of people are curious about the spices used for cooking chicken.
Let's see how many searches a query "spices for chicken" gets per month. For this, you can use a tool called Keywords Explorer from Ahrefs.

There are over 2.5K people who are interested in getting information about the spices for chicken all around the world. It leads to the conclusion that this topic is worth being covered in the video format.
A YouTube channel hosted by Bobby Parish has 1.6M subscribers. His channel is devoted to culinary art, where he promotes culinary books and other stuff. Eventually, Bobby Parish recorded a video that suggests 10 spices for chicken & steak.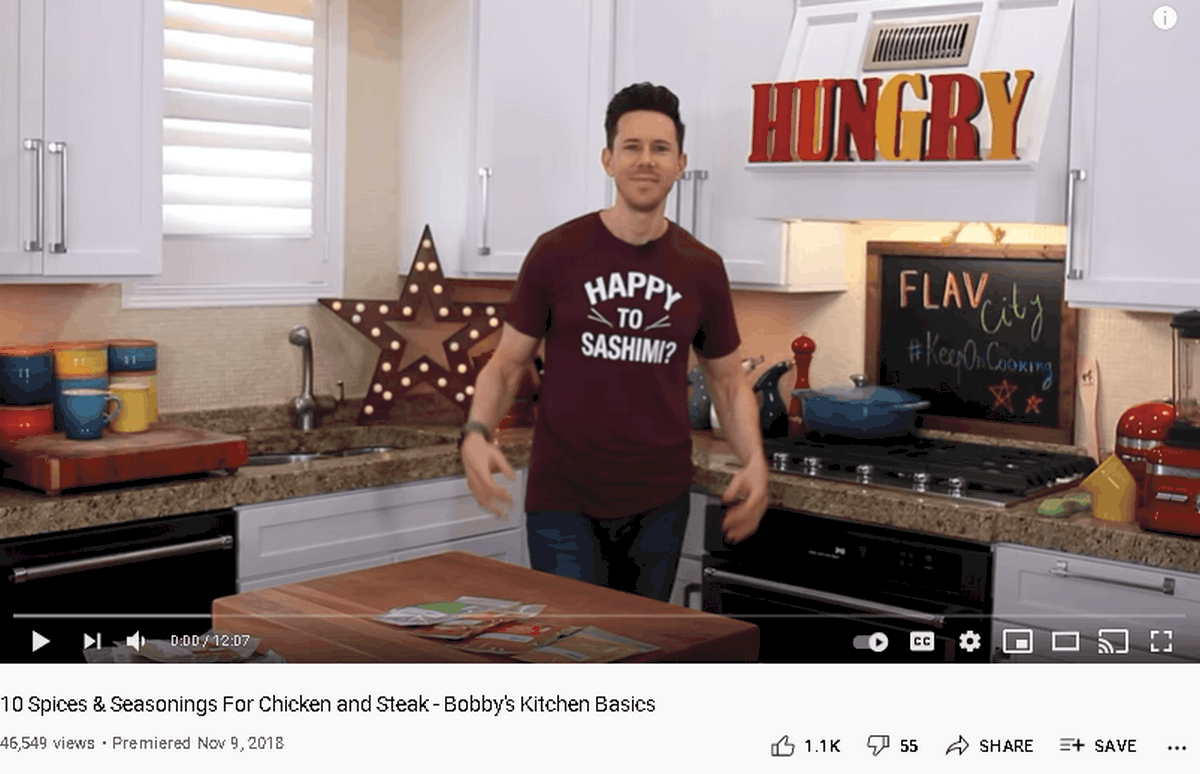 This video has 46K+ views and there are some gear recommendations for the kitchen to purchase.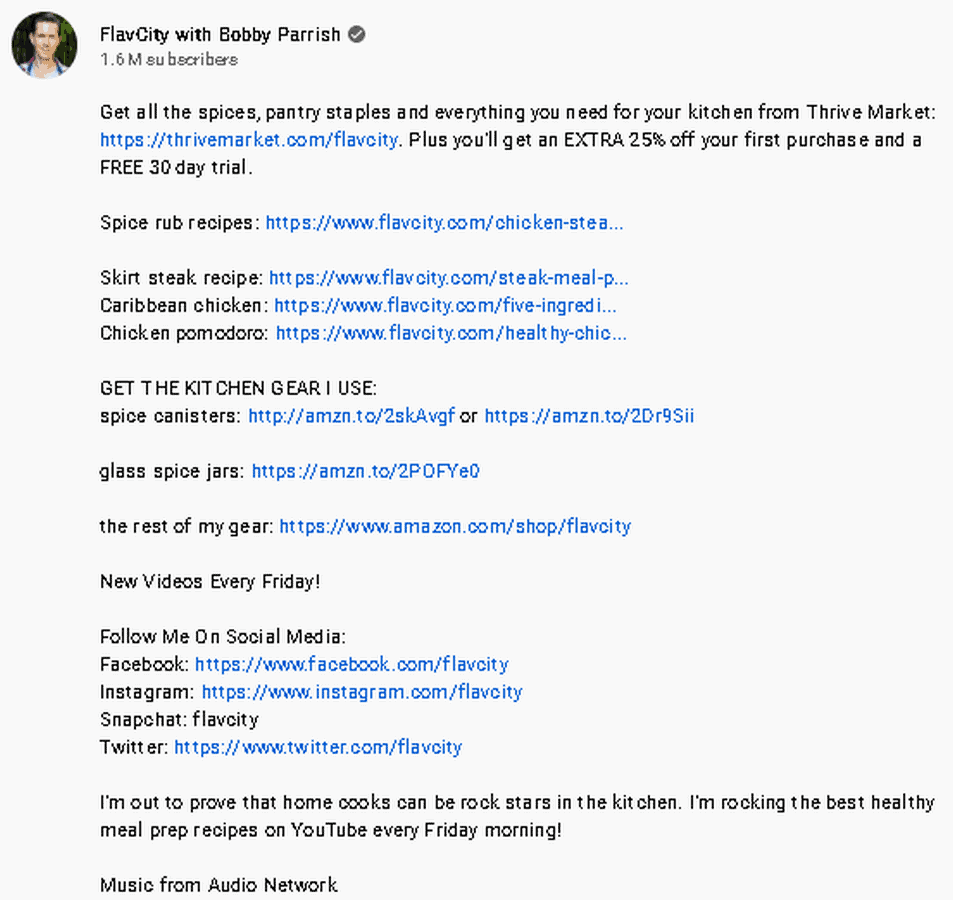 In other words, you should use the YouTube video platform for your business needs.
Email Marketing Also Works Well
Email marketing starts working if you have built a solid email list. Thus, the biggest challenge at this very stage is to your email list. Sending cold emails will not guarantee you success and tons of clients, so it's better to send personalized emails to the target audience to get more leads and sales.
How to do this?
First and foremost, you must drive traffic to your website. And the best way to generate traffic is with the help of blogging SEO (that is described in #1 chapter of the post).
The next question is how to convince people to sign up to your newsletter?
There are tons of tips on how you can do this. It could be a lead magnet technique (offering a free marketing course, as an example), content update, etc.
Don't forget that collecting email subscribers is an ongoing process. You can't stop doing this by reaching out to some fixed number. Besides, if you have a handful of subscribers, you must send them valuable content only. It will help you keep people engaged with what you do.
Hosting a Podcast
Due to the modern-day COVID-19 pandemic businesses tend to do podcasting more frequently than before. And you can promote your business in this way as well.
There are two possible directions for this:
Launch your own podcast
Be a guest on some third-party podcast
The first scenario requires lots of time and a solid budget. You will need to buy podcast equipment, build your target audience, and promote the podcast on social media. While being a guest on a podcast is another pair of shoes.
If you are an experienced professional within the niche, you can be a welcome podcast guest easily.
However, the only stumbling block that you will need to overcome is to find podcasts related to your niche.
How to do this?
Go to Google and use the following search command – "[your niche] podcasts":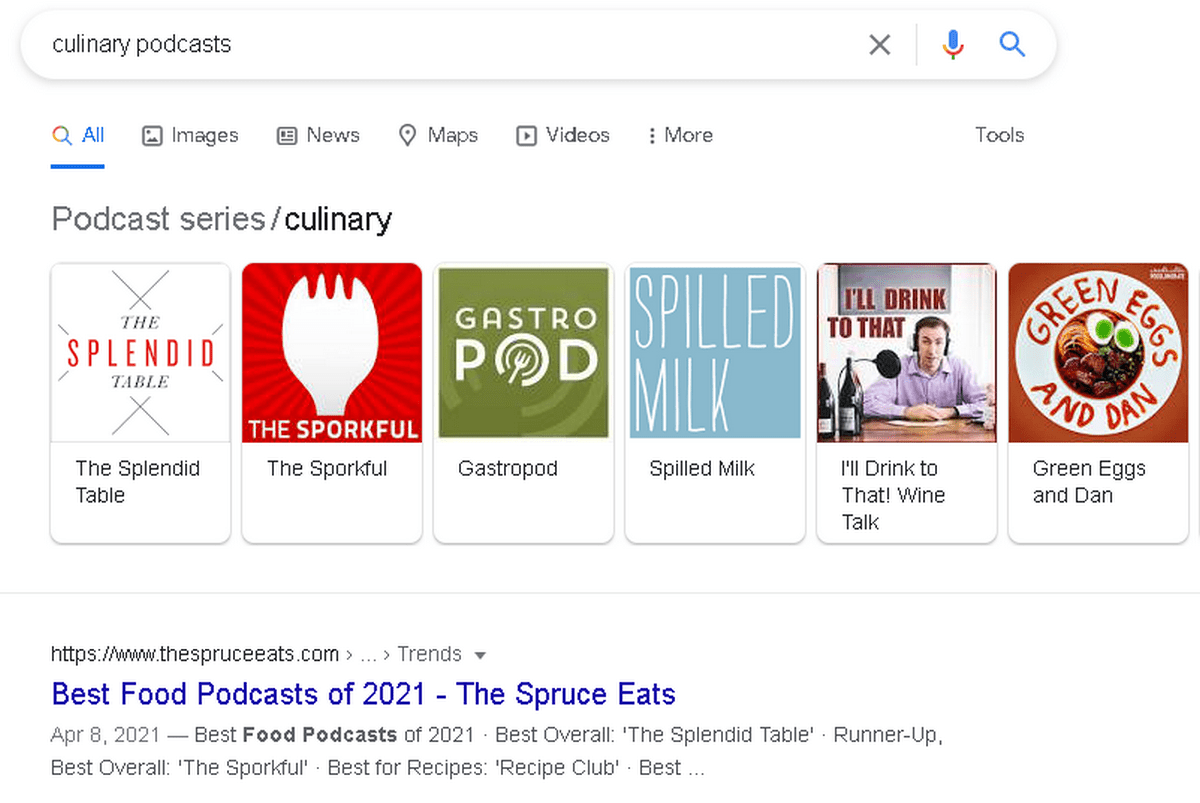 Run through the list of suggestions and pitch the hosts explaining to them why you are a good candidate to be a guest of their podcasts.
Use Paid Advertising
When small businesses hear about paid ads, they don't want to consider this option as a part of their overall marketing strategy.
Why?
Because it costs money.
Unfortunately, nothing is for free in our world. Especially, when it comes to your business time. Hence, if you want to speed up the promotion of your product or service, you will have to pay money for the ads.
If you decide to invest your money into paid advertising, you should know that it doesn't guarantee that it will help you for a hundred percent. Consequently, you must run paid ads discreetly.
First things first, figure out the right social platform where your target audience hangs out. Secondly, target those keywords that have the lowest CPC (cost per click) number. And lastly – draw your attention to the intent of the platform you're going to use for the ads and the way you monetize your product.
For example, you want to run your ad on Pinterest and sell sports equipment. It doesn't make any sense to redirect your potential customers to product pages.
People use Pinterest to get some inspiration but not buy. Instead, redirect people to one of your blog posts that covers anything engaging about sports equipment.
It works. You'll see.
Explore Niche-Related Forums and Communities
Time shows that more and more businesses try their best in terms of product promotion spreading the word across niche-related forums or communities.
And this marketing strategy pays off.
Right before diving into concurring forums and communities, you should keep in mind two simple rules:
Don't promote your product right off the bat (people spend their time on forums exploring useful information, they aren't eager to buy)
Share your content when it is appropriate (getting links from forums makes no sense in terms of SEO. They are "no-follow")
Basically, your main goal is to help people by sharing your expertise. Write in-depth and comprehensive answers to the questions. And if you feel that there should be a link to your piece of content that would reveal the answer more deeply, go ahead and insert it.
Improve Conversion Rate Optimization
You realize that the main goal of all marketing activities is to increase the number of conversions. In other words, you should increase conversion rate optimization.
But is conversion rate optimization (CRO) a full-scale digital marketing strategy?
CRO combines two significant marketing tactics involved – UX/UI and copywriting. To put it simply, you write a message that aims to persuade your target audience of the necessity of applying your product or service. While a well-crafted UX and UI help potential customers to convert efficiently.
CRO consists of five stages. Let's review them:
Work on creating a conversion-focused web design
The better designed your site, the more chances people will convert. Therefore, make sure your website has the following attributes:
Up-to-date design
Reviews
Testimonials
Contact information
Social channels
Logos of the companies that trust your brand
Optimize headline
It is critically important to optimize your headline. It doesn't matter what is the purpose of this – whether you optimize for organic search, paid ads, whatever. The main reason why you should do this is that an optimized headline helps ROI activities drastically.
Implement call-to-actions
CTA is the best option if you want to tell your potential customers what to do on your website.
Add social proof on the site
When people can observe how other people are satisfied with your brand, there are likely more chances that they will convert into paid customers. Thus, add social proof on the site. It can be the number of followers across your social channels, testimonials, logos of the trusted companies who do business with your brand.)
Run A/B testing for UX/UI elements
Split testing helps you with identifying the best design solutions for your site. For example, if you want to find the answer to the question "What background colors of the site to choose?", A/B testing is exactly what you need on this occasion.
Summing Up Digital Marketing Strategies
How to understand that your digital marketing works?
It is when you will be able to predict your consumer's next step down the marketing funnel. When you are aware of what issues your potential customers have and you know how to solve them.
These seven digital marketing strategies can help you skyrocket your business. It doesn't necessarily mean that you should use all of them simultaneously.
Decide for yourself which one would fit your business the best and move ahead. Afterwards, start to apply the other strategies as well.
If you feel like more digital strategies should be on this list, don't hesitate to share them in the comments.