Instagram marketing strategies play a key role in the success stories of so many businesses.
With more than 1.2 billion active users, it's the world's fifth-largest social network:

But Instagram's strength as a marketing platform is about much more than its sheer size. It's also about how its audience behaves. Consider these three Instagram statistics:
90% of Instagram users follow at least one business account
Two-thirds of people say Instagram allows them to interact with brands
Half of users are more interested in a brand when they see its ads on Instagram
In other words, Instagram isn't just for sharing pretty pictures. Get your Instagram marketing strategies right and you can leverage the platform to make money online, because there's an engaged audience out there that's happy to view and interact with branded content.
Of course, just like any marketing tactic or tool, there are no guarantees with Instagram. You can't expect to post a few images, sit back, and wait for the money to come pouring in. Follow these seven tips to increase your sales on Instagram.
1. Play to Instagram's Strengths
I've already told you Instagram has over a billion active users. To target them effectively and drive sales, you need to dig deeper into that overarching figure to understand who those users are.
As you can see, the platform's user base skews heavily toward the Millennial and Generation Z demographics: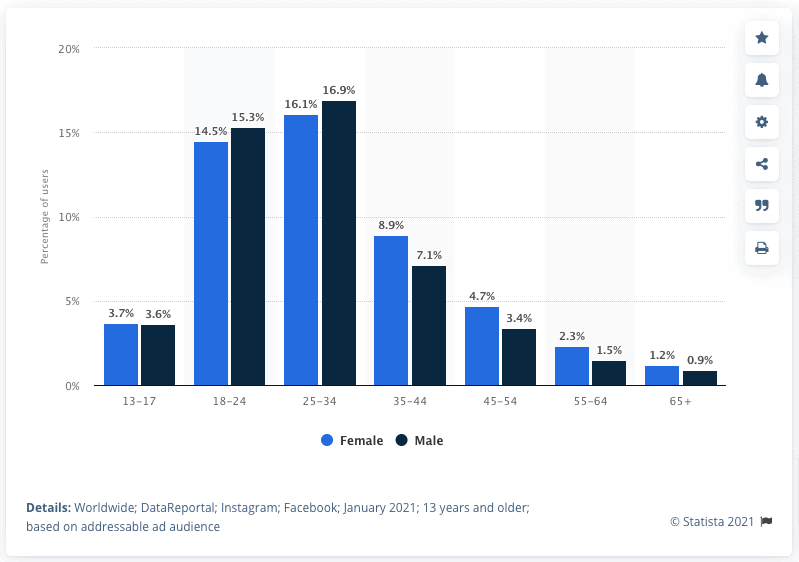 That information provides a helpful hint to inform your Instagram marketing strategies.
Now, research tells us that Gen Z consumers don't like ads. In fact, 82% will actively skip them as fast as they can, if possible.
In a similar vein, we know Millennials aren't huge fans of ads either – but they do like user-generated content. Compared to other types of content, Millennials say UGC is:
50% more trusted
35% more memorable
20% more influential in informing purchase decisions
In short, this tells us that traditional ads aren't the route to driving sales on Instagram.
Instead, you need to focus your Instagram marketing strategies on creating authentic imagery and messaging that naturally fits with the platform.
That's exactly what Apple has been doing for years with its #ShotoniPhone campaign, which is all about showcasing spectacular imagery captured on – you guessed it – iPhone cameras.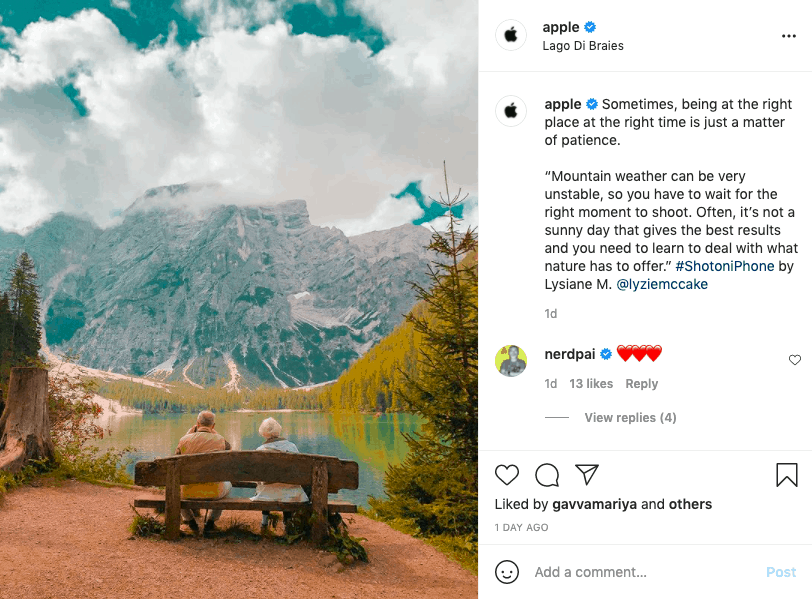 This simple-but-effective approach allows Apple to demonstrate the quality of its products without being overly salesy, while also helping it build closer relationships with its audience. It's a double win.
You could also consider taking it a step further and create engaging videos for your audience. There are tons of ways you can create content that is not annoying to your users but rather engaging:
Allow people to get to know your team– People trust faces not services. Let your audience (and potential customers) get to know who they could be dealing with by giving your employees a little shoutout online. This could be something as simple as a kind word or a pat on the back for good work- this will also work wonders for your peer-to-peer recognition efforts.
Encourage UGC: User-generated content means content that is created by your users for your users (like the shotoniphone campaign). It works wonders because it is incredibly relatable and helps create a community around your brand.
Give them a quick peep: A lot of customers are curious as to how their products are made and where they come from. Give your customers a little virtual tour of the factory or your office to show them the hard work that goes into the final product.
2. Partner With (the Right) Influencers
Instagram has always been one of the most powerful influencer marketing platforms.
Now, as you've likely gathered, if you're going to make money running an influencer program, you need to team up with the right creators.
Wondering how to hire influencers?
First off, it's important to consider the size of accounts you're working with.
When it comes to followings, bigger isn't always better. While huge names like Kylie Jenner and Ariana Grande have hundreds of millions of followers, that's not necessarily a good thing.
Your goal with influencer marketing isn't to reach as many people as possible – it's to reach people who actually want to buy your product. That's why it makes sense to work with micro influencers who closely align with your brand and values. Their followings, although smaller, can bring in far more valuable referrals.
To give a clumsy analogy, working with massive influencers is like standing in the middle of Times Square and shouting about your product, whereas partnering with micro influencers is like presenting at a niche trade show attended by a small number of people who are super interested in a specific topic. Sure, more people will hear you in Times Square, but I can bet you'll generate more sales from the trade show.
Secondly, bear in mind that influencer marketing works best as a long-term exercise in relationship-building, rather than a short, sharp burst of activity.
You'll almost always see better results from investing time in your relationships with smaller influencers. That way, they'll build a real affinity for your products and get to know them inside out, which will make them much more effective ambassadors for your brand.
3. Take Advantage of New Influencer Marketing Models
Once you've found the right influencers, it's time to consider how you work with them.
Traditionally, influencer marketing models were more about reach and engagement than actual performance. You'd pay based on how many interactions a given influencer generates and how many followers they've got.
All of which meant you could pay big money to have an influencer promote your product, get a ton of likes and comments on the posts, but still end up with no sales.
That led a lot of marketers to the conclusion that influencer marketing was more of a luxury – a nice way to drum up a bit of engagement – than a must-use tactic that drives real-world results.
But things have changed thanks to the increasing prevalence of performance-based marketing models in influencer marketing, which see brands pay for conversions and sales rather than softer, non-revenue-based metrics.
That's a huge win for advertisers. No more struggling to justify the effectiveness of your influencer campaigns; now the results are clear and obvious. It's basically like running an affiliate marketing program backed by the clout (and audience) of a recognized content creator.
That's a pretty powerful combination.
Of course, a conversion does not always have to mean a sale.
What you consider a conversion is up to you- it could be a new customer making a purchase, the transactional email you send new customers after they make a purchase/ show interest in a freebie, a new follower on your own Instagram account, or even an old customer joining your loyalty program.
4. Make Full Use of Your Profile
Think about all the stuff you can add to your Facebook page. Everything from business hours and reviews to your brand story and contact info.
Instagram is a little different because you've only got a paltry 150 characters to play with. In that limited space, you need to get across who you are, what you're about, and why you're worth following.
That's a lot to ask from a small amount of social real estate.
However, that doesn't mean it's impossible. You just need to get a little creative.
Need some inspiration? See how Dollar Shave Club does it:

In the space of three short sentences and 20 words, they've included their industry, and summed up who they are and what they do, while also fostering a sense of inclusivity. There's even a link to a landing page where you can buy a $5 starter set.
And because I love promoting small, up-and-coming brands, let's take a look at Coca-Cola too:

This Instagram profile is even more succinct. Obviously, when you're a household name, you can afford to be concise because everyone already knows you, so rather than explaining the brand's story, Coca-Cola's bio is dedicated to promoting a specific product grouping – in this case, its Unity clothing line.
One key point here is that, despite the demanding character limit, both brands have taken the opportunity to monetize their profiles by including links to important landing pages.
If you're planning to use Instagram to drive sales (and you definitely should be), you should do the same.
5. Demonstrate Your Products in Action
To make an obvious but important point, Instagram is a highly visual platform.
That means you can't afford to simply tell people how great your products are. You need to show them.
By giving people a glimpse of what it's like to actually use your product, you make it easier for them to visualize owning it – which, in turn, makes them more likely to buy from you.
Let's look at how action camera brand GoPro does this: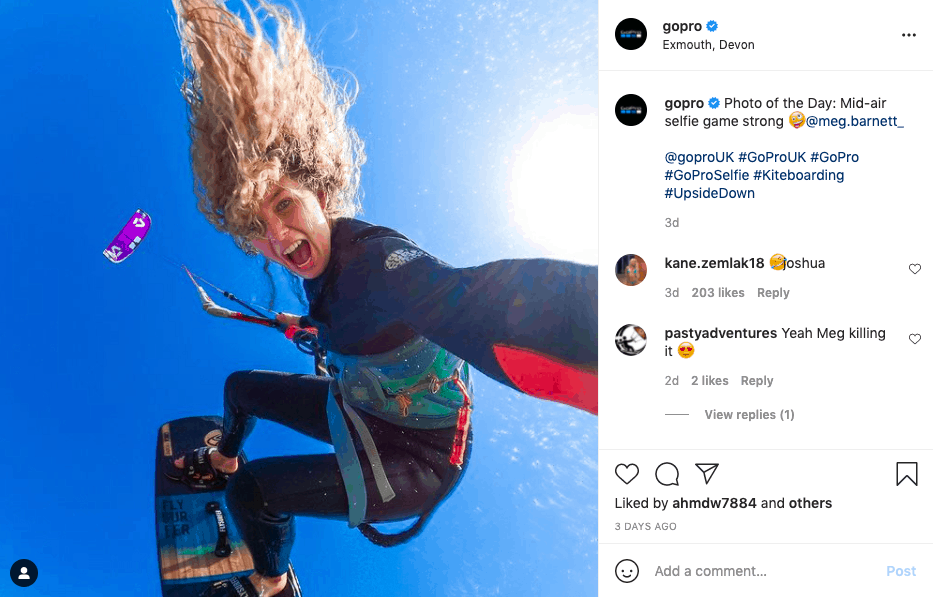 This is an absolutely fantastic example of "show me, don't tell me". It barely even needs a caption to explain what's going on here, because the image on its own screams: "Our cameras are amazing at capturing action shots." It literally shows someone using a GoPro camera while kiteboarding, which is exactly the sort of activity that GoPro's audience loves.
What's more, it's another prime example of the all-important user-generated content that resonates so well with younger audiences.
If your service is more digital, consider adding some reviews to your profile to showcase your happy customers. LawRank, an SEO agency for lawyers, does this by creating images that bring light to all the good stuff their customers have to say about them: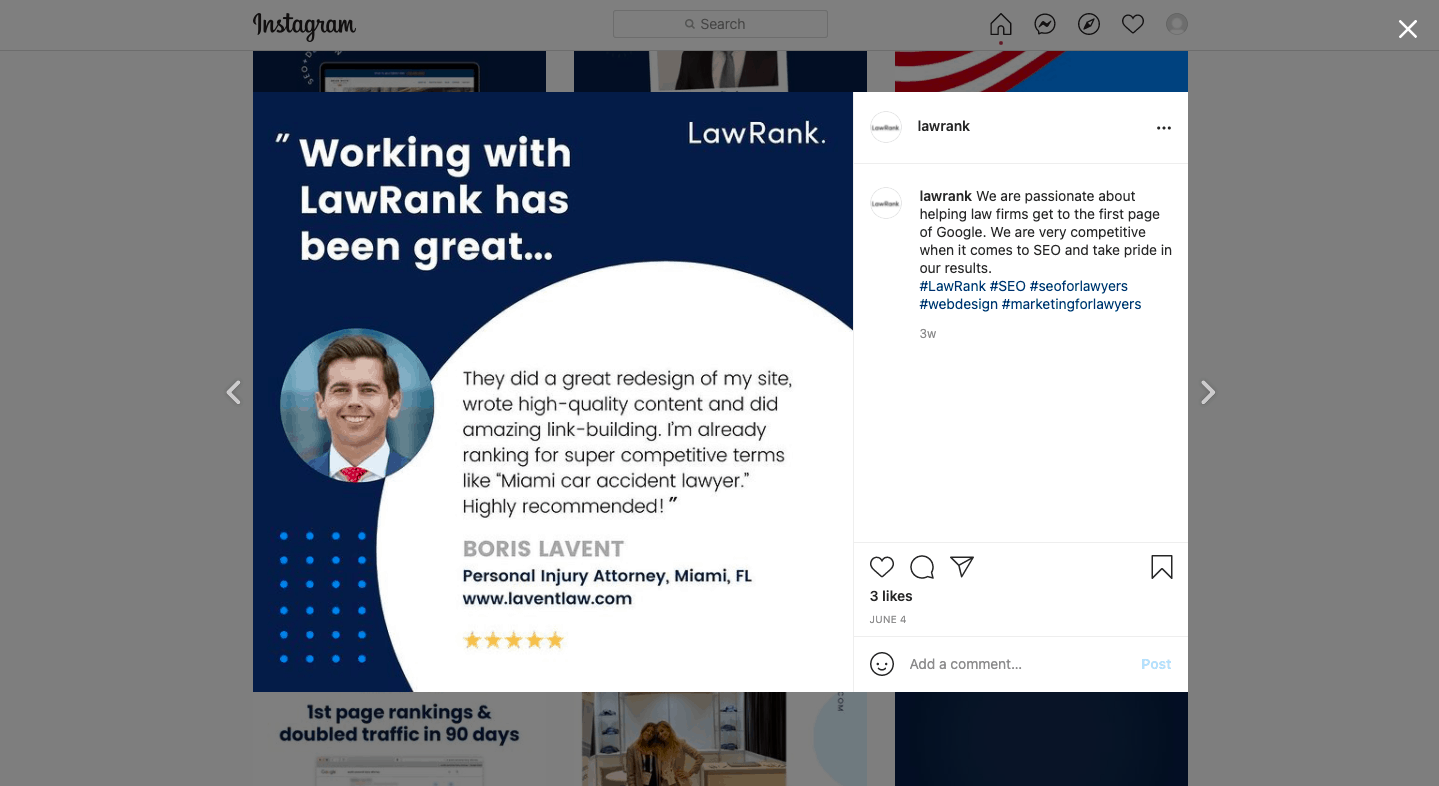 6. Get Smart About Your Hashtags
Unless you're a huge brand that already has a massive following on Instagram, you need to make it as easy as possible for people to find your posts.
That means using hashtags.
However, unless you use them effectively, hashtags can do you more harm than good.
If your whole approach to hashtagging is to cram as many into every post as possible (while using the same hashtags in your posts time after time), you're more likely to get yourself shadow banned – that is, for Instagram to stop showing your posts in searches for certain hashtags – than to attract a captive audience of potential customers.
So how do you optimize your hashtag usage to drive reach?
To answer that, let's take a look at some useful data.
In a widely shared study, Track Maven compared average engagement per post on Instagram against the number of hashtags used in each post. It discovered that the sweet spot is to use nine hashtags per post. Fewer than eight, or more than 12, per post will see your engagement drop off dramatically: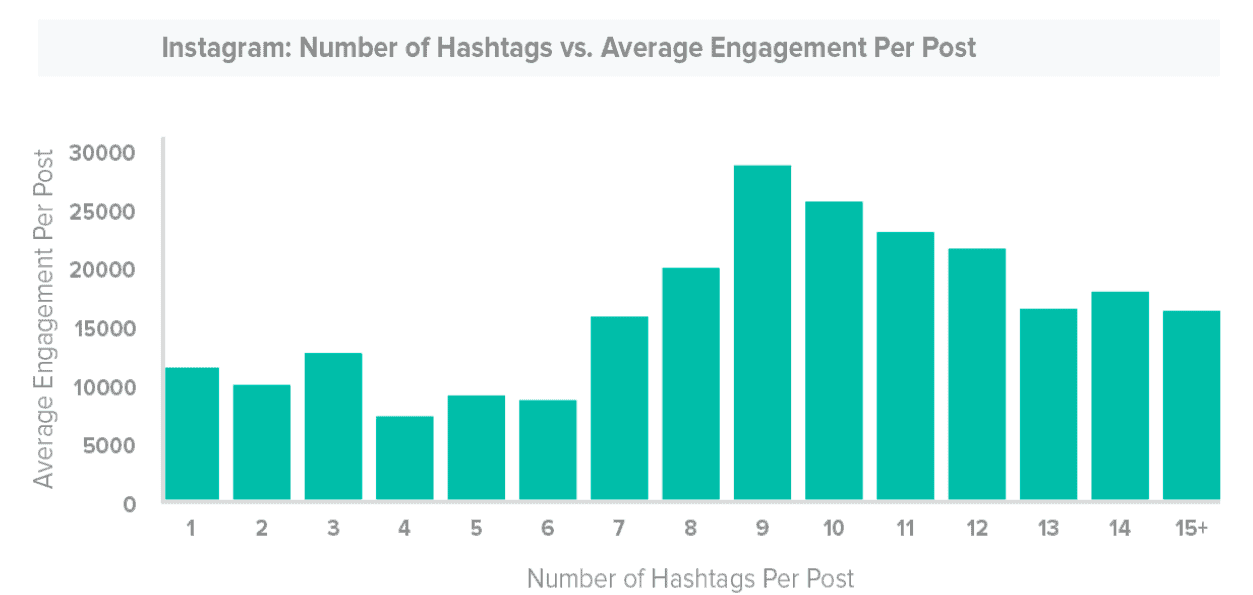 But it's not just about the number of hashtags you use. The character length of those hashtags is important, too.
How long should they be?
Again, Track Maven's data gives us the answers we need. Engagement is pretty consistent all the way up to 20 characters per hashtag, then there's a big spike at 21 characters. For hashtags longer than 26 characters, average engagement falls off a cliff: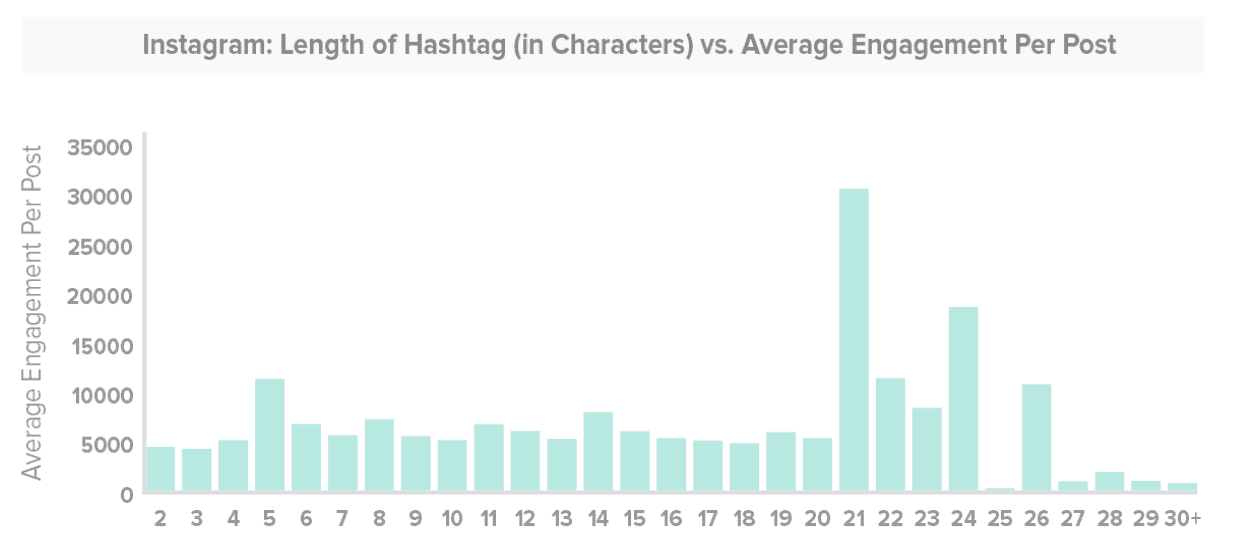 Time matters a lot, finding the right time to post on Instagram helps your business to get more engagement.
7. Leverage the Power of Reviews
Reviews play a big part in bolstering your customer experience, because they give consumers a (hopefully) realistic insight into what your products are like before they part with their hard-earned cash.
As such, it's hard to overstate just how important they can be to your Instagram marketing strategies. Just consider these two stats that demonstrate the benefits of reviews:
Almost nine in ten online shoppers look at reviews when making purchasing decisions
About three-quarters of consumers won't take action until they've read a review
You likely already have some reviews on your site – but you should be using them on Instagram, too. This is exactly what Catania & Catania, a law firm based in Tampa, does to promote their services to a younger (and more social media active) generation: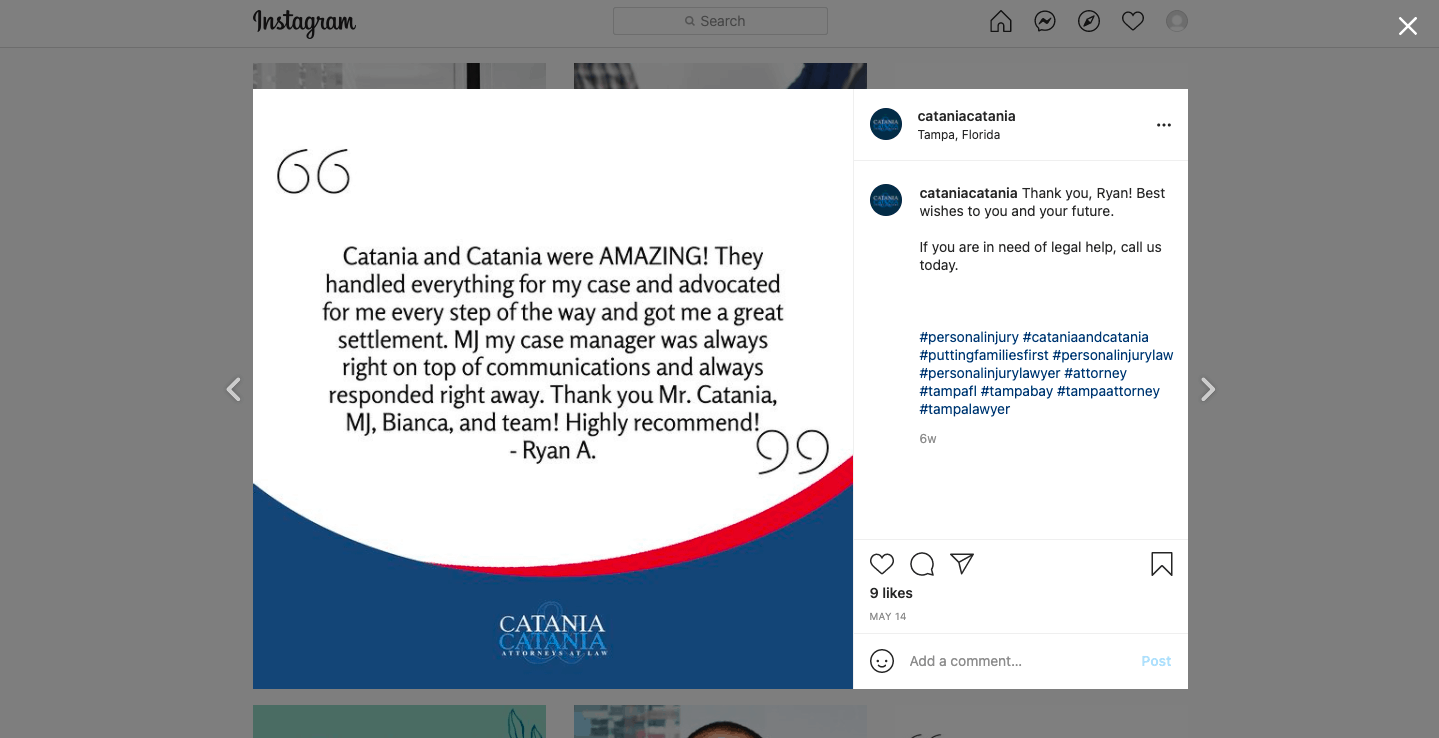 Notice the wise use of hashtags alongside that review as well- all of those hashtags are relevant to the brand, not overly competitive and there are exactly 10 of them (a great balance). It makes for an awesome post.
Have some money to spend? Skincare brand Clinique did something similar with reviews but in an ad format.
In one campaign, it sent a new product to ten chosen influencers, who were then asked to share their experiences of using it in an authentic, natural way. Their product reviews were then used as the creative for an ad campaign targeting 16 to 65-year-olds in Australia that ran in the Instagram feed, accompanied by engaging captions and the hashtag #sponsored.
The results were pretty impressive. Over the two weeks the campaign was live, Clinique enjoyed:
A return on ad spend of 8.7, which was 1.8 times higher than its business-as-usual photo ad campaign
54% lower cost per purchase against its BAU campaign
No matter how diverse your industry or how niched down it is, there is always content that can be created around it and reviews that can be posted for it- these reviews are the golden eggs that are going to bring you more customers. People simply do not trust companies the way they trust other people.
Final Thoughts on Instagram Marketing Strategies
By this point, it should be clear that authenticity is absolutely crucial to the success of your Instagram marketing strategies.
To a greater or lesser extent, each one of the strategies in this article is about promoting your products in an authentic way that doesn't come across as too pushy.
Remember, no one comes to Instagram to look at ads. They want to see interesting, engaging content – whether that's from their friends and family, or from their favorite brands. User-generated content, infographics, videos, helpful tips, and any other information that adds value is what you should be focusing on when posting new stuff to your account.
So if your posts are all about the hard sell and less about the creative, you're actively disrupting the user experience (and not in a positive way). At best, users will just scroll right on by. At worst, they might hide or report your ads, which will do your relevance score no favors.
Whether partnering with influencers or creating your own posts, focus on authenticity at every step. Don't oversell your product – instead, show it being used "in the wild" and demonstrate the benefits it offers.
Combine that approach with some smart hashtagging and effective influencer partnerships and you're well set to drive real results on Instagram.