Now under the stewardship of Facebook, Instagram continues to be one of the world's most popular social media platforms. Part of this continued growth has lead the brand to become more prominent in the eCommerce scene, especially with shoppable Instagram feeds.
In fact, 70% of shopping enthusiasts now say they turn to Instagram for inspiration and product discovery.
This trend is further shown through the introduction of Instagram Shopping. So what is Instagram shopping? And how can you use it to increase your sales?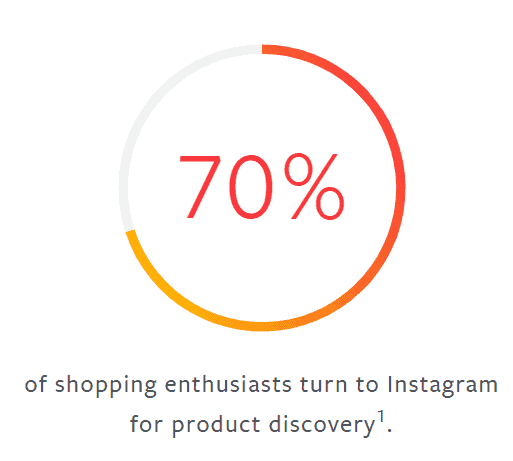 Source: Instagram/Facebook
What is Instagram Shopping?
Shopping on Instagram is an eCommerce section within the social media network of Instagram. On the mobile app, Instagram shopping can be accessed via the bag icon.
By using Instagram Shopping, you can tag up to five products in an image, or twenty in a carousel. By doing so, anyone who views the image can click on these items after seeing them in action, directly through the image. This takes them to your store, where they can purchase the product.
Any products tagged in images contain pricing labels, as well as other essential information such as the product's name. Instagram shopping items can also appear outside the Instagram shopping section of the platform, in areas such as the standard feed, or stories.
Initially, Instagram shopping was rolled out to a set number of nations. However, it can now be found in most nations worldwide where Instagram is available.
Instagram shopping set up
As Instagram Shopping is part of the business side of Instagram, to set things up you will have to change your account to a business account.
Changing to an Instagram business account
Although any Instagram account can shop as a customer on Instagram Shopping, only a business account lets you sell there. For that reason, you first need to change your account to a business account.
This can be done by following these steps:
Go to settings, and then account
Select 'switch to a professional account'
Select business (you can also optionally link this to any Facebook account associated with your business)
Add your details, including your business category and contact information
Select done
Once you had set up your business account, you will have access to all Instagram's professional tools, including Instagram Insights and Instagram Shopping.
How to set up a feed for Instagram shopping
To sell on Instagram Shopping, you will need to set up a feed. However, you still have one decision to make, whether to use Facebook's catalog manager or a third party.
Facebook's catalog manager requires you to do some of the work yourself, importing and then formatting your feed from a cataloging service, such as Shopify.
Alternatively, you can use a third party and automatically upload all your product catalogs according to the requirements. Facebook also provides templates for formatting if your data feed provider doesn't have a set up for Instagram Shopping.
You can also upload your feed manually. However, this will also require manual updates, and is not recommended for any substantial product catalogs.
How to refine your Instagram shopping feed for more sales
Utilize hashtags and keywords
Hashtags and keywords are what will draw those searching for more specific items on Instagram Shopping to your post. You can find the perfect set of keywords by monitoring your market, and competition, as well as using various keyword tools. Once you have found your most relevant keywords, you can use them in your captions and titles for all of your listings, and draw in the perfect demographic to boost your sales.
Use tagging
When you post an image on Instagram, you can now link it to Instagram Shopping by giving it a tag. This means when someone hovers over a product in their feed, they will see a title and price for the item.
By using this feature, you not only give someone a quick overview of the product, but they don't even have to be on Instagram Shopping to see it. Tags can be visible in a standard feed, or stories. This can give sales a huge boost.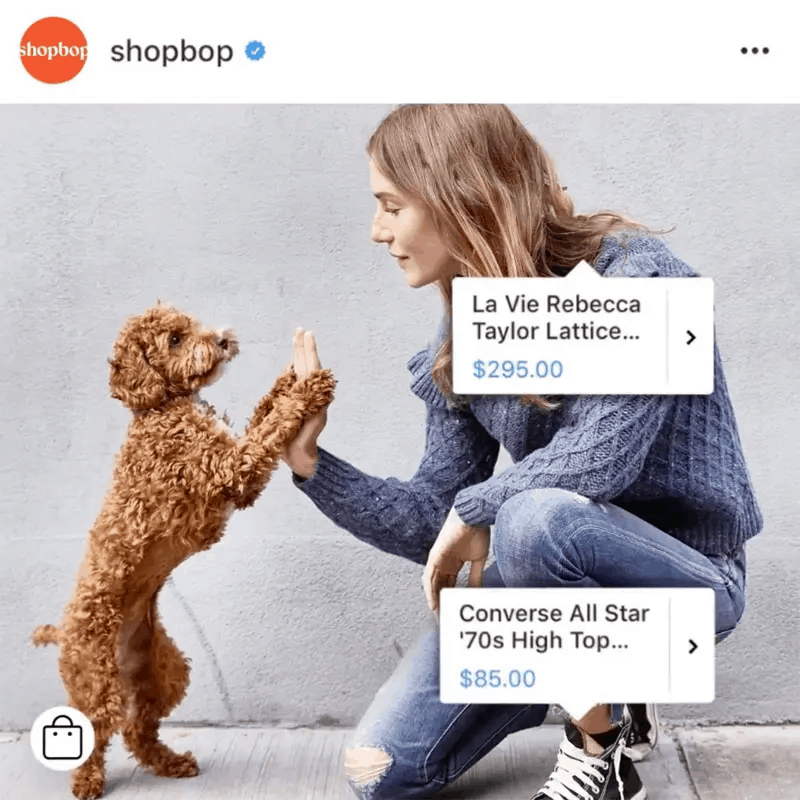 Source: Embed social
Create the perfect images
Images are the most vital element of your listing on Instagram, as it is a highly visual platform. This means high-resolution images, that clearly show what you are selling are all the more important. Your images can be of your product alone, or in a lifestyle format, being modeled or in use. However, the product should always be the focal point of your image.
It should also be noted that although Instagram has fewer requirements for its images than the average shopping channel, it still demands that your listing image and title match what you are selling on your website.
The perfect image will attract more buyers to your product than anything else, so it is essential to spend time curating and polishing up any image you upload. Once you created a stellar product image and want to share it you can nowadays decide to post to Instagram from your desktop or simply via mobile.
Stay on top of your pricing
As prices are listed on top of your product images (via tagging) on Instagram Shopping, they will play a significant role in whether someone will click on your listing or not. A non-competitive price could lead many potential buyers to opt for your competitors instead of your brand. For that reason, you need to stay on top of your pricing.
The best way to monitor pricing is to use a price watch tool. These services can help to monitor and alert you to competitor price changes. They can also allow you to automatically adjust your price based on the cheapest competitor, or the second cheapest competitor, and so on. By doing this, you ensure that you don't miss out on sales due to overpricing.
Use A/B testing to trial different aspects of your listings
A/B testing is a great way to test your listings and find out which areas of them can be improved. You may be able to make small tweaks to your pricing, titles, or even images to get better results on Instagram. The same applies when you are improving your google shopping campaigns or product listings for other sales channels and marketplaces. It is a surefire way to highlight what works and what doesn't work so you can focus on the areas that help you with increasing your ROAS.
Even if you are already getting the results you hoped for, you should continue to A/B test frequently. Your competition will adapt, and the eCommerce environment will change, so it is important to stay on top of those changes.
Additional tips to help you sell on Instagram Shopping
Create the perfect bio
Your page description (commonly referred to as a bio) can help you to draw in any potential buyers that may have shown interest in your products. Whether you have drawn a user to your page via an ad, or via Instagram Shopping, a user is there to see what you have to offer them. Therefore, your brand bio needs to highlight what you stand for, and what you can offer to them in a quick and concise manner. Your bio is the ideal opportunity to begin building trust.
Use a powerful CTA
A powerful call to action goes a long way to drawing in potential customers. You should incorporate a CTA in your bio. That way, any potential customers that see your Instagram Shopping posts, and want to check out more about your brand first are still persuaded to click on your website link.
A CTA should be short, snappy, and persuasive enough to encourage any customers who are considering shopping with you to click and visit your store. Try phrases like 'Buy whilst stocks last' or 'check out our new lines now' to convince potential customers your shop is the place to buy from.
Link your store
Adding a link to your website at the top of your page can increase your sales significantly. This is because many people will also want to check out your brand, as well as your products. Potential buyers like to know if they are buying from a reputable, safe store. They may also want to check if the brand shares their values.
A simple link can generate a long-term relationship with a customer, even if they don't buy the product that was initially advertised on Instagram Shopping.
Final thoughts on shoppable Instagram feeds
The ever-growing popularity of Instagram means Instagram Shopping will continue to be a great place to get your brand and products noticed. By using these tips to refine your Instagram Shopping feed, you can ensure that your store and its products will continue to be competitive on the platform, even amongst increasing adversaries.