There are no two ways about this— social media is hot.
You can do a lot of things with social media— improve brand exposure, drive more traffic, get more followers or even drive more sales.
23% of online shoppers are influenced by social media recommendations on what to buy. That makes social media a prime place to target prospects.
In this post we are going to see how to increase social media sales for your products on social media.
Create Content to Inform and Educate not Sell
The content you create should be valuable and designed to inform and educate.
Even though the post is about selling products, trying to shove products on people's faces on social media never works. Social media can and does generate sales but the primary goal with your social media strategy must be to engage prospects by creating valuable content. So much so that people are driven towards your brand and want to be your customer. That's how you grow a brand.
Here's why this is important.The ultimate goal is to sell more products. But, understand this: people don't come prepared to buy. There are several stages a person goes through before he decides to purchase an item. Consumer research is essential to identifying at what stage a person is in the buyer's journey and what they want.
Understanding this is key to finding success when selling on social. These stages can be categorized as the product awareness stage, followed by the product consideration stage and then finally someone decides to buy the product. There are several ways to reach people in these stages. One of these methods is search engine optimization. You can build a big website, create lots of content that targets different keywords and then hope that search engines send people to your site.
There are as many reasons for this strategy to succeed as there are for this to fail. But with social media you can reliably drive traffic, sales and create engagement.
It's possible to reach people when they are considering purchasing something through social media channels. Most businesses fail with social media because they have no clue how to use social media the right way. They try to sell right off the bat without creating a desire in prospects or awareness about their problems or the product.
What should you do instead?
Use the opportunity to create knock-off-the-socks visual content
When people have heard of a product and want it, they start researching more around the said product.
This is the stage where you can couple social media as a channel to distribute educational and relevant content around the core topics relevant to your product. Your creative brief should cover all possible angles for creating this content.
More than anything, visual stimuli like videos and images work best. 64% of humans are visual learners and the brain processes visual input 60000 times quicker than outer inputs.
Images trigger mirror neurons that help us believe what we are seeing is real even if they are only images.
The focus of the highly engaging visuals is not to directly ask for a sale or to run a product promo. The content should be fun, interesting and entertaining to the end user and help create an awareness among visitors. They should start desiring the product.
How to post content on social media [examples]
It's natural that you create blog posts for your blog. The same strategy of long-form content won't necessarily work on social media. For social media take short snippets of that information in a way that this provides a great deal of value.
Since social media users love short-form content such content holds the most potential to be engaging to your audience and compel them to make the purchase.
This is information customers are going to use to decide if they want your product or not. A great example of this is brands posting short recipe videos to educate and attract followers. The recipes are simple enough to entice people to try them and also use the ingredients that the brand sells.
When you create content, remember that when people visit social media channels, buying something is the last thing on their mind. Don't be too pushy with your content.
More than the direct sales that social media can drive what you must focus on is the big role social channels can play in pivoting people to your brand.
It will help people consider your product over other similar products.
Califia Farms is a food brand that nails this.
On their Instagram page, they share videos. These videos are recipes that teach how to prepare healthy dairy-free meals. The focus on dairy-free is because Califia Farms sells dairy-free milk products.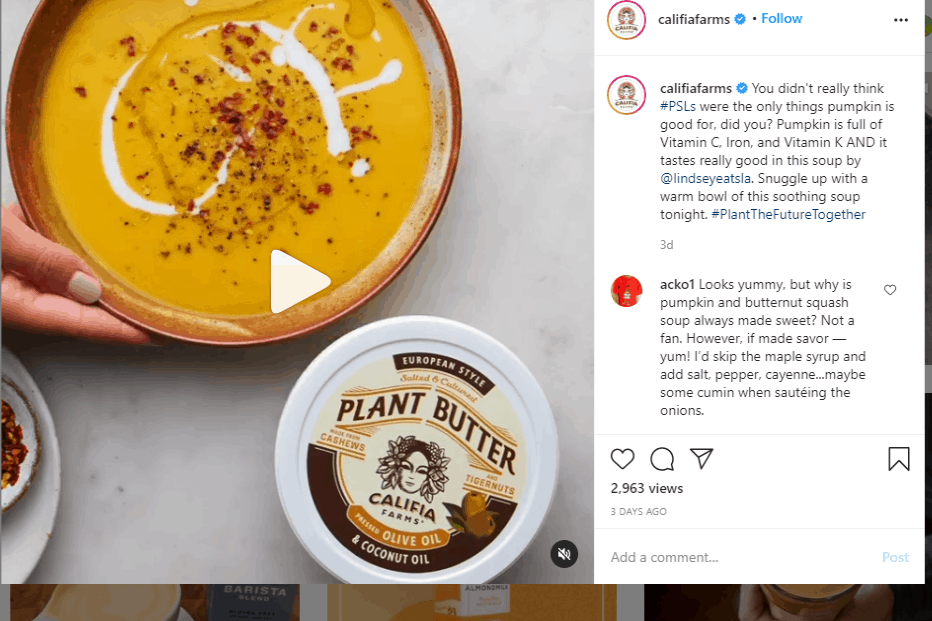 The target audience is anyone who wants to cook without dairy.
The videos are a great sales tool for promoting such a business on Instagram because the brand's products are a natural fit. The subtle way the products are used removes any and all friction.
People like the videos, share them and head to try the recommended products.
One more tip that I seem to learn from these videos is by default all videos on Facebook/Instagram are muted so if you have subtitles that's great.
You can use videos like this in just about every niche. Just remember to use the teaching angle. Provide tips on how to use your products, how to combine different accessories or showcase how people are using the products.
When you create informational content provides it a lot of context to customers regarding your brand and gives customers ideas on how they can use the product. As a result, they get closer to the buy button, improving sales and conversions.
Content quality is always bigger than content quantity. And you should always prioritize one over the other. You are not going to get the same level of engagement with low-quality content that you get with great content. So keep that in mind first.
Instead of simply creating content for the sake of putting out something, spend whatever time you have to create quality content. There's no hurry to push out boatloads of content as fast as you can. The key is quality.
Use the Power of Influencers to Sell More
To drive sales, specifically one thing works better than most: have influencers promote products with their unique discount codes.
Daniel Wellington has been successfully using influencer marketing since day 1 of starting their brand. They were able to sell a million watches in 3 years all due to influencers recommending their products on social media channels.
For most of their promos influencers promote the product with unique discount codes.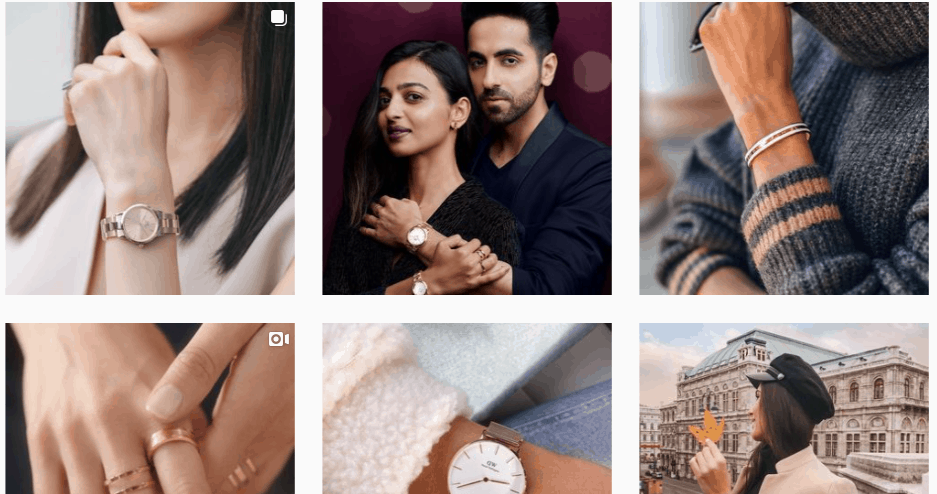 Another brand that's successful with influencers is Boohoo. The integral component of Boohoo's social media marketing strategy is influencers. Solely on the back of influencer recommendations the brand was able to grow its following to over 7 million. Boohoo spent ­£80 million in influencer marketing in 2018. The budget for influencer marketing is only set to grow in 2020.
Here we have Madison Sarah, an influencer promoting Boohoo.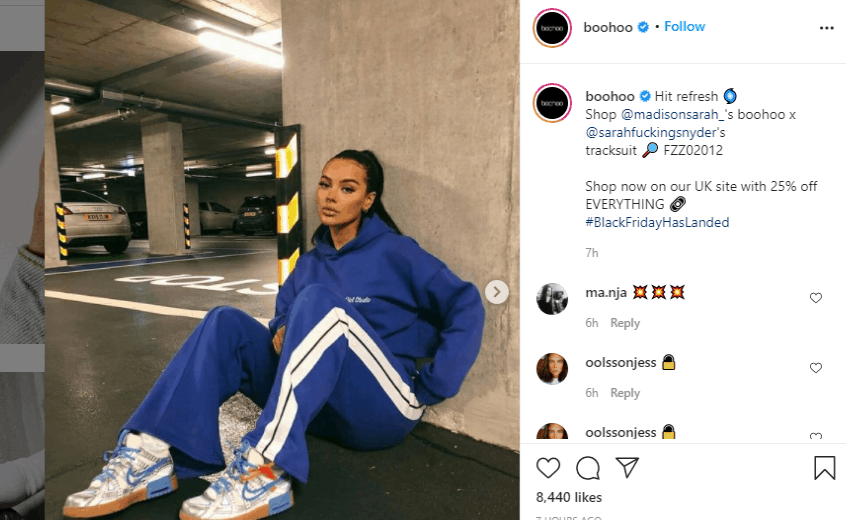 Here are free templates you can use to reach out to influencers.
Use UGC content to promote word of mouth for your products
According to a study, 70% of US based customers are more likely to purchase products if they see a positive image around the brand created by customers. The verdict is clear. People like and trust User Generated Content.
In fact, UGC can be attributed to a direct increase in purchases.
This couldn't be clearer than from Depop's example. Depop is a successful fashion app with 16 million users spread over 147 countries. What they do is provide a platform for buyers and sellers of used clothing to come together. It's an image-based app for second hand clothing.
The recipe behind their huge success is deceptively simple. Early on, Depop's founders woke up to the fact that everywhere around the world people trust other people. This is especially true for millennials and Gen Z. With their content they put the spotlight on the audience, by letting their followers create and post content. The rest is history.
Here's how they do this. Depop promotes the most trending images on the platform from their audience. By promoting what's trending, Depop successfully taps into the fear of missing out.
People come flocking back in increasing numbers all to buy the products Depop offers.
This is their core strategy. Everything else the company does—be it paid marketing programs or sales funnels is built around this.
The takeaway? User Generated Content can be the key to your social media success as it is for Depop.
You can drive more sales by encouraging customers to share more of their pictures using your products.
With UGC you add instant credibility to your brand. Each time a potential customer sees the images you share they get closer to a purchase.
ASOS runs a campaign where customers can share photos of them wearing ASOS products.
Customers need to use the hashtag Aseenonme for it to be featured.
A quick search for the #Aseenonme hashtag reveals several thousand posts.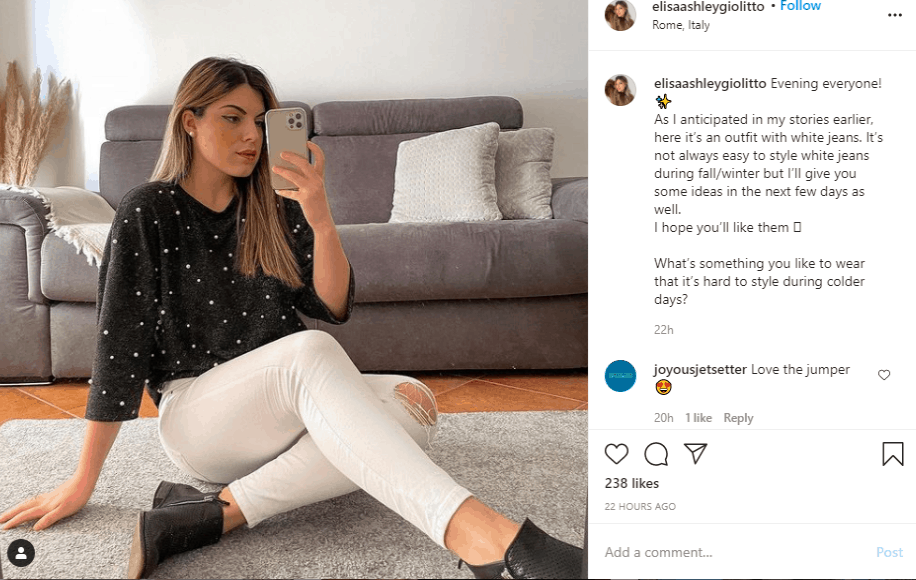 By highlighting customers front and center, customers feel valued and are encouraged to share more and generate higher word of mouth for the brand.
UGC is a big part of the shopping experience because we tend to be motivated by what others do, eat and buy. Clothes are no different.
In the Daniel Wellington example above as well, customers are encouraged to share photos of them wearing the watches and tag the brand with the hashtag #DanielWellington.
Of these tagged pictures one of these is featured every day on their Instagram page as DW pick of the day. This incentivizes followers of the brand to share more.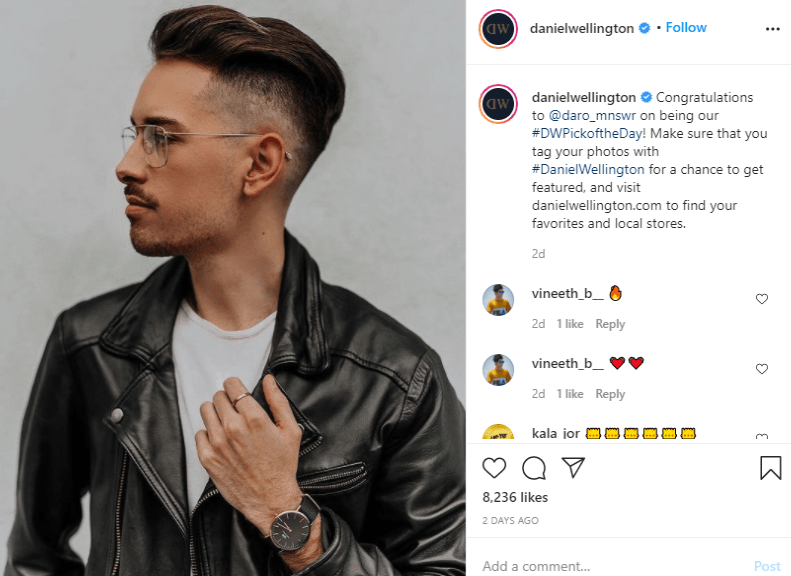 Create and Promote Ads
Promoting your products with ads is another surefire tactic to increase sales for your product. Ads instantly improve the visibility of the brand.
Instagram stories is a good starting place for you to advertise your business. When you advertise through stories you may be rewarded with improved brand awareness and brand recall.
The results? Really low cost per lead.
You can also target customers based on the most recent products they viewed or content they saw with the help of retargeting ads.
Consider this: Your customers visit your site and learn more about your content and go. Now, they can either entirely forget about the site or visit sometime later. The odds for the first thing are high. So, this is the perfect opportunity to recapture them with ads. You can use ads to bring them back with relevant content you created for them.
Retargeting is good for targeting anyone who has interacted with your business in any way, say participating in contests, in polls or anything else. Show these people ads and send them to an optimized landing page.
Make it Easy for People to Buy on Social Media
Again where you are targeting people with ads or content why not make buying easier?
Let's see how its done on Pinterest. Pinterest is a good platform to market your business and get buyers. It's visually rich. To sell through Pinterest use Rich pins.
Why?
Rich pins display information around products and guide people to purchase the same.
With rich pins you can deliver information on the price and the availability of the product. This is all readily available right next to the product photo. Buyable pins make shopping easy because these allow people to complete the purchase right on the platform.
Here's an example from Etsy.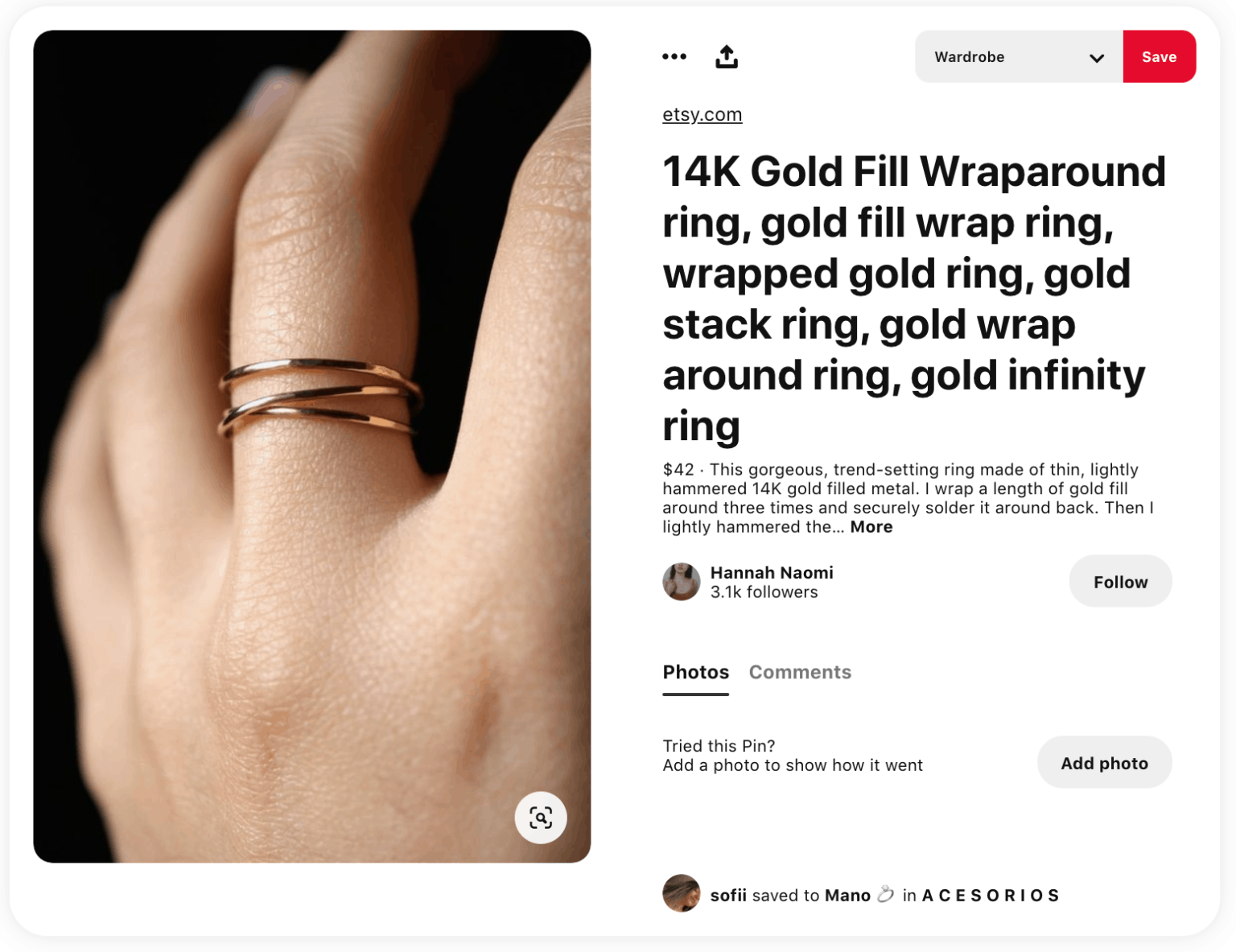 If customers want to buy they can click on the product. They can checkout within the platform itself.
No need to switch to another platform. This simplified way of purchase improves conversions.
Increasing Social Media Sales
The points I listed above are the best ways for you to improve sales with social media.
Whatever it is you cannot sell more without increasing the implicit trust people have on you.
The brand should be visible to the audience. This is only possible by sharing valuable content. This is a leaf out of Neil Patel's playbook. Take the opportunity to engage and compel customers to try out products and services. Make it easy for them to purchase through social media. Finally take every opportunity to be helpful.