Influencer marketing is where brands enlist the help of influencers (popular people who have large online followings and can affect the buying decisions of others) in promoting their goods and services.
People tend to trust user recommendations and word-of-mouth reviews more than direct marketing, so it's a very effective technique that can get you more sales and help your business reach new audiences. It's not always easy to get it right, though, so it's worth looking at examples of where companies have done it well.
Read on to see some inspiring influencer examples of brands that have employed influencer marketing strategies so you can do the same for your business.
Reshare influencers' photos of your products like Kasala
Most influencers currently build their followings on visual social media platforms such as Instagram, TikTok, and YouTube. So, they'll typically be well-versed in creating beautiful imagery that catches people's eyes. This is something you may be able to take advantage of.
For instance, if an influencer posts photos of themselves using your products, it's likely those images will be of a very high quality. Only well-lit photographs that have been taken on a professional-grade camera tend to make their way onto popular influencers' social media profiles. And a lot of influencers will typically be open to posting about your items in exchange for a free product, or sometimes a fee that will generally be much smaller than the cost of a company photoshoot. So, it's well worth looking into whether any relevant influencers would be interested in creating some visual content inspired by your products.
If you find that an influencer has posted about items you stock, you can make the most of this by repurposing their content. Just ensure you ask permission first to avoid any copyright problems. You could share the image on your own feed or story, and even add it to the related product page on your website to make the most of the opportunity.
To give you some inspiration, here's one company that consistently uses this tactic very well.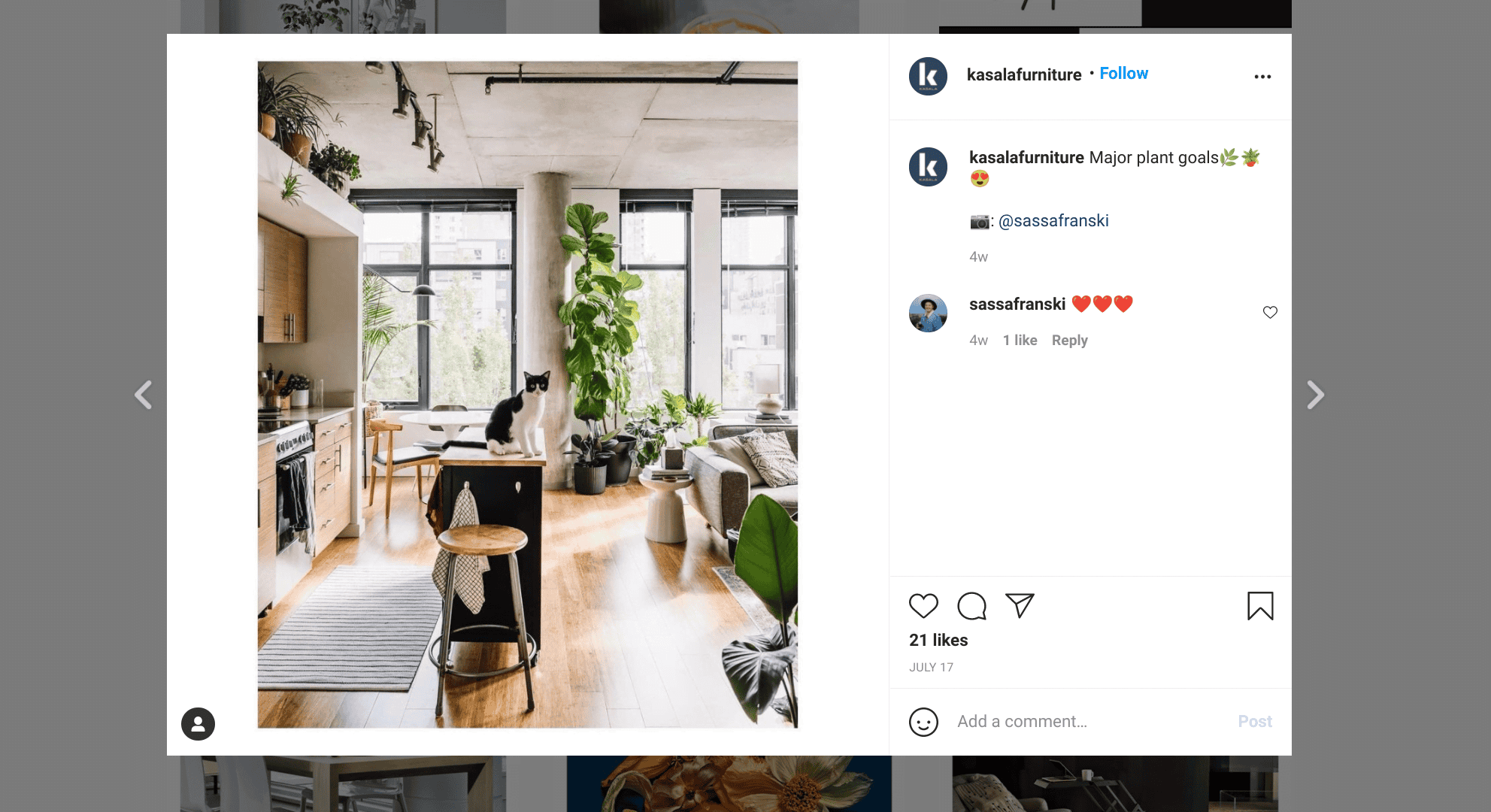 Let's study how Kasala, an online furniture store, does this well. The image above was originally taken by an influencer who bought one of the company's sofas, and tagged them in a post. So, Kasala re-shared the photo on their Instagram feed with the caption "major plant goals" and also tagged the influencer.
Resharing influencers' images like this is a really effective marketing strategy because it shows your audience that there are real customers who are very happy with the purchases they've made from you. You can take a leaf from this company's book and use a similar tactic for your business by resharing user-generated content from influencers who use your products.
It's also a clever technique that lets you outsource your marketing to customers and it's something you can easily do for your brand. But make sure you consider some of the logistics for this kind of technique. For example, if you haven't paid the influencer for the content, you should ask for their permission to share it on your page to avoid any legal or copyright issues.
Give influencers personalized discount codes like Tatti Lashes
People love to feel like they're getting a great deal, so providing your target audience with discount codes they can use to get money off your products could boost your sales dramatically.
You may already be distributing discount codes through your own social media and with email marketing, but this is also a tactic you can incorporate into your influencer marketing strategy.
Giving personalized discount codes to influencers is another great marketing technique that you can implement. And it works because influencers have engaged followers that might want to show support by buying your products and taking advantage of the discount being offered. Plus, because each influencer you work with will be given their own unique code, it will be incredibly easy for you to track the ROI of each individual campaign.
It's a great technique and one of the best influencer marketing examples that will encourage more people to make purchases, help you increase your social media sales, and make it easier for you to track the success of specific promotions with different influencers.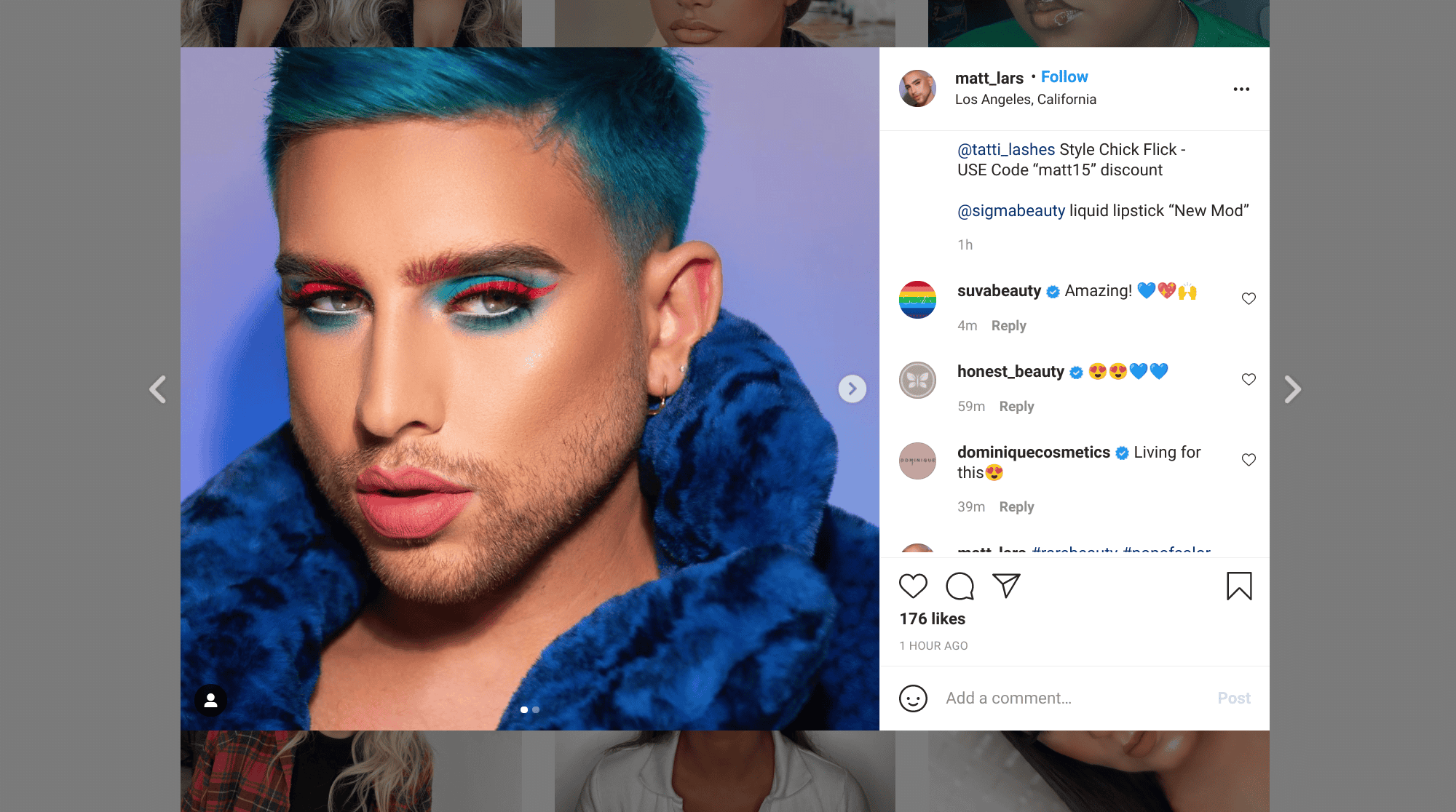 When using this technique, try to take note of some best practices like including the initials or name of the influencer you're working with so it's easier to trace the purchases being made by their audience. Take, for example, the way Tatti Lashes created the "matt15" discount code with Matt Lars, a popular make-up artist and Influencer on Instagram.
You should also consider the duration of the discount and make that known to the influencer so they pass the information across to their audience. Setting a deadline for discounts is also an effective tactic that can create a fear of missing out (FOMO) in your influencers' audiences and drive more sales for your business.
Encourage influencers to integrate your products into their lives like Hello Fresh
Generally, the more authentic and organic your influencer marketing campaigns seem, the better they'll be received and the more sales you'll secure. This is why it's so important that you choose your influencers carefully — to prevent your advertisements from feeling forced, you should aim to work with people who will have likely tried your products or services eventually, even without your sponsorship.
You can also get more dramatic results if you're able to encourage your chosen influencers to integrate your products into their daily lives rather than simply to do the odd promotional post here and there. People can miss or ignore a random advert, but if their favorite influencer is using a particular product on a regular basis, their followers will be much more likely to notice these influencer campaign examples. And, the more they hear about it, the more likely they'll be to try it for themselves.
This is one of the effective tactics for social media outreach that gets positive results, and Hello Fresh Canada is one company that uses it well.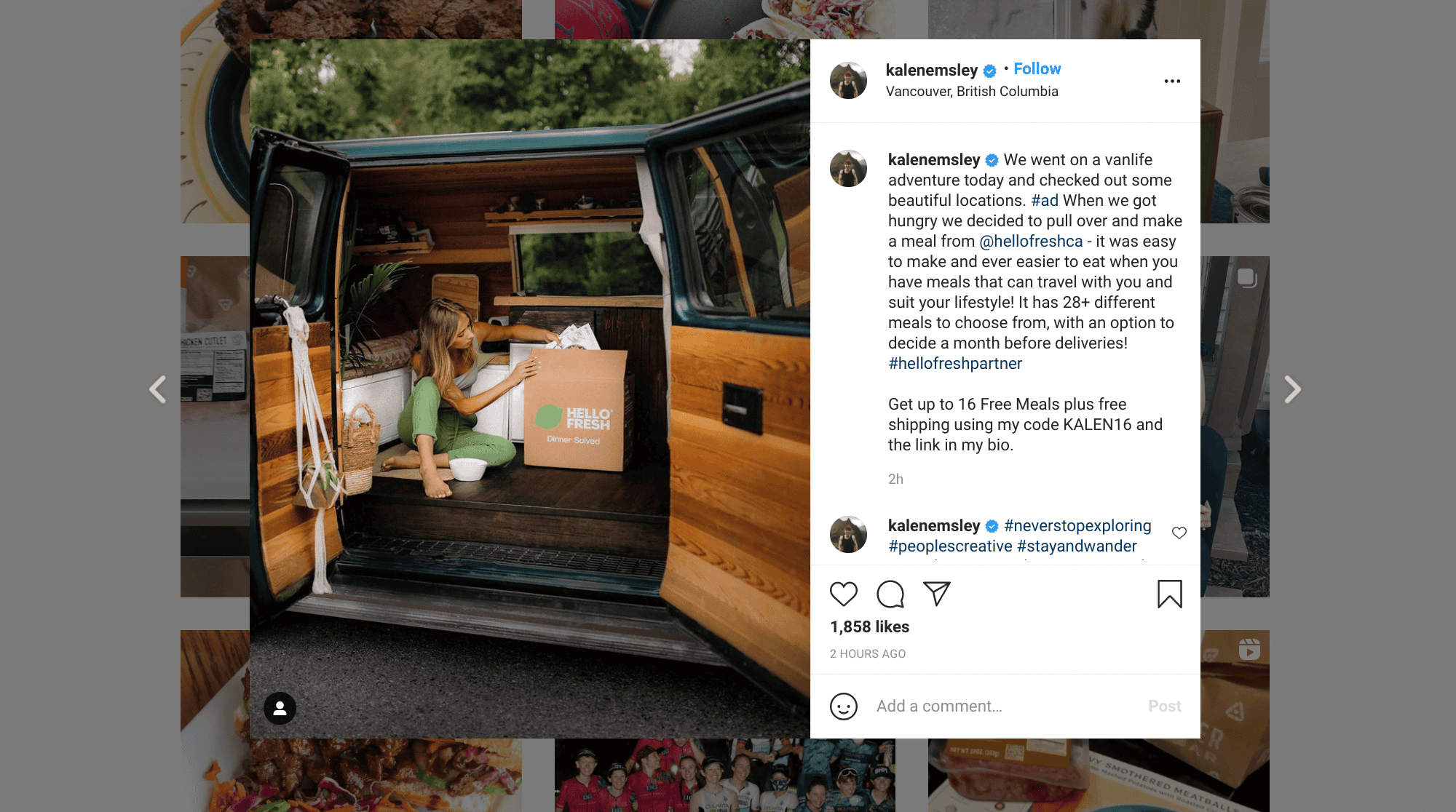 As a company that provides healthy meal plans and kits, they encourage the influencers they work with to use their meal plans in their daily lives. You can see an example of this in an Instagram post from Kalen Emsley, where she talks about preparing a meal on-the-go with the help of Hello Fresh's meal kits. She also encourages her followers to buy from the company and get free shipping by using her discount code.
It's a great way of showing how well the product fits into people's lives and will feel much less like a promotional post. You should consider working with influencers to do something like this for your brand.
You could have influencers share images or videos of them using your products while performing their daily activities. This could be eating, exercising, working, or virtually any activity that would allow people to see just how useful your products or services are.
Collaborate with influencers like Smith.ai
When we talk about influencer marketing, most people will probably think about YouTubers incorporating adverts into their usual videos or Instagram personalities publishing sponsored posts about specific products or services on their own profiles. But there are some other approaches you can take like thank you note to influencers examples.
For instance, you could collaborate with a relevant influencer on a piece of content for your own website. Then, when it's live they can share the link on their own social media feeds, which will hopefully send a lot of their followers your way. This can be a very attractive technique for some businesses because it gives you full control of what's going to be put out there and you'll typically have the right to reuse and repurpose the content as many times as you would like.
There are lots of different ways you could incorporate influencers into your own marketing materials. For instance, you could interview them for a post on your own blog, involve them in a photo shoot with your products, or even ask them to create an edit of their favorite products from your collection that you can then promote with their name on.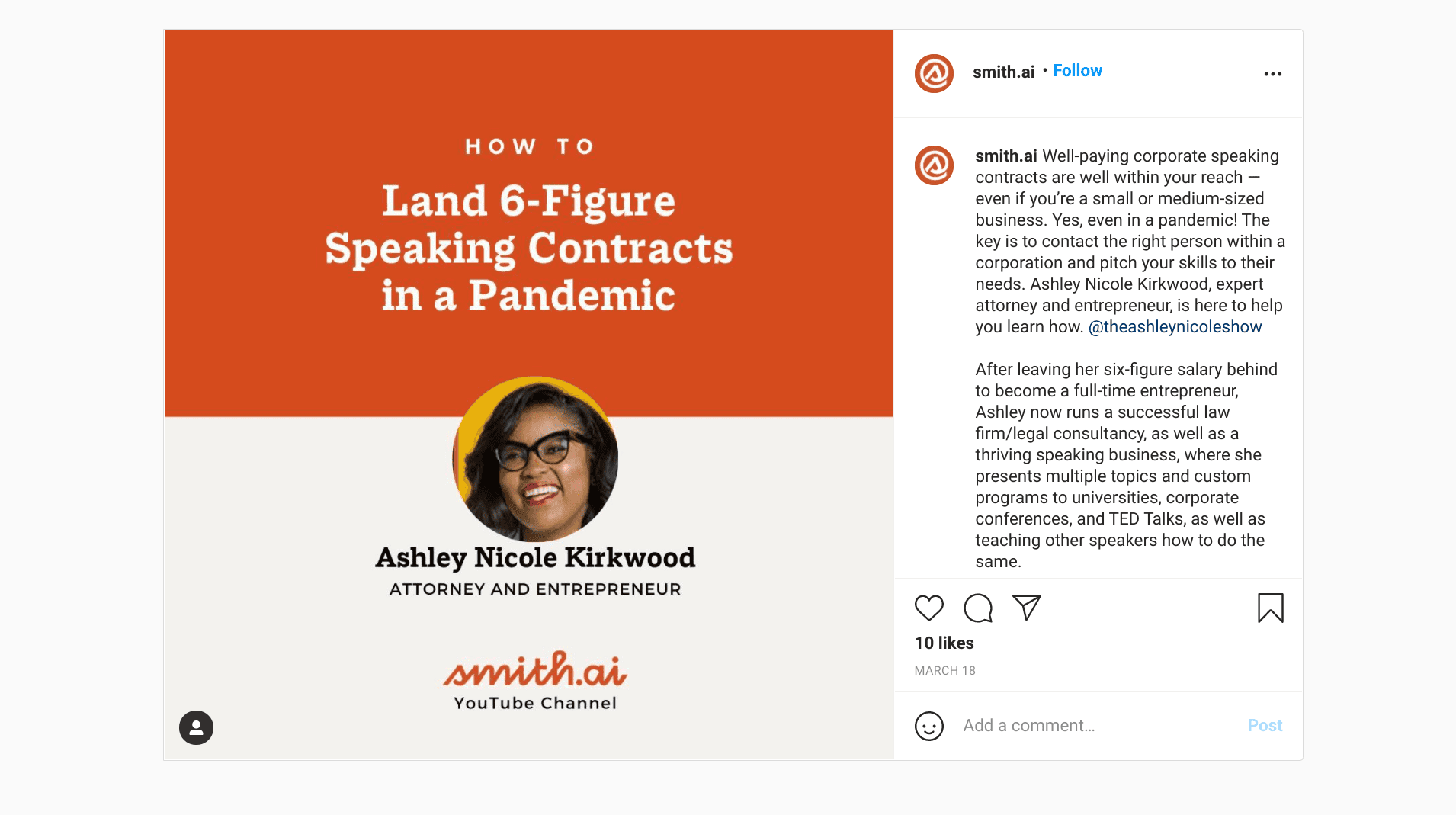 Take a look at how Smith.ai, a virtual receptionist and live chat service, incorporates an influencer into their own content by creating a YouTube video with the help of attorney and entrepreneur Ashley Nicole Kirkwood, who has a significant online following of around 15,000 Instagram followers.
By collaborating with a popular influencer, the company has effectively increased their brand reach by tapping into Ashely's audience, and this can be a great way to improve awareness of their company.
To ensure you get the most out of this strategy, try to target influencers who have a similar audience to yours. This means you should collaborate with influencers who are in the same niche or in complementing industries to increase the chances of their audiences engaging with the content you create together. You should also make sure you're creating content on relevant topics that will interest both audiences.
Work with influencers on ads like Zappos
While a lot of influencer marketing is designed to seem organic, you can also work with influencers on advertisements to promote your products. However, the social media ads should still blend in with their feeds to a certain extent, so the influencers' followings are still interested in the content. Just remember that it should also be made very clear if a post is essentially an advert.
Creating advertisements with influencers can be a really effective strategy because it puts you in front of your target audience, increases awareness for your brand, and helps you generate more leads on social media. You should also make sure that your website is fully optimized for people who will see these ads and visit your site with the intention of making a purchase.
There are many rules in influencer marketing and the Federal Trade Commission is very specific about them in their disclosures for social media influencers. One of the rules requires influencers to disclose when posting content that's meant to promote a brand they are working for. So, if you're looking to work with influencers on advertisements, it's worth going through these rules to familiarize yourself with them.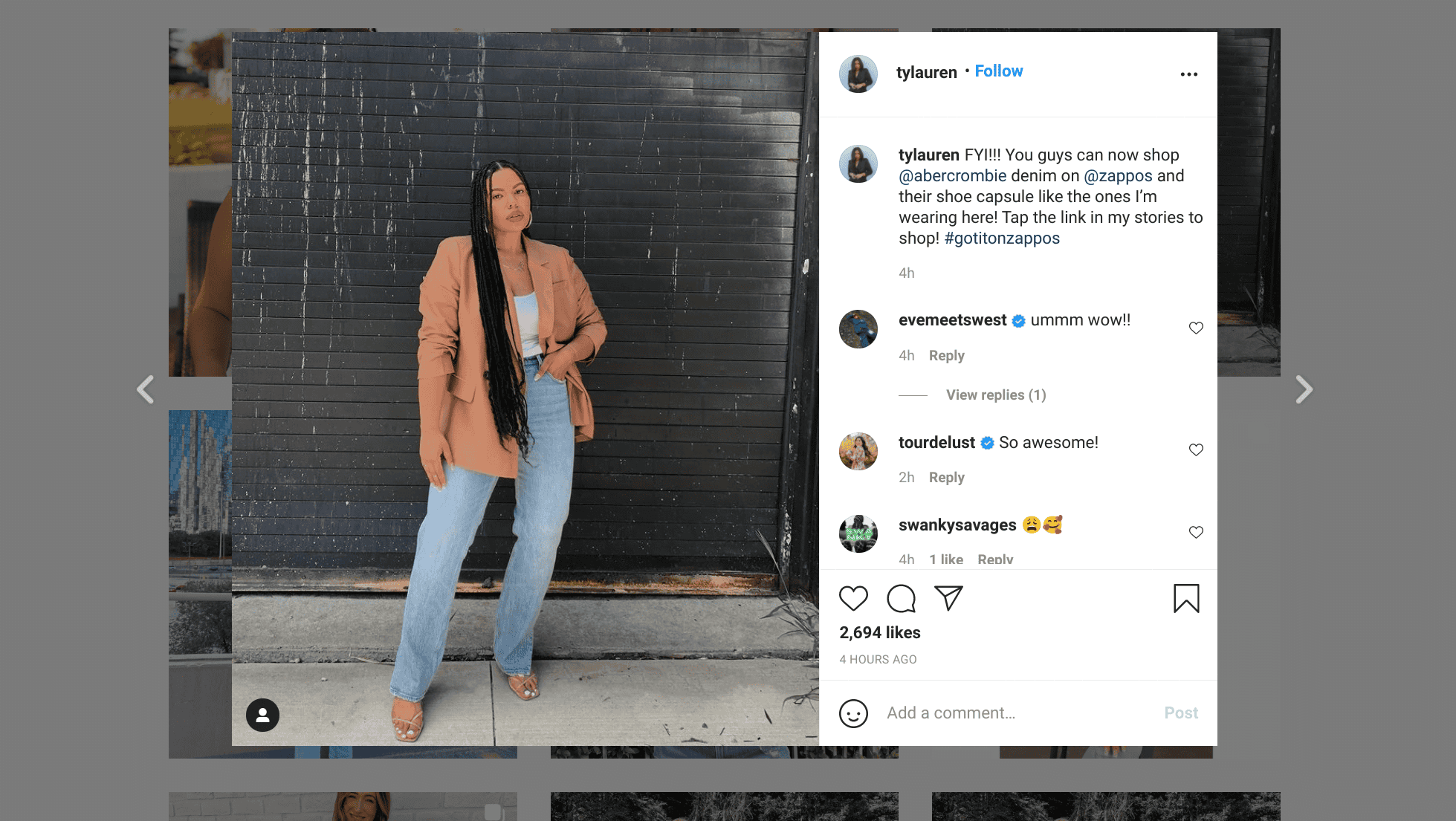 Zappos is one brand that always gets it right when it comes to working with influencers on paid advertisements. For instance, you can see here that they have worked with the influencer Tyla-Lauren Gilmore, who is wearing a pair of jeans and some shoes that are available to buy on the Zappos website. The ad is essentially a photo with a related caption that has been posted on her Instagram account.
She's an influencer who's well-known for her stylish and polished looks, so this post doesn't look out of place on her feed. This means her followers are bound to pay attention to it. And, because she's styled the pieces up, it's sure to provide inspiration for people who may have otherwise simply scrolled past these garments and accessories.
She's also used a Zappos-specific hashtag, which suggests she's affiliated with the company. So, her followers will be able to tell that it's an advertisement, but are unlikely to be put off by it because the post fits so seamlessly into her feed.
Final thoughts on influencer marketing
Now you might very well be aware of which of these is an example of an influencer. There are lots of marketing strategies you can use to grow your business, and influencer marketing has proven effective for many brands.
In this article, we've discussed five different tips to help you get started. Here's a recap:
Reshare influencers' photos of your products
Give influencers personalized discount codes
Encourage influencers to integrate your products into their lives
Collaborate with influencers
Work with influencers on ads
And, if you'd like to keep learning about how to use social media effectively for your business, you can follow Bulk.ly's blog for more updates.