Nowadays, almost everyone has a social media account. Businesses, influencers, consumers, you name it. Social media is everywhere.
It would be a waste, then, for marketers like you not to leverage that kind of reach. Through social media outreach, you can get your content in front of the right people to generate leads and grow conversions.
But how exactly should you conduct your social media outreach? We've put together a complete guide to ensure you do it the right way and reap the maximum benefits. Let's dive in!
How to Get Social Media Outreach Right
Here's the truth: sending hundreds of direct messages to people on your network so they can share your recent blog post is not social media outreach. That's just plain spamming. For your outreach to be effective, you need to have a strategy.
Read on to learn our seven top social media outreach tips. Complement these tips with great social media content, and you're good to go!
Define Your Objective
Behind every successful social media outreach strategy is a goal. That goal can be to increase brand awareness, generate leads or demand, or simply to increase social media followers. You can achieve each goal using different methods. Some techniques are more efficient and effective than others, depending on the audience and message you want to get across. The first step in any social media outreach campaign, then, is to define what exactly you want to do.
Defining your objective is important because it will determine the type of content you will create and promote through your outreach. For example, if your objective is to build links to a specific piece of content or your website, you'd have to ensure your content is built around that piece's topic. If your objective is to gain social media followers, you need to give people a reason to follow you.
Once you've chosen the type of content you'll create, you need to choose the format that content will take. Will you write how-to pieces or list posts on your blog? For social media posts, maybe you'll use an infographic or a one-liner like this killer conversation starter from HubSpot:

Source: Hubspot Facebook
Whatever content type and format you choose, it must be engaging. It should provide value to your target audience. It's also a good idea for your content to have a long lifespan – check out some ideas for evergreen social media content to get you started. If you publish content that stands the test of time, people will still be interacting with it years from now.
Create a Prospects List
Don't just randomly select people for your social media outreach. To be effective, you need to find those people who are likely to be interested in your brand, products, and content.
Ideally, you want to reach influencers. According to Influencer Marketing Hub, influencers have the power to sway people's opinions because they have:
Authority
Knowledge
Position
Relationship with their audience
Sizeable following in a particular niche
That last one is particularly important if you aim to reach as many people as possible. According to Digital Marketing, influencers can have anywhere from 1,000 to millions of followers. Imagine the number of people you could reach if you get even one influencer to promote your social media content.
To create an influencer prospects list, you can use tools such as Buzzsumo. All you need to do is choose the social media platform you'd like to work with, then pop in an industry keyword:
The list above shows you influencers on Twitter. Buzzsumo can give you an extensive list of influencers in pretty much every niche imaginable. All you need to do is to look at each influencer's timeline and determine if their messaging is in tune with your brand.
At this point, you don't have to aim for influencers with millions of followers right away. If you're just starting to build your social media outreach strategy, you need to stay within your niche first. Engagement rates and niche relevance matter just as much as follower count. People working in the same industry as you, other content creators in your niche, and even your network members (more on this later) should be included in your prospect list, too.
Optimize Your Social Media Accounts
The visibility of your posts doesn't just depend on how many people interact with them. It also depends on the quality of your social media profiles.
If your social media account has an incomplete profile and no primary photo, your organic reach will be limited and fewer people will see you as legitimate. Think of it as a type of on-page SEO. Only this time, you're optimizing your profile to stand out on social media rather than on a search engine results page (although your social media account can still stand out on a SERP if it's well-optimized!).
According to WebFX, these are three elements you should focus on in social media optimization (SMO):
Profile photo: Make sure your profile photo includes the company logo.
Username: Your username should be readable. If you have multiple social media accounts, make sure your username is consistent across platforms.
Bio: Make sure this is complete and includes relevant keywords. It's best to include a link to your website as well so people can easily find out more.
Optimize your social media content, too. Include keywords people search for as much as possible. Use hashtags, but don't overuse them. Otherwise, people will think you're just trying to spam their search results and timelines.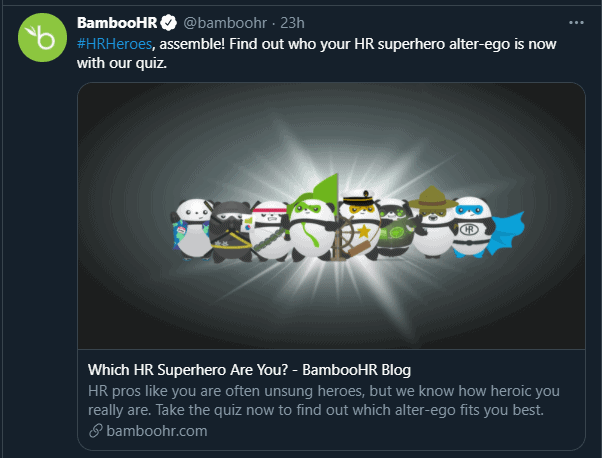 Source: BambooHR Twitter
You need to optimize your images and videos for your platform as well. According to Wordstream, Twitter images should always follow a 2:1 aspect ratio but not exceed 1024 x 512 pixels. Here are Wordstream's recommended image dimensions of cover photos for other social media platforms:
Facebook: 850 x 315 pixels
Pinterest: 217 x 146 pixels
LinkedIn: 646 x 220 pixels
Instagram profile pictures should have dimensions of 110 x 110 pixels. The recommended dimensions for Instagram pictures are 2048 x 2048 pixels. Taking the time to optimize your images for each channel will give your fans and followers a better experience and encourage them to stick around.
Make a Good First Impression
When you're reaching out to prospects, make sure you always put your best foot forward. Remember, many of these are people you haven't interacted with yet. If you make a mistake, they'll either ignore you or blacklist you.
Making a good first impression means when you reach out to them for the first time, you show you've done your research. Personalizing emails is a great idea because it shows you took the time to learn their name and are not just sending emails en masse. In other words, when you personalize, you show you're interested in building a personal relationship with your prospect.
To make a good impression, you also need to invest some time in crafting that first message you send. You can't send them something replete with grammatical errors or spelling mistakes. According to Accent on Business, here are other tips you should follow to make a memorable first impression via email. The same tips can apply to any other written communication online:
Keep your communication short and to the point. People are busy, so respect their time.
Make the subject line a summary. Keep it short and catchy.
Cover only one topic per message. Don't say too many things in one email. For example, in your opening email, you might congratulate your prospect for a great talk at an event you attended.
Use the appropriate tone, ensuring you remain courteous and polite at all times.
Remember, you want to create relationships that you can then nurture later on. You can't do that if you annoy your prospects by being pushy or disrespectful.
Don't Just Pitch, Engage
You can't ask prospects for a favor the first time you reach out to them. They don't know you, so why should they? Making your first communication a request for them to share your blog post on their Facebook account is a surefire way to lose their interest for good.
You have to make that cold relationship warm first before you ask for anything from them. In other words, engage them first and then pitch later, not the other way around.
There are many ways you can engage your prospects. For example, if you're looking to collaborate with a content creator, simply comment on blog posts on their sites or interact positively with their social media posts. Make sure your comments stand out and add value.
Many businesses and influencers also hold Twitter chats, which are a great way to engage. Twitter chats usually feature a single topic and are prompted by questions asked by a moderator. A hashtag unifies the entire conversation as it goes along. Here's an example: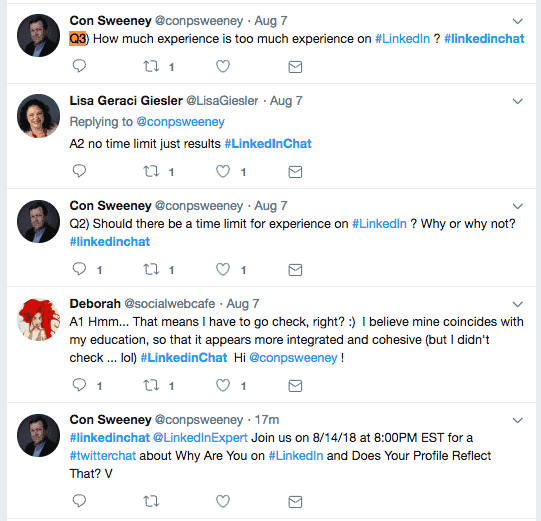 Source: Raven Tools
LinkedIn Groups are also a great platform to engage prospects. Just look for groups your prospects are active in and comment on or share their posts. You can even create your own posts so they can interact with you in return. Just make sure everything you post offers value and has something worthy of discussion.
Engage with prospects regularly. Building a relationship takes consistent work – one comment in a month won't cut it! You need to put the same amount of effort into reading and commenting on other people's posts as you would with your own content.
Use Your Existing Network
You can leverage your existing network for your social media outreach, too. The great thing about existing networks is that, more often than not, they're already interested in what you have to say. That's the reason they followed your account or added you as a connection in the first place. That means they are likely already willing to promote your content.
However, you should still make the effort to engage them the way you engage prospects who are still not part of your network. They don't want to feel like you're only reaching out to them because you need something from them.
Forge genuine relationships by checking in with people once in a while, greeting them on special occasions, congratulating them on achievements, and interacting with their posts. So when the time comes you'd like them to share your content, they will do so willingly. If the content is great, you won't even have to ask them – they'll share it because they truly believe it adds value. Do it right, and your contacts might even encourage their own networks to follow you on social media, too!
Reach Out on the Right Platform
You can only consider your social media outreach a success if you reached the right people at the right time. For you to reach as many of those people as possible, you need to determine two things: the social media platform your target audience uses, and the type of content that will do well on that platform.
To determine the social media platform(s) your target audience uses, create audience personas, or fictional representations of your ideal customer. Here's an example: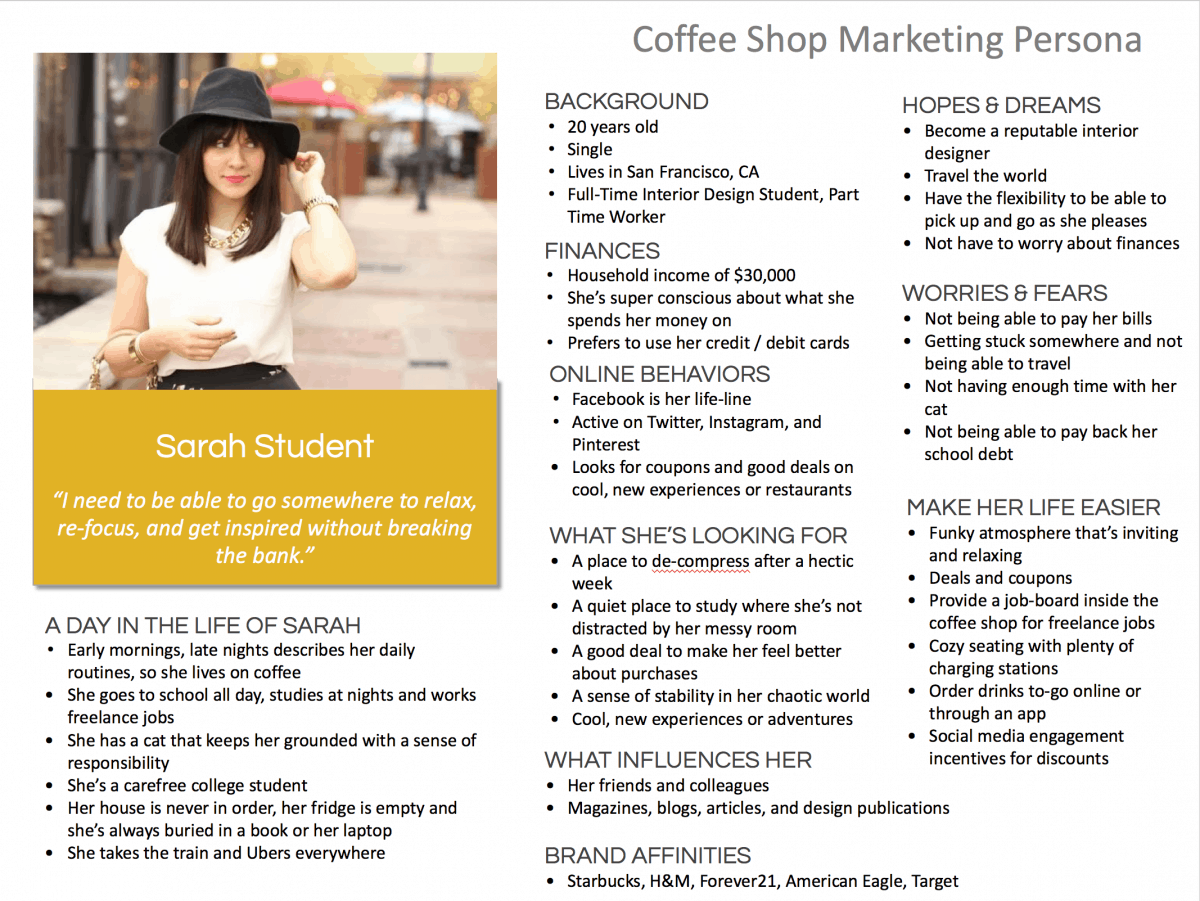 Source: Alexa
In this example, to reach people like Sarah, you'd choose one of the platforms this hypothetical customer is active on: Facebook, Twitter, Instagram, or Pinterest. Next, you'll need to determine the type of content you will post based on your social media outreach objective.
The content you choose to create should depend on what will perform well on the chosen platform. You can use historical post data and even your competitors' post-performance to increase your chances of choosing the right content format for the platform. What typically performs well with that audience segment on that platform? The answers you get will often be helpful when it comes to determining the content and format for your posts.
For example, Buffer has reported that video posts on Facebook get at least 59% more engagement than other post types. Images rank second, while external links are in the third position. Based on that data and your objective, you might create video testimonial commercials, an infographic, or a quality blog post accompanied by high-definition images.
Once you have your chosen platform and your content, you can start searching for social media outreach prospects who might be willing to promote your content on that platform.
The Bottom Line on Social Media Outreach
Social media outreach is critical to the success of your business. When you tap people to promote your content on their social media accounts, you can reach the right audiences at the right time to achieve your social media goals.
But social media outreach is much more than just sending messages to people en masse and asking them to do you a favor. For your outreach to be effective, you need to be strategic. You need to find the right people, make a connection, build a relationship, and ensure it is mutually beneficial to both of you.
We've given you seven tips to follow in this article. Now it's over to you. If you treat social media outreach as a continuous process of building and nurturing relationships, and not just a one-time thing, you will reap its tremendous benefits.