For many, LinkedIn is viewed as a platform that allows users to look for jobs and demonstrate how they've arrived in life professionally. But it is more than just a job-seeking/posting platform. If used correctly, it can work as a lead generation machine, allowing B2B businesses to acquire new customers organically and efficiently, and build a deeper connection with their leads. But the question arises "how to use LinkedIn for lead generation?"
If you are still on-the-fence about the efficacy of this platform, consider the following statistics:
1 out of every 3 business people today has a LinkedIn profile.
96% of sales executives use LinkedIn at least once a week.
81% of B2B marketers use LinkedIn to launch new products.
LinkedIn has emerged as the best platform for lead generation, according to a study by HubSpot: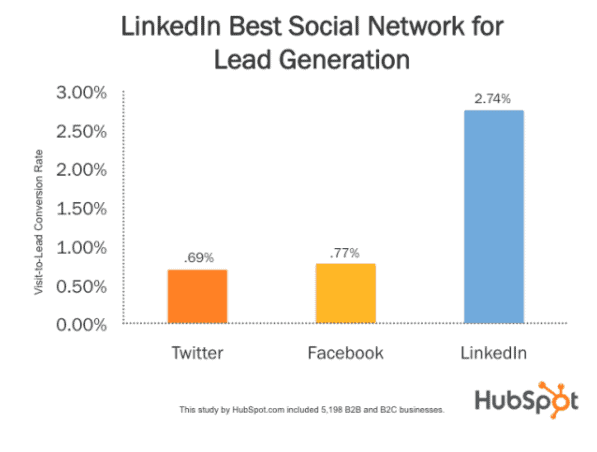 Image Source
The study also suggests that LinkedIn is 277% more effective for lead generation than other social media networks. Clearly, this is the go-to platform for B2B marketers looking to generate more leads.
So the real question then becomes:
"How can marketers generate more leads on LinkedIn, and what tools will they need?"
Top-3 LinkedIn Lead Generation Tools You Need to Know
If you think you'll be able to manage to send out connection requests, follow-up messages, find and validate email addresses, and build quality connections with prospects on LinkedIn manually, think again. As is the case with every kind of marketing endeavor, LinkedIn too has multi-purpose automation software that can come to your aid. These include (but are not limited to):
1. LinkedIn Sales Navigator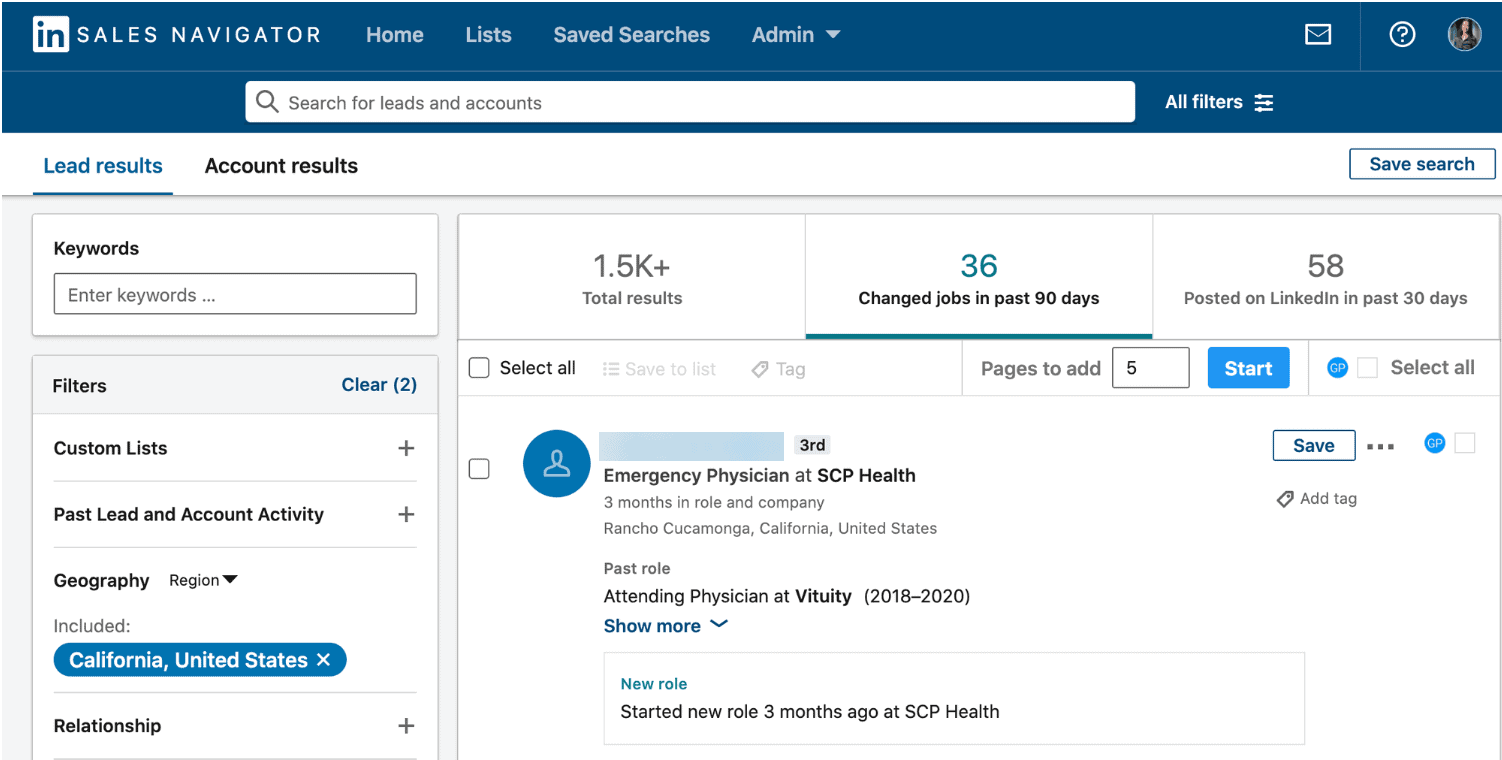 If you are already using LinkedIn and want to use some of its advanced features to close more deals using LinkedIn's pipeline of relevant leads, this tool is for you. It offers the following features:
Advanced Lead and Company Search: Allows you to find the right people and relevant prospects
Lead Recommendations – Offers customized suggestions for leads
Advanced Filtering, CRM Integration, etc. – Allows you to access your sales activity, connect to your CRM, add custom notes, etc.
If you want to learn more about all the features of this powerful tool and figure out how to use this, you should check out this guide on how to generate leads with sales navigator.
2. Phantombuster

This code-free automation and data extraction tool automates key actions that are critical in the lead generation process and helps you scrape audience profiles. Some of the useful features this tool offers include:
LinkedIn Network Booster – Automatically rolls out invitations and helps you connect to a list of LinkedIn users
LinkedIn Profile Scraper – Collects important data such as name, title, position, etc. from a list of LinkedIn profiles
LinkedIn Message Sender – Sends personalized messages to LinkedIn connections so that you can build rich connections
LinkedIn Auto Commenter/Liker – Allows you to automatically engage with specific posts of your connections
3. Dux-Soup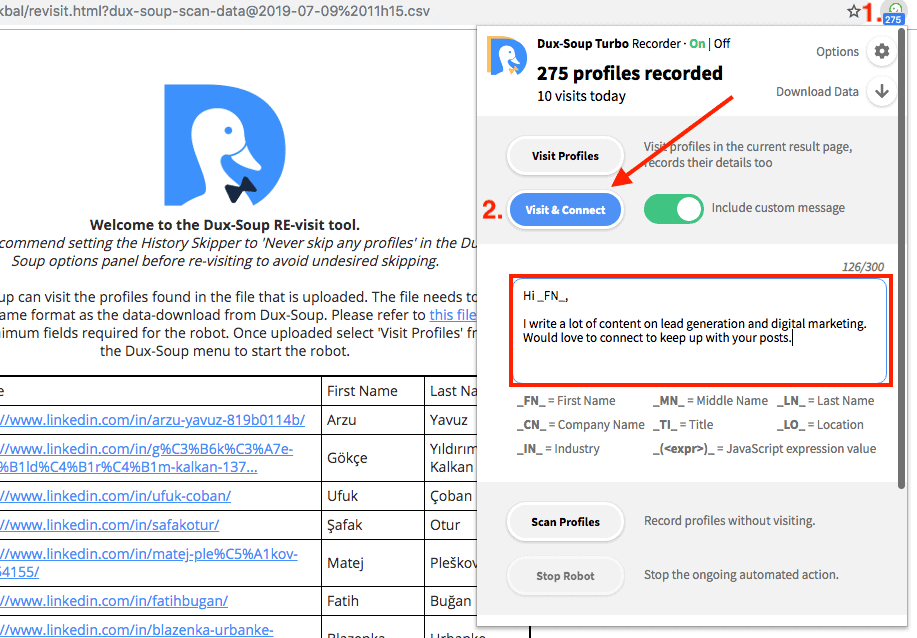 This tool lives in your Google Chrome extension and allows you to seamlessly connect with your leads. If you are a beginner and are just getting to know the platform, this tool is for you. Some useful features that this tool offers include:
Managing Prospects – You can leave notes and tags on targeted LinkedIn profiles and engage with users automatically.
Downloading Profile Details – It allows you to identify LinkedIn profiles, gather data, and upload it into your CRM, making lead management a breeze.
Outreach, Automation, etc. – It assists during a host of outreach activities such as sending personalized messages, endorsing connections, and so on.
Now that you have a basic understanding of how LinkedIn can help you generate more leads, let's look at the top strategies and hacks for lead generation using LinkedIn that you can include in your arsenal.
9 Most Effective LinkedIn Lead Generation Strategies
1. Start with your profile.
Since LinkedIn is a professional platform, playing the 'part' becomes important. In simpler words, your profile needs to be optimized for engagement. Here are some best practices to follow:
Make sure to have a clear and friendly headshot along with a relevant title that summarizes your company role and area of expertise. Also, include a high-resolution background image of your company if possible: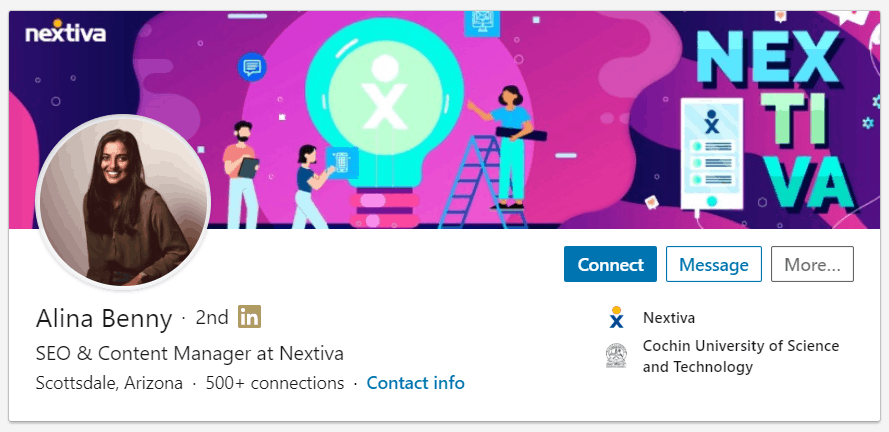 Make sure that your job description is strong, practical, and insightful: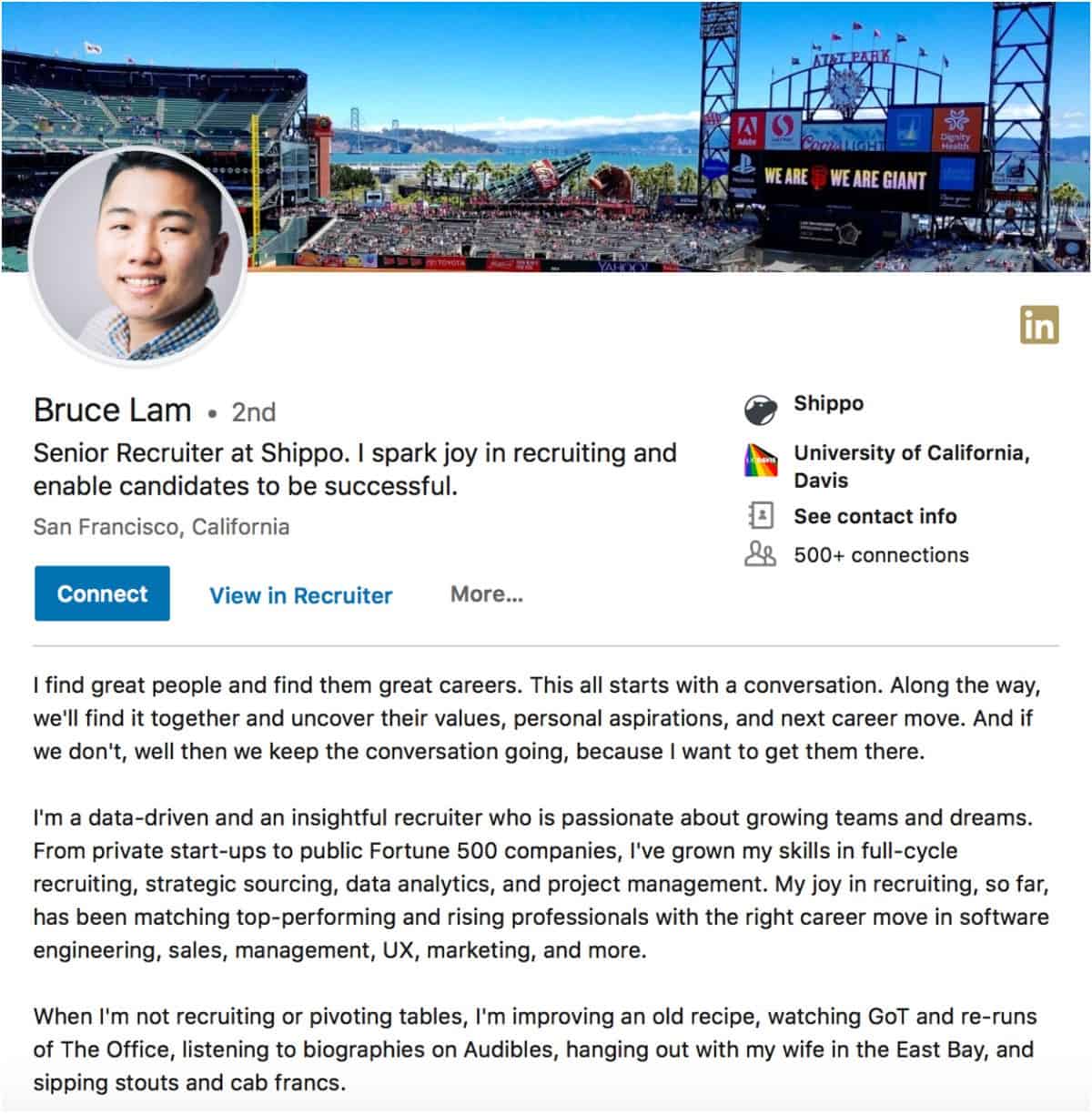 Make sure that your 2000-word "About" summary highlights your skills, expertise, and accomplishments, and is keyword-rich so that your profile can be easily discovered to the right target audience: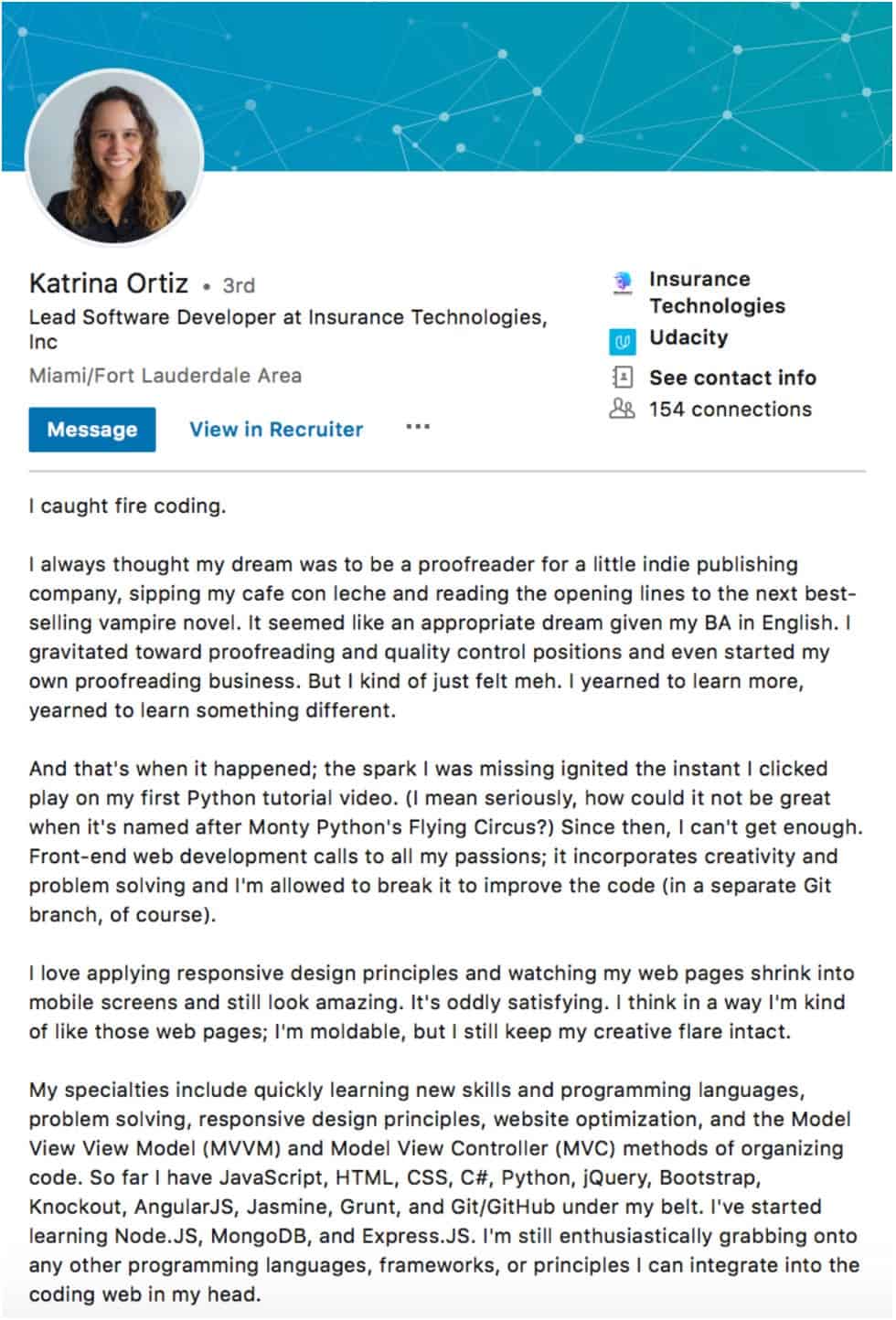 Leverage LinkedIn's "Featured" section to showcase major projects, publications, blog posts, etc. and reel new prospects in: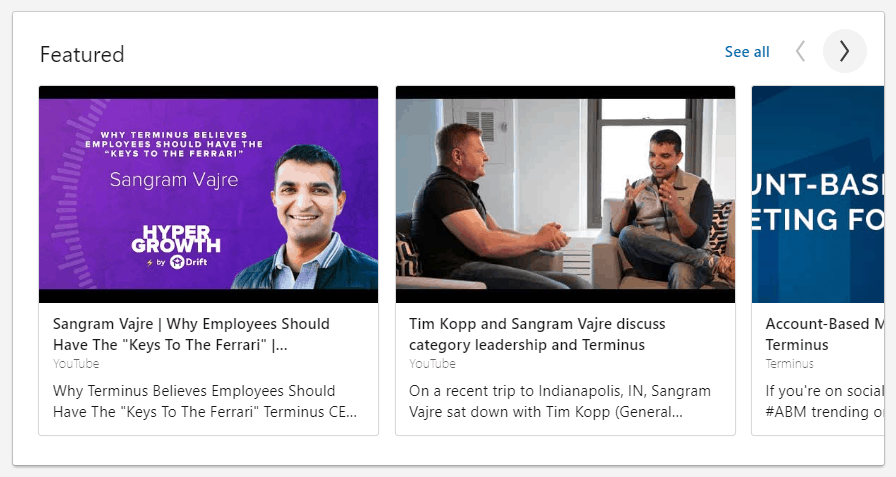 Highlight your work experience through the "Experience" section and make the content crisp and relevant: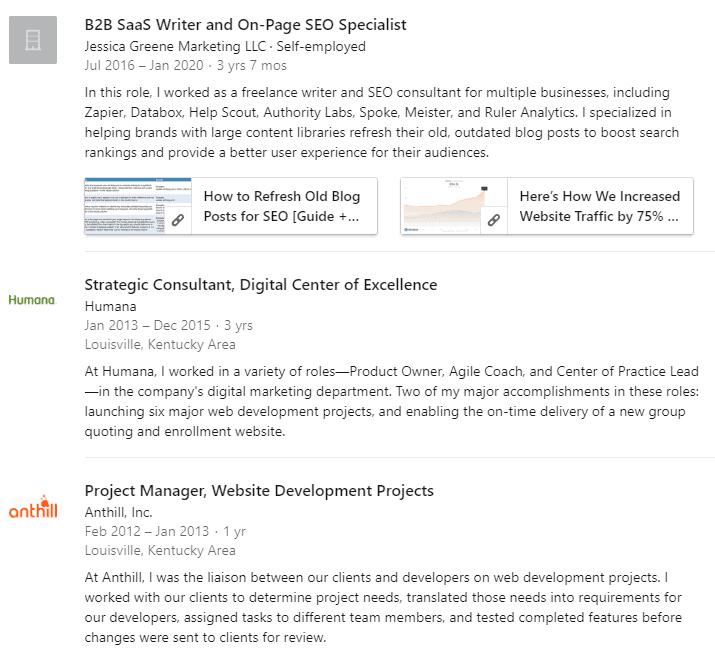 Finally, demonstrate 'social proof' by asking colleagues, friends, etc. to write authentic recommendations: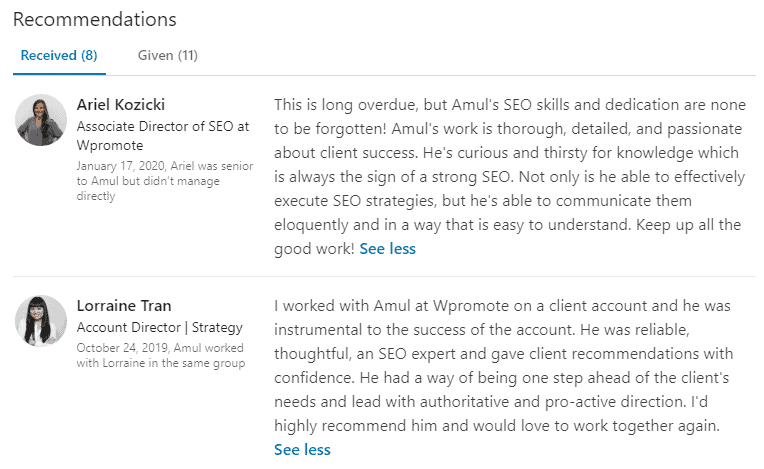 Key takeaway: Your profile is the 'first impression' you will make on your leads. So ensure that it stands out, is detailed, and updated at all times.
2. Define your audience accurately.
The importance of targeting the right audience cannot be stated enough. LinkedIn users are increasingly getting tired of getting "spammy and salesy" content from the get-go. Consider the following example: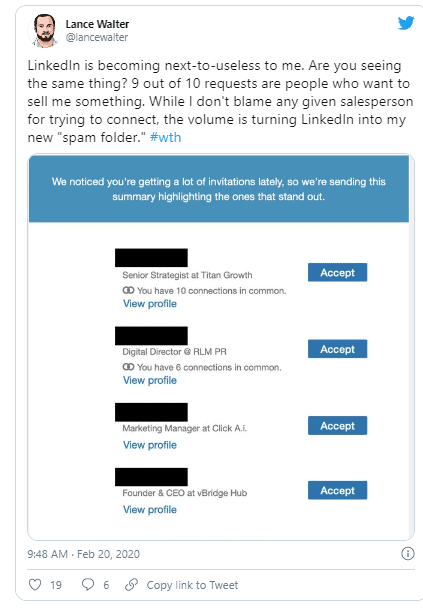 So what can you do to turn the tables around? Here are some handy tips to follow:
Start by spotting the right decision-makers and relevant contacts. You can use LinkedIn's native search functionality.
Head to the "People" tab of a company page and look at the list of potential contacts with relevant job titles and connections
Connect with people with actually have shared connections who are colleagues/co-workers.
If you are not sure, simply start "following" a prospect instead of directly connecting with them (and annoying them).
Key takeaway: Connecting with leads on LinkedIn should be a subtle, informed process. Simply sending invitations and salesy cold messages left, right, and center will only damage your lead list and reputation, of course.
3. Zero in on your tools wisely.
Truth be told, there are plenty of LinkedIn tools you can use. Simply opting for all the tools won't be feasible and choosing a few based on intuition won't get the desired results. So, in order to work the smart way, make sure to understand which LinkedIn tools you should use, and more importantly, what purpose the tools would serve for you in your lead generation journey.
Here's a quick snapshot of the pros and cons of using LinkedIn's automation tools:
| | |
| --- | --- |
| Pros | Cons |
| Automates routine tasks such as sending invitations to connect, sending follow-up messages, extracting profiles and companies, inviting people to follow the company's page, endorsing connections, etc. | Not using the tool within the 'safe limits' may lead to your account getting permanently blocked/restricted |
| Allow you to roll out automated marketing campaigns so that you can work on other pressing tasks | Testing the right automation tool which can maximize the value can become challenging, owing to the availability of different types of tools and stiff competition |
| Allows you to build a list of ready leads via automating invitation requests and follow-up messages | Some of the advanced automation tools come at a cost, making it a costly affair |
| Allows you to easily process leads and gather insights about the lead source, etc. | Not all tools available are safe to use, so care should be taken when narrowing down the options |
Key takeaway: When it comes to choosing the right automation tool, make sure to have 'safety' as the number one priority. Additionally, opt for 'intelligent' features such as the ability to mimic human behavior, accessibility to a smart inbox and chat, should be Cloud-based, and so on.
With CRM software, you can optimize your lead generation to get more qualified leads.
4. Engage in outreach with a personalized, human touch.
If you wish to connect with your leads qualitatively, you'll need to engage in dynamic personalization:

Your messaging should be customized and unique each time you send it to a prospect so that they think that it is not automated. When writing a useful message, here's a handy tip by Benji Hyam: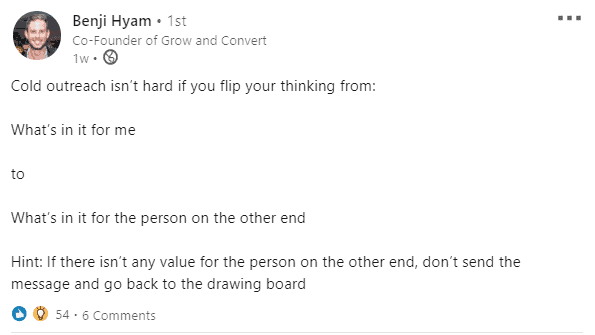 In addition to this, you should go for the following proven hacks:
Always offers your prospects something meaningful in return, such as a blog post, a newsletter shout-out, more information, etc.: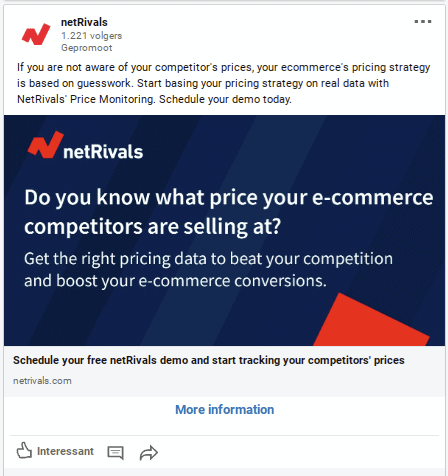 Build a landing page

where you can invite people to learn more about your expertise, along with a CTA to sign up for a mailing list.

Consider fanning out and connect with your leads elsewhere (think: Twitter, a website contact form, etc.
Key takeaway: The idea is to send customized messages to specific target audiences at different times and with different messaging. Simply sending messages after messages on InMail will not help your cause.
5. Boost your profile's visibility through on-point posts and relevant interactions.
If you want to reach more and more users on LinkedIn, you will need to be an active participant on the platform–from publishing content and posting comments regularly to liking posts and sharing content, there's a lot of ground to cover.
One of the biggest advantages of the LinkedIn algorithm is that you don't need to write blocks of text or lengthy posts to be considered as 'active.' Something as simple as a clap or a "Congrats" works just fine to boost your profile's visibility
You can also post updates and content during the mornings and/or early afternoon to boost engagement: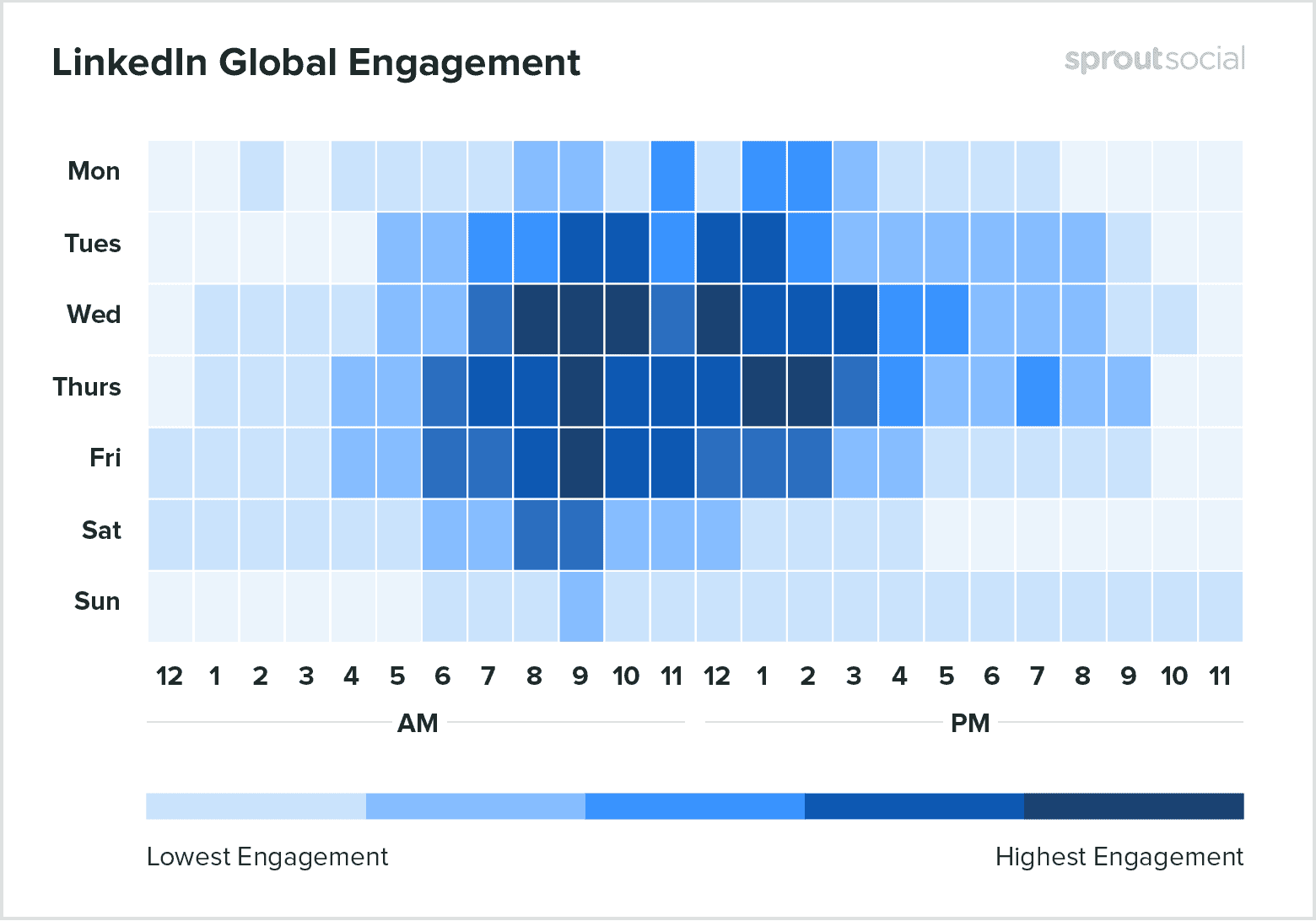 You can also tag a colleague/company to boost visibility and use two to five relevant hashtags to boost followership: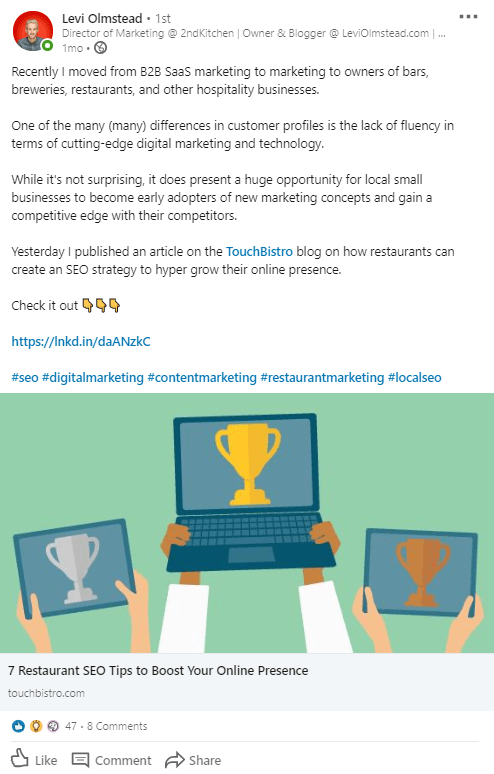 Here's another example: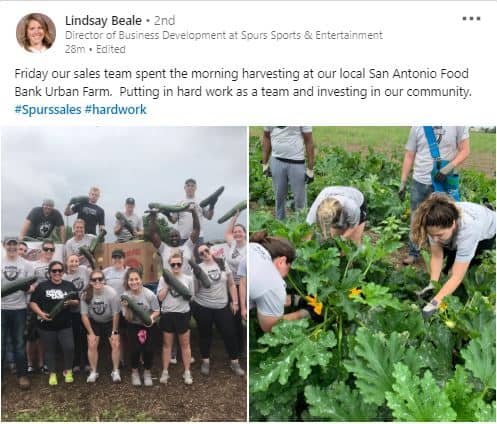 Key takeaway: There are plenty of organic ways to increase your profile's visibility and expand your reach. As long as you are active, you're good to go.
6. Funnel your leads, the right way.
With LinkedIn, the golden rule is this: Always share your latest blog posts, lead magnets, and webinars you've hosted every chance you get. That said, make sure that you're not engaging in any kind of hard/direct selling, which can prove to be counter-productive. This is where you should optimize your content and make it sound 'educational', and not promotional to the extent possible: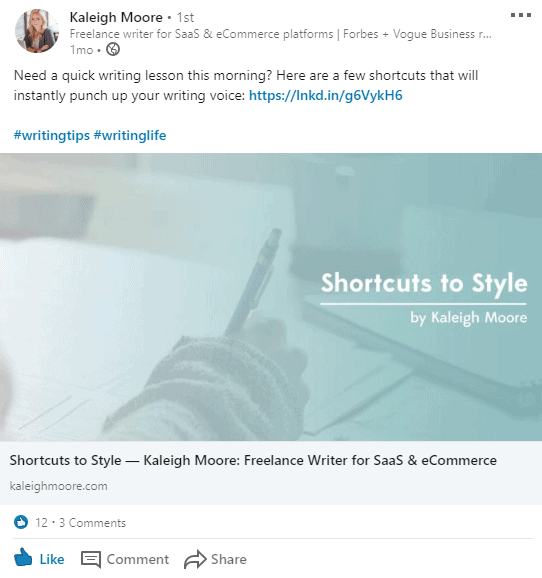 Also, try to include videos into your written post as it is one of the most-shared forms of content on social media: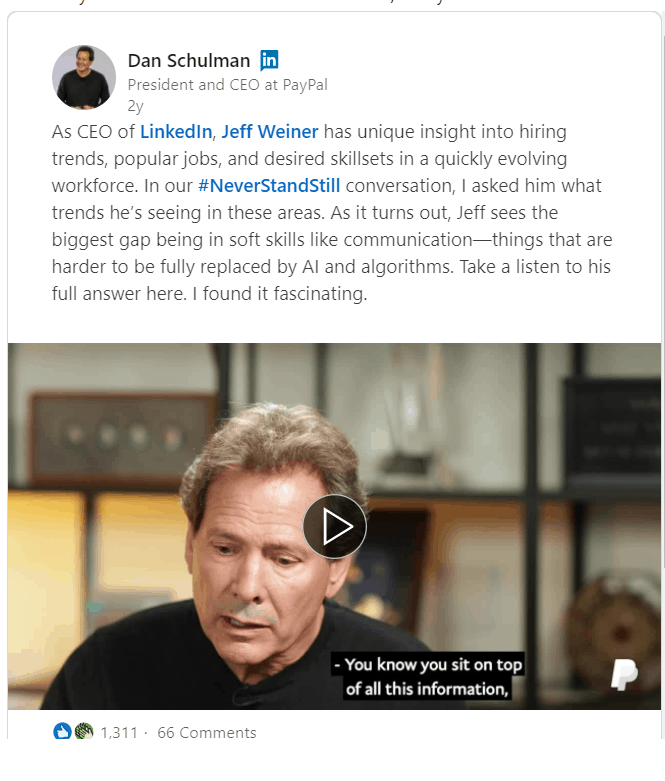 Similarly, it goes without saying that if you are funnelling visitors from Linkedin or any other source, your website or landing page has to be optimized with relevant CTAs & loaded with tools like a chatbot & a knowledge base. So, once they are on your website, they don't feel annoyed & leave your website without taking any action.
Key takeaway: Sharing your blogs, images, and posts in an educational format will work better in gathering more organic leads (as opposed to hard-selling and annoying your leads to no end).
7. Leverage the power of LinkedIn Groups.
LinkedIn Groups is hands-down the best place to collaborate and connect with your prospects through active discussions and conversations. Additionally, these groups empower you to build your influence within industry-specific, niche communities and establish trust as well as credibility: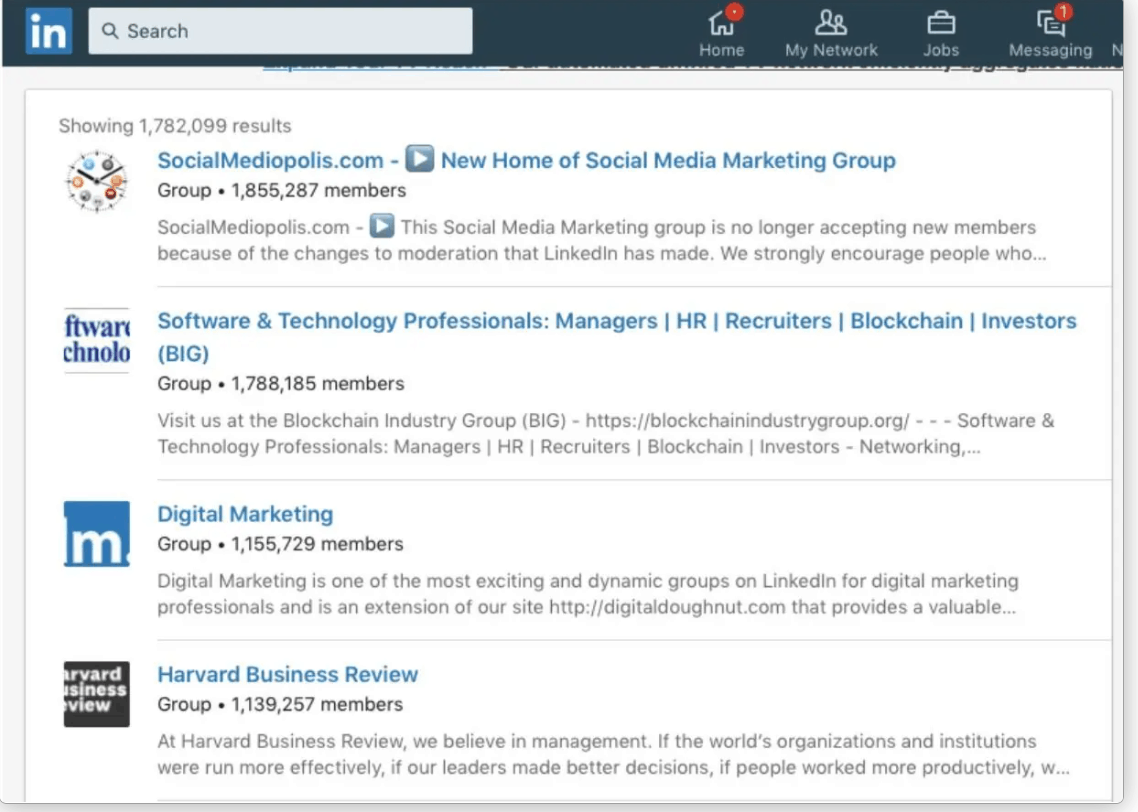 Image Source
Pro tip: Before you share your content, make sure to go through the Group's rules to avoid any mishaps: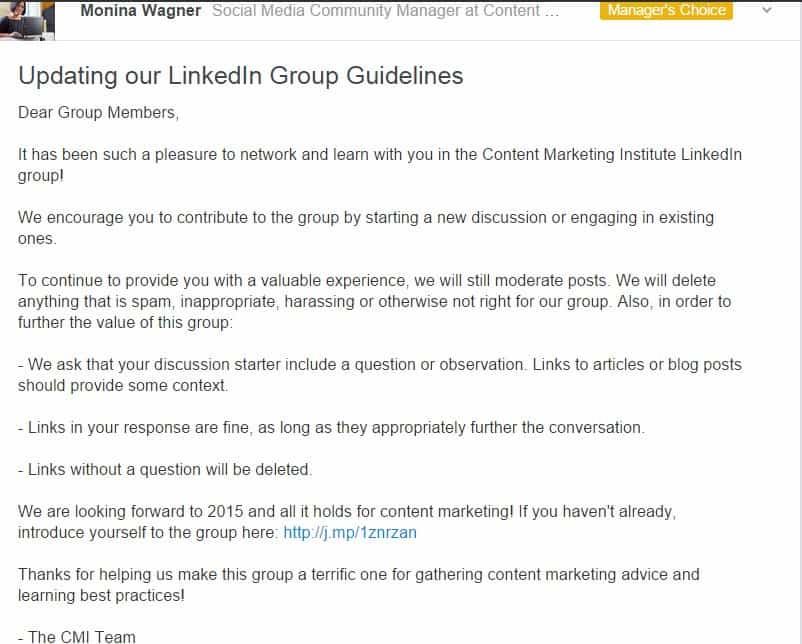 Image Source
Key takeaway: LinkedIn Groups reinforce a more collaborative and natural way of connecting with your leads and nurturing them from start to finish.
8. Try repurposing your top content.
Another useful hack that always works is analyzing your top-performing content & repurpose it. In fact, this hack is so popular, that almost every big brand or influencers incorporate it in their social media strategy.
Ask yourself the following questions to understand what kind of content you should repurpose and share on other social media channels as well:
Which types of posts are gaining the most traction?
Which content is gathering the most clicks to your lead magnets and landing pages?
What type of content is not working within your target audience?
Pro tip: You can use social media analytics tools that allow you to analyze data by categorizing your updates according to clicks, reach, and other critical engagement metrics.
Key takeaway: For marketers looking to make the most of their content strategy, analyzing your top-content is a must. This content can then be shared on other relevant social media platforms and garner even more interested leads.
9. Consider running a LinkedIn lead generation ad.
Did you know that an overwhelming 65% of B2B marketers have engaged in paid promotion on LinkedIn to boost leads? One of the reasons why LinkedIn ads work is that they are literally made for marketers looking to expand their lead list. Plus, LinkedIn ads allow you to target leads that are most relevant to your business based on unique parameters such as industry, job title, and company size: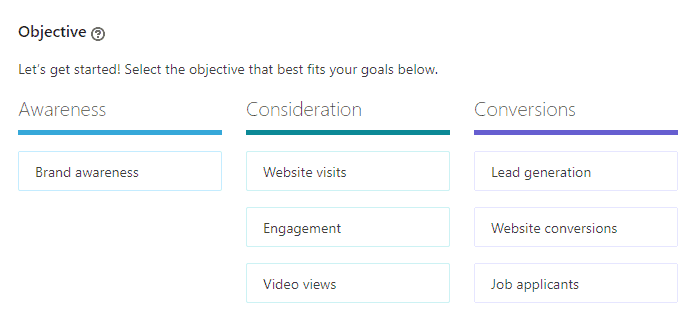 Moreover, these LinkedIn lead generation services are much cheaper and easier to implement than, say, Google ads or Facebook ads. To extract the maximum benefits out of lead gen ad, make sure to integrate downloadable reports, videos, and other lead magnets: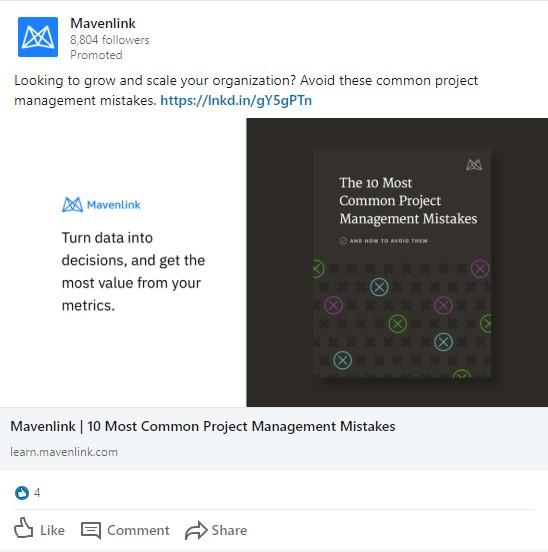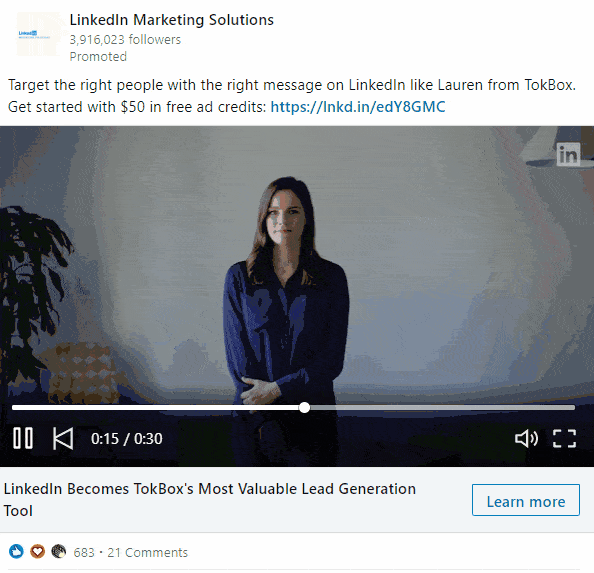 Key takeaway: Once your list of organic leads is ready, you can use the data to create in-depth personas based on the interactions you might have had with your leads while running the campaign.
Closing Thoughts on LinkedIn Lead Generation
LinkedIn has proven to be an effective and powerful platform for gathering quality leads time and time again. A LinkedIn lead generator is not just about gathering the first and last names of your leads and calling it a day. The idea is to build a deeper connection with your leads through sustainable and natural means.
That said, where most marketers lack, is understanding the right cocktails of tools, tips, and strategies to implement–ones that can offer the maximum value and help build deeper relationships with prospects, all at the same time. So try these time-tested hacks and give your lead generation efforts the organic boost it needs, effortlessly and purposefully.