Hype about TikTok for business marketing is growing.
Why? Because the platform appeals to younger generations like never before, offering a new way for companies to enhance their brand image, connect with consumers, and build buzz. With over 800 million monthly active users, TikTok is the sixth biggest network in the world and it generates some of the most engagement.
As the number 1 downloaded app of 2020, and a platform that's sure to gain more attention in the years ahead, TikTok is something your business can't afford to miss out on.
Ever wanted to know how to use TikTok for business? Same here. That's why we've put together these tips for leveraging the channel with viral video techniques.
Learn The Platform
To successfully know how to use TikTok for business, you need to understand how it differs from other social media platforms. This video sharing network is a world apart from channels like Facebook and Instagram, and it comes with its own unique demographic to be aware of.
Around half of all the users on TikTok are between the ages of 18 and 24, and 27% of users are between the ages of 13 and 17. If you're going to rich this specific community, you need to figure out what kind of content younger fans respond to.
Users on TikTok are looking for content that's personal and relatable. They want something that feels authentic, and something they can actually connect with. When Chipotle makes TikTok content for their audience, they focus on humor, and responding to the requests of their actual customers. This video was the company's response to the request for cauliflower rice:
Even brands that would otherwise struggle to connect with a younger audience can stand out on TikTok. Washington post made some of it's trending stories more human by showing people responding to stories:
Now, Washington post has over 31 million likes, and 826k in followers.
Get In With The Influencers
Influencer marketing is a powerful tool in all aspects of social media these days. However, it's particularly valuable for TikTok, where customers are in search of authentic and "real" content. While Gen Z customers are inherently skeptical of big businesses and traditional marketing, but they're happy to buy anything their favorite figures recommend.
Elf Cosmetics is one example of a company that frequently experiments with influencers to drive customers towards their makeup products. They use influencers to show off what's possible with their products, and get people excited about new trends.
The biggest challenge for most businesses using TikTok for influencer marketing, is finding the right person to work with. You can start by searching on the Discovery tab on TikTok, which is where the platform shows some of its top trending content. That's a great way to find influencers that are connected to your niche or industry.
Unfortunately, the Discovery tab is a little limited in what it can offer. It's often easier to use a tool like Influence Grid, where you can get a deeper insight into the engagement levels of each influencer, their number of followers, where they're from, and what kind of views they get.
All you need to do is filter your options according to the industry that you're interested in and find the people who are most likely to reach your audience from there.
When you reach out to your influencer, don't be afraid to ask for their insights into how you can make your content more "trend" worthy. Most influencers on TikTok have a great insight into the kind of strategies that work best for their audience.
Start Trending
TikTok is all about fast-paced content and discovering the latest trends. If you hop on a popular trend at just the right time, you're guaranteed to get the kind of views that you want. Challenges are the most significant TikTok trends, pulling people into the same community from all over the world. Popular trends that have appeared so far include #ThePushUpChallenge where everyone did their best to do as many pushups as possible.
Another adorable hashtag challenge started by Colgate was the #MakeMomSmile challenge:
Remember to add your own unique spin to hashtag challenges so that your brand doesn't blend in with the crowd. This is your chance to demonstrate what makes you unique.
Aside from challenges, you can get involved with trends on TikTok by taking advantage of new effects and filters when they appear, or just using the right music to accompany your videos. To make sure you're leveraging trends effectively, start by searching for the right hashtags.
The Discovery tab is once again an excellent way to get an instant insight into which hashtags are trending. Make sure that you pay attention to whether the hashtags actually make sense for the brand you're trying to build.
You can also examine the hashtags that other popular companies and people in your industry might be using. Competitor analysis should show you which tags are driving the most attention to pages with a similar audience to you. If you get really stuck, tools like Tiktokhashtags.com can generate some possible tags for you based on keywords that you want to rank for.
Make Your Audience Stop Scrolling
The key to really standing out with TikTok for business, is knowing how to get your audience to stop scrolling. TikTok suffers from a common problem in today's social media world. Mobile users scroll endlessly through videos, without stopping to engage. It's way too easy to mindlessly skip through content that doesn't force you to stop and take notice.
One of the most valuable tools on TikTok are the sounds you can accompany your video with. Using trending music on TikTok takes your content to the next level. To find out what's available, just tap on the TikTok sound library. You can see what's trending on the "Discover" tab here, and sort through music based on what's going viral.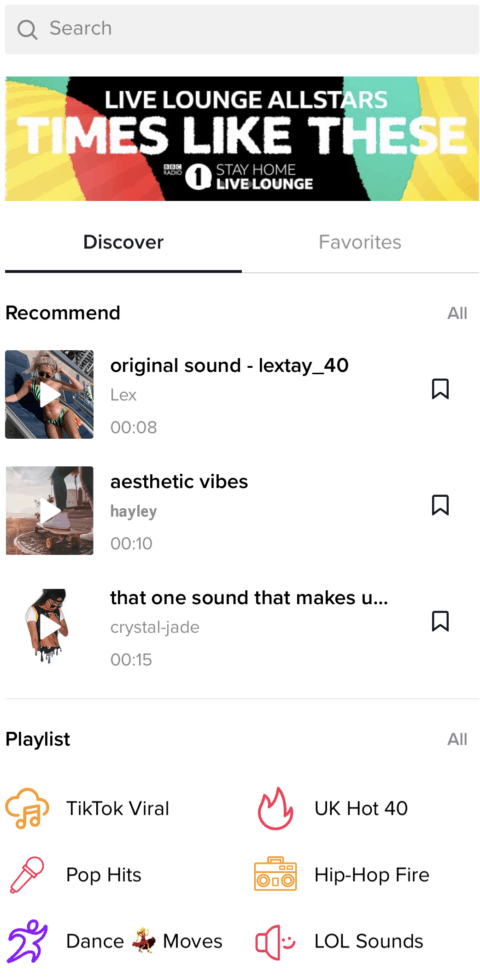 The TikTok algorithm relies heavily on sound to sort through content. If you like a video with a viral sound one day, the next day you'll notice that most of the content on your ForYou page shares the same sound. This means that incorporating the right sound into your video gives you a better chance of reaching people that have liked that sound before.
Sound instantly grabs your user's attention in a world where we're used to scrolling through silenced photos and captioned videos.
Remember, trending songs are constantly changing, and they're based on the TikTok algorithm, which examines user behavior. Staying ahead of the game with new sounds maximizes the visibility of your videos and shows your audience that you're on the cutting edge.
Boost Your Videos With The Right Visuals
You can upgrade the impact of your sound by adding filters to your TikTok videos too. Although there's more to TikTok than having a great-looking video, it helps if your content is appealing.
Just like adding filters to Instagram, TikTok filters give you the option to leverage trends in the social landscape by changing the appearance of your face or creating smooth transitions between pieces of content. Check out this awesome example of how Jack Black uses transitions to make his video stand out here:
Transitions, filters and effects in your TikTok videos demonstrate your understanding of the platform and allow you to generate unique experiences for your audience. While you could possibly get away from reposting old video content from YouTube onto your TikTok account and editing it to suit the latest trends, it's in your best interest to leverage all the unique features that TikTok can offer. Remember, when creating your TikTok for business content:
Keep it short and get straight to the point: TikTok videos can be up to a minute in length, but it's best to stick to around 15 seconds to avoid boring your audience. Time is of the essence.
Be authentic and unique: Find ways to make your brand stand out through unique filters and inspiring transitions. Videos that leverage trends but add their own twist at the same time make more of a lasting impression.
Combine music and hashtags for increased exposure: Hashtags and music are two of the most important factors in the TikTok ranking algorithm. Using the right relevant combination on all your videos will help you stand out.
How to Use TikTok For Business
As the social media marketplace evolves and the younger generation takes on more buying power, it's important for companies to track down the best way of connecting with their audience. TikTok is quickly gaining steam as one of the most effective solutions for reaching younger generations. However, like any other marketing tool, you need to know how to use it if you want to leverage the biggest benefits.
Knowing how to use TikTok for business means coming to terms with the unique features of the platform and experimenting with the kind of content that will wow your audience. With the tips above, you'll be creating buzz-worthy videos in no time.