Every brand starting off their digital marketing should focus on social media ads. Social media lead generation should be the top priority for any social media marketing strategy.
After brand awareness and engagement comes the social media lead generation. With a compact social media strategy, you will already have a few people who might be interested in your goods.
Why not convert them into your leads?
These leads will help you find more people who might be willing to buy from you. So, try to connect with them and make them feel special.
Once they realize that you are genuine, they might suggest you to others or deliver any news about your brand.
However, social media lead generation isn't that simple.
According to HubSpot, 61% of marketers feel generating leads is the biggest challenge.
But we'll make things easier for you. We have all the tricks and tips to level up your social media strategy.
But before we discuss it more, let's understand social media lead.
What is Social Media Lead?
Usually, what we understand by the term "lead" is information regarding reaching our goal. So, when we say social media lead, we are talking about communication that helps us make a deal.
The information may come from anyone on social media. These are the data which will help us get our ideal clients.
The leads may share information such as email address, phone number, social media profiles, and more. It becomes our duty to connect with these people.
When we work with leads on social media, it goes through three phases.
(You might want to note down these terminologies.)
Social media lead generation: This happens when we start collecting new leads on social media platforms. If you are new to the marketing world, you might want to consider a lead generation service for your brand.
Social media lead nurturing: As a marketer, you have to nurture your lead through proper communication. It will guide them through the sales funnel and help you accomplish your goal.
Social media lead conversion: You get a client when your lead is converted. It is the final stage of the sale funnel. It's turning your potential prospect into your paying customer.
So, as a marketer, this will be your task! Get your lead and ensure that they pass the sales funnel correctly.
But how to get the leads quickly?
One of the best ways is to go for social media ads.
What are Social Media Ads?
Every social media platform offers an option to publish ads. As a business, you should make use of this option.
Ads are the first thing a customer might notice about your brand. So, you must get the first impression perfect.
And with more than 4.2 billion active global social media users, you can't neglect the social media ads. As more and more people are going online, you have higher chances of reaching your customers.
Social media ads can be in any format – video, text, or image! Although, in recent years, social media video ads are doing much better.
But to get the most out of your social media ads, you need to follow a social media marketing strategy. If your strategies are not good enough, your ads won't work out.
Check these few things you need to do before you go live with the ads:
Know the right social media marketing metrics to track! Metrics data will help in improving your future strategies.
Find which social media platform is best for your brand.
Use A/B tests to learn which of your ads are performing better.
Hire an ads specialist who can help you with creating proper ads.
Find the right time to publish your ad.
Customize the ads to the liking of your buyer persona.
Ways to Get More Leads Through Social Media Ads
1. Optimize your account
Before you get started with the ads, you need to work a bit on your profile. After someone views the ad, they will first check out your company's social media page.
So, you need to optimize your page so that they are interested in looking at more products or contacting you.
Make it easier for them. Have your contact information right in the front. If you want your leads to see more of your products, it's better to add your shopping website link as well.
When the lead finds everything at the click of a button, they will happily check your website. And yes, don't forget to add the call-to-action button!
Your social media page and website should have prominent CTA buttons, so the user will know what to do. It can be a simple "SIGN UP," "BUY NOW," or more.
If your social media platform doesn't provide a designated CTA button, you can add the CTA in the bio. Most companies take advantage of the bio space on Instagram.
However, you can use it for Twitter, Pinterest, and LinkedIn as well.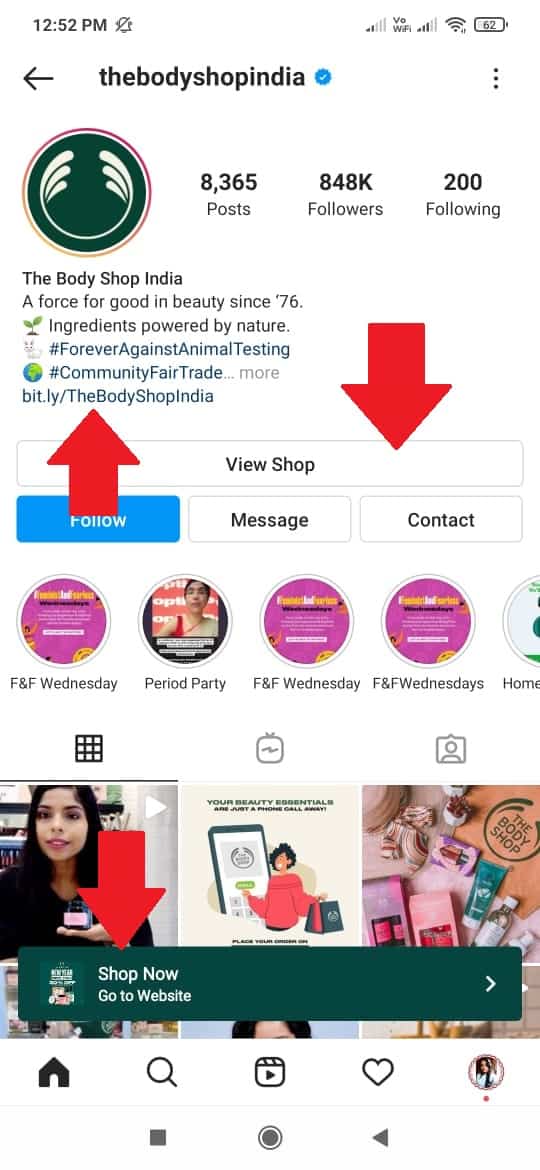 2. Use lead ads features
After you have used the organic lead collection tactics, you may use this option to boost your leads. Alternatively, you can use a combination of both to get optimum results.
Social media lead ads are available on almost all popular social media platforms. Let's discuss a few.
Facebook lead ads
Facebook has a special social media lead generation feature for marketers. Facebook's lead ads are promoted forms.
Whoever is willing will share their inputs in these lead forms. The data will directly go into the customer management system, which is downloadable. The sales team can quickly look into it and follow up.
The social media lead generation is unlike the traditional method where the users visit the website to fill a form. On Facebook, as soon as they first interact with your content, they can share their input right away.
The Facebook lead form consists of the primary contact information such as:
Lead's name
Phone number
Email address
And more.
You have the freedom to ask any ethical questions. Once you have prepared the lead form, you can share it everywhere on Facebook. This includes messenger, stories, newsfeed, and more.
So, when they are using these features, they can quickly fill in the form without leaving the app or website. It offers a seamless user experience and doubles conversions.
How do Facebook lead ads work?
You can create lead ads on Facebook just like the paid ads. You use Facebook's Ads Manager for this. You get the option to customize the target, budget, and other assets to reach your ideal audience.
Facebook will use this information to track down the right people and show them your lead ad. The ad will display on Facebook. It looks similar to organic posts but has a "sponsored post" tag.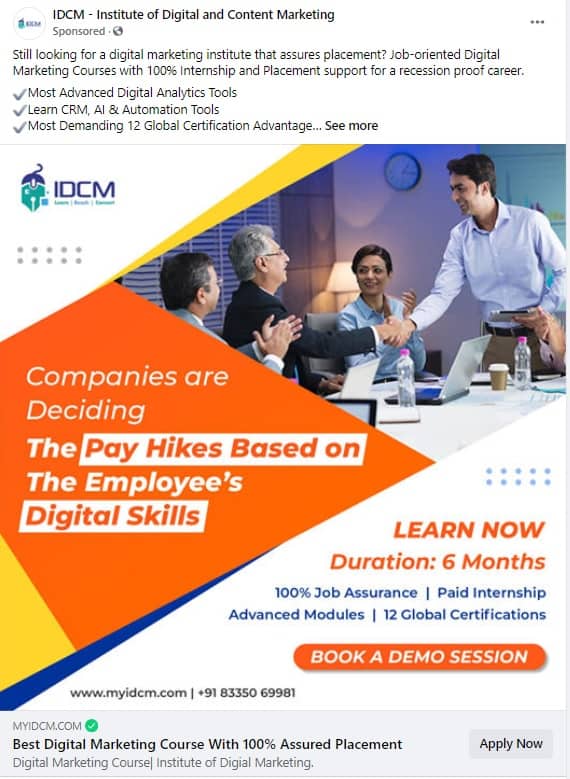 You can use these ads to promote something or get people to sign up for something. You can also offer a discount coupon for the leads.
For example, you want sign-ups on a product. Try to offer a discount coupon for anyone signing through Facebook. In this way, people will be interested in filling up the form.
Instagram lead ads
Do you know 90 percent of accounts follow a business on Instagram? So, if you haven't started your marketing on Instagram, you should start soon.
One of the ways to get leads on Instagram is through lead ads. Instagram lead ads are created to help businesses gather lead information such as name, phone number, etc.
When people willingly provide information to you using a social media lead ad, you can use them for conversions.
How do Instagram lead ads work?
To get started with social media lead generation on Instagram, you'll need an Instagram business account. But the good thing is, you can create the Instagram lead ad with Facebook's Ads Manager.
Here is a step-by-step guide on how to set up a leads ad on Instagram:
Select "Lead Generation" as your consideration goal.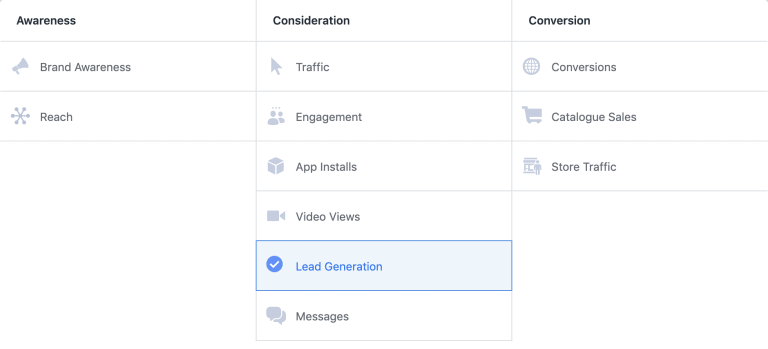 Image via Hootsuite
Go for "Automatic placements".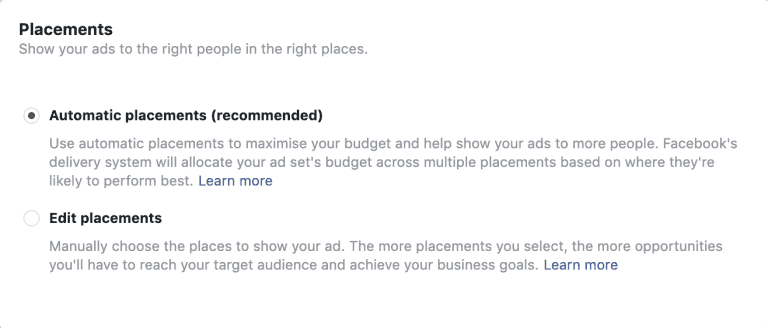 Image via Hootsuite
Your ad should follow the Instagram ad specifications.
Add pre-filled sections to your forms so that it's easier for people.
Instagram will pre-fill email addresses, names, gender, and phone numbers using data from customer's phone.
Refine your target by selecting the attributes similar to your buyer persona.
Once done, publish your ad!
LinkedIn lead ads
You'll find a social media lead generation ad format on LinkedIn as well. It is called "Lead Gen Forms." You can use these ads on Sponsored InMail and Message Ads as well.
Do you know the average conversion rate on Lead Gen Forms on LinkedIn is 13%? So, if your buyer persona matches with the typical users of LinkedIn, you should definitely go for this.
LinkedIn lead gen forms will help you reach your business to a professional audience. Since most of the people on LinkedIn are professionals, they have more buying capacity. But you need to know how to grow your business on LinkedIn to strategize properly.
The lead ad forms are specifically created to increase mobile conversion rates by adding CTA. It makes it easier for the users to click and fill in the information.
You'll find these forms in the sponsored content campaigns. The Lead Gen Forms will have a call-to-action button along with your sponsored ad. It may be sign-up, download, or more.
When the user clicks on the CTA, they will be taken to the form. But here is the best part, LinkedIn will pre-fill most of the details using the data from the account.
So, the user only has to confirm their email address and click on submit. Next, they are greeted with a thank you page and a website link to your company.
How to set up LinkedIn Lead Gen Forms?
If you have worked with Facebook Ads Manager, you will find this quite easy. Check out this step-by-step guide to create LinkedIn Lead Gen Form.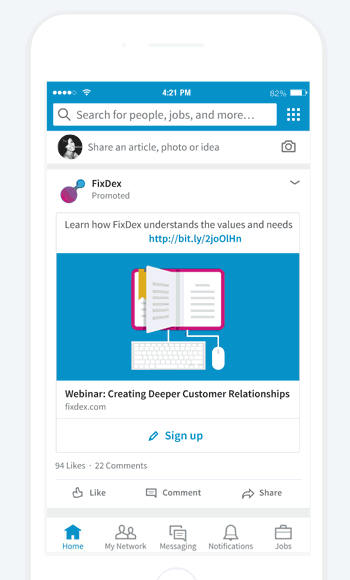 Create a promoted content – it is the only format that supports lead forms.
You'll get two options: Send people to websites or collect leads. Click on collect leads.

Image via Venture Harbour
Name your campaign and select Lead Gen Form.
Next, you can select a post already published or start from scratch.
You may also use the Campaign Manager to create lead forms on existing campaigns.
After selecting the content you want to promote, you'll have to create the form template. There will be two options – default form and create your own.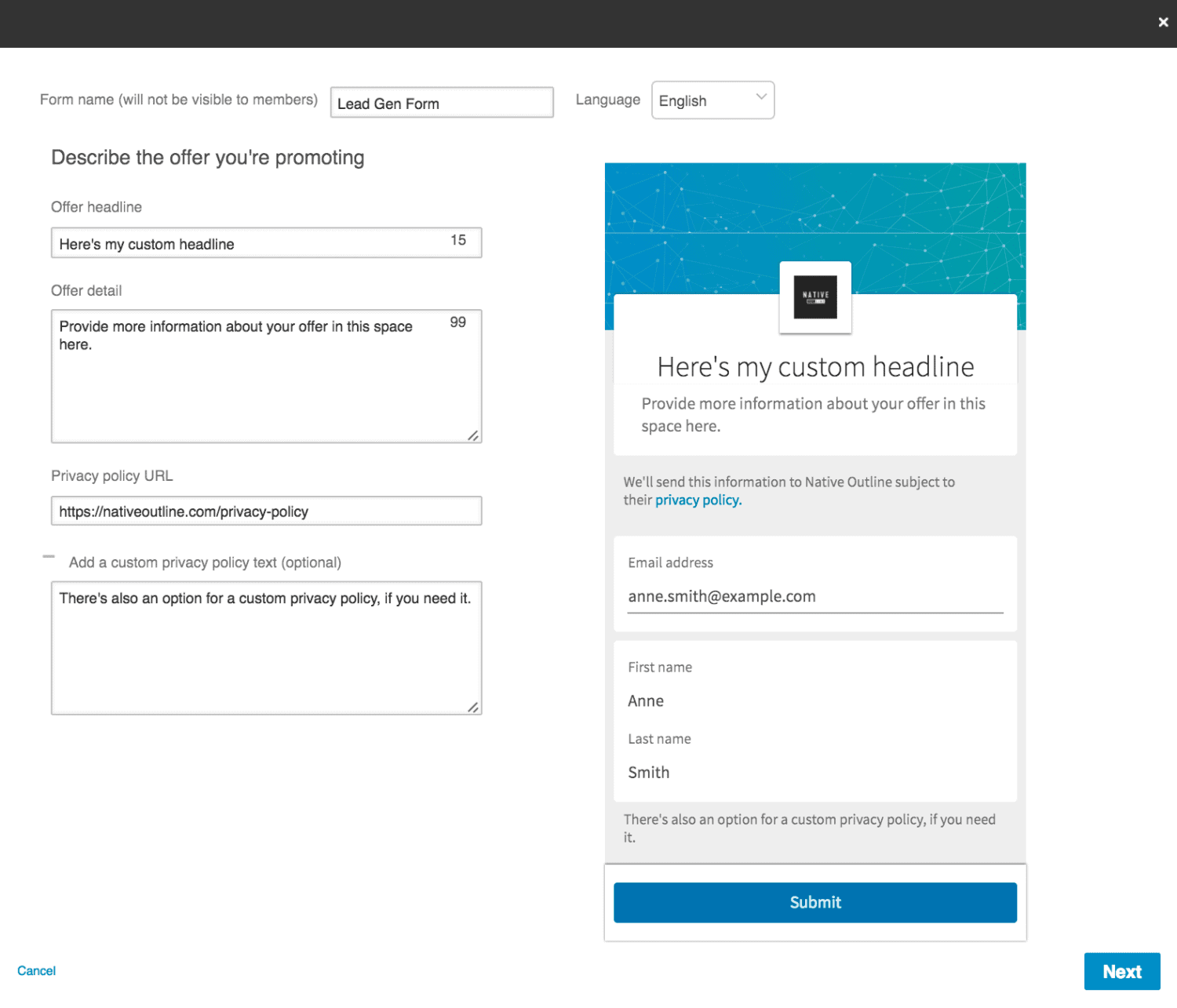 Image via Venture Harbour
After that, you have to name the form, come up with an eye-catching headline and provide additional details.
You may add the privacy policy details too. However, for this, you need to add a valid privacy policy page URL.
Next page, you'll have to select the details that LinkedIn will collect from the users. The limit is seven fields. The first, last name, and the email will be there by default.
You may ask for additional details such as contact number, location, and more.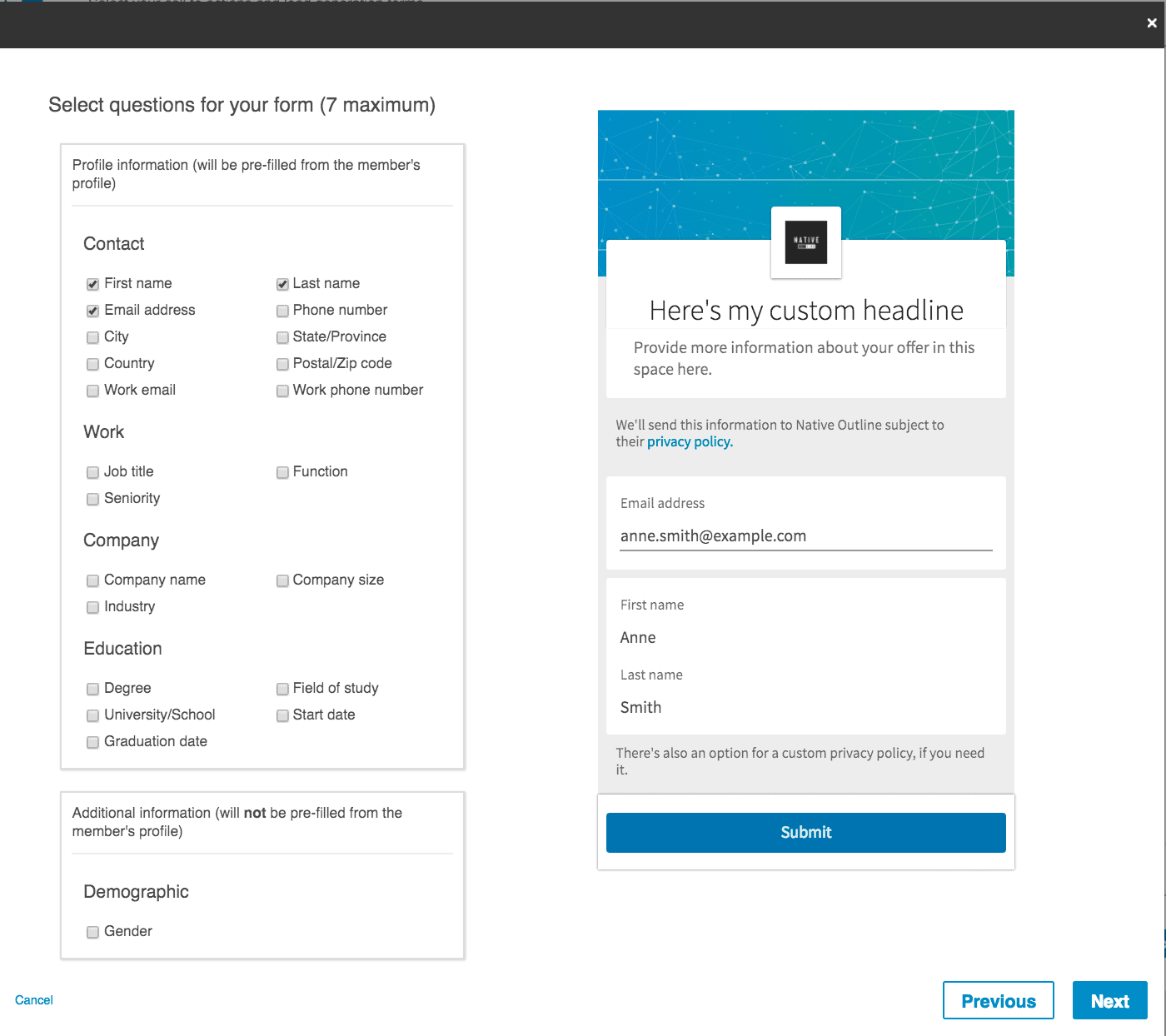 Image via Venture Harbour
Choose the "Thank You" message you want users to see after submission of the form.
3. Ensure Your Website Landing Page is Optimized
Many social media lead generation tools will provide an option to visit your company's website. So, when you start a lead campaign, ensure to optimize your website as well.
There are high chances that some of your leads will visit your website out of curiosity. You should start nurturing these leads from the website. Having an appointment plugin for WordPress would help to get them an appointment with your business.
When they talk to you about your business they will be more interested to make a purchase. So, you can make getting appointments as a goal for your lead generation campaign.
Whatever is your goal should be well presented on the website's landing page. This will educate the leads on what to do next when they visit your website.
Ready to Start Your Social Media Lead Generation Campaign?
With a good number of leads, you will be able to convert better. So, don't ignore the lead generation campaigns for your brands.
Especially when you are starting new and fresh, you would want to gather leads like this. Even after awareness campaigns, you may not be able to reach out to a large audience.
However, for the business's sake, you will have to go forth with the lead campaign. Once you start getting a good number of leads, your business will start growing.
Social media lead generation is the way to do it in the 21st century. As most of your audience is online, so taking the help of social media ads is lucrative.
Try the techniques mentioned in the article and let us know how they helped you.