American motivational speaker and businessman Zig Ziglar may not have been an Instagram expert, but he was a skilled salesman. In 2007, he changed the business of selling forever with an iconic yet simple statement: "you are out of business if you don't have a prospect."
While the world of marketing has changed dramatically over the past fourteen years, Ziglar's words still raise an interesting question: if your business doesn't generate leads, how much longer will it survive?
In today's digital landscape, the art of lead generation has changed, with 59% of marketers now believing that the most successful lead generation happens through social media.
As social media generation requires a unique skill set, this article will dive into ways to generate leads on social media in 2021.
What is lead generation through social media?
Before we dive headfirst into the art of lead generation, let's define some key terms used in lead-based marketing.
When marketers refer to a "social media lead," they are referring to any individual or business that engages with you on social media and has the potential to become a customer. To transform a lead into a customer, your business needs to collect key data about your lead, including their name, employer, email address, occupation, or contact details. Leads with no data are often known as "dead-end leads" because you can't sell to someone you can't talk to.
Alternatively, viable leads are known as "qualified prospects." Qualified prospects are leads that:
Are aware that they need your product or service.
Have an urgent and immediate need for your product or service.
Are willing to hear your sales pitch.
Have the financial ability or authority to purchase your product or service.
Have an established, trusting relationship with you.
Before we continue, let's quickly define three more terms: social media lead generation, social media lead nurturing, and social media lead converting. These terms may sound very similar, but they refer to critical steps in the digital sales funnel. The digital sales funnel includes four steps: attention, interest, desire, and action (often abbreviated to 'AIDA').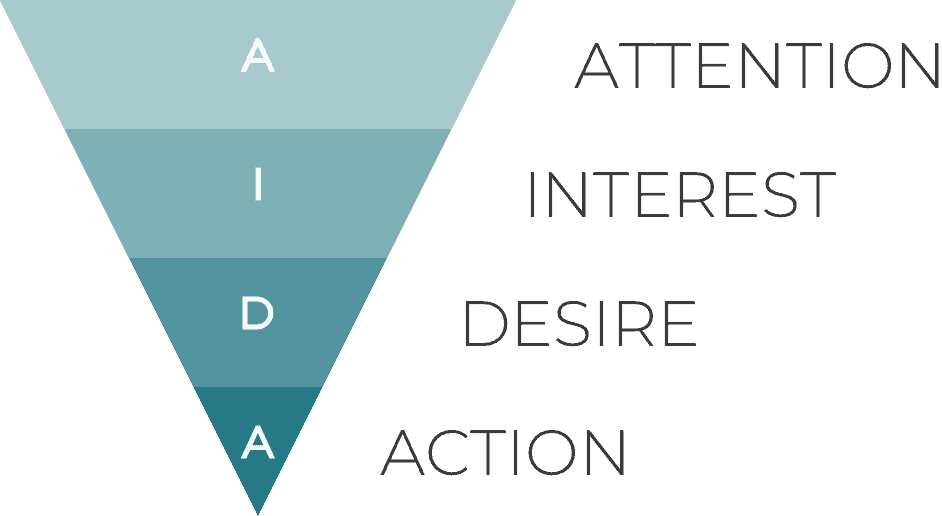 Source: Neurofied
Attention / Interest -> Social media lead generation
The term 'social media lead generation' refers to the 'attention' and 'interest' stages at the top of the sales funnel. During these first phases, businesses attract the attention of potential customers on social media, including through public relations-based marketing, direct social media promotion, and social media advertising.
As many leads in this stage are not qualified prospects, only a handful of potential customers will proceed to the next stage.
Desire -> Social media lead nurturing
The term 'social media lead nurturing' refers to the 'desire' stage of the sales funnel. Here, businesses try to build a sense of desire for their product through customer education, rewards, direct selling, or overt promotion. Sometimes, we call this 'wooing' the lead.
During this stage, smart businesses also focus on building their email lists with email list management software, as email marketing is a great way to nurture a relationship.
Action -> Social media lead converting
The term 'social media lead converting' refers to the digital sales funnel's final stage: 'action.' At this stage, leads choose whether to convert into customers by purchasing your product or service.
Strategies for social media lead generation
At this point, you may be wondering, "why social media?"
While there are many ways to win leads both online and offline, generating leads from social media has an enormous advantage over every other medium, as it exposes you to a pool of leads so enormous it's almost inconceivable. Currently, there are over:
However, you will need a solid strategy to leverage social media for lead generation as most social media platforms are oversaturated with content. But don't stress.
In this section, we'll cover 11 killer tips to improve your lead generation strategy.
Optimize your profile
Have you ever been followed by someone on social media, only to realize their profile is blank? If you're a dedicated social media user, you'll know that every platform is full of blank profiles. Blank profiles that absolutely no one pays any attention to.
If you want to earn leads, you'll need to build your brand a profile people will remember. Yes, that means crafting a brand personality, but it also means filling out your profile with:
A high-quality image of your logo.
Your customer service contact details (including email and phone number).
A call-to-action button that directs followers to your store.
A link that lets followers join your mailing list.
A short and descriptive bio explaining who you are and what you do.
You should also create a social media policy behind the scenes, as this will help your marketing team win leads through social media without accidentally starting a scandal.
Drive traffic to your website
While you need both a profile and followers to win leads on social media, posts are the primary traffic driver. Social-media-smart businesses know that the trick to turning leads into customers lies in driving traffic to your website. Usually, they do this through three steps.
Step 1. Post something eye-catching.
Step 2. Tell the reader a story that gets their attention.
Step 3. Hit the reader with a call-to-action directing them to your website.
For example, let's look at how Registered Dietician Abbey Sharp drives traffic to her website on Instagram. First, she uses a delicious-looking image to draw followers in.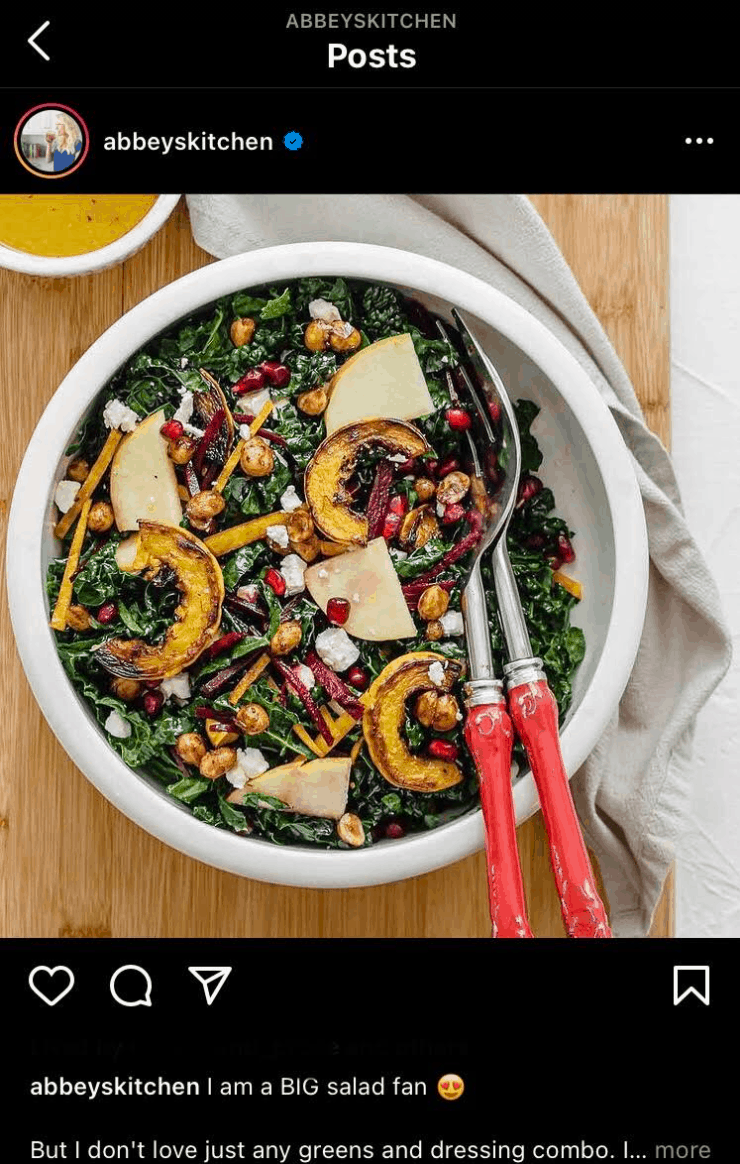 Source: @abbeyskitchen on Instagram
Then, she sells you on the dish by making you hungry, and finally, she directs leads to her website with a line like "hit up the link in our bio for the full recipe."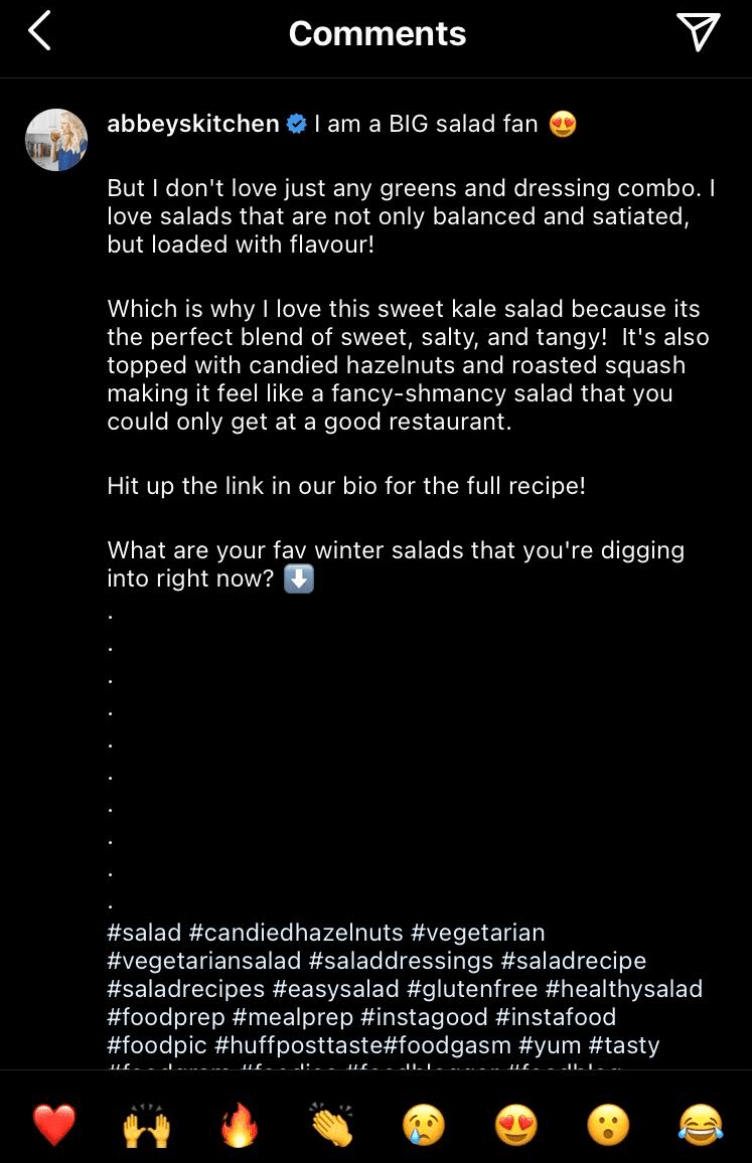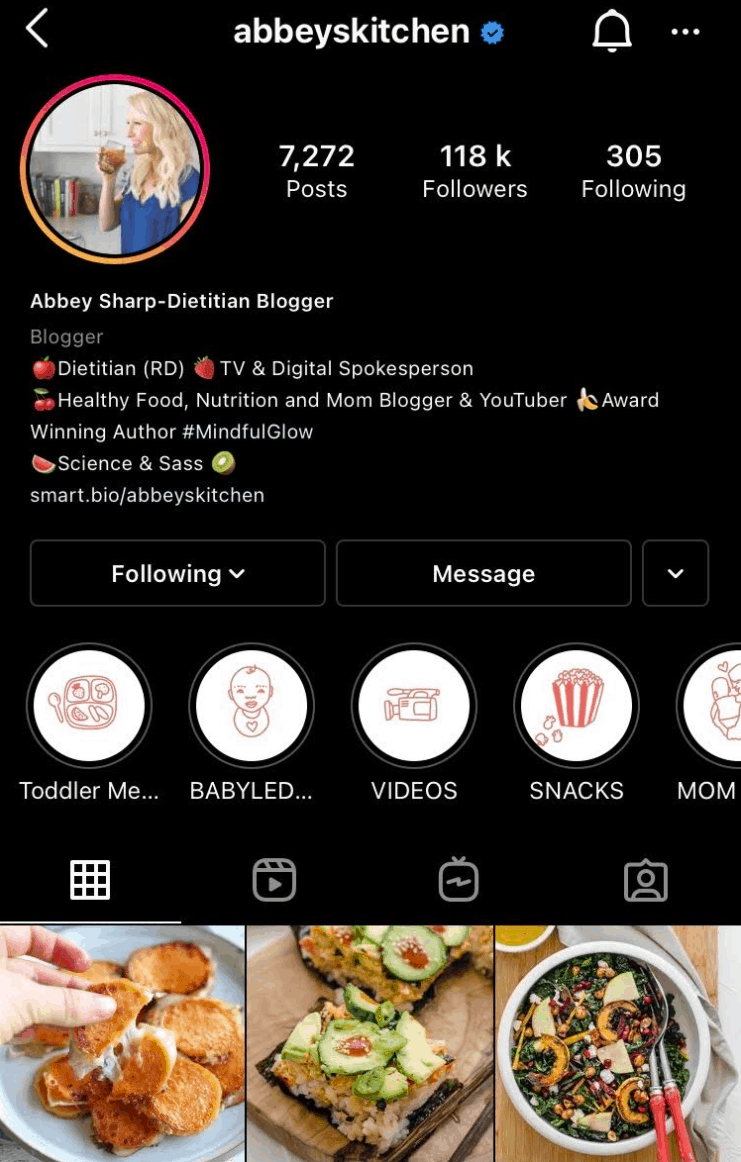 Naturally, this lead generation strategy requires building a really strong website with an attractive landing page – as no one is buying from a website that looks like it was built in 2002. Here's the recipe on Abbey's website.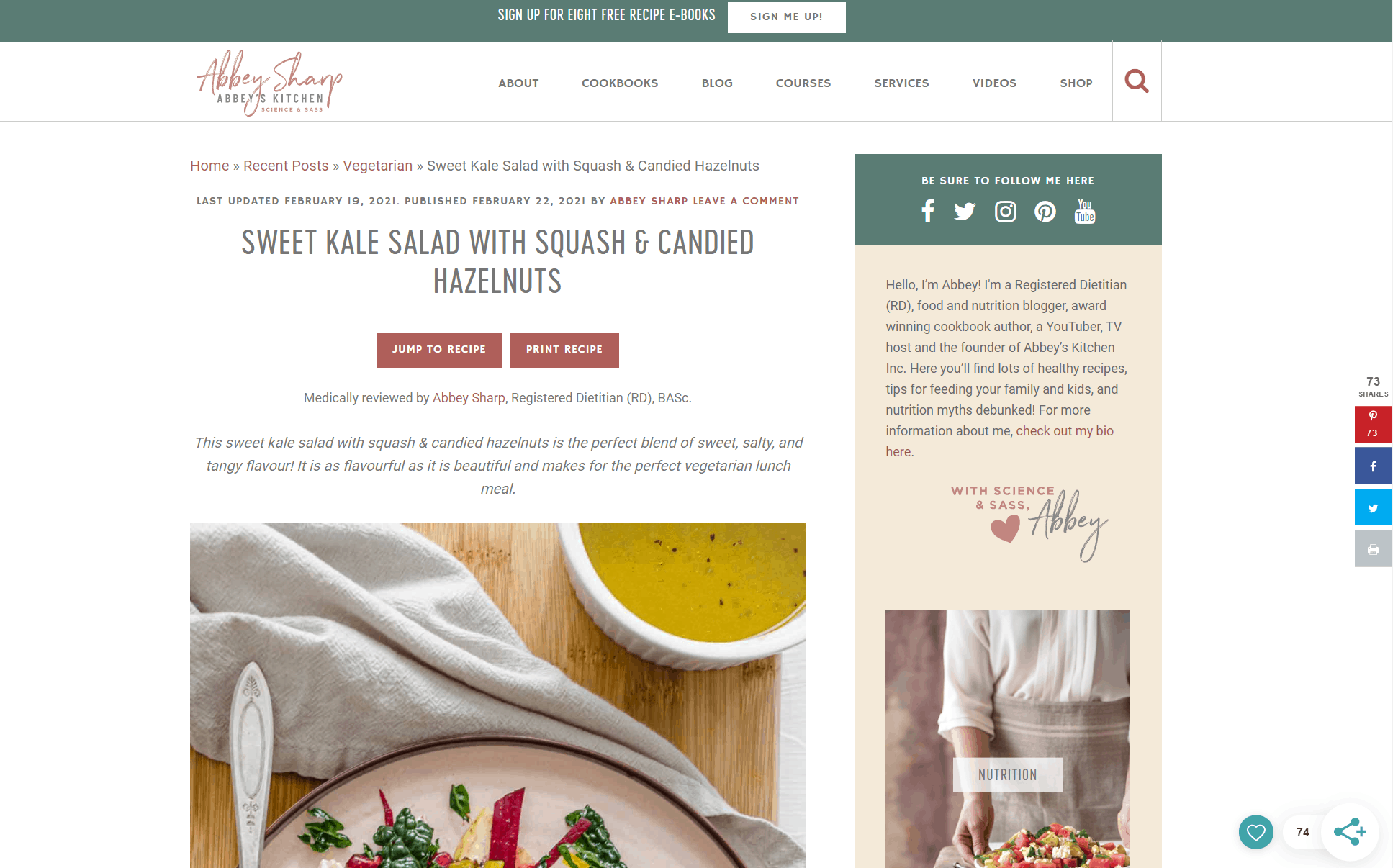 Source: Abbeyskitchen
Run social media paid ads
While organic social media content is all the rage right now, old-fashioned advertising is alive and well.
Running a paid ad on social media is a fantastic way to generate leads, as brands target social media ads at small demographics of people. That means you can target your ads directly at your target audience: increasing the number of qualified prospects you reach.
If you want a gold star for your social media marketing methods, always choose ads that target the same person multiple times (called 'retargeting ads'). These have a click-through rate that is 10x higher than other ads, making them a game-changer.
Use image advertisements
Not all posts are created equal. According to research into brand social media marketing, people are most likely to click-through to a brand's website on a post containing an image or a discount code. Specifically, 25% of people clicked through on a post with an image, and 27% on a discount code.
However, as you can't run discounts 24/7, that makes images the strongest type of post for social media lead generation. But how do you maximize the efficiency of image posts? That's simple. When posting an image, always make sure your image is unique, tells a story, evokes emotion, is enhanced with a strong caption, and includes a call-to-action.
Sounds tough? This post from SkeinSisters makes it look easy.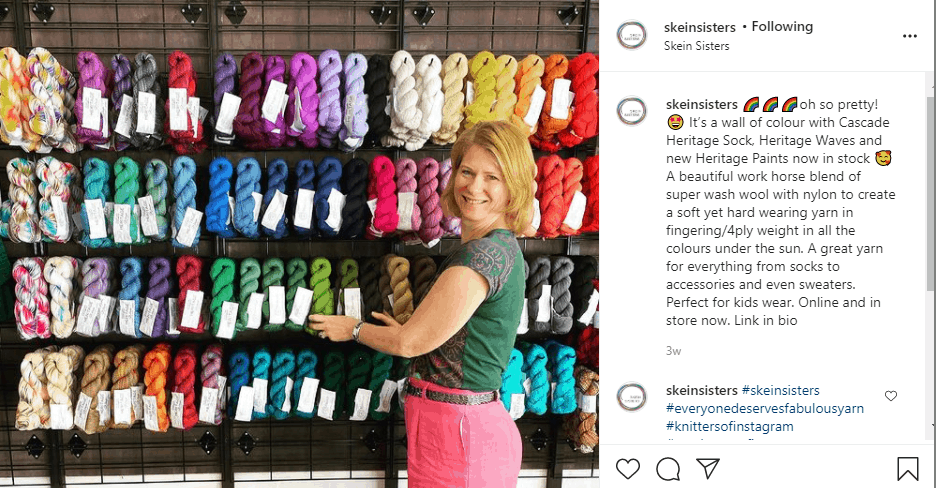 Source: @Skeinsisters on Instagram
Create and distribute A-level content
While this tip may seem straightforward, many brands focus their efforts on creating lots of content rather than A-level content. Big mistake.
As mentioned in this guide to content marketing, good quality content increases your reader retention rate, wins you more shares, and exposes your work to a broader audience. Thankfully, creating great written content is easy. You can produce A-level content using editing tools like Grammarly, search engine optimization tools like INK and Article Forge, and paraphrasing tools like Quillbot.
Leverage chatbots
Want to woo your potential leads with that touch of technology? Try chatbots! Chatbots are a fantastic way to have one-on-one conversations with leads without putting more pressure on your customer service team.
Social media chatbots rely on keywords, meaning they can answer basic questions and help leads use your website. Check out this chatbot from Lyft.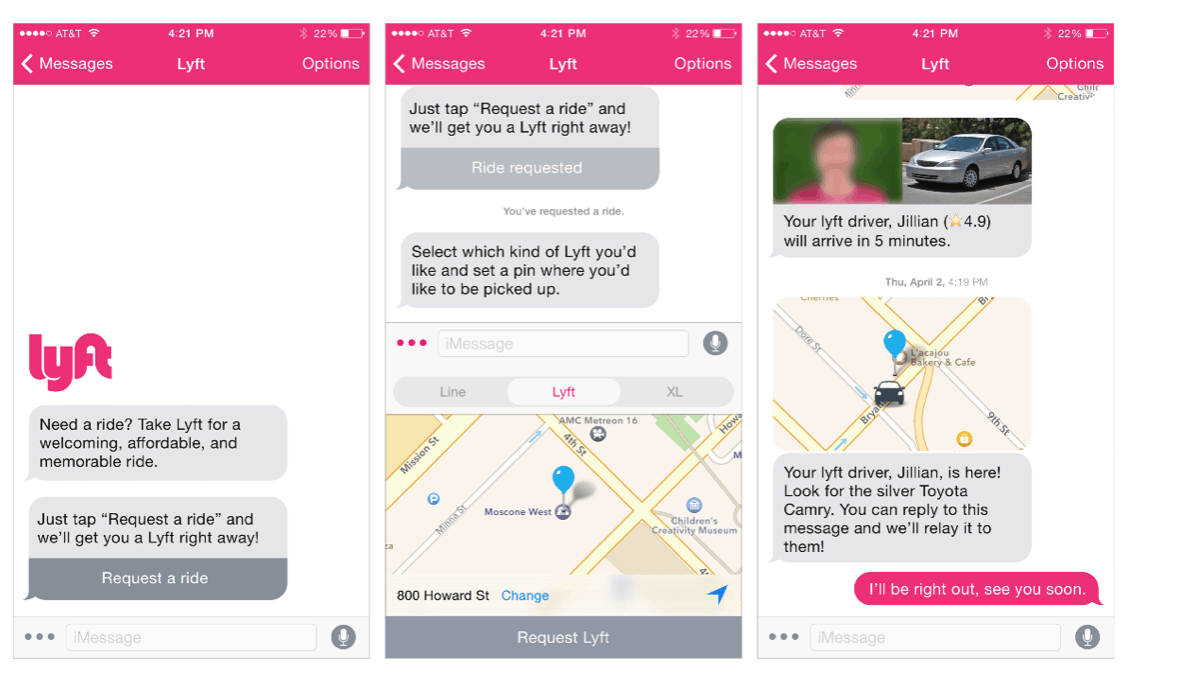 Source: Socialmediatoday
NOTE: Don't rely exclusively on chatbots for your customer service! Some problems can't be solved by robots, meaning you need to supplement your chatbot with a live chat option with real people behind it.
Build a Facebook community
Are you looking for a long-term relationship with your target audience? Turn your leads into customers by creating a community around your brand. Building a Facebook community is a powerful lead generation strategy, as it leverages social proof to win you leads, gives you a one-on-one connection with new leads, and increases your leads' loyalty.
While it may seem tricky, building a community is super easy. Simply start a Facebook group for your brand, and manage it according to these guidelines for good social media etiquette:
Avoid being too promotional
Use hashtags wisely
Be authentic
Avoid trash-talking the competition
Choose your tags wisely
Avoid brand misrepresentation
Adhere to the culture of your platform
Run social media contests
Everyone loves winning, which is why contests are such a powerful social media strategy. Contests are a key driver of social media engagement, as they incentivize followers to like, share, and comment on your post. This exposes your brand to new leads and wins you the loyalty of old leads, as contests create a powerful emotional connection.
Thankfully, Contests are easy to run. Following the example set by the children's book 'Goodnight Moon' below, you can run a contest by simply selecting a prize, making a post, and selecting a winner at random.

Source: @GoodnightMoon on Facebook
Run referral campaigns to grow social leads
As a social species, we trust our friends and family's recommendations over the word of strangers. This makes referral or 'word-of-mouth' marketing one of the most effective lead generation strategies. In fact, research shows that 88% of consumers have a high level of trust in recommendations made by people they know – meaning you won't want to ignore this one.
Thankfully, referral marketing is easy. As a brand, all you need to do is follow these basic steps to win new leads:
Step 1. Ask customers to recommend you to their friends and family for a reward.
Step 2. Give referring customers a reward.
Step 3. Offer your new lead a discount on your product or service.
Following these steps, you will create a win-win-win situation between yourself, your customer, and your new lead.
Partner with influencers
Never underestimate the power of a parasocial relationship. Influencers are a powerful part of the social media ecosystem, as they can engage with users, build a parasocial relationship and effectively sell products to their audience.
As a brand, this makes influencers a great tool for lead generation: a sponsored influencer post virtually guarantees you new leads. Influencer posts are also better received than regular brand posts, making an influencer partnership a great way to spice up your content.
If you want to see the power of influencers in action, check out this post from Jessie Driftwood.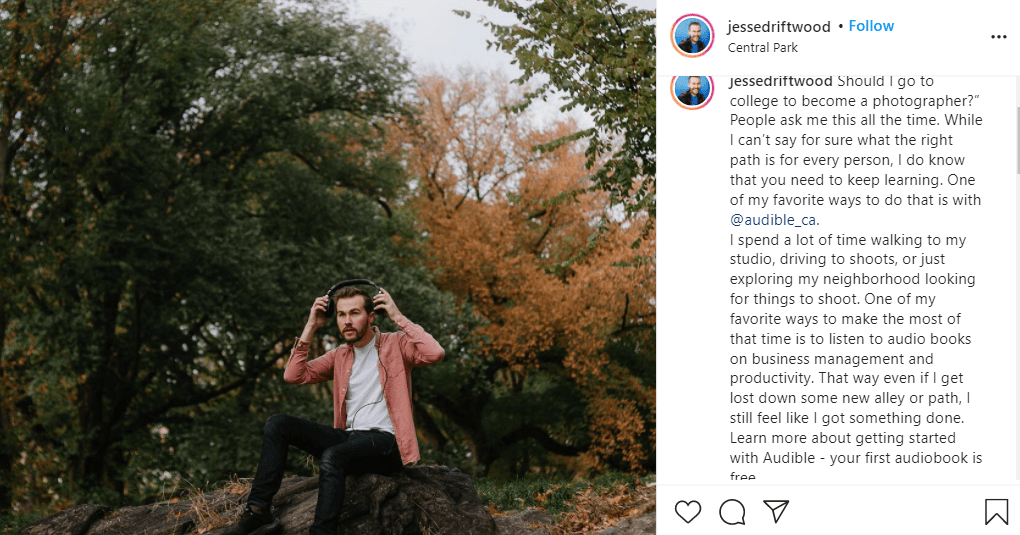 Source: @jessiedriftwood on Instagram
Share customer testimonials
Finally, don't underestimate the value of customer testimonials as a lead generation strategy. Customer testimonials are a powerful form of social proof, as they leverage the trust consumers place in other consumers.
In fact, research shows that two out of three people are more likely to buy something after watching a testimonial video – making customer testimonials a marketing "must."
Are you looking for great testimonial ideas for social media? Check out this fantastic customer testimonial from cat expert Jackson Galaxy and CatCon Worldwide.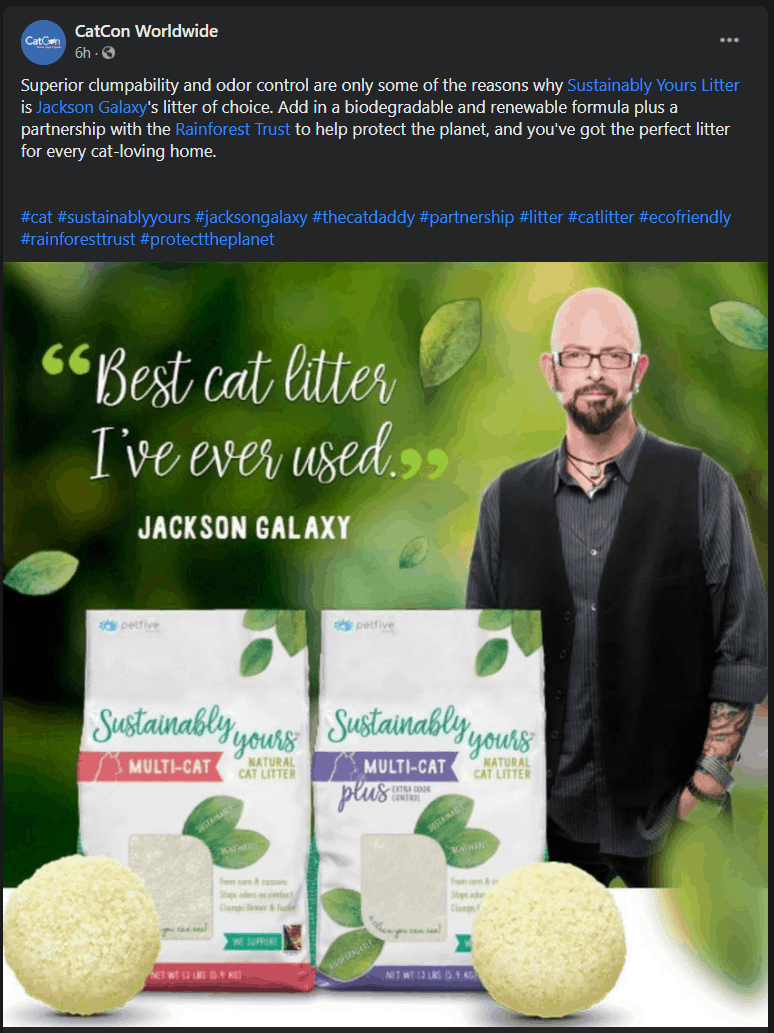 Source: @CatConWorldwide on Facebook
How to take the lead with social media lead generation
Lead generation on social media is a tricky dance that brands need to master to attract qualified prospects..
At its core, good lead generation is not fancy. It's simply based on a simple set of selling strategies honed by master salespeople like Zig Ziglar.
Follow the tips in this article, and you'll attract leads in no time. Now get out there and start creating.