The number of (quality) eyeballs that your business consistently captures sets the brand tonality and conversion rate.
Want to know how to gain social media followers?
Pay close attention to 'quality.'
Because just like in life, in general, it's not the quantity but the quality that matters.
That's not to discard the importance of quantity, as getting an opportunity to hit more shots only heightens the probability of hitting the bullseye.
The great problem is to first get discovered. Why? Because if no one knows you exist, they can't know what you can help them with and what you stand for.
That's where social media comes in!
There is Facebook, Instagram, Snapchat, Instagram, and so on. Plus, new social networks like TikTok and Clubhouse keep popping up from time to time.
So many choices generate a situation of choice paralysis, much like on Tinder.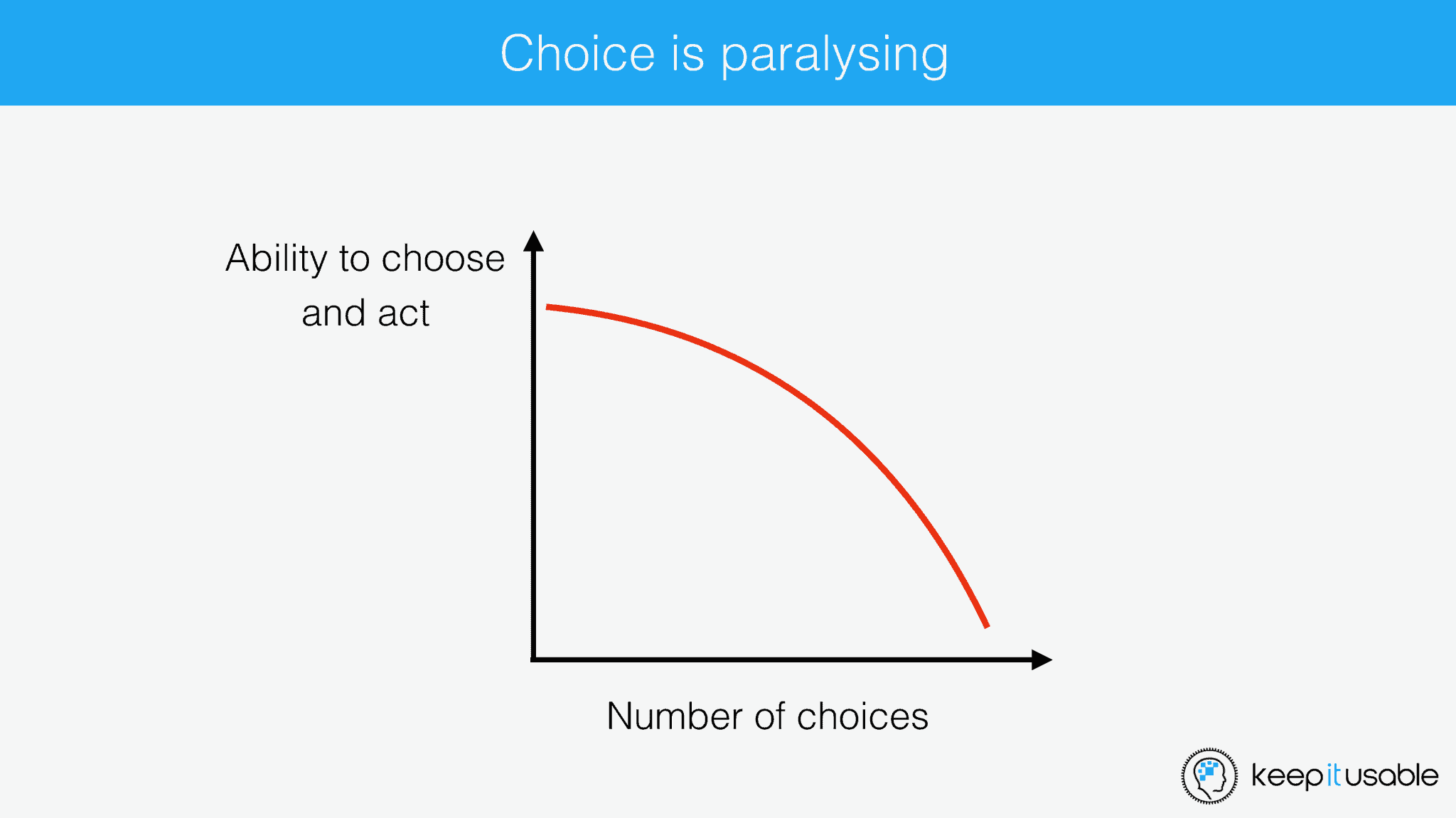 [Source]
There is no platform better than the other in absolute terms, but there is always a platform that is better for your business because it's more contextual to your brand and product.
While Facebook tops the list of content distributors for businesses, LinkedIn offers a mechanism to virtually network with industry professionals. And so on.
Are you ready for a hard fact?
With every good thing, comes a big con.
And what's the biggest con of social media platforms? There is no permanence.
They are there today, but that may not be the case tomorrow.
Platforms could vanish like they never existed leading to a complete loss of followers or prospects, if I may say so.
Precisely why it's advised to not put all your eggs in one basket.
Every company's dream is to achieve brand omnipresence, provided that they can afford the resources required.
But…but there is one platform that provides you with complete control of your subscribers and the opportunity to fully own a section of digital real estate.
It's often referred to as the goldmine, and every marketer religiously presses on its importance.
Yes, you guessed it right — it's email.
If you don't publish spammy content, there is no cutting on 'organic' reach. You don't have to pay to even be visible to your subscribers, which is the case with social media platforms.
Yes, I'm hinting at Facebook and Instagram. Sigh!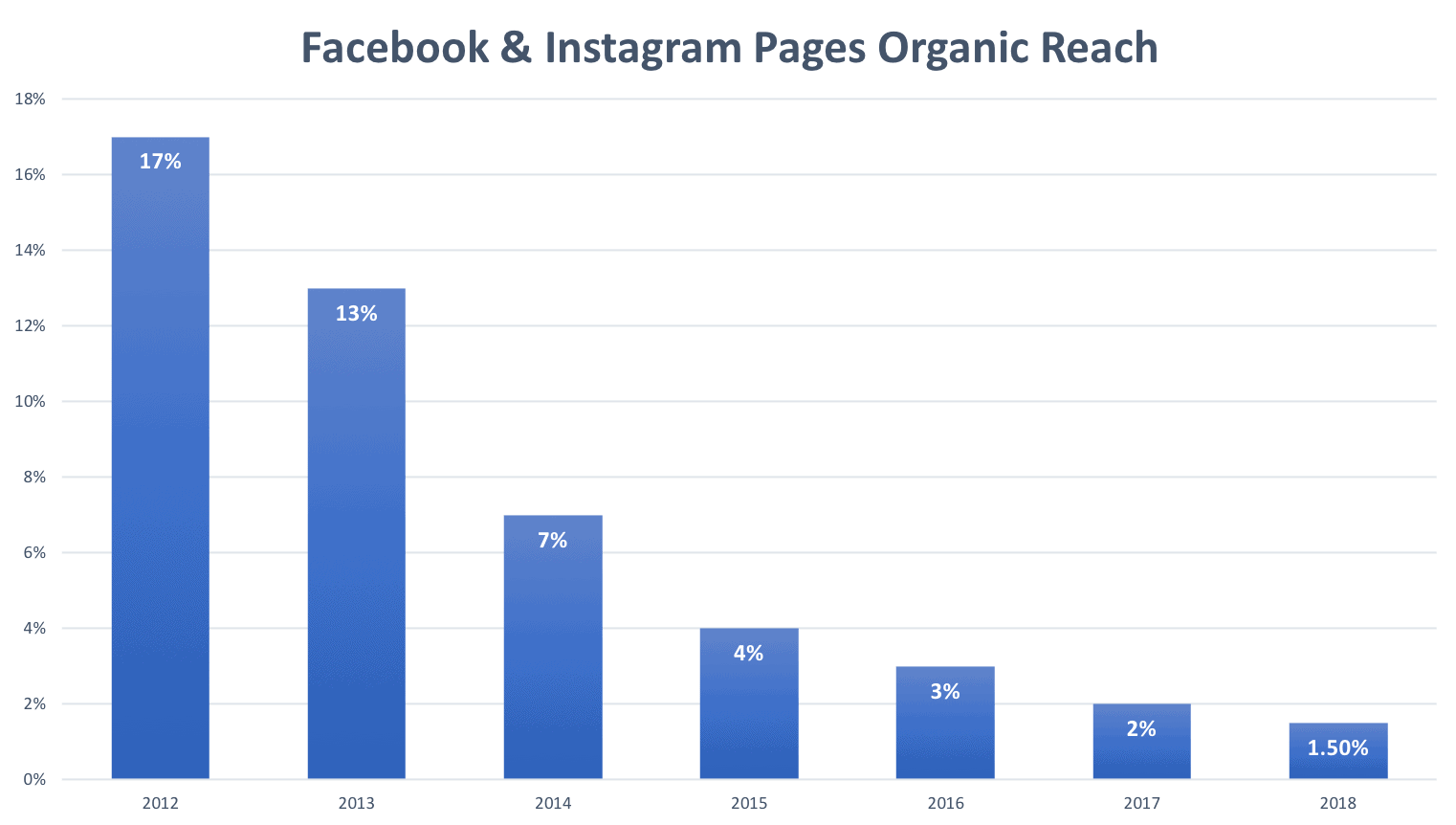 [Source]
Possessing an email list of high-quality subscribers helps you build relationships and readies them to buy from you when you're all set to offer a product that alleviates their throbbing pain point.
But sadly, there is no real-time communication with readers when it comes to emails.
That's precisely what platforms like Twitter offer!
Hmm, it's getting more and more obvious that social media presence is necessary, but how do you gain followers there?!
What if you could direct your email list subscribers to a social media platform that you believe is the best fit for your business?
It's only logical that if they like consuming your content, they'd also like to engage with you in a real-time fashion.
Let's look at a few methods that could help you do exactly that:
Build The Foundation
The first step to building anything great is to firm up its foundations.
So, if you'd like to grow social media followers via email, you need to make sure that you have a high-quality email list.
And how do you do that? By publishing content that's useful or entertaining for your audience.
If you're all about promotion, you'll be put into spam, and then you can kiss your email list goodbye.
Building an email list that has a high open and click-through rate will take time. It requires a whole lot of patience and doesn't happen overnight.
Just make sure that you're consistent.
From using catchy subject lines to publishing plain-text emails, you gotta try all to see what vibes well with your audience.
Matthew Hussey, a successful British life coach, consistently puts out useful content for his audience: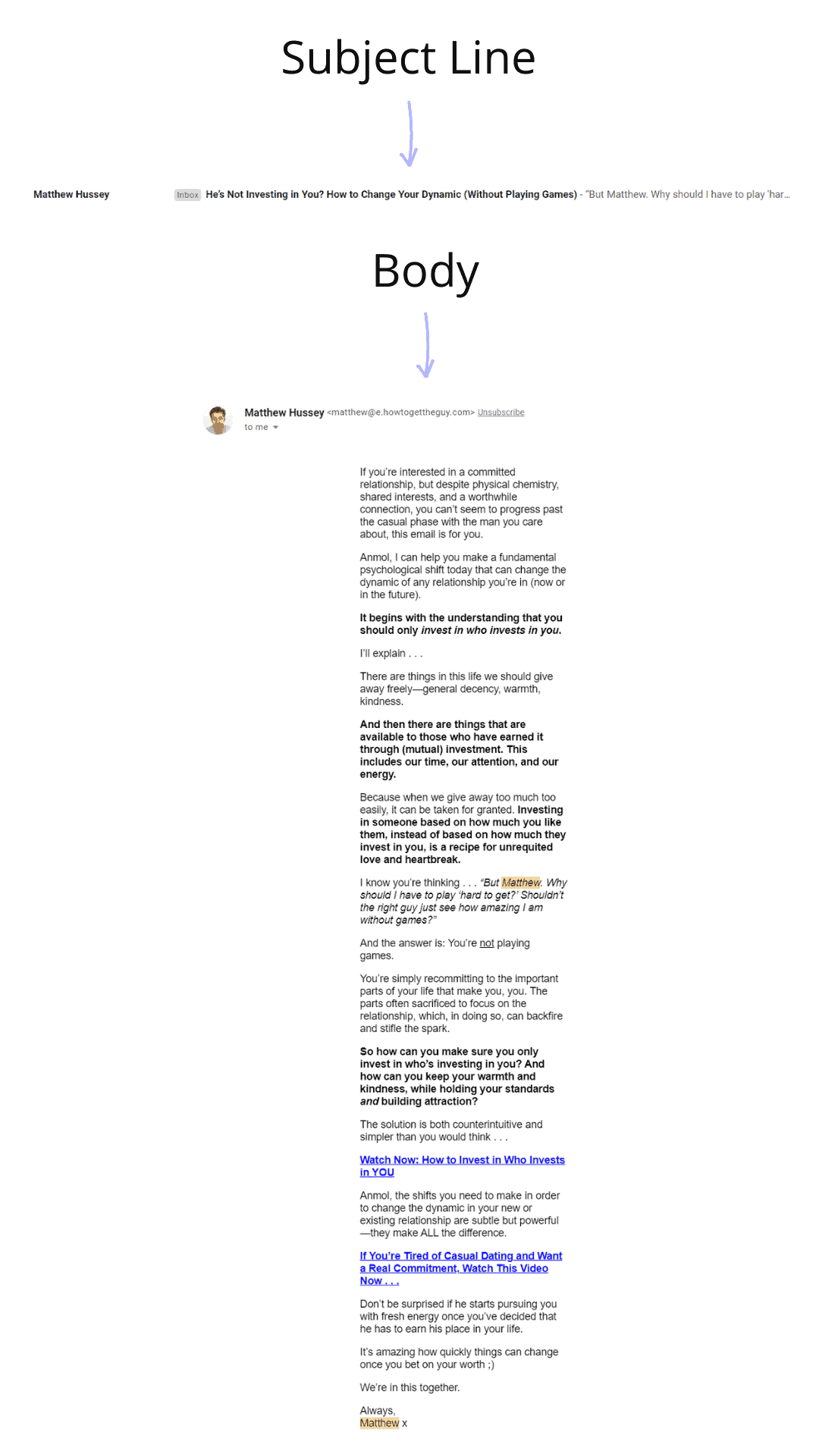 He genuinely wishes to help people improve their lives, and that's independent of whether they buy his products.
That's insane value right there!
Help others, and you shall never have to ask for what you desire.
Spice Up Your Signature
Flavors (mostly) lie in subtlety. So is the case with promotion.
Promotion doesn't have to be in-the-face or sleazy. It could be done in a myriad of ways that would feel smooth to a reader.
Including your social media icons in your email signature along with a clear CTA could help your audience realize that you're present on social media and compel them to take action, which is to follow you there.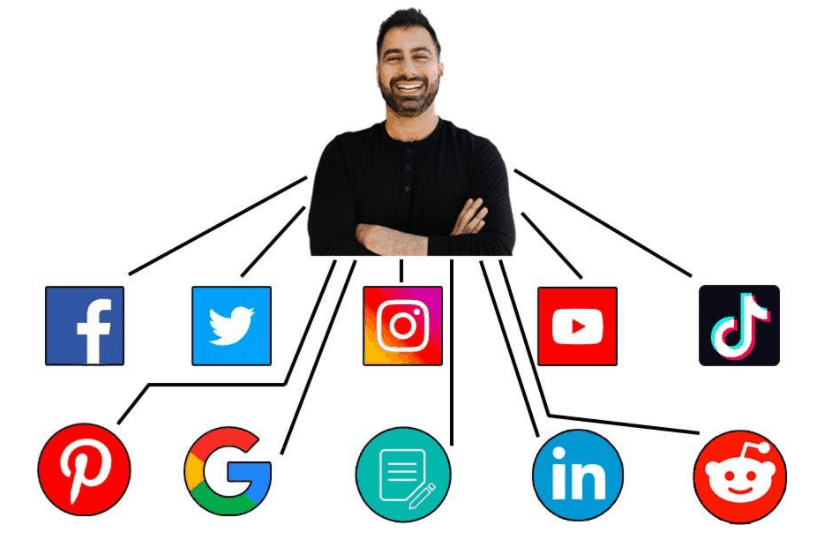 [Source]
So, next time, don't leave just your name in the signature. Instead, use WiseStamp to create a minimalistic and functional email signature.
You're most likely to see an uptick in your social media followers' count. Let me know in the comments below how adopting this strategy helped you.
Bring Loved Ones Closer
If you're a B2B brand, you must invite your clients to be a part of your social media community.
This is where relationships come into play. And most often, what you want is only an ask away.
Send them a personal email detailing that you'd love if they follow you on social media. You could make it a bit transactional by stating that you're planning to share content around their brand on your account.
Incentivize an action, and it'll be a lot easier to achieve what you're eyeing.
If you're a B2C brand, then keeping it easy-to-read, short and informative is the way to go: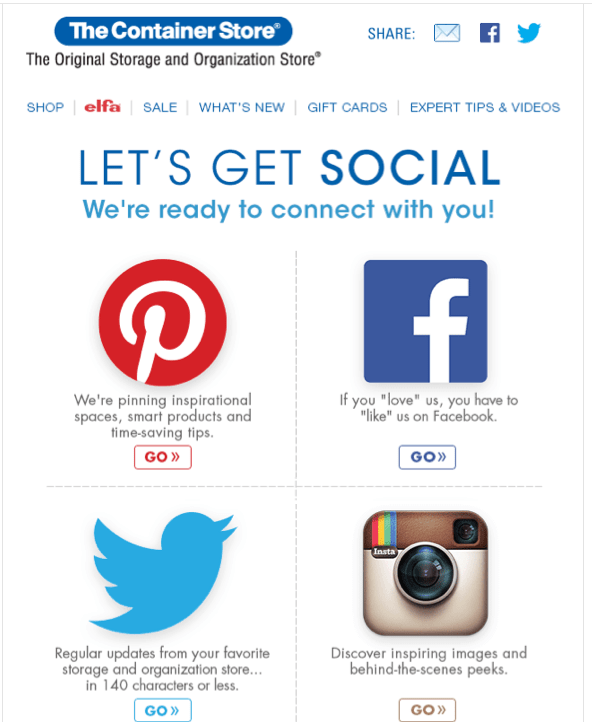 [Source]
When they start interacting with your content, you'd be visible to their audience. And from there, Mother Nature would overtake with its ripple effect!
Let the magic happen to you.
Machine Learning To The Rescue
In the age of hyper-personalized marketing content, just email automation isn't gonna cut it.
You can only do so much with customer segmentation, and you won't ever be able to customize content and offers for every user as Amazon does.
Machine Learning helps you automate the process of creating compelling email subject lines that entice users to open an email, personalize content, and package all of it contextually.
And guess what, the more the model runs, the more efficient it becomes. Yes, you read that right!

[Source]
Machine Learning software, like Personalizer, leverages customer activity in a digital store to offer hyper-personalized product recommendations which help increase conversion rate.
Make A Social Media Platform Essential
People buy products that they need and 'think' of buying ones that they desire.
There is little to no question when it is about necessities and solutions that make their problems go away almost like magic.
So, instead of portraying their social media following as an act of desire, what if you make it indispensable.
But how? One of the most effective ways is to use a social media account as a dedicated customer support platform, where users could report their issues and get them resolved.
Suddenly the proposition of your customers hitting a follow on your social media account seems like a no-brainer, right?
Cred, a fintech startup valued at $2.2 billion, leverages this idea:

[Source]
And look at how customers flock to their customer support account for the issues that might take days to be rectified: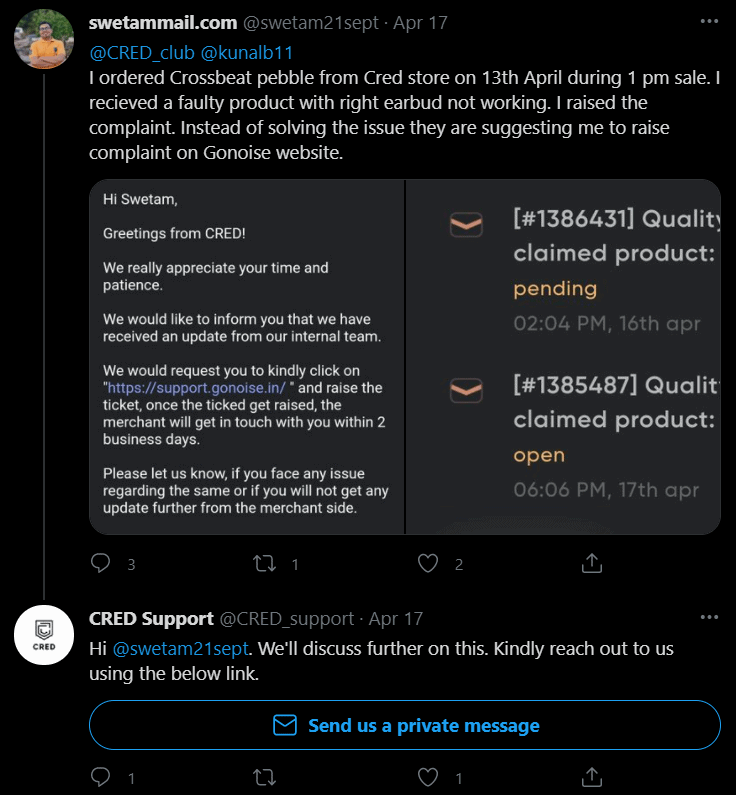 [Source]
Swift action on customers' problems helps build deeper relationships and maintain high customer retention.
Also, exceptional customer service is a sure shot method to amplify brand awareness quotient.
So, pick one social media platform and niche down its purpose, and watch it flourish!
Interested to know which one would be the best for your business. Share that with me in the comments below with your business domain!
Now the dreaded situation arrives—how do you let your customers know about this customer support platform?!
That's not complicated at all! You capitalize on your email list!
Share this social media account with your customers and targeted prospects via a slick-looking email, period.
But you must be thinking: what if it sounds spammy?
No, it won't, because it won't be a sales pitch.
Since they won't be sold anything, the probability of them checking out the kind of content you post and giving you a follow will be higher than if you were to choke them with a product pitch.
And once they are in your funnel, you can nurture them and nudge them towards sales.
Yes, don't try to sell before you admit a prospect to your funnel.
Be personable, be human, and your business would attract just the right kind of customers.
Do The Transaction
At the most basic level, every relationship is built and sustained on a slew of transactions.
Most often in life, you have to incentivize a CTA.
So, if you wish to cast a wide net to attract as many (ideal) prospects to follow you on social media, you gotta go transactional.
And it's as simple as sending a thank you email. It's a holy grail if you automate the process.
Sending thank you emails instills brand trust and confidence in your customers and a feeling that your company cares for them.
That makes them keep coming back to you even when some competitors sell at a cheaper price.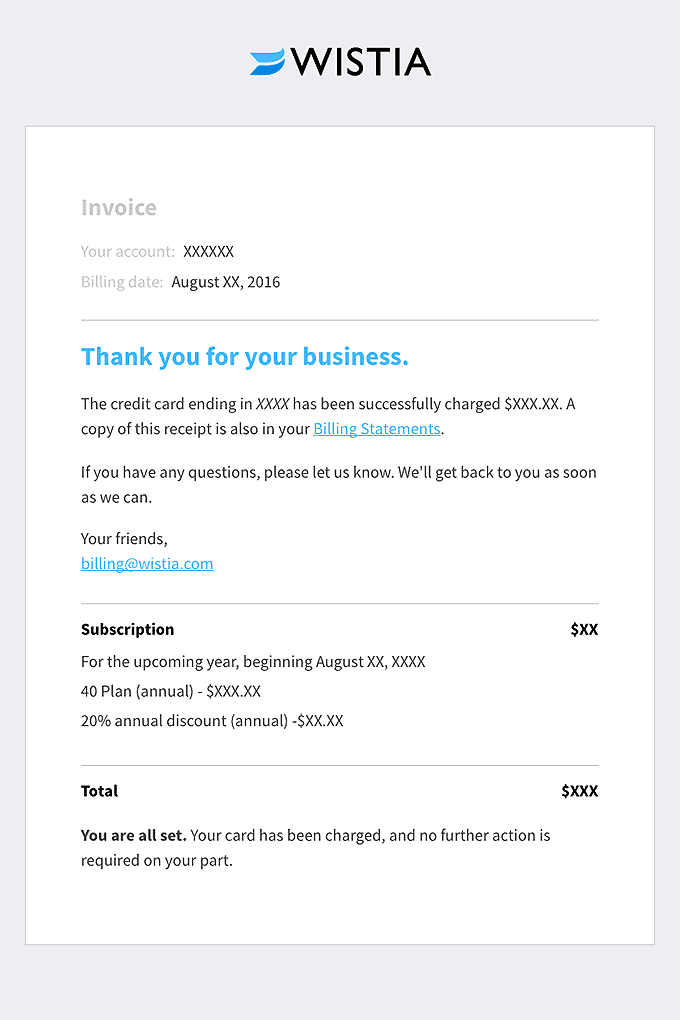 [Source]
You can append a social follow as a CTA and incentivize that action by providing additional discounts on future purchases.
Remember that sending mails via a business email address provides you with a branding opportunity, especially a chance to build trust.
You can also conduct a giveaway in exchange for a follow.
Incentives render an action relevant, immediate, and a must-do.
Can you think of a giveaway that's useful for your customers in exchange for which they become a part of your social media community?
Publish Quality And Repurpose
Tactics assist only quality, not the fluff.
To retain social media following, you have to consistently publish high-quality content.
Pick your favorite from this list of social media management tools to help you schedule content, analyze the performance of every post and stay at the top of your content game all within budget.
A sizable section of your email list subscribers wouldn't be aware of your social media presence.
So how about you entice them by emailing them the social media posts that have performed well?
Demonstration wins against promises because people believe in proofs.
If you can demonstrate the usefulness of their following, they would be left with no reason to not join your social tribe.
Denise Langenegger mentions how URBAN OUTFITTERS shares a compilation of their best performing Instagram posts with their email subscribers and includes a clear CTA to get those sweet sales: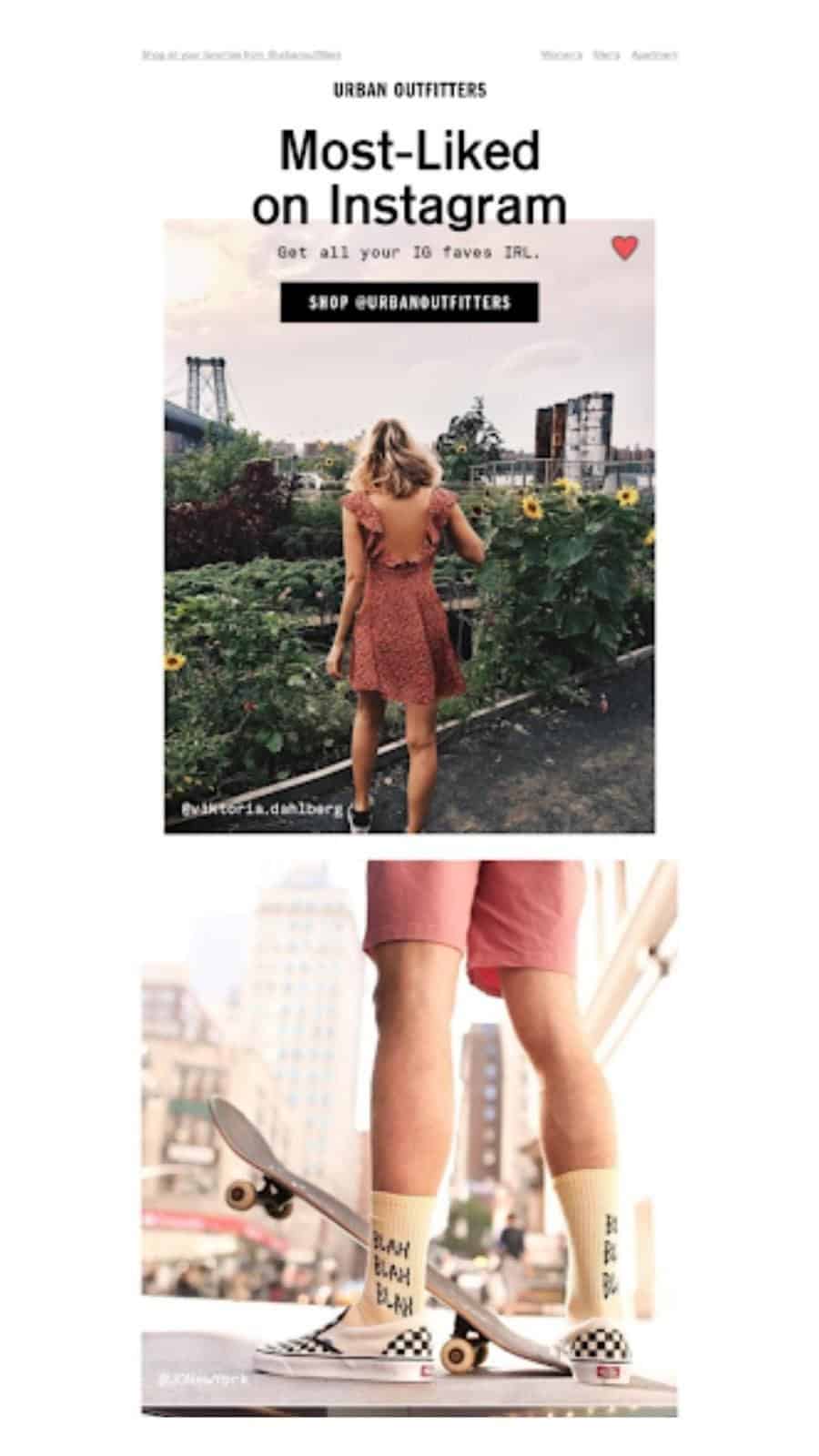 [Source]
That's the perfect mix of sales plus beneficial info sharing via emails!
Conduct A Poll
Polls are all the rage these days, especially on LinkedIn and Twitter.
Because people love to chime in their opinions and feel important by making a meaningful contribution, polls are kind of an instant hit.
Ask an acceptable yet controversial question on a social media platform of your choice exclusively.
Email that to your subscribers, and watch the heightened activity on your account.
But make sure that you ask a question that matters.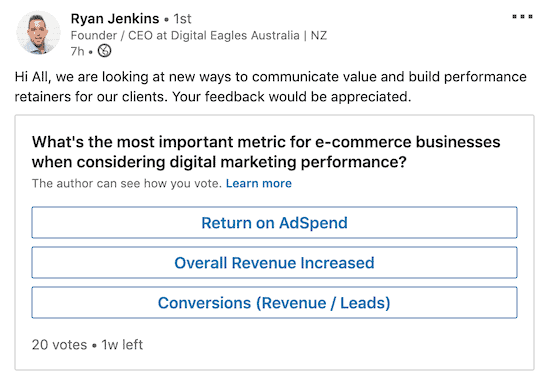 [Source]
How to Gain Social Media Followers
Just like growing a business doesn't always require obscenely high capital, growing social media following doesn't require paid advertising.
Adopting intelligent and creative organic methods helps you build a tight-knit community of ideal customers—and all for $0.
The process is definitely effort-hungry, but so is the case with all that is valuable and meaningful.
Work within constraints and you're bound to capitalize on your creative juices.
How does the idea of growing your social media following using emails sound to you? Do you think this is a plan that you'd stick to?
Let me know in the comments below if you're planning to adopt a few strategies that I wrote above and how they affected your business.