What do you think of Pinterest? That it's a creative social platform where people plan home interiors, holidays, and show off fancy clothes, right? It's not entirely true.
I'm sure some people use the platform this way, but Pinterest has many more options. It helps in company promotion no less than Facebook or Instagram do.
In this article, I'll cover everything you need to know about Pinterest for business. I'll provide tips and tricks on how to sell on Pinterest to help your business expand its reach and grow sales.
Pinterest as a Tool for Business Promotion
How can Pinterest assist businesses? It's a platform that turns entertainment into purchase decisions. Here are some things worth noting:
Almost 500 million individuals browse Pinterest for new ideas each month.
What's the Pinterest target audience? According to the official report, more than 60% of its users are women; the Pinterest audience comes there with a household income of above $100K, ready to buy goods or services through the social network. So, if you're reaching out to this segment, you shouldn't miss out on this channel.
Pinterest has proven itself as an effective channel for promotion in numerous spheres. These include the beauty industry, creativity, fashion, design, healthy lifestyle and sports, photo ideas, tourism, cooking and restaurants. It contains original insights for the future, from recipes, DIY hacks, and decor inspiration to grocery shopping.
What's your Pinterest tool for generating leads? It's Pinterest pins. People see and save the pin, often making a purchase later. Statistics show that 85% buy based on saved pins in the future. Thus, you acquire customers in the long run.
So, why not employ Pinterest to attract new buyers, improve brand exposure, and generate additional revenue?
4 Pinterest Benefits for Businesses
There are many advantages of Pinterest for businesses, namely:
1. Showcasing your products
You can create a catalog of your items or services on Pinterest with links to your store. Thus, viewers can examine the products on the platform and go straight to your site to add items to their carts.
2. Wider audience reach
Promote yourself without spending any money by just repeating the content from your primary resource. I.e., you can share images from your Instagram account, advertising materials, etc.
3. Converting visitors into clients
The Pinterest audience is expanding every day. People spend more than 25% of their time on Pinterest shopping. This figure may sound small, but it's more than on any other social network.
Did you know that Pinterest receives the highest customer satisfaction score, according to Marketing Charts? While some social media sites fluctuate in this index, Pinterest's score of 80 remains consistent.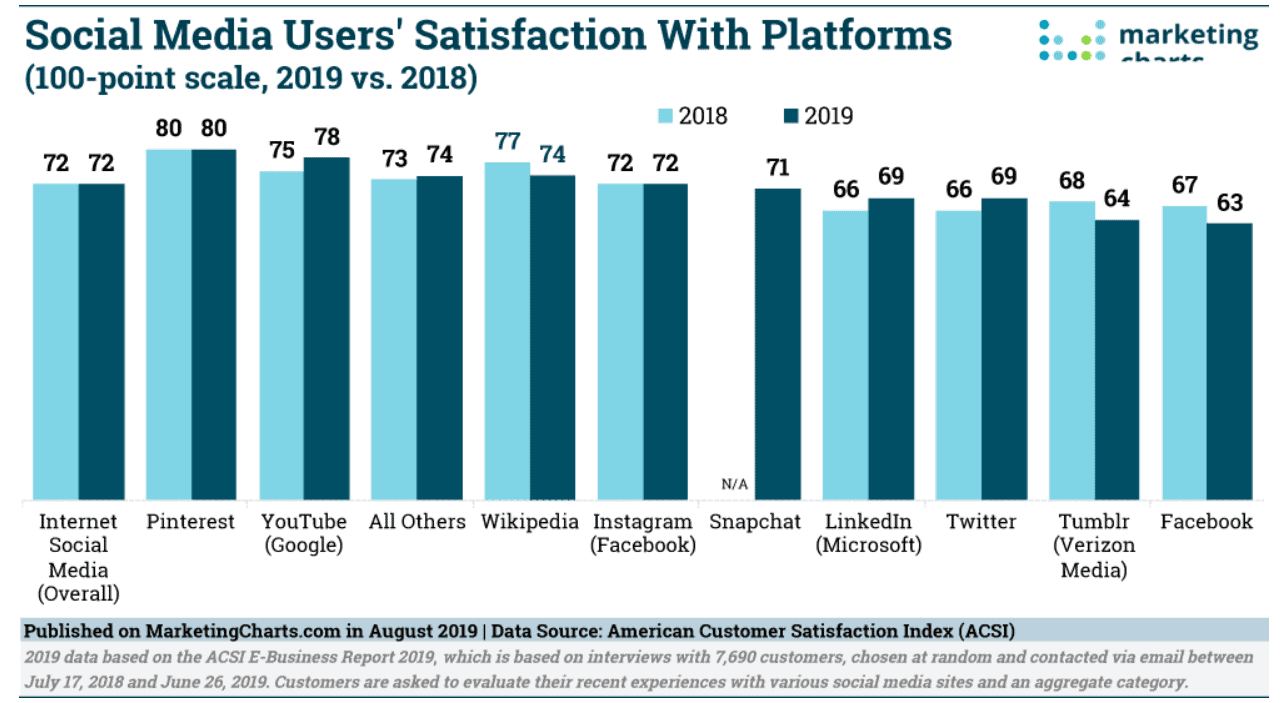 Image credit: Marketing Charts
Pinterest is a search engine with its own set of algorithms. It means you can drag organic or paid traffic to your brand. And if you start promoting your account right now, you'll see a significant increase in site conversion.
4. Storytelling and communication with your audience
Pinterest is an excellent platform for interacting with clients interested in your product or service. This social network enables you to learn about your customers' wants and needs.
Are your texts appealing enough? Does your content resonate? You can see the effectiveness of your efforts without any additional tools thanks to the Pinterest built-in analytics.
Besides free analytics, a Pinterest business account gives you access to some features such as advertising, online deals, and the ability to publish special offers.
How to Begin Promoting Your Business on Pinterest
Step 1: Select an Account Type
There are two categories of Pinterest accounts. They're personal and business.
A business account provides reports with analytics so that you can keep track of your most popular pins. You can also link it to your website, online store, or blog.
If you need a business account but already have a personal one, you can update its status.
Step 2: Confirm the Site
What does the site confirmation give you? You get access to analytics and see the conversion data for the pins. You can figure out which publications perform best and customize the strategies according to this information.
Connect the site to your Pinterest profile and update the HTML code to accomplish this. There is also a possibility to verify your Instagram, Etsy, and YouTube profiles.
Step 3: Add Profile Widgets
Widgets allow viewers to add images to their boards with only one click. How can you add these features to your site? You need to get a special code in your Pinterest account and paste it on your website.
Within 24 hours after inserting the code, Pinterest will review your resource and validate the widgets. Here is how this process looks like in the screenshot below.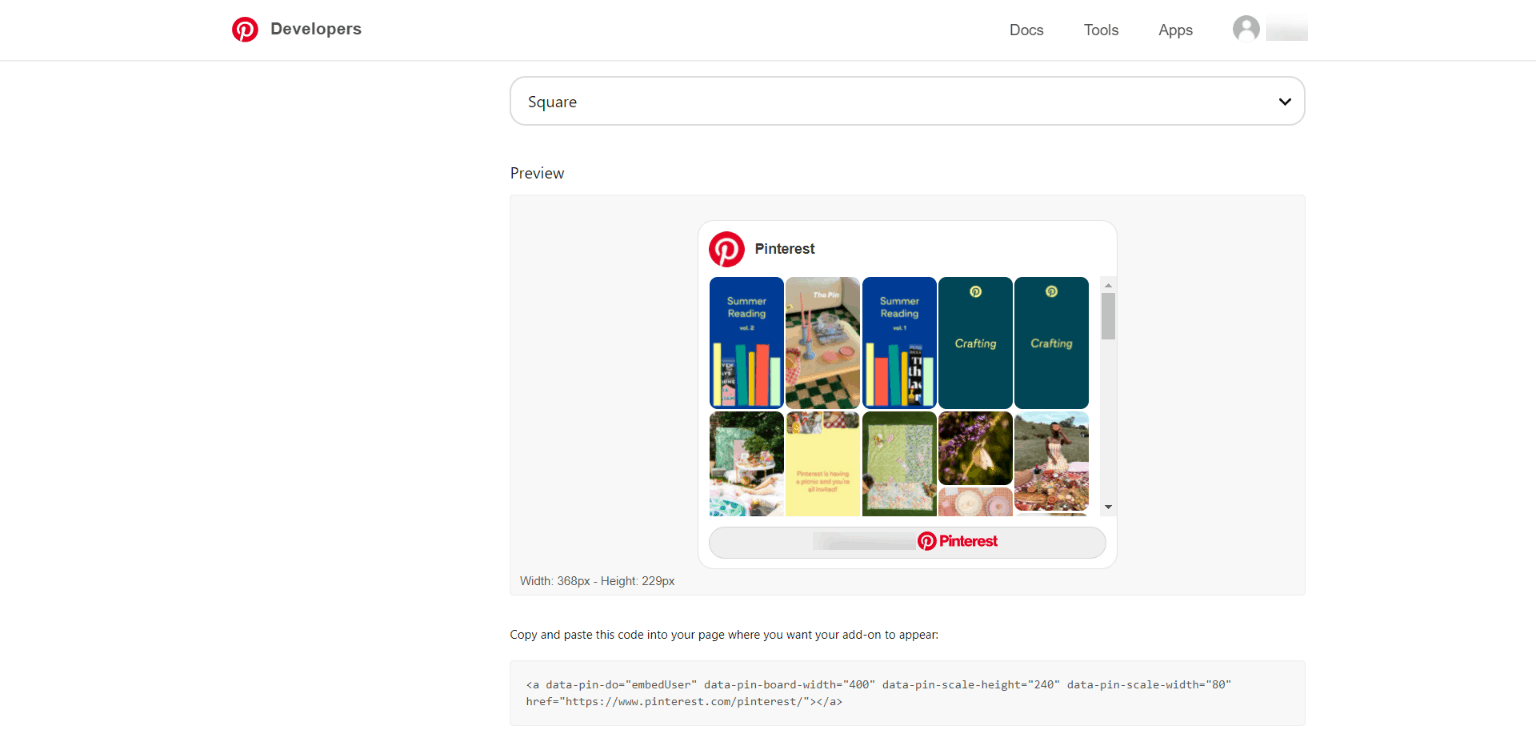 Screenshot taken on Pinterest
Step 4: Arrange Your Profile
Ok, you've created or switched to a business account. What's next? The first step to making money on Pinterest is developing your profile.
Add a header, a title, and a brief description, for example, like Chiclotte in the screenshot below.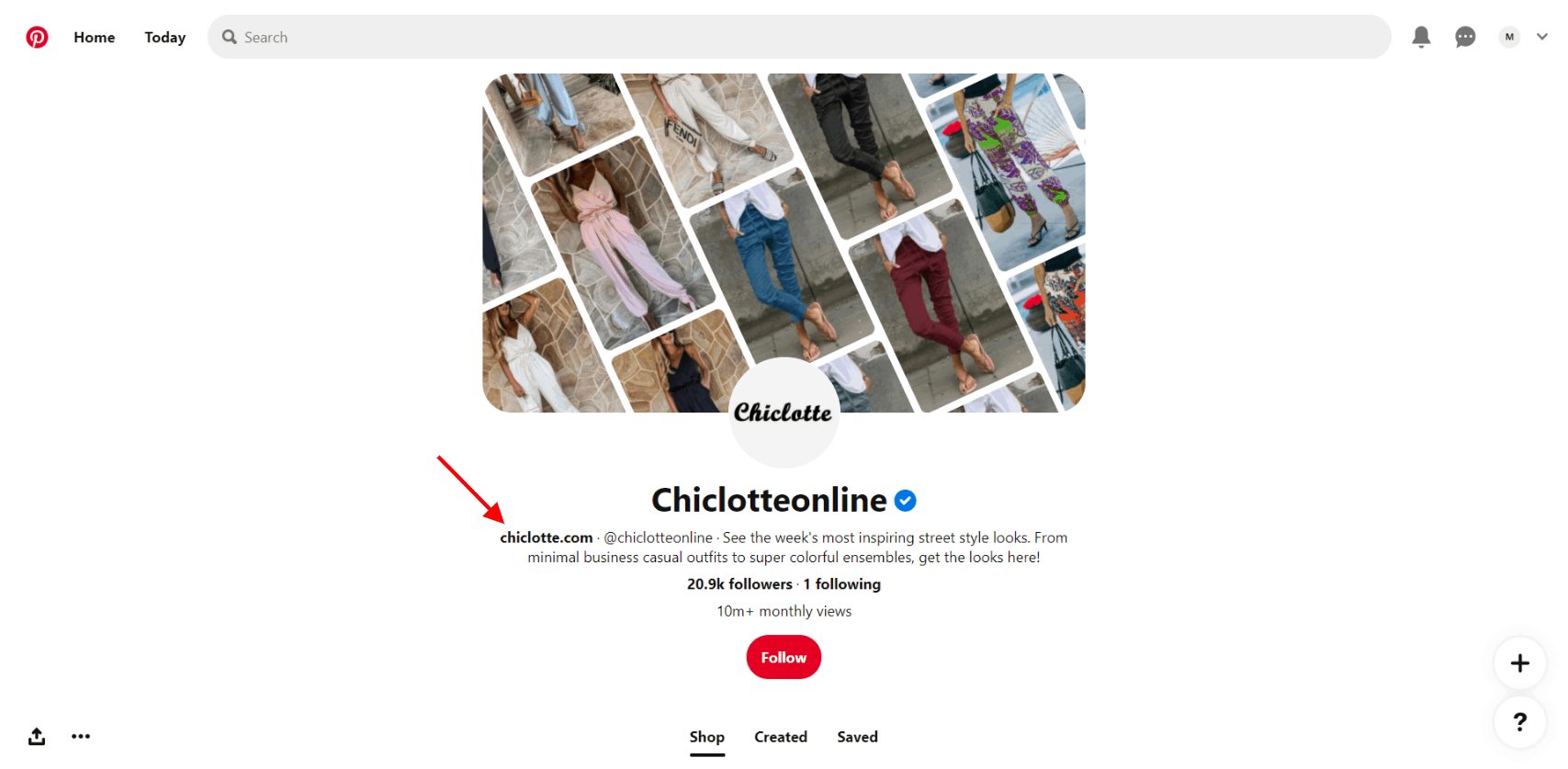 Screenshot taken on the official Chiclotte Pinterest account
Step 5: Create Pins
After you've made your first impression, it's time to fill your account with content, that is, pins. Here are some tips for designing your account.
Tip 1: Take Care of Links
Make sure to mention a link to the website in your profile description and pins. Include a trackable link with a UTM tag to see how many visitors come to your site from Pinterest.
One more rule: link pins to a relevant section of your store. If you link to the home page rather than to a product one, your clients can get lost on their customer journey. What you will get is an increased bounce rate.
Tip 2: Generate Quality Content
Maintaining an effective performing account requires creating pins that support the brand's image and mission. With them, you have a better chance of being promoted for as long as possible.
High-quality content encourages users to visit your site and take action. If you look closely, all your and pinners' activities bring shoppers closer to converting. Your company can direct people from inspiration to purchase since people browse Pinterest during all sales funnel stages.
Tip 3: Mind Mobile Optimization
Remember that 85% of Pinterest's audience uses the mobile app. So, create mobile-optimized content. Also, publish high-resolution graphics and photographs, as visuals on Pinterest are a keystone.
For example, choosing the wrong aspect ratio can crop your photo. It will spoil the overall impression and may hide important information. The solution: place vertical images with a 2:3 aspect ratio.
Tip 4: Offer Your Products in the Shop Tab and Add Shoppable Tags
Such Pinterest features as Shop tabs and shoppable tags facilitate shopping for pinners. Let's say they're looking for something of their interest. And here is the Shop tab to buy the stuff straightaway.
For example, you sell clothes for women. Upload a snapshot of your merchandise and add tags. Thus, people can buy things from your store.
Do you see white dots in the image below? These are Pinterest shoppable tags. Pinners can click on them and see the selection of related products.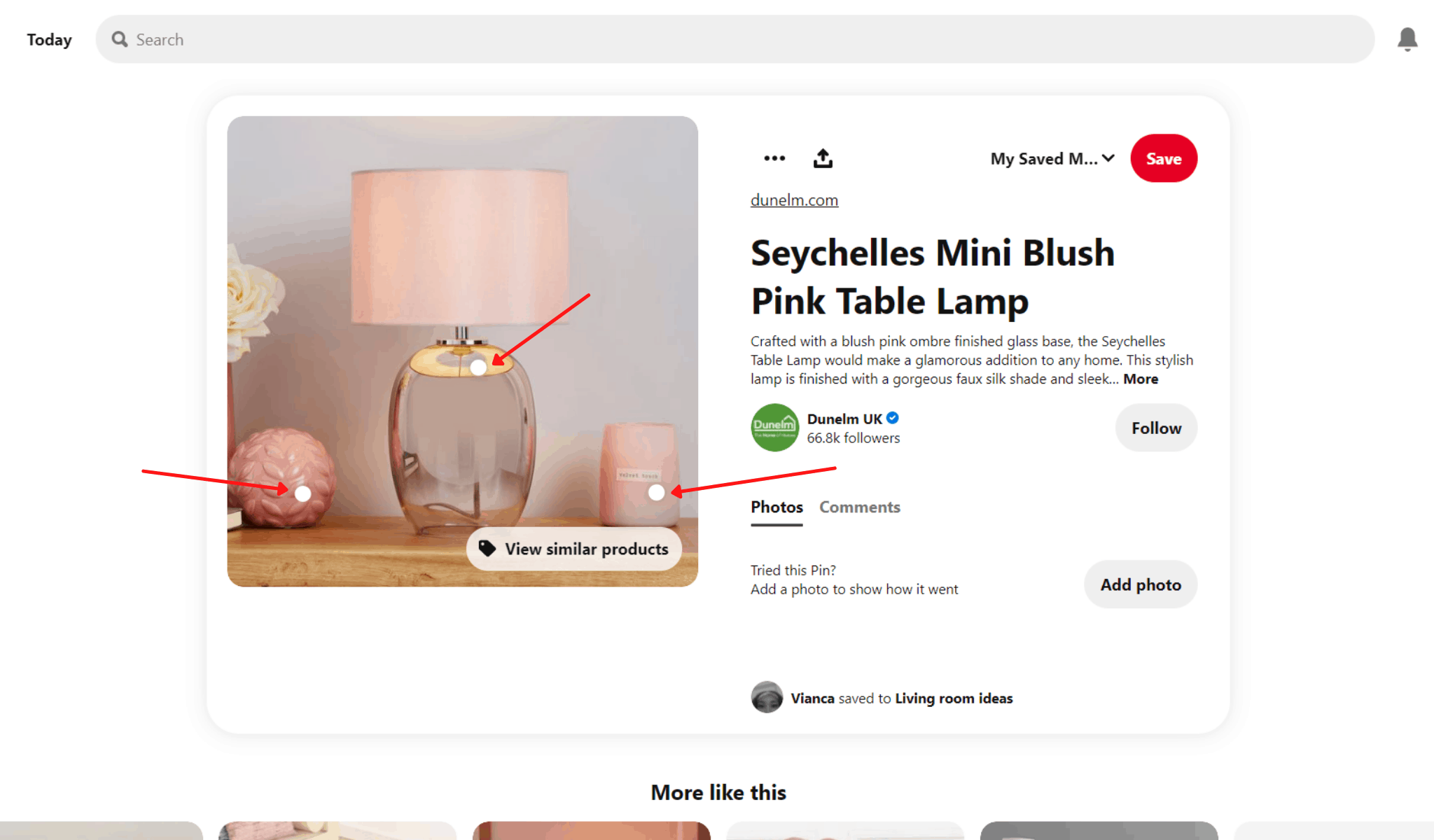 Screenshot taken on Pinterest
Users can browse and view goods that are on sale in the Shop tab. When pinners search for "winter clothes" or "wedding ideas," for example, they see in-stock items related to those keywords in this tab.
It also features a filter function that allows browsers to sort things by sellers and price. Some pins even have ratings.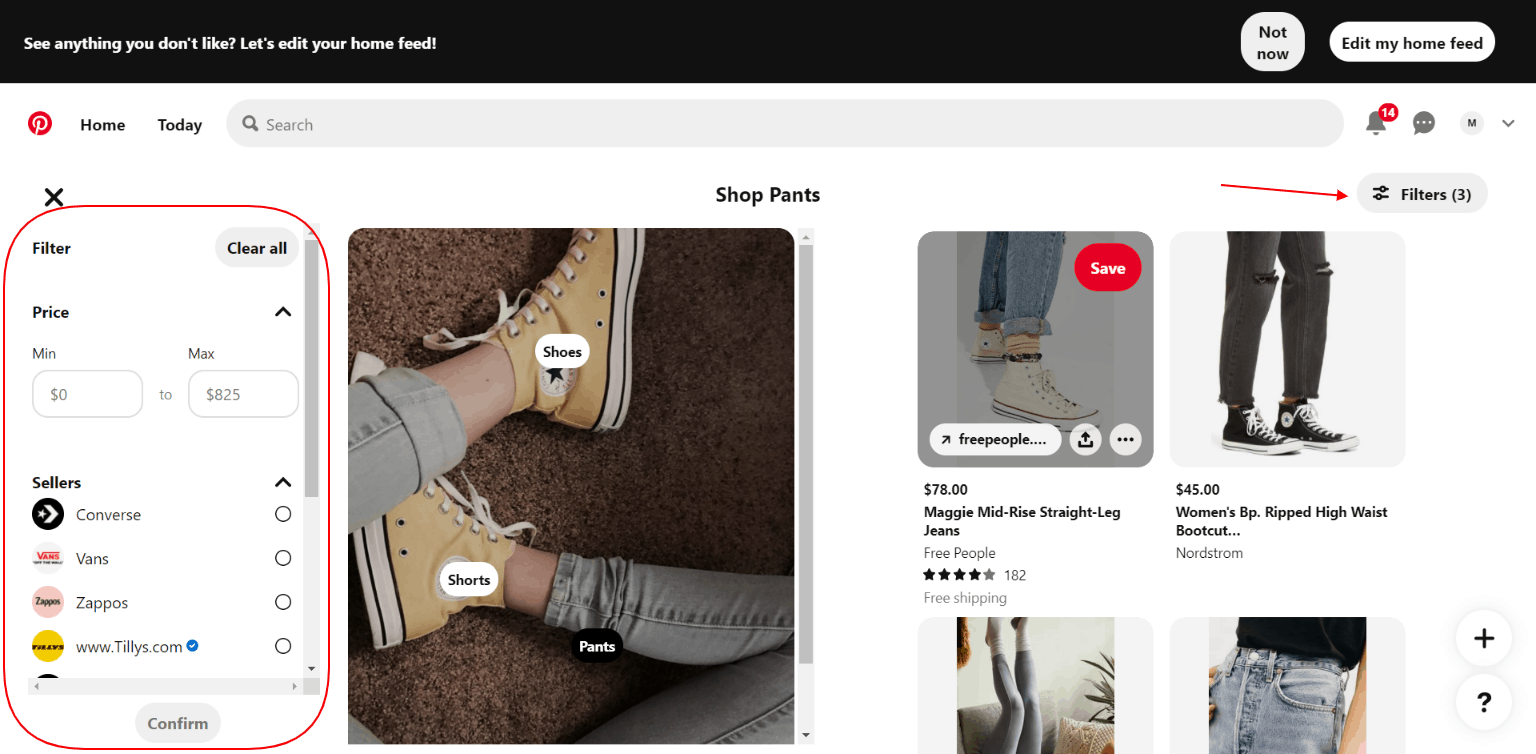 Screenshot taken on Pinterest
Tip 5: Pay Attention to Pinterest SEO
Do you remember that Pinterest is also considered a search engine? Pinterest claims that in 97% of cases, people enter queries that aren't related to brands. They're looking for ideas (something to make or buy) rather than for a particular company.
Such visitors are ready to find insights and implement them in life. It doesn't matter how popular the brand is. If you satisfy their needs, you will have more chances ahead of your competitors.
People enter specific phrases while searching for relevant content. To get their attention, include keywords in the title and description of your pins.
Which queries will suit your content? Determine them to simplify search and bring the right content to your target audience.
Try to keep your description of no more than two or three phrases. Otherwise, the viewer will have to select the "See all" option, which may hide some vital information. Also, make use of suitable hashtags.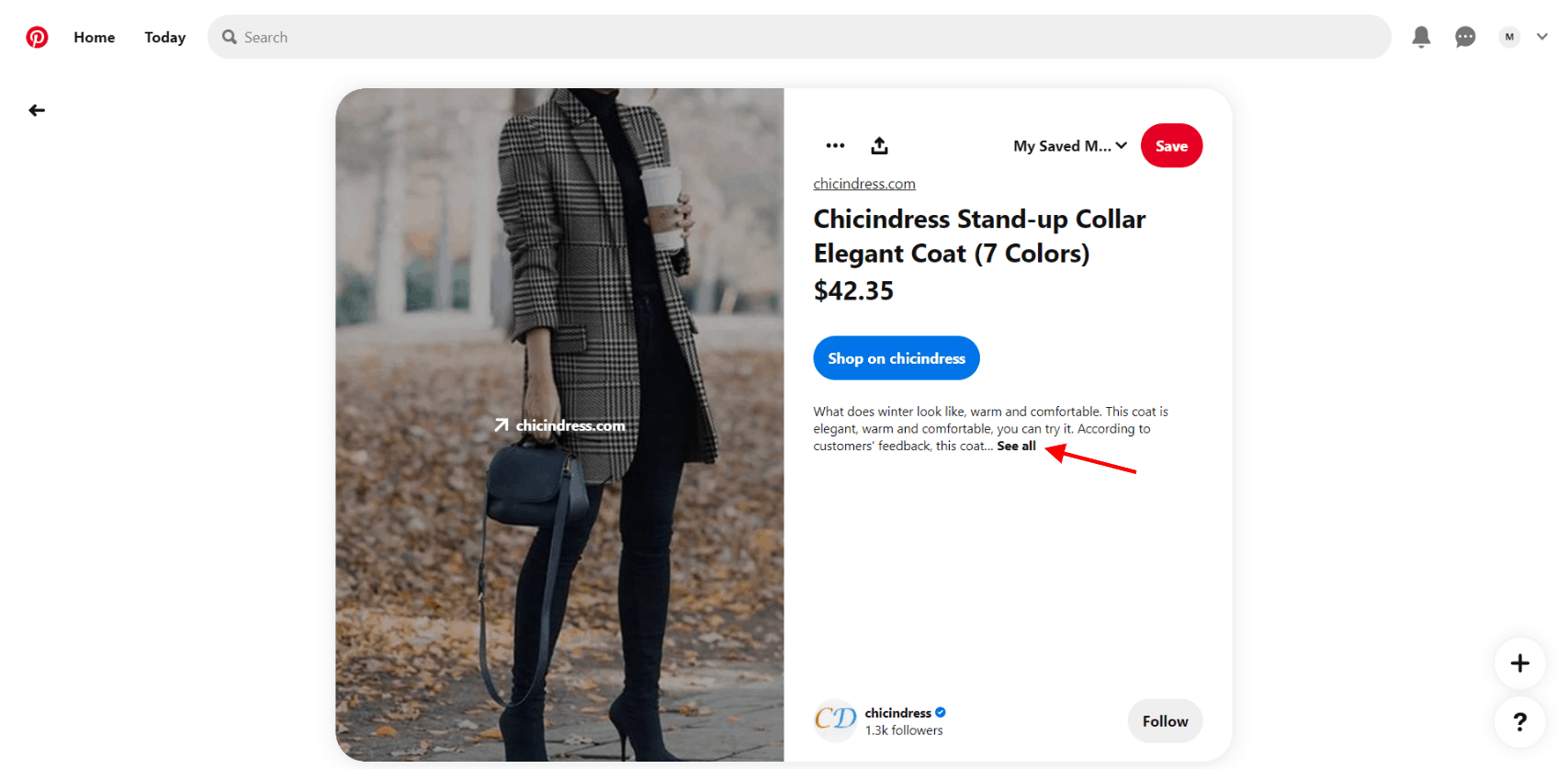 Screenshot taken on Pinterest
Another crucial trick to increase the number of visitors is having a proper call to action. Apply it in your pin description. It may have the form of "Buy from a link" or "Read an article on our website".
Step 6: Group Pins into Boards
Make as many boards as possible relevant to your brand. They allow you to save your favorite images and make a collage out of them.
For example, if you sell cosmetics, compile a selection of tutorials and makeup tips for the holidays. You can also group products for skincare, haircare, and more.
Compare competitor profiles for more ideas. What are their most popular pins? How do they group their content?
Brands and businesses may utilize boards to add emotions, explain how to use products, and address customer problems. That's how Bath & Body Works organizes its photographs into different boards. As a result, visitors can navigate more simply.
Screenshot taken on the official Bath & Body Works Pinterest account
Do you need gift ideas? Click on the "Happy Mother's Day!" or "Men's Collection" boards. Or maybe you need a specific theme on your items, such as unicorns or mermaids? Then, the "Mermaid Life" or "We Believe in Unicorns" sections are your choice.
Step 7: Think of Launching Targeted Ads
Advertising on Pinterest is similar to advertising on other platforms like Facebook. Before moving on, you need to choose an ad target. Types of content you can promote embrace:
new pins;
image and video carousels;
existing posts;
apps.
The content life span is one of the benefits of advertising on Pinterest. No matter how old your content is, it doesn't go down the feed.
An average pin exists about 2-3 months, with the most popular ones remaining up to a year. There's also a chance of returning it to the top.
Where can your audience find your ads? Your promoted pins and materials can appear:
in the feeds of pinners interested in your goods;
Pinterest search results;
Pinterest suggestions.
As you can see, such pins don't stick out from the general context. So, how can you spot them? You can find them under the "Promoted by" label.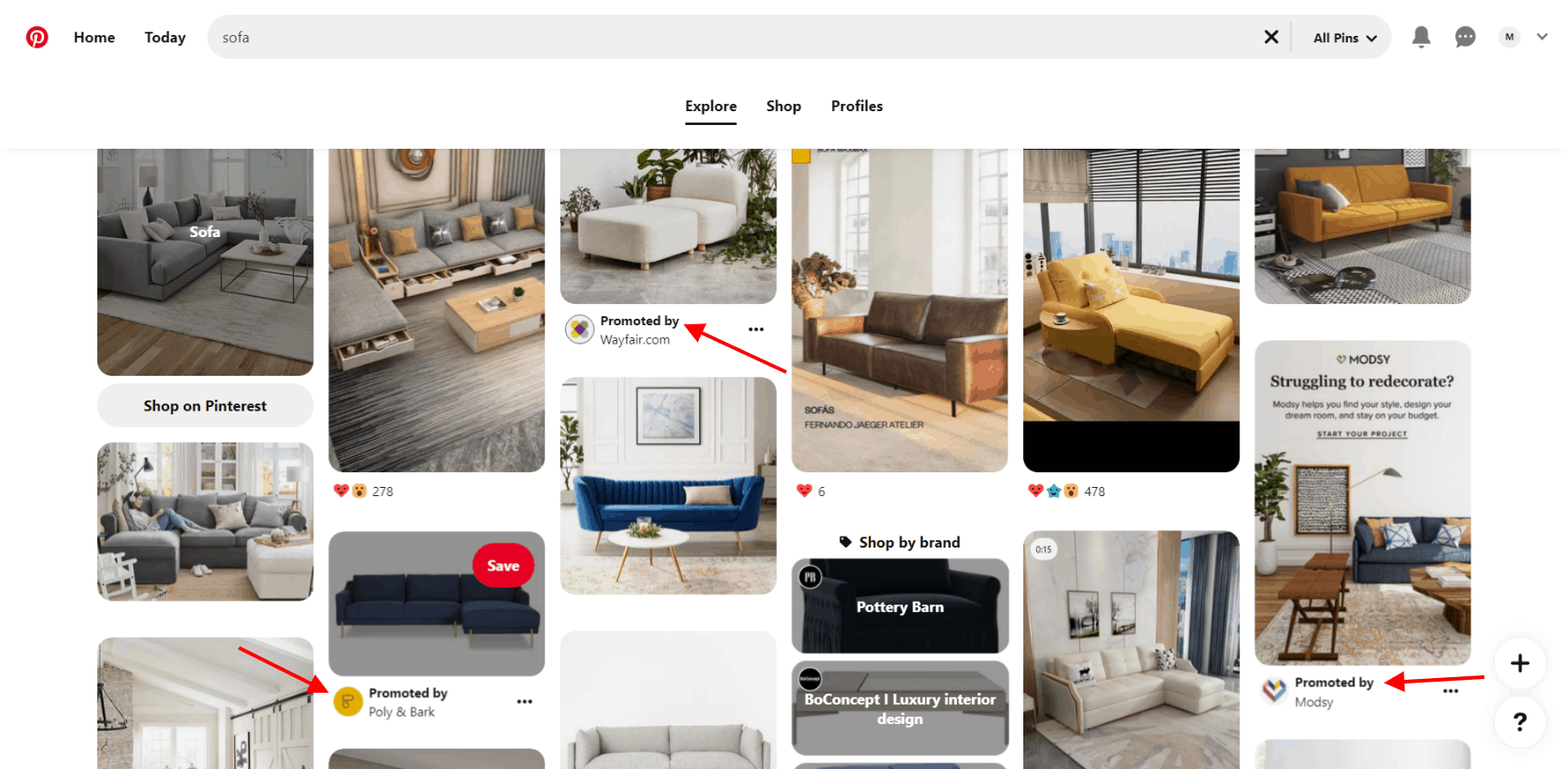 Screenshot taken on Pinterest
Step 8: Frequent Pinning and Planning Ahead
Regular pinning keeps your audience immersed in your brand. The connection is direct: the more often you post, the more Pinterest is promoting your content.
Strike a balance between frequency and the number of pins. For example, don't overload your feed with 35 posts once a week. Instead, create five pins a day.
Also, search trends on Pinterest change with the season. Just like in search engines such as Google, seasonal queries rise a little earlier before the event starts. It's because pinners look for related information on the eve of holidays, seasons, and trends.
For example, let's analyze the query "Halloween decorations" in the Pinterest trends section.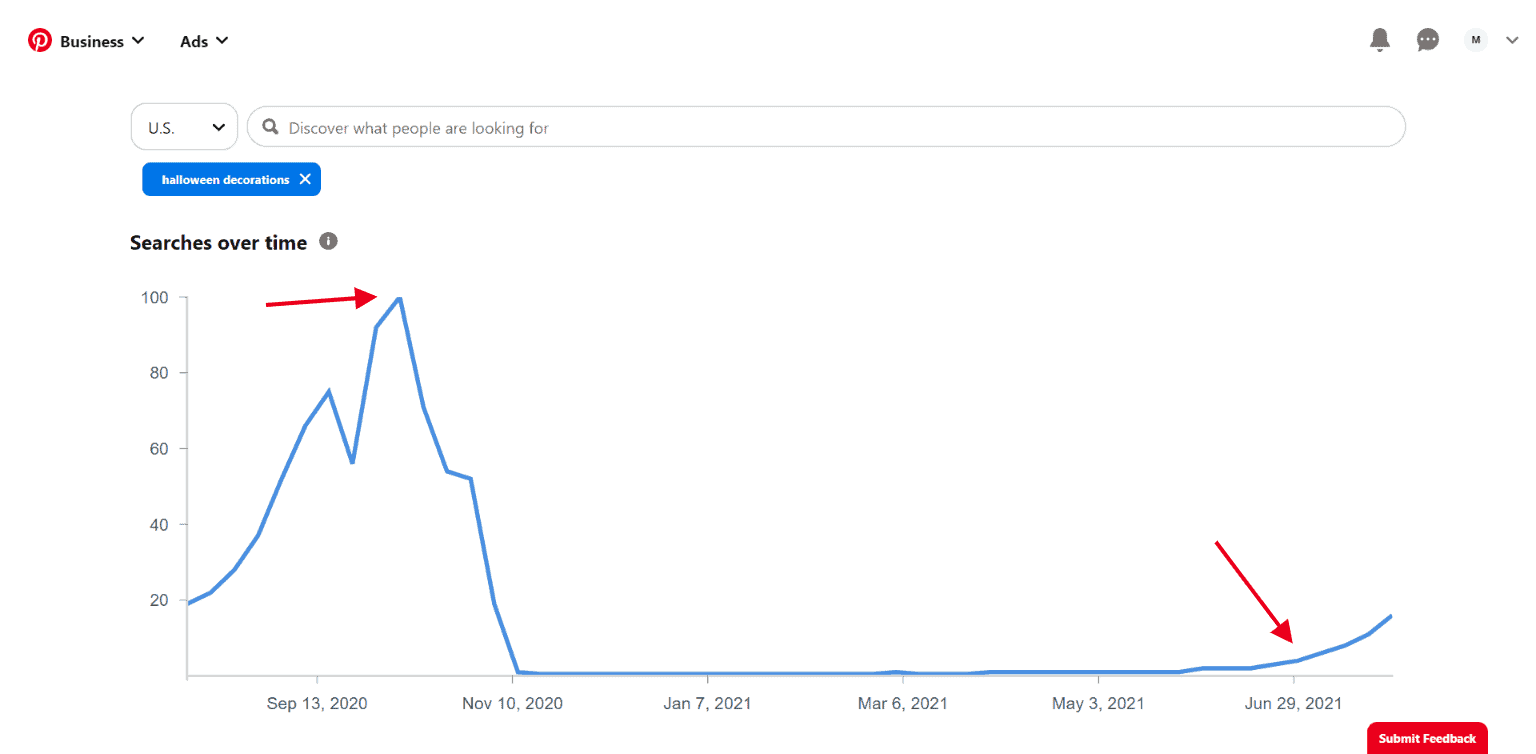 Screenshot taken on the Pinterest trends section
Interest in decorations begins to grow gradually at the beginning of July, although there are still four months before the holiday. The peak of the search coincides with the beginning of October. It's because people have found ideas and are starting to decorate their homes.
If your products are related to a particular season, promote pins in about 35-40 days. In the long term, it will benefit your campaign in various ways:
you can improve your search engine visibility;
figure out which method works best;
check various combinations to obtain peak results.
Delayed posting services such as Tailwind, Hootsuite, and others can save your time. What can these tools do? They suggest the best time to post and analyze your content, boards, and followers.
Over to You
Pinterest is a venue for various industries and businesses. It's not just about B2C fashion and food firms. B2B companies can also find their niche there.
Pinterest is an additional source of organic traffic right after you sign up. What's more, you don't need to have technical SEO knowledge or wait for a long time to see the results.
Switch to a Pinterest business profile, start posting pins and boards, and keep track of your data. The experiment's outcomes may pleasantly surprise you.