Have you tried to conduct a social media competitive analysis for your business? If not, you better start benefiting from it to understand both your audience and industry.
Social media marketing is one of the busiest mediums of the digital world. You should be there if you want to be noticed and to build brand awareness.
This guide aims to show you how to conduct your competitive analysis for social media to shine among your competitors. We have mentioned competitor analysis and social media marketing in general and explained how you could merge them.
Understanding competitor analysis strategy
How do competitor analysis strategies and social media meet
Using competitive advantage in social media marketing
What is social media competitive analysis?
Social media competitive analysis explained in 6 steps
Social media usage and its importance
Success through social media competitive analysis
Let's see how you can stay ahead of the competition with the help of social media competitors.
Understanding competitor analysis strategy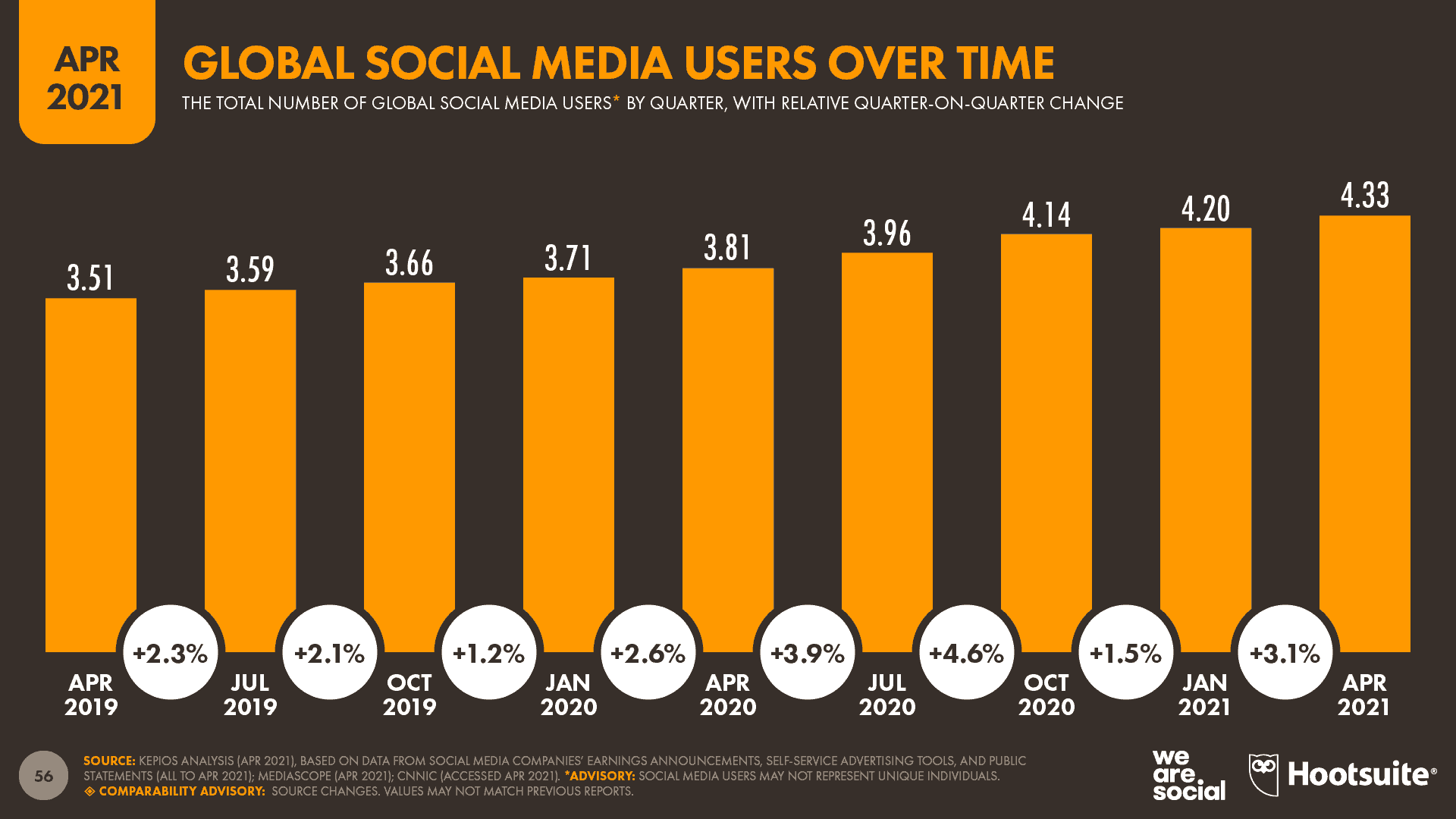 Competitive analysis can be used with the purpose of creating a competitive differentiation strategy. Also, you can distinguish your company's or your competitor's offering from the market in a way.
While generating competitive differentiation, you can focus on technology, digital development, sales, marketing, and other critical areas. The aim is to identify who your competitors are and how you can get the advantage of their practices.
The digital marketing community considers competitor analysis as a vital part of marketing. Whether organic or inorganic, various digital marketing channels have great importance in boosting conversions and ROI.
From Instagram to a newly born social media platform, there is a chance to create visibility. You can develop a content marketing strategy or try paid campaigns. It helps your brand to reach out to more people. But to whom and how?
Based on analyzing the customer behavior, don't forget to do an extensive competitor analysis. Also, take care of channelizing market segmentation and carrying out sales forecasting. Thanks to competitor analysis, you can better understand your business and which channels to focus on. It will also help you to plan your next moves so as to generate the maximum conversions.
How do competitor analysis strategies and social media meet
It is obvious that there is tremendous growth in terms of investment in digital channels. You can apply some powerful social media strategies or you can use the social media tips for business sucess and get ahead of your competitors.
Setting proper KPIs also requires identifying your main revenue and generating metrics. It is necessary to first identify your key performance indicators before determining your profits and losses.
Before starting to invest in your target market, you should use segmentation that plays a key role in your strategy. When you divide your target audience into smaller segments, you will also realize who can be your competitors. Your target will be narrowed, and you will benefit from the further actions more.
Obviously, there isn't just one way to go. On the contrary, there are numerous tactics for excavating competitor data. One is using internet searches, which is one of the most used methods. By generating a powerful web search, you can explore your competitor's actions now and in the past.
Analysis of niche market and customer segments are among other forms of market research. So, you can obtain higher-quality insights with both quantitative and qualitative research.
In the end, you are looking for a far greater chance to win the game of business. Since you don't have time to try anything, you should start with a map while conducting social media competitive analysis.
Using competitive advantage in social media marketing

Let's talk about competitive advantage and what it brings to your brand. When it comes to competitive advantage, it is better to have a strong desire to create a culture to win.
It can let you do better, and the goal is to serve the customers in the best way possible. But first, you have to understand them well.
Where to play the game in the social media marketing world is also important. What should be the goal and what not? That might depend on the markets, products, and demographics. Then, the route will get you to a competition where you gain an advantage.
As long as a competitive advantage can not be totally trustable, it can also help companies create distinctiveness and more advantages to be the best in the industry.
What is social media competitive analysis?
It's a process of benchmarking your brand's social media marketing results to show the strengths and weaknesses of your competitors. Also, it aims to help you compare your own business to others.
Investing time in analyzing your competitors on social media is a wise action for your digital marketing. You need to use social media competitive analysis tool and its best practices to derive maximum impact for your business.
Do your social media marketing efforts perform well? How do your competitors apply their social media market analysis strategies? Those are all important to choose the correct route for your company.
With a deep competitive analysis on social media networks, you can see what formats your competitors use in their content or you can search what are the content marketing trends these days .
Competition can also be good for the attention of your audience. It is applicable for many marketing channels including social media networks.
Fortunately, social media competitive analysis helps you peel back the layers of noise surrounding your industry. As long as you study the strategies of your competitors, you can also make smarter decisions.
Social media competitive analysis explained in 6 steps
Start by identifying your top competitors
While identifying your top competitors, you should also understand your products or services and the value they provide.
Think of a broader perspective. For example, if you are a shoe brand, not all shoe brands are your competitors. The niche features you offer to your audience will help you to get to know your top competitors.
If you are a shoe brand that only focuses on sustainable fashion, you can narrow the research. Understanding the scope of your competition will let your company exist in the right place.
What's more, market research, online communities, and keyword research can be on your planning process while identifying your competitors.
Decide on the best social media networks that suit your industry
Not all of them are the best choice for your brand. Though online visibility has high importance, you don't need to spend effort and time for all of the social networks like your competitors.
Especially if you are a startup owner, you may need to take care of many business departments on your own. So, you can decide on the best social media network to conduct a competitive analysis.
See what they aim with their content strategy
There are always other options for marketing. See the good examples of your competitors and think about implementing them in your social media marketing strategy. Or even better, create a more original campaign that will boost your brand's visibility.
Not only will you understand their audience's behavior but also you will rethink your existing and target audience.
Data is the key to a wider social media strategy
A wider social media strategy includes a wider and more successful social media competitive analysis. Data is the king of digital assets. So, why not benefit from it?
To reach the right data, you should do more than a simple Google search or visiting your competitor's website.
Google's variety of tools help brands see interesting insights into their competition. Likewise, you can use social media marketing tools to help you get the data from your competitors.
Generate a deep analysis of your competitors' activity
In order to understand your social media competitors, first, make a list of the social networks. For each social media platform, you can generate different kinds of analysis strategies.
Here are the ways to identify social media competitors and conduct social media competitive analysis on some platforms.
Facebook
With Facebook competitive analysis, you can see how to engage your audience, encouraging the most link clicks, likes, and etc.
It is possible to gather information about your competitors on Facebook with Facebook competitor analysis, including:
Tracking your own KPIs
Analyzing competitors' overall Facebook content strategy
Collecting simple metrics below
Seeing how often they post
Their engagement numbers
Types of posts that get more like
Types of posts that get more comments
Understanding how they construct their captions
Realizing the success rate of organic and paid efforts
Twitter
No matter if you want to create a new competitor list or you want to expand it, here is how you can conduct Twitter competitive analysis:
Try Twitter's advanced search feature
Find out what kind of promotions are used
Keep an eye on the interactions of your competitors
Get help from the best usage of topics
Consult the experts for a more detailed solution –
You must understand the basics of social media competitor analysis and know why it is essential. Still, you can get help from social media agencies that will let you reach out to the result faster and more securely.
Social media usage and its importance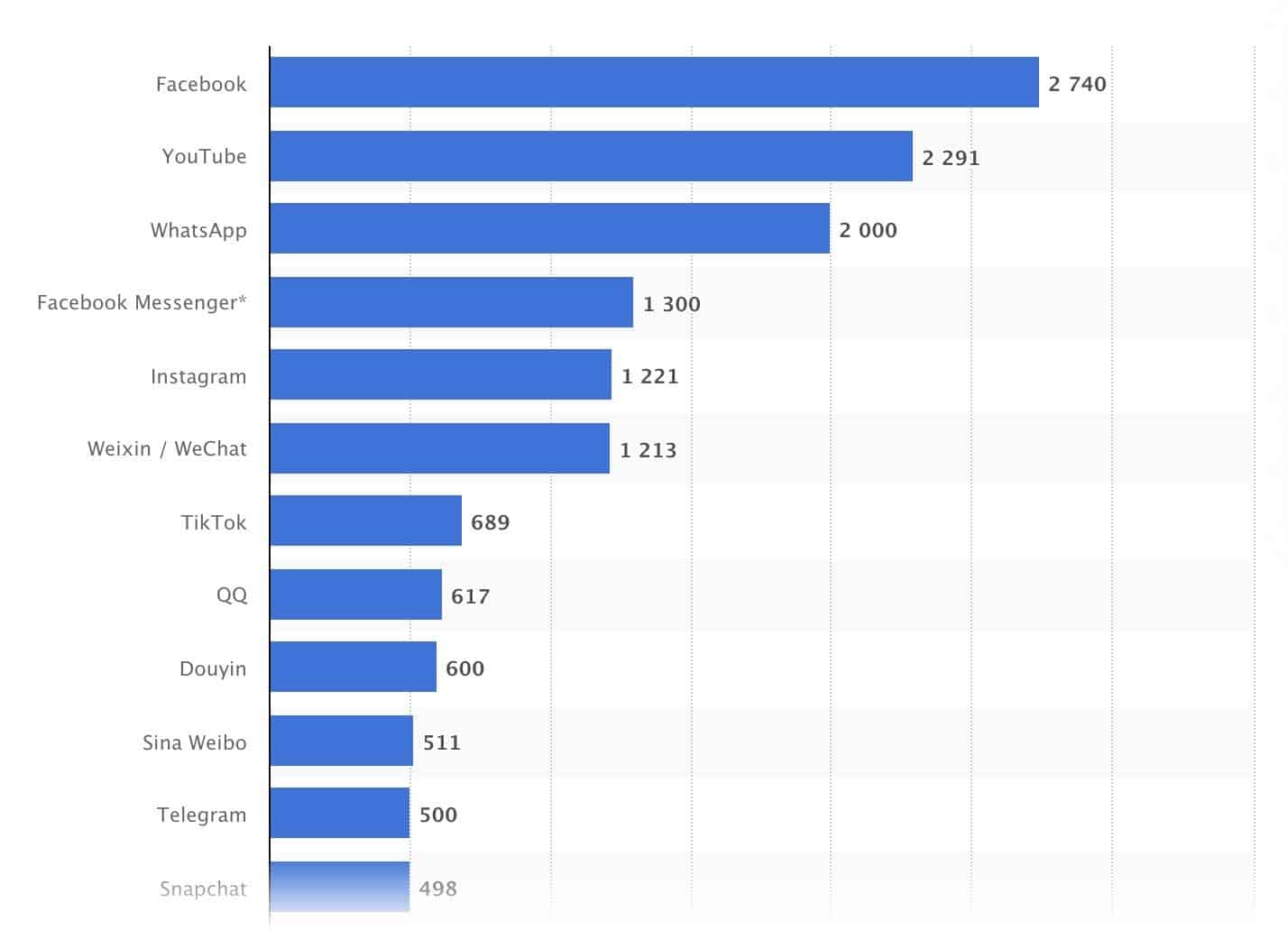 Most popular social networks worldwide as of January 2021, ranked by number of active users
The internet and its power on businesses are undeniable, including social media usages around the world.
Here are a few statistics related to social media usages showing why brands need to put social media strategy on the top of their to-do lists:
In the first ten years, the internet gathered 1 billion users.
As of January 2021, there were 4.66 billion active internet users worldwide – 59.5 percent of the global population.
Since its opening in 2006, Facebook now has 1.6 billion users.
Monthly active Twitter users amounted to 330 million before the company discontinued reporting on the metric.
In January 2019, Instagram reported 500 million daily active Stories users worldwide.
The effects of these numbers on the brand awareness of companies are huge.
You can do more by examining your social media competitors' performance. You can conduct the competitor analysis through the public data by compiling and analyzing it correctly with the help of the right methods and experience.
Success through social media competitive analysis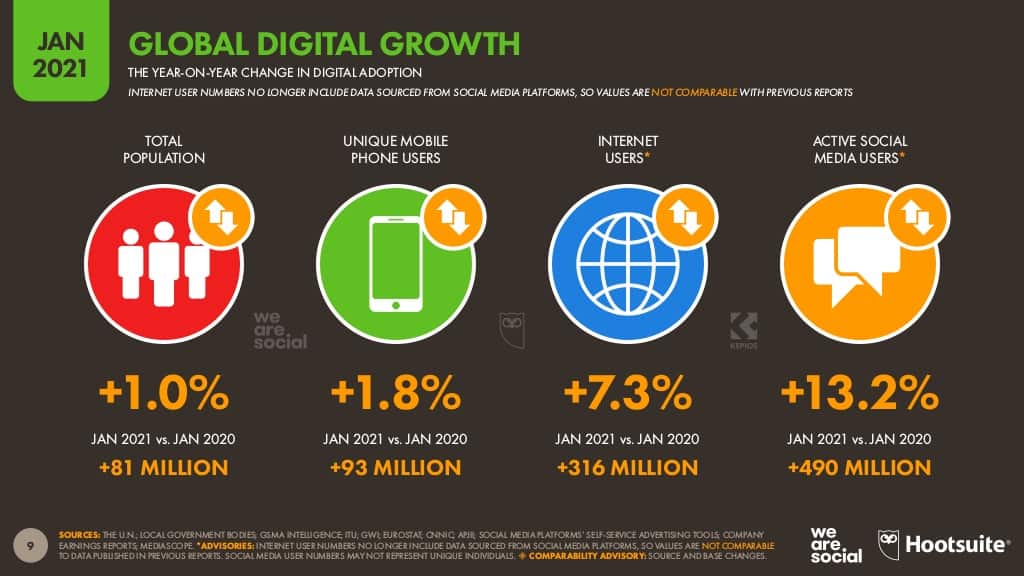 There has been a rapid growth in the world's adaptation of social media to marketing since 2007. Today, digital marketing activities have increased to 90% compared to 2007. By conducting social media competitive analysis, you can build a social media marketing strategy based on the data about your competitors, industry, and target audience.
How do you measure the success or failure of your social media accounts? The answer is hidden in your position among your competitors in a competitive environment.
By knowing the importance of social media competitive analysis, you can target your competitors as a benchmark, evaluating your brand's social media outlook.
Moreover, by getting help with social media marketing tools, you can uncover your competitors' organic and paid metrics on social media.
Positioning your brand on social media is another key point. How do your competitors position their brands? You can also look at their about or bio sections and see their intentions. Also, it can give you an idea about what their mission statements are.
Last but not least, you should also know that you don't have to analyze all of the competitors that you identify. You should narrow down the number in a way that you can organize your workflow.
At the end of the day, your goal is to get meaningful information about your competitors on social media platforms.
Content strategy, ad campaigns, growth rates, and engagement level of your competitors will let you learn how to use some tricks on your way up.
Summing up social media competitive analysis
Social media analysis of your competitors lets you reach valuable insights. This way, you can see what works in your industry and apply some of the practices to your brand.
Get ahead of your competition on all the social media platforms with amazing social media competitive analysis. What's more, you can also optimize your content strategy and spend time for the best conversions.
Briefly, social media competitive analysis is a great way to improve and shape your social media marketing strategy for now and the future. In addition to all suggestions in this article, always remember to have powerful social media management and prioritize your social media scheduling.