Social media is no longer just for sharing what you had for dinner or the latest cat memes. It has also become a great medium for businesses that want to build long-term relations with customers, increase sales, and build brand loyalty.
When brands make themselves available to customers via Facebook, Twitter, Instagram, YouTube, and other social media sites, they promote social interaction and customer engagement. Aside from creating brand awareness, maintaining a social media presence also helps brands reach their target customers right where those individuals spend most of their time.
As a result, brands can communicate and engage with their users directly, helping them build stronger relationships and increasing the chances of repeat business. If you want to use social media to find new customers and deepen your brand's bond with existing ones, you need to know how to analyze how your followers engage with your social accounts.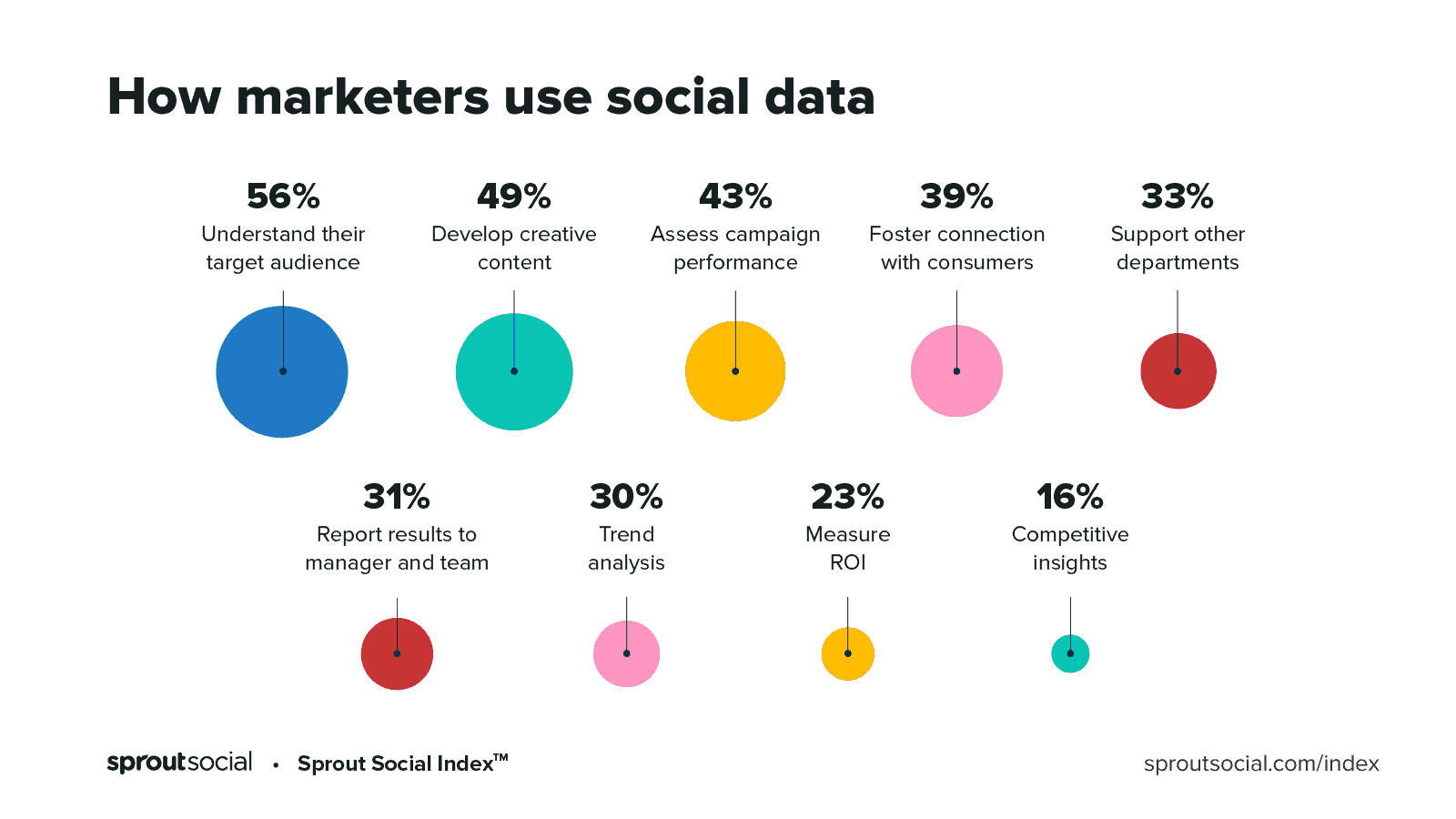 Source: Sprout Social
In this article, you will learn why social media data and analytics are important. You will also learn the key social media metrics to consider and how to use social media to reach out to different business segments.
Why is social media analytics important?
Social media gives you countless opportunities to genuinely connect with potential and existing customers. Each interaction that you have with users via your social accounts is a potential point of sale. However, many companies don't understand how to go about converting page visitors and followers into paying customers.
Because your social media accounts have so many potential touchpoints, you need to track your social media engagement and user feedback. The process of tracking user behavior, selecting the metrics to track, and processing these metrics into actionable insights is collectively called social media analytics.
Most social media platforms come with built-in tools for measuring the performance of your content. With these tools, you can gather data, analyze it against your targets, and identify the areas where your brand is particularly strong or in need of a boost. This evaluation helps make profitable decisions, enhance brand awareness, and improve your brand's overall customer experience.
Some key social media metrics
Social media networks keep track of everything a user does when they're online. Each post, comment, like, share, or reaction is a potential touchpoint that could result in higher engagement for your brand. However, there are some metrics that you need to pay closer attention to than others.
Here are the key social media metrics to monitor for more effective marketing campaigns:
Engagement
The engagement rate is a metric that helps you track clicks, likes, comments, and shares. It measures your followers' level of involvement with your content and the effectiveness of your brand campaigns. Engaged users post comments on your posts, react to them, and share them.
Each platform has its own set of engagement actions. For example, Facebook has at least five different possible post reactions, while Twitter and Instagram each only have one. On the other hand, there is no way for Instagram users to repost content they've found elsewhere on the app (except in Stories), while the "share" and "retweet" cultures are strong on Facebook and Twitter, respectively.
Aside from measuring the performance of individual posts, you can also gauge the effectiveness of a campaign by counting how many times users post content using your branded hashtags or tag your social media account. Hashtags are particularly effective in driving engagement and, as we'll find out later, can also be used to gather user-generated content for ongoing or future campaigns.
Measuring user engagement is not an exact science. A post that receives a lot of likes, but doesn't generate a lot of comments, isn't necessarily a poor performer. The nature of the content is one aspect that can play a role in non-engagement. However, if a post comes with a caption that encourages comments and shares but is still unable to get your audience to engage, it might be time to revisit your social content strategy.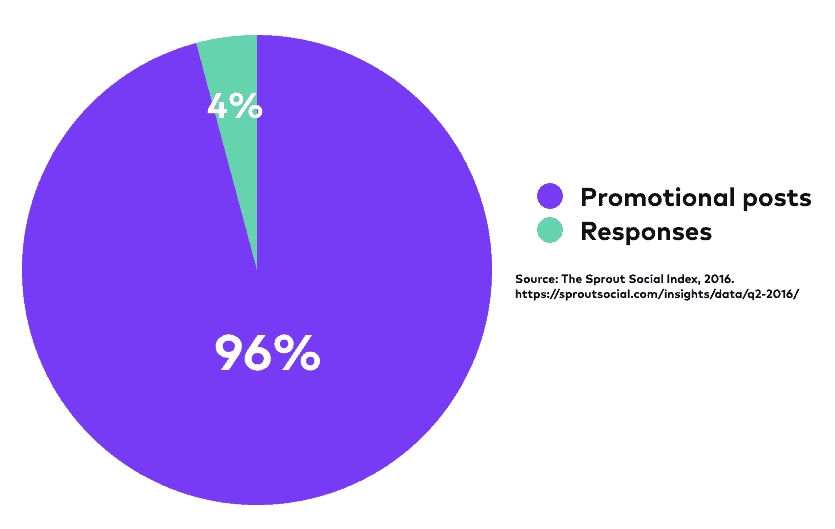 Source: Buffer
SproutSocial offers reporting tools that help you track the performance of your media experience and promotional posts as compared to the responses to your content. You can find the posts that have the highest engagement on your social accounts, giving you an idea of what works for your audience.
Check out Sprout's "Sent Message Performance" report to see the breakdown of every post's metrics and the total or average figures at the top of every column. This report helps you in finding out which posts received the highest impressions and average user engagement. When you sort the results according to engagement levels, you will learn the most liked elements of those posts. This insight will help you in content optimization.
Reach and impressions
If your social media goals are focused on brand awareness, measuring reach and impressions will accurately track your performance.
Many people confuse the two terms because they're quite similar. "Reach" refers to the possible number of unique viewers your post has, while "impressions" refer to the total number of times your posts display on others' timelines.
If you aim to boost brand awareness and your audience's knowledge of your business, your social media campaign should go for a combination of high engagement and high impressions.
Posts with high impressions but low engagement rates reflect the audience's lack of interest in taking any action after seeing the content, while posts with low impressions and high engagement show that your content is worth sharing but might need a promotional boost.
Share of voice
"Share of voice" has been around since before social media. In traditional marketing, the term refers to the number of times your brand is mentioned in advertising platforms compared to its competitors. In an online context, it covers search volume, social media mentions, and organic traffic.
One way to measure the share of voice is to use an SEO tool to discover how often people search for your keywords, then find out how high your site is ranking for those keywords. You can also use social media apps' built-in analytics to see how well your hashtags are performing compared to your competitors' hashtags.
While many promotional campaigns are short-term, brand-building takes time to achieve. You need to keep increasing your share of voice through constant measurement and strategy adjustment.
Conversions and referrals
In social media, a conversion happens when a user visits your page from a social media post and takes the desired action, such as signing up to your mailing list or making a purchase. A referral happens when a user visits your website and shares their buying decisions with their contacts through their own social media channels.
Measuring conversions and referrals is straightforward. All you have to do is monitor the times your page visitors click through to your site and take an action or share it with other users. However, it doesn't tell the whole story as far as the effectiveness of your campaigns is concerned.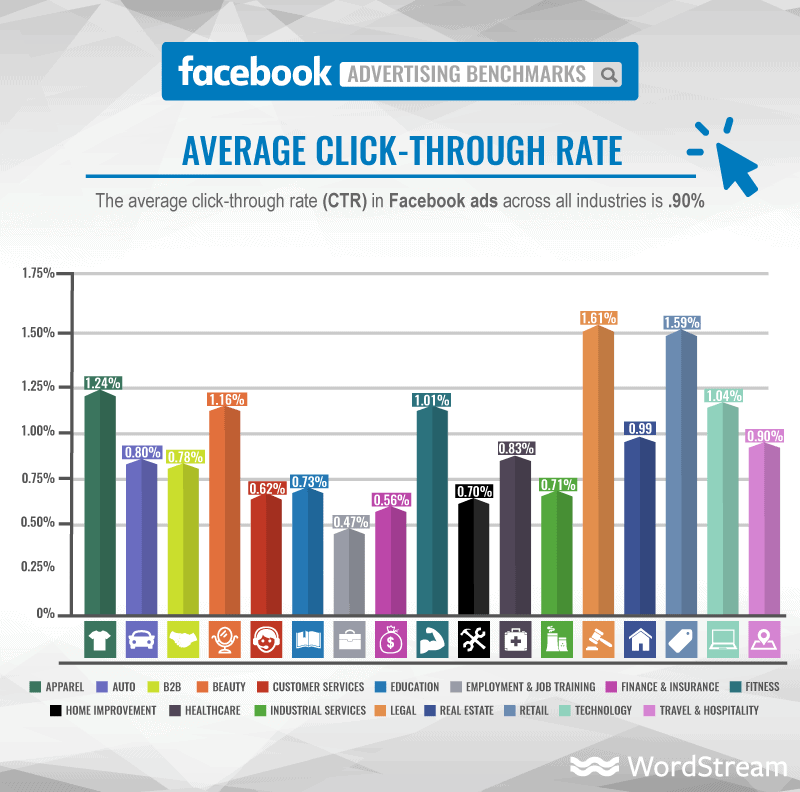 Source: WordStream
Instead of just counting conversions and referrals, marketing experts prefer using click-through rate (CTR) to measure campaign performance. To get your CTR, divide the number of times your social media visitors click on links back to your site by the total number of visitors to your account. While the average CTR on Facebook is 0.90%, it varies widely among industries, ranging from 0.47% for employment-related pages to 1.61% for legal services.
As a social media marketer, your goal is to match or beat the average CTR for your industry. By combining catchy content with effective calls-to-action (CTAs), you can cross that goal off your list.
Response rate and response time
There is more to social media marketing than just posting content and waiting for users to engage with it. You also have to be proactive when it comes to reaching out to people who express interest in your brand.
Your response rate and response time will tell you how responsive you are to comments on your posts and private messages sent to your page. Today's customers know that they have a lot of options at their fingertips. It's highly likely that they're messaging more than one business page at a time, and they will tend to respond more positively to the first account that gets back to them.
While it's practically impossible to send immediate replies to every message that arrives in your inbox, you should aim to respond as soon as you can. Many marketers follow the five-minute rule, but you might choose a shorter or longer time, depending on your industry.
How can social media data help you succeed in different business segments?
Billions of social media users around the world interact with their favorite brands online. In fact, around 90% of Instagram users follow at least one branded account! Using social media to build brand awareness and establish relationships with your customers should be a breeze. But is it?
Many branded social media campaigns don't succeed because their strategy and execution are flawed. Social media data should be at the core of everything you do with your branded social accounts, whether it's replying to messages or posting new promotions. It begins with identifying different business segments and producing content that speaks each segment's language.
Let's take a look at some ways you can use social media data to appeal to different business segments.
Encourage your followers to share user-generated content
Content marketing helps you in spreading your content to a target audience that widens your customer base. Social media plays a key role in content marketing, not just by promoting your content, but also by gathering user-generated content (UGC).
Running contests or using hashtags will encourage users to submit their content and share yours on social media. For example, a clothing brand might invite customers to share pictures of them wearing the brand's products. When your followers participate in contests, it creates brand awareness and gives you a collection of posts to use in current and future campaigns. Featuring UGC will also build brand loyalty as it gives your followers recognition and a broader reach for their content.
Aside from using UGC in your social media accounts, you can also use it in your video email marketing campaigns. Adding visual content to your email campaigns can improve your conversion rates and entice your email subscribers to follow you on social media as well.
Analyze your followers for more accurate buyer personas
Social media provides you with more than enough data about your followers to help you analyze them effectively. The leading social media sites come with analytic tools that give you access to demographic details about users interacting with your official accounts. This information includes data such as age, gender, educational level, industry, and location.
With this information, you can create a set of buyer personas that capture your target segments' needs, habits, and sentiments. For instance, if you run a website that offers online courses, you can show ads about data science courses in a business analyst's timeline, and another set of ads about SEO courses in a digital marketer's timeline.
Here's an example of a buyer persona: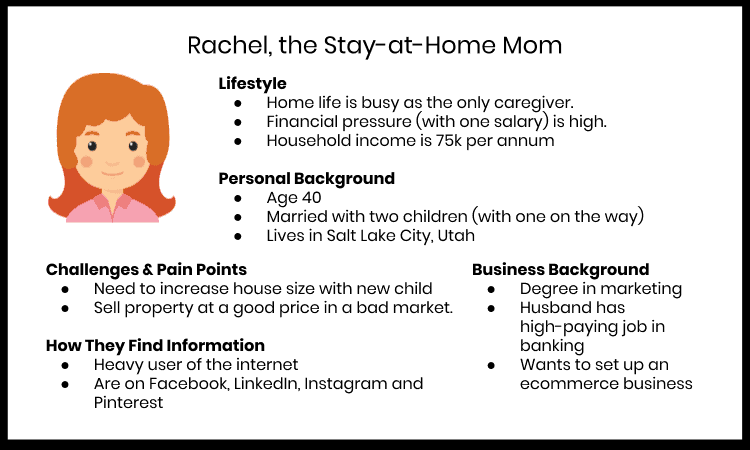 Source: Higher Visibility
When you get to know your followers more deeply, you are in a better position to offer products, services, and pieces of content that meet their needs. Each social media platform has their own method of capturing user demographic data, so you need to start getting familiar with each platform as soon as possible.
Keep a close watch on the competition
Aside from analyzing your followers, you should also take a look at your competition. Competitor analysis will provide you with a wealth of information about your target audience's needs and help you identify gaps in your competitors' products that your brand can fill.
Analyzing the competition isn't as complicated as it seems. You just need to stay updated about what they're doing, such as launching new products, releasing new industry data, and running promotional campaigns. You can then determine whether their audience's responses are positive or negative – and whether there are any obvious gaps you can fill.
Incorporate social media into your sales funnel
Social media can help you to sell any type of product. All your social media accounts can be a significant part of your sales funnel. If you can create and maintain high-quality profiles full of enriching posts, catchy images and videos, and the latest updates, you'll convert the maximum number of visitors to customers.
With the increasing number of social media users and evolution in sales tools, social networking platforms are likely to grow more and more critical for product searches and online businesses. In today's digitally inclined world, you should combine your sales and social marketing objectives to stay ahead of the curve.
When you promote a product on social media, you should monitor your post's CTR and conversion rate. Either metric will provide you with a good indication of customer interest in that specific product that you can use to determine if it's still worth promoting. You can also use audience demographics to discover the market segments where your product is performing well and those where it might need an additional push.
Use social media as an extension of your customer service hotline
According to the Harvard Business Review, brands that can't live up to customer expectations incur losses. On the other hand, smart brands know that they can use customer service to turn negative experiences into positive ones. People expect their favorite brands to offer customer service through a range of channels, including social media.
If your business is responsive to direct messages or mentions, users are more likely to give your brand a try because they perceive you as trustworthy. Responding promptly will show your audience that you take them seriously. Even if someone provides negative feedback, responding quickly can help defuse a delicate situation.
A polite, sincere apology, accompanied by an assurance that your company will do everything it can to resolve the issue, will result in positive feedback later on. This is particularly important when your social engagement numbers indicate negative sentiment about your brand.
While you probably can't answer all the messages that land in your inbox right away, you can automate part of the process by implementing a chatbot on your page. That way, your page can respond to frequently asked questions and set user expectations almost immediately.
Improve your communication strategy through social listening
To grow your business and keep building long-term relationships with your customers, you need to implement a responsive communication strategy. One of the best ways to do that is to know where your audience spends their time online and "listen" to customer sentiment by looking through your page and taking note of the most common complaints and suggestions.
Social media listening is important if you want to improve your customer service. Constantly monitoring user sentiment will keep you from being blindsided when an issue hits your business. It will also help you formulate a crisis management plan that considers the size and scope of your business and your customers' needs and language.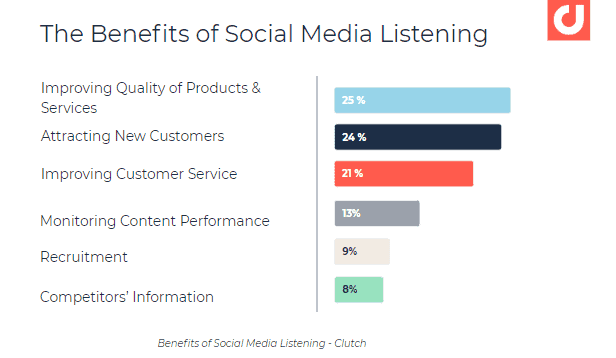 Source: Digimind Blog
Aside from providing your customers with timely, informative, and reassuring replies, social listening will also give you fresh ideas for improving the quality of your products and services, allow you to attract new customers and talent, and help you identify the type of content that resonates with your audience.
The bottom line on Social Media Data
Social media is a great medium for interacting with your customers. It doesn't just offer you a fantastic opportunity to build relationships with your audience and attract new customers; it also gives you access to crucial data. Analyzing this data will help you identify what your customers want and give you an opportunity to tailor your campaigns to specific market segments.
Social media data, if used effectively, can help you succeed in all areas of your business. To make the most of it and get the desired results, keep monitoring your performance and adjust your content and social strategy as needed.