When the going gets tough, the smart start social media marketing. 
You might find this funny, but considering the recent business dynamics and landscape, this is the actual reality.
And here's why your business needs a social media strategy during Covid 19.
The global conundrum in 2020 has either left businesses paralyzed or electrified their potential.
The Covid-19 pandemic extended a very true yet eluded fact, the stupendous importance of digital marketing and the necessity of a business transformation.
The new lifestyle of social distancing and virtual living is no longer just a perception, it is a reality. If you want your business to stay in the market, cutting marketing budgets and suspending employees will make no difference, however, the right social media marketing strategies will.
How?
Let's reflect upon this statistic.

Facebook and Instagram, the top social media platforms around the world, reported a 40%+ increase in usage during the Covid-19 pandemic. Furthermore, Facebook Live and Instagram Live, the real-time video features of the apps, saw a 2X increase in its views.
This figure alone states the desire for online content and its engagement level for social media channels.
Why is Social Media Marketing the Answer to Your Drowning Tactics?
Social media can make and break a brand.
Businesses are really pressed hard-pressed with cash flow concerns. In such adverse times, taking the right decision for your businesses can leverage its sales and revenue quotient.
No matter the type of business you hold, the consumers you serve, and the products you sell, social media marketing is a perfect strategy.
The last thing you want is to be caught pigeon-toed, lagging behind your competitors while the economy assumes its normal form again.
It is a common triggering question, whether the ride to social media popularity and stardom is worth it.
Well, for starters, your business can do so much and a lot more through social media marketing.
Pacing forward to the next concern, why is social media marketing so important that every business and enterprise is pushing for it?
The following 7 reasons will educate you on the popularity and the need of social media marketing.
There is a prominent rise in the consumption of online content
Remember this, users have not and will not stop scrolling!
In the quest of killing time, people spent extra time jumping from one post to another, consuming infinite content. There has been a sharp rise in video streaming views, website traffic, gaming, social media posts since most of us were under quarantine.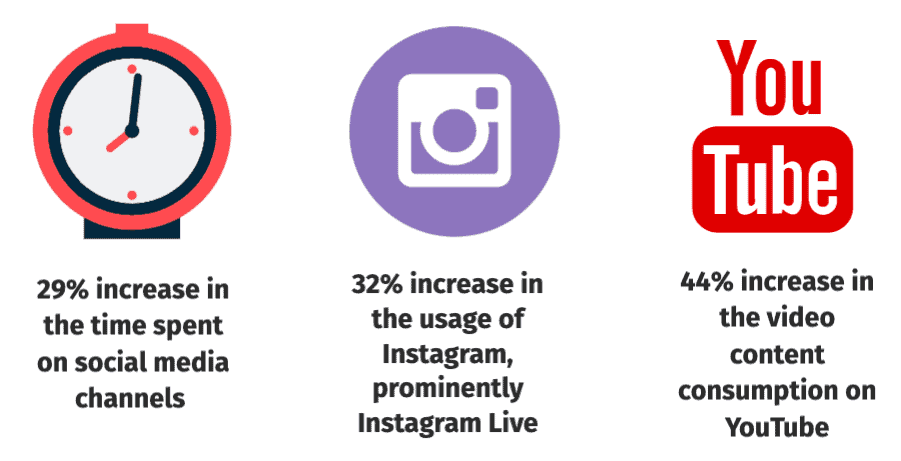 There has been an increase of 29% in the time spent on social media, 32%, and a 44% increase in content consumption on YouTube and Instagram.
Now, you might think that once the situations normalize, businesses get back to the old tactics and strategies.
Well, they might or they might not.
But, talking about the current scenario, it is more than clear that a digital revolution wave, for businesses, is inevitable.
Why?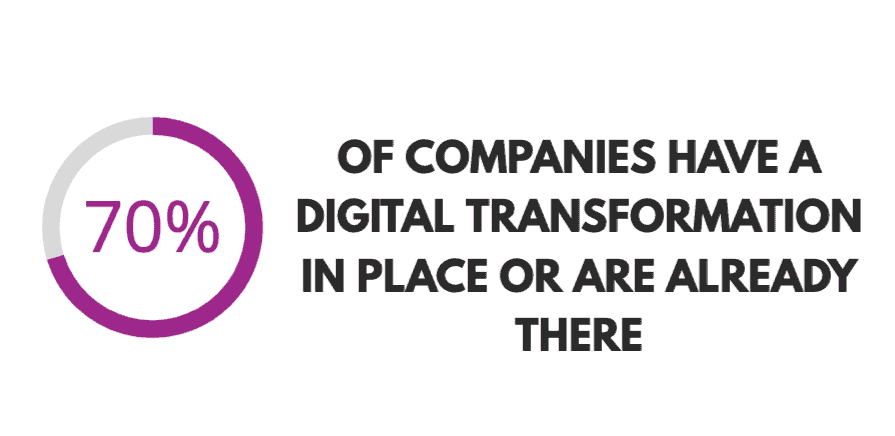 Because more than 70% of companies have a digital transformation strategy in place or are already shifting towards it. Moreover, 21% of companies have successfully completed their digital alteration.
As an entrepreneur, you can either step onto the boat and start taking advantage of content marketing, or you can drown your business without making a change. The choice is yours.
Influencer marketing achieved its peak stardom 
Digital influencers gained tremendous importance during these times. They focused on creating meaningful content, endorsed brands while spreading the message about health and safety, and were focussed on educated consumers instead of selling stuff.
Influencer marketing crossed the barrier of being a budding marketing strategy into a spearheaded one. Digital influencers pose as perfect candidates for spreading information, entertaining the crowd, generate brand awareness, and innovate the selling process for you.
Cashing in on the creative power of an influencer against a friendly budget is the need of the hour. Although some brands have already called onus on spreading the message through renowned influencers while others are planning their influencer marketing route.
The ever-increasing number of social media users 
As per Statista, the total number of social media users, around the world, in 2020, is 3.08 billion. Furthermore, these numbers will increase to 3.21 billion in 2021, escalating to 3.43 billion users, by 2023. Amongst the top social media platforms, Facebook is the most popular one. It has the highest number of active monthly users, almost 2.5 billion.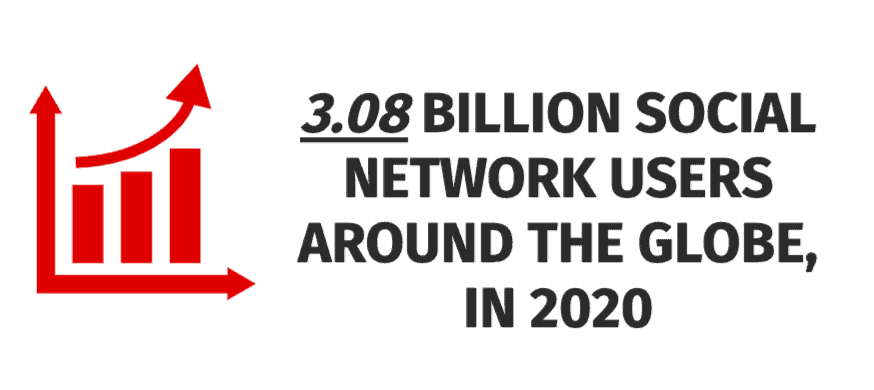 Image Credit: Statista
The humongous numbers illustrate the prominence of social media and its connection with the users around the world. For organizations, the most difficult and utmost important task is to acquire a loyal customer base, and social media already has a magnificent number of users.
This provides businesses with an opportunity to connect with the users, explain their products/services, and convert them into loyal customers. Social media marketing is an apt method to research your target audience, take advantage of the surmounting numbers, and expand your business further.
Social media marketing is highly cost-effective 
Traditional marketing, through newspaper ads, billboards, TV advertisements, ranges between hundreds to thousands of dollars, and not every business is financially stable to pay such a high endorsement amount.
Coming back to social media marketing, the platforms are absolutely free. So, you can easily cut marketing costs without sacrificing your business goals. As for social media, most of the results will be accomplished by investing time, creating and publishing apt content, and conversing with your followers and fans. In fact, industries such as real estate coaching are finding opportunities during the pandemic.
The power of generating revenue from social media is immense. According to HubSpot, 84% of marketers were able to generate increased traffic with less than 6 hours of effort spent on social media spent per week.

Image Credit: Lyfmarketing
The cost of CPM on social media can be as low as $2.50 dollars, which is 3X cheaper than traditional forms of advertisement and marketing. It is relatively inexpensive to run campaigns on social media platforms like Facebook and Instagram, or LinkedIn marketing solutions for B2B social media marketing.
No matter how much your budget is, social media marketing can make a significant contribution to your business ROI.
Measuring results with ease
With traditional forms of marketing, you never know how effective it is, until later.
You might be headed in the wrong direction, but there is no way you can tell that.
Also, the results through traditional marketing are vaguely known.
In social media marketing, you can measure the effectiveness of your campaigns in real-time.
It allows you to play a transparent game, rather than a blind one in case of traditional marketing.
You can gain deep insights and tons of information about your customers, and devise marketing strategies to suit those findings. Furthermore, you can view the insights of how many users convert into customers, and tweak your strategies in real-time. You can gain knowledge about your conversion game, the cost per click, sales and revenue generated, etc. through social media marketing analysis, a process simply not possible in case of traditional marketing. You can make use of different social media analytics tools for the analysis of your social media marketing.
Establish your brand's reputation 
What does it take for a brand to excel on social media platforms?
Awesome content, a good number of followers, and an enriching connection with them. That's the success recipe for any brand to achieve stardom on social media.
Well, as easy as it sounds, it involves a simple process too. But, you need to pick the smart road to do so.
Since social media marketing is no rocket science, many brands have achieved stardom in this arena. These are those businesses, who never tried traditional marketing techniques, just went with the flow of the digital age, and are now established brands in the market.
So, can you also improve your brand's reputation or build one from scratch?
Yes, you can!
All you have to do is connect with the right followers, talk with them, share valuable and user-friendly information, and voila!
You will improve your sales and revenue figures within no time.
Social media is the next big thing, and so can be your brand. Just pick the right steps while climbing through the social media ladder.
It also aids your inbound marketing traffic
Garnering traffic to your websites doesn't only require SEO tactics. It includes other techniques as well, and B2B marketing using social media profiles is an integral one amongst them.
If you thought social media marketing is only about improving your reputation and consumers on the social platforms, then you are highly mistaken.
You can improve inbound traffic to your website via social media marketing. Each piece of content you post on your social media platforms is another opportunity to bring in new visitors to your site, and convert them into loyal ones.
Be consistent in publishing content on social media channels, engage new leads, and direct them back to your website. If you do it the right way, it is only a matter of time before these new leads convert into loyal customers.
Final thoughts on social media strategy during Covid 19
The global pandemic is a gentle reminder for brands to research new ways of selling their products to respective customers, virtually. Physical operations and marketing shouldn't be the focal point of organizations, rather, it should be agile marketing.
The better your social media strategy during Covid 19, the more your brand will flourish not only during this but after.