Back in 2002, most wouldn't have imagined the success LinkedIn has amassed. In over a decade, it's become the platform marketers trust to generate results.
And these aren't shot-in-the-dark results. It's proven to be 277% more effective than Facebook and Twitter. The professional networking platform is also home to four out of five decision-makers, and the average user has 2x the amount of buyer power than the average web user.
When it comes to using LinkedIn video, it's a low hanging fruit for smart marketers who want to reach a larger audience with highly targeted content.
Take video on a company page. It's 5x more likely to start a conversation. Video ads aren't far behind either, they receive 3x more watch-time than static content.
And when you consider LinkedIn's algorithm design, it's hard to dispute the opportunity available to generate positive results.
Millions of posts and videos are shared on LinkedIn daily, and much of that content is pushed to larger audiences based on connections.
But these aren't the only reasons why you should consider using video as part of your video marketing strategy. Business executives are watching more videos. Research shows that 75% of said they watch work-related videos on business-related websites at least weekly.
What about live video? Can you really use it to generate results?
Do you know how to get LinkedIn live to work best for you? Well, LinkedIn's been relatively quiet about its live stream offering. In fact, it's still in pilot mode and you'll need to submit a request to become a broadcaster.
But don't let that stop you from the opportunity of getting your message out there. Given the explosion of video marketing and content, you can use it to engage audiences who are ready to learn about your brand and solutions. And in this blog post, I'll share 10 tips on how to do just that.
So, if you've been looking for a way to strengthen your video marketing strategy with powerful LinkedIn live videos, let's get started on how to use LinkedIn live.
1. Leverage psychographics and states of being
Personas work, but only if you've taken the time to develop strong, data-backed archetypes of your customers.
These should cover the common demographical information, but also extend to psychographics.
Psychographics are about understanding cognitive attributes (think emotions, values, and attitudes) that your customers embody. They inform the content you produce and how you related to your audience.
And while psychographics help establish a closer and stronger connection with your audience, most markers find it hard to marry psychographics with content creation.
But there's a simple fix. It's called the before and after state grid.
Popularized by Digital Marketer, it's an elegant solution to understanding how persona data and the buyer's journey merge. It explains how psychographics are experienced before buyers encounter your brand and after your solution is applied.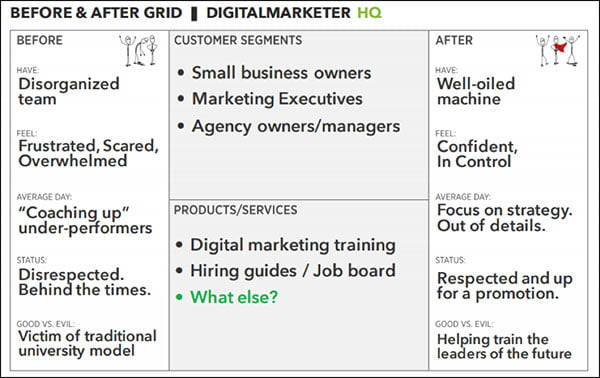 Image: DigitalMarketer
This is why it's critical to have a clear understanding who your audience. Knowing how your topic aligns with the buyer journey and how it influences their before and after state helps you offer valuable content.
Using DigitalMarketer's HQ example, one can see how a series of live videos about the ins and outs of building a well-oiled marketing team would appeal to their audience.
2. Be strategic
The idea of live video may seem like a huge undertaking, and you may experience the urge to start producing content almost immediately.
Don't.
Live video should be part of a larger content marketing strategy (what is content marketing?). It should be used within your video marketing funnel designed to generate awareness, consideration, and conversions.
This means taking the time to generate ideas that can be packaged for live video or repurposing content that's proven successful.
And being strategic isn't that hard. Like all of your content, live video has a place in the marketing funnel. You can create the perfect videos to attract, educate and start generating leads by sharing thought leadership material and promoting your solutions.
For example, Goldie Chan, a LinkedIn Top Voice, and brand strategist partnered with Adobe. Together, they created a live stream to share some of Adobe's latest innovations and answer audience questions.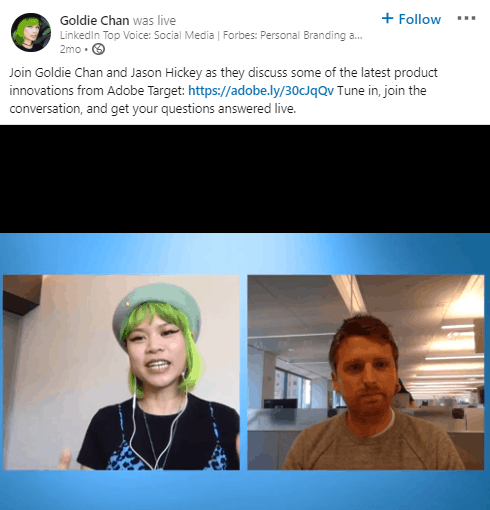 3. Structure your videos
While it is live video, you should always have a structure or outline for the content you're going to share.
Goldie Chan recommends developing your structure around a core topic and going deep.
According to Chan, structure demonstrates expertise and has proven to create a better experience for audiences. They know exactly what conversation they are joining and what to expect from it. She also noted that uncovering this insight has seen her hold the attention of her audience for the entire duration of a live video.
4. Engage in real-time
Live video gives you the opportunity for real-time engagement. While this may sound like an overwhelming experience, it's really as simple as replying to questions as you deliver your content.
Responding in real-time is highly engaging for audience members. You're able to quickly answer questions and responding to comments.
And because LinkedIn is filled with business decision-makers, your quick responses don't only show expertise, but can also accelerate trust in your brand, lead generation and potentially sales.
5. Collaborate to pull a larger crowd
LinkedIn is all about providing valuable information for professionals. One of the best ways to share valuable content with as large an audience as possible is by collaborating with a subject matter expert.
Experts do more than just add credibility by association, they also pull crowds and expose more new audience members to your brand through cross-pollination.
Dave Kerpen's Likeable Leaders series is a perfect example. He collaborates with leaders from various industries to share stories about their personal and professional journeys. As leaders in prominent roles, they attract viewers looking for ways to improve their careers.
For Kerpen, a larger audience creates more exposure for his personal and professional brands, both of which could lead to more customers for his businesses and potential speaking engagements.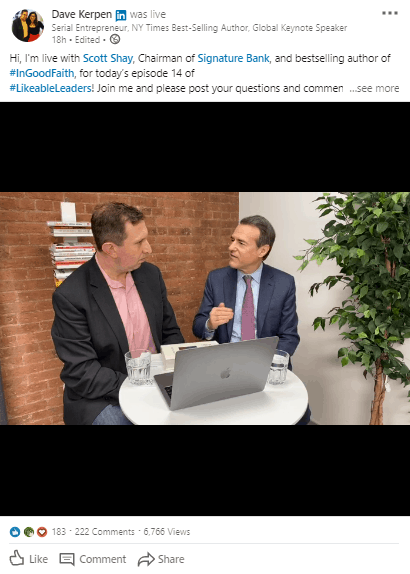 Pro Tip: Need to host a live video with someone in a remote location? You don't need to set up a video studio. As live video evolves, it's created an industry with solutions designed to make live streaming through social platforms, while in different locations possible.
Try Wowza, EasyLive, and Wecast to find the platform that works best for you.
6. Educate your audience
As LinkedIn audiences are filled with people focused on personal and professional growth opportunities, they are interested in learning. Play to their needs by producing live videos that educate your audience.
But be sure to add real value. Share unique insights that they would otherwise pay to access.
Getting specific and going deep shows expertise. As you share a unique perspective on a problem or your industry, you position your brand as a thought and industry leader, instead of another player. Research also shows that people are more likely to follow brands that produce authentic content.
And if buyers are looking to solve a specific problem, your solution or information will be seen as more valuable than your competition's.
7. Build a conversation around your live video content
Keep the conversation going after you've delivered the goods. While the buyer's journey is always illustrated as a sequence of events and in a straight line, it seldom is for your audience. 
People often come across content when not really looking for a solution. While not every prospect is ready to become a customer immediately, they will need to find their feet when the time is right to find a solution.
Your content should be able to help buyers (at all stages) move down your funnel. The only way to accomplish this is to keep promoting your message. 
Promoting your message isn't complex either. If you've successfully integrated LinkedIn live examples of video into your content strategy, you'll have supporting content in the form of social posts, blog posts, and more to connect the dots for your audience.
For example, Dave Kerpen has produced numerous articles and social posts on leadership and related topics. If you're a leader wanting to expand your career, you'll find his content uniquely positioned to help you explore your growth potential.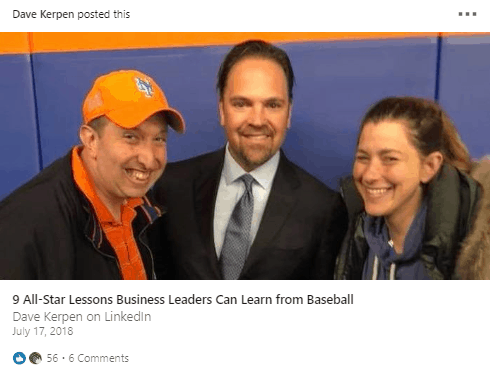 8. Write great copy for your live video posts
Video is attractive on its own, but LinkedIn relies greatly on the copy to return valid results, and your audience loves a good story.
Judi Fox, a LinkedIn coach, business, sales, and video strategist recommends structuring your copy using these four pillars:
Hook to stop scrolling
Scrolling is an inescapable reality of social media feeds. The only way to reach out and stop your audience before they miss your content is with a hook. A hook is a line or idea that begs further scrutiny or attention.
Create intrigue
Use LinkedIn's spacing and generous post character count to create a cliffhanger that viewers can't help but want to follow.
Sure, you've seen these before. And while many of these types of posts turn out to be clickbait, creating one that delivers value after creating intrigue can increase audience trust.
Creating the perfect cliffhanger has more to do with the build-up than the actual revelation.
In Jody Fox's example below, notice how she uses a conversational tone. She hooks you with the idea that she had a technical mishap going live and then creates intrigue by mentioning that the almost deleted the video, but decided to share the recorded video anyway.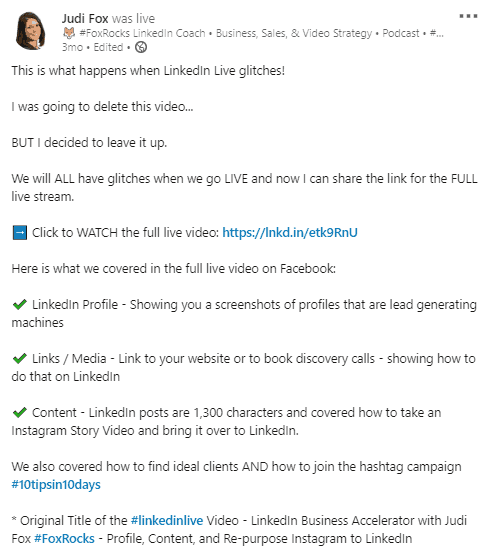 Value
You've hooked your audience and created intrigue. It's time to deliver the goods. Give your audience an overview of what your live video is all about. Don't give it all away, but share a bit of the biggest and most important takeaway you want them to absorb.
Remember, attention is a currency on social media. If you don't share something worth your audience's time, they are less likely to want to engage with your brand.
Close with a call to action
End with a call to action to guide your audience to what to do next. Fox advises that not every call to action has to be about selling a product. You can invite your audience to follow your brand on another platform or subscribing to a newsletter.
9. Be consistent
Goldie Chan's admitted that consistency is what's helped her create a global brand. When she started using LinkedIn video back in 2013, she was part of a small group of professionals trying to figure out how to make it work.
Today, many of the professionals that started when she did either stopped years ago or produce content sporadically, both of which hurt a creator's ability to grow a large following.
How do you consistently produce great live video content?
Plan it.
Incorporate live video into your content calendar (along with supporting content).
Figure out a frequency that works best for your brand, but stay flexible. As you produce more live video, it's possible that you'll learn more about your audience's preferences and interest in certain topics.
10. Promote your live video in advance
Build anticipation about the event to draw as large an audience as possible. LinkedIn feeds fill up with content daily and hoping that your audience will stumble upon your live video isn't a strategy.
Create a series of posts and publish them a week before your event. A week may seem like a lot of time, but it's enough to spread the word far and wide for busy audience members to set time aside for your live stream event.
Dave Kerpen understands the value of building anticipation for his weekly live video series. In this post, he draws attention to his live event taking place on the same day.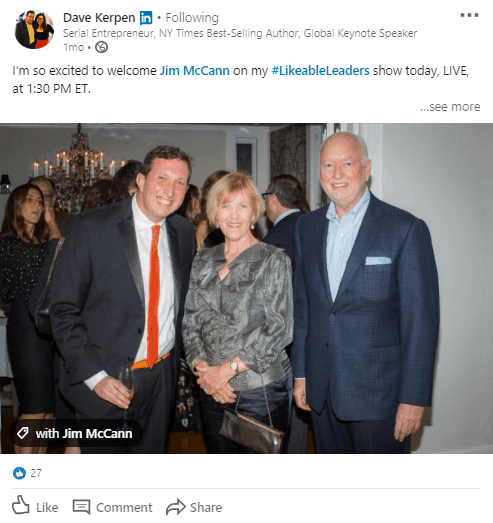 Conclusion
LinkedIn video is a strong and strategic tool for attracting, engaging and driving your audience to take action. In order to maximize your live video usage, ensure it's tied to a larger video marketing strategy. And knowing how to do LinkedIn live, you'll be well on your way.
Get specific and go deep to deliver value. Keep the conversation alive through smart promotion tactics like repurposing content and inviting audiences to take the next step in the buyer's journey.
[starbox]