Instagram is arguably one of the most popular marketing tools available to businesses in 2022. Part of the app's popularity comes from its consistent innovation and additions. What once began as simply feed posts has grown to include Stories, Instagram Live, various types of post options, and IGTV.
What is IGTV you may ask?
IGTV, or Instagram TV, is Instagram's long-form video option that serves as an alternative for YouTube. It was initially released in 2018, and over the past two years has gone through a number of changes to make it the popular content option it is today. Right now, verified Instagram users can post videos up to an hour long, and unverified users can post videos up to 10 minutes. For all users, IGTV videos must be longer than 60 seconds.
Once you create and publish your IGTV, you can use your feed and your Stories to promote it, driving traffic to the long-form video that is so popular across social media platforms currently. If you're looking to add IGTV content to your Instagram marketing strategy, there are a number of things you should consider so you can maximize your time and energy.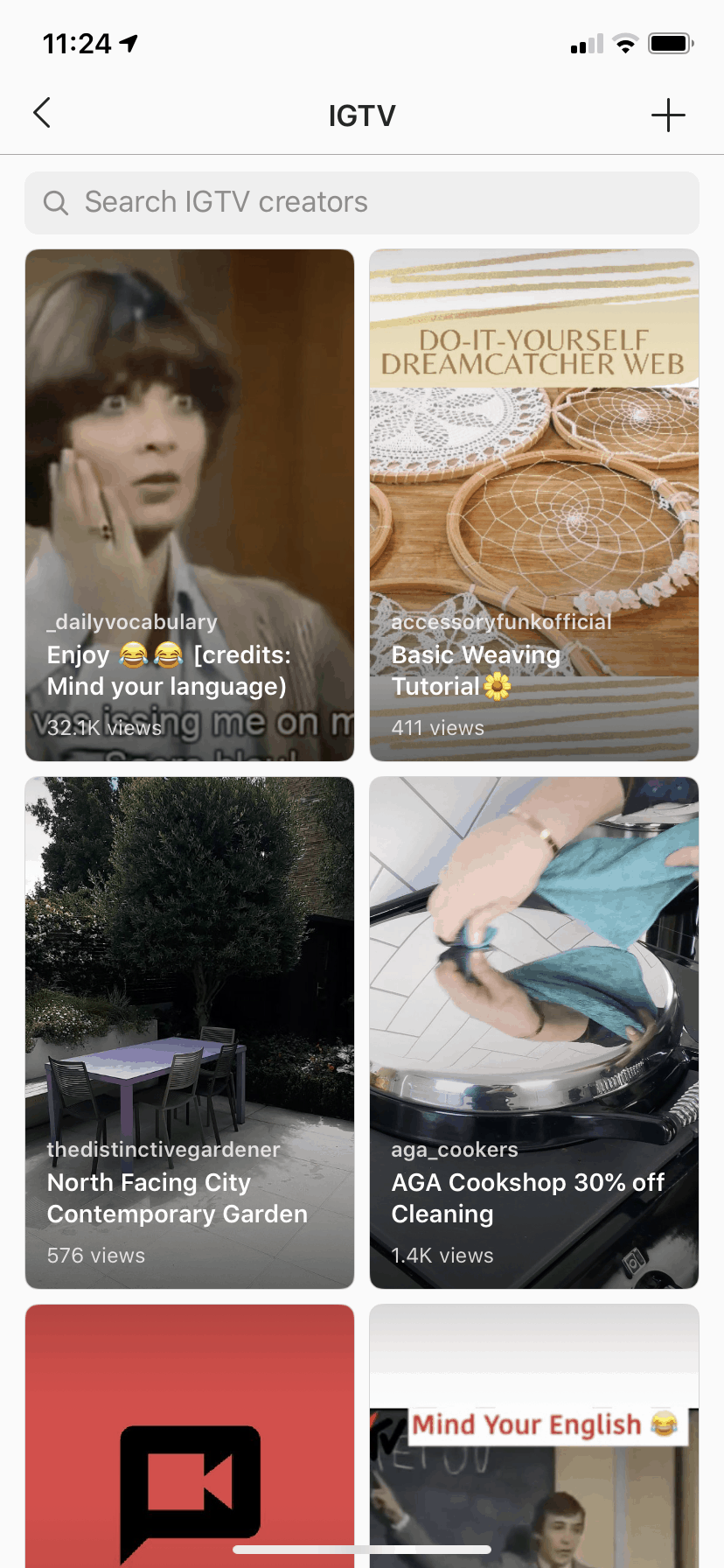 How to Use IGTV
Using IGTV is actually fairly simple and only takes a handful of steps.
Once you have created the video you want to upload, go into your Instagram app and click the plus sign at the bottom, just like you would for uploading a typical feed post.
Then select your video and tap Next.
Then, select Share As…Long Video, which will upload the video to IGTV.
Choose the cover image you want to use, then add the title and video description.
Then it's ready for you to promote within Instagram, or you can automatically have it publish to Facebook for cross-promotion.
You do have another option, too, though. Back when IGTV first came out, it had its own separate app, and users had to have a platform there in order to upload content. That requirement no longer exists, but the IGTV app is still around, and you can also upload your content through there. Here's how:
Hit the plus sign in the top right.
Choose your long video and select Next.
Choose the cover image you want to use, then add the title and video description.
Then it's ready for you to promote within Instagram, or you can automatically have it publish to Facebook for cross-promotion.
Whichever way you choose to upload your content to IGTV is a good choice! Oh – and one other important note. If you're uploading on mobile, your maximum video length is 15 minutes. If you have a verified account and want to upload a video between 15 and 60 minutes, you must do this from your computer.
IGTV Content Best Practices
So now that you know how to upload your content to IGTV, let's talk a little bit about why you might want to do this and what type of content you should upload. IGTV is still becoming more popular, even though it's been around for a couple of years. Brands were originally slow to adopt the new content type, but now it's becoming a staple of a complete Instagram marketing strategy.
Investing in creating a quality IGTV video is not a small task. Whether you're using your own time to create the video or paying to outsource it to someone else, creating long videos is an involved process. Before you do so, you want to make sure your content is going to resonate with your audience. Test the content ahead of time in other ways on Instagram and make sure your audience responds.
Then, once you know it's something they like to see or learn about, that's when it's time to turn it into a full IGTV video. Who knows, maybe they'll like it so much that you'll want to create an entire series of videos! There are some types of videos that perform well on IGTV across the board, and you can easily adapt them to fit your brand's needs.
Tutorials and How-To Videos
Long-form video content provides the best opportunity for you to show your followers exactly how to use your product. You can do this by creating a vlog-style video where someone on your team talks your audience through using the product in a face-to-camera video. Or, consider shooting a more overhead-style video (think the ever-popular Tasty cooking videos). Or, you can showcase your audience in a video based on or made with user-generated content. Show how real people, real customers, are using your product or service.
Posting a tutorial IGTV video is a great marketing tactic because it shows your audience (who are hopefully potential customers) how they can use the product in their own lives. This can help them feel more confident in purchasing, as they can now imagine how they would use it, decreasing the threat of buyer's remorse. Besides, by creating a long video like this, you're also building trust and establishing yourself as an authority.
https://www.instagram.com/tv/B06ytXOn5NF/?utm_source=ig_web_copy_link
Behind-the-Scenes
People love to snag a behind-the-scenes look into just about anything. Think of popular tours at various attractions, from zoos to breweries, many times they offer a behind-the-scenes option. Many people are truly curious, so getting to see a peek behind the curtain helps them feel more connected to a particular brand or business.
Behind-the-scenes videos are also a great way to get your whole team involved so your audience can get to know them. People typically want to buy from other people, so the more connected you can make them feel to your team and your business, the more likely they'll be to convert into customers. Or, for those who are already customers, showing the behind-the-scenes look allows you to increase their trust with you and can make them even stronger proponents of your brand.
https://www.instagram.com/tv/B7OCerXoEXs/?utm_source=ig_web_copy_link
Question and Answer Session
Everyone loves a good Q&A! This is a great way to make your audience feel involved with your content. If you're going to do a Q&A, you need to source some questions from your audience. You can do this via a private group if you have one, or if you want to start building some excitement for your upcoming IGTV video, ask your Instagram followers for their questions. Ask in your posts. Ask in your Stories. Do an Instagram Live and ask there. Be sure to tell them a full Q&A video will be coming and that they should be on the lookout for it.
Investing the time into creating a Q&A video like this also means you're creating an ongoing resource you can direct your followers to if they come to you with questions in the future. This is especially true if you include a lot of common questions you typically receive. Consider linking to this IGTV from your website, or keep the link handy so you can easily pass it along.
https://www.instagram.com/tv/CCUQ-ktlAse/?utm_source=ig_web_copy_link
Reviews
People love watching reviews on video. Whether you're reviewing your latest product and touting all the great features it has or going through an unboxing of some new clothes, people like to hear other people's opinions. You'll get better traction if you're showing a review of your own product if you have someone who isn't employed by your company do the review. People will find that more heartfelt and honest, and will likely trust it more.
If you're not an influencer, reviewing other products can sometimes feel odd. It's a very popular type of content, though, and your audience might love it if you review the right thing. If you're still feeling unsure about it, ask your audience. Create a poll in an Instagram Story and let them vote for whether or not they'd want to watch your review of a certain product (or a product in general). See what they have to say. They might not be interested, and you can find that out now and save your time and money. Or, they might be eager to hear what you have to say about the newest book, shirt or skincare product!
https://www.instagram.com/tv/ByYgCziAX2X/?utm_source=ig_web_copy_link
Interviews
Interviews are pure gold for IGTV. They provide an easy way to create movement and grab attention within the video itself, as you can switch between which person you're showing. Beyond the stylistic choices, though, recording and posting an interview is a great way to introduce your audience to experts. Strategically choose who you'd like to interview to ensure they align well with your brand, and then carefully craft your interview questions to highlight their story as well as what they're most knowledgeable about.
For many people and brands, interviews are an easy thing to repay. If you interview someone on your page, they might offer to interview you on theirs. This can be an excellent way to get your brand name in front of a new audience, and you can always encourage new viewers to check out the IGTV you posted with the same person, since they're already a fan.
https://www.instagram.com/tv/BsvggJ4DorV/?utm_source=ig_web_copy_link
Customer Testimonials
What a great way to get your customers involved with your content creation and share how great your product or service is! Chances are you already have customers who would love to give you a testimonial. If your product or service is impressing your people, they'll be ready to rave about you. You can create these videos in a few different ways.
First, you can ask them for a short clip to be used in an IGTV video, and then combine many different customers' pieces.
Or, if you know someone has a longer story, you can ask them to submit a longer video that you can then edit to make it visually interesting.
Finally, you can help them through the video process, by doing an interview or otherwise structuring the video to ensure it looks nice.
People trust other people more than they trust brands, often. That's why user-generated content and videos that include your customers praising your brand are important to add to your marketing strategy. Showing content from other consumers helps your audience of potential customers to begin to trust you a bit more.
https://www.instagram.com/tv/B58-WqulQAM/?utm_source=ig_web_copy_link
Updates
Your audience wants to feel like they're in the loop with you. How can you share what's going on with your company? Share product or service updates as they arise. Or, if you're about to enter into a particularly busy season, explain that to your audience, as well as what you do to skillfully make your way through it.
You can also create update videos that showcase news updates from your industry. Did something major change recently? Is there a new regulation your product has to comply with now? Were you already complying before it was required? Any information like this will help your audience feel like they're part of your inside club. People are curious, and they want to know what you know.
https://www.instagram.com/tv/CCJXo37JOtg/?utm_source=ig_web_copy_link
Be Personable
Okay, this isn't actually a type of video you can create, but it's a very important thing to note, which is why we're including it here. Video works because your audience can see and connect with you in a very personal way. Be as personable as you can so they want to come back to see your next video.
If you're an influencer, consider sharing a story that's relatable to your followers (even if it might be a little embarrassing to you). This will help them feel more connected to you and help them trust you. If you're a brand, on the other hand, create a "meet the staff" style video so your audience knows who could be behind the camera, and who's certainly behind the brand.
https://www.instagram.com/tv/B98Bc_iHvax/?utm_source=ig_web_copy_link
Where IGTV is Heading
Instagram is always evolving forward, and the next step is IGTV monetization. They've already begun rolling it out to certain accounts, and it's likely going to expand soon. WIth IGTV monetization, content creators are incentivized to make and publish content on this platform. YouTube and Facebook already have video ads that run to support content creators, as do nearly all apps and social platforms it seems. By allowing creators to monetize their IGTV videos, Instagram is encouraging influencers and others to come to the app (from YouTube) or stay there (rather than going to TikTok).
Whether you're already using IGTV or are still deciding your best course of action, it's clear to see that creating long-form video content and publishing it on Instagram is the next big thing for social media marketing. With these best practices and insights and a few strategic questions to your followers, you can rest assured that when you create your videos, they'll be just what your audience wants to see.
[starbox]