Do you want to know how to get more followers on Instagram personal or business accounts?
During the 2020 holiday period, UK-based jewelry brand Missoma decided to invest in an advertising campaign to grow its Instagram following. As a result, over 52,250 people visited their Instagram shop – 45,459 of whom were new customers.
This strategy helped Missoma in two ways: it boosted their orders and grew their follower count. By the end of the season, the brand had gained 5,641 orders and boasted over 440,000 followers. The brand now enjoys celebrity-like status on Instagram.
As a result of the campaign, Missoma's Chief Marketing Officer Clare Tyrer described Instagram as an "integral part of how we're future-proofing our brand."
While Missoma paid for advertising, there are plenty of other ways to get followers and make sales through Instagram. This article will explore ten of these strategies – showing you how to grow your followers on Instagram.
Let's dive in.
Top strategies to get more Instagram followers
Instagram currently has over 1,082,000 users. This saturation makes it pretty tricky to stand out from the crowd, but there's an important lesson to keep in mind: the best way to get more followers on Instagram is getting engagement and views.
If enough people see your account, some of them will naturally follow you. With that in mind, here are ten strategies to attract attention and win followers on Instagram.
1. Optimize your Instagram account
Optimizing your Instagram account might sound like a strange tip, but you'd be surprised how many brands have accounts that look unprofessional (and, frankly, a little scammy).
If you want people to follow you, you'll need an account that looks professional. That means including the following things:
A high-quality, non-pixelated profile picture.
A full Instagram bio.
Links to your website.
A proper username (i.e. 'cosmeticscouk' rather than 'c0sm3ticxc0uk').
Captions on all of your images.
Additionally, you'll want to develop a cohesive brand identity across all of your photographs. Creating a cohesive look is easy with graphic design software, as you can standardize your images with a set color palette, style, or filter. If you look at the example below, you'll see that Anthropologie did exactly this with their images.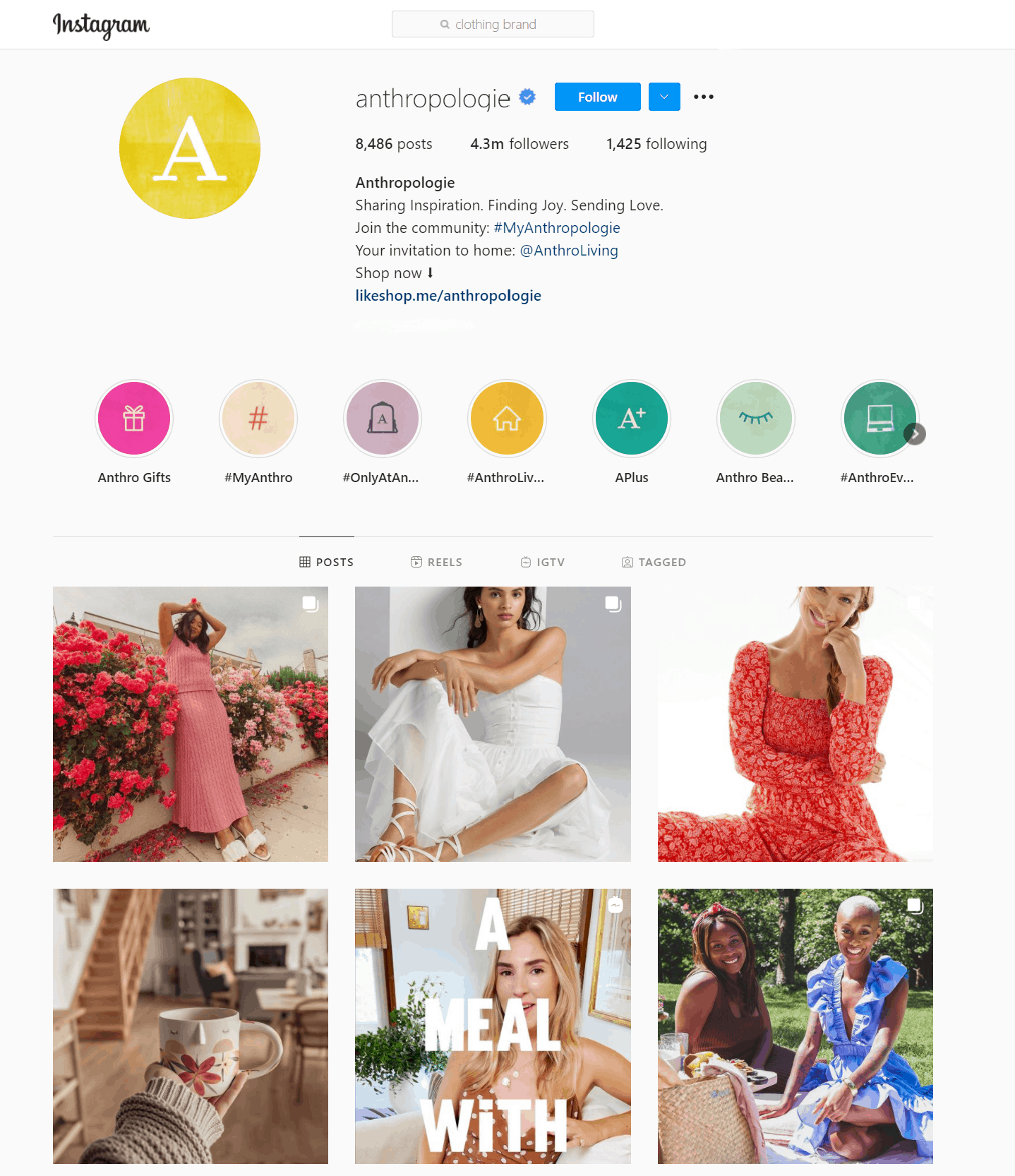 Source: '@Anthropologie' on Instagram
2. Maintain your content calendar
Consistency is the key to Instagram success. Providing a unified customer view across platforms is one of the rising trends in digital customer engagement. Today, social media platforms are looking to keep users on their site as long as possible, meaning that their algorithms naturally favor accounts that post regular content.
Posting regular Instagram content may seem like a time-consuming luxury for small brands, but it's very easy if you use a content calendar. A content calendar is a pre-planned schedule of all of your posts.
If you're having trouble visualizing what your content calendar could look like, refer to this example on Trello.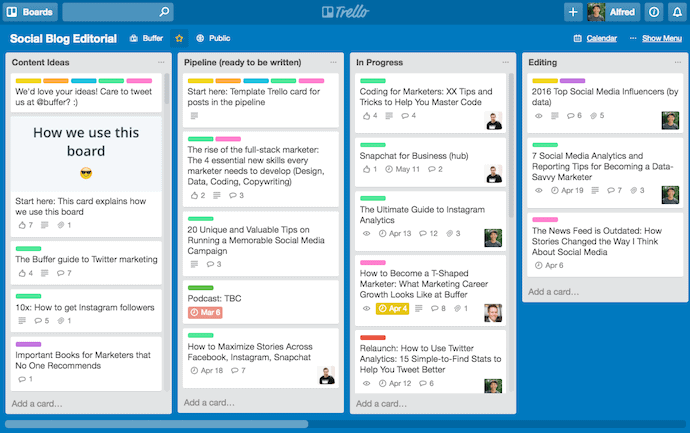 Source: HubSpot
Pro-Tip: Give this guide a read if you are looking to hone your content calendar skills.
3. Schedule Instagram posts
This strategy ties in very neatly with '2. Maintain a content calendar'. Once you've set up a content calendar, consider using software to automate the posting process. There are many advantages to automated posting, as you can:
Post during high traffic times (i.e., generally between 6 am – 8 am and 4 pm – 8 pm).
Arrange your posts so that each post is unique and fresh.
Save time.
Align your Instagram posts with your other social media and website posts.
Spend more time engaging with Instagram followers than editing images.
Set social media goals and use your automation software to track your progress towards them.
To see an example of good post scheduling in action, look at how SproutSocial has timed its posts.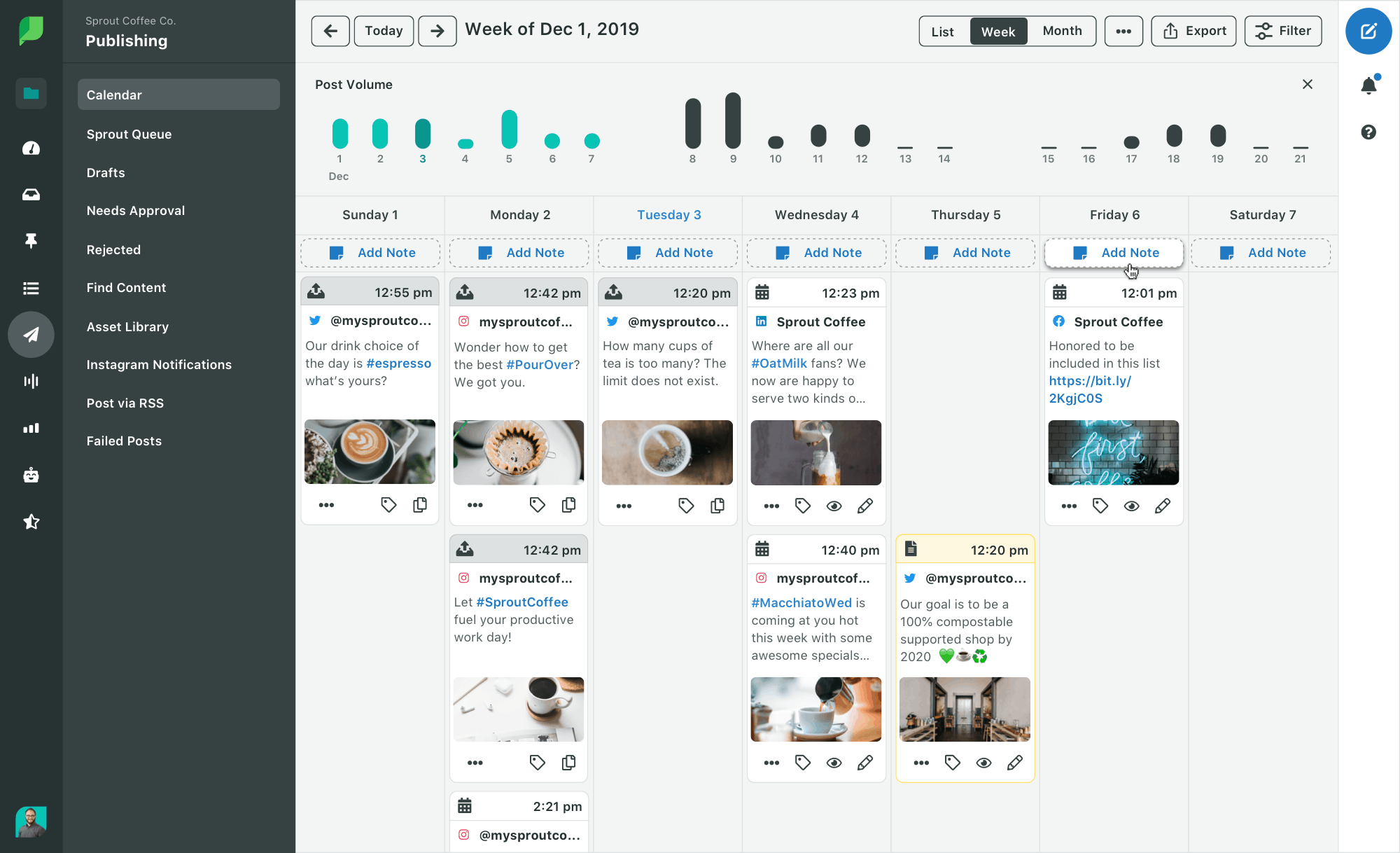 Source: Sproutsocial
4. Partner with influencers and brand advocates
Since the early days of social media, collaborating with popular accounts has been one of the best ways to attract new Instagram followers. In 2021, that hasn't changed.
Partnering with influencers and brand advocates is a fantastic way to grow your follower list, as influencers lend their popularity and trust to your brand. While influencer and brand advocates partnerships are a great strategy, maximizing your return on investment comes down to one (often overlooked) factor: alignment.
To gain the maximum number of new followers possible, make sure you select an influencer who posts content that closely aligns with your product or content. The closer this alignment is, the more people will follow you.
For an example of a well-aligned brand advocate post, check out Speak's partnership with cartoonist Honzzitoon.
Source: Instagram
5. Showcase your Instagram everywhere
Is your Instagram really engaging if no one sees it? Once you've built up a dynamic and interesting account, you'll need to show it off for getting more followers on Instagram.
There are many ways to show off your Instagram account, from cross-promoting your Instagram on other social media platforms to plastering your username on a graffiti-filled bridge. Here's a list of the best places to showcase your Instagram:
Product packaging
Email marketing
Posters
Billboards
Business cards
Facebook, Twitter, LinkedIn, YouTube, or Pinterest
Remember, you don't have to be overly promotional with your account! Here's a great piece of subtle cross-promotion from MoMA.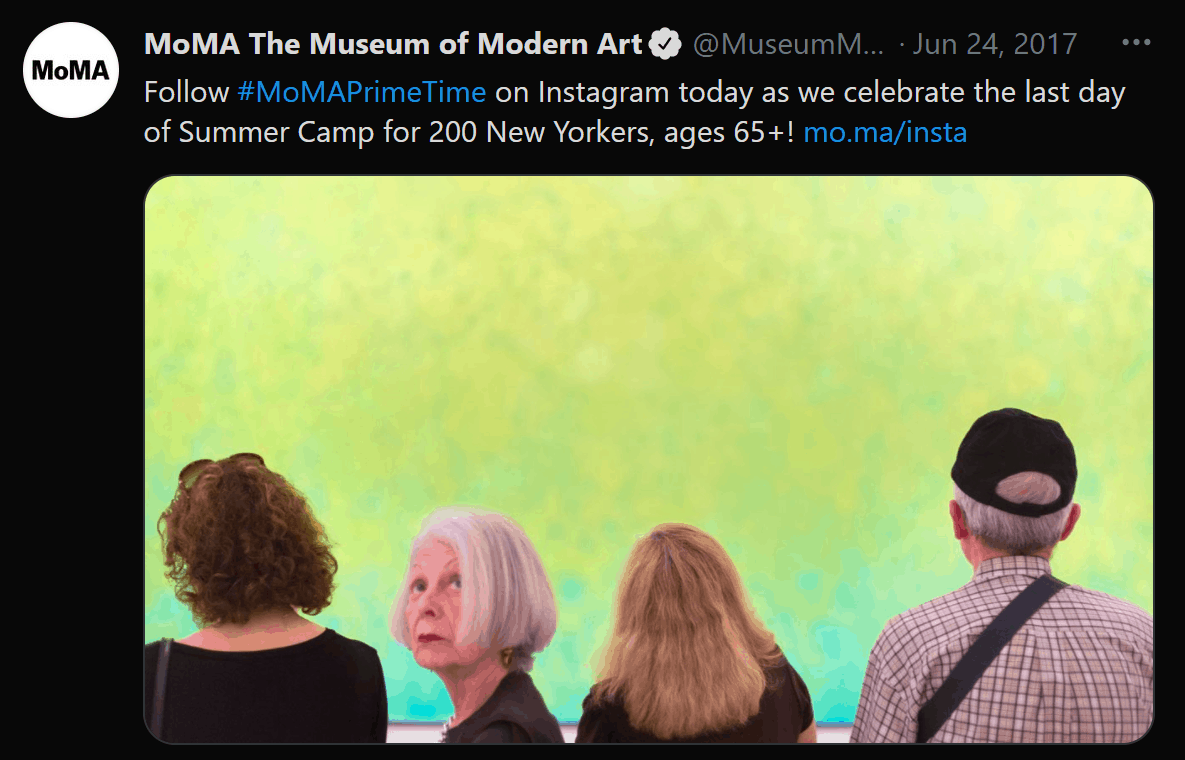 Source: 'MoMa' on Twitter
6. Know what your followers want
Have you heard of the 80/20 rule for social media? It's simple: to keep your followers engaged, 80% of your posts should be used for non-promotional content, while 20% of your content should be used for self-promotion.
But what do your followers actually want?
From experience, Instagram users are drawn to engaging infographics, images, videos, Q&As, gifs, live videos, polls, and Instagram stories – like these reels from language app Speak below.
Source: '@usespeakapp' on Instagram
7. Find relevant hashtags that convert
Instagram is basically a web of hashtags. Users leverage hashtags to sort their Instagram content into easily searchable categories. This system is fantastic for brands, though there is a small catch. As there are millions of users on Instagram, hashtags like #love are saturated with over 184 million posts.
That means you'll need to use unique hashtags if you want to stand out. For example, you could target up-and-coming hashtags or hold a hashtag contest. As you can see below, a hashtag context earned Starbucks over 309,000 likes.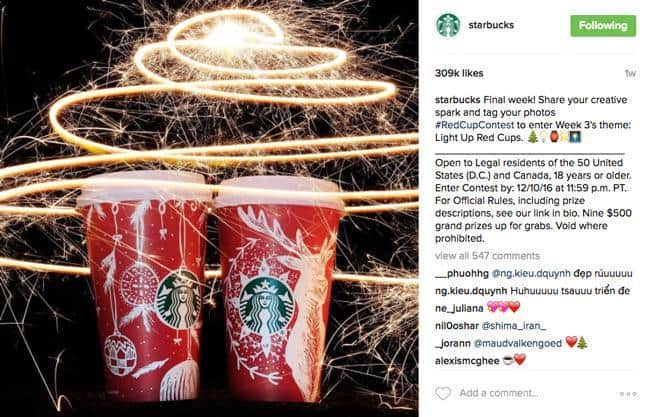 Source: Wishpond
8. Interact with your followers
This strategy is simple, but it works: engage with your followers.
When you engage with your followers through replying to comments, liking their posts, and sharing their stuff, you create a bond between you and your target audience. This bond will boost your engagement and increase your profile visibility so that you will draw new followers to your account (provided you follow good social media etiquette, of course).
For an example of excellent follower engagement, take a look at this example from Lush Cosmetics.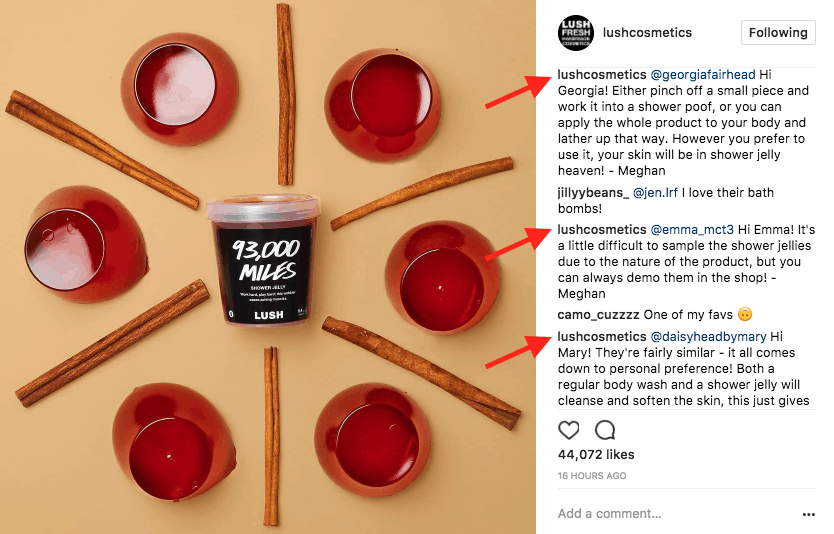 Source: SproutSocial
9. Embed Instagram posts in your blog
We already spoke about cross-promotion in '5. Showcase your Instagram', but this strategy is so useful it's worth mentioning twice.
If your website receives good traffic, make sure you embed your Instagram posts into your popular pages. Embedding your posts will take users from your website to your account, boosting your follower count (and consequently, the number of loyal customers you have).
When you successfully embed a post, it will appear like this on your website: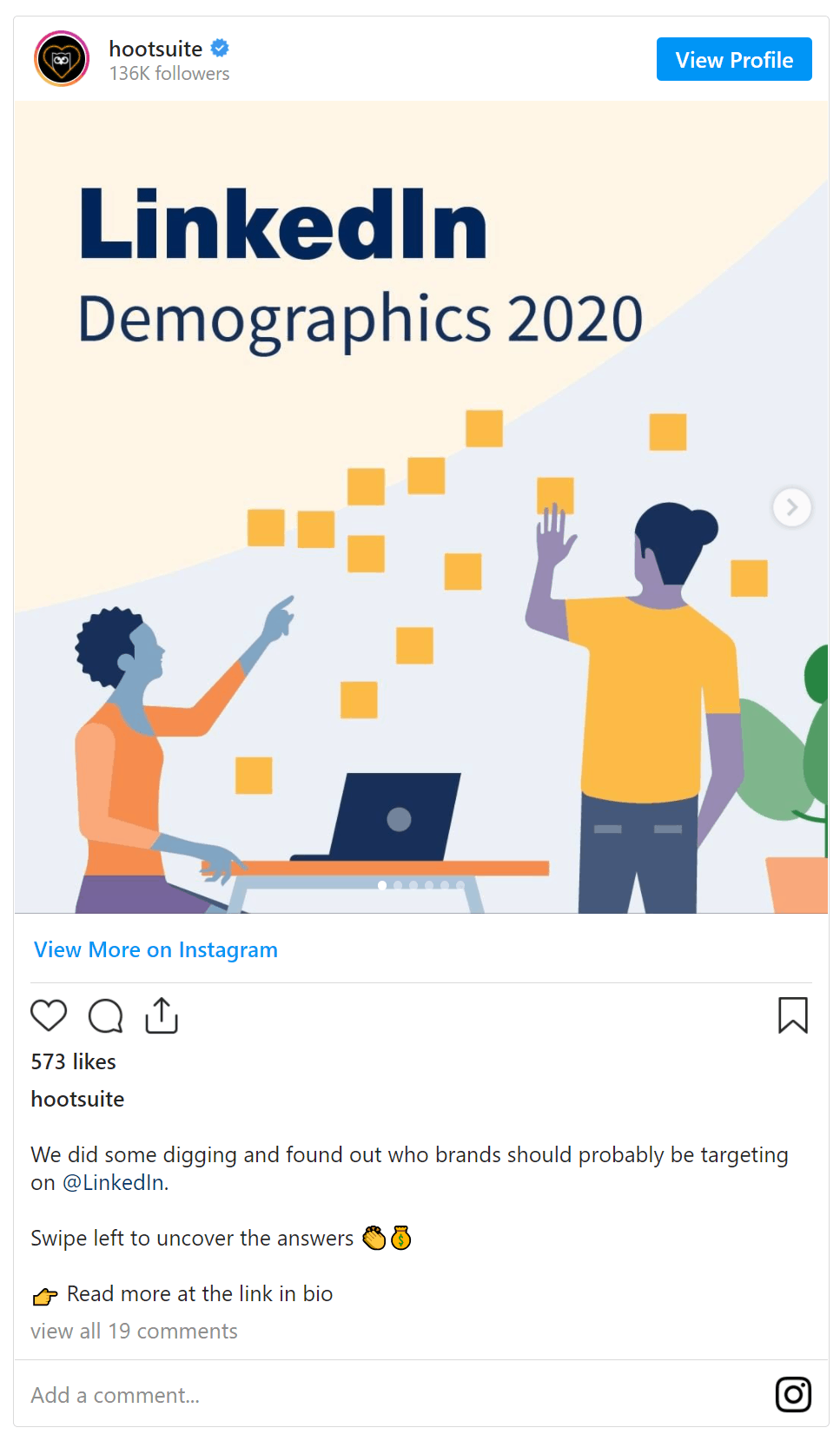 Source: Hubspot
10. Consider advertising on Instagram
If you recall the story of Missoma at the start of this article, you might already be sold on the idea of Instagram advertising. Instagram advertising has many advantages, as it puts your marketing in front of consumers who fit into your target market but would never have otherwise learned about your product.
Advertising on Instagram is also cheaper than advertising on traditional platforms, as it costs between $0.20 and $6.70 to run an ad (depending on the advertising model you choose).
But there's one final benefit you shouldn't forget: organic traffic. As you can see from Missoma below, advertising won't just win you sales: it will win you long-term followers and engagement.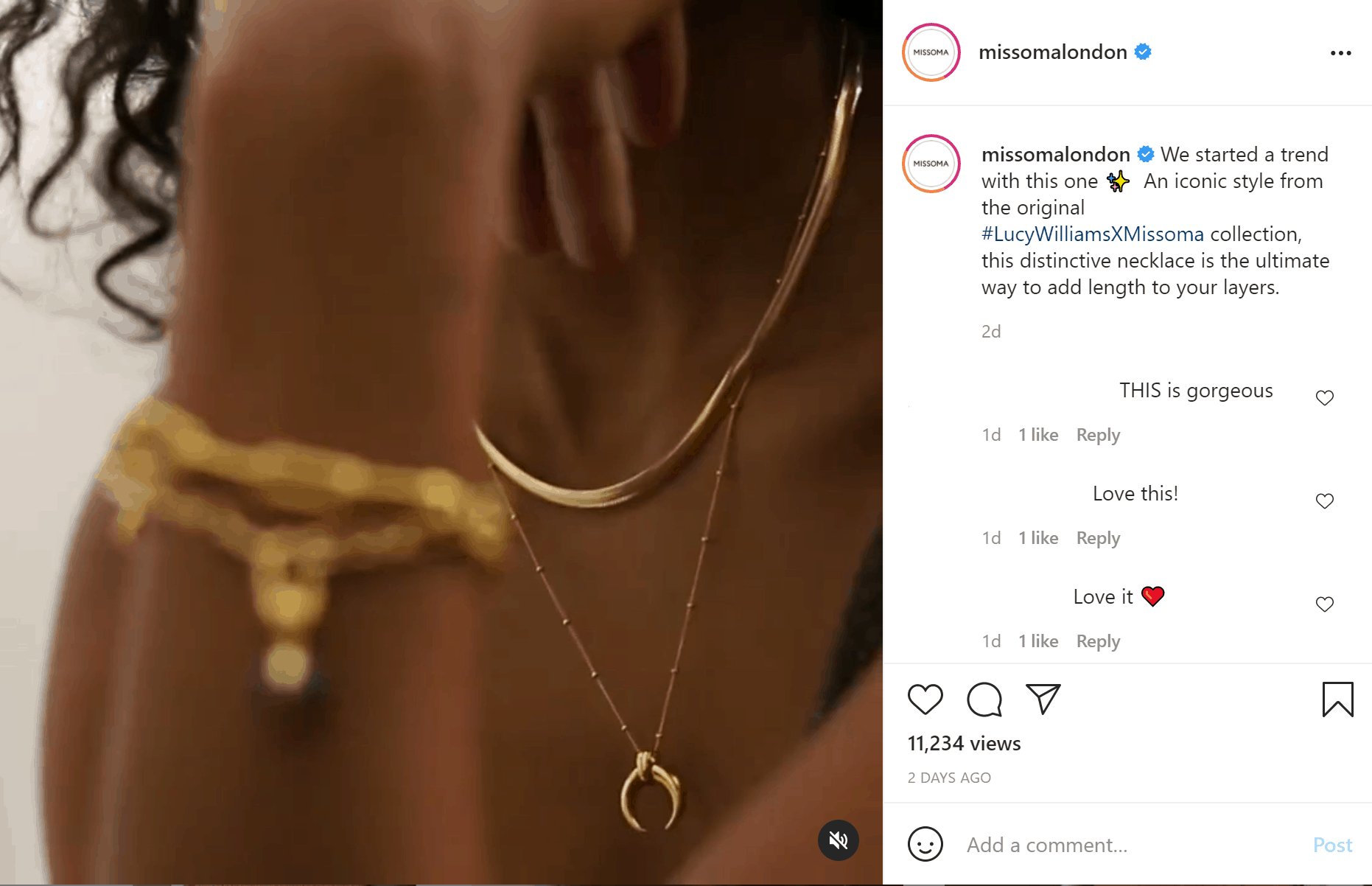 Source: '@Missoma' on Instagram
Instagram stories to inspire you
If you are struggling to bring together the ten strategies covered in the 'Top strategies to grow your Instagram followers' section, this section is for you. Here are two examples of brands that used the strategies covered above.
Case Study #1. Dear, Klairs
Korean beauty brand Dear, Klairs used Instagram to grow their follower-base to 209,000 people using three strategies: partnering with an influencer, engaging with customers, running an advertising campaign.
As a result of their Instagram work, Dear, Klairs decreased their cost per purchase by 45% and increased the number of people they reached by 41%. Here's their profile today.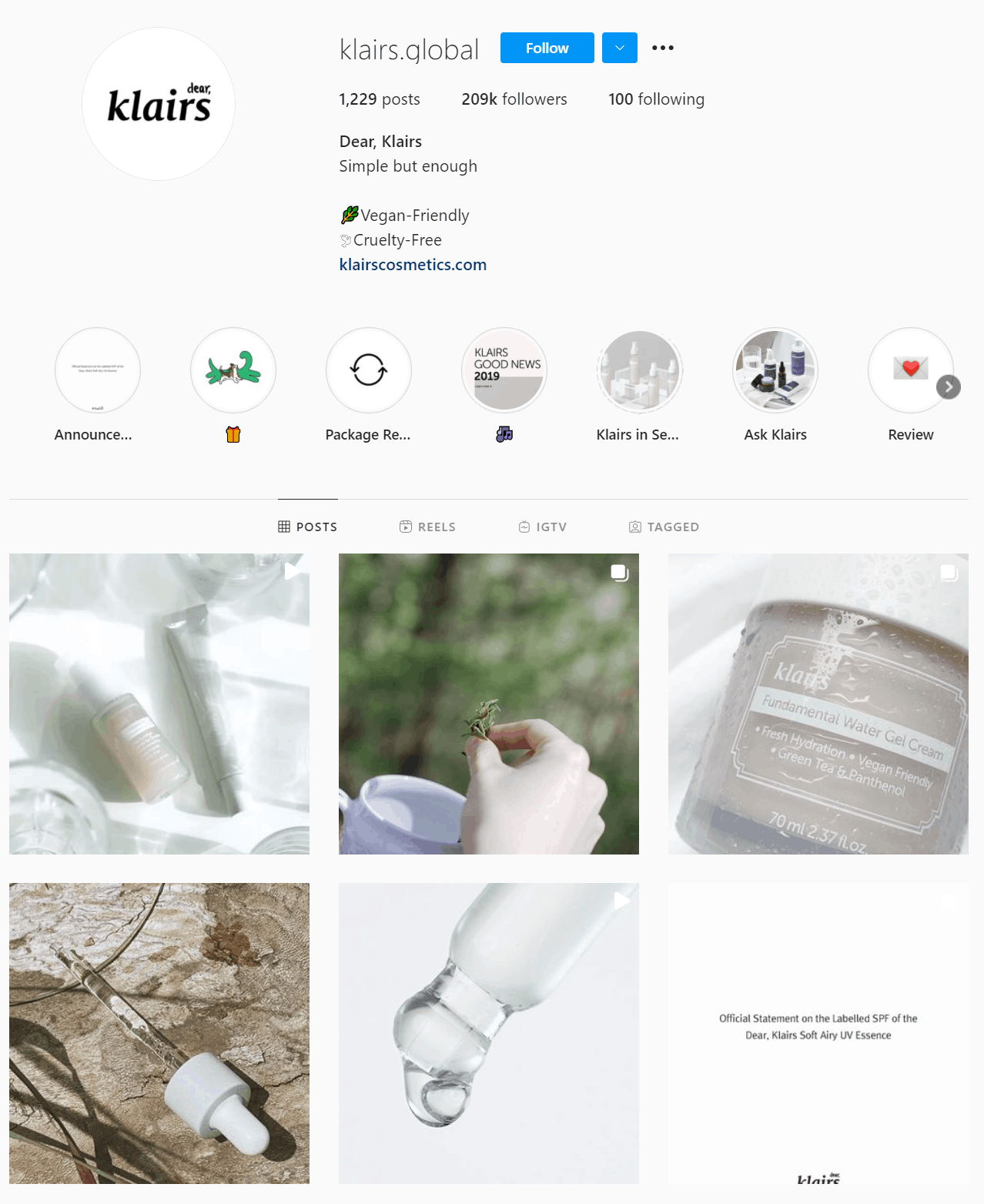 Source: '@Dear, Klairs' on Instagram
Case Study #2. Bulgari & Save The Children
Luxury goods brand Bulgari partnered with charity Save the Children to celebrate their ten-year partnership anniversary in 2020. As part of their campaign, they partnered with influencers, ran an Instagram advertisement, and solicited donations under the #givingtuesday and #givinghope hashtags.
As a result, Bulgari donated millions to charity and boosted their estimated media value by over $368,000.
Here's their campaign: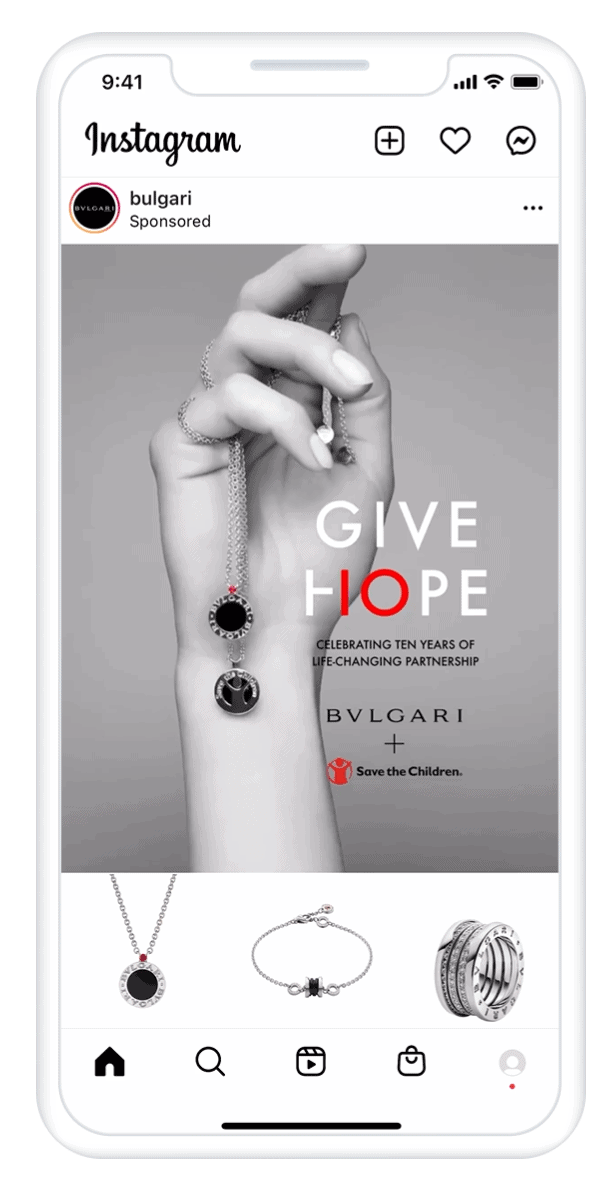 Source: Instagram
Grow your followers today
If you use the strategies covered in this article, you'll never be stuck with how to reach more followers on Instagram. You'll increase your visibility on Instagram and thus, your follower count. But remember: increasing your Instagram followers is a long-term game. For best results, keep posting on Instagram consistently and adjust your strategy to your audience.
Now go out there and get more Instagram followers.