With the ease of the internet, consumers are now comfortable with online shopping. With a few clicks, they can get whatever they want while easing themselves on their couch. And due to this shift, we are witnessing website-building platforms like WordPress have their fair share of popularity.
As brands are looking to have their online presence, WordPress allows them to have their own website. But with the fierce competition, merely creating a website isn't enough. Hence, you might have noticed that brands are actively opting to embed social media feed on WordPress website.
WordPress provides ample social media feed plugins that help users add social media feeds to WordPress websites. In this blog, you will learn about the 7 best plugins in this category. You can find these plugins on the WordPress plugin store with ease and use for your website.
7 Best Social Media Feed Plugins for WordPress Website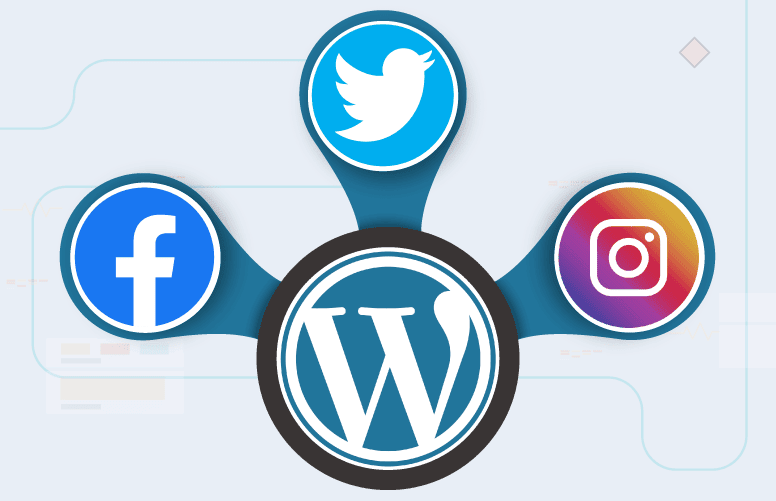 WordPress plugins on the store help users to add functionality and charm to their website. There are great plugins available on the store serving their own purpose. Out of those plugins, we have filtered the best and top-rated social media feed plugin for WordPress. So without any further ado, let's learn about them.
1. Social Media Feeds by Tagembed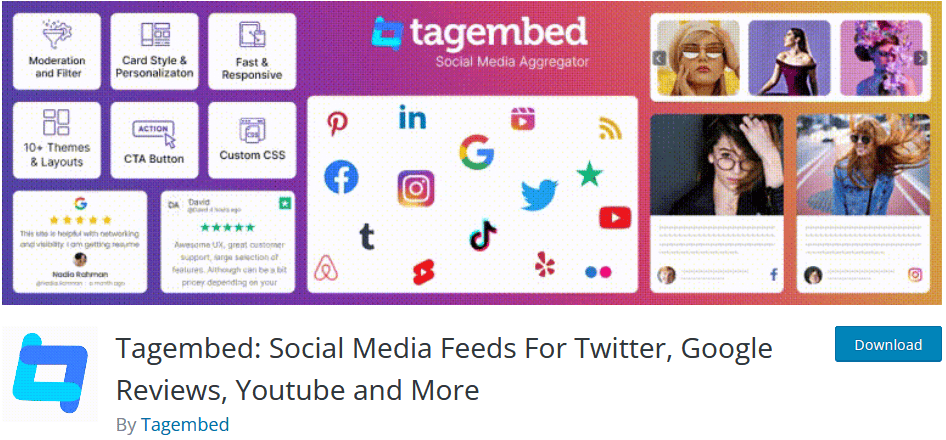 First on our list is Social Media Feed by Tagembed, the plugin known for its amazing features and easy-to-operate interface providing excellent results for the economy. It is currently one of the best social media WordPress plugins available on the store. It allows users to collect social media feeds and curate and customize the collected feed. And assists in displaying them in a presentable manner on the WordPress website.
It allows you to affiliate your WordPress website with 20+ social media platforms. It is allowing you to showcase the vast range of content on your website without hampering the website's speed and quality. Moreover, you don't even need coding expertise or knowledge to operate the plugin. Just a few simple and basic steps and you can easily embed social media feed on WordPress website without breaking a sweat.
Alongside making the whole embedding process simple and manageable, it also offers various features that add great value to this plugin. It provides a customization feature that enables you to personalize your widget as per your requirement. You can change font size and font style and even modify the curve on your card edges.
With different themes and layout options, you can improve your website's overall look and feel. You can select from dark and light themes as per your need. An appropriate layout helps to make your website look more professional, organized, and pleasing to the eyes.
Custom CSS, responsively designed widgets, compatibility of streaming all types of content, and analytics are some of the other major features out of many.
2. Flow-Flow Social Feed Stream By Looks Awesome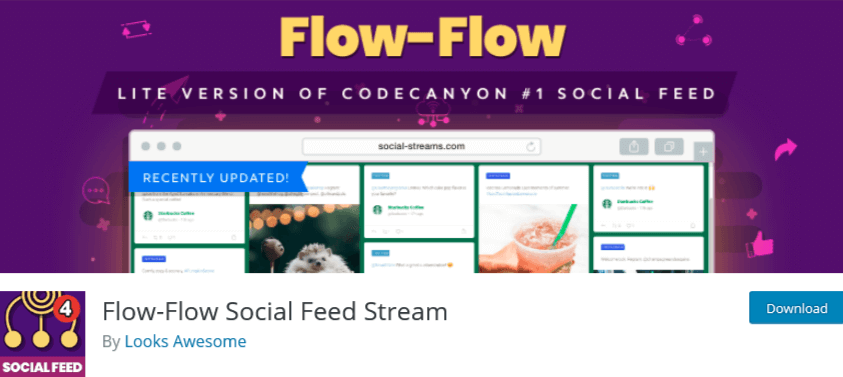 User-generated content is marketing gold for brands and marketers, as it helps in bringing a good reach to the brand and helps to enchase brand awareness without spending too much. Therefore it is essential to boost UGC related to the brand to generate great benefits. By showcasing UGC on your website, you can promote UGC pertaining to your brand.
Flow-Flow Social Feed Stream helps you in this cause as it helps you to gather social media feeds from 4 major social media platforms and display them on your WordPress website. The plugin's smart caching feature helps exhibit the content on your website without hampering website speed.
The responsive layout adjusts itself per different screen types and sizes without affecting the website alignments, allowing users to go through the content easily. A rich design setting helps you in adding great appeal to the widget and makes it pleasing to the eye.
3. Social Feed | Custom Feed for Social Media Networks by Arrow Plugins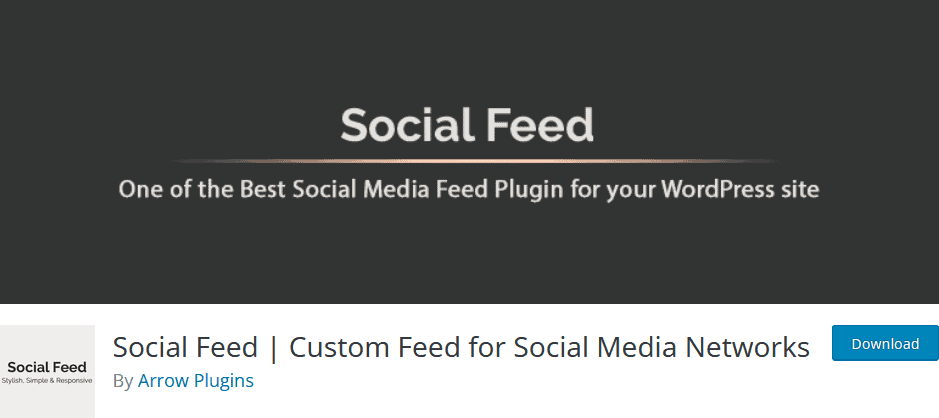 We all know that social media is a hub of entertaining, engaging, and vivid content. And considering the present dependency on social media and the user base, there seems to be no shortage of content on these platforms for the next many years.
These social media contents can potentially keep the viewers engaged and hold them for a long time. These elements can help you gain great website traffic and reduce the bounce rate. Social Feed by Arrow plugins is another amazing plugin that helps you in this case. It helps collect social media feed, enables users to curate the collected feed, and displays them on the website.
As mentioned above, this plugin is easy to use and provides a simple solution to set up social feed on WordPress website. You can make your social feed more presentable and noticeable with various feed template options and styles.
4. Social Feed Plugin by Web-Settler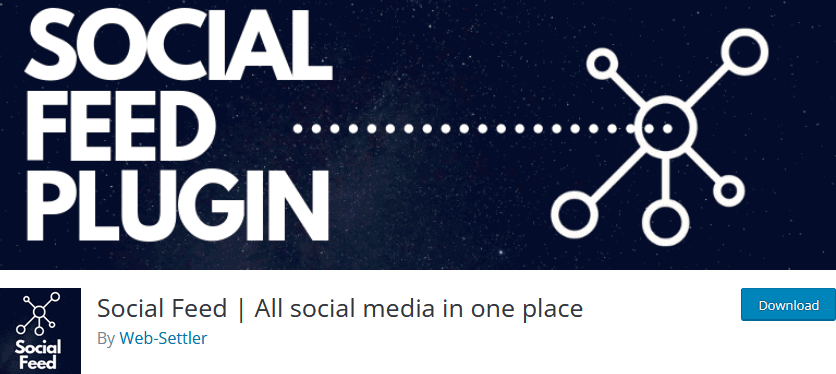 A dull and boring website can hamper your brand's reputation in the market. Consumers enjoy visiting a lively, pleasing website that provides a fantastic browsing experience. Displaying social media feeds has become a trend, as it helps in offering the elements mentioned above.
Social Feed Plugin by Web-Settler is another fantastic plugin helping you gather and display social media feed on your WordPress website. It is compatible with all major social media platforms that include Facebook, Instagram, and Twitter.
So, whether it is appealing images from Instagram or any informational tweet, Social Feed Plugin helps display them easily. With the use of complete customizability of colors, fonts & sizes for your social feed, you can make your WordPress website more engaging & entertaining. Pre-designed themes help improve the feed's char and make your website more appealing. Moreover, you don't need any coding skills or technical knowledge to operate the plugin.
5. WPZOOM Social Feed by WPZOOM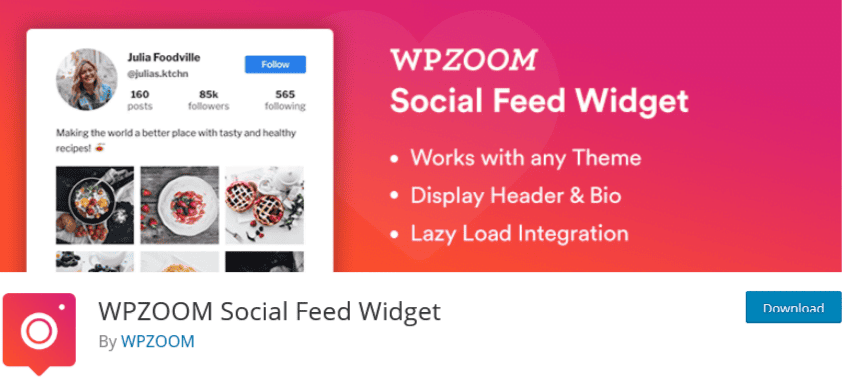 In this age of social media dominance, a brand needs to have a substantial social media presence. And by strong social media presence, we mean that a brand should have a strong follower base on social media platforms, especially on Instagram. A robust social media presence helps increase the brand's reach beyond local boundaries.
And to gain more followers, more people must get to know about your Instagram handle, and what can be a better place than your website to promote your Instagram, right? With WPZOOM Social Feed by WPZOOM, you can easily embed Instagram feed on WordPress website and provide a sneak into your presence to your website visitors.
With ease, you can display your Instagram feed on the website using the short codes. You can even choose to display Instagram feed from different profiles that are related to your brand. And beautify those feeds with the use of a personalization feature. So bring out the artist in you and display the content in style.
6. Social Feed Block by bPlugins LLC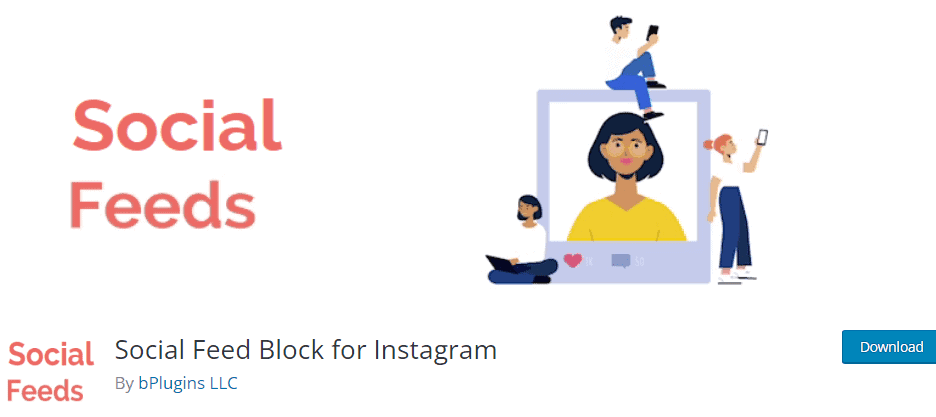 As mentioned above, user-generated content for a brand is marketing gold. Moreover, these contents also work as social proof that helps consumers make their purchase decisions and trust the brand. Furthermore, it helps brands establish credibility in the market and prove their reliability.
With Social Feed Block WordPress plugin you can collect user-generated content related to your brand and flaunt it in front of your website visitors. It helps you in converting your visitors into your customers. And reach your marketing goals. Social Feed offers an effortless embed feature that allows you to add Instagram posts as galleries on your WordPress website. You have just to put in your Instagram access token, and you are ready to go.
Not only does it make the whole embedding process simple and manageable but it also helps in making the feed more pleasing to the eye. The customizing option of the plugin enables personalize the feed as per your requirements and makes the feed more beautiful and charming.
7. Social Feed Gallery by QuadLayers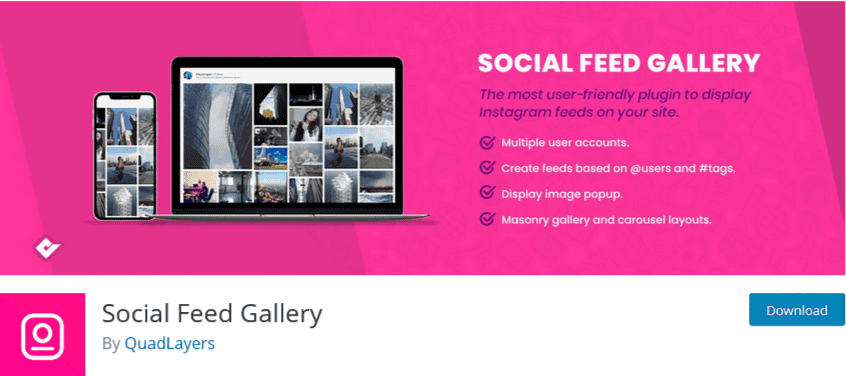 Adding images and videos to the website can be a tedious process and have other limitations as well. These limitations include the constant need to change the images and videos on the website to refresh it and look pleasing to the visitors every time they visit. Moreover, there can be a case that it might hamper the speed of the website.
And this is where these WordPress plugins come to the rescue, as plugins mentioned in the list allows to display social media feed on website without hampering website speed. Moreover, most of these plugins provide an auto-update feature, helping keep your website fresh and up to date.
Social Feed Gallery by QuadLayers is another plugin on this list that provides the abovementioned services. It is one of the most user-friendly WordPress plugins; it works smoothly and helps you to embed Instagram feed on WordPress website easily. Simple step installation helps you in saving time and easily uses social feeds for your WordPress website.
There you have it, and these are the 7 best WordPress plugins currently available on the WordPress website that helps you to integrate your website with social media platforms. These are to find, simple to install, and have a user-friendly interface making them easy to operate.
But if you are still wondering how embedding a social media feed on WordPress can be a game changer for you, then here are some of this strategy's advantages. That might clear your doubt if you have any.
Amazing Benefits of Adding Social Media Feed On WordPress Website – Try Now
There are ample benefits of adding a social media feed on WordPress, but for your convenience, we have filtered some of the significant advantages that can help you in making your decision. So without further ado let's learn about these benefits.
The social media feed on the website helps in making the website more charming and adds charisma to it. And we all know how important it is to have a good website in today's time. It won't be wrong to say websites are now emerging as brand representatives. So wouldn't that be amazing to have an impressive brand representative?
As there will be a social feed on the website, it is more likely that your visitors will stay on your website for a long. And as these plugins provide an auto-update feature, they can keep visitors engaged for a long and eventually reduce your website bounce rate.
Reduced bounce rate and increased website traffic can help gain a better search engine ranking and might turn helps to enhance brand awareness. Moreover, if people would search for anything related to your brand, due to better search engine ranking, your website might get more clicks and recognition.
People feel valued when a brand showcases user-generated content on the website. It encourages users to produce more content for the brand and inspires others for the same. It builds a great cycle and helps you in getting more content for your website and better brand recognition on social media platforms.
Most of the user-generated content consists of consumers showcasing the product they purchase. By showcasing them on your website, you help your visitors in making purchase decisions. Also, this content works as social proof for your brand, helping you build social proof.
You can embed social media feed on WordPress website and introduce your visitors to your social media presence; it helps you in creating a robust social media presence. And we all know how much help social media can provide to a brand. It helps brands reaching to the consumers beyond the brand's geographical and local boundaries. And this might help you in achieving more sales.
In The End
So, this is it; these are some of the best-rated social media feed plugins for WordPress that help you to embed social media feed on WordPress website. With a pleasing website you can stand out from the crowd and make a name for yourself in the market. There are ample benefits you can extract using these plugins, b few are mentioned in this blog. And there are more, but for that, you need to use these plugins. You can find these plugins with ease and use them for your benefit.
So what are you waiting for?
Try the now and take your business to the next level.