There are so many ways to market your business on Facebook. This ranges from feed posts to stories to live videos to groups. But out of all these methods, there is one that stands out. This is Facebook ads.
The problem with organic Facebook marketing methods is that reach is extremely low. Every time you publish a post organically less than 2% of your followers/fans will see it. The solution to this is to use ads. They can help you reach more people instantly and get more conversions.
But you have to remember that you won't automatically generate leads and sales just because you invested in ads. You need to follow a strategy for your ads to work. So, here are some of my top tips for creating Facebook ads that convert…
#1 Create an audience persona
To find success with ads you should target a persona. Your ad visuals, copy and even the landing pages should be created to attract and convert this specific persona. When you have a persona, it also makes it easy to adjust the targeting and placements and reach the right audience.
So, before you create your ad, you should come up with an audience persona. This persona should be created using your Facebook metrics.
You need to spend an ample amount of time to collect the data and then create the persona using the information. This should include conducting surveys to learn as much as you can about your target audience. After that, you need to contact some of the people who took part in the survey and interview them. This will help you gather more information. You can even make a note of their reactions when they give you the answer.
You should also use your Facebook and website analytics to understand your audience. Facebook has an insights page.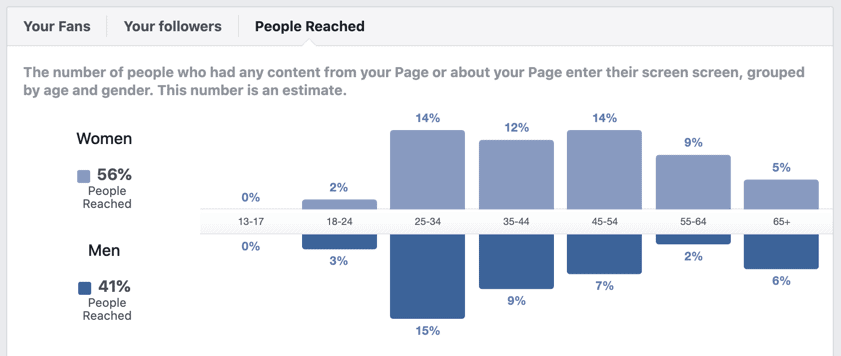 You can go there to find this information or you can use a third-party Facebook analytics tool like SocialBakers.

After that, you can use this data to create an empathy map. This will help you understand your audience emotionally. And finally, you can assemble all this information and create the persona.
#2 Analyze competitors' Facebook ads and organic posts
Many of your competitors' are also running Facebook ads and finding success with them. They have done the hard work of researching their audience and testing out several techniques. They already know what works and what doesn't. This is why you should check them out to see what techniques and strategies they are using.
To find their ads, just visit their websites or sign up to their email lists. They will then retarget you with ads. An example is this ad from Later.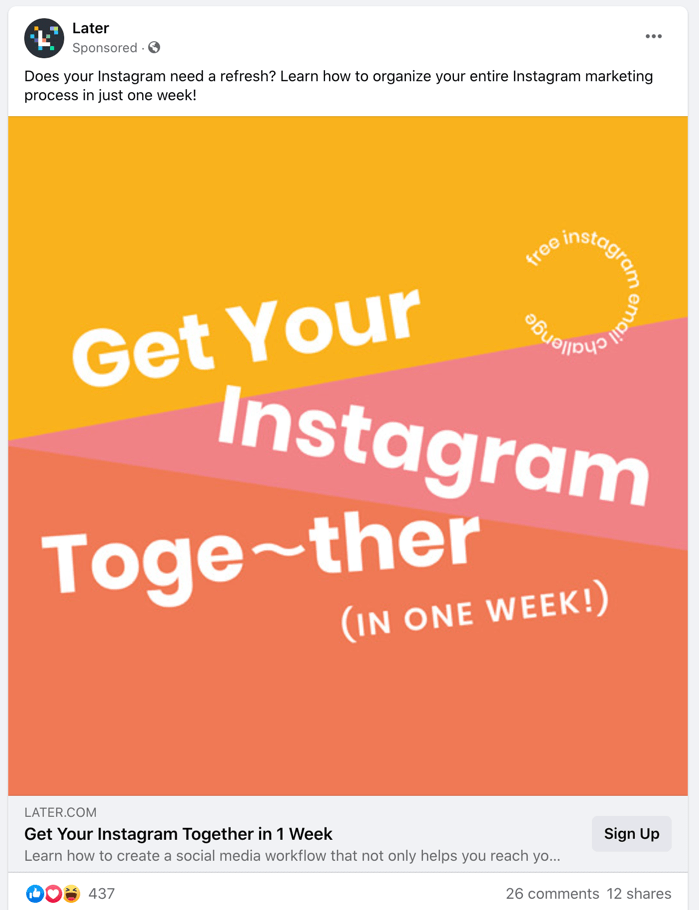 I am seeing it because I recently visited their website. I am also on their email list. I can use some of the information I learn from this ad to set up better ads that promote my lead magnet in the future.
So, make it habit to visit several of your competitors' sites daily. Then spend some time on Facebook. And when you go on Facebook don't get distracted by all the stuff out there. Just focus on the ads.
When you see the ad you should make a note of the type of photo or video they used, what they wrote in their copy, what type of landing page they use for their ads, etc. You should also sign up for some of the lead magnets and buy some of the products. As you will then be able to analyze their email marketing strategy.
You should also visit competitors' Facebook pages and check out some of the organic posts. As this can also help you come up with better content for your ads. You can also use a Facebook analytics tool like the aforementioned SocialBakers to quickly find what the best performing organic posts are.
#3 Optimize landing pages for conversion
If you are creating ads just to boost your engagement or brand image, you can simply create a video or photo and publish the ad on Facebook and run it to get as many impressions and likes as possible. But if you want to generate sales, you need to create a conversion-optimized landing page.
As your Facebook ad will generate a positive ROI only if more of the clicks/traffic you are sending to the landing page will convert.
There are mainly two types of landing pages that work best here. One of them is the lead magnet landing page. This is best used for promoting expensive products. Here you send the person to a landing page where they can sign up for an ebook or a white paper or webinar.
And after they sign up, you nurture them with emails and more lead magnets and then promote your product at the right moment. An example is this landing page from Tailwind that promotes an ebook on ecommerce tools.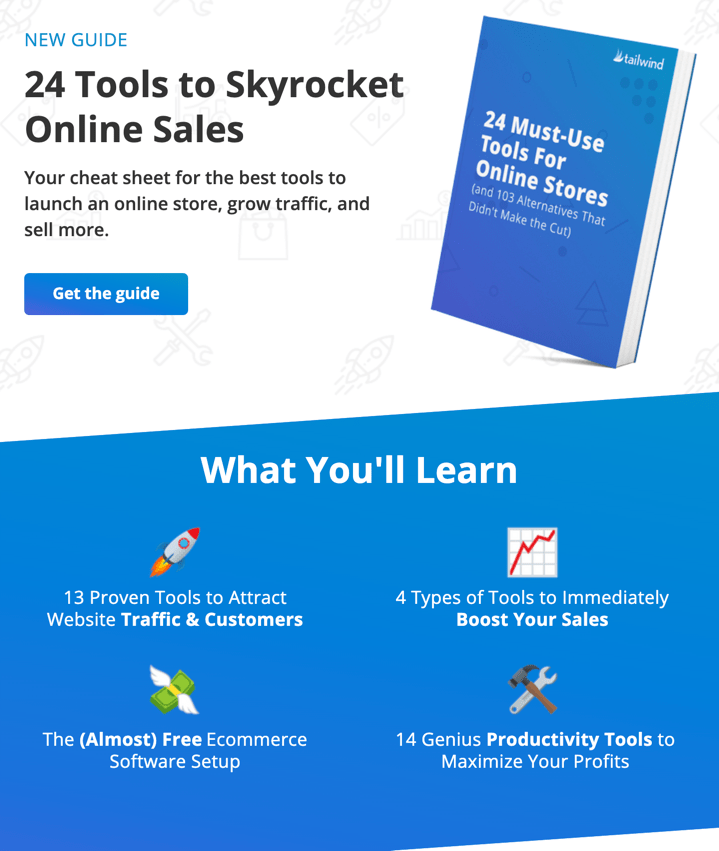 It's a distraction free landing page that promotes only one lead magnet. There are no links pointing out. This will ensure that more of the people who visit that page from an ad will sign up.
You can create a landing page like this using a builder like Leadpages.
Another type of landing page is the product landing page. These chiefly work for ecommerce stores where the products aren't too expensive. So people will buy them without having to go through a funnel.
A good example is this one from BioLite.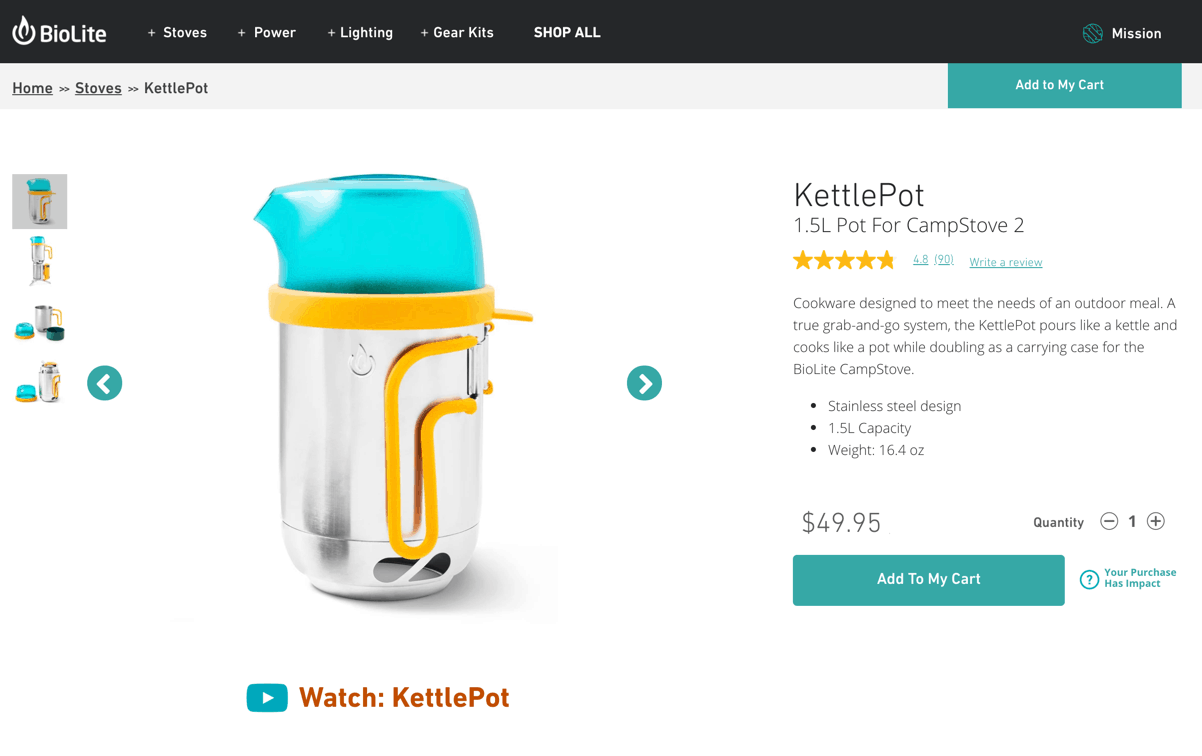 It makes use of elements like visuals, well written copy, social proof (through reviews), prominent calls to actions, etc. to get more people to purchase the product.
This landing page was made using the Shopify builder.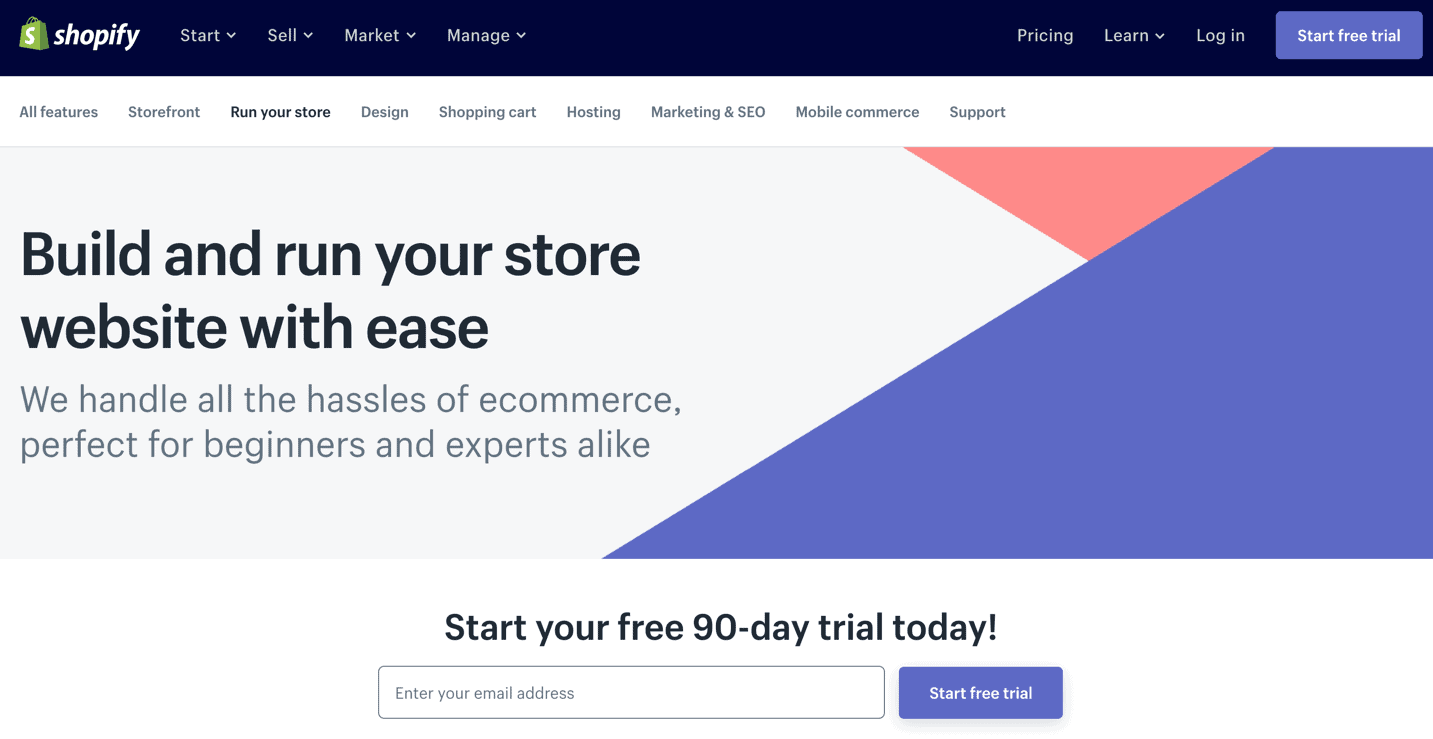 It makes it easy to set up customized ecommerce landing pages that convert.
So, use a good builder with premade templates that will ensure the traffic from your ads convert.
#4 Split test multiple ads
You won't create the perfect Facebook ad in your first attempt. Different ads will work best for different campaigns. For example, Facebook story ads might work for certain products, but some of your products might get more conversions with in-feed or messenger ads. This is why you should always split test your ads. The top media buyers do this.
You should experiment with small tweaks such as story ads vs messenger ads, in-feed ads vs story ads, different copy, targeting, etc. to see what converts best. Those small changes will eventually result in a higher ROI. You should also split test landing pages to see if things improve.
Facebook has an in-built ad split testing feature. You can use this to get people to conduct your split tests. Utilizing an AI-powered ad operations assistant can simplify the process and provide valuable insights for optimizing your ad campaigns.
When you test ads make sure you set a small budget of $5 to $10 a day only. As you don't want to lose sales here. You can increase the budget when you know which ads work and you can pause the ones that don't.
#5 Create more Facebook video ads
Photo ads work great on Facebook as photos can attract more attention than plain text and links. But video can generate better results as something that's moving in the feed will attract even more attention than something still. A study also found that Facebook video ads generate 270% more leads than photo ads.
So, I recommend that you create more video ads. But make sure they are short video ads. Facebook let's you create ads that are up to 240 minutes long, but they themselves recommend you to create short 6 second ads.
This is because when you create short ads you will be sharing less information. This will generate curiosity. They will need to visit your website to get the answer.
So, instead of creating long ads that contain a ton of information, create short ones that get to the point quickly. Make sure you use the audience persona and the information from all your other research to create highly engaging ads.
Here's a good example of a video ad from Appsumo…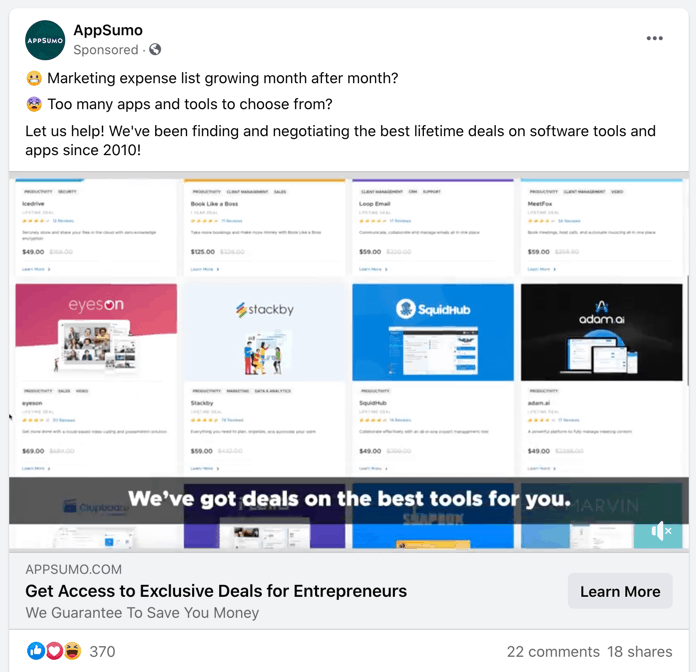 You can quickly create ads by using a tool like InVideo.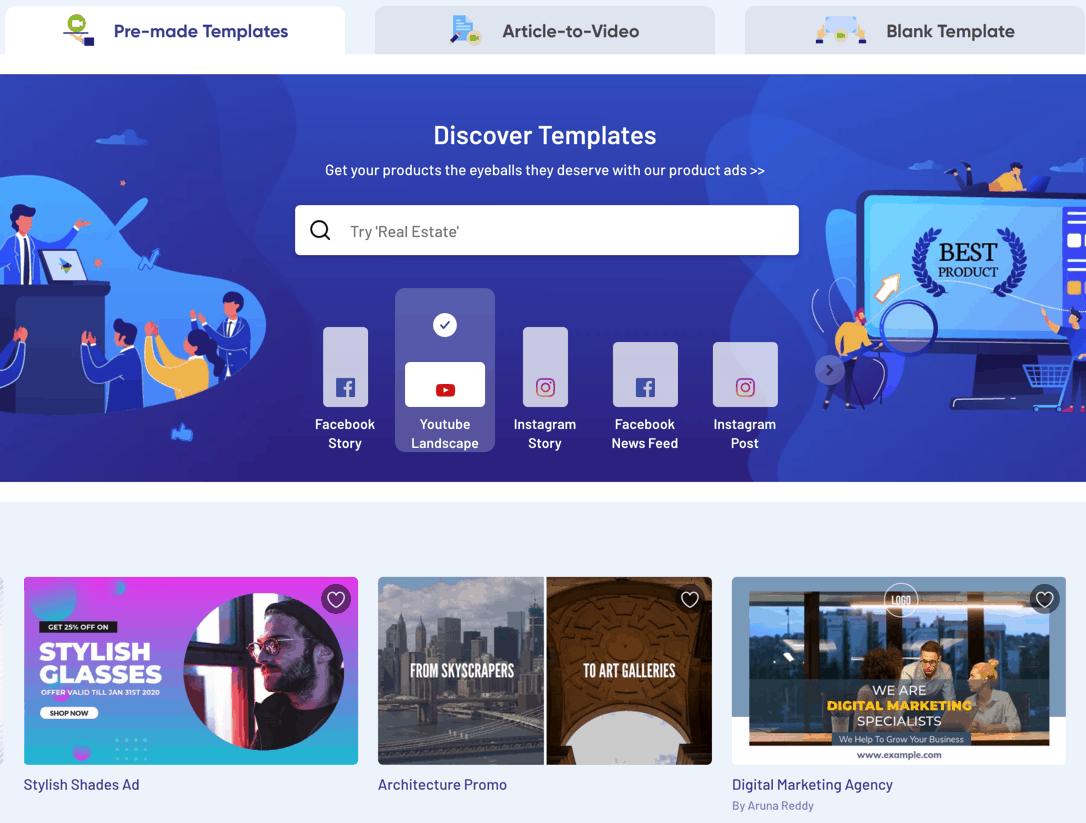 They have templates and a video editor. All you need to do is pick a template, upload your footage and modify it with their editor.
Make sure you add subtitles to your video ads as 85% of Facebook videos are watched in mute. Using subtitles will make it easy for people to follow along even with the sound turned off. This will get you more complete views.
#6 Create separate ads for Instagram
While choosing the placement for your Facebook ads, it will ask you whether you would like it to be placed on Instagram too, but avoid doing this. Instead, you should create a separate ad for Instagram. This is because different ads work on both networks.
For example, landscape video ads do better on Facebook whereas square ads work better on Instagram.
Also, on Instagram, you have the option to tag products in your ads. So, create a separate ad for Instagram instead of using the same one. An example is this ad from Slowear.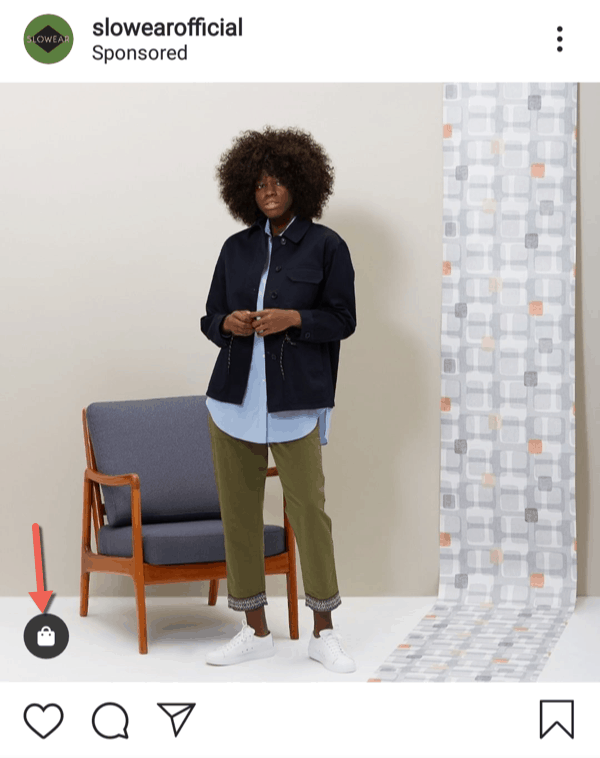 As you can see it has square dimensions and the bag icon on the bottom left corner of the ad indicates that there are products tagged in the ad. This is something you can't do with Facebook ads.
So, create separate ads for Instagram and conduct a separate split test for them too. You need to figure out what works on Instagram too.
Also, compare your Facebook ad results against your Instagram ad results to see which one is generating a better ROAS. It will be better for you to invest most of your budget into the platform that generates the highest ROAS.
#7 Zone in on your targeting
Facebook gives you the option to set a lot of filters and zone in on your targeting. Don't be afraid to take advantage of this. As you zone in, the number of people you can target will go down. But as you will be targeting a very specific audience and will write copy just for them, you will see a higher conversion rate, and your ROI will be higher.
You can create different ads to target different types of audiences. Again, use the data from your persona to set your Facebook ad targeting and to write the copy for that ad.
#8 Use retargeting
Don't forget to add the Facebook pixel to your website. This can help you retarget people who recently visited your website.
As these people recently visited your website, they will be familiar with you and will be more likely to convert. Remarketing ads 76% more likely to generate clicks than regular ads.
But make sure you present them with the right offers. If they visited a blog post on your website, you should present them with an ad that promotes a compelling case study, lead magnet or a product related to that blog post.
While if they abandoned the cart, you can present them with an ad that promotes the product they abandoned.
Conclusion on Facebook ads that convert
These are some of my top tips for creating Facebook ads that convert. Ads are made to look like an instant process where you just boost a post with a little money and you get traffic and conversions. But it requires a bit of investment to understand your audience and personalize the ad and the landing page.
This can take time, but it will help you generate a better ROI. So, be prepared to put in the time to generate more from your ads.
At the beginning when you are just starting out this can take a lot of time. But once you understand your audience and Facebook ads, creating high converting ads will become second nature to you.
What other tactics and techniques do you follow while creating your Facebook ads? Did I forget to include anything important? Please leave your comments below.