As an avid Instagram fan, I know how it feels to be unsure of the picture. You capture an image only to find it misaligned, the light's too bright, and with too many unnecessary details.
On Instagram, it's a common sin to post the photo immediately. For the perfect picture, you will have to rummage first for several filters and photo-editing tools. A crop here and a drag there, you find yourself often modifying tiny details or mostly removing them at all.
Sure, we're not like the IG baddie Selena Gomez who has amassed millions of followers through fame and just plain gorgeousness. But our tiny fraction of a viewer only deserves the best. Best angle. Best scene. Best face. In short, we want to showcase only our best image.
So, there's no shame in several rounds of photo-tweaking. Everyone does it. Your neighbor who's in law school edit her selfies. That IG crush you've been drooling over smoothed her skin. That small bakery business uses layers of templates. That wedding photographer even has teams of people polishing the pics. And, yes, even Selena Gomez and "influencers" of whatever niche do it too. In fact, they probably do it more.
But it gets too tiring to try out too many filters and fine-tune shots. We can't be on the app 24/7. Soon, we'll have to deal with our mundane lives. That's why it pays to have an app that comprehensively tackles our usual problems (color, alignment, contrast) and our goals (aesthetic, following, inspiration).
In this article, we'll introduce you to some of the finest Insta tools out there. A simple Google search will lead us to hundreds of results.
So how do you find the right one?
I did the hard work for you. I compiled this list with the help of my personal experience coupled with influencer mentions and factoring in filter numbers, advanced Instagram pictures editing features, beautiful designs, and just overall helpfulness to the next IG baddie.
IG filters are not enough anymore. They're limited, often outdated, and not our style. That's why as Instagram grew in size over the years, so do photo-editing apps. Gone are the days of capture and post. An IG picture is but a product and layers of many Instagram editing tools available in the market, serving one or different purposes. Yet the end goal stays the same — to show our best image.
Why Instagram?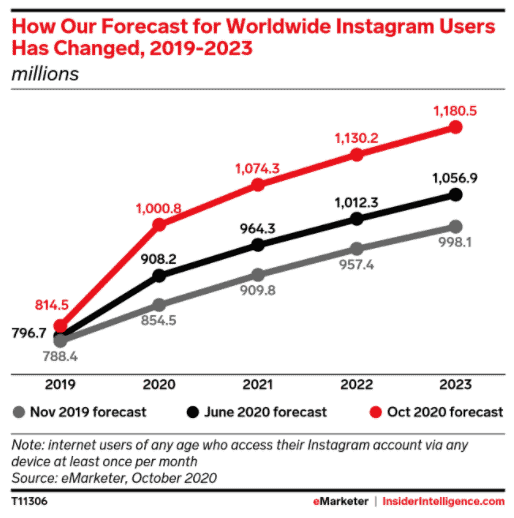 Source: Insider Intelligence, eMarketer
Instagram has been in the game for decades. With more than a billion users in the app spending more than 11 hours a day, Instagram is a considerable force in shaping societal issues and brand awareness. With this sheer size, Instagram is perhaps home to your future customers, friends, investors, lovers, etc.
Instagram is not just a photo-sharing app anymore. Sure, in essence, you still post, like, and share images on the app. But more than that, IG is also an e-commerce platform, a website, a portfolio, a news outlet, your meditation guide, a podcast, online education, chatbots, and entertainment all at once.
This ability of Instagram to transform itself and cater to your particular needs has made it a viable marketing tool not just for professionals and big business owners, but also for ordinary people who want to make a living selling their favorite old items, or their scented candles, or their threads, beads, necklaces, and more.
Instagram Tools To Show Your Best Image
Because more and more apps harnessed their technological game and aesthetic prowess, fine-tuning your images for Instagram has never been easier and faster. In a few taps, you'll have your preferred filter, layer, borders, and typefaces.
Here's the list of the best image-editing tools in the market. The paid and free version offers several ways you can modify your pictures, either for stories or grid: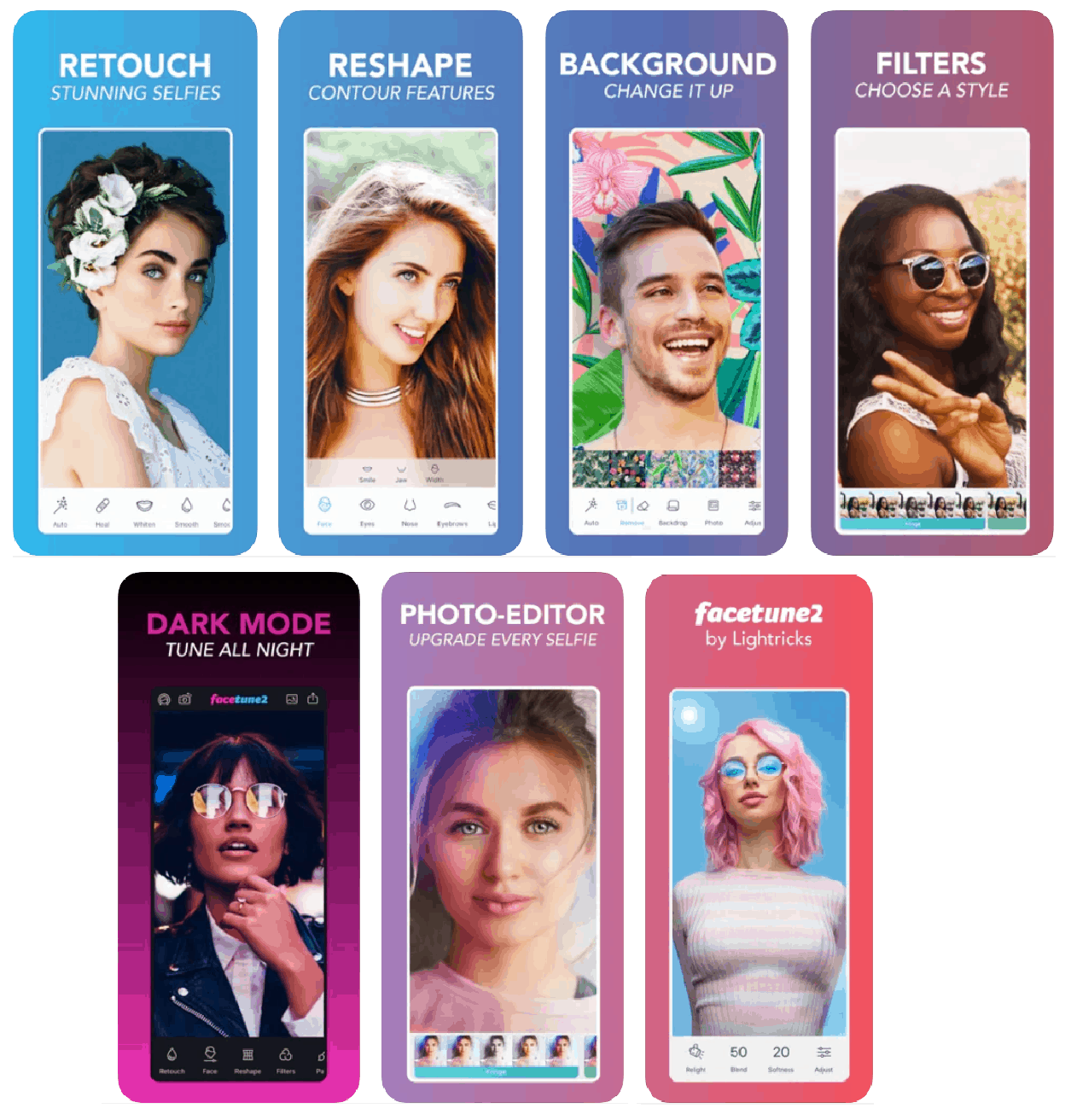 Facetune is a fairy app. The destination of those seeking to smoothen their bumpy skin or to plumper their thin lips. I guess a real fairy godmother then.
FaceTune has been around since Instagram's release. An accompaniment to the image-based platform, FaceTune caters to the physical-tuning thirsts of youngsters, who never post a picture without editing.
This app just got better over the years. It got accurate when targeting which part of your face you want to enhance. Say you want to enlarge your eyes or change hair color. It does so without leaving smudge or blurry lines.
Just woke up feeling ugly? Patch up some foundation and blush to glow up fast. Facetune affords you to select a variety of makeup shades. It can snatch your body too, achieving that 25-inch waistline.
Apart from the body-enhancing features, Facetune is known for its quirky filters to achieve whatever kind of look: retro, moody, beach-vibes, black and white, subtle, purplish, bright, and dawn.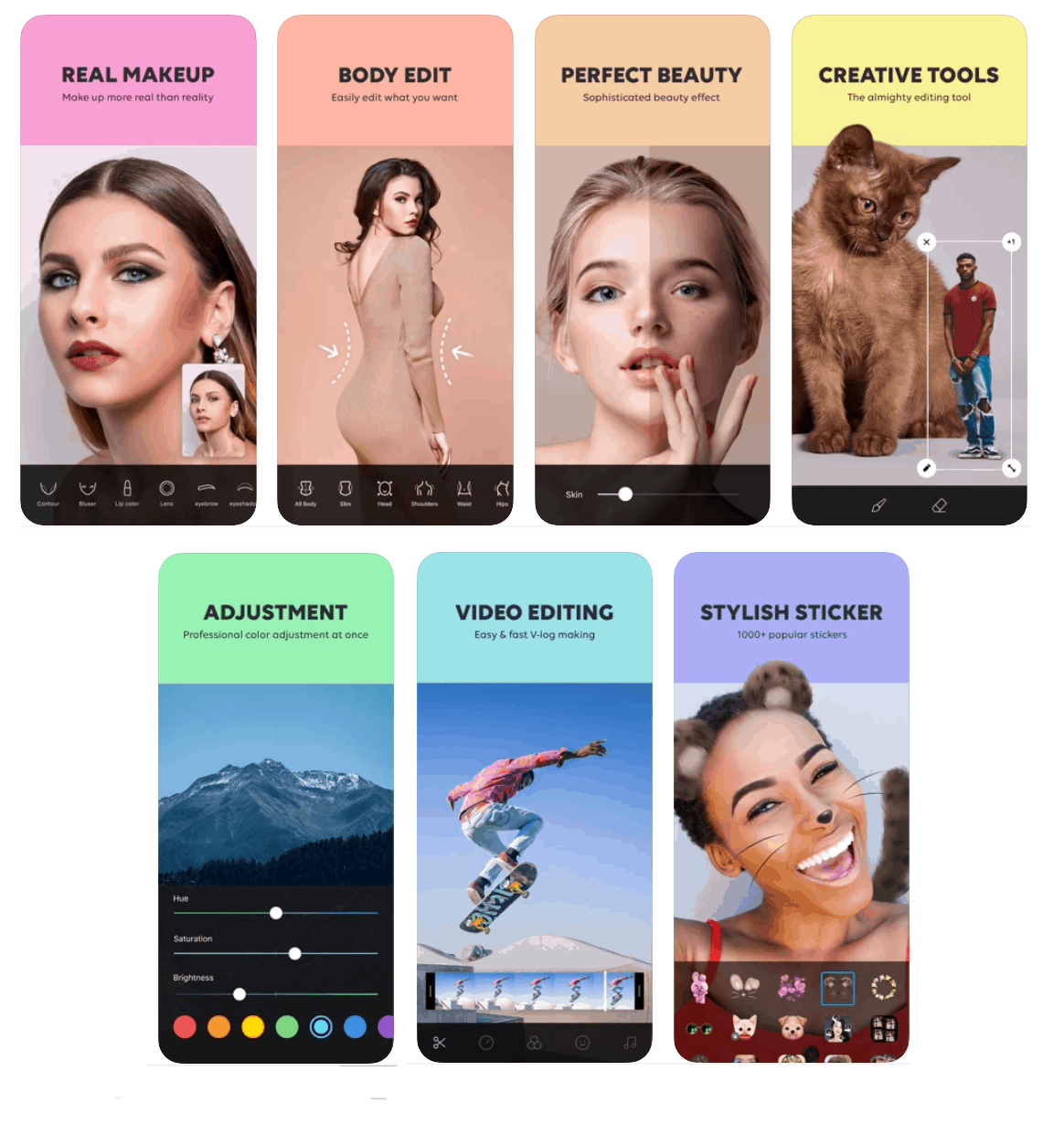 Snow is a South Korean-made photo-editing app. It's heavy on white filters and gradient lips. That's why the app is favored in East Asian markets like China, Japan, and its home country in South Korea.
On Snow, you can either import pictures from your phone or capture new ones from the app. If taken on the app, the image will be slightly whiter and smoother than the actual. That's where Snow thrives. In South Korea and many parts of Asia, blemish-free skin, wide eyes, and porcelain skin tones are prized physical attributes.
So if vying for a smoother and paler image, Snow is the app for you. And like FaceTune, you can also shrink your nose, slim your face, and sculpt your jaw. Plus, if you're not satisfied with the smothering of your makeup, you can choose from their seemingly endless list of makeup filters. Perfect brow in an instant and blushed in no time.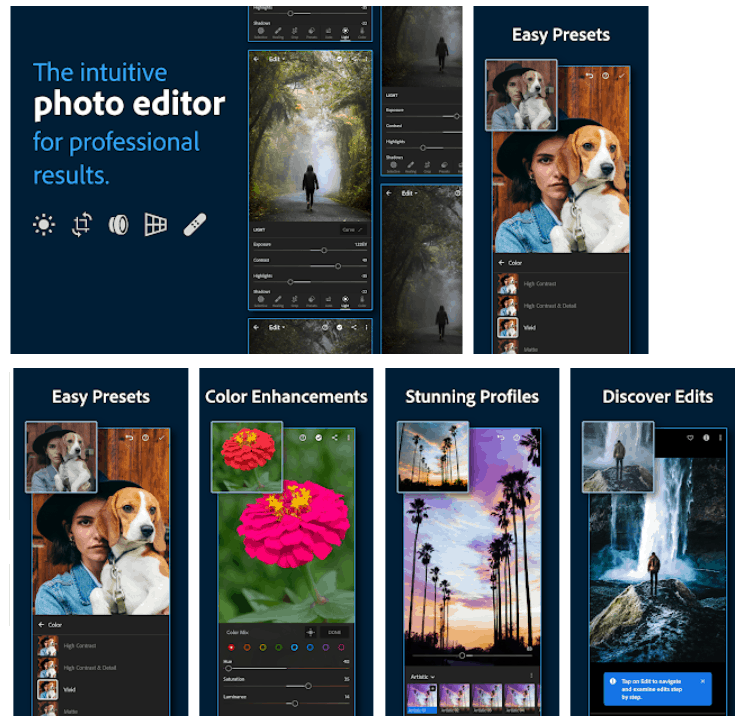 Instagram is not just for influencers who gorge on the vainness of face value. It's a platform dedicated to professional photographers too. Instagram prides on some of the most notable creatives and photographers using the app.
And their go-to editing app? The mobile-friendly Adobe Lightroom. Amateurs and professionals alike love the user-friendly interface, giving easy access to essential buttons for photography. You can crop the distasteful sides in the app, tweak the lighting, change colors, modify the effects, and add more vital details.
The best thing about Adobe Lightroom is filter presets. If you've been eyeing to replicate the aesthetics of some famous influencers or photographers, you can buy their own presets (if they have one) or get copycats from google search. Lightroom has the most abundant presets of anyone online. This means you can play with several presets before deciding which one to portray your visual brand.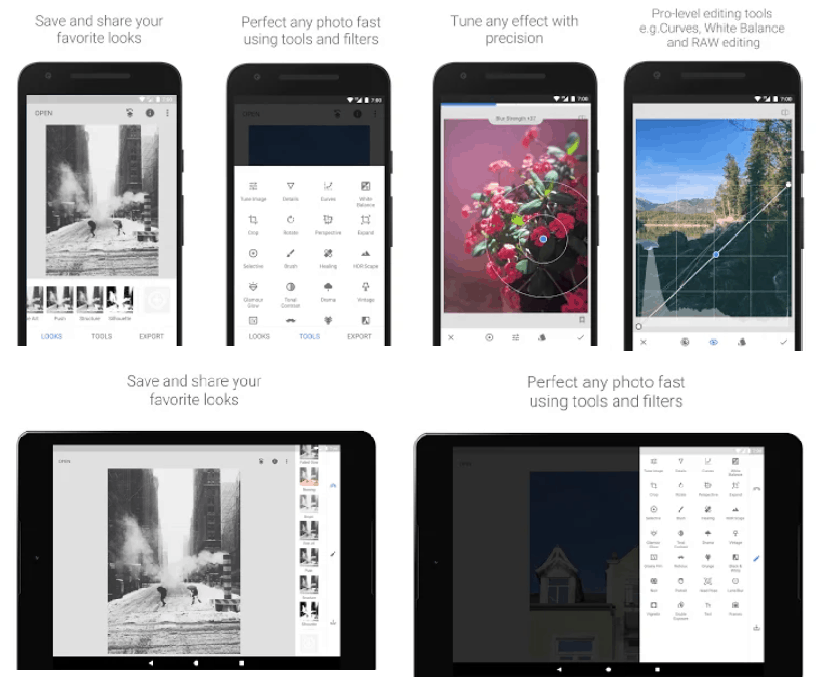 Snapseed made the rounds on Tik Tok #instagramhacks. And sure, it does have a good scope of tools to tweak that often unpalatable image for your IG. One is to make yourself taller without looking like a stretched alien. The other is to center your body in the frame without displacing the body and compressing the picture.
But aside from the photoshop experience, Snapseed has been the companion for mobile photographers and Instagram users. It boasts many tools and templates designed to achieve a professionally edited image.
Favorite tools are the cleaning tools: healing, brush, and selective. With these, you can target ugly spots and misaligned sides in your image so you can offer an aesthetically pleasing, almost staged Instagram experience.
Moreover, the HDR button can transform a bland, lifeless image into a vivid picture in just a tap. Headpose is another favorite tool where you can slightly reposition the head, alter the smile's shape, and dilate more of those pupils.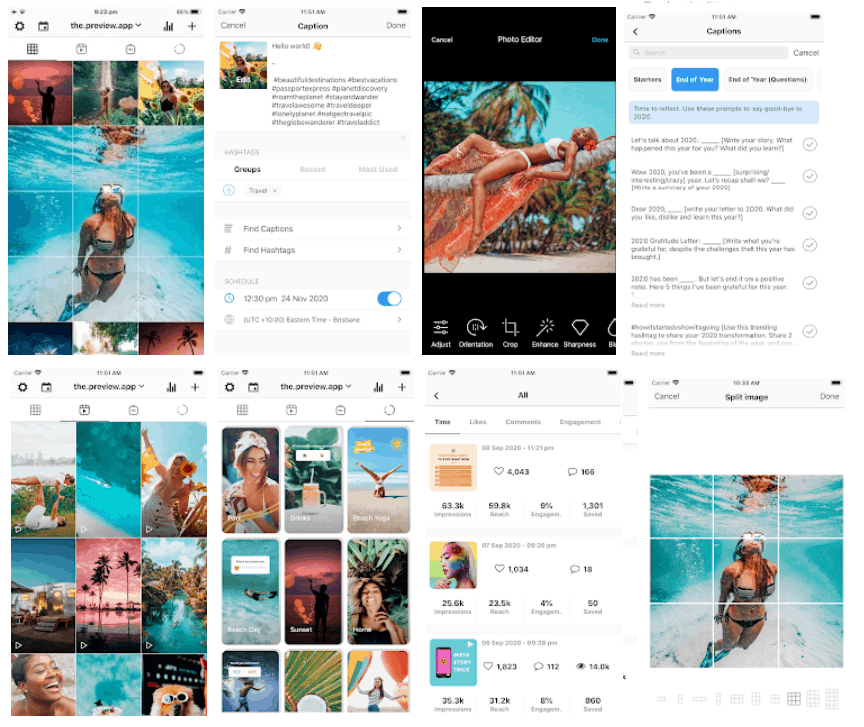 Other than a single picture, the beauty of Instagram lies also in the collection of the user's images — the IG grid, in short. It's a determining factor whether or not to follow or ditch an account. Apart from theme relevance, potential followers also look into the consistency of the aesthetics before ticking that follow button.
So to plan for the IG grid's overall vibes, you can seek help from the Preview app. In it, you're given time to take the backseat for a moment, perhaps deciding how your account will play out.
Do you want to go for the minimalist-nude aesthetics or the coral beach feels? Whichever you choose, Preview can help you choose the right image even before actually posting it. Which means you can contemplate whether its position is perfect. Does it have to be posted right next to your bombastic portrait, or will it be better next to an empty space sky photo?
You can connect your IG profile with Preview, caption the image, and slap some hashtags right on the app. Added features include insights, reels planner, the ability to choose fonts, reply to comments, and choose from their limited filter packs.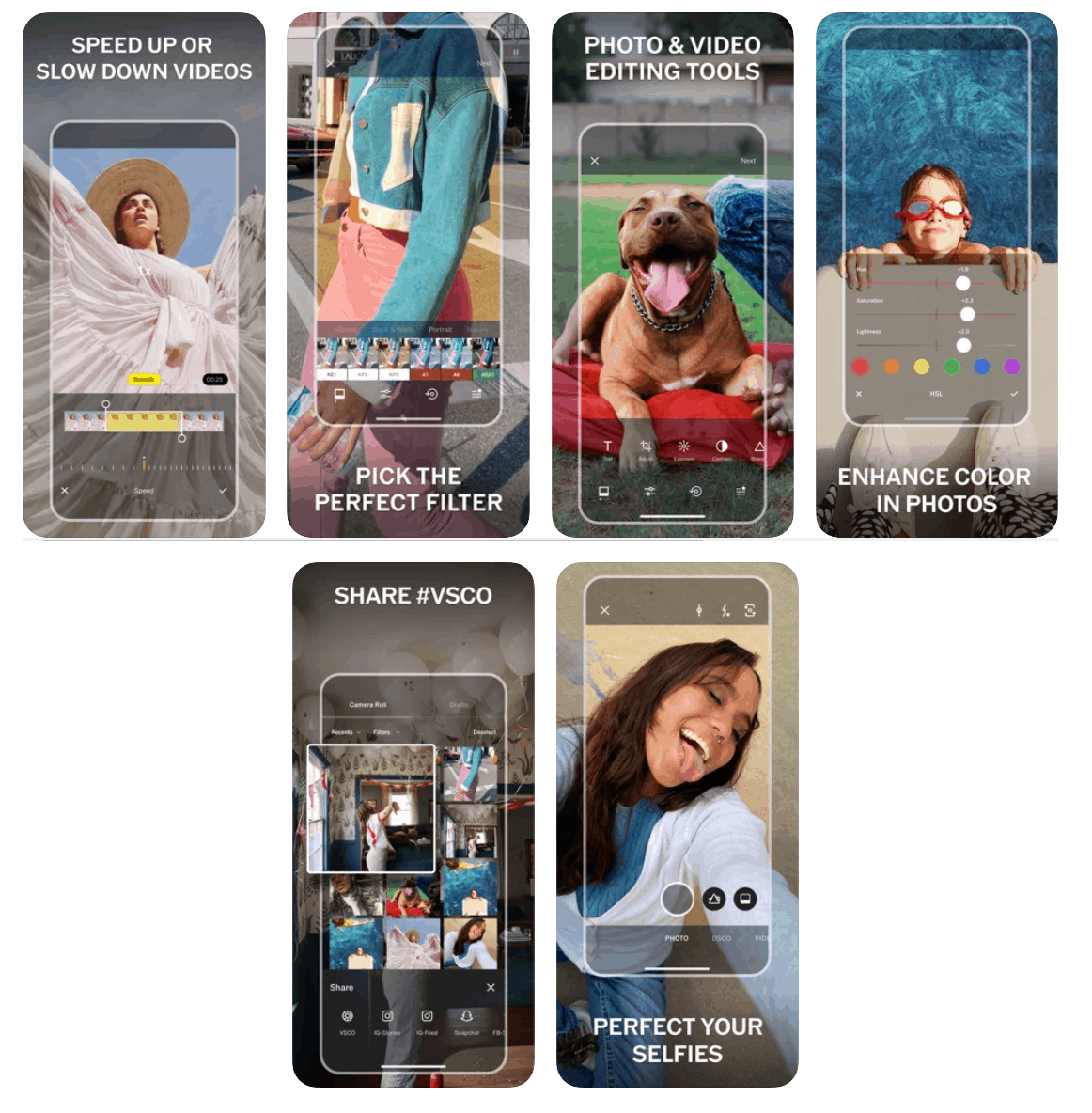 If you're old in the IG game, you've probably have used the VSCO hashtags. VSCO is so popular as a tool for the platform that its name is synonymous with Instagram. The #VCSO is the number one branded hashtag on Instagram and has been used 100 million times, which is more than double the number of #onedirection and #nike.
So what's good with the app? VSCO hosts various filters from the moody to the grainy, from the brownish to the retro. Whatever your needs, there's a filter suited to your IG aesthetics. Once you choose your preferred filter. Then it's only a matter of seconds before getting a perfectly edited picture for the rest of your images the next time you post them. In Instagram, remember, consistency is key.
Other than filters, VSCO is also known for its newbie-friendly picture-editing tools. Here, you can tweak photos to your liking with options to change filter fadings, add grains, split the color tones, and more.
But the best thing that dawned on the app is its community. Other than likes and comments, VSCO is almost the same as Instagram itself. There's a feed showing the art and photos shared from the VSCO community. You can follow your favorite VSCO photographers and like and share their work.
Anyone can join VSCO's photo-sharing platform: teenagers who just got their phones and now practice mobile photography or a graphics designer who edits pictures to elicit a cyborg hallucinogenic experience. Wherever the photo-art genre you belong to, the VSCO community is diverse enough to welcome you.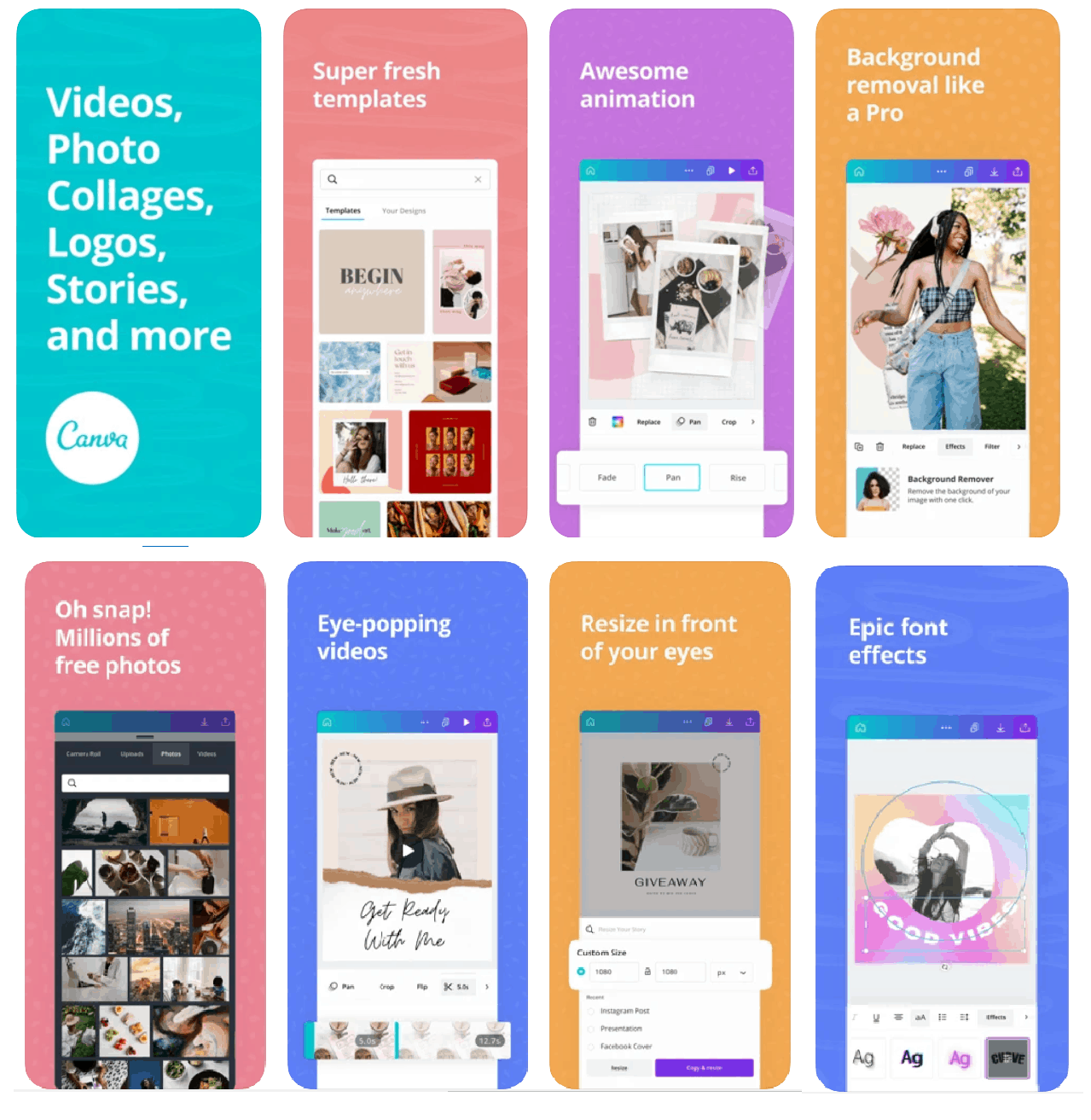 Photos and videos take a different shape in the form of IG's other famous feature — stories. In it, users transform their 24-hour-limited short videos and pictures with quirky letterings, stickers, filters, and many different designs with its built-in designing tools.
If the in-app story-maker is not enough, Canvas is there to help. A free version allows users to choose from several available borders, typefaces, and designs.
And even if not for stories, a regular IG post can be embellished with Canva's pre-made designs. Say you want to surround the image with borders. Canva is made for that. If you wish to collate four pics in one image or have your picture under a "Happy Anniversary" quirky typeface, Canva can help you too.
On top of all, the pre-made designs are also customizable. It has loads of tools to change the color, contrast, shape, and thickness of the pre-made templates to suit your aesthetic. Canva's design tools are rookie-friendly too. You don't have to learn lots of buttons to crop and drag.
Whatever the occasion you want to celebrate on Instagram, Canva's designs can be a way you bring that occasion to life with its almost endless list of templates ranging from anniversaries to Mother's Day, from birthdays to obituaries.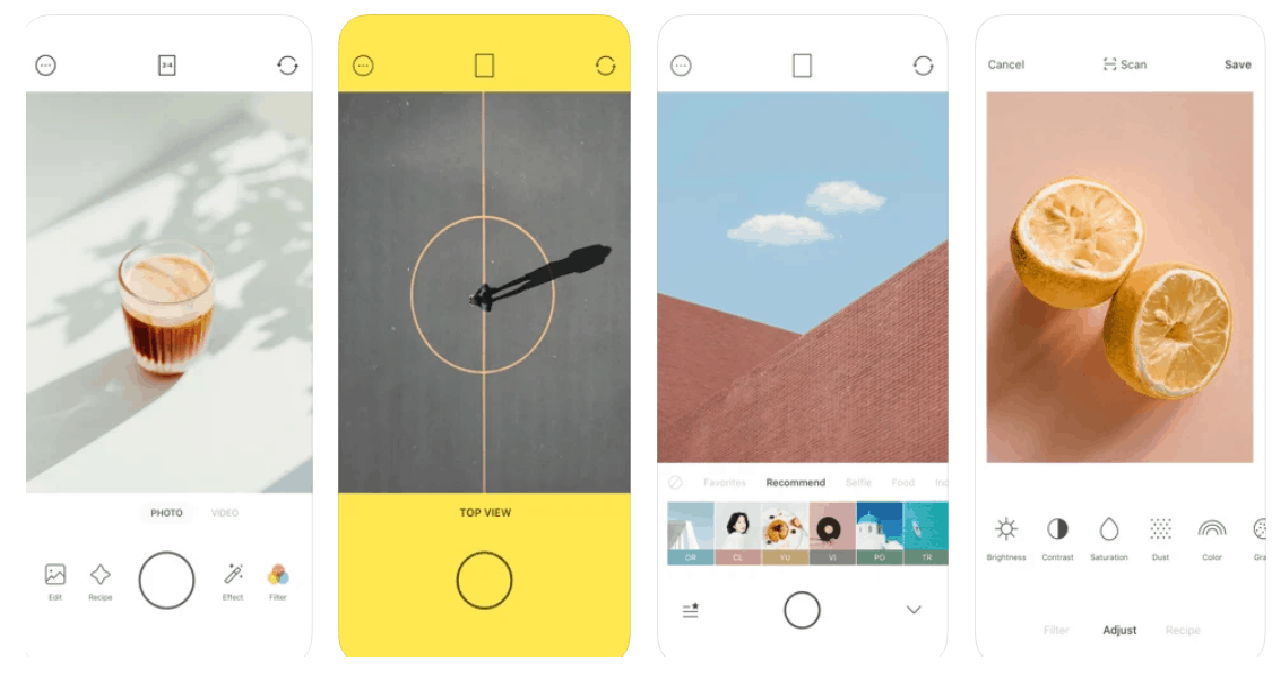 On Instagram because of food content? Try Foodie, an app made for foodies and gourmet photographers like you. Foodie knows the right angle, the proper lighting, and the location of the food in the image.
The filters are designed to give that bland food a vibrant finish. Filters include yum, Positano, tropical, picnic, sweet, fresh, BBQ, romantic, crispy, and chewy filter series. All suited for food of different contexts.
Although designed for food enthusiasts, Foodie's wide range of filters can be for any type of image: portrait, group photos, architecture, fashion, etc. The in-app camera can automatically capture the image with chosen filters on.
Foodie hosts a community where you can gather filter inspirations from avid photographers of the app. Their so-called "recipes" or chosen filters and photo-edits show the level of brightness, contrast, saturation, color, graininess, and more.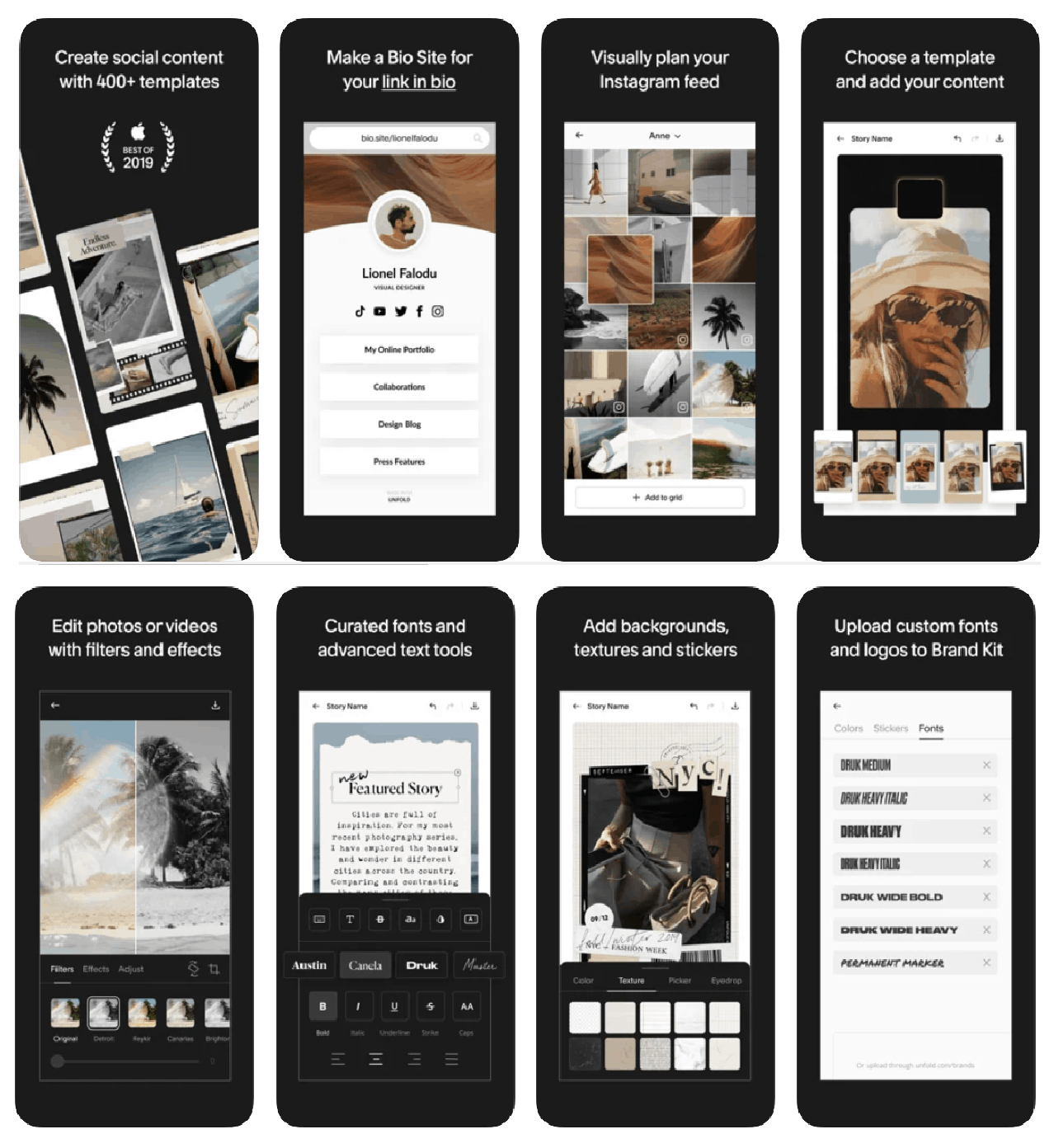 Unfold is another helpful app for those who love stories. Unlike Canva, Unfold has a minimalistic approach in its template designs. It's evident in the existence of white space, white borders, and elegantly written typefaces. What's more, is they have several templates that are very easy to personalize. Just upload your picture in the given space, and voila, your image is ready.
Unfold is also famous for its collages. You can squeeze in up to nine pictures in one frame. The edge designs are varied. They have paper cut styles, digital portraits, horoscope styles, and more. The color palette usually revolves around black, white, gray, and nude. If you are vying for a tone-down, minimalistic aesthetic in your IG feed and stories, then might as well try Unfold.
And like Preview, Unfold is also an IG planning app. Users can connect their IG account on Unfold, and through this, they can plan for their subsequent uploads. As you know, Instagram aesthetics are a thing. So you don't just post whatever you capture.
At least with Unfold, you can see where the picture will sit on the feed before actually posting it. Hence, you can ask certain questions like: Does the color elicit the same emotions as your previous pics? If yes, go for it; if not, Unfold helps you curate the right post.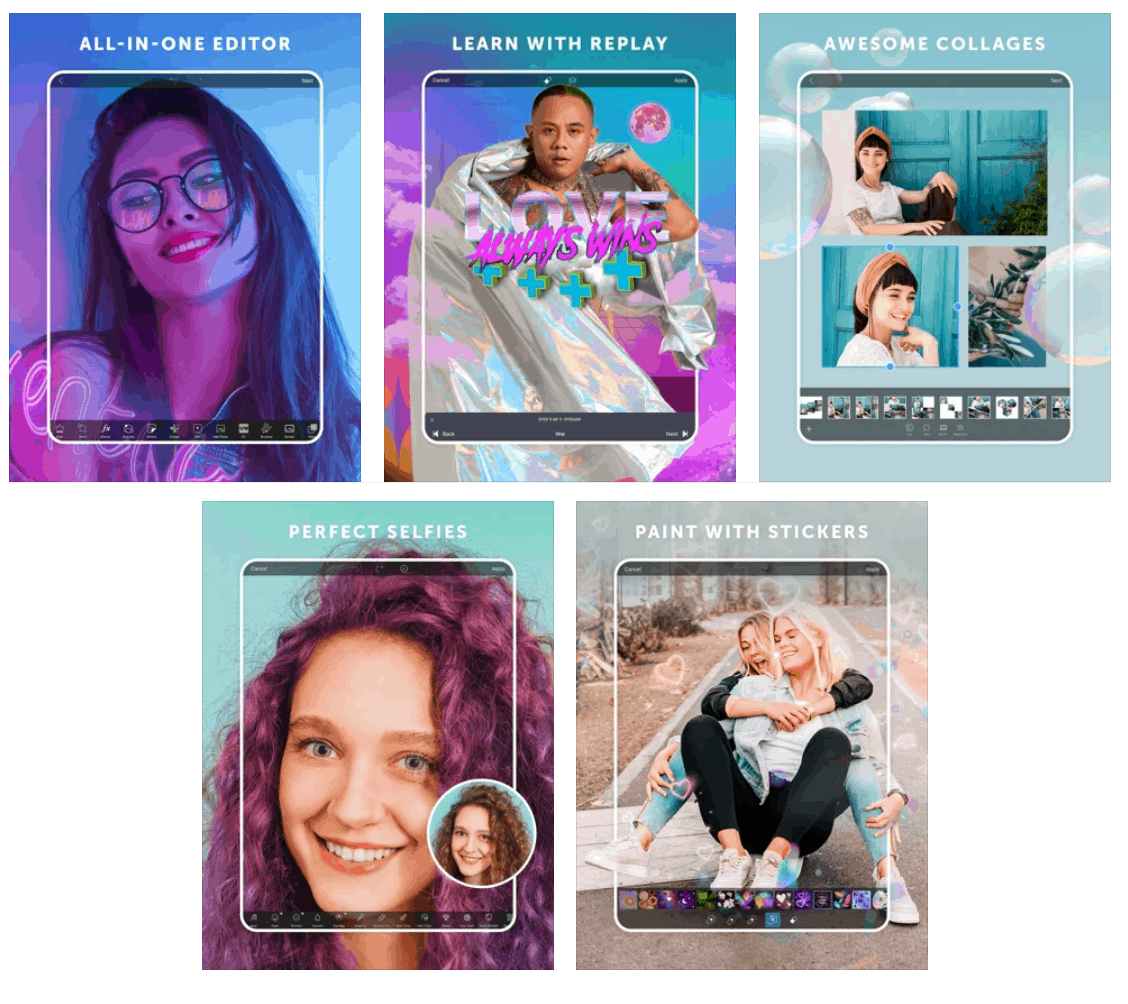 PicsArt has been associated with Instagram and other social media such as Facebook and Twitter since the early 2010s. Since its founding, it has gained traction among teenagers who love getting more likes. True enough, with the app's attention-grabbing filters, stickers, and animated graphics, the young and young-at-heart users get the love they crave.
PicsArt has grown into a multi-purpose editing app. In the PicsArt Photo and Video Editor, you get access to its basic editing features. No time to crop and drag? Then you can select from their numerous list of photo filters. Over-the-top or minimalistic designs? They have it all. Plus, if you're bored with the usual image-content, might as well try designing stickers, collage, fonts, and memes.
In a face-centric platform like Instagram, the perfect face is the prize. So PicsArt also devotes its resources to making the app a haven for face-editing lovers. You can change your hair color from the same app, put on makeup, change your eye lenses, and more. And suppose you're up for inspiration. PicsArt hosts a vibrant community of newbies and a professional IG photo editor. In that case, their content can be an inspiration for you to get your gears up and running.
A Word of Caution When Using Instagram Tools
Editing your photos is almost always OK. But don't get too overboard with editing your pictures that you strip them off any imperfections and authenticity. Nowadays, people are drawn to a more humanized experience.
That speaks more for social media. They want brands and people they can somehow relate to in whatever way. Sure, perfectly executed, studio-like photos are great. And they never go out of style or audience. But with the recent turnaround of events like the current pandemic, people are drawn more to flawed, relatable, yet best edits for Instagram photos, getting a wonderful experience. (Of course, it doesn't apply to all niches and markets, but you get the idea.)
This principle is also a little bit stronger for personal accounts. Blog-like IG accounts are more likely to gain a good brand following when their content shows a minor misalignment, awkwardness, and imperfections.
But either way, we know the importance of a well-edited picture. It's just the lifeblood of Instagram. If you've been on the app for years, what's your best-kept secret to attaining your aesthetics. Is there a mobile or even a desktop-editing tool you vouch for? Share in the comments, so you're not the only one with a better Instagram image.