Trying to promote your Instagram page, but somehow, all of your promotional efforts go in vain, and now you feel frustrated? As there are millions of businesses out there, and probably hundreds of them competing in your niche, it's completely normal to face some difficulties growing your account.
But do you want to know what the secrets of successful Instagram managers are?
It's not that complicated; they apply some less known Instagram hacks! Things like using a good Instagram followers app, contacting a suitable influencer, or paying attention to the keywords.
In this article, I'm going to share a listicle of the best Instagram SEO hacks, so you can promote your page in the fastest and most effective way, and rank high in the Instagram search engine. So, let's dive in!
But first, take a look at this Instagram SEO infographic: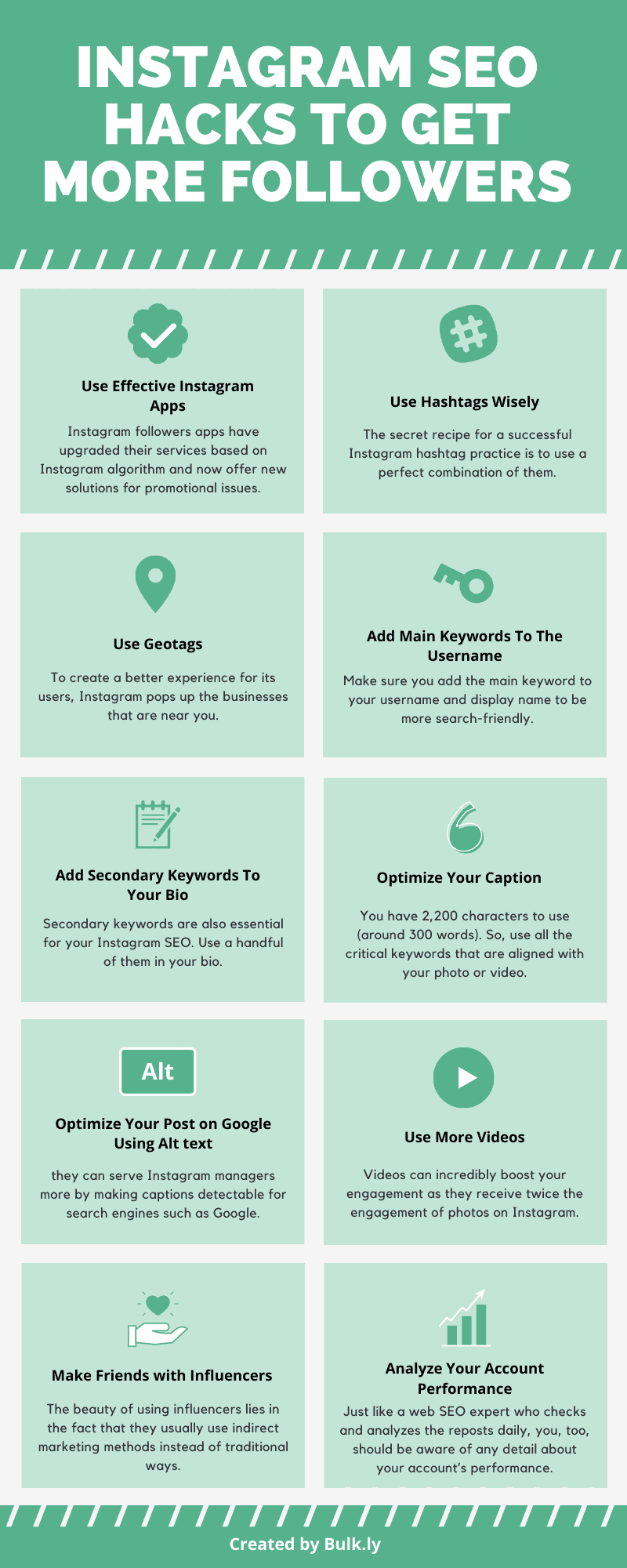 Source: Original (Created by Rezvan)
Instagram SEO Hacks To Get Real Followers
Use the following SEO strategies to expose yourself better and push those prospective followers out onto your account. Not entirely sure what SEO is? (here's a great free SEO training resource worth checking out as well as an excellent small business SEO study)
1 – Use Effective Instagram Apps
Many Instagram managers tend to invest in Instagram ads to gain more followers. Although it's a very reasonable approach, you may find other ways of reaching potential audiences, such as using Instagram apps more effectively.
There was a long time ago when people would use bots or buy Instagram followers. Thanks to the Instagram smart and ever-changing algorithm, this option is now off the table. But that does not mean you cannot outsource your promotional Instagram tasks anymore. Actually, Instagram followers apps have upgraded their services and now offer new solutions for promotional issues. Many of them use human experts instead of bots, which eliminates the danger of being banned by Instagram and ultimately increases your chance of ranking high in the Instagram search engine. Moreover, Instagram follower apps can bring you more specific followers that can quickly turn to your potential customers.
The only thing that you should pay close attention to is choosing the right service. As you know, there are countless websites out there offering such services. You should be careful about selecting the right Instagram SEO tools; otherwise, you may put your page in danger rather than promoting it, because they might not deliver what they claim.
2 – Use Hashtags Wisely
While hashtags do not generate a glamorous level of engagement, they're useful for your Instagram SEO. It may sound a little bit too simple for a hack, but hashtags are still among the best ways to be discovered on Instagram. Although, the problem with the hashtags is the fact that they seem overused; however, they can be useful if you know how to use them correctly.
The secret recipe for a successful Instagram hashtag practice is to use a perfect combination of them. And how to get that formula? Well, it depends on various factors, such as the type of your niche, your followers, and your country. So, the best way to find out your perfect hashtag combination might be trial and error. However, there's general guidance that might be helpful for you. Usually, for 30 available hashtags for each post, consider these numbers:
General hashtags: 15-17
Brand related hashtags: 10-12
Describing hashtags: 3-5
Location hashtags: 1-3
For example, if you run a fashion business, when publishing a post, say of a model holding your latest handbag, you can use general hashtags such as #fashion #style, #handbag, and #model. For brand-related hashtags, you should use your brand's name + phrases like bags, fashion, style, clothes, and so on. Also, don't forget about the details! To add describing hashtags, look at your photo closely and search for fine details such as the type of the model or the color of the bag. Finally, add up to three location hashtags, including your country, city, or neighborhood, to get local followers.
https://www.instagram.com/p/CC7Aa5LlolG/?utm_source=ig_web_copy_link
3 – Use Geotags
Did you know when searching a phrase on the Instagram search engine, it will show you the geographically nearby pages first? To create a better experience for its users, Instagram pops up the businesses that are near you. For example, if you type in "bakery" in your search bar, you may see your neighborhood bakeries before other more well-known bakeries.
This is a great Instagram SEO hack for small businesses that rely on local customers, which are actually their ultimate audiences.
So, when publishing a post on Instagram, make sure you add the geotag before hitting the share button. And remember, don't use general geotags; the more specific the geotag, the better chance to find nearby customers. For example, there are thousands of bakeries in NYC, narrowing down the location to a particular area will increase your chances of being discovered. You can also add your own location to Google and use it. This way, your customers also find it easier to tag you when uploading their photos on Instagram. You should also link your Instagram profile to all of your local business listings to maximize your visibility.
https://www.instagram.com/p/CC8uvQJnlp9/?utm_source=ig_web_copy_link
4 – Add Main Keywords To The Username and The Display Name
This one is a real gem Instagram SEO hack, as many businesses may ignore it. Every business has some main keywords. For example, let's say you run a seafood restaurant; your main keyword would be "restaurant." Make sure you add the main keyword to your username and display name (the title that appears immediately under your username on the search results and above your bio) to be more search-friendly.

Source: https://www.instagram.com/pidginyvr/?hl=en
5 – Add Secondary Keywords To Your Bio
Secondary keywords are also essential for your Instagram SEO. Let's continue with the mentioned example of the restaurant in the previous part. Your secondary keywords can be "seafood," "fish," and "oyster." Or if you have an Italian restaurant, your secondary keywords are "pizza," "pasta," and other delicious Italian food.

Source: https://www.instagram.com/scottsmayfair/
Your bio is the best place to advertise your brand because when visiting your page, people see this part first. So, try to be creative and use all the essential secondary keywords in this part in a concise way. Remember, you can only use 150 characters in this section.
6 – Optimize Your Caption
The next place that you want to optimize for a better rank in the Instagram search engine is the caption. You have 2,200 characters to use (around 300 words). So, use all the critical keywords that are aligned with your photo or video.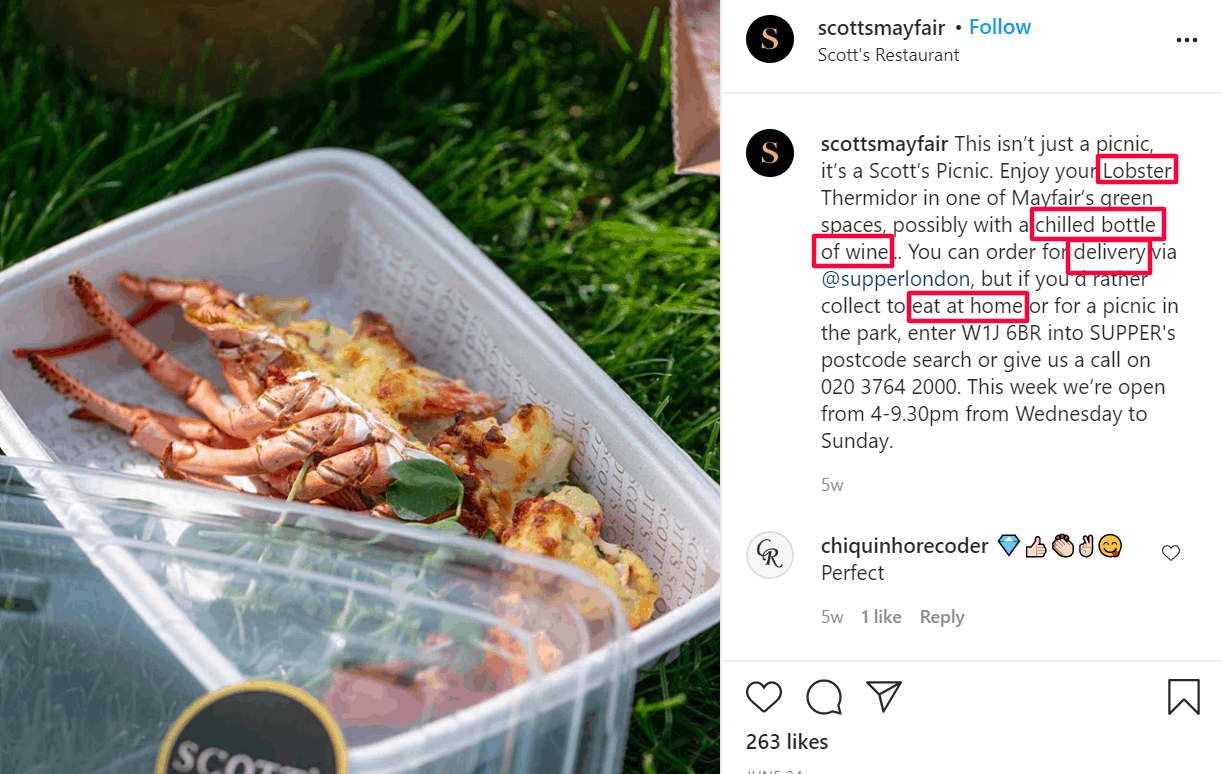 Source: https://www.instagram.com/p/CB0oPRYHmej/?utm_source=ig_web_copy_link
You can use these keywords as a hashtag by simply add an # before any word through your text.
An optimized caption does not necessarily mean a long one. Captions can be short or medium in size and still work perfectly. Only use extended captions if you have a great story to tell; otherwise, your visitors will skip it, as Instagrammers usually have a short attention span.
Moreover, don't forget to start your caption with a hook that grabs anyone's attention and finish it with a call to action (CTA) phrase as these tricks will increase the Instagram engagement.
7 – Optimize Your Post on Google Using Alt text
There is a huge debate going on among Instagram SEO experts about the effect of Instagram posts on websites' SEO. Although many say adding Instagram posts on blogs does not generate any SEO value, many people have observed a significant link between successful Instagram pages and websites that are highly ranked. No one can prove this theory, but we're sure about one thing: the Instagram Alt text is searchable on Google.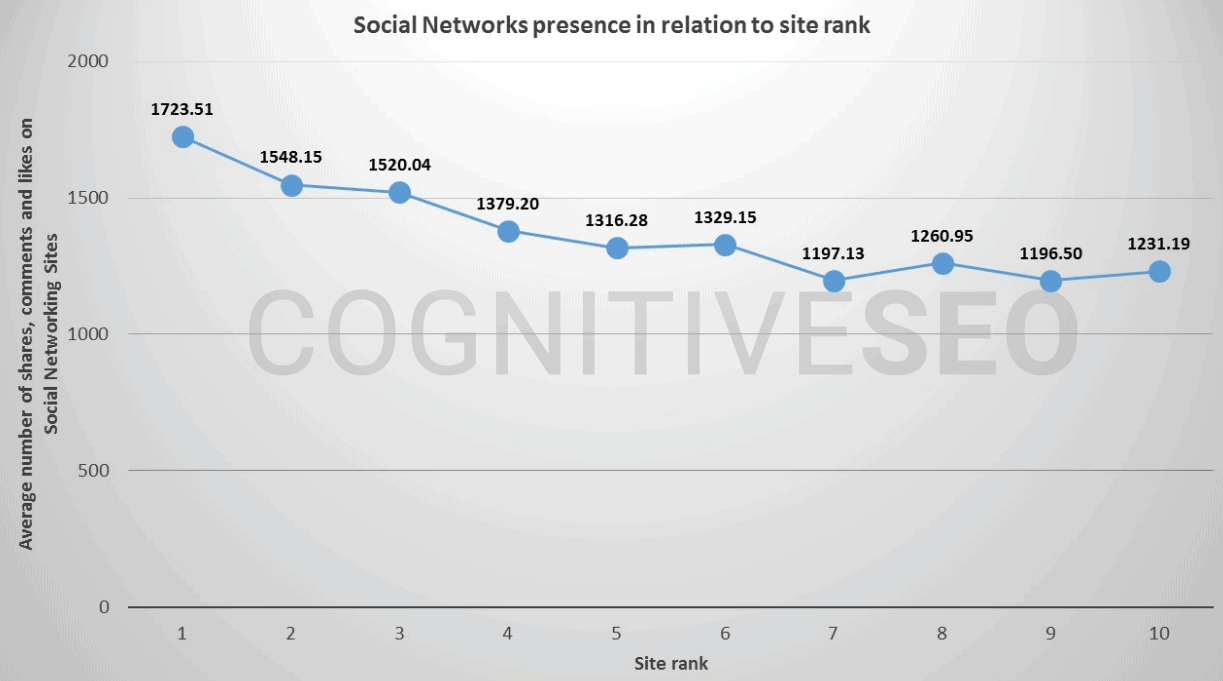 Credit: CognitiveSEO
Just like the regular alt text used in websites, Instagram alt text was developed primarily for visually impaired users. However, they can serve Instagram managers more by making captions detectable for search engines such as Google.
So, the next time you want to publish a post, take some time, and add alt text to your content. To do this, when you've done writing the caption, tagging people, and adding location, scroll down and tap on the "Advanced setting."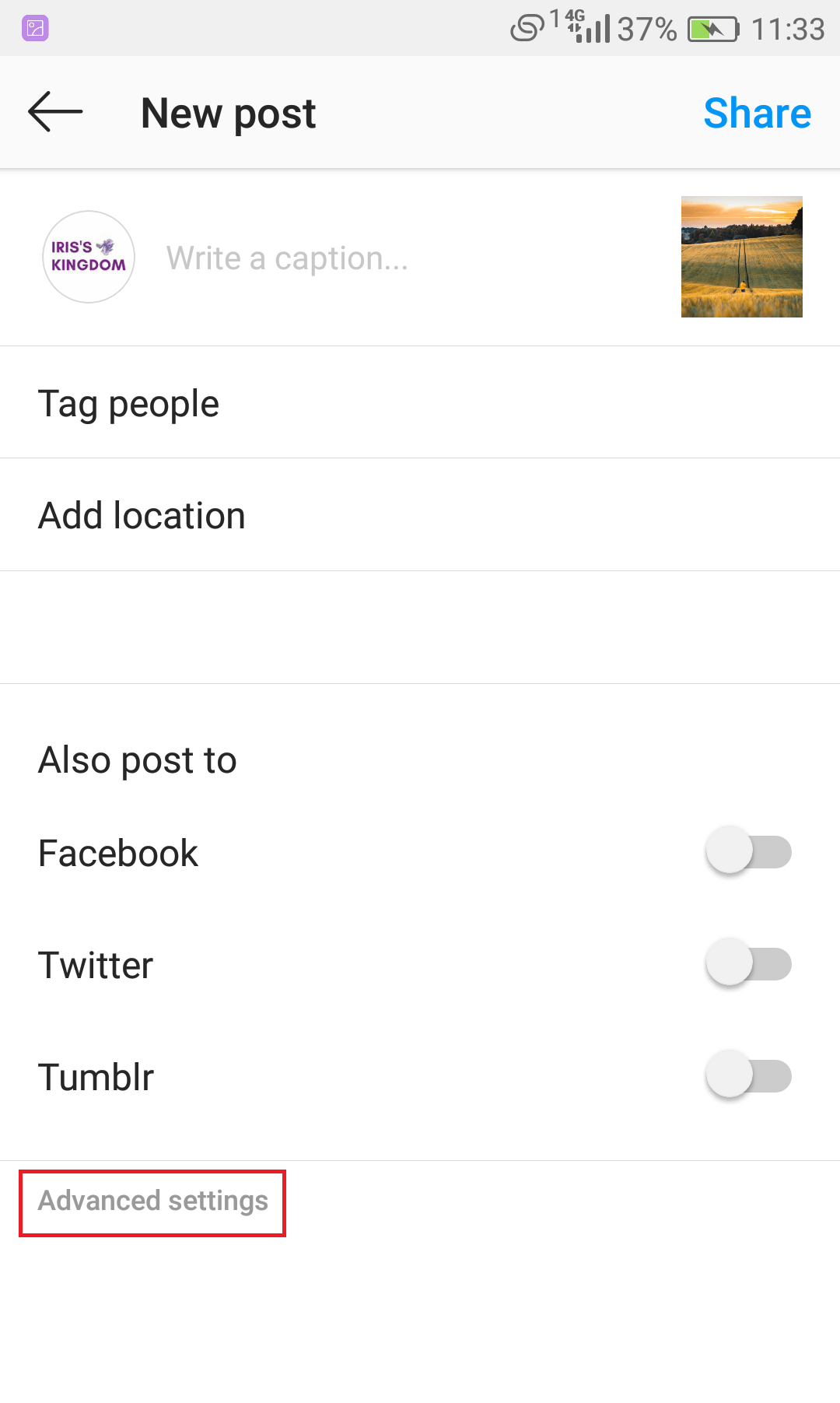 Then select "Write alt text" under "Accessibility.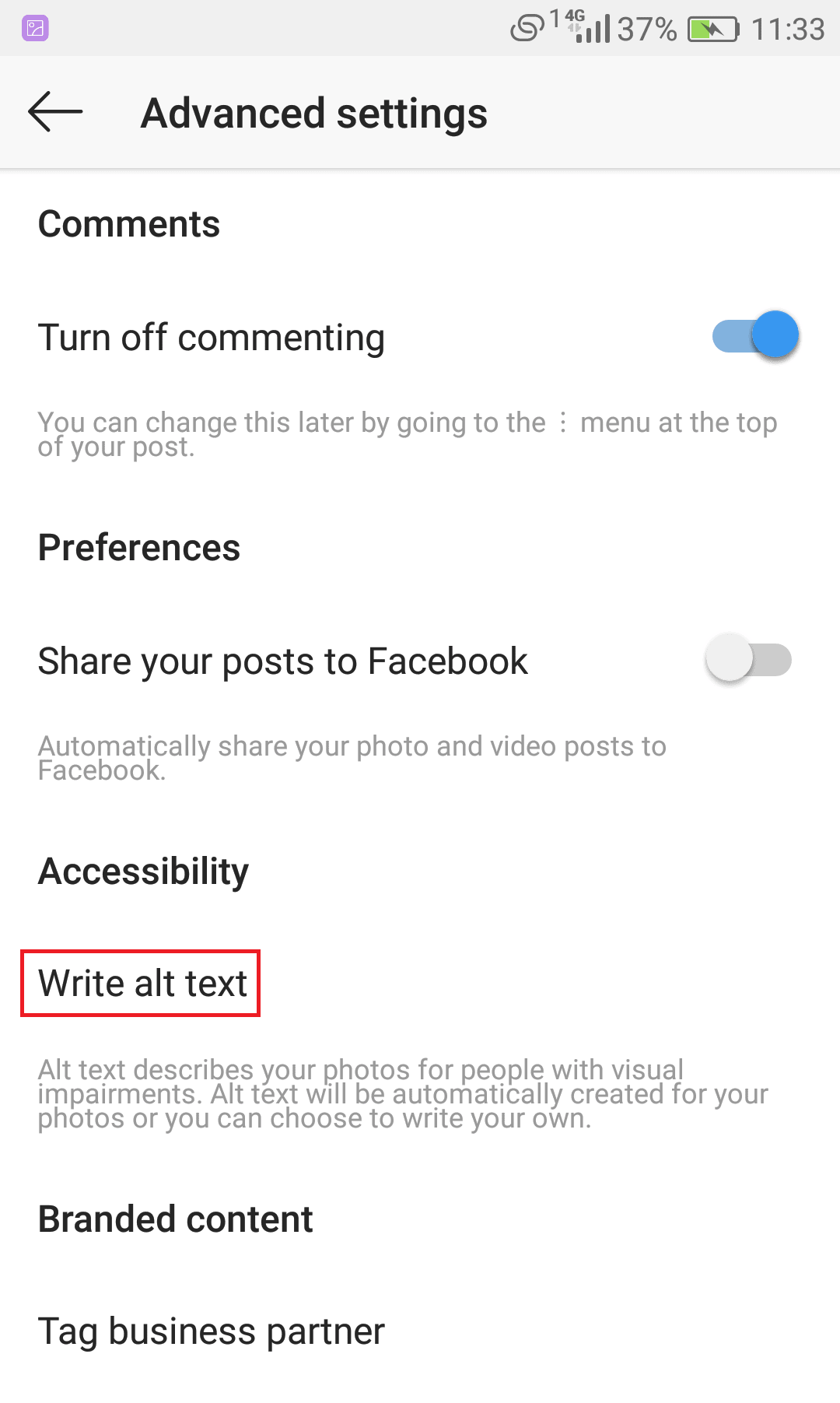 Here, you can add a description of your photo for those who have visual impairments. Just remember that the alt text is not equal to caption. Sometimes people write captions that have nothing to do with the photos that they are using. Here's an example of proper alt text: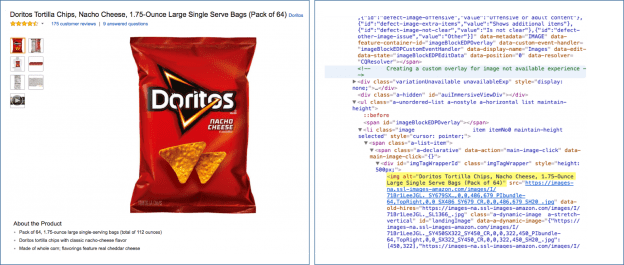 Credit: Moz.com
Instagram alt text will automatically be added to your post using AI, but it's a better idea to write it yourself as you can add your keywords.
8 – Use More Videos
Videos are one of the most popular Instagram trends these days. Actually, They can incredibly boost your engagement as videos receive twice the engagement of photos on Instagram. Another great thing about videos is that although Instagrammers tend to check the feed very fast, they hesitate to watch videos. With the introduction of IGTV, the latest video sharing method on the platform, people spend incredibly more time watching videos than before (80% to be exact).
https://www.instagram.com/p/B-koL4AHbH0/?utm_source=ig_web_copy_link
Moreover, videos can go viral quickly, which creates an excellent opportunity for increasing brand awareness, and as a result, people start searching your profile on Instagram to watch other videos and probably start following you.
Creating videos might take more time than preparing photos, but it certainly worth it. Remember, you don't have to be a professional YouTuber or producer to make viral videos. Thanks to the global passion of taking selfies, every smartphone has a high-quality camera, and you only have to be a little bit creative!
Note: It's a good idea to create "How To Do" and "DIY videos as Instagrammers love to watch, share, and save them.
9- Make Friends with Influencers
Another Instagram SEO hack is partnering up with influencers. Influencers can make a real difference when it comes to brand awareness and build up trust with the audience. The beauty of using influencers lies in the fact that they usually use indirect marketing methods instead of traditional ways. This is an excellent way to promote your products or services as the influencer uses them in a natural and everyday manner.
For example, if you own a business selling organic food ingredients, one of the best ways to promote your account is to send your products for food influencers and ask them to mention your brand.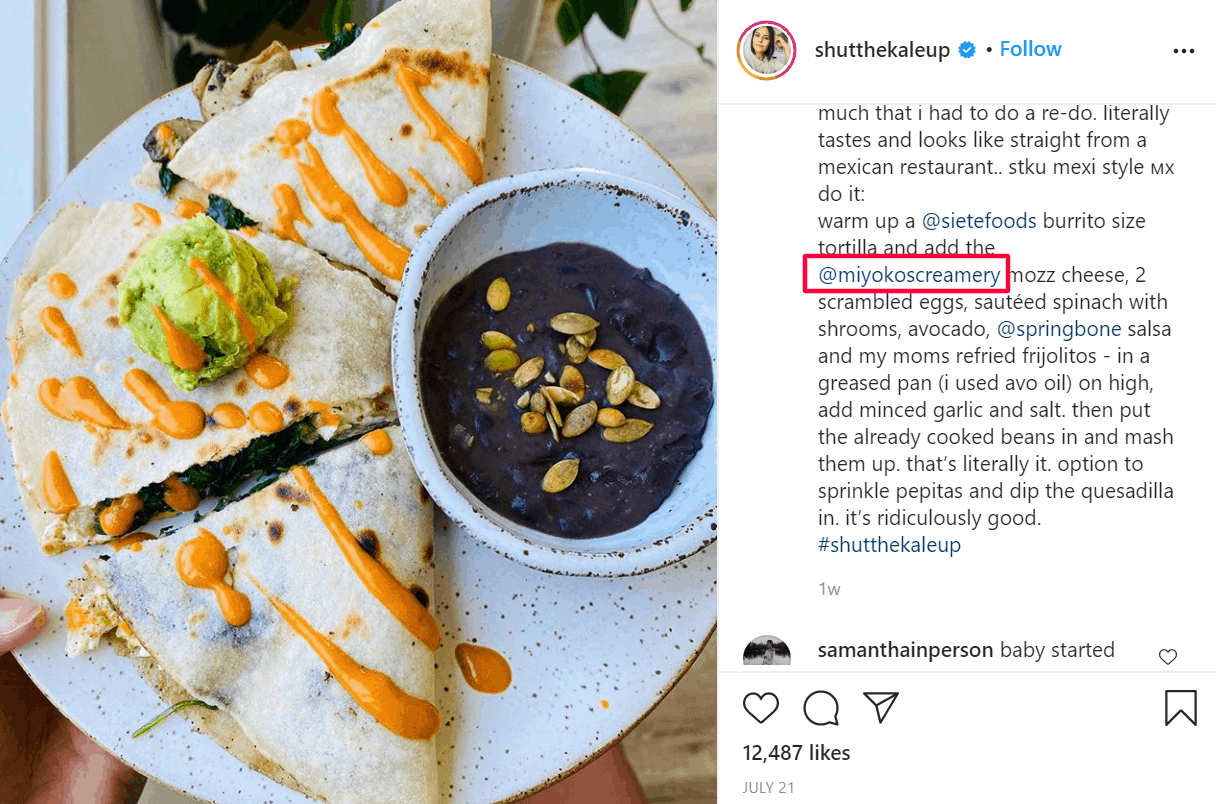 Source: https://www.instagram.com/p/CC4EcHCJIBr/?utm_source=ig_web_copy_link
Luckily, there are all types of influencers for every niche and budget. You may think that the more Instagram hacks to get followers an influencer has, the more engagement and username search it creates for the page. Well, that's just partially true. Actually, research showed that influencers with fewer followers have the highest engagement. For example, influencers who have 1k to 5k followers have an outstanding 8.8 percent engagement rate. So, don't worry if you don't have the budget for celebrities and big names. It's worth mentioning that many global brands, such as Coca Cola and Nike, continuously run micro-influencer campaigns.
No matter how rare your business niche is, you can still find a perfect influencer even during the pandemic.
10- Analyze Your Account Performance
Last but certainly not least: always have an eye on your page performance. Just like a web SEO expert who checks and analyzes the reposts daily, as an Instagram manager, you, too, should be aware of any detail about your account's performance. For example, if an influencer promotes one of your posts or products, monitor your page immediately after tools such as Instagram Insights or maybe third-party apps that will give the analyzed data.
Check for the best posts and see which one has brought you more profile visits. These posts might be the best types of content that attract people, and you can invest in them more confidently.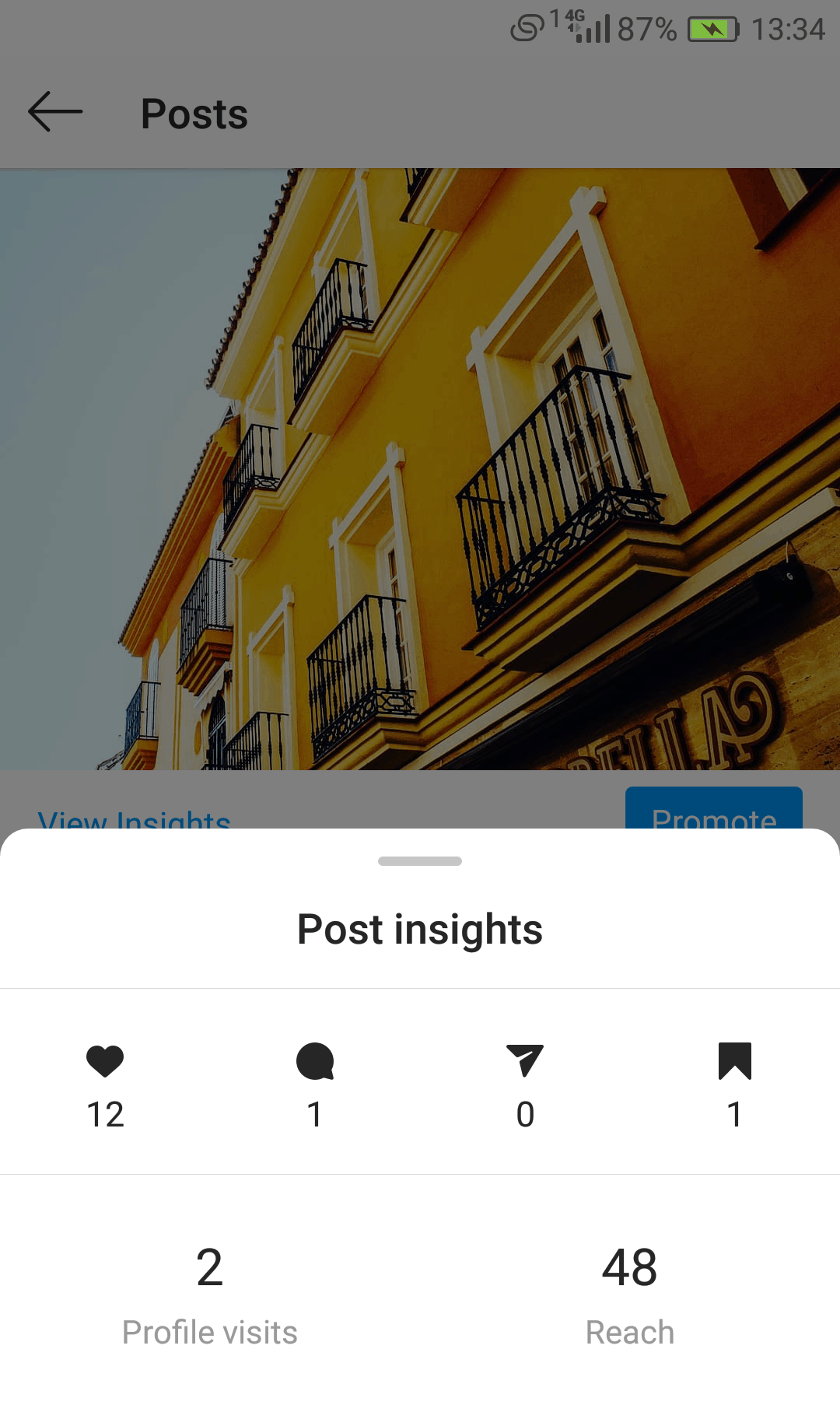 Analyzing your Instagram page allows you to detect any problem with the measures you've taken, so you can change and adopt other options, like using the hack to get more followers on Instagram. For example, if you see the promotional posts published by your influencer are not working the way you expected, you can always start working with another.
Wrap Up: Instagram SEO Hacks
In this article, I provided a listicle of the best Instagram SEO hacks that you can use to raise your visibility on the Instagram search engine. With careful planning, constant tracking, and using these SEO hacks, you can be sure that you'll be a winner in this crazy platform.
[starbox]