More than ten years since its launch, Instagram has grown on an unbelievable scale. And in 2023, Instagram's growth isn't just reflected by its one billion-plus users but also through its constant addition of features almost month after month.
During its early years, Instagram could be described as a photo-sharing app. Today, you can share videos, go live, shop, play around with Augmented Reality features, and so much more.
With that many features and millions of other users to compete with, how do you begin to stand out?
To help you, we've narrowed down the Instagram hacks and tricks you should focus on for 2023 and sprinkled in some valuable tips.
1. Jump on Instagram Reels
Instagram Reels is one of the platform's newest features and Instagram tricks that allows you to share and record short 15 to 30-second videos. If you think it's just another TikTok clone with less following, you may be right. But you can't forget Instagram's ability to adapt to current app trends and make it better.
Remember when Instagram Stories was labeled as a Snapchat copycat? Today, it has over 500 million daily active users — almost twice what Snapchat has. So, if you think Instagram Reels cannot reach the popularity of TikTok, think again!
In order to compete with TikTok, Instagram has put Reels front and center of the app, making it easier for early adapters to get discovered once they know how to Instagram hack their way to more views. As part of its efforts to promote the feature, Instagram has also created a separate hashtag page for Reels users, an excellent opportunity to reach a wider audience by owning specific hashtags.
If your content is fun and creative, Instagram will feature your Reel on the Explore page and label it as "featured" — where else can you get free advertising?
Here are some content ideas you can try out on Instagram Reels:
Create your own challenge or join a trending challenge that's relevant to your brand
Quick product tutorials
Behind-the-scenes content
Day in the life
Point-of-view style videos
Share digital newsletters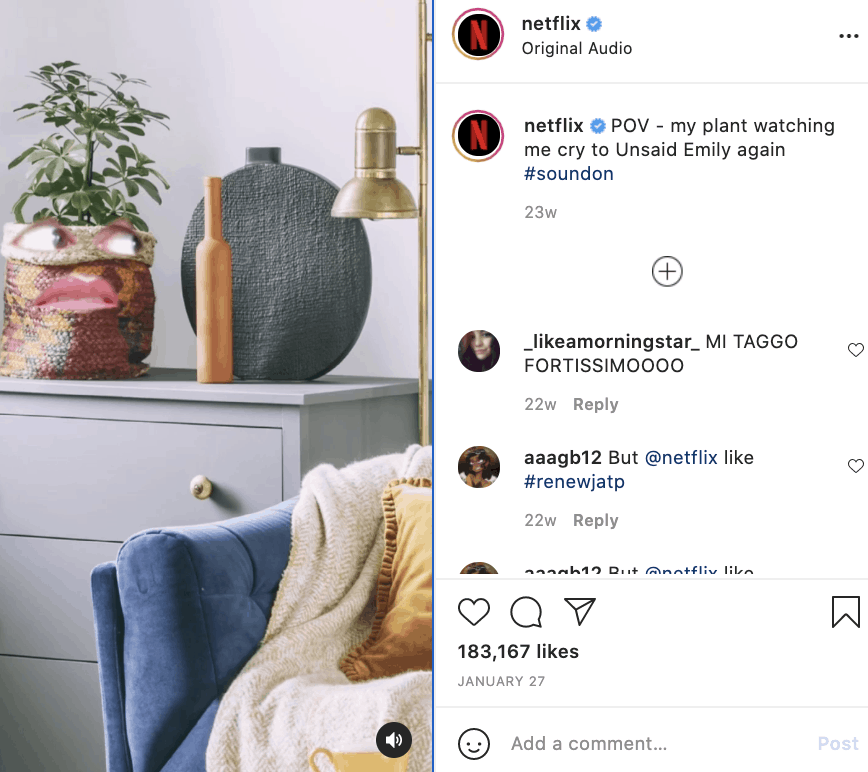 Image Credit: https://www.instagram.com/netflix/
Streaming giant, Netflix (@netflix), uploaded a hilarious original audio clip that very lightly promotes the show Emily in Paris. The video itself is highly shareable, while the audio can easily go viral as followers can use it on their own Reels.
Think of Instagram Reels as a whole new playground, don't be afraid to experiment with new types of content that can help you stand out.
2. Set Up Instagram Shopping
In the past, Instagram was simply a platform for brands to build awareness and promote their products. With Instagram Shopping, you can turn your profile into a digital storefront where your customers can browse and shop without having to leave the platform.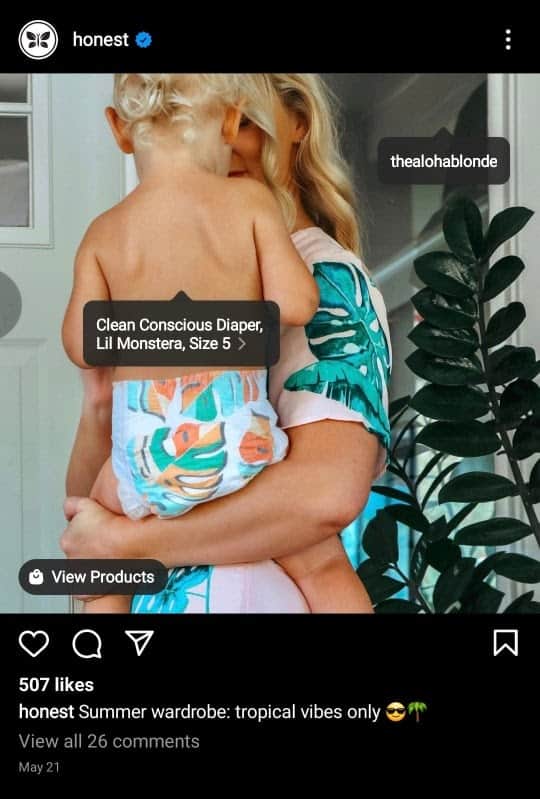 Image credit: https://www.instagram.com/honest/
The Honest Company (@honest) uses Instagram Shopping's Tag Products feature to create shoppable content. Interested followers can just tap on the photo to view the product and click on the product description to be redirected to the product landing page.
The Tag Products feature allows you to create seamless shoppable content without having to worry about naming your products on your caption. Instead, you can focus on a stronger call-to-action or tell a story about your product. Using the Tag Products feature is also more convenient for your customers as they can easily browse your feed and get all the information they need.
Instagram Ads can now also include Product Tags, making it easier to capture the attention of your customers.
Aside from your main feed, you can create your own shop on Instagram, a separate page that allows you to categorize by Collections and provide detailed descriptions about your products. The shop can drive people to your website to complete the transaction or — if Instagram Checkout is available to you — purchase directly on the app.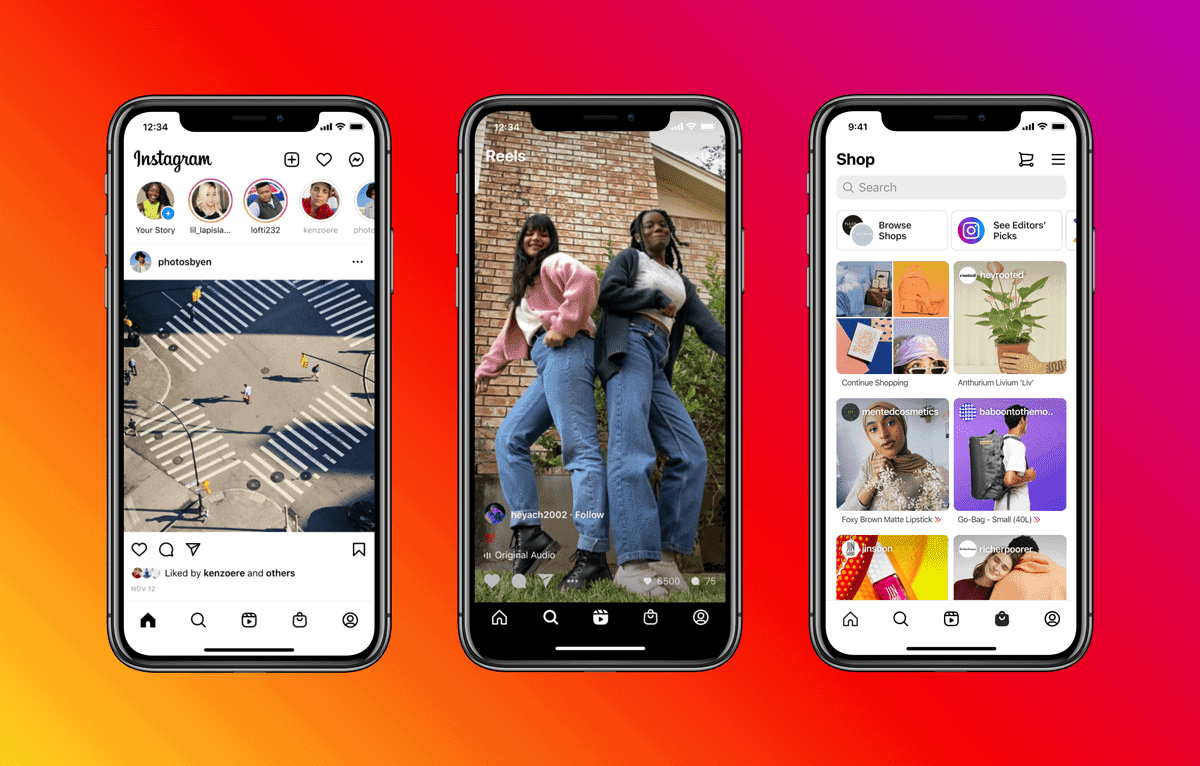 Image credit: https://business.instagram.com/
Together with Reels, Instagram Shopping also gets its own Discover tab right on the homepage where users can find new brands, product collections, and all kinds of shoppable content curated by Instagram editors.
Instagram Shopping makes it more convenient for your customers to shop. It shortens the buyer's journey by creating a space where they can discover, browse, and shop in just a few taps. Once Checkout goes live in your country, you can say goodbye to the age-old "click the link in our bio!" caption.
3. Trigger Your Followers' FOMO with Instagram Live
With so many brands and businesses available, customers expect more than just great products; they're looking for authenticity. When it comes to views, customers are 2.4 times more likely to view user-generated content as authentic as opposed to brand-created content. This means you need to engage with your followers on a deeper level to differentiate yourself from your competitors. You need to put a face to your brand and support it with a voice that aligns with what your followers believe in. The best platform? Instagram Live.
Instagram Live allows you to have a conversation with your audience in real-time. Unlike your main feed that can easily be filtered, a live feed is hard to manipulate. Going live can help you build trust and give your followers the opportunity to get to know you better. According to a study, Millennials and Gen Z-ers prefer "real and organic" brands over "perfect and packaged".
The best thing about Instagram Live is that it puts your content at the top of your followers' feeds, ahead of all the Instagram Stories and highlighted in purple. If that's not enough to capture your audience's attention, everyone who has their notifications turned on for Instagram will get notified when you go live.
Unlike the typical Instagram Story, Live Stories can go for as long as one hour, giving your more options content-wise.
Use Live Shopping
If you're in a country that supports Instagram Shopping Checkout, then you're also one of the lucky few who can start selling on Instagram Live. The Live Shopping feature allows you to tag a product from your catalog and pin it on screen. Viewers can simply tap on your featured products to purchase.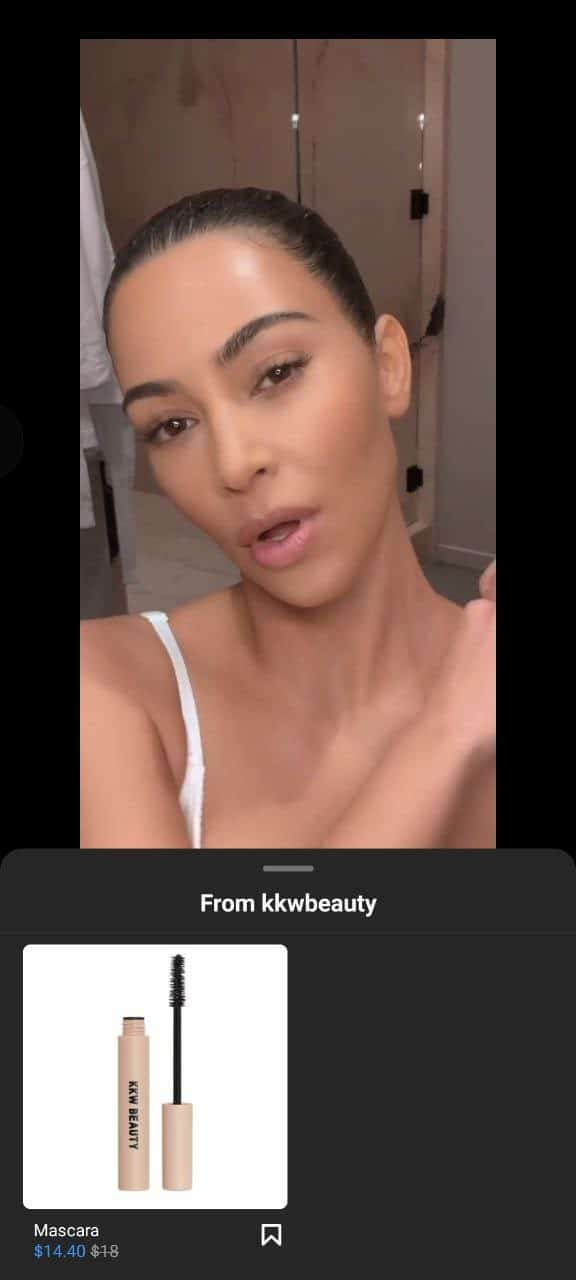 Image credit: https://www.instagram.com/kkwbeauty/
KKWBeauty (@kkwbeauty) goes on Instagram Live to show product demonstrations while the featured product is pinned on screen.
Live Shopping creates a unique and personalized experience for your audience where they can ask questions and learn more about your products on the spot. You can also use the opportunity to give special discounts to all your viewers or launch a product. Instagram Shopping has product launch reminders to create anticipation.
The fascination with live content existed even before the age of social media; it's human nature. Use that knowledge to your advantage — use Instagram Live to create a sense of urgency and trigger your audience's fear of missing out or "FOMO".
4. Start a Guide
Instagram Guides launched last May 2020 with not much fanfare, but it's one feature you can't ignore. Guides allows you to categorize your posts like a blog, so users can easily find what they're looking for.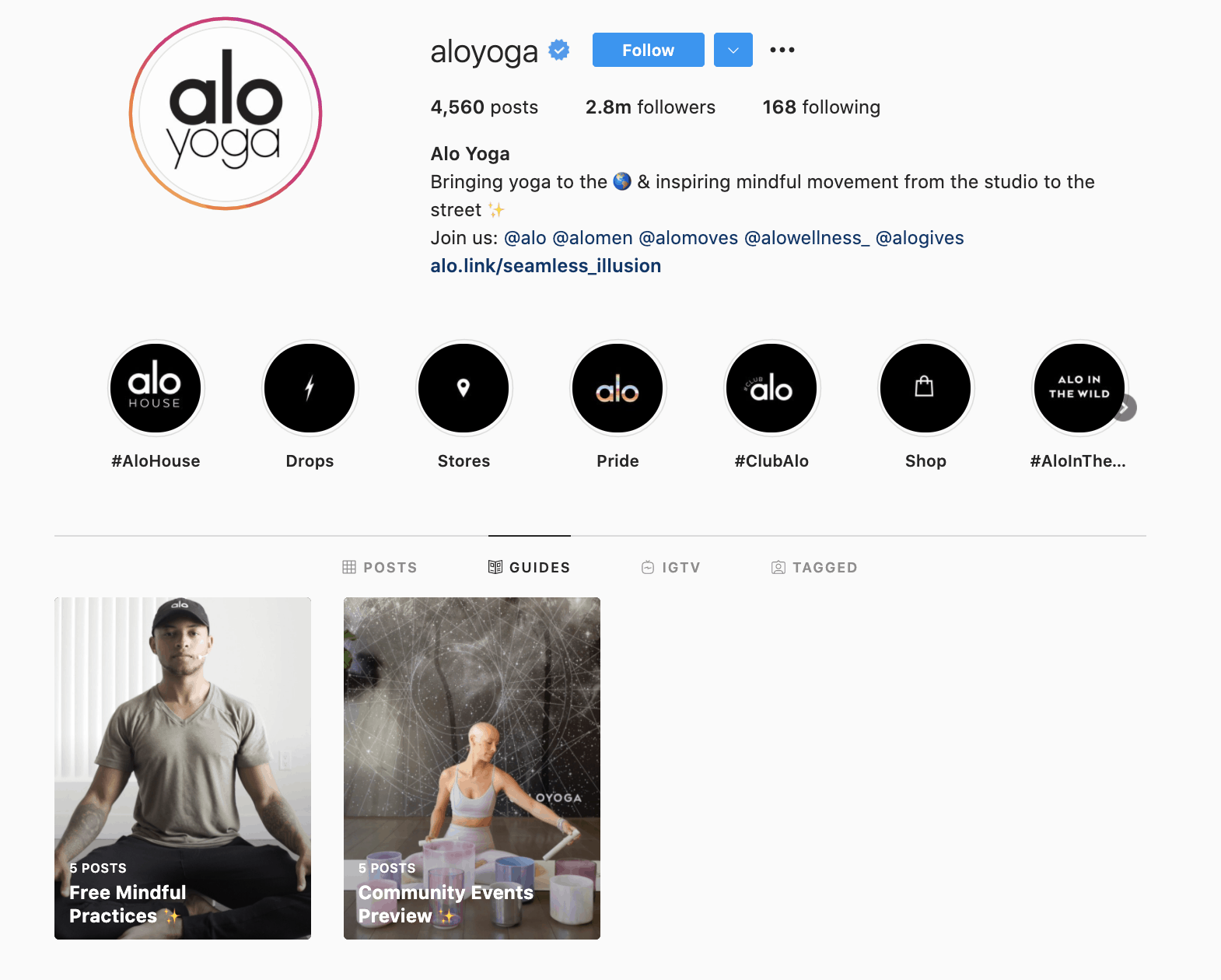 Image credit: https://www.instagram.com/aloyoga/guides/
Alo Yoga's (@aloyoga) Guides lead followers to specific videos under the umbrella categories.
Using the Guides feature makes your profile more navigable as Instagram doesn't have a search bar that allows your followers to search for specific posts. It also encourages your followers to revisit some of your older content, which can help increase engagement and revive conversations.
Guides was primarily created to focus on wellness content where users can access helpful tips and resources during the pandemic. The feature is now available to more content creators.
5. Rethink Your Posting Strategy
You probably already know that Instagram's algorithm doesn't guarantee that your followers will see your content on their feeds. Your posts will only appear to those who regularly interact with your profile. So if you can't promise stellar content daily, then consider spacing out your posts to focus on producing quality content.
Before posting, ask yourself "Does this bring value to my audience?". A mediocre post won't get engagement, which means fewer eyeballs, which also means you wasted your time and effort.
Don't take this as a sign to neglect regular posting. It's still important to be consistent with your schedule. If you take too long between posts, however, your followers might just forget who you are. Remember: your followers probably follow hundreds of other accounts; it's pretty easy to disappear if you don't make your presence known.
Pro tip: Make the most out of your posts by boosting them! Focusing too much on organic posts won't get you anywhere. Having a regular budget for boosting will make sure that your content is more hardworking and won't go to waste. This way, you won't have to worry about not being seen. If you do boost, make sure you have a call to action to make the spend worth it.  Sign people up on your email marketing list so you can continue to connect beyond social media.
6. Post More Videos
Video is the star of pretty much every social media platform, including Instagram. It's simple, video content gets more engagement because people tend to view it longer. With the way Instagram's algorithm works, the more engagement it gets, the more chances of reaching a wider audience. If you haven't considered posting videos yet, it's high time to start shooting.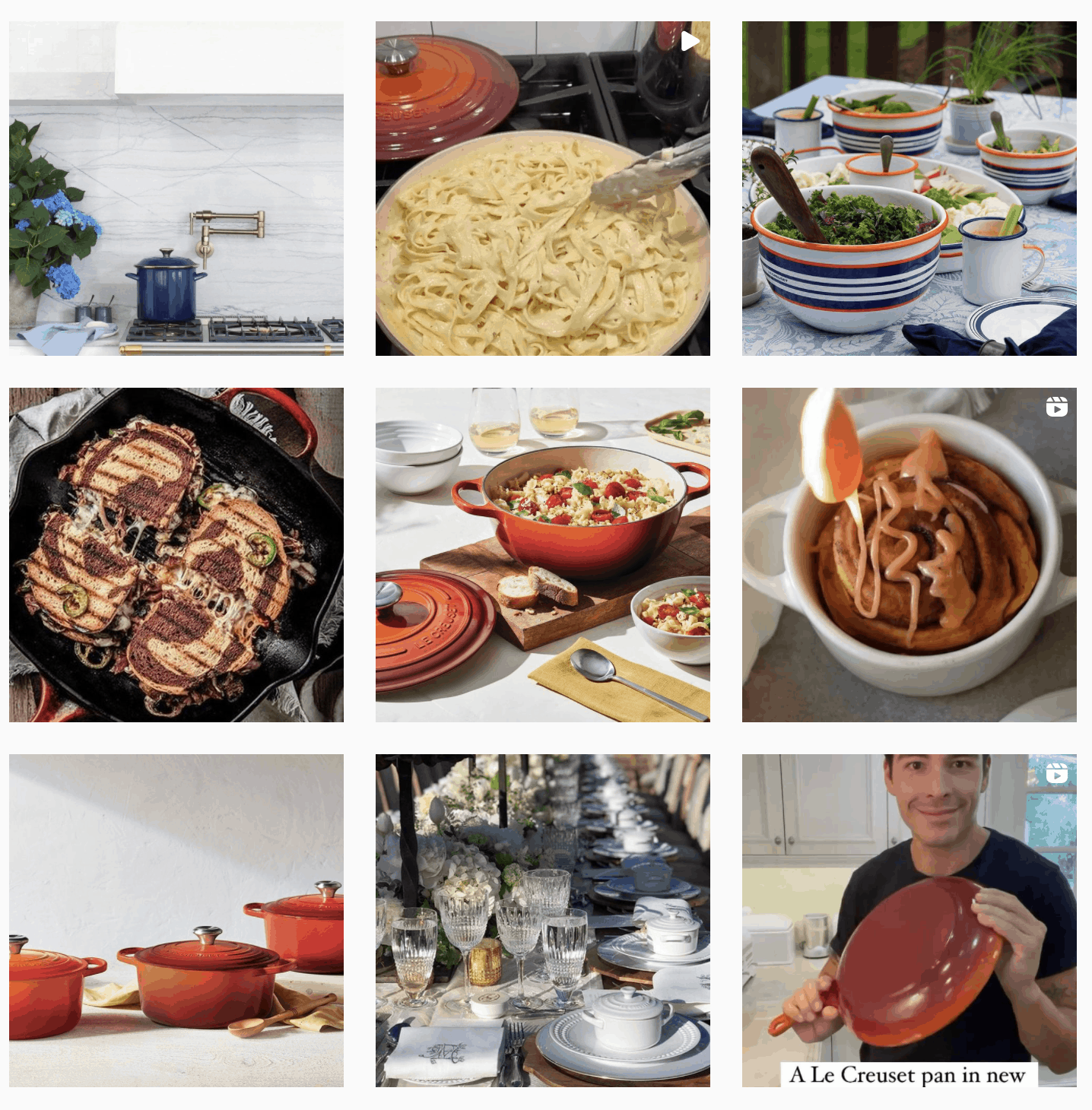 Image credit: https://www.instagram.com/lecreuset/
Popular cookware brand Le Creuset (@lecreuset) regularly posts videos on its main feed as well as on IGTV and Instagram Stories.
If your product or service requires some demonstration, videos are your best solution. 79% of consumers prefer a video rather than a text based review. As a creative medium, it also allows you the most freedom to create stories. You can post how-tos, unboxing videos, employee features, behind-the-scenes moments, and so much more.
The beauty of using Instagram as your platform for video content is that you have so many options: your main feed, Instagram Stories, IGTV, Reels, and Instagram Live.
Pro-tip: It's considered best practice to include captions or subtitles on your video content. Captions allow you to reach the majority of people who watch videos on mute as well as the hearing impaired. According to a report by Verizon Media, video captions help with ad performance and brand recall.
7. Tell a Story Through Captions
Advertising copywriters are always taught less is more. Posting ads have recommended character lengths, which limits you to a sentence or two. While short and snappy captions are best for filler posts or simple "buy now" ads, this shouldn't be the case for all your posts.
You might have noticed that brands and content creators have turned their Instagram accounts into microblogs — and for good reason. Visual content will always be the highlight of an Instagram post but your caption could just as easily be the hook that keeps your followers wanting more.
Humans of New York (@humansofny) is probably the best example of the power of captions and storytelling. Without the lengthy captions beneath each portrait, it's safe to say that the Humans of New York account would not be able to achieve such long-lasting popularity.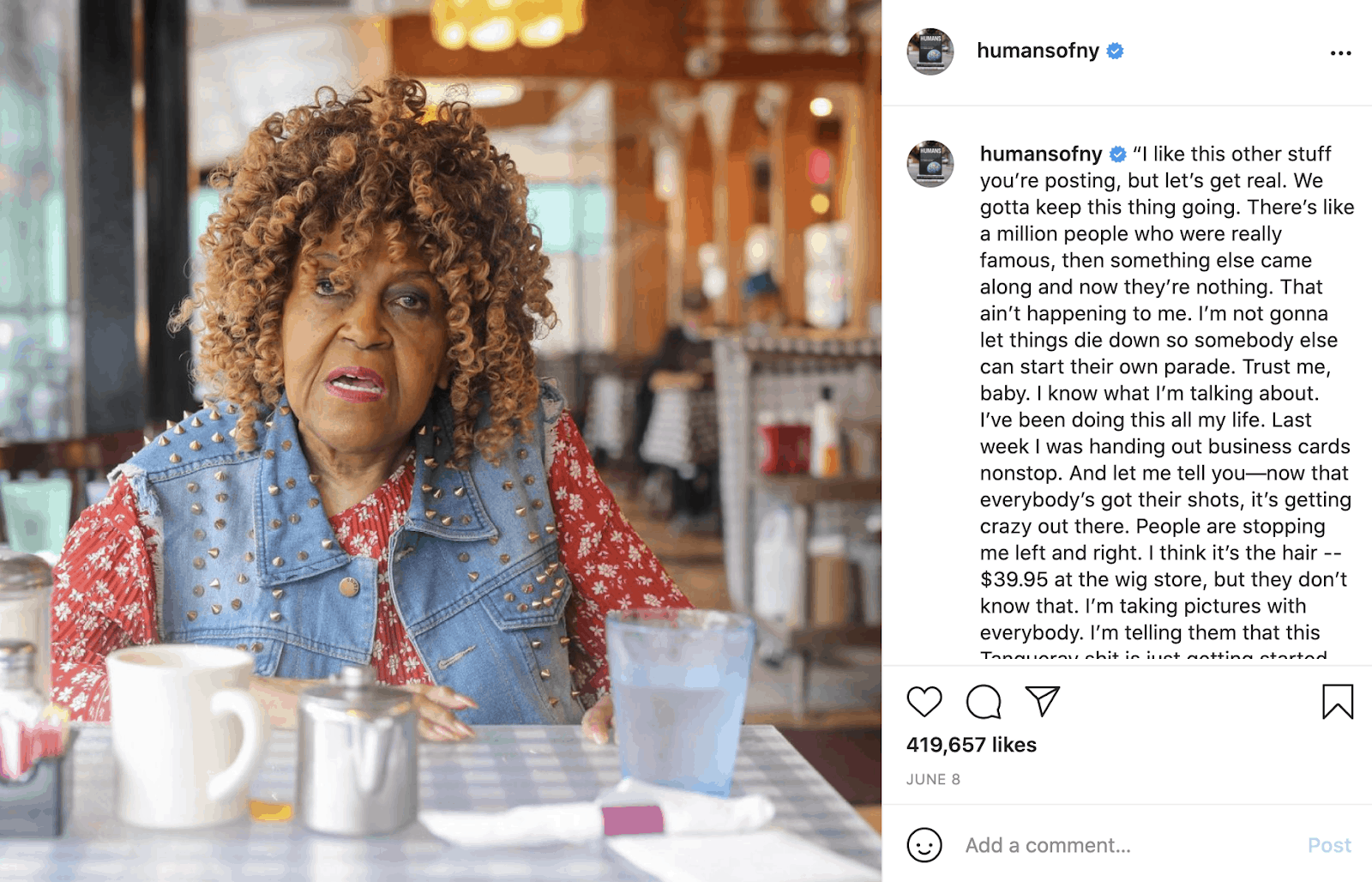 Image credit: https://www.instagram.com/humansofny/
You might think that nobody would bother to read long blocks of text, but these posts garner hundreds of thousands of likes and thousands of comments. Some posts have even evolved into a series with followers eagerly waiting for the next one.
Long captions don't just work for content creators but brands as well. Use the space to tell a story about your product, how your brand began, or to share an insight. As long as your caption adds value to your image, your followers will keep reading.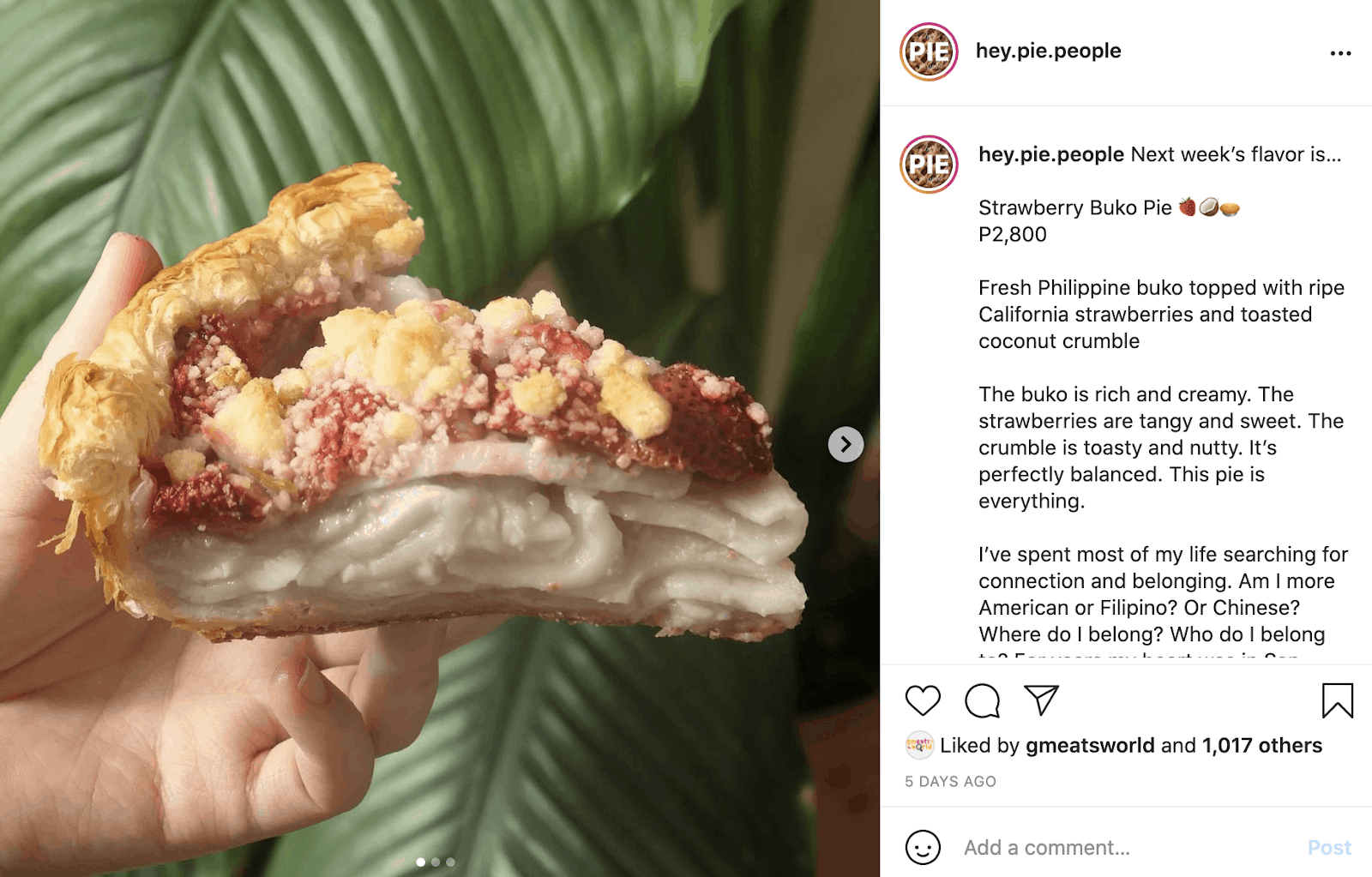 Image credit: https://www.instagram.com/hey.pie.people/
Take Inspiration from Hey Pie People (@hey.pie.people), a home-based pie maker from the Philippines. Her pies sell out in seconds, not only because they're delicious but also with the help of her brilliant storytelling, as shown in her captions. Whenever a new pie flavor is launched, a story comes with it, enticing people to taste the flavor rooted in so much culture and personal history. This Instagram hack will work wonders!
Final Thoughts on Instagram Hacks in 2023
The thing about Instagram or any other social media platform is that there's no definite playbook or manual to help you achieve your goals although there are loads of essential Instagram tools out there to choose from. What works for another brand could completely fail for yours — it's all about trial and error.
Experiment with different Instagram like hacks, content formats and compare the results. You won't really know what works best for you until you've tried everything.
Make sure you're signed up as an Instagram Business Account to see your posts' performance. Hit a dead end? Ask your followers what they want. Utilize the Instagram Stories poll and question stickers to gather useful insight and make the most of these Instagram hacks in 2023.