Instagram influencers have had a profitable business during the past decade. COVID-19 might have hit this business just like the other sections of the world's economy.
In this post, we're going to find out the impact of the COVID-19 and the role of Instagram influencers during a pandemic. Then we'll try to provide several tips for leveraging influencer marketing during the current crisis.
Social media marketing during the COVID-19 pandemic
People are forced to #STAY_HOME due to lockdowns so online activities have significantly increased. Of course, social media apps/sites are at the center of people's attention.
This is why we see a considerable rise in social media usage since the outbreak of the Coronavirus which seems to continue by the end of the crisis. For example, Instagram is facing a 40% increase in usage in the wake of the Coronavirus.
Online purchasing is one of the most important purposes of people when using the internet. Almost 50% of these people search for their favorite goods on social media services.
So as a digital marketer, you can take advantage of this situation to increase their sales using social media marketing.
Of course, if you want to reach success in social media marketing during the Corona crisis, you need to change your marketing strategies. Of course, influencer marketing is one of the most important parts of your strategies that should be revised.
Influencer marketing on Instagram
People usually take care of what influential persons say or suggest. Using personalities' endorsement for promoting a product/service has long been used by brands.
With the rise of digital marketing, many traditional means of advertisement have changed and these endorsements are no exception.
Actually, it's not necessary for a person to be a celebrity to promote a product/service. Everyone has his/her own social channel these days. So they can broadcast their own content and gain followers.
Common social users with a relatively large following and a high engagement rate are usually called "influencers".
Influencer marketing has been a profitable business on social media during the past decade, and many people try to gain fake followers to become influencers. Trading Instagram accounts, for example, has been very sought after recently, based on a report by Social Tradia.
Predictions before the Coronavirus outbreak had indicated that around 20% of marketers will pay between $1,000 and $10,000 to influencers in 2020.
Another 20% group of marketers had a plan to spend $100,000 – $500,000 on influencer marketing in 2020. Even around 10% of companies had decided to invest more than 1 million USD in influencer marketing in 2020.
These statistics have significantly been impacted for Instagram influencers during a pandemic. So you need to revise your influencer marketing approach as part of your social media marketing strategy, according to the current conditions.
The impact of COVID-19 on Instagram influencers
When a crisis happens, many businesses might suffer but there are always brands that somehow make profits.
Influencers are no exception and many of them might get more followers or even make more money during the Corona crisis.
To figure out how COVID-19 has impacted Instagram influencers, the way is to consider several examples from different niches.
Travel influencers
Travel influencers are one of the most sought after Instagram users. Breathtaking sceneries and natural views are the constant items on the feed pages of travel influencers.
Here are several examples of travel influencers and changes in their followers:
@muradosmann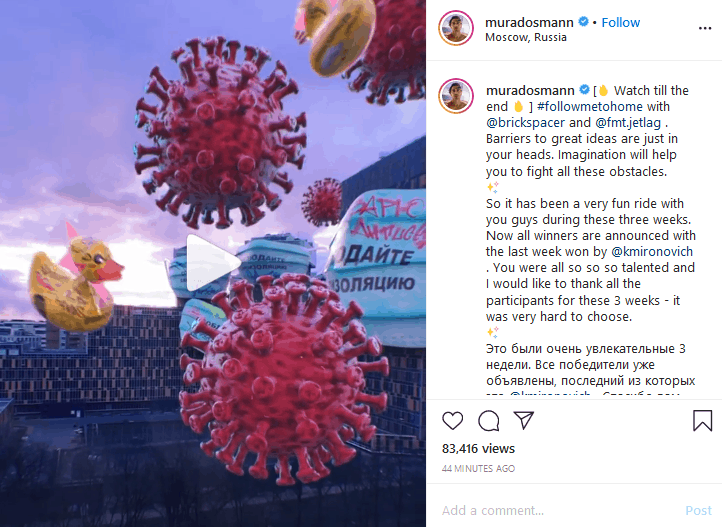 Murad Osman is one of the best travel influencers on social media, based on Forbes. He and his fiancé have invented a theme that had rapidly gained fame on Instagram. Unfortunately, his following has decreased during the crisis by 100,000.
Although this amount is still nothing compared to his whopping 4 million followers, he's suffered from lockdowns and #Stay_home regulations.
@thebucketlistfamily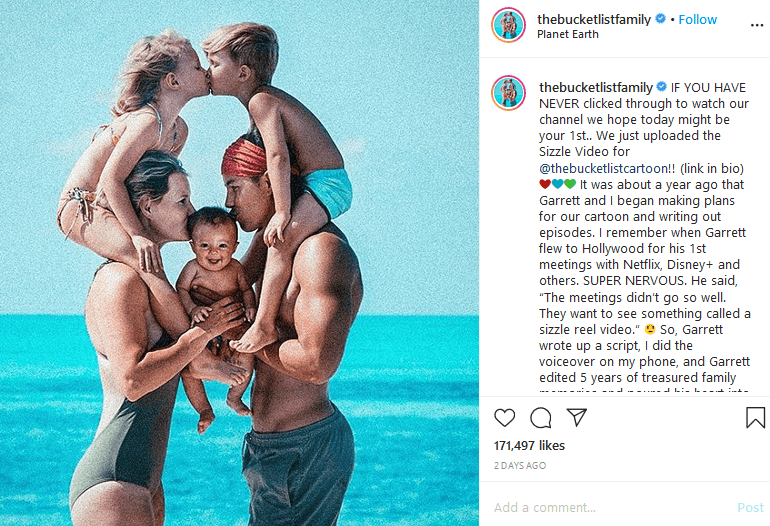 The Bucket List Family ranks is another influencer account that is owned by a happy family. They had 2.4 million followers on Instagram and have saved this number during the crisis.
@izkiz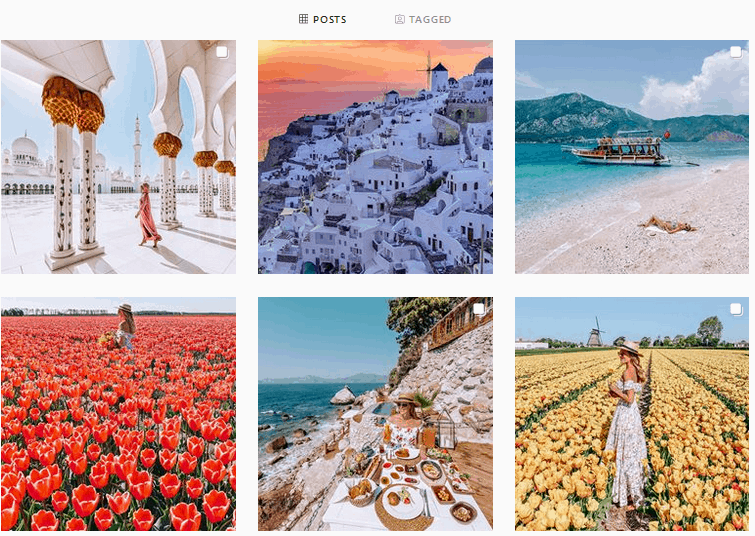 Jennifer Tuffen is another travel influencer on Instagram from Britain whose following has remained unchanged during the Coronavirus pandemic. Her knowledge of different cultures and religions is unique among other influencers but this has not helped her to grow her following in this period.
Other accounts related to travel influencers have also had the same experiences like the above examples. Some of them have faced a drop and some of them have saved their followers.
Generally, travel and transportation sections have suffered the most in the wake of the Corona outbreak.
Fitness influencers
Fitness is another niche in which many influencers are creating content on Instagram. Many of them have millions of followers making this industry a lucrative field. Workouts and daily routines are the most sought after posts fitness influencers provide their followers with.
Many of these workouts can be done in apartments and don't need a gym or expensive facilities. Here are two examples of fitness influencers to see how their followers have changed during the crisis:
@michelle_lewin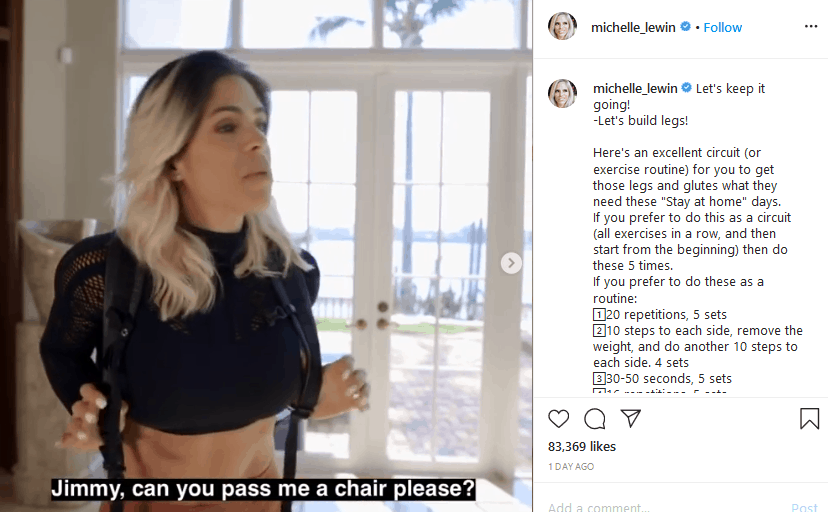 One of the best Instagram fitness influencers is Michelle Lewin from Venezuela. She's recently posted several contents mentioning COVID-19 and "Stay at home". She has now 13.7 million followers which are 100,000 followers more than her followers before the outbreak of the Corona crisis.
@kayla_itsines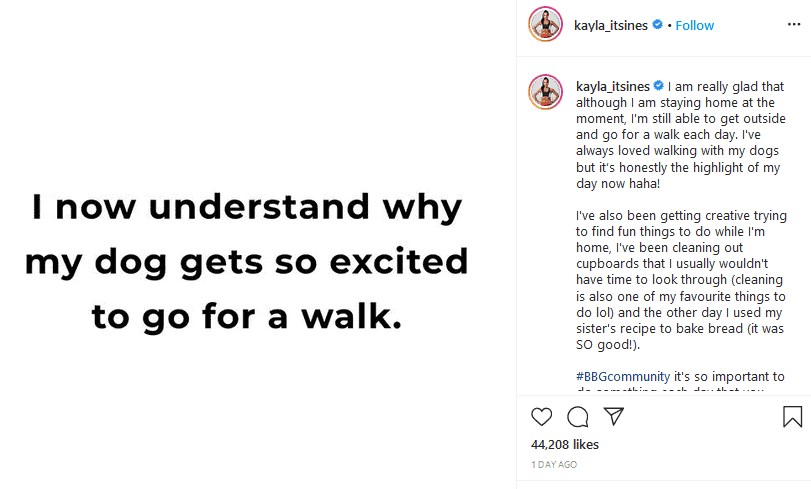 Kayla is another Instagram fitness influencer who has recently posted about the difficulty of staying home. The number of her followers has increased from 12.2 million to 12.4 million followers during the lockdowns.
@simeonpanda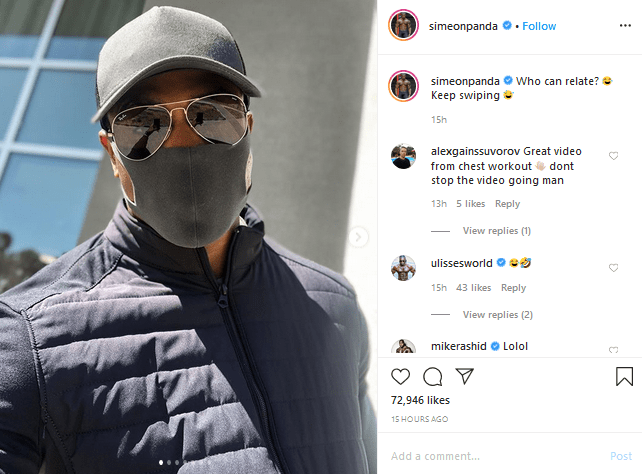 Another fitness influencer can inspire you if you like weightlifting and bodybuilding. It's hard to find a better influencer related to these areas of expertise as he has started bodybuilding since the age of 16.
The number of followers of this account has increased from 4 million to 4.6 million during the COVID-19 crisis. Of course, he has not been indifferent about the issue and has posted related content to the crisis.
Many other fitness influencer accounts like @thebodycoach have gained more followers during the COVID-19 pandemic.
So it can be said that fitness influencers have been able to maintain their brand on Instagram. Of course, one important reason can be the #Stay_home orders.
Because people usually gain weight when staying at their apartment and require workout routines specifically for apartments.
Fashion & Modeling influencers
@gigihadid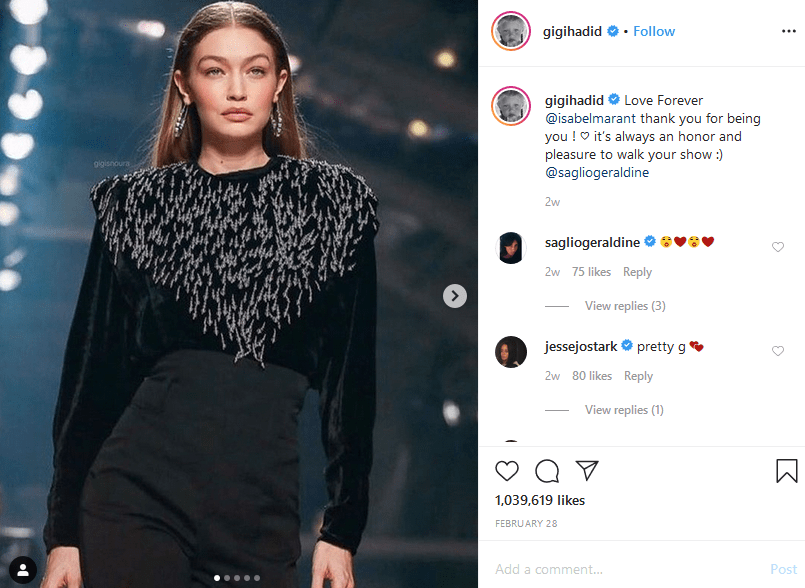 Jelena Noura Hadid is a top model on Instagram with more than 52 million followers. She's making around $10 million each year, based on Forbes. Her followers have recently increased from 52.1 million to 52.3 million.
@bellahadid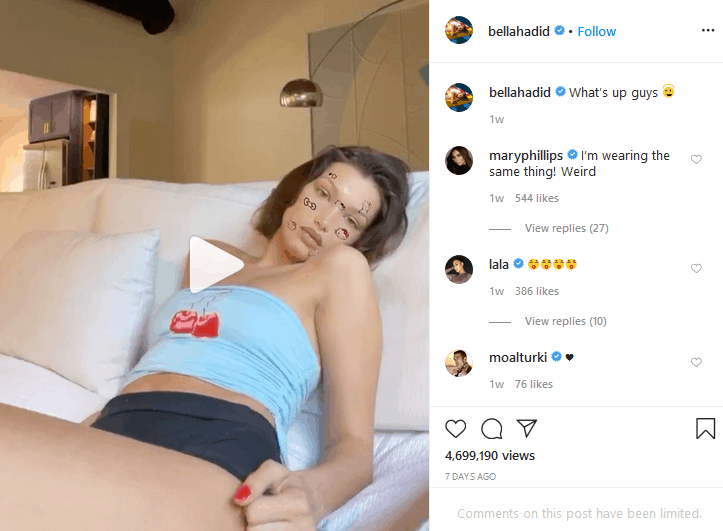 Isabella Khair Hadid (a.k.a Bella Hadid) is GiGi Hadid's sister. Just like her sister, she's also been able to increase her followers from 29.1 million to 29.9 million.
@chrissyteigen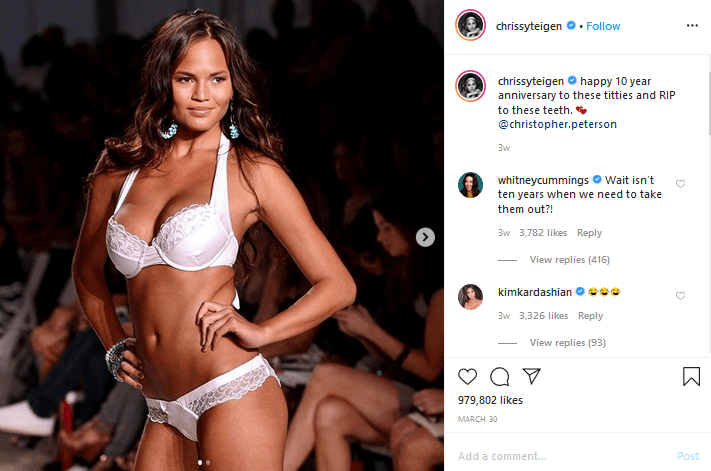 Christine Diane Teigen is another model on Instagram born in 1985 in America. She has increased her followers from 28 million to 29.2 million during the Coronavirus outbreak.
Many other fashion influencers and models like Candice Swanepoel and Chiara Ferragni have also been successful in increasing their followers.
This shows that people, especially youngsters, are paying more attention to models when wasting more time at home.
Food influencers
Food contents are among the most viewed posts on Instagram and many influencers are active in this niche.
To in what way the Coronavirus has impacted this niche, it's good to know several food influencers such as:
@minimalistbaker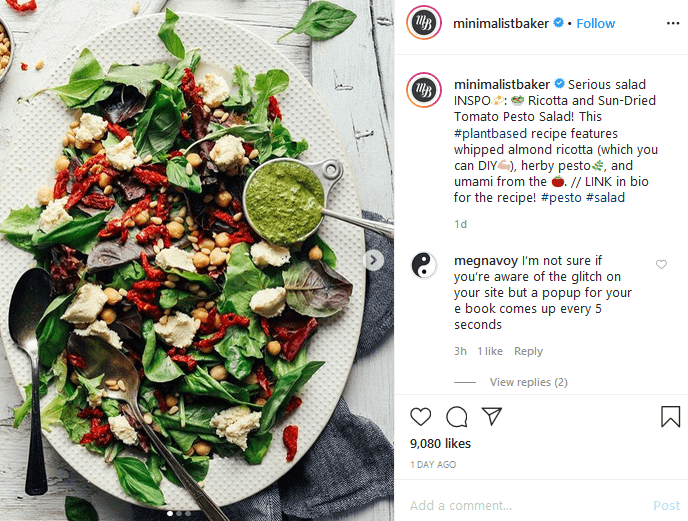 Minimalist Baker is an Instagram account related to food which is food influencers. The account's followers have increased from 1.7 million to 1.9 million during the recent month. This shows that the Corona crisis has not been able to dent its reputation.
@skinnytaste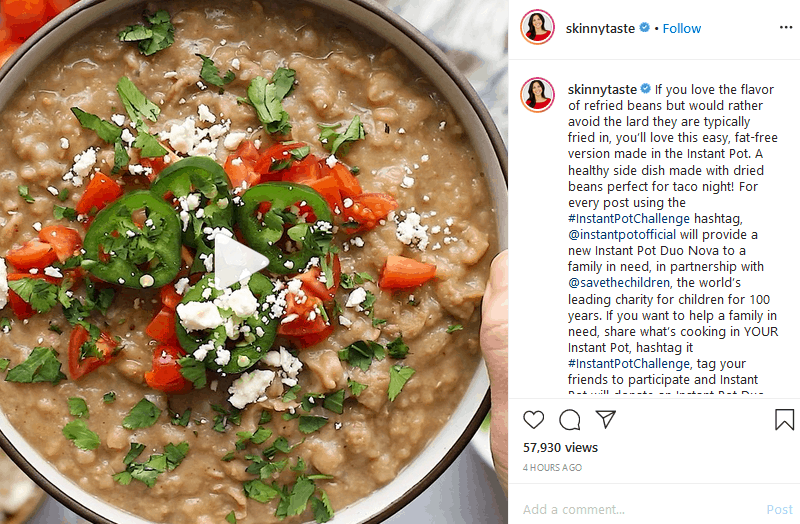 Skinny is another top food influencer account that provides you with healthy recipes to remain skinny! Just like the previous example, the number of followers of this account has increased from 1.3 million to 1.4 million.
@halfbakedharvest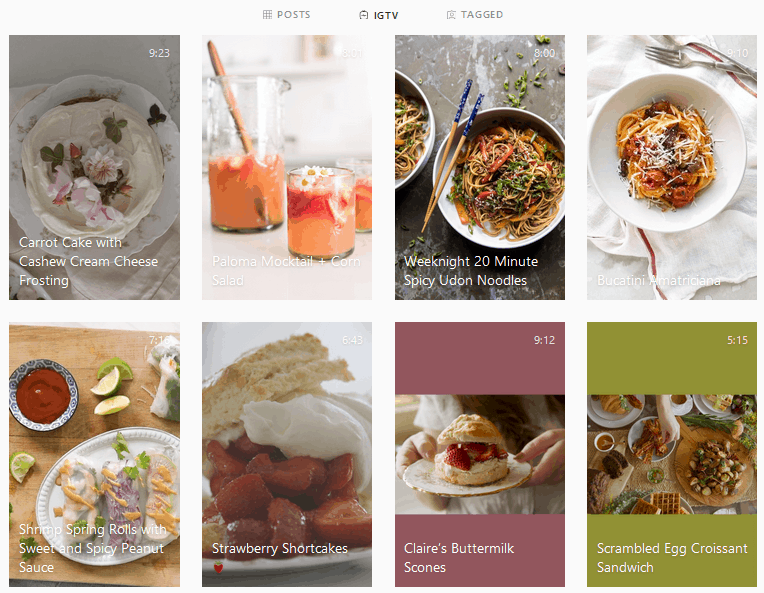 Tieghan Gerard is another food influencer on Instagram who is the owner of Half Baked Harvest. She has developed many different food recipes authored a cookbook. The number of her followers has increased from 1.1 million to 1.4 million during the Corona crisis.
Many other food-related accounts on Instagram like @smittenkitchen and @whatsgabycookin have recently experienced an increase in their followers.
So it can be said that food influencers have been successful during the pandemic period. It's actually a natural result of people staying home more than ever.
Many of them want to try out different dishes and social media platforms, especially Instagram is the best means of learning them.
Influencer marketing strategy during the Corona crisis
With the Corona pandemic taking too long to be removed, corporate budgets are drying out day by day. So marketing budgets are more likely to be cut to ensure survival during the pandemic.
It's actually the matter of life and death for many businesses and, therefore, spending on marketing seems a luxury decision for them.
Influencer marketing strategy of many companies have changed or even stopped as a result of this economic recession. Subsequently, the majority of influencers are offering discounted prices as no one can afford their previous prices.
Here are several tips for influencer marketing during the Coronavirus contagion period:
Content creators vs. promoters
Influencers usually promote your content to get maximum exposure and increase your authenticity.
Paid influencer marketing for promotion is useful but might not be cost-effective. You can try searching for content creators and ask them to be your brand advocates.
These are not necessarily influencers with more followers, but those with more engagement rates and personal experiences with your products/services.
User-generated content is significantly useful for the current circumstance. Ask your previous customers to take pictures or create clips while using your product/service.
Sharing these kinds of content can help you the most these days and will bring you more shares and higher rates of engagement.
You can offer some prizes like discounted prices for the best content with the most social impressions.
Organic Nano-influencers vs. paid Micro/Macro-influencers
Generally, we can categorize influencers into four different groups:
1. Mega-influencers with more than 1 million followers
2. Macro-influencers with less than 1 million followers
3. Micro-influencers with less than 100,000 followers
4. Nano-influencers with less than 5,000 followers
The first two groups are usually expensive but their large following can help businesses increase their brand awareness.
The third group has also become expensive during the last years because they are highly engaged in their niche. They are usually specialists in a niche and, therefore, their opinion can make a big difference.
On the contrary, Nano-influencers might have a little following but are more organic and with stronger personal engagement.
Many of them are your true customers and are willing to be your brand's ambassadors. They usually have strong connections with their friends and family and can be of great use to you to increase followers and also customers.
During the Corona crisis, you'd better save your money and restrict paid influencer marketing. Instead, you can attract the attention of Nano-influencers who want to interact with your brand.
Local influencer marketing usually demands less money and has acceptable results. Try out local marketing with the help of Nano-influencers to redirect local people to your sales page.
With the long queue of big digital companies like Amazon.com Inc., you have the chance to draw the attention of local customers using local influencers.
Educating influencer marketing vs. luxury advertisement
When people are worried about their health, they certainly ignore many luxury things. So you have to align your influencer marketing with more useful content.
For example, try to teach homemade dishes and promote it with the help of influencers. You don't need to present expensive food and advertise eating at posh restaurants.
People don't like this that you advertise a lavish dish while they're suffering lockdowns. The more you seem like your audience, the more engagement rate you'll get.
This is exactly the role of influencers that should take care of followers' current conditions. Try to choose those niche influencers who can help you develop educating content related to your niche.
Final word on Instagram Influencers During a Pandemic
We tried to discuss the effect of COVID-19 on influencer marketing on Instagram. Of course, this is an ever-changing field and you need to keep tracking trends each day. The ability to change strategies and techniques based on the requirements is an important managing skill every social media marketer should acquire. You can't simply rely on a solid plan and expect it to work forever.
[starbox]