There isn't a single marketer who'd go as far as to say that the COVID-19 pandemic hasn't impacted the way businesses approach advertising. With pre-pandemic marketing messages becoming irrelevant, some changes were bound to occur.
But this isn't a bad thing. There have been allegedly zero shifts in the dynamic of social media use since 2016 which made the pandemic the catalyst of change. It reminded people that social media is primarily a form of communication done best through storytelling.
When speaking about social media, it's important to note that shopping habits, too, were impacted in a big way. Last year was the year when online purchases increased exponentially. This, in turn, made it possible for businesses with an online presence to leverage their social media accounts and appeal to a broader audience.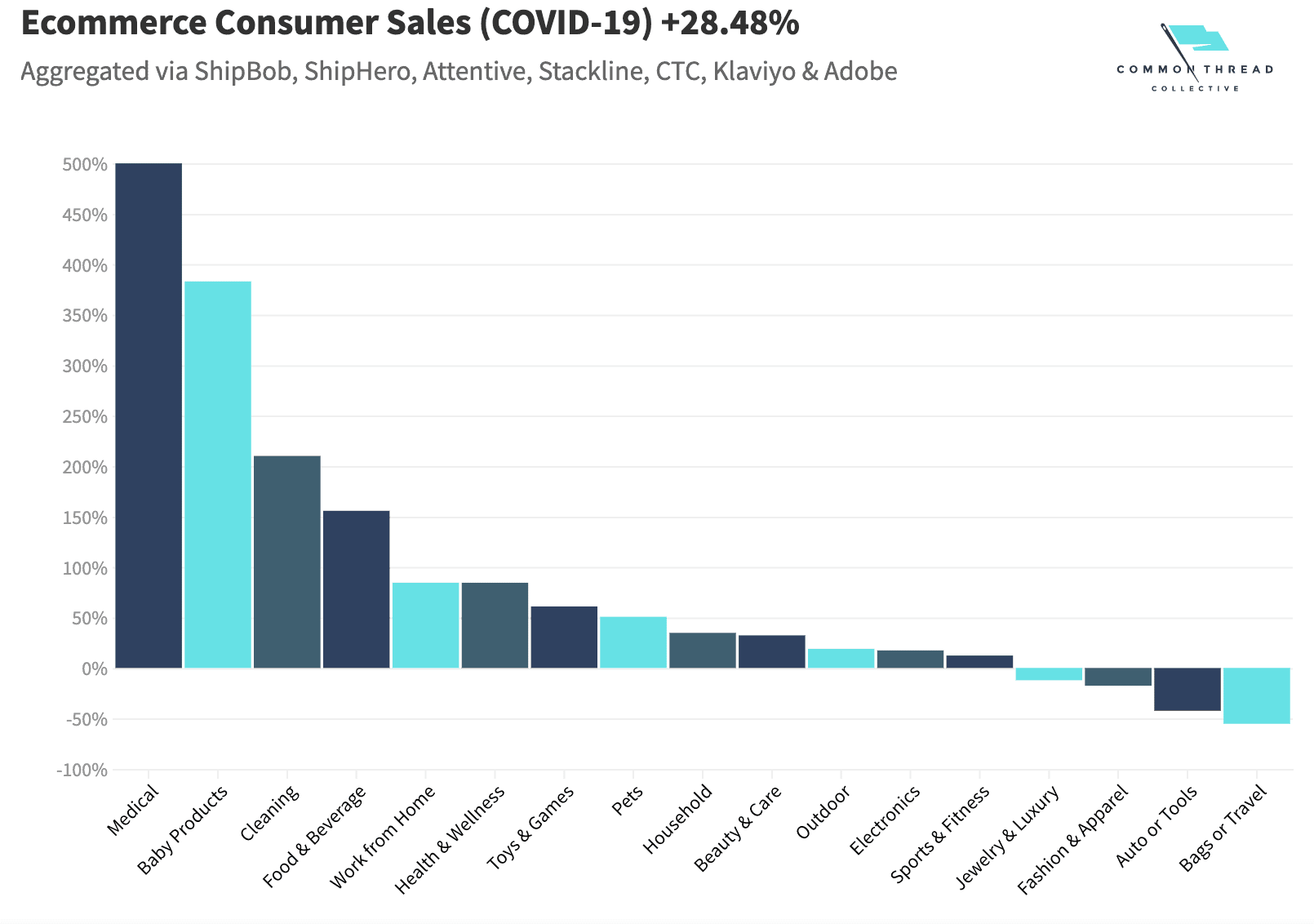 Today, businesses don't shy away from investing more capital into digital marketing campaigns and similar tools that are proven to bring in quicker results.
With social media being one of those tools, you might want to stick around and figure out how you can stand out among the many companies trying to do the same thing as you. At the end of the day, it's all about finding the right balance between listening, engaging, educating, and catering to the customers that care about what you have to offer.
What are the social media trends for 2021 and beyond?
The new rules for social media marketers are largely dictated by the trends that emerged last year. This isn't surprising — as physical distance became the norm, people were forced to find socially distant ways to connect with their families, friends, and brands they could resonate with.
Here's the outcome of the new demand for businesses:
Content remains to be the king
As much as customers were (and still are) looking to support companies that they can personally relate to, the main difference the pandemic brought about was the craving for social interaction. It was taken away without a warning, and brands that understood this early on found that creating content for people to bond over was far superior to increasing ad spend.
Now, every business has to catch up and allocate budgets for their content to be creative, sensible, and in line with customer expectations. IKEA nailed it with their #StayHome campaign where they encourage shoppers to cherish their homes without promoting any of their products. They found a way to empathize with their audience and managed to come across as a brand that cares.
User-Generated Content (UGC) will continue gaining traction
Speaking about content and customer engagement, social media marketers discovered the game plan to combine the two. If you haven't heard of it before, UGC is all the rage and will continue to be the number one strategy since it puts the customer in the front. Not to mention that it adds a touch of personalization to the brand's social media presence and stretches a brand's budget beyond limits.
It seems like taking a step back from paid Instagram, Facebook, and Twitter ads and shifting attention to involving customers in the content-making process is the way to go. Lush knows it best as they've been using UGC long before there was a term for it. With 55% of customers trusting content generated by users over traditional forms of marketing, it's no wonder that this social proof is not just a fad.
Connecting engagement with customer identity is a priority
The pandemic has proven that bridging the gap between social media and customer identity isn't optional anymore. After the majority of traditionally-used social media strategies have collapsed, it was time for a more engaging approach to acquiring customers through Instagram, Facebook, and TikTok among other platforms that would benefit from leveraging customer data. Enter connecting engagement with customer identity.
Hootsuite concluded that the whopping 85% of companies that take the time to incorporate social data into their social media strategy see high ROIs. Take it from Shopify whose social media team creates engaging Instagram posts that ask their audience questions like 'How do you take care of your mental health?' and comes up with content that's closely based on the customer feedback.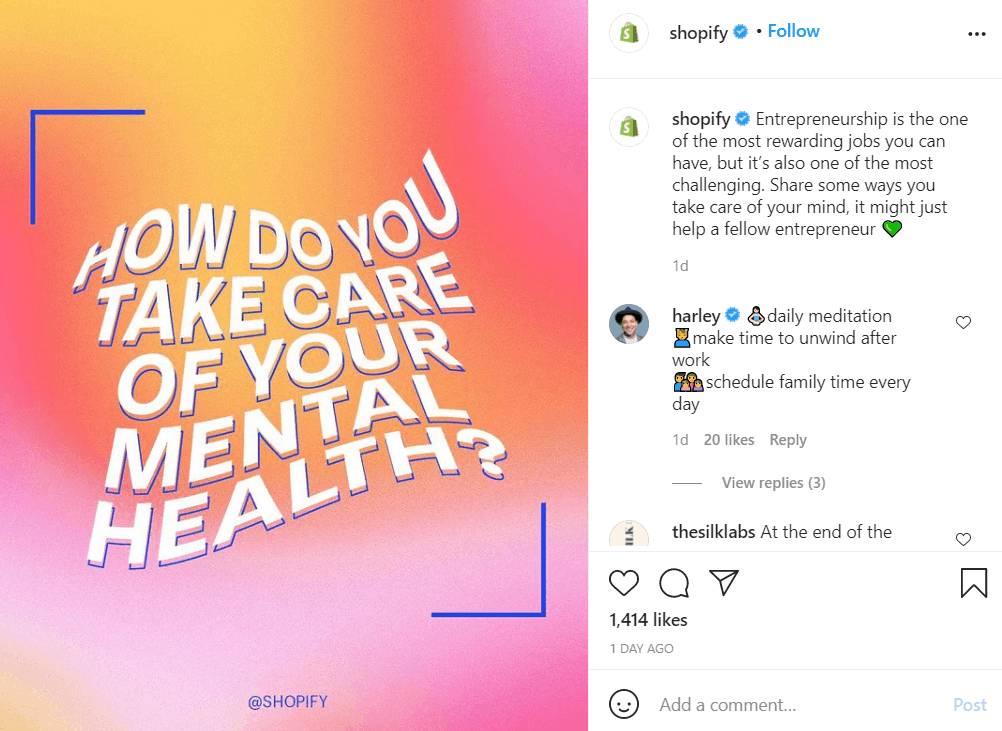 Baby boomers are targeted more than ever before
The demographic that was usually left out by digital marketers are now being attended to as well. The reason for that is the sudden increase of baby boomers spending time on social media — over a quarter of them are now digital-savvy — and 66% of them becoming aware of the companies and products with social media accounts and starting to engage with them in the past 4 years.
And while no one anticipated this influx of customers in their 60s and 70s and them creating a revolution in the social media realm, the brands aren't sleeping on the opportunity to cater to them. Check out Toyota's campaign showcasing the irony of the adult child spending time indoors browsing on her laptop while her parents are mountain biking with their friends. This subtle mocking of the millennial generation highlights just how much better of job baby boomers are doing by choosing to live an active lifestyle. If anything, it reinforces the desire in other boomers to follow their footsteps.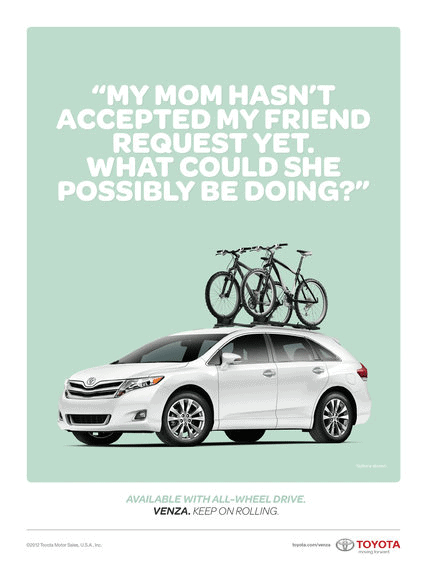 Customers demand brands to be socially responsible
Corporate Social Responsibility (CSR) isn't a nice-to-have anymore — it's a must-have that customers are now expecting to see brands translate into their social media presence. When social injustice is happening at every corner, it becomes an absolute necessity to be sharing your stance on issues and do so publicly.
In 2021, organizations are held accountable for staying silent and making it seem like they're choosing the side of the oppressor. Customers won't tolerate this passive approach to everyday struggles humanity is faced with on a daily and ditch or, worse, cancel brands that don't talk about the real-world issues on social media.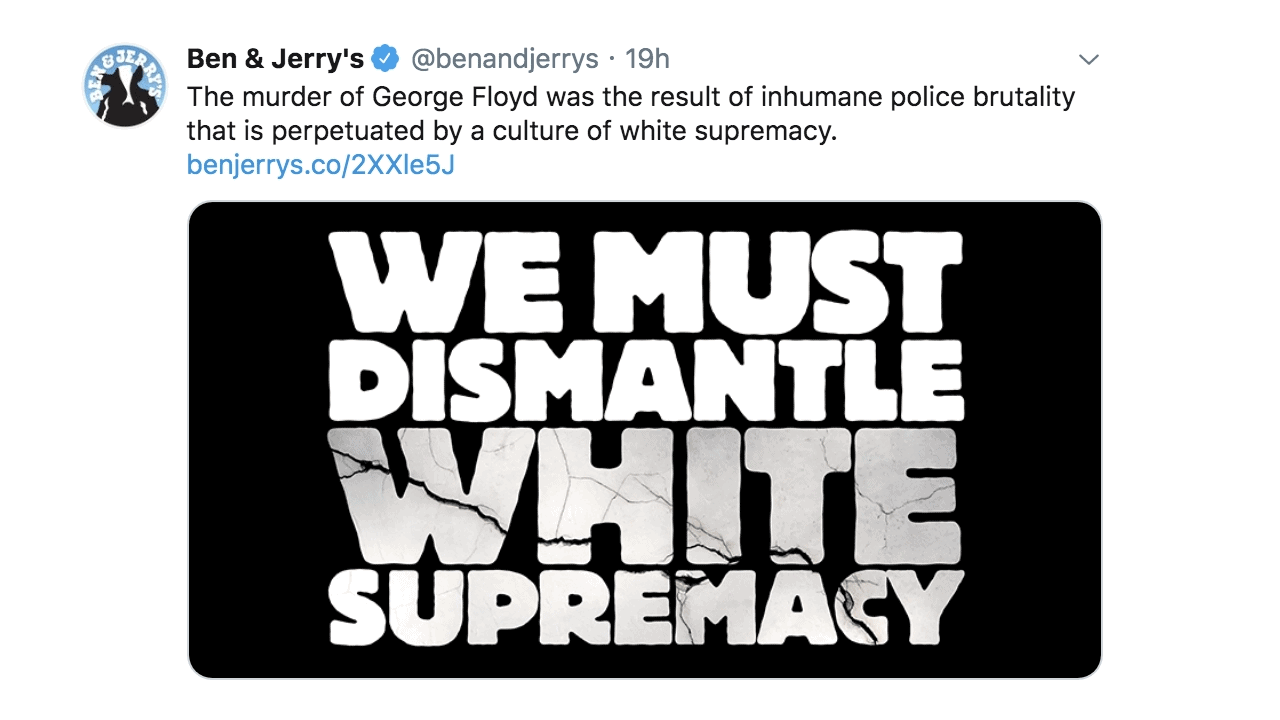 Ben & Jerry's set a great example by taking it to Twitter and proving to their loyal supporters that they care about the abuse of power by white people. They even took it a step further and "called for the US Department of Justice to reinvigorate its Civil Rights Division, and for Congress to pass H.R. 40, a bill that would create a commission to study the effects of discrimination since African slaves first arrived in North America in 1619 and recommend remedies".
What are the best social media strategies post-pandemic?
If you've felt the shift in customer behavior, you're likely wondering how you can adapt to the new demands without losing the integrity of your business. Below are our top tips aimed at helping you figure out what your post-pandemic social media strategy should look like.
#1 Modify your targets
The old KPIs you set for your business might not be appropriate anymore. The same applies to social media metrics. Offline consumer spending has decreased significantly in the past year which means that your sales goals will have to change too. And since you're using social media to advertise your products, it's smart to reassess your approach to digital promotions.
Take Facebook and their findings of users spending a lot more time browsing the platform now than pre-pandemic. This indicates that you might have a better chance of promoting your content organically as opposed to pushing it via paid advertisements. It also means that you can shift your focus to building a sizable social media following that could be used later on for more aggressive marketing.
#2 Listen before selling
Now is not the best time to put all of your efforts into heavily promoting your products. Instead, take a step back and listen to what your customers are saying. It could take the form of an open discussion in the comments section under your posts or a live webinar where every participant can express his concerns about something in particular and share what he thinks can be done to fix that.
Helping always beats selling. By listening to what your fellow customers have to say, you're not only getting a valuable third-party perspective on what you can improve as a company but also keeping tabs on what people would gladly spend their money on.
#3 Personalize your content
It goes without saying but if your content isn't catered to your audience, your business isn't likely to survive. This is where personalization comes to the rescue. Apart from customers valuing a highly personalized customer service experience, they also hold in high esteem companies that make good use of their customers' data to meet their needs.
Glossier did it best with their direct-to-consumer social media marketing strategy that involved posting User-Generated Content, relatable memes on the topic of beauty, and actively responding to their customers' queries on Twitter and Instagram. This helped them glide smoothly through the pandemic without having to cut their losses like similar brands in the industry.
#4 Post content that can be easily shared
The ongoing pandemic and on-and-off lockdowns across the globe mean that people spend a lot of their time within the four walls. And while this is beneficial for their wallets, it also points to the change in interests that companies have to adapt to. The so-called 'new normal' should be reflected in your campaigns too.
When your content resonates with your audience, chances are they'll want to share it. For it to appeal to them, make sure it combines the following three characteristics:
It entertains: This is straightforward — social media is designed to put smiles on people's faces. If you can find a way to insert an element of fun into your content, you're golden.
It brings value: Social media posts that teach followers something new get reposted and saved a lot. Even the dullest data, if relatable, will catch the eye of your customers and make them think of your brand as a useful source of information.
It gives hope: In times when it's hard to see the light at the end of the tunnel, coming up with content that feels empathetic and uplifting at the same time is guaranteed to lead to shares. People come to social media channels to cheer themselves up, so make sure you give them exactly that.
#5 Optimize for social commerce
What started as a necessity has turned into a common practice for a good reason — shopping online is quick, easy, and efficient. Not only do people make more than half of their purchases online, but they also use features like Facebook Shops, Instagram Checkout, and even digital assistants to complete the purchase.
This is why optimizing shopping on social media is the right strategy to implement. Whether it's the Instagram Checkout feature, IG product tags in posts, or shopping incorporated into broadcasting live videos, you're likely to get a good return on your investment.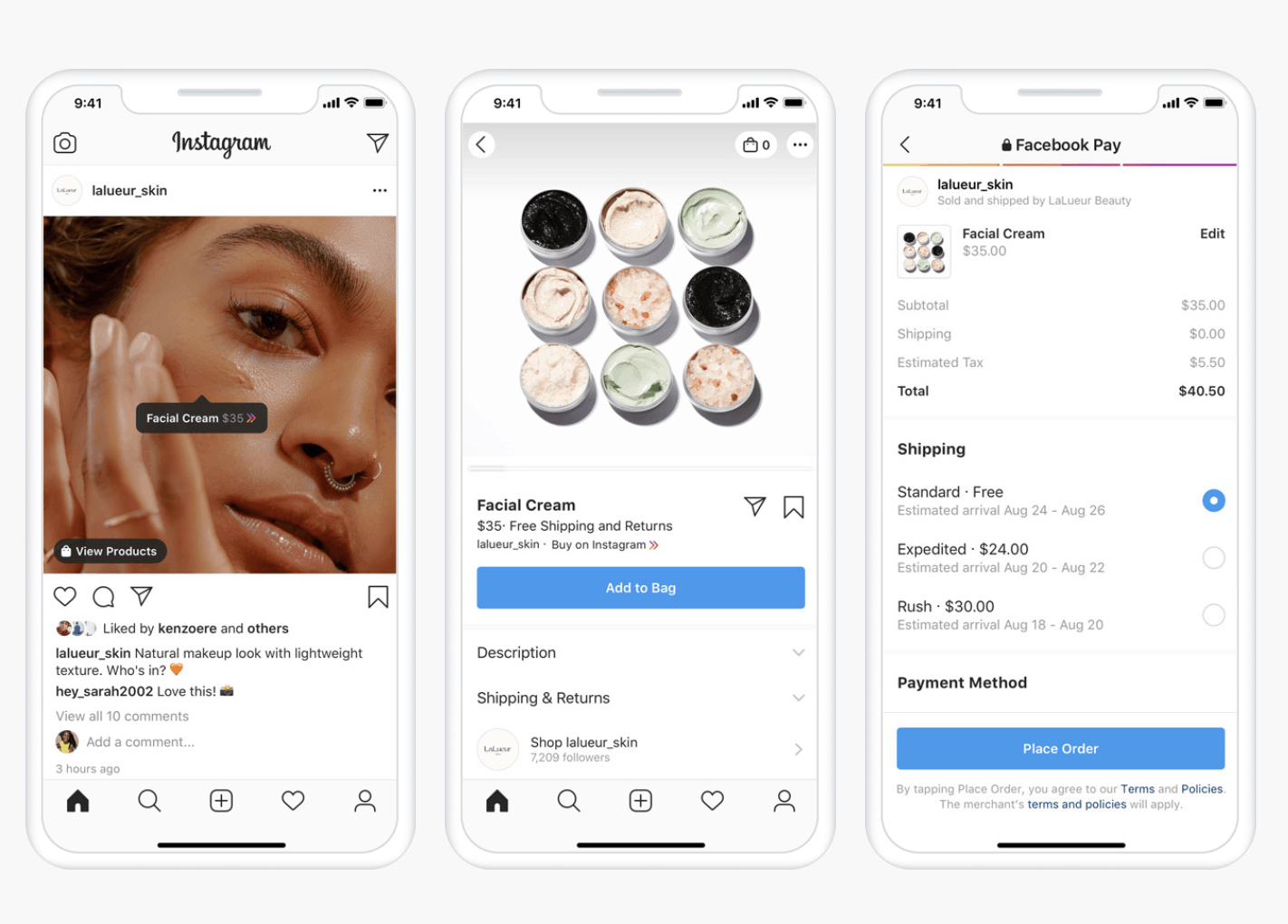 #6 Play around with new features
Dabbling into Instagram Reels and TikTok For Business has never been more appealing. It's both fun and exciting to venture into the hottest trends and reaping the benefits before everyone else jumps on the bandwagon. So why not try it out and allow yourself to build a connection with customers in a new, more humanizing way?
You don't want to miss out on the hip new social media features that are bringing in quality leads and conversions without you having to invest a fortune in them. Join the 78% of social sellers who use social media to meet and exceed their quarterly sales goals and avoid the urge to stick to the old ways that aren't as cool post-pandemic.
The takeaway
Even though there's no one-size-fits-all social media strategy, there are plenty of methods to keep your business afloat even in the most unprecedented of times. See what trends you can jump on and test out a couple of strategies that seem like the best fit for your brand and you won't have to cut down your marketing budgets to stay in the business.
It's true that the pandemic was brought into us without a 2-week notice. All of a sudden, we had to modify our routines to fit the chaotic reality we were suddenly living in. And even though we're slowly getting back on our feet, it's going to take some time before people feel safe to venture out and shop in physical stores again. So now it's your job as a social media marketer to make the transition as smooth as possible.