In 2017, a Chinese company ByteDance Ltd. purchased Musical.ly for an astronomical price of around $800 million. The investment, however, paid off shortly after, as the Musical.ly app was merged with TikTok, and its popularity soared, resulting in millions of new users joining the platform.
This trend did not go unnoticed. Other social media giants started to scramble, trying to develop apps themselves like TikTok, or add new features that would resemble those in TikTok. Thus, Reels was born.
Nowadays, the battle between Instagram Reels vs TikTok has become more fierce than ever, disrupting the campaigns of digital marketing specialists in numerous organizations. Join us as we take a deep dive into this battle and analyze the consequences it has for social media marketing.
The Rise of TikTok
To better understand the current situation, first we need to dissect the factors that stand behind TikTok's success. These range from the app's simplicity to the promotional potential it offers.
The Simplicity
Before you start arguing that creating a video, even a short one, requires a lot of effort, adequate space (room booking software might prove to be of help), let us assure you — we are aware of this fact. However, what short video formats excel at is the ability to convey complex narratives while staying relatively simple to make.
Here is a graph that perfectly illustrates this point: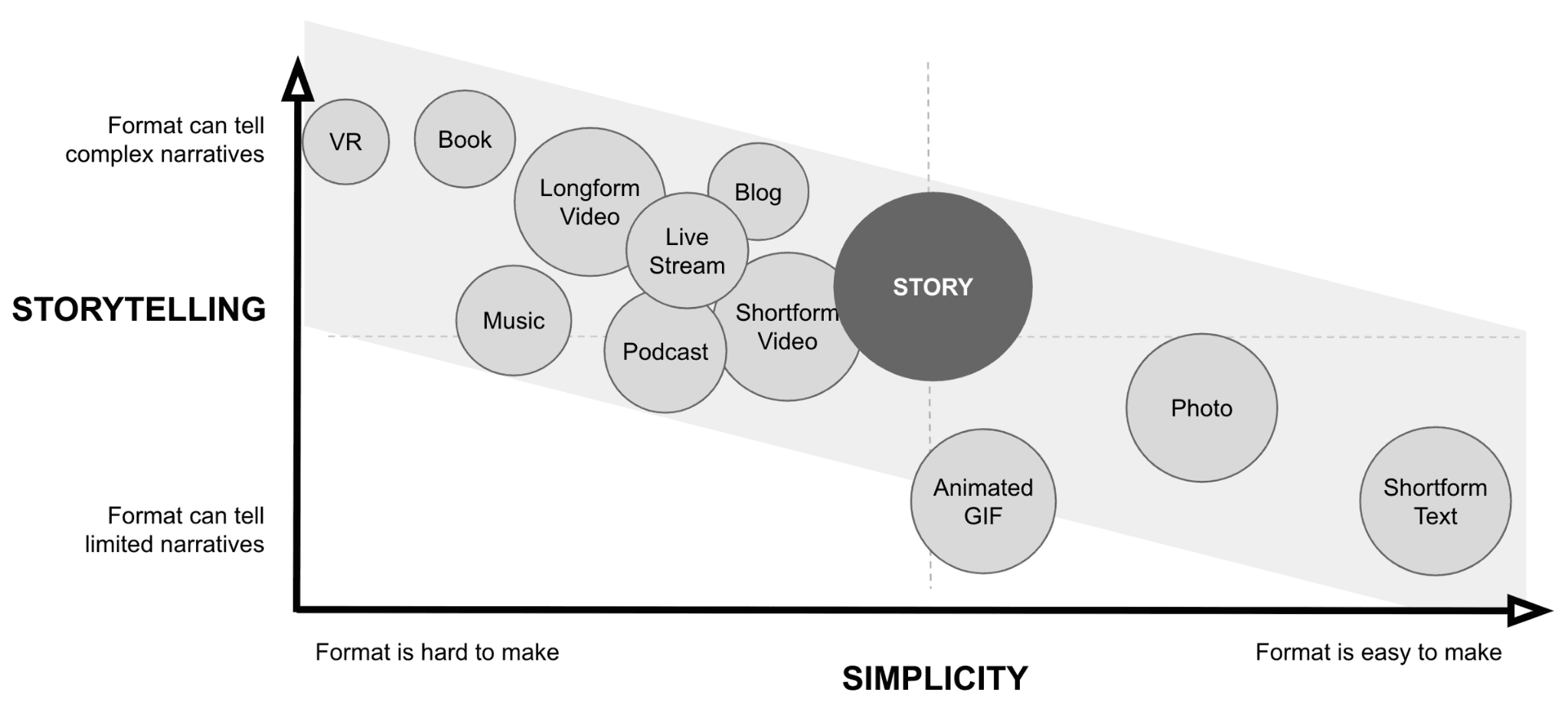 Image source: https://efeng.medium.com/why-media-formats-like-snapchat-stories-and-tiktok-music-videos-become-hits-c6d2b9c79371
As you can see, stories are the most balanced out of the available options — they do not trade off too much storytelling for the sake of simplicity. Consequently, they are perfect for creating viral and engaging content with limited resources.
TikTok's stories fall right in line with the needs of today's internet users who cannot be bothered to read more than the article's headline. With short videos becoming the ultimate storytelling medium, TikTok's popularity rapidly grew over the years, transforming it into the most downloaded app of 2020 and the video content giant it is today.
The Generational Shift
Besides TikTok's ability to tell compelling stories, it also benefits from the generational shift we witness. While it may be surprising at first glance, this point becomes more clear once we look into the data.
As many articles suggest, members of Gen Z are much more environmentally-oriented and pay more attention to societal issues. Some experts even call them 'the sustainability generation'. With numerous takes on burning issues, young people need to find a way to share their opinions with others — and TikTok provides them with straightforward means to do so.
Posting short videos on TikTok is one of the best methods to voice your concerns in front of a large audience. This argument is even backed up by studies that suggest social activism posts on TikTok are among the most effective ways to encourage Gen Z members to engage in discussions on social justice issues and politics.
As a result, TikTok became one of the most frequently visited places by members of the new generation. On this platform, they can find information about recent societal topics or make their own concerns heard by creating easily-digestible chunks of video content.
The Promotional Potential
Another significant part of Tiktok's appeal is the promotional potential it offers. With a unique idea and a smartphone at your disposal, you can become a TikTok celebrity overnight. To fully understand TikTok's ability to create internet stars, all you have to do is take a look at the number of followers reached by creators such as Charli D'Amelio: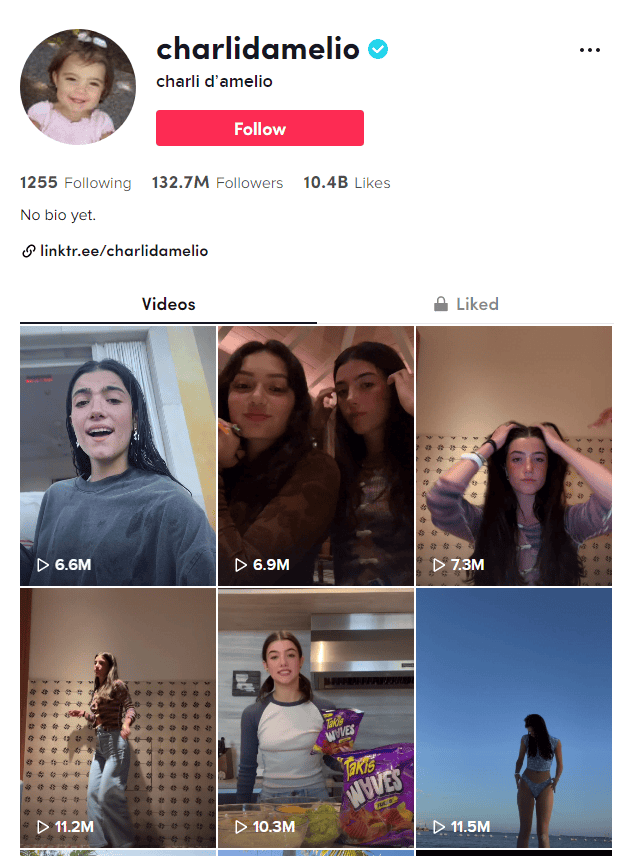 Image source: www.tiktok.com/@charlidamelio
Furthermore, TikTok is an excellent marketing tool for businesses. Not only does it allow you to engage with your target audience in a fun and unique way, but it is also a wonderful place for growing your brand equity.
For example, one of the best ways to promote your video is by using TikTok's advertising tool called "Promote". It is available for all users and pretty straightforward to set up.
All you need to do is follow these steps:
Select the video you want to promote.
Choose your goal (more views, follows, etc.)
Set your budget.
Set a length of time to run the promotion.
Select the audience you want to reach.
Overall, TikTok presents more than enough opportunities to make you or your business famous. No wonder it became one of the most successful apps in recent years.
The Development of Reels
Reels is probably the best attempt at mimicking TikTok's appeal. It is the ultimate copy, aimed at transferring at least a fraction of the TikTok's engagement rate back to the Instagram ecosystem. Whether it is successful in fulfilling this mission remains a matter of debate.
With that being said, Reels have certainly managed to put a dent in TikTok's hegemony. Many people prefer using Reels over TikTok, stating it superbly leverages Instagram's e-commerce capabilities. Besides, some companies only use Reels, as their target audience is older than the one they can find on TikTok.
TikTok vs Reels — The Comparison
The decision whether you should use Reels or TikTok largely depends on your goals and several other aspects, such as your target audience and how much value you place on analytics. Here is a short rundown of the critical elements to consider.
Target Audience
The communication channels you use to connect with your audience need to be adequately selected. Otherwise, you will miss out on opportunities to create a long-lasting bond with your customers. In the worst case scenario, it might even render your whole marketing campaign ineffective.
To prevent this from happening, consider the difference between Instagram and TikTok userbases before making the decision to join any of these two platforms. As mentioned by Statista, over half of TikTok users are under the age of 30. It means that starting your marketing campaign there will be more beneficial if your target audience is relatively young.
On the other hand, if you aim to connect with older generations, Facebook and Instagram are better choices. Moreover, Instagram Reels has a more diverse userbase, making it a safer option for those who want to target a more mature audience.
Analytics
If you are an analytically-oriented person, TikTok is a much better option than Reels. While the latter does not offer any in-depth analytical features, the former provides a concise outlook on your video performance.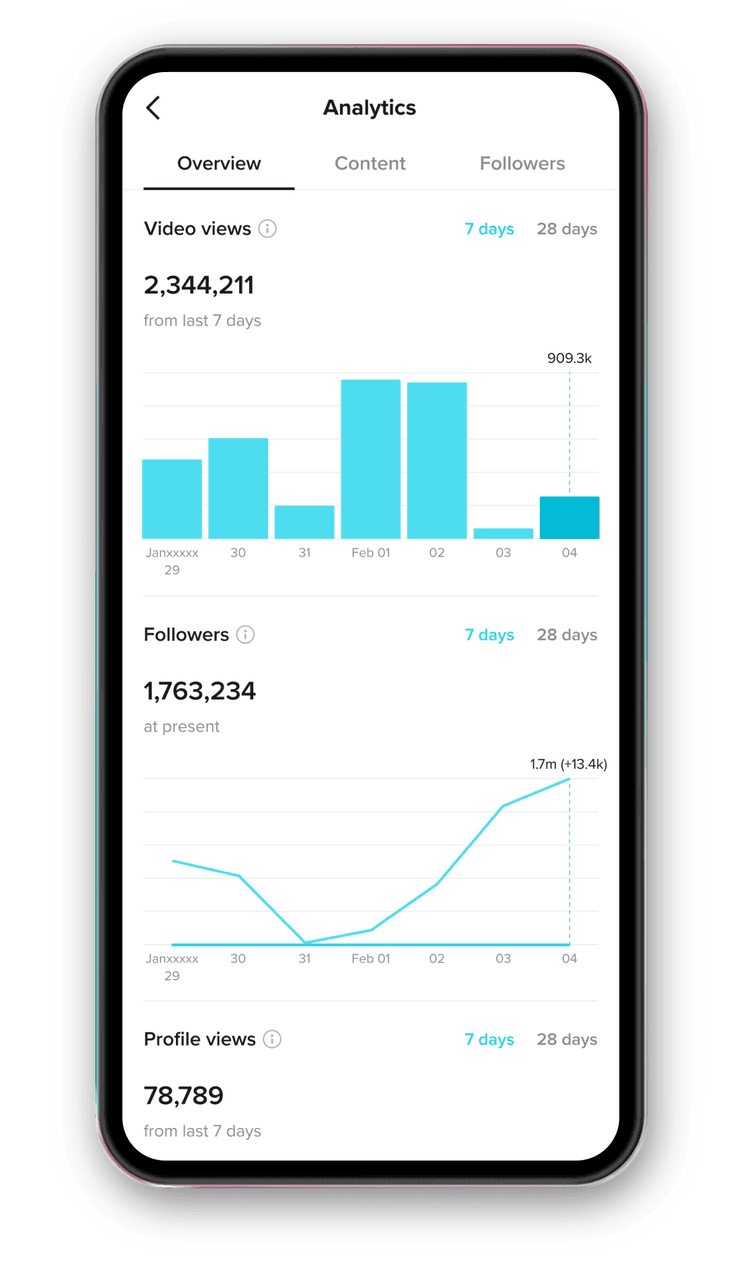 Image source: https://www.tiktok.com/creators/creator-portal/en-us/tiktok-content-strategy/understanding-your-analytics/
On TikTok, you can check video views, follower growth, profile views, likes, comments, and shares. It even provides an option to see traffic source type and audience territories, making it an invaluable tool in every marketer's toolbox.
Interface
As one could expect from Instagram features, Reels' interface is nothing short of a perfect example of a good-looking and intuitive design. It is very beginner-friendly, making it the best option for internet newbies.
On the contrary, TikTok's interface is a bit rough around the edges. While it does its job, it lacks the appeal of Reels. As such, if you are not a tech-oriented person, it might take you a while to get a grasp on all of TikTok's qualities.
Advertisements
You can run ads both on TikTok and Reels. Many businesses take advantage of this fact, using both of these platforms in conjunction to boost their marketing efforts.
Nonetheless, some organizations only stick with TikTok, as it provides sponsored options. These options allow them to create and share branded videos with ease, making reaching content-hungry demographics much more manageable.
Still, some case studies suggest that going for Reels ads might be more profitable, arguing it provides better results with a lower budget.
Music Options
What makes TikTok so appealing for younger generations is the broad choice of music it offers. Whether you want to opt for a well-known track or look for something more niche, you cannot go wrong with TikTok music library.
The fact that the music itself is catchy and memorable also works to its advantage. Single-handedly, TikTok made a few tracks go viral. Examples include "Oh No" by Kreepa and "Dance Monkey" by Tones and I.
Reels takes a more conservative approach, as the Facebook family of brands does everything with the protection of copyrights in mind. Instead of an extensive music catalog, you can choose from a selected number of royalty-free tracks. While not bad by any means, these do not provide as much versatility as their TikTok counterparts.
Editing Features
Much like with music options, TikTok provides more editing features than Reels. These features range from various effects and voice-overs to hilarious filters. As such, TikTok users do not need to visit any third-party platforms to edit their videos.
Here are some of the new musical and animal voice effects recently added to the app: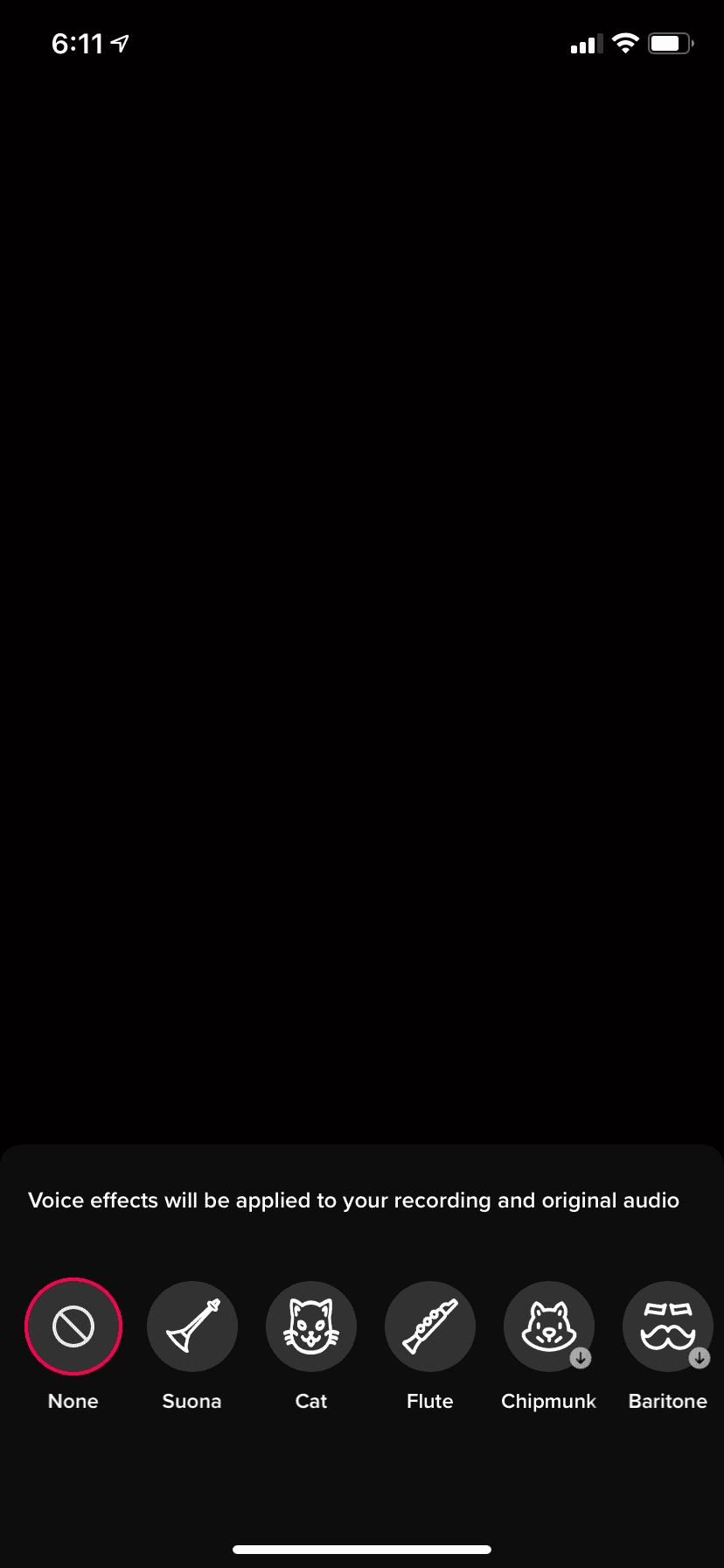 Image source: https://newsroom.tiktok.com/en-us/new-editing-tools
What it lacks in quantity, though, Reels makes up for in quality. While Instagram Reels offers a limited selection of editing tools, all of them are of high quality. It makes for a highly-polished product, which is perfect if you want to project professionalism in your videos.
How TikTok and Reels Disrupt Social Media Marketing
The most important effect of the ongoing battle between Reels and TikTok for marketers is the way it affects their marketing efforts.
What it often does is convince companies to reduce their budgets dedicated for marketing tools like press releases, event marketing, and print advertising. Instead, it encourages focusing more on promoting products and services through social media campaigns.
On top of that, it makes using these marketing channels almost a necessity. Nowadays, if an enterprise does not engage in influencer marketing or does not promote its products on platforms like TikTok, it only stands to lose.
Let's take a closer look at how stories' cost-effectiveness and influence may negatively impact social media marketing.
Cost-effectiveness
We already touched on this point before, but TikTok and Reels allow virtually every organization to quickly boost its brand awareness — with minimal resource cost at that. It makes spending thousands of dollars on other marketing tools seem like a waste of time and money.
Moreover, the battle we are witnessing between these two platforms results in development of new features and functions, further broadening the gap between your usual marketing tools and new ones. The same argument applies to using other social media sites. After all, if TikTok and Reels are so effective in boosting audience engagement, why even bother with Facebook and Twitter?
This approach, while it may seem valid, overlooks the fact that audience engagement is only one of the factors that are necessary for a company's success. You can go on short video stories only so far.
TikTok and Reels cannot replace other communication channels, as every business sometimes needs to make a lengthy response or post a statement. No matter how effective they are at balancing storytelling with simplicity, stories are far from being a 'one-size-fits-all' solution.
Influence
Another potentially damaging factor of TikTok and Reels is the amount of influence they hold over the young audience. While beneficial when used correctly, they pose a severe threat for companies who are inexperienced in using these platforms.
Regardless of what people might presume, adequately changing marketing campaigns to fit into the 15-second video format is a challenging task. Even if you are a tech-savvy individual, you may struggle with it.
Similarly, organizations without sufficient funds to invest in influencer marketing are in real danger of falling behind the competition. As many new brands explore the potential of apps like TikTok, those who are more hesitant might pay a hefty price.
The Final Verdict on Reels vs TikTok
Now you know more about TikTok and Reels and how they affect social media marketing! If you use your newly gained knowledge with care, you will have no issues using these apps to your benefit. Nevertheless, be aware of the dangers they might pose to your company.
Before setting up your account on them, consider which of these two options will be more advantageous for your business. Ask yourself these questions:
What kind of audience am I trying to reach?
What music options and editing features could be favorable for reaching my goals?
How much value do I place on analytics?
Answering them will help you create a bulletproof marketing strategy and take your business to the next level. Good luck!