Instagram is more than just a social media platform: more than 80% of its users are raving fans of at least one business profile, with over 200 million visiting one business account daily.
2023 is bringing new opportunities to the world of Instagram trends. And if you are trend-fluent enough, you will be able to make your competitors jealous in 2023.
Ready to wow your followers?
It's time to be up to date on the latest Instagram marketing trends and add them to your content strategy. Below find the 9 biggest changes that are going to shape your perception of this social media network in 2023.
1. Stock images for niche content
The number of brands that are creating marketing content is still growing. This means that competition for the attention of your target audience is growing too. As a result, more companies are niching down their focus. This allows them to target a very narrow, yet specific group of the audience.
Brands get more attentive to the content they post, thoroughly choosing images from the stock to publish only the most relevant ones. Some of them use libraries with pre-selected stock photo collections to post truly original content. Nerd Fitness, for instance, demonstrates a wise use of this tendency. Instead of targeting anyone interested in keeping fit, the brand focuses just on the people who are deep into fitness.
Tips on the Instagram trend:
Analyze different segments of your audience;
Decide what segment to focus on;
Thoroughly choose and publish content aimed at that specific segment of your audience.
2. Instagram Stories highlights
When Instagram announced its Stories launch back in 2016, it was quite a big deal. Users started to fearlessly share moments that will vanish after 24 hours. This worked perfectly well for ordinary users, but brands and influencers could not get any value out of that. So recently, Instagram announced Stories Highlights – an amazing function that lets you curate already published stories and keep them visible for as long as you want to.
H&M takes advantage of Stories Highlights. With this Instagram trend, they bring together images of jeans, blouses, coats, knitwear, and collaborations. Users don't need to visit the official website, as the new H&M collection is always just one Instagram Story away ????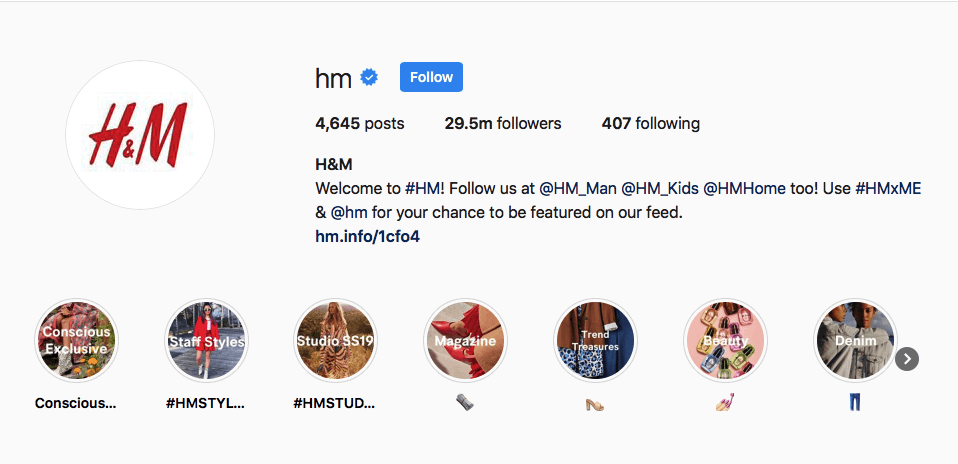 Tips on the Instagram trend:
2. IGTV: the rise of vertical videos
Back in 2015, who would have said that vertical videos will become a new social media breakthrough? No one, that's for sure. But it seems like the people at Instagram know how to turn literally anything into a hot trend.
Ever since the Instagram Stories hit the social media landscape, vertical videos took over Instagram Live, Instagram Stories, and IGTV. Have you noticed some celebrities launch 2 or 3 differently formatted videos for the same song? Now you know the reason.
Even Jamie Oliver uses vertical videos in IGTV to share 5-minute recipes with his followers.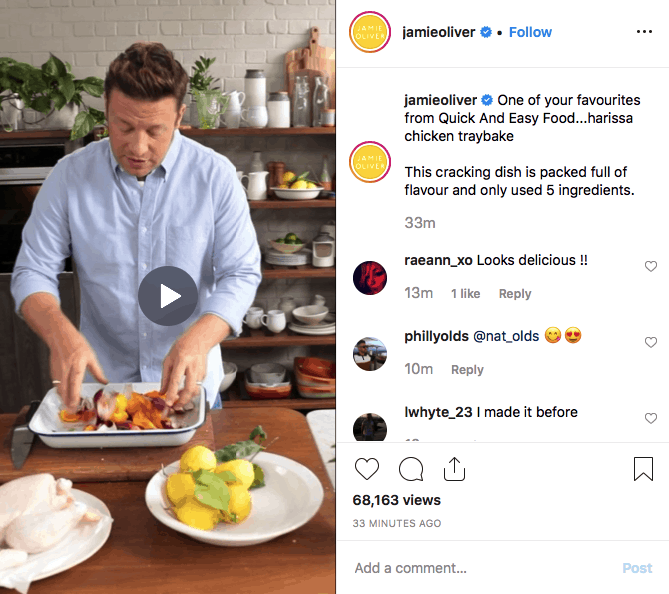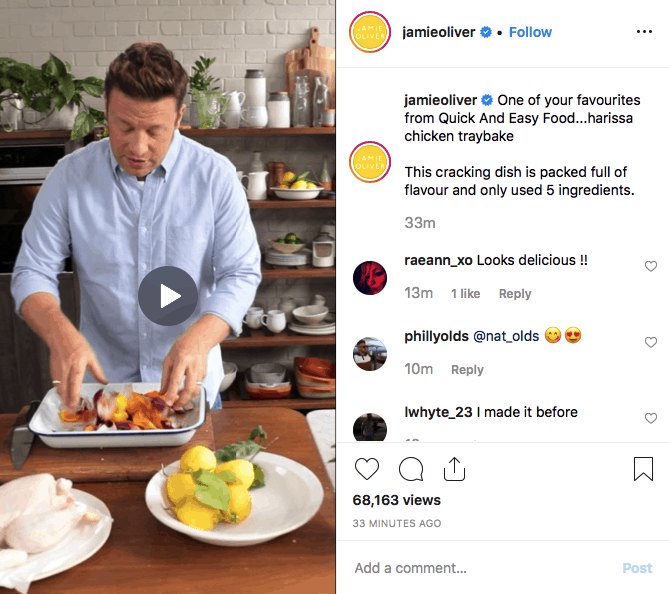 Tips on the Instagram trend:
Fit the 9:16 ratio to make sure your vertical video appears fully on mobile devices;
Record optimum length videos – these are 2 to 5 minutes long;
Use animated graphics, images, and text to make your videos compelling.
4. Customized AR filters for brands
VR and AR were the buzzwords of 2018. Though there are countless ways of their practical implementation, Instagram AR filters are the talk of 2019.
Today, the inbuilt service for creating branded AR filters is already operating, but it is currently in a closed testing mode. Still, you can try out some filters created by brands and influencers.
You must have heard about Rihanna's diamond filter that is currently beating all the records. Haven't you? Then check it out! Here's how it looks: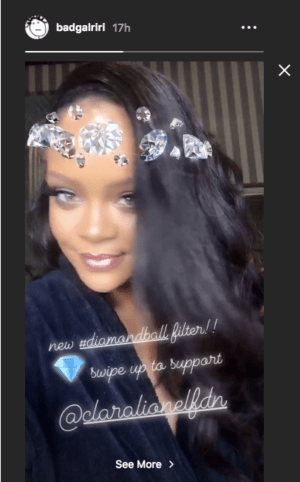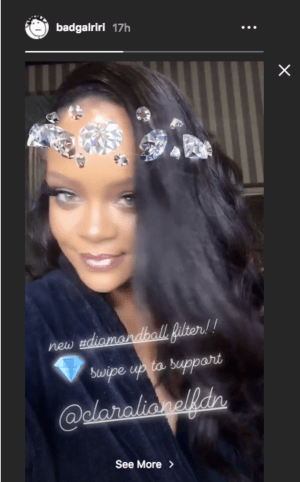 Tips on the Instagram trend:
If your brand is famous, address Instagram directly to get access to the feature;
If you are a nano- or micro-influencer, calm down and wait for the official release;
Meanwhile, try to upload your branded stickers/GIFs to Stories and see how your audience likes them.
5. Personalized Instagram content
Similarly to all other social media platforms, Instagram has also jumped on the personalization bandwagon. The website carefully considers user preferences and curates individual feeds by analyzing data from posts users previously interacted with. This gives the platform the ability to provide users with a highly curated, personalized experience.
Surprisingly, brands can also get creative and build personalized feeds for their users outside Instagram algorithm.
One bright example is a personalized marketing campaign launched by John Frieda. The brand created the #ShadesofMe marketing campaign, which allowed them to gather data about users' hair color. Then, the brand created personalized videos describing what the specific shade of hair said about the user. Personalize your content too, and you'll see up to 20% increase in sales.
Tips on the Instagram trend:
Let Instagram be the starting point of your marketing campaign;
Lead users to a landing page with a quiz;
Use the data gathered to promote products that are relevant to specific groups of users.
6. Hassle-free shopping on Instagram
In 2017, Instagram shopping was just a buzz. Today, it's the hottest trend allowing you to shoppify your feed with integrated Shoppable stickers. The idea behind it is very simple: users are one click away from inspiration to action. Once they get impressed by a certain product, they click a button, and buy it directly from the Instagram app. This shopping tendency is a win-win situation both for brands and their shopping-obsessed followers.
At the time of writing, just about 20% of marketers take advantage of shoppable posts. However, more than 50% are planning to integrate them into their social media campaigns in 2019. This year, Instagram will allow users to shop not only from Stories and feed but also from video posts. This means Instagram will go big in 2023, and it's high time you benefited from it.
Tips on the Instagram trend:
Shoppify your feed – be sure to tag your products in feed posts;
Shoppify Stories by adding shoppable stickers to them;
Remember about the 'swipe up' feature – use it to drive more engagement and better interact with your Instagram followers.
7. User-generated images
It's no news that posts featuring user-generated content, also known as UGC, have a higher engagement rate. Research proves that UGC can boost conversion up to 4.5%. With information like this under your belt, it's a no brainer that you should add user-generated content to your marketing plan.
ASOS is a nice example of a brand using this kind of content to the fullest possible extent. The retailer utilizes a user-generated content strategy to boost engagement through the use of a unique branded hashtag (#AsSeenOnMe).
ASOS followers use the hashtag to show off their most stylish looks from the retailer. In return, clients get the chance to be featured on the official ASOS page on Instagram and Facebook. Follow the lead of ASOS to build a more engaged user feed and stand out from the brands posting polished marketing images ????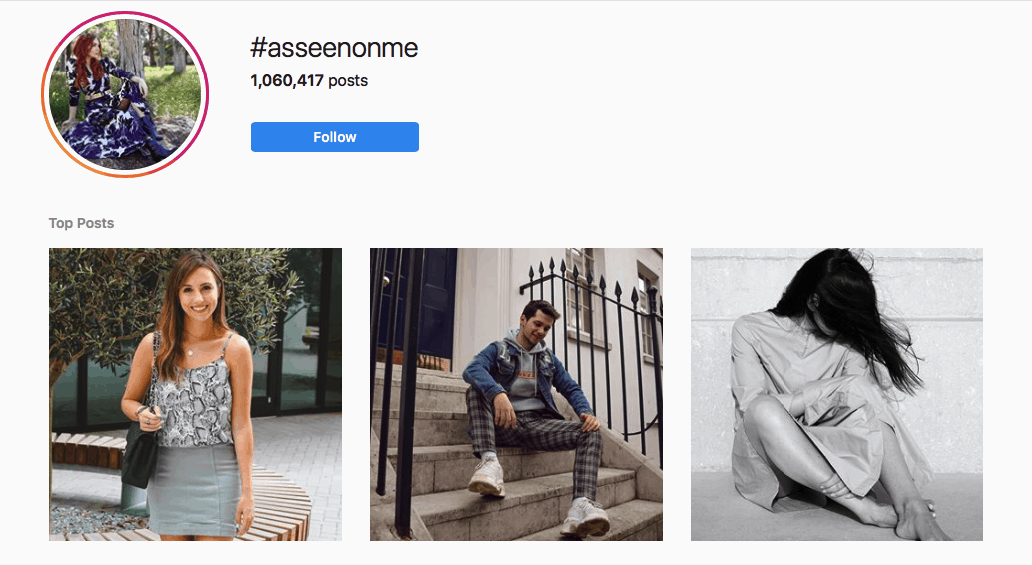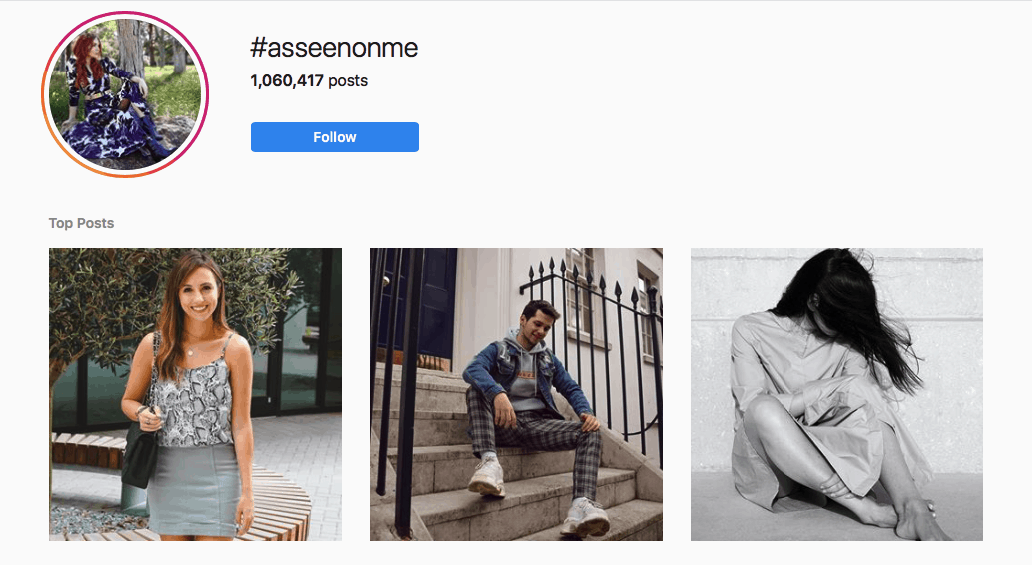 Tips on the Instagram trend:
Create a branded hashtag to encourage your followers to post their own content under it;
Promote your hashtag in feed, Stories, and all other possible social channels;
Re-post the most beautiful user-generated content on your own Stories or feed.
8. Customized named hashtags
When Instagram reached 1 billion monthly active users back in 2018, searching for specific people became really tough. For this reason, Instagram introduced the Nametag feature allowing you to turn your profile link into a QR code. You can customize it in different ways, experimenting with fonts, colors, GIFs, emojis, and even selfies. Use Nametags to save your followers searching time and bring users directly to your page.
Tips on the Instagram trend:
Make sure your nametag is relevant and catchy;
Update your nametag regularly, adding more relevant emojis or texts to it;
Match your brand tag with your overall style, messaging, and positioning.
9. Influencer Instagram trends
While giant influencers' popularity continues to grow, brands are increasingly working with nano- or so-called micro-influencers. These are the people with less than 100K or 10K followers (here's how to grow your social media followers).
Recent studies show that people trust nano-influencers because their promotion looks native, like a friend's recommendation. While micro- and nano-influencers don't guarantee you an instant boost in brand awareness, they can help you increase user engagement and customer loyalty.
Tips on the Instagram trend:
Focus on less popular, yet active accounts; Bigger is not always equal to better for your brand;
Treat nano- or micro-influencers as your brand's friends who are willing to distribute your message to masses;
Try to establish long-term cooperation to make your promotion look native.
Over to you
Being trendy on Instagram in 2023 boils down to a solid social media content strategy. And with some industries having less competition on Instagram, it makes sense to make it part of your strategy. For example, one industry only has 6.6% of businesses using Instagram in their marketing.
What is also important is going beyond online: meet with your followers offline to make your social media friendship real.
[starbox]