With social media platforms and eCommerce both growing rapidly, it's only natural that social commerce has evolved too. Statistica projects U.S. social commerce revenue to hit $79.6 billion in 2025, an impressive 5.2% market share of the retail eCommerce sector.
These numbers indicate what most successful eCommerce merchants know already – we can't afford to neglect social media. Whether you're selling on social media directly or simply using the platform to engage with customers, optimizing your strategy is essential.
Your brand's social media strategy significantly influences your bottom line, for better or worse. Social proof helps brands gain consumer confidence, and social engagement lets you cultivate lasting relationships with customers, encouraging loyalty.
Five ways to use social media as an eCommerce brand
There's no one-shoe-fits-all strategy when it comes to using social media as an eCommerce brand. Moreover, some platforms might yield better results for your brand than others.
For these reasons, it's beneficial to continually monitor your social media strategy and adapt it based on data, performance, and analytics. Let's take a look at five prevalent ways that successful eCommerce brands are using social media today.
1. Create content relevant to each platform
Understanding buyer intent is a significant part of how eCommerce brands drive sales. We know what our target audience is looking for and what pain points need to be solved to plan our strategy accordingly.
Similarly, understanding what social media users expect of brands on different platforms helps deliver relevant content. If you're posting the wrong content on a given platform, user engagement drops, and your following stops growing. Focus on creating trust across all channels to support your sales efforts and guide what content you're developing, especially videos.
The best type of content for YouTube
YouTube is one of the best platforms for sharing explainer videos, product demos, and educational content. HubSpot found that more than 50% of consumers trust companies with product videos over those without any. YouTube is one of the most cost-effective platforms for sharing video content and increasing your brand's visibility.
The best type of content for Instagram
More than 70% of businesses in the US use Instagram, and for good reason. The platform remains one of the most relevant social media channels for eCommerce brands.
Instagram offers a lot of flexibility as far as content sharing is concerned. You can pick from stories, posts, reels, and IGTV videos, with each medium offering its respective benefits.
Since Instagram is a visual-focused platform, the best content for the platform is generally tailored around high-res images. So, instead of extensive captions, convey your main points through visual elements.
For example, for retail eCommerce brands primarily, posting all your product features might not deliver the best results. But if you're selling a waterproof hat, an image of a man walking through the rain without a care in the world (or an umbrella) can convey your product's selling point.
The best type of content for TikTok
TikTok recently hit 1 billion users, making it one of the best platforms for eCommerce brands to reach their audiences.
ECommerce brands generally seem to have the most success on TikTok by posting content that isn't their own. User-generated content and influencer takeovers frequently go viral and help brands increase their engagement metrics significantly.
When brands conduct takeovers on TikTok, they generally use a specific hashtag. Procter and Gamble's sponsored #DistanceDistance challenge was so popular that the brand went viral on TikTok without even creating its own account.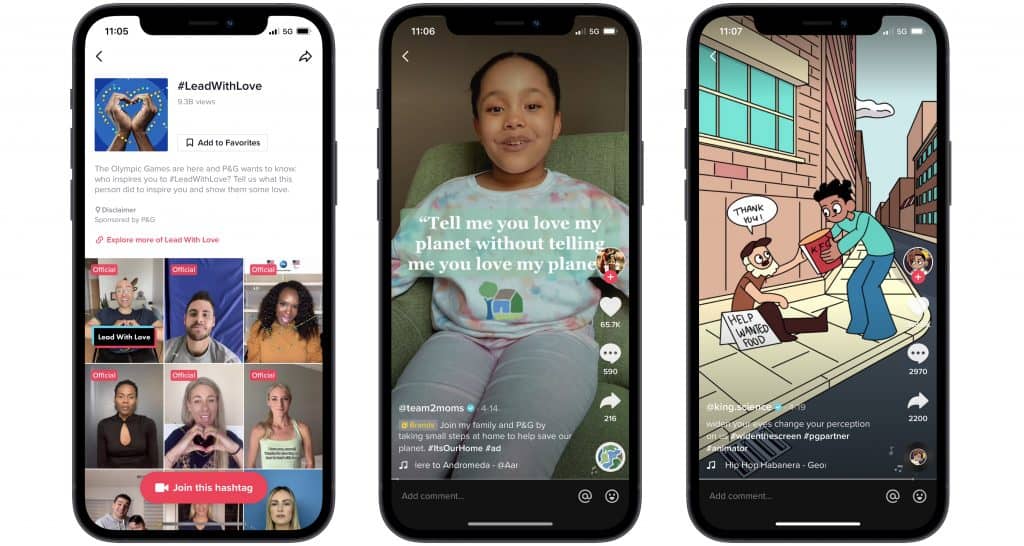 (Source: Mediakix)
The best type of content for Facebook
After analyzing 63 million Facebook posts, BuzzSumo found that videos gained the most user engagement on Facebook. So, the best type of content for Facebook includes entertainment and explainer videos, product demos, and curated content.
2. Don't solely focus on promoting products
5WPR's 2020 Consumer Culture Report revealed that 83% of consumers expect brands to align with their values. Almost two-thirds of millennials have boycotted a brand for demonstrating an opposing stance on a pressing issue.
The message is clear: consumer trends are changing, and having great products isn't enough for your eCommerce brand to succeed. Consumers expect more.
Promote your brand's mission
Consumers are more than 80% likely to trust and remain loyal to brands that lead with a clear purpose. Social media platforms are an excellent medium for promoting your brand's mission and demonstrating your purpose.
Is your brand's goal to solve a particular large-scale problem? If so, you can upload videos on social media that showcase your efforts or publish posts that demonstrate your progress statistically. How well did your brand fulfill its mission this year?
Social media makes it easy for eCommerce brands to discover and share collaborative efforts with organizations or influencers. For example, you can team up with a creator, brand, or NGO that shares your brand mission and showcase the progress you've made with them on your social channels.
Showcase UGC and customer testimonials
A survey conducted by BrightLocal revealed that 88% of consumers prioritized customer testimonials as much as personal recommendations.
As an eCommerce brand, consumers are unlikely to take your recommendations as advice from a friend. But, the numbers show that a customer testimonial might manage just that.
Advertisements based on user-generated content have a CTR that's 4 times higher on average than traditional ads. As an eCommerce brand, your social strategy shouldn't end at collecting testimonials and positive reviews. UGC shared on social media also generates an average of 28% more engagement.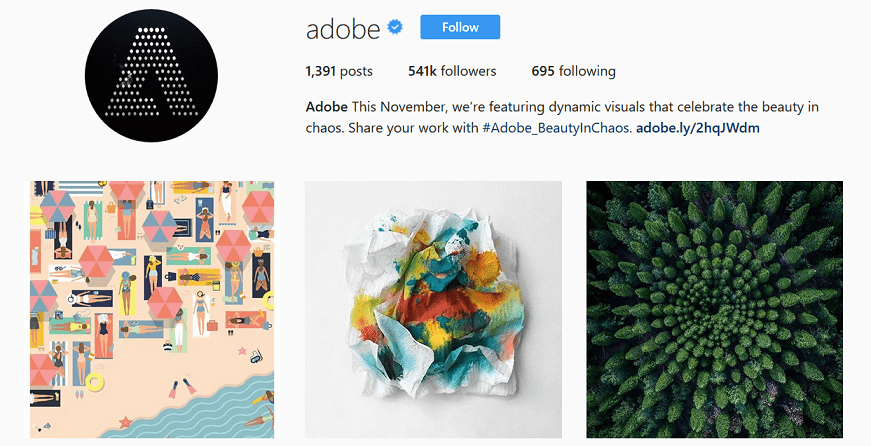 (Source: Wedevs)
Take your strategy a step further and get customers engaged in growing a loyal following.
Promote your other social media channels
Using multiple social channels lets eCommerce brands deliver hyper-focused content on each platform to tailor their social media strategies.
Your TikTok channel might focus on brand takeovers, hashtag challenges, or sharing videos of users enjoying your products. Your YouTube channel may contain informational videos and customer testimonials.
By promoting different social channels on each platform, you can leverage your collective fanbase to grow your following on each platform.
Additionally, different consumers may value one of your social channels' content over what you share on the others. So, you can direct customers to the content they find most valuable to improve their experience and earn their loyalty.
Show company-related updates
Depending on your strategy, sharing company-related updates with your customers offers various benefits. You can potentially increase transparency, build trust, increase user engagement, or pique customers' interest.
Got a new hire? Consider creating content to show customers what it's like working for your brand. For example, you could create a blog post detailing an interview with the new hire, describing their experience. Alternatively, they could take over your social media channels and share snippets/videos of their first day.
Providing an inside-view of your company also humanizes your brand; consumers are more likely to trust brands they can relate to. So, a quick clip of Mark drinking coffee with a clear folder lying on his desk might remind them of their own work environment.
Social media platforms are also perfect for teasing new product updates. If you have something coming out soon, a simple "Guess what's coming" post on Instagram with a vague image can be enough to start a conversation and generate hype.
3. Interact with customers on social media
Interacting with your following helps foster closer relationships with them and shows your audience that you care. You can tailor your customer engagement strategy by:
Answering questions
Did you know that 47% of customers turn to social media when they complain about a product or service? Well, that's what SproutSocial discovered in their research. Social media is thus an essential channel for monitoring customer complaints and support requests.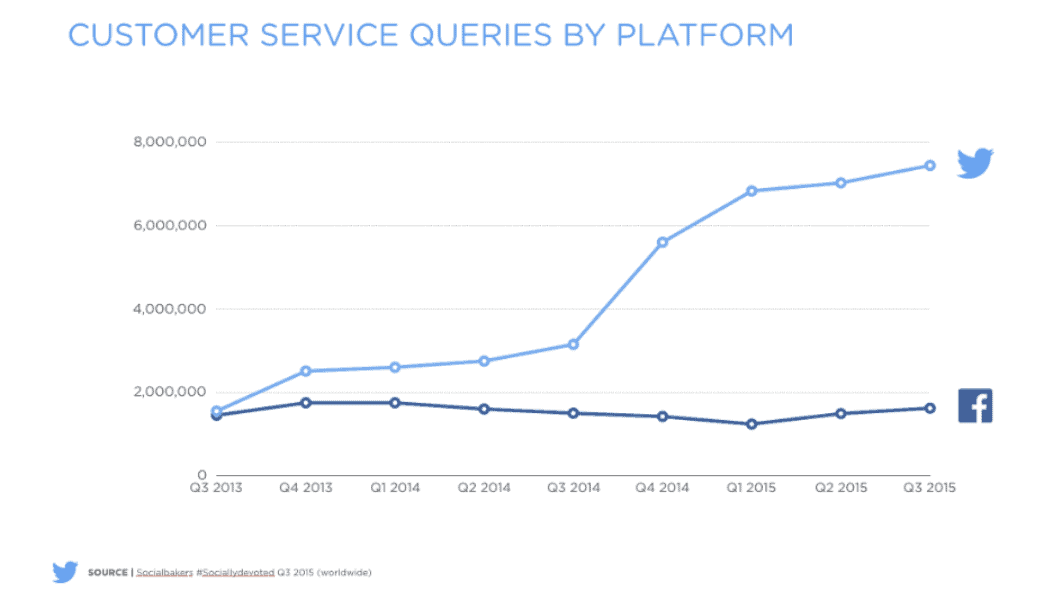 (Source: Twitter)
Additionally, prospects or existing customers may have questions about a new product they're looking to buy. Answering their product-related questions helps clear their doubts and secure the sale.
Getting notified of customers who haven't been helped
Khoros found that more than 80% of customers feel more loyal to brands that respond to their complaints and solve their problems. When your brand manages multiple support requests, triaging those requests is more important than ever, so the highest-priority tickets are answered first.
However, by prioritizing urgent cases, support times may forget to manage low-priority ones altogether. Customers with unresolved complaints may turn to social media, especially Twitter, to voice their concerns, making social channels useful for monitoring unresolved support requests.
Building customer relationships at scale
Building your customer base is important, but real success lies in growing a loyal customer base. Loyal customers grow your brand by recommending your products and referring their friends. They're also more likely to make repeat purchases and spend more on average than newer customers.
With social media, you can identify loyal customers and engage with them directly. Loyal customers are likely engaging with your content frequently or sharing recommendations (e.g., tagging their friends in your posts). Learn what they appreciate about your brand; make sure to collect any feedback they may have about their experience so that you can make iterative improvements.
Understanding what keeps existing customers loyal helps tailor your efforts to earn the trust of new ones.
4. Be original (i.e., don't turn into a meme account)
Vanity metrics are appealing, but don't let them distract you from your brand's goals. Likes, shares, and a high follower count are only beneficial if they're coming from your target audience – and if your brand's purpose is being fulfilled.
Focusing too much on delivering entertainment value puts eCommerce brands at risk of attracting followers that aren't their target audience. Having a large following that isn't interested in your actual brand makes it difficult to further your marketing efforts.
While it's still useful for brand awareness, followers that are too invested in entertaining content may not engage with your product-focused content at all. This poor targeting negatively affects your engagement metrics.
Be original with your social media account. There are ways to be creative and entertaining with your content while still delivering brand relevance. For example, videos of brands throwing their products into blenders (and seeing which of the two breaks first) gain significant social media attention. These videos, however, also showcase their product's durability and promote your brand image.
Entertainment value is a valuable tool, but don't use it the wrong way.
5. Work with influencers
Influencers enjoy personal relationships with their followers that most eCommerce brands can only aspire to achieve. However, you can work with influencers to benefit from their connections. Many eCommerce brands build successful partnerships with influencers with excellent results.
Collaborate with influencers who post content relevant to your products
When scouting for influencers to work with, vanity metrics are once again a tempting but slippery slope. Pay attention to the influencer's follower base. An influencer with 50k followers may be less valuable to your brand than one with 15k if the latter caters specifically to your target audience.
Your target audience is likely following influencers who create and generate content relevant to your niche. So if you're looking to partner with social media creators, prioritize those individuals who are a proper fit with your brand's image.
Consider affiliate partnerships with influencers
Affiliate deals benefit both influencers and eCommerce brands long-term. Sponsorship opportunities involve paying influencers for a one-off promotion, typically without any performance-related strings attached.
With affiliate partnerships, though, influencers have to drive conversions and increase your sales to get paid. This working structure motivates them to actively and consistently engage their audience, continually driving revenue for your brand.
Let influencers do a takeover day on your social media
Social media takeovers can benefit brands in different ways. Before going into this type of partnership, it's imperative to determine your marketing goals.
A social media takeover can help you reach a new target audience, grow your following, increase user engagement, or generate hype for a new product.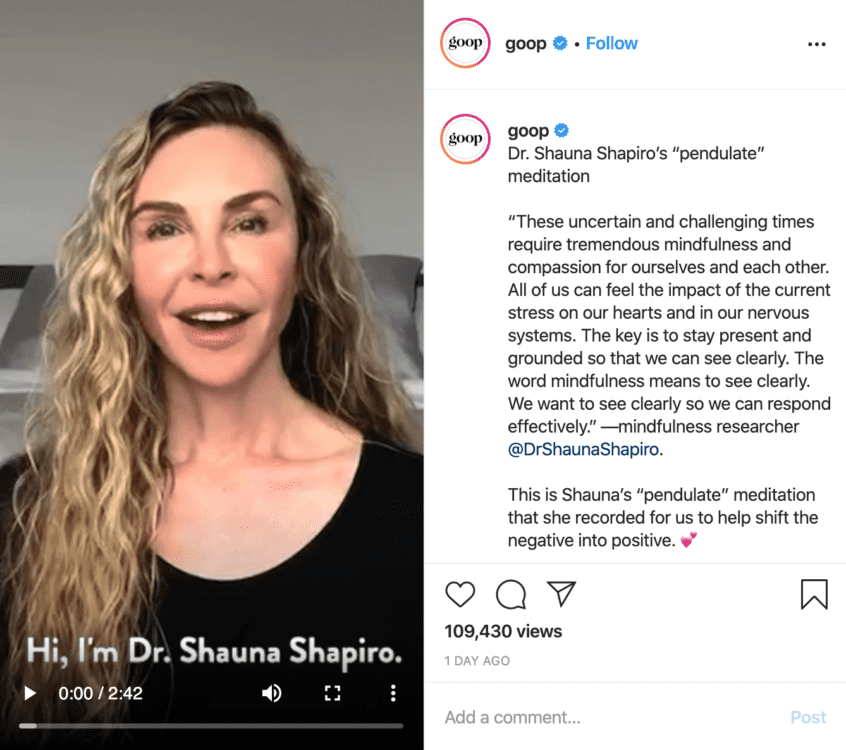 (Source: Travel Mindset)
An added benefit of social media takeovers is that their performance is easy to monitor and quantify. For example, if you're using a specific hashtag for the takeover, you can conveniently monitor shares, likes, and user engagement.
Final thoughts on using social media for your eCommerce brand
With 97% of GenZ consumers prioritizing social media for shopping inspiration, it's clear that social media is increasingly vital for eCommerce brands.
To succeed in the competitive eCommerce landscape, brands need to leverage social media to build relationships with their customers, increase brand awareness, and improve customer experience.
There are many effective social media brand strategies; you just need to discover which works best by tracking metrics through proper attribution. Like any content marketing strategy, this experimentation may take time and extra effort, but neglecting your social media strategy isn't an option in today's eCommerce landscape.